Dallas Cowboys:

Michael Coe
January, 28, 2013
1/28/13
12:00
PM ET
[+] Enlarge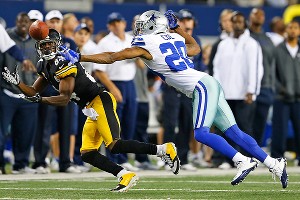 AP Photo/James D SmithCornerback Michael Coe was claimed off waivers and played in three games for the Cowboys.
Position:
Cornerback
Type:
Unrestricted
Summary:
Coe signed with the Cowboys on Dec. 11 and played in three games. He was used in the dime packages as an outside cornerback and also played special teams. He finished with one defensive tackle and one special teams stop. He opened the year with the
New York Giants
and played for Miami before the Cowboys claimed him off waivers.
Why keep him:
He has experience and decent size (6-foot, 187 pounds). The Cowboys will be short on cornerbacks with
Mike Jenkins
set to leave via free agency.
Why let him go:
He is what he is. There is no upside in keeping a 29-year-old journeyman who has limitations in the roles he can play.
Best guess:
The Cowboys will let him walk and hope to get better. They will need to address the cornerback spot behind
Brandon Carr
,
Morris Claiborne
and
Orlando Scandrick
in the offseason, either in free agency or through the draft.
January, 9, 2013
1/09/13
2:11
PM ET
This is not being written to defend Rob Ryan, who was released as Cowboys defensive coordinator Tuesday evening. But Ryan tried to manage a defense that was missing five starters, including nose tackle
Jay Ratliff
, a man expected to slow down opponents' running games.
Ryan also lost two backups,
Orlando Scandrick
to injury and
Josh Brent
because of his arrest. The players signed to replace the injured might have hurt Ryan more than anything else.
It's hard to get excited when you have
Ernie Sims
,
Charlie Peprah
,
Michael Coe
and
Eric Frampton
on the field trying to make plays for you with the season on the line.
However, the personnel department did a nice job finding players to fill the defensive side of the roster.
Peprah and Sims were the better of the signings because they were able to pick up a small portion of the defensive scheme and Ryan placed them in position to make plays.
Where Ryan failed in some ways is with what he did or didn't do with his scheme. He didn't blitz enough, and his players didn't create enough turnovers.
You can't blame the personnel department for that. You blame Ryan and the players.
When a team finishes 8-8 and misses the playoffs for the third consecutive season, change needs to happen. Jerry Jones, and maybe even Jason Garrett, wanted to give their defensive players a different voice than Ryan's. In the coming days we'll find out who that will be.
December, 31, 2012
12/31/12
9:30
AM ET
LANDOVER, Md. -- The Cowboys will have 18 free agents, but the biggest decision will be with outside linebacker
Anthony Spencer
.
The Cowboys could place the franchise tag on him for a second straight year, but that will cost them $10.6 million. Spencer has played so well in 2012 that another team could be willing to overpay him to pry him away from Dallas.
The Cowboys are not in the best of salary-cap positions and will likely have to restructure a number of contracts and cut players just to reach the expected $121 million cap.
Here's a look at the free agents to be:
December, 25, 2012
12/25/12
12:00
AM ET
IRVING, Texas -- Merry Christmas to everybody. On this day filled with wonder, we bring you the final regular-season installment of Five Wonders.
On Rudolph …
PODCAST
Coach Jason Garrett talks about the Cowboys' overtime loss to the Saints and Jason Witten's remarkable season.

Listen

** I wonder if anybody has set a record as quietly as
Jason Witten
set Sunday. With his final catch he set an NFL record for catches by a tight end in a season with 103.
Tony Gonzalez
had 102 for Kansas City in 2004. Because it came in overtime and given the magnitude of the game, there was a brief mention on the digital board and an announcement. Counter that with Detroit's
Calvin Johnson
breaking Jerry Rice's record for receiving yards in a season in which he was able to hand the ball to his dad and the crowd was able to make a big acknowledgment of the feat. Witten simply flipped the ball to the official and went back to business. The mark deserved more acclaim in the days that followed, not that Witten cared for any of the attention. It is, however, interesting to note. For all of the attention the Cowboys get nationally, somehow Witten seems to fall between the big headlines. Just an observation.
** If you're wondering when
Matt Johnson
can play again, it won't be this week. Johnson was placed on injured reserve with a designation to return Nov. 18 because of a hamstring injury. He can return to practice Friday but he would not be eligible to play in a game until the divisional round of the playoffs. Johnson's rookie year has been a wash because of the hamstring injuries. The offseason should do him some good to get bigger and stronger, but the Cowboys won't know what they have until next summer. Given Barry Church's recovery from an Achilles' tear and Johnson's inexperience, the Cowboys face something of a dilemma at safety. They clearly believe Johnson has some real potential or they would not have kept him around all year the way they have, but they won't know what he is. So go get a safety in free agency or draft one of the best safeties in the draft? Not really. To me, they can get by at safety especially with the resources they have at linebacker and cornerback.
** The Cowboys' pro scouting department has done a nice job in finding players throughout the season that have come in and played a role on a team ravaged by injuries. I wonder if some of the guys they have added are keepers going forward. Start with
Eric Frampton
, who will be a free agent after the season. He was signed to be a special teams' guy and has worked his way into a starting role in part because of injury. He would be a guy to bring back in 2013. I wonder if they take one-year looks at guys like
Michael Coe
,
Charlie Peprah
and
Brian Schaefering
too. Now, these guys aren't top-end starters by any means, but good role players. You would like to be able to develop younger guys in these roles, but they could be doing enough to at least get a deal for 2013.
** I wonder how the Cowboys believe
David Arkin
will be a player one day. They have done everything possible to not play the 2011 fourth-round pick this season and yet he remains on the roster. Arkin has had chances in his first two training camps that a lot of players do not get afforded and he was unable to show he can play. Yet the Cowboys keep him. If they end up cutting him next August in camp, then they wasted time. Teams loathe to give up on offensive lineman and I'm sure everybody thought
Doug Free
was a bust after his first two seasons when he played only a couple of times. Like Free, Arkin is from a small school and those guys tend to take time to develop, but the Cowboys cannot afford to draft projects anymore. They need to get guys who are close to being ready to play.
** I wonder if enough people are noticing what
Dan Bailey
has done in his first two years. He is having the second-best two-year run by a Cowboys kicker in team history. His coach,
Chris Boniol
made 59 of 64 field goal tries in 1995-96, good for a 92.2% percentage. Bailey has made 60 of 67 kicks the last two seasons, including 28 of 30 this season, for a 90% make rate. (Yes, we rounded up from 89.5%). He has made a field goal in every game but one this season (at Seattle), and has delivered winning kicks against Cleveland, Cincinnati and Pittsburgh this year. The guy is automatic and that means a lot with how many games in the NFL come down to big kicks.
December, 19, 2012
12/19/12
2:46
PM ET
IRVING, Texas – Since the regular season started, the Cowboys have made 58 roster moves. Twenty of them have come in the first 19 days of December.
On Wednesday they officially welcomed defensive linemen Ike Igbinosun to the practice squad.
Jason Hatcher
, a Cowboy since 2006, looks around the locker room and is not sure who's who anymore.
"Those guys man like I said I don't know half of them but they're playing their butt off right now," Hatcher said. "I'm learning their names, but they doing a great job coming off the street doing what they do."
The defense has seen the addition of
Brady Poppinga
,
Sterling Moore
,
Michael Coe
and
Brian Schaefering
since Nov. 26 and all four have made contributions.
"I learned I think Coe's name today," Hatcher said. "That's probably one. Sterling No. 30, I learned his name today. There's a few more I've got to learn by they've been balling."
Wait, Moore has been here three weeks and you're just learning his name?
"Really?" Hatcher said. "Shoot, I didn't know that one. I feel bad. My bad, Sterling."
December, 18, 2012
12/18/12
11:00
AM ET
A look at the snaps played by Cowboys' defenders in the team's 27-24 overtime win over the
Pittsburgh Steelers
, while analyzing what it means:
S Gerald Sensabaugh:
60 of 60
CB Mike Jenkins:
60 of 60
CB Brandon Carr:
59 of 60
OLB Anthony Spencer:
58 of 60
OLB DeMarcus Ware:
52 of 60
DE Jason Hatcher:
50 of 60

ILB Alex Albright:
49 of 60
S Danny McCray:
41 of 60
ILB Dan Connor:
38 of 60
CB Sterling Moore:
37 of 60
S Eric Frampton:
29 of 60
DL Sean Lissemore:
29 of 60
DE Marcus Spears:
27 of 60
DE Tyrone Crawford:
22 of 60
OLB Victor Butler:
13 of 60
CB Michael Coe:
10 of 60
DE Brian Schaefering:
10 of 60
NT Robert Callaway:
6 of 60
LB Ernie Sims:
5 of 60
Taylor's Takes:
CB Sterling Moore, NT Robert Callaway, CB Michael Coe and DE Brian Schaefering combined for 63 plays. So defensive coordinator Rob Ryan deserves considerable credit for getting his unit to play well with a bunch of no-name, new-to-the-team guys. ... Eric Frampton replaced Danny McCray in some situations in the nickel and dime because McCray was struggling. He couldn't cover TE
Heath Miller
in the first half and receiver
Mike Wallace
ran past him for a 60-yard gain in the third quarter. ... LB Alex Albright played a season-high 49 snaps and finished with five tackles -- none bigger than his third-down stop in the second quarter.
December, 14, 2012
12/14/12
1:59
PM ET
IRVING, Texas – Cowboys defensive coordinator Rob Ryan said cornerback
Morris Claiborne
"got a little dizzy" in Thursday's practice and was not sure the first-round pick will be able to play Sunday against Pittsburgh.
Claiborne said he is preparing to play, but he has to pass one more test before getting cleared. He was limited in Friday's practice and is listed as questionable.
"I'm feeling good right now," Claiborne said. "I'm just going to work closely with the training staff and whatever those guys want me to do, that's what I'm doing to do."
Claiborne was hurt in last week's win against Cincinnati in which he was hit by teammate
Danny McCray
while attempting to make a tackle. He needed 10 stitches to close a gash on his lip. This is the second concussion he has suffered in as many years and missed a game last year at LSU.
"I know he's doing everything he can and he's got to pass these tests," Ryan said. "That's the one thing, they've got this protocol and no one can rush it no matter who you are so I think it's great for the player's safety that we make sure when they do come back they come back with no trouble coming back. When Mo comes back he'll be ready to go and until then we'll just move forward."
Mike Jenkins
would start if Claiborne can't go and the backup corners would be
Sterling Moore
and
Michael Coe
, who was claimed off waivers from Miami earlier in the week.
"I coached with his dad. His dad's a good coach and I think this kid will be a better player," Ryan said of Coe. "We'll be fine with him. He's a good football player. He's got a lot of talent. He's a smart kid, so if he needs to play, he'll play and we're excited about him. He's got a lot of good talent."
Moore was signed off New England's practice squad two weeks ago and has two tackles in two games and a pass deflection. Ryan said Moore's time in New England has helped him adjust to the Cowboys.
"I think they are a multiple team with Bill Belichick and the guy with the beard out there, (Matt) Patricia, but they do a great job of coaching," Ryan said. "They let their guard down on him and we slipped up and gobbled him up. He's been an excellent football player. He's playing all over the place for us. He's playing inside. He's playing outside. He's playing safety. He's a smart guy but he's a very talented kid and we really got something here with this guy."
December, 14, 2012
12/14/12
11:34
AM ET
IRVING, Texas – With so many new faces in new places, configuring the Cowboys' 46-man roster for Sunday against Pittsburgh could be a challenge.
Injuries play a big part in setting the roster, so even though
DeMarcus Ware
said he will play with a hyperextended elbow against the Steelers, the Cowboys have to prepare for the possibility Ware won't be able to finish the game. Does that mean they dress all eight linebackers?
Injuries in the secondary have the Cowboys shorthanded too. Can they dress all nine of them?
While the Cowboys might want to get a look at wide receiver
Anthony Armstrong
, can they get all six wide receivers active? How about all five running backs?
Facing a physical team, the Cowboys could want to dress all seven defensive linemen, including newcomer
Brian Schaefering
. Most likely they will go with six with Schaefering and Robert Callaway taking the last two spots with
Jay Ratliff
off.
The Cowboys' final decision has to come down at wide receiver, running back and linebacker. Is
Phillip Tanner
active? Can they go with four receivers, especially with
Dez Bryant
playing with a broken finger? What role can
Brady Poppinga
serve?
The inactive guesses:
David Arkin
,
Darrion Weems
,
Kevin Kowalski
, Ratliff, Poppinga, Beasley,
Michael Coe
December, 11, 2012
12/11/12
6:41
PM ET
IRVING, Texas -- The Cowboys claimed cornerback
Michael Coe
off waivers from Miami to get a more veteran backup and waived
Vince Agnew
.
Coe played in one game with Miami before his release and in seven games with the
New York Giants
. Coe has played in 35 games with 19 tackles, four pass deflections and two fumble recoveries with the Giants, Indianapolis, Jacksonville and Miami.
Agnew played in four games after he was called up from the practice squad.
The Cowboys have also re-tooled their practice squad, adding tight end
Andre Smith
, defensive lineman Robert Rose, linebacker Brashton Satele and cornerback Micah Pellerin. The Cowboys released cornerback
Reggie Jones
and tight end Chase Ford from the practice squad.
Satele spent part of the offseason with the Cowboys before his release in May.
FALLING
[+] Enlarge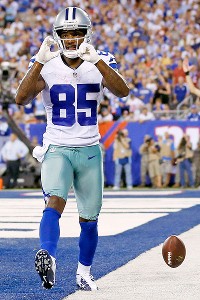 AP Photo/Julio CortezThe New York Giants secondary allowed the Cowboys and receier Kevin Ogletree to have a field day.
1. Giants' secondary.
Tony Romo had a field day in last Wednesday's opener, consistently finding open receivers in the
New York Giants
' defensive backfield. It wasn't
Miles Austin
and
Dez Bryant
doing all the damage, as
Laurent Robinson
Kevin Ogletree had the biggest statistical day and scored two touchdowns. And it wasn't just backup cornerbacks
Michael Coe
and
Justin Tryon
getting burned, as
Corey Webster
was the victim on two of the most important plays. The Giants could get a boost this weekend if
Prince Amukamara
returns from injury, but he's far from proven as an NFL cornerback and they will need to play better overall on the back end going forward.
2. Michael Vick, Philadelphia Eagles quarterback.
Yes, they won. Yes, Vick engineered the game-winning drive (something he didn't do all of last year). But four interceptions in the season opener after an offseason in which you promised everyone from King of Prussia on up to the Mars Rover that you were a new man? It's possible Vick was rusty, but if that's the case he's going to have to shake off the rust extremely soon and show proof of his offseason claims about a newfound devotion to study and detail. We didn't see much of that Sunday.
3. Roy Helu and Evan Royster, Washington Redskins running backs.
This is more about the "rising" of rookie sixth-round pick
Alfred Morris
, who was Washington's starting running back and carried the ball 28 times for 96 yards and two touchdowns. No other Redskins running back got more than two carries in the game. And while Helu still looks as though he could be an option here and there on third downs and in the passing game, for right now this appears to be Morris' job. The Redskins have health concerns about the other two backs, and Morris has played well enough to earn the carries.
RISING
1. Cowboys' defense.
The
Dallas Cowboys
believe they would have won the NFC East last year if they'd been able to cover receivers better, so they spent the bulk of their offseason resources on cornerbacks
Brandon Carr
and
Morris Claiborne
. In the season opener against the Giants, the performance of the Dallas secondary was critical. Not only did they get the Giants' excellent receivers covered with the combination of Carr, Claiborne and
Orlando Scandrick
, but safeties
Barry Church
and
Gerald Sensabaugh
both looked quick and aggressive and made smart plays on the ball. The return of cornerback
Mike Jenkins
from injury, which could come as soon as this Sunday's game in Seattle, will only deepen a position group that the Cowboys believe they have turned from a crippling weakness into a strength.
2. Redskins' secondary.
Lost amid the RG3 hype Sunday was the way the Washington Redskins' defensive backs performed, largely in man coverage. The Redskins don't usually like to isolate their cornerbacks on opposing wide receivers, but a sudden lack of depth at safety and the importance of devoting extra coverage to Saints tight end
Jimmy Graham
made it a necessity.
Josh Wilson
,
Cedric Griffin
and
DeAngelo Hall
were up to the task and covered the New Orleans receivers well all day while the linebackers and safeties did their best to try and slow down Graham. A perceived weakness of the team in the preseason, the secondary deserves praise for its effort in the opener.
3. Dominique Rodgers-Cromartie, Eagles cornerback.
The Eagles' defense was strong overall, and the performances of linebackers
DeMeco Ryans
and
Mychal Kendricks
as well as safeties
Nate Allen
and
Kurt Coleman
are all worthy of mention. But Rodgers-Cromartie is a player on whom lots of folks have their eye in Philadelphia this year. Playing the outside cornerback spot opposite
Nnamdi Asomugha
, Rodgers-Cromartie is going to be tested by opposing quarterbacks. The two interceptions he made Sunday should make them at least think twice.
September, 7, 2012
9/07/12
10:15
AM ET
IRVING, Texas – A depleted cornerback corps was the Giants' primary personnel concern entering the season opener.
That continues to be the case after
Tony Romo
picked apart the New York secondary for 307 yards and three touchdowns.
However, it's inaccurate to say the Cowboys simply exploited the Giants' weak links over and over again. Sure, they had success against
Michael Coe
and
Justin Tryon
, a couple of journeyman corners forced into significant roles because of injuries to
Terrell Thomas
(season-ending torn ACL) and
Prince Amukamara
(high ankle sprain).
But the Cowboys had their most success in the air when attacking
Corey Webster
, the Giants' best corner.
The Cowboys completed six of seven passes for 145 yards and a touchdown when targeting Webster. The lone incompletion was a dropped interception when Romo threw an ill-advised pass right to Webster after scrambling in the first quarter.
All four of
Dez Bryant
's catches for 85 yards, including a 38-yard deep ball, came against Webster.
Kevin Ogletree
, whose first touchdown came when he split a pair of linebackers in zone coverage, torched Webster on a stop-and-go for his 40-yard score. And
Miles Austin
had a 20-yard reception on a deep out the lone time he was thrown the ball while matched up against the Giants' top corner.
The Cowboys were 4-of-6 for 37 yards against Coe, with Ogletree the intended receiver on each occasion. They exploited Tryon after Coe left with a tweaked hamstring, completing all three passes thrown his way for 61 yards, including the 34-yard KO TD to Austin on a jump ball down the left sideline.
"We knew their corner situation, but we wanted our receivers to go against their corners," coach Jason Garrett said when asked about game-planning to attack weak links. "I think if you looked at the game we completed passes against every one of those corners, the guys who'd been playing a lot and also guys that not played as much. I think it's important to understand the pattern vs. the coverage and where the ball needs to go, and I thought Tony did a really good job throughout the game last night.
"I thought our guys won on a consistent basis against all their guys."
Webster was no exception. In fact, the Cowboys victimized the veteran starter more than anyone else.
August, 9, 2012
8/09/12
11:00
AM ET
One big reason cornerback
Terrell Thomas
is important to the
New York Giants
is that the Giants
really
like to use defensive backs. The Giants learned earlier this week that Thomas' latest knee injury would not require surgery and that he should be able to play for them this year. This is good news, because with
Aaron Ross
having left via free agency and second-year cornerback
Prince Amukamara
still developing, the Giants need Thomas. Not just as the starter opposite
Corey Webster
, but in the nickel and dime defensive packages they used more than any other team in the league last year.
According to ESPN Stats & Information, the Giants used five or more defensive backs on 734 defensive snaps last year -- more than any other team in the league. That number accounted for 68.5 percent of their 1,072 defensive snaps. Only the
Green Bay Packers
went with five or more defensive backs on a higher percentage of their plays -- 69.0 percent, or 724 of 1,049.
I know this because our NFC North blogger, Kevin Seifert, recently did a post about
how often the NFC North's teams
were in nickel or dime packages last year, and he passed along the chart he got from ESPN Stats & Info showing how often each team in the league went with extra defensive backs. That's how things work on the ESPN.com NFL blog network. We're a team. A brotherhood. Eight pistons firing as one. It's really quite beautiful to watch sometimes.
Anyway, I looked at the chart and noticed that the NFC East's teams basically lived in nickel and dime defenses. Well, three of them at least. The Giants ranked second in the league in percentage of plays with five or more defensive backs. The
Dallas Cowboys
were fifth, at 59.5 percent. The
Philadelphia Eagles
ranked eighth, at 56.8 percent. And the
Washington Redskins
were the exception, ranking 24th at 43.9 percent.
The Redskins had injury issues at safety, didn't like the job
Kevin Barnes
was doing as their inside corner and have very good linebackers that they don't like to take off the field. But the other three teams in our division ... they love them some nickel.
Back to the Giants for a second. Just because they used extra defensive backs this much last year doesn't automatically mean they'll do it again. They're deeper and stronger at linebacker this year, and they didn't re-sign veteran safety
Deon Grant
. That means, if they go to those three-safety looks they've run the past couple of years, the third safety would have to be someone like
Tyler Sash
or
Will Hill
. With Thomas currently on the shelf, there's a chance they could ask safety
Antrel Rolle
to play the nickel corner position, but that's not ideal.
Michael Coe
is likely the next corner off the bench if Amukamara is pressed into a starting role, and while he's looked good in camp, he lacks experience. The Giants liked linebacker
Jacquian Williams
in coverage late last year and in the postseason, and it's possible they could design more packages this year that use just four defensive backs, since their 2012 strengths may lie elsewhere.
The Cowboys' ideal plan is to start
Brandon Carr
and
Morris Claiborne
at cornerback with
Orlando Scandrick
and
Mike Jenkins
backing them up. Scandrick is good in the nickel spot, and overall this plan would give them enough depth to go to the nickel as often as they like. The issue right now, of course, is that Jenkins and Claiborne are hurt, and even if they expect those guys back for the start of the season, they're probably not getting to practice those nickel looks as much as they'd like to. Or at least, not with the personnel they'd prefer to use.
As for the Eagles, they're similar to the Giants in that they're stronger at linebacker this year and subtracted one of last year's starting corners when they traded
Asante Samuel
. With
Nnamdi Asomugha
and
Dominique Rodgers-Cromartie
as the starters, the nickel spot right now is likely to fall either to veteran
Joselio Hanson
or (more likely) rookie
Brandon Boykin
.
Curtis Marsh
has been getting a lot of work in camp and is the first option off the bench should one of the outside guys get hurt. And undrafted rookie
Cliff Harris
has a chance to make the team and add depth. Given the responsibility the Eagles' linebackers have for run support and gap control in the Wide 9, it's likely the Eagles will lean on their defensive backs as much as they did last year, and play as much nickel.
A lot of this depends on opponents, too. The Giants, Eagles and Cowboys all like to throw the ball a lot, so when they play each other they structure their defenses to stop the pass. And having teams like the Packers, Saints, Falcons, Steelers and Lions on the schedule, as NFC East teams do this year, can make teams go to the nickel more. But if we're basing it on last year alone, our teams like to use extra defensive backs as much as anyone in the entire league.