Dallas Cowboys:

Mike McCarthy
December, 13, 2013
12/13/13
8:00
AM ET
IRVING, Texas -- As the
Cowboys
walk to the team meeting room every day, they are met with pictures of Dallas' five Super Bowl winners. Each collage has a team photo and pictures of smiling players, coaches and executives from winning NFL championships.
At Lambeau Field, the photos from the great moments in Packers history line the wall from the tunnel to the locker room. When the stadium was renovated years ago, they took a row of old bricks and moved it to the new tunnel so players can say they walk over the same ground as the greats who played at Lambeau Field.
With a loss Sunday, though, either team will need even more help to just make the postseason.
[+] Enlarge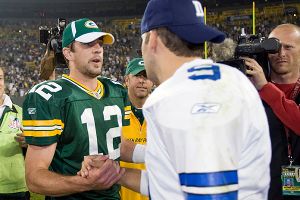 AP Photo/David StlukaCowboys QB Tony Romo, right, and Green Bay's Aaron Rodgers know the burden that comes with playing for franchises trying to recapture past glory.
Like the
Pittsburgh Steelers
and
San Francisco 49ers
, the Cowboys are constantly chasing ghosts from past teams.
The Packers and Cowboys have combined for 18 NFL championships (Green Bay 13, Dallas five) and nine Super Bowls (Green Bay four, Dallas five). They produced one of the NFL's iconic games -- the Ice Bowl -- in the 1967 NFC Championship. They were coached by legends in Tom Landry and Vince Lombardi. They rekindled the rivalry in the 1990s, meeting in the playoffs from 1993 to 1995.
The current teams carry something of a burden with them because of the successful pasts.
"We always look at it as a sense of pride and energy to tap into," Green Bay coach Mike McCarthy said. "We think it's very important to have that and recognize it and honor it, so I always refer to it as there's pride in the bricks of Lambeau Field and it's something we need to tap into. We talk to our current team about it and how important it is to win and represent the
Green Bay Packers
the right way."
Jason Garrett does not talk about the expectations laid out from the likes of Roger Staubach, Bob Lilly, Tony Dorsett, Randy White, Mel Renfro, Michael Irvin, Troy Aikman and Emmitt Smith. He talks about the standard those players and teams set.
"You want to be in a place where there's a high standard for achievement," Garrett said. "I think that's a good thing. That brings the best out in people. What we try to do each and every day is be our best. Come to work as players and coaches and put our best foot forward and get ready for our challenges each week and again, embrace the past. That's a good thing. ... That drives us. That's part of what drives us to achieve, really, each and every day, and certainly each season."
Tony Romo
is constantly measured against Staubach and Aikman.
Aaron Rodgers
is measured against Bart Starr and Brett Favre, but he has the Super Bowl ring that Romo is still looking for, having beaten the Steelers at AT&T Stadium in Super Bowl XLV.
Rodgers has 23 teammates on the roster with a Super Bowl ring.
Romo hopes one day to have his own, so he and his teammates can have their pictures on the wall holding the Lombardi Trophy.
"You want to be a part of a storied franchise," Romo said. "It just makes it important. You want a challenge. You want it to matter, and you want it to be important. That's what's great about this organization and great about our fans."
December, 12, 2013
12/12/13
11:39
AM ET
IRVING, Texas -- The
Dallas Cowboys
had not been able to build much of a home-field advantage at AT&T Stadium since its opening in 2009.
They were just 17-15 from 2009-12.
This year it has been a different story in Arlington, and that's something executive vice president Stephen Jones is hanging his hat on with the
Green Bay Packers
visiting on Sunday.
"It's good we're coming home," Jones said. "I think we've played well this year at home. I think we've lost one game and I think we had a helluva shot at that one. I think we'll respond well. We'll hopefully get our feet back under us and go from there."
The lone loss was a 51-48 defeat to the then-undefeated
Denver Broncos
. The Cowboys are 5-1 at home and are averaging 34 points per game in those six games.
Tony Romo
has 14 touchdown passes and four interceptions at home. He is completing 68.9 percent of his passes at home.
Defensively they are better too. They are about a field goal better in terms of points allowed (25.3 at home, 28 on the road). Fifteen of their 25 takeaways have come at home. Fourteen of their 27 sacks have come at home.
Two of the three bounce-back games after atrocious defensive outings have come at home. After the Broncos' loss, they held the
Washington Redskins
to 16 points, however, the Redskins did rush for 216 yards. After allowing what was then a franchise record 623 yards to the
Detroit Lions
, they held the
Minnesota Vikings
to 393 yards in a 27-23 win. But Minnesota still ran for 169 yards.
The Packers will be making their first regular-season trip to AT&T Stadium, but they will have a positive vibe when they take the field. They beat the
Pittsburgh Steelers
there in Super Bowl XLV on Feb. 6, 2011.
"That was obviously a great time and a great memory for all of us in Green Bay," Packers coach Mike McCarthy said. "I can't say enough about the stadium and the city of Dallas, it's a great place and it'll always be something that we hold special, but the reality of it is we're coming down there to play the Dallas Cowboys in a very big football game and that's what we're looking at."
December, 12, 2013
12/12/13
10:00
AM ET
IRVING, Texas -- The
Green Bay Packers
and
Dallas Cowboys
are two of the most storied franchises in NFL history, but with three games to play in the 2013 season both are on the outside of the playoff chase and in need of a win.
The Packers have fallen on hard times without
Aaron Rodgers
but won last week against the
Atlanta Falcons
. The Cowboys are coming off a humiliating loss to the
Chicago Bears
and have a short week to get ready.
ESPN.com Packers reporter Rob Demovsky and Cowboys reporter Todd Archer debate the matchup in this week's Double Coverage.
Archer:
I'll skip the "What's Aaron Rodgers status?" and ask about Ted Thompson's approach to the backup quarterback. The Cowboys pay
Kyle Orton
a lot of money to hopefully never throw a pass. Is there any regret form the Packers that they did not have a better backup quarterback situation behind Rodgers, considering their struggles without him?
[Editor's note: Rodgers was officially ruled out for Sunday's game on Friday.]
Demovsky:
Thompson admitted at the end of training camp that he probably should have signed
Vince Young
much earlier than he did, although after watching Young for about a month, I'm not sure he would have been any better had the Packers signed back in the spring. Where they probably erred was in not drafting a quarterback. They overestimated what they had in
Graham Harrell
and B.J. Coleman, and neither one developed enough. When Ron Wolf was the GM, he made it a regular practice to draft a quarterback in the middle-to -late rounds. Not all of them worked out, but guys like
Ty Detmer
,
Mark Brunell
,
Matt Hasselbeck
and
Aaron Brooks
all came up through the Packers' system.
Packers defensive coordinator Dom Capers said
Tony Romo
is "playing probably as good as he has in his career." Do you agree with that assessment?
Archer:
I'd agree with that, sure. It's hard to argue against his numbers. He has 3,244 yards passing with 27 touchdowns and seven interceptions. He's taking care of the ball. He had one really careless throw and it cost the Cowboys big-time in their loss to the
Denver Broncos
. Romo gets most of the blame for the December/January woes this team has had, but in his last 16 games he has 34 touchdowns and seven picks. It's hard to play better than that. But you know what? He has to. This defense is so bad that Romo has to be nearly perfect. There can be no poor drives. If they don't get points they at least need to chew up time because there's not an offense the Cowboys can slow down right now.
When the Packers won Super Bowl XLV at AT&T Stadium they were able to overcome so many injuries, especially on defense as we talked about. The difference this year is Rodgers missing time, but is there anything more to it than that?
Demovsky:
They did end up with 15 players in injured reserve in their Super Bowl season, and then during that game itself they lost
Charles Woodson
to a broken collarbone. But you know what? This defense played fine early this season and even during the stretch
Clay Matthews
missed because of his broken thumb. Capers said last week that losing Rodgers had nothing to do with the Packers' defensive slide, but I'm not buying it. The Packers' defense got four turnovers in the Thanksgiving game at Detroit and still got walloped 40-10 because the offense couldn't do a darn thing with them. To be sure, there are issues on defense. Their failure to address needs at safety has hurt them up the middle, where their inside linebackers also haven't played well enough.
It sounds like Monte Kiffin is already taking heat, but how much of it is personnel? When I saw Packers castoff
Jarius Wynn
playing Monday night against the Bears, to me that was a red flag that there are talent issues, perhaps some of them caused by injuries.
Archer:
There are talent issues and there are depth issues. Blame the owner and GM who constructed this team. Blame the coaches -- Kiffin and Rod Marinelli -- for saying the line was a position of strength. The Cowboys thought they had pieces to fit Kiffin's scheme at the start of the year.
DeMarcus Ware
has not been DeMarcus Ware in part because of injuries, but he acknowledged he has to play better.
Bruce Carter
was supposed to be the ideal weak-side linebacker and he just has not made any plays. The corners are more man corners and Kiffin has tried to play more man but all of them --
Brandon Carr
,
Morris Claiborne
and
Orlando Scandrick
-- have had issues.
Sean Lee
has been hurt and could miss Sunday's game with a neck injury. He's been good but the defense has been lit up with him on the field, too. It's just a mess. Until Jerry Jones realizes he needs better players, not necessarily better schemes, it will be a mess.
Let's stick with the defensive coordinators. From the outside looking in, it appears Capers is catching a lot of grief too. Are the Packers committed to the 3-4 regardless or could they pull a Dallas and move to a 4-3 in the future?
Demovsky:
When the cornerstone of the defense is Matthews, an outside linebacker, I would think they'd have to stick with the 3-4 even if they part ways with Capers, which I'm not sure will happen anyway. Mike McCarthy has continually praised Capers and the defensive staff. It's probably more about personnel. They need a few more playmakers to help out Matthews. They haven't gotten enough production from their defensive front. I'd look for an overhaul in personnel more than a coaching change.
Knowing the temperature in the Cowboys locker room like you do, how do you think they will react to getting steamrolled Monday night? Is this a group that will fight? Or will they pack it in?
Archer:
This is where I have to give Jason Garrett credit. This team has fought. Maybe they didn't fight all that much in the losses to New Orleans and Chicago, but they have not packed it in. You saw the last time the Cowboys packed it in in 2010 at Lambeau Field when Wade Phillips was the coach. The Cowboys lost 45-7 and were completely disinterested. Phillips was fired the next day and Garrett took over. There is some gumption to this team. They do work hard. They do the right things. I'll say it again: Most of it is a talent issue. I'd expect the Cowboys to come out with the effort Sunday because they're still very much in the playoff chase. But do they believe they can really make a run? I don't know about that.
November, 9, 2011
11/09/11
4:59
PM ET
IRVING, Texas -- More than a few times Cowboys owner and general manager Jerry Jones has told the story about how Joe Gibbs told Jones about the importance of having a coach with a specialty on one side of the ball.
PODCAST
ESPNDallas.com's Tim MacMahon joins Galloway & Company to hand out midseason grades for the Cowboys.

Listen

Jones isn't a fan of a "walk-around" head coach. It's why Jones wanted Wade Phillips to call the defense when Phillips was the coach and why he wants Jason Garrett to call the offense.
On Sunday Jimmy Johnson, who was a "walk-around" head coach, said on Fox's pre-game show that Garrett would be better off with an offensive coordinator, even if Sean Payton and Mike McCarthy served as head coaches and play callers for the last two Super Bowl teams.
"I do have a tremendous amount of respect for Coach Johnson," Garrett said. "I had the good fortune of playing for him for two years and have learned a tremendous amount of football from him when he was a head coach, just seeing how he operated. And since then, in many conversations that he and I have had. That could be an opinion he might have and other people might have. But right now, we feel good about the structure we have on our staff and that is what we will do going forward."
Does it ever get to be too much for Garrett?
"I think the biggest thing that we do pretty well is we communicate during the game, and that's within the offensive staff," Garrett said. "I also think it's among all of the guys on the staff. I think our communication is good. Obviously, Rob [Ryan] is calling the defense, but as a head coach you have to be involved in all three phases and I think we communicate well, we communicate quickly and it's been an effective way to do it."
May, 10, 2011
5/10/11
1:07
PM ET
By
Tim Graham
| ESPNDallas.com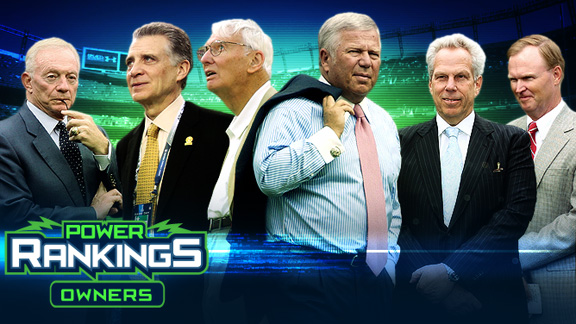 ESPN.com IllustrationThe Rooney family received only first- and second-place votes from our panelists.
There wasn't a whole lot of room for debate at the top.
ESPN.com took its positional Power Rankings series off the field and into the boardroom to rate the owners. None of them are popular fellows these days, but for the purposes of this project, nobody was more respected than the Rooney family.
The
Pittsburgh Steelers
' owners were listed first or second on all eight of the panelists' ballots.
By any definition, Dan Rooney and Art Rooney II qualify as powerful.
They're winners. The Steelers have played in eight Super Bowls and won six of them with three head coaches. The family's success has spanned such a long time that Dan and the late Art Rooney Sr. were inducted into the Pro Football Hall of Fame 36 years apart.
They're transcendent. President Barack Obama selected Steelers chairman Dan Rooney as the U.S. ambassador to Ireland.
They're influential. Dan Rooney was behind the so-called "Rooney Rule," which changed sidelines dramatically by stimulating minority hires. When it comes to the lockout, Rooney is a prominent voice of reason and could help broker the eventual deal.
"The Steelers selection is a no-brainer," ESPN.com senior writer John Clayton said. "The Steelers under the Rooneys have been the model of franchise ownership in sports. They are successful, consistent and supportive.
"They don't undergo the constant changes of other franchises. Plus, the family has been so instrumental in doing things that help advance the league, sometimes at the expense of their own franchise. It's no secret that two Rooneys are in the Pro Football Hall of Fame."
Clayton, AFC North blogger James Walker, AFC West blogger Bill Williamson and NFC South blogger Pat Yasinskas each had the Rooneys atop his ballot.
"The Rooney family is the perfect combination of tradition, consistency and success," Walker said, echoing Clayton's thoughts almost verbatim. "The easiest thing to point out is they've had the most Super Bowl wins and fewest head coaches since 1969. But they also set trends off the field with things like the Rooney Rule. They're very well respected, and there's a special sense of pride about the Steelers from players and fans that you don't see in many places. It starts at the top."
But the Rooneys were not unanimous choices in our ownership Power Rankings.
What about the power of the people?
The
Green Bay Packers
' ownership received three of the four remaining first-place votes. NFC North blogger Kevin Seifert, NFC West blogger Mike Sando and I all listed the Packers first because of their unique kind of power. Rules governing the other 31 franchises don't apply to them.
The Packers are the only publicly owned franchise. Green Bay Packers Inc. is a nonprofit organization formed in 1922. About 112,000 stockholders own roughly 4.75 million shares of the team. A seven-member executive board oversees the team on behalf of the stockholders.
Packers fans never will have to worry about the team being sold or moving away. The Packers are the only franchise that must open its books.
Oh, yeah. They also just won their NFL-record 13th championship.
Seifert explained why the Packers are special.
"My criteria for this category was twofold," Seifert said. "Do the owners fund the team's operations well? And do they operate the team well?
"I think the Packers' arrangement is currently doing both and has none of the baggage that goes along with single-family ownership. Shareholders don't take dividends, so no one is driven by individual profit. All profits go back into the franchise. In my experience, no expenses are spared in operating the team. People might note that general manager Ted Thompson doesn't sign many free agents, but that's a football decision. He's spent plenty on retaining the Packers' own free agents.
"The executive committee has hired a competent president in Mark Murphy, and after a bumpy start on the
Brett Favre
departure, Murphy has facilitated excellent work from the GM and coach he inherited.
"Finally, the Packers' ownership arrangement requires Murphy, Ted Thompson and Mike McCarthy to be more accountable to 112,000 fans than any other NFL official is to his fan base. Shareholders can't make operating decisions, but they have the right to question decisions, to know how money is being spent and to get straight(er) answers than fans of any other NFL team."
Clayton, however, wasn't impressed. He omitted the Packers from his ballot, ensuring they didn't finish second in the Power Rankings despite their three first-place votes.
One gets the impression that if Clayton were to slot all 32 ownerships, he would jot the Packers last.
"I couldn't vote for the Packers because it is a community ownership, not a normal ownership," Clayton said. "It's not as though one owner makes the decisions and has to stand up for the praise or criticism. Assigned the chance to vote for ownership, I felt more comfortable voting for individual owners or family owners."
[+] Enlarge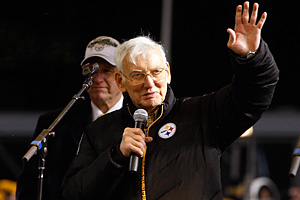 Jared Wickerham/Getty ImagesDan Rooney has been one of the most influential owners in the NFL.
As a result,
New England Patriots
owner Robert Kraft was second overall. Kraft hired Bill Belichick as head coach and has stayed out of the way of football operations. The Patriots have won three Super Bowls in the past decade and went to a fourth. Forbes estimated the Patriots are the third-most-valuable NFL franchise and the world's 10th-biggest sports brand.
AFC South blogger Paul Kuharsky listed Kraft above all. Kuharsky had the Rooneys second and the Packers third.
Kuharsky had the most efficient Power Rankings ballot. He was the lone panelist to vote for all of the owners who finished in the top 10.
"Robert Kraft versus the Rooneys is a close call," Kuharsky said. "I went Kraft because I feel he and his team have done more lately. In many ways, the Patriots -- not the Steelers -- are the standard-setters for the league. And while I prefer the way Heinz Field is in the middle of Pittsburgh, that development around Gillette Stadium has to be the envy of a lot of owners."
New York Giants
co-owners John Mara and Steve Tisch came in fourth,
Philadelphia Eagles
owner Jeffrey Lurie was fifth and
Baltimore Ravens
owner Steve Bisciotti was sixth.
From there, everybody else on the Power Rankings top 10 was omitted from at least one ballot.
Eclectic
Indianapolis Colts
owner Jim Irsay, who was able to help land a Super Bowl in a nontraditional locale, came in seventh. Irsay rated no higher than sixth on any ballot, but he didn't make Williamson's top 10.
"I know it sticks out because I was the only one not to rank him, but if he was in the top three, I'd re-evaluate my reasoning," Williamson said. "But I can live with not voting for the No. 7 finisher. To be frank, I never considered Irsay. I considered 14 ownerships in all. Other than his random tweets, Irsay doesn't stick out to me, good or bad."
When it came to voting, money didn't necessarily equal power for some panelists.
I ranked
Dallas Cowboys
owner Jerry Jones third, higher than any other voter. Sando and Yasinskas didn't rate Jones at all. Jones ended up eighth.
To me, you can't argue with his money or his presence. Forbes ranked the Cowboys the world's fourth-greatest sports brand behind only the New York Yankees, Manchester United and Real Madrid. Their estimated brand value was $128 million more than the NFL average and $15 million more than the Eagles and Giants combined.
Forbes estimated the Cowboys franchise was worth $1.8 billion, nearly $300 million more than the next-closest NFL club, the
Washington Redskins
.
Jones also serves as general manager. That puts him in control of every business and personnel decision. Sando saw that as a drawback.
"Jerry Jones is more involved in football operations than an owner ideally would be," Sando said. "He has shown questionable judgment in hiring head coaches. His involvement in football operations had made those coaches' jobs tougher. Jones dispatched with Tom Landry harshly and later failed to sustain the success Jimmy Johnson orchestrated.
"Also on Jones' watch, the Cowboys have suffered through the practice-bubble catastrophe, a Super Bowl experience that produced poor reviews and a video purporting to show Jones' drunken antics in a bar. Jones also was part of the NFL Management Council Executive Committee when the league agreed to the ill-fated 2006 collective bargaining agreement. Overall, the team hasn't enjoyed enough success recently to say the ends justify the means."
Yasinskas contended that Jones simply is overrated these days.
"If Jerry Jones had continued the success he had with Jimmy Johnson and Barry Switzer back in the 1990s, he'd be at the top of my list," Yasinskas said. "But the fact is the Cowboys really haven't been all that relevant for a long time. Part of that is due to Jones.
"He's done some good things and the new stadium is fabulous, but he's been way too hands-on with that franchise and he's run through lots of good coaches and players without any real results."
Let us know what you think.
February, 6, 2011
2/06/11
10:58
PM ET
ARLINGTON, Texas -- Mike McCarthy made a somewhat unusual step on Saturday when he had his players fitted for their championship rings on Saturday night.
"That kind of made it real," center
Scott Wells
said.
The Packers had only two players with Super Bowl experience entering the game and thought it was mostly a matter of NFL protocol.
For veteran wide receiver
Donald Driver
, whose game was cut short because of an ankle injury, the ring size will mean even more to him once he gets the ring.
"I picked the biggest finger that had been broken for all these years and it'll have to go over the knuckle," Driver said. "I'm getting a 14.5 ring. It's going to be big and it's going to be gorgeous."
January, 31, 2011
1/31/11
7:29
PM ET
IRVING, Texas -- After the collapse of the Cowboys' indoor practice facility in May 2009, the team elected not to construct a new one. That means the Green Bay Packers will have to use the facility at Highland Park High School if inclement weather forces them indoors for Super Bowl practice.
Green Bay coach Mike McCarthy said a decision on whether to move their practice will be made Tuesday. The outdoor practices would be at SMU.
Packers linebacker
A.J. Hawk
already has a scouting report on the Highland Park facility. One of his Ohio State teammates,
Anthony Schlegel
, graduated from the school.
"I'm from Ohio and high school football is pretty big, at least we think it is," Hawk said. "[Schlegel] has told me about [the indoor facility]. Texas football is amazing. Everything in Texas is great."
Hawk is also getting some help from another former Buckeye,
Bobby Carpenter
, who played for the Cowboys from 2006-09.
"I asked Bobby about playing in the new stadium and how it was and he said it's just amazing and told me to have a good time down here," Hawk said. "He hasn't sold his house yet and a couple of my buddies are staying at his vacant house this week to get some use out of it."
January, 31, 2011
1/31/11
7:18
PM ET
IRVING, Texas -- With only two players on the roster with Super Bowl experience, Green Bay coach Mike McCarthy wants to make sure the players enjoy their time in North Texas but not at the expense of getting ready to play Pittsburgh on Sunday.

"The preparation is the prize," McCarthy said. "That's what we're after."

The Packers arrived at their Las Colinas hotel late Monday afternoon after flying in from Green Bay. Fans lined the streets as they left the team's practice facility, and a group awaited them at the Omni Mandalay.

"We came into North Texas as late as possible to maximize our time in Green Bay and our preparation for this game," McCarthy said. "With that being said, we're probably 90 percent ready from an installation standpoint but I felt it was important to stay the course with the work ahead of us here Wednesday, Thursday and Friday."

Much will be made this week of McCarthy's Pittsburgh ties. He grew up there and most of his family remains.

"Growing up in Pittsburgh is a big part of who I am, but I'm a Green Bay Packer," McCarthy said, "and we've come here to claim the Lombardi Trophy."