Dallas Cowboys:

Mike Nolan
April, 15, 2014
Apr 15
10:30
AM ET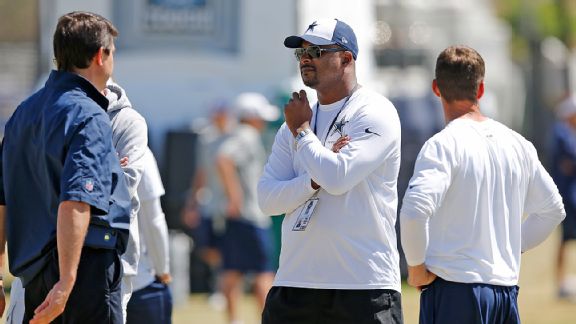 AP Photo/James D SmithAssistant director of player personnel Will McClay, 47, will be an asset to the Cowboys in May's draft.
IRVING, Texas -- There is a Herm Edwards story that keeps coming back to Will McClay, especially now.
The story is from more than 10 years ago, when Edwards was coach of the
New York Jets
. As a boy, Edwards' father made him sweep the back patio of their house. When Edwards was done, his father went out back, saw the pile his son made and immediately went to the corners. They were untouched.
The message that stuck with McClay when he first heard the story was simple: Details matter.
In his current job as the
Dallas Cowboys
' assistant director of player personnel, McClay is sweeping the corners.
In this case, sweeping the corners is looking anywhere and everywhere for a player to help the Cowboys in next month's draft. This is McClay's first as the Cowboys' highest-ranked personnel chief not named Jones.
"He's there night and day," said McClay's former Arena Football League assistant and confidante Terry Gray. "He's got a relentless passion to provide Mr. [Jerry] Jones and Stephen [Jones] the very best product available within the means and the parameters of what he's able to work with. He's nonstop. Nonstop. He doesn't sleep a whole lot."
There will be time to sleep after the draft. Maybe McClay, 47, can sneak in a little bit in June after the minicamp ends but before training camp in Oxnard, Calif., begins in late July.
For now, sleep can wait. McClay, whom the Cowboys declined to make available for this story, is in charge of putting the Cowboys' draft room together. It is a painstaking process that takes months to go through but picks up its pace in the final few weeks before the Cowboys pick No. 16 overall in the first round on May 8.
This week, nearly 30 players from across the country will visit Valley Ranch, wrapping up on Wednesday. On Thursday, the club will host its Dallas Day workouts for the local draft prospects. When it is all over, McClay and the scouting department will be back in the office grinding away, sweeping the corners.
McClay's rise to this current position has taken him through the Arena Football League as a player and coach, the defunct XFL and the
Jacksonville Jaguars
, where he was the assistant director of pro scouting. He joined the Cowboys organization in 2002 as defensive coordinator of the AFL's Dallas Desperados and became the head coach in 2004. He also served as a pro scout for the Cowboys, and in 2012 he was named the director of football research. Last spring he was promoted to his current title.
"Everything equates in looking at talent," Cowboys executive vice president Stephen Jones said. "He found some really unique guys in the arena league and then of course when he was back in scouting. He has had a passion for it, and it just seems like every step of the way he's done a good job for us. I commend him on the job he did finding guys like [George] Selvie and [Nick] Hayden, people like that. People that everybody had a shot at, but he brought them in."
Over the past few years, the Cowboys have found several prizes in street free agency in
Laurent Robinson
,
Tony Fiammetta
,
Eric Frampton
,
Ernie Sims
and Selvie, who had seven sacks last season. The Cowboys dressed 20 different defensive linemen in 2013.
McClay spent most of the season sweeping the corners for defensive linemen. And he was doing it long before he ever heard Edwards' tale. He did it at Houston Marian Christian, playing wide receiver as a freshman and quarterback as a senior to win Class 3A state titles in the Texas Christian Interscholastic League in 1981 and '84.
His high school coach, Mike Treybig, remembers walking into his office only to see McClay feeding the 16-millimeter film into the projector.
"

He found some really unique guys in the arena league and then of course when he was back in scouting. He has had a passion for it, and it just seems like every step of the way he's done a good job for us.

"

-- Cowboys executive vice president Stephen Jones on assistant director of player personnel William McClay
"William liked watching tape," Treybig said. "I would imagine he would've loved it if we let him call his own plays. I know there were times we allowed him to do that. He was definitely a student of the game. We didn't have to worry about a lot of stuff when it came to William. We knew he did his homework and would take care of things to give us the best chance to win on that Friday."
McClay could have gone to Nebraska, but he chose Rice instead to stay close to home and played defensive back. He was recruited there by Mike Nolan, the current defensive coordinator of the
Atlanta Falcons
. Tyrone Willingham, the former head coach at Notre Dame and Stanford, was the receivers coach at the time.
He remembers questions from McClay about what receivers looked for, searching for ways to get better as a defender even if the wins did not come as much as the Owls would have liked. Willingham and McClay remain close to this day.
"I'm personally excited for the individual, but I'm more excited for the organization because they did not let talent, for one reason or another, slip through the cracks," Willingham said. "That, to me, is so important because when you have talent you want to let it rise to the top to better everyone else in the organization."
Clint Dolezel played two years at East Texas State, throwing for 3,152 yards and 22 touchdown passes. McClay was defensive coordinator with a hand in personnel for the Milwaukee Mustangs in 1995 when Dolezel was recommended and eventually signed.
By the time Dolezel retired in 2008 with the Desperados with McClay as his head coach, he threw for 44,563 yards and 931 touchdowns.
"So many scouts get caught up in the fact, 'Well, we want him because he went to this big school,'" said Dolezel, now the head coach of the AFL's Philadelphia Soul. "And a lot of times they're right, but those are the no-brainers that no one is pointing a finger at if he doesn't pan out. Hey, he had the pedigree because he went to Texas or Oklahoma or Florida State or Alabama. The good ones find the ones at East Texas State and schools like that."
In his interview with the Jaguars, Tom Coughlin had McClay research a particular free-agent cornerback the team was high on and wanted to sign. McClay watched the tape and concluded that the player would not be worth the money or fit in the system. Coughlin briefly objected, but McClay held firm. He got the job, and the Jaguars did not sign the player.
"There is not a magic formula," Gray said. "It's just good, old-fashioned bust-your-ass hard work and lots and lots of tape. Lots of calls. Lots of research. Just looking at thousands of players until you find one you think fits for you. He's just got a very unique way knowing a football player when he sees one. That's commonly described by a lot of people, but he just knows it at a different level. It's more than just everybody saying, 'He can't play.' It's Will finding guys that can play that no one considered.
"Will McClay is a machine. He's a film-watching, evaluating, researching machine. He just never stops and he will never stop."
There always will be corners to sweep.
November, 29, 2011
11/29/11
12:44
PM ET
IRVING, Texas -- After four days in the Bahamas, I'm back wondering five things as the Cowboys prepare to head to Arizona on Sunday with the NFC East lead.
** Now that Jacksonville has started the ball rolling on the head coaching vacancies by canning Jack Del Rio, we'll see just how hot a name Rob Ryan will be. The Cowboys defensive coordinator figures to be on the top of a few lists. I don't see Jacksonville as his destination. For some reason, I wonder about Miami. But that's not what this wonder is about. I'm wondering about Ryan's replacement at defensive coordinator if he gets a head coaching job. I wonder if Matt Eberflus, the linebackers coach whom Ryan called the "DeMarcus Ware" of coaches in camp, would remain with the team or go with Ryan. Say he goes to Miami, the name to look for his Dolphins defensive coordinator Mike Nolan. He runs the 3-4. He has an excellent background and I'd say he put on a pretty decent performance on Thanksgiving against the Cowboys. That defense is stout and playing awfully well right now.
** When the Cowboys played at Washington a couple of weeks ago I made reference to all of the wacky things that seem to happen at FedEx Field when they play the Redskins. And the Cowboys' 27-24 win was another wacky affair. Now they had to University of Phoenix Stadium and their last two trips to the desert have been wacky affairs, leading me to wonder what wacky thing will happen Sunday. Do you remember the 2008 trip there? The Cowboys lose in overtime on a blocked punt that was scooped up for a touchdown. On the play
Mat McBriar
broke his foot. On the play prior to the punt,
Tony Romo
fractured his pinky finger. He missed three games and the Cowboys missed the playoffs by a game. That injury led more to the Cowboys missing the playoffs than any talk of poor chemistry, lack of leadership. Last year,
David Buehler
missed a point after attempt gave Dallas a 26-24 lead after
Stephen McGee
hit
Miles Austin
with a late TD pass. The Cards won it on a
Jay Feely
field goal with five seconds left. A missed PAT?
** Is it too early to wonder about playoff seeding? Probably, but who cares? Let's concede homefield advantage through the postseason to undefeated Green Bay. Right now the Cowboys are the No. 4 seed behind San Francisco and New Orleans. If that holds and the Cowboys win a wild-card game, then they'd go to Green Bay for the second round of the playoffs with visions of last year's 45-7 defeat at Lambeau Field in their head. They are a game back of the Saints for the No. 3 seed and you'd rather be the No. 3 seed heading to San Francisco in the divisional round than Green Bay. The Niners would seem to have the inside track on the No. 2 seed with games remaining against St. Louis (two), Arizona, Pittsburgh and Seattle. Maybe they lose to the Steelers. The Saints have Detroit, Tennessee (away), Minnesota (away), Atlanta and Carolina. New Orleans is a different team on the road so let's say they lose to Minnesota and the Cowboys win out so both teams finish 12-4. That would give the Cowboys the No. 3 seed based on conference record and a return trip to Candlestick.
** I wonder if we saw the plan for Dez Bryant's involvement in the return game last Thursday. When the Cowboys absolutely, positively needed to have a big punt return late in the fourth quarter against Miami, Bryant picked up 20 yards, which was the third-longest punt return the Cowboys had this year. As a result they started at their 36 instead of being pinned inside the 20 and were able to get into field goal range quickly. He is too valuable on offense to handle the job on a full-time basis, but what happened on Thanksgiving is the perfect happy medium.
** The Cowboys made a play for
Kyle Orton
and lost out to Kansas City on the waiver bid, but that doesn't mean their search for a quarterback is over. I wonder if the Cowboys continue to look for a No. 3 quarterback. The dalliance with Orton should tell you Jon Kitna's back injury is severe, even if coach Jason Garrett has hope in the veteran's return. If the Cowboys were awarded Orton, Kitna would have been put on injured reserve. Plain and simple. So where do you look for QB help now? You've seen some vets like
Jake Delhomme
,
Jeff Garcia
and
Trent Edwards
get some workouts recently. Maybe they go there. But I wouldn't rule out looking at practice squad quarterbacks either. Provided each team had up-to-date rosters on their Web sites, nine have quarterbacks on their practice squad: Pat Devlin (Miami), Zac Robinson (Cincinnati), Adam Weber (Denver), Drew Willy (San Diego), Ryan Perrilloux (NY Giants), Jonathan Crompton (Washington),
Graham Harrell
(Green Bay),
John Parker Wilson
(Atlanta) and Rudy Carpenter (Tampa Bay). Of all the names, Carpenter makes some sense since he was with the Cowboys in training camp in 2009 and spent time on their practice squad before jumping to the Buccaneers.
January, 3, 2011
1/03/11
6:27
PM ET
IRVING, Texas -- Jason Garrett praised the job Paul Pasqualoni did as the Cowboys' defensive coordinator in the final eight games, pointing to the circumstances.

But Garrett, who danced around questions about his future as a head coach, did not offer any hints about whether he'd want to keep Pasqualoni as the defensive coordinator.

"When you look at it on the whole, he was put in a difficult situation in the middle of the year and tried to implement some of the changes we wanted to do," Garrett said. "I thought he handled the situation well. I thought our players responded to him.

"I think we need to get better on defense. There is no question about that."

The Cowboys ranked 23rd in the NFL in total defense (351.8 yards per game) and 31st in scoring defense (27.3 points). The yardage totals got worse and the scoring totals only slightly improved in the second half of the season.

However, the Cowboys made major strides in a category strongly emphasized by Garrett. The Cowboys forced 20 turnovers in the second half of the season, twice as many as they forced in the first eight games under Wade Phillips. The Cowboys had four defensive touchdowns in the last eight games and set up several other scores with turnovers.

"We've talked about the importance of turnovers and that being really the most significant stat in football and how turnovers correlate to scoring points and how scoring points correlates to winning," Garrett said. "I thought the defense did an outstanding job really getting the ball from the opposing offense, knocking it out and picking up a fumble like happened the other day or being awfully good at going and getting the ball and intercepting it…. I know that certainly helped us offensively score more points and contribute to winning. So that's an important of it."

Garrett said that it was ultimately his decision to appoint Pasqualoni as the defensive coordinator after Phillips' firing, although he discussed the issue with Jerry Jones. Garrett said that he had not had discussions with Pasqualoni about whether he might continue being the defensive coordinator.

If Garrett does not go with Pasqualoni, there could be several candidates to become the Cowboys' defensive coordinator, depending on decisions made about other coaching staffs around the league.

Miami defensive coordinator Mike Nolan might be a good fit if the Dolphins' staff is fired. Miami assistant head coach/secondary coach Todd Bowles, a recent Cowboys assistant, could also be a candidate. Former Cowboys defensive coordinator Mike Zimmer, who prefers the 4-3 but coached the 3-4 under Bill Parcells, might return to Valley Ranch if the Bengals clean out the coaching staff. Another possibility is trying to recruit former Cowboys defensive line coach Todd Grantham, who has experience as the Browns' defensive coordinator, back from University of Georgia.

Dom Capers would probably be Garrett's first pick, which is why the Cowboys tried to sign him as a consultant in 2008. However, Capers has built a top-five defense in Green Bay and not available due to his contract with the Packers.