Dallas Cowboys:

Mike Vanderjagt
January, 24, 2014
Jan 24
11:45
AM ET
IRVING, Texas -- The reaction when news broke of kicker
Dan Bailey
's seven-year, $22.5 million deal contract with the
Dallas Cowboys
was somewhat mixed, which had me surprised.
Bailey
The Cowboys have won 24 games the last three seasons and Bailey has won a third of them with game-winning field goals. To me, the Cowboys were smart to lock Bailey up to a long-term deal because they play close games and there is a premium on having an accurate kicker.
By the middle of next season, if Bailey holds form, he would be the NFL's most accurate kicker ever with a minimum of 100 made attempts.
But some of you got caught up in the Cowboys "paying" a kicker, when they have so many other needs. My response would be to re-read the second and third paragraphs and now take a look at the breakdown of his deal.
Bailey received a $4 million signing bonus and $7.5 million is guaranteed on the deal. In what can be considered "new money," Bailey's $3.4 million average makes him the fifth-highest paid kicker in the game. When viewed as a seven-year deal it puts him inside the top 10.

Bailey will receive base salaries of $900,000, $1.7 million (2015), $2.5 million (2016), $3.2 million (2017) and $3.4 million (2018-2020). His cap number in 2014 is $1.7 million, which is roughly $500,000 lower than what he would have counted if the Cowboys just gave him the $2.124 million second-round tender as a restricted free agent. His cap number in 2015 is $2.5 million, which is less than what the franchise tag would have been had he hit unrestricted free agency.
His cap number tops out at $4.2 million in 2018. Considering the kickers coming up behind him, like
Justin Tucker
and
Greg Zuerlein
, the Cowboys could be staring at a bargain by then. Yes, I realize all of this is predicated on Bailey remaining ultra-clutch and ultra-accurate. There has been no reason to think he won't.
And there is also age to consider.
Bailey turns 26 on Sunday. Kickers can last a long, long time.
Adam Vinatieri
is 41.
Phil Dawson
turned 39 on Thursday.
Jay Feely
is 37.
Matt Bryant
is 38. They are all effective kickers.
It is easy to criticize the Cowboys for just about any signing when they are in the middle of such a playoff drought, but criticizing the signing of Bailey is as off as a
Mike Vanderjagt
field goal circa 2006.
January, 6, 2014
Jan 6
11:15
AM ET
IRVING, Texas -- Two games on wild-card weekend were decided by field goals.
The
New Orleans Saints
beat the
Philadelphia Eagles
26-24 on a 32-yard kick by
Shayne Graham
on Saturday. Lake Highland's
Phil Dawson
helped the
San Francisco 49ers
beat the
Green Bay Packers
with a 33-yard field goal as time expired.
Bailey
Having a reliable kicker in the NFL nowadays is a must with how close the games are each week.
The
Kansas City Chiefs
chose to attempt to convert a fourth-and-17 from the
Indianapolis Colts
43 instead of giving
Ryan Succop
a chance to make a 60-yarder. Succop made all three of his attempts Saturday, but did his late-season struggles lead the Chiefs to not even think about the long kick in a dome stadium?
Although a 60-yard try might have been ridiculed, too.
The Cowboys have one of the most reliable in
Dan Bailey
, who has missed only four of his last 61 field goal attempts the past two seasons. A case could have been made for Bailey to make the Pro Bowl over
Justin Tucker
or
Matt Prater
, but there were other kickers with solid arguments as well for a free trip to Hawaii.
Bailey will be a restricted free agent in March, and he is in a good spot.
At the very least the Cowboys will put the second-round tender on Bailey, which would pay him $2.124 million in 2014. Because he was undrafted in 2011, they have no other option. They could opt to put the right-of-first-refusal tender on him worth $1.389 million but would not receive any compensation in return if he signed an offer sheet with another team.
What the Cowboys should do – and can do despite the salary-cap issues – is sign Bailey to a multiyear deal where they would in effect buy out his chance at unrestricted free agency. They did it a few years ago with
Jermey Parnell
. They did it last year with
Barry Church
and
Phil Costa
.
The
Chicago Bears
signed
Robbie Gould
to a four-year, $15 million deal that included $9 million guaranteed. Gould is older and has a Pro Bowl to his credit. He was also set to be an unrestricted free agent.
Only once before has owner and general manager Jerry Jones ponied up for a kicker. In 2006, he gave
Mike Vanderjagt
a three-year, $5.4 million deal that included a $2.5 million signing bonus, and Vanderjagt did not last the season.
Bailey is no Vanderjagt.
He turns 26 later this month and is an ascending player with an immense amount of respect in the locker room. Teammates voted him the special teams' captain in 2013.
Finding a middle ground should not be a problem for a player Jason Garrett said does his job as well as anybody the Cowboys have.
December, 12, 2011
12/12/11
12:56
PM ET
IRVING, Texas -- If you regularly come back to the thought that, 'Man, the Cowboys sure come up with some inventive ways to lose games,' you're right.
Since 2005, I have come up with 13 head-scratching losses that seem to define this franchise. And that does not include the humiliating 44-6 defeat at Philadelphia to close the 2008 season, which knocked the Cowboys out of a playoff spot.
Three of those losses have come this year. Three came last year. Two each in '09, '08 and '06, and the one that kicked it off came on Sept. 19, 2005 (against Washington), when the Triplets –
Michael Irvin
,
Troy Aikman
and
Emmitt Smith
- were inducted into the Ring of Honor.
It has been quite a roller-coaster ride, but without the fun part.
Sept. 19, 2005 – Washington, 14-13.
The Cowboys lead, 13-0, with 6:01 to play, and the 65,207 in attendance, the largest crowd at Texas Stadium at the time following the 1985 renovations, was enjoying the moment. The Triplets were inducted into the Ring of Honor. The defense was dominating.
Then
Santana Moss
happened.
Moss caught touchdown passes of 39 and 70 yards in the final 3:46, bringing to light Roy Williams' deficiencies in coverage. The second touchdown came with 2:35 to play. Oh, by the way, the Cowboys missed the playoffs by a game that year.
Nov. 5, 2006 – Washington, 22-19
Tony Romo's second start was about to end with a fourth-quarter drive for a game-winning field goal, but
Troy Vincent
blocked
Mike Vanderjagt
's 35-yard try.
Sean Taylor
scooped up the loose ball and returned it 30 yards. Another 15 yards was added because of a
Kyle Kosier
facemask penalty.
With no time on the clock,
Nick Novak
kicked a 47-yarder to beat the Cowboys.
Jan. 6, 2007 – Seattle, 21-20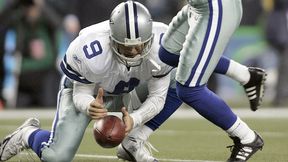 AP Photo/John FroschauerTony Romo bobbled the snap for the game-winning field goal versus the Seahawks, preventing Martin Gramatica from making the 19-yard attempt.
This one was the most heartbreaking because it was in the wild-card round of the playoffs. It was also Bill Parcells' final game as a head coach. The Cowboys maintain to this day that had they won that game, they could have gone to the Super Bowl.
Instead
L.P. LaDouceur
's snap for a 19-yard field goal try slipped through Romo's hands. Conspiracy theorists point to the slippery "K-ball" that was put in play before the snap. Others point to a
Jason Witten
first down that was overturned by the replay official, which negated the possibility to run the clock out or score a touchdown.
Oct. 12, 2008 – Arizona, 30-24 (OT)
The Cowboys somehow tied this game at the end of regulation on a 52-yard field goal by
Nick Folk
, but on the opening series of overtime, they lost
Tony Romo
to a broken pinky finger and punter
Mat McBriar
to a broken foot. On the play in which McBriar broke his foot,
Sean Morey
blocked his punt and
Monty Beisel
fell on the ball for a touchdown. The game started with a special teams touchdown (a 93-yard kick return) for the Cardinals, and ended with one.
Dec. 20, 2008 – Baltimore, 33-24
In what was a struggle for the offense for most of the game, twice the Cowboys pulled to within two points of the Ravens.
Terrell Owens
made the score 19-17 by scoring with 3:50 to play. Baltimore answered with a 77-yard touchdown run by
Willis McGahee
. Jason Witten cut the gap again with a TD grab with 1:36 to play.
Le'Ron McClain
answered with an 80-yard touchdown run.
It was not the way Jerry Jones wanted to see Texas Stadium close.
Sept. 20, 2009 – NY Giants, 33-31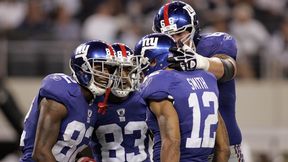 Tim Heitman/US PresswireMario Manningham, left, and Steve Smith, right, combined for 20 catches and 284 yards in the Cowboys Stadium opener.
If Jones didn't want to see Texas Stadium close that way, he didn't want to see Cowboys Stadium open this way.
Felix Jones
gave the Cowboys a 31-30 lead with a touchdown run with 3:40 to play.
Then
Eli Manning
happened.
Manning completed 7-of-9 passes for 64 yards, helping the Giants overcome a 1st-and-20 situation from their 15 and leading to a 37-yard game-winning field goal by
Lawrence Tynes
with no time left.
Oct. 4, 2009 – Denver, 17-10
The Cowboys blew a 10-0 lead when Broncos wide receiver caught a 51-yard touchdown pass from
Kyle Orton
with 1:46 to play. However, Romo had the Cowboys in position to tie the game after a 53-yard completion to
Sam Hurd
.
At the Denver 2-yard line with nine seconds to play, Romo went to Hurd (unsuccessfully) on back-to-back plays while the wideout was defended by Pro Bowler
Champ Bailey
.
Cowboys Pro Bowler Jason Witten did not even run a route.
Sept. 12, 2010 – Washington, 13-7
The Cowboys dominated defensively, but were done in by Jason Garrett's decision to call a play with four seconds left in the first half and a mile away from the Redskins' end zone. Romo flipped the ball to
Tashard Choice
, who fumbled while fighting for extra yards. Cornerback
DeAngelo Hall
scooped up the loose ball and ran it back for a 32-yard touchdown. It was the Redskins' only touchdown of the game.
In position to win the game,
Alex Barron
happened.
With three seconds left, Romo hit
Roy Williams
for an apparent game-tying touchdown with the point-after attempt being the difference in a win. Not so fast. Barron, starting in place of an injured
Marc Colombo
, was called for holding
Brian Orakpo
on the touchdown pass, wiping out the comeback.
Nov. 25, 2010 – New Orleans, 30-27
The Cowboys were not in the playoff chase, but they were fighting under Garrett, who took over for Wade Phillips as the interim coach. They led 27-23 and were in position to salt the game away as Roy Williams raced down the field toward the Saints end zone. As he switched the ball to his left hand away from a New Orleans defender, he allowed
Michael Jenkins
to strip it away for the turnover.
Five plays and 89 yards later,
Drew Brees
hit
Lance Moore
with the game-winning touchdown pass.
Dec. 25, 2010 – Arizona, 27-26
Stephen McGee
was shaping up as the hero, filling in for an injured
Jon Kitna
. He hit
Miles Austin
with a 37-yard touchdown pass with 1:41 to play to give the Cowboys the lead. Unfortunately
David Buehler
missed the PAT, giving Arizona hope.
John Skelton
converted a 4th-and-15 with a 26-yard pass to
Larry Fitzgerald
, and
Jay Feely
won the game with a 48-yard field goal.
Sept. 11, 2011 – NY Jets, 27-24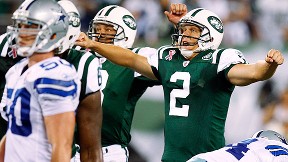 Ed Mulholland/US PresswireNick Folk kicked the go-ahead 50-yard field goal with 27 seconds left in the 2011 opener.
The Cowboys led, 24-10, two plays into the fourth quarter following a Felix Jones touchdown. They were in position to answer a Jets touchdown with at least a field goal when Romo fumbled while diving to the New York goal line for his first of two fourth-quarter turnovers.
On the Cowboys' next series,
Joe McKnight
blocked McBriar's punt and
Isaiah Trufant
returned it 18 yards for the tying touchdown.
Late in regulation, Romo was intercepted by
Darrelle Revis
on a poor throw to
Dez Bryant
. That was turned into a game-winning field goal by former Cowboy Nick Folk.
Dec. 4, 2011 – Arizona, 19-13 (OT)
Sensing a trend with Arizona here?
Tied at 13-13, Romo put the Cowboys in position to win the game with another
Dan Bailey
field goal. His 15-yard completion to Bryant had the Cowboys at the Cardinals' 31-yard line. Yet with two timeouts and roughly 25 seconds to go, the Cowboys did not stop the clock until Romo spiked the ball with seven seconds to play.
As Bailey lined up for the game-winner, Garrett called a timeout because the play clock was running out. Bailey's second attempt fell short, and in overtime the Cowboys would never get the ball.
LaRod Stephens-Howling
raced 52 yards on a short flip from
Kevin Kolb
for the game-winner.
Dec. 11, 2011 – NY Giants, 37-34
Bryant's 50-yard touchdown pass gave the Cowboys a 34-22 lead with 5:41 to play. All seemed well with the world.
Then Eli Manning happened. Again.
He shredded the Dallas defense on an eight-play, 80-yard drive that ended in a
Jake Ballard
touchdown catch and then directed New York on a six-play, 56-yard drive that ended in a Brandon Jacobs touchdown. The subsequent two-point conversion gave the Giants a three-point cushion.
During the second drive, Garrett let crucial seconds go off the clock again by failing to call a timeout until 1:00 remained.
Despite all that, two Romo-to-Miles Austin completions had the Cowboys at the New York 29-yard line with six seconds to play.
Before Bailey went in for the game-tying 47-yard try, Giants coach Tom Coughlin called a timeout, negating what turned out to be a good kick. Bailey's second attempt wasn't close to going through the uprights.
Defensive end
Jason Pierre-Paul
pushed between LaDouceur and
Montrae Holland
and deflected Bailey's kick.
November, 15, 2011
11/15/11
10:30
AM ET
IRVING, Texas -- We're back for another installment of Five Wonders as the Cowboys head to Washington on Sunday.
**Strange things tend to happen when the Cowboys head to FedEx Field, at least since I've been covering this team. I wonder what will happen Sunday that can be head-scratching. Last year there was the
Alex Barron
holding penalty to wipe out the winning touchdown and the end-of-half fumble by
Tashard Choice
. In 2008, the Cowboys won 14-10 in Tony Romo's return from a broken pinky and I remember the quarterback carrying his iPod while listening to a song from Rocky IV. In 2006 there was the blocked
Mike Vanderjagt
field goal try that turned into Washington's game-winning field goal after a facemask penalty aided a
Sean Taylor
return. In 2003 and '09 the Cowboys had shutouts at Washington. And in that '03 game
Troy Hambrick
ran for 189 yards. Let me say that again: Troy Hambrick.
** I wonder if the Redskins will have a return yard on Sunday. Seriously. The Cowboys have not allowed a punt return yard in their last two games. Two weeks ago
Chris Jones
had a 43-yard gross and net-yard average against Seattle. On Sunday against Buffalo Mat McBriar's only punt traveled 52 yards and went out of bounds.
Brandon Banks
is averaging 9 yards per return on the season and averaged 8 yards on two returns when these teams met at Cowboys Stadium in September.
**For the sixth time this season
Tony Romo
completed passes to at least seven different players with
Dez Bryant
,
DeMarco Murray
,
Jason Witten
,
Laurent Robinson
,
Jesse Holley
,
Kevin Ogletree
and
Martellus Bennett
comprising Romo's 23 completions on the day. I wonder how that makes a defensive coordinator feel. Jason Garrett often talks about being able to attack teams in multiple ways with the pass and the run. This is an example of that and it came without
Miles Austin
. In the New England loss Romo completed passes to 10 different pass catchers. As much as Witten is his security blanket, Romo will spread the ball around to the open guy.
**I wonder if
Rex Grossman
wants to start against the Cowboys. Washington will go with Grossman Sunday against the Cowboys, which puts him in the cross-hairs of
DeMarcus Ware
. This will be Grossman's fourth start against the Cowboys in his career and he has been sacked 11 times. Only the Giants have sacked him more. But back to Ware, who is on pace for an NFL record 23 sacks, for a second He has sacked Grossman five times. The only quarterbacks to face Ware's wrath more are
Eli Manning
and
Donovan McNabb
.
** I wonder if the Cowboys would be interested in signing Laurent Robinson to a contract extension. The deadline to sign players and have all of the bonus money go against this year's cap has expired, but that doesn't mean they can't do a deal. He has 27 catches for 441 yards and four touchdowns. He has shown to be a quick study and would give the Cowboys a nice top-three with Miles Austin and Dez Bryant for the foreseeable future. I also wonder if Robinson would want to do a deal now. This would be his first time to truly cash in. Would it be better for him to be patient and see if a team comes with a big offer in the offseason? He's been cut a few times, so it might be more prudent for him to sign now. In 2007 the Cowboys signed
Patrick Crayton
to a four-year, $14 million deal with $6 million guaranteed. Does something like that sound right?
June, 13, 2011
6/13/11
9:00
AM ET
Brian McIntyre of Football Outsiders compiled a list of the
10 most disappointing free agents
in recent times.
He's got a few with some Cowboys ties with cornerback
Larry Brown
going to Oakland and
Alvin Harper
signing with Tampa Bay.
It got us thinking about the worst free agent signings in Cowboys history and came up with these five:
5. Eddie George.
He was past his prime when the Cowboys signed the running back to a one-year, $1.5 million contract. George was a four-time Pro Bowler, but he didn't play like one the last few years before signing with Dallas. He rushed for just 432 yards with four touchdowns in the 2004 season, which would be his only season with the Cowboys. The Cowboys expected more George at age 31, but it was clear he wasn't the same player who rushed for 1,509 yards in 2000 with the
Tennessee Titans
.
4. Marco Rivera.
The guard inked a five-year $20 million contract and a few weeks after signing the deal injured his back while working out on a treadmill. Rivera offered to give some of the contract back, but it was too late. Rivera played only two seasons. He hurt his back again, in the playoff loss to Seattle in the 2006 seaso,n and needed help to get onto the team plane afterward. Rivera was released after that.
3. Bryant Westbrook.
You had to wonder what Jerry Jones was thinking after signing Westbrook to a one-year, $1 million deal. The cornerback struggled in his first game, a loss to the newly formed
Houston Texans
, and was angry because he was benched by then-coach Dave Campo. The Cowboys cut Westbrook after the Texans game and he signed with Green Bay in the 2002 season, playing in six games. But Westbrook would never play in the league again after that.
2. Tony Banks.
This deal didn't cost the Cowboys a ton of money -- he signed a one-year deal worth $500,000 -- but he struggled from the moment he got to training camp. He was expected to be a stopgap until the team could find a franchise quarterback after
Troy Aikman
retired. But Banks was sent home on August 15, 2001. The Cowboys replaced Banks with
Quincy Carter
.
1. Mike Vanderjagt.
The Cowboys wanted a veteran kicker to help Bill Parcells move this team to the next level for the 2006 season. Vanderjagt signed the largest contract ever for a kicker in franchise history, three years at $5.4 million. Vanderjagt said he was the most accurate kicker in league history -- and he was percentage-wise -- but he struggled in training camp and it carried over into the season. In 10 games, he went 13-for-18 on field goals, 1-for-3 in his last two weeks, including two misses vs. his former team, the
Indianapolis Colts
. He was let go after 10 games and never played in another NFL game.
August, 2, 2010
8/02/10
12:30
PM ET
SAN ANTONIO – Jerry Jones usually mentions his $2 million mistake when asked why he didn't consider signing a veteran kicker this offseason.
The Cowboys cut
Mike Vanderjagt
, who owned the best field goal percentage in NFL history at the time, after a terrible 10-game stint in 2006. It's understandable that Jerry is trigger-shy when it comes to signing a big check for a guy to try to boot the ball through the uprights.
But that doesn't mean the Cowboys will never make a significant investment in another kicker.
"I expect to be spending some money on this kicker at a point in time," Jerry said, referring to the only kicker in the Cowboys' training camp.
That's how strongly the Cowboys believe in
David Buehler
.
Buehler has made remarkable progress as a placekicker since the offseason workouts. The Cowboys are doing everything in their power to put him in position to succeed, including hiring
Chris Boniol
as his personal coach. So far during camp, the results are encouraging (13-of-15 on field goals, 5-of-6 from 40-plus), giving the Cowboys good reason to feel confident in their plan to have only one kicker.
"The big reason is that this gives us another roster spot. That's it – underline, underline, underline," Jerry said. "You're dreaming if he doesn't have the potential to excel at both, and I don't think we're dreaming."
July, 23, 2010
7/23/10
6:09
PM ET
SAN ANTONIO – When asked about his comfort level with the Cowboys' kicking situation, the owner/general manager seemed to launch into classic Jerryspeak.
Jerry Jones rambled something about "burning the boats," which a quick Google search reveals is a reference to Spanish captain Hernando Cortes' orders after arriving in Mexico in the 16th century. The captain apparently wanted to eliminate the possibility of retreat in the minds of his men.
That's quite a long-winded way of saying that Jerry has no backup plan in mind if unproven but strong-legged
David Buehler
fails as a field goal kicker.
However, Jerry admitted after his press conference that the Cowboys do have a life raft of sorts if Buehler doesn't look reliable in the preseason.
"Buehler is capable," Jerry said before taking a jab at ex-Cowboys kicking bust
Mike Vanderjagt
. "Unlike the $2 million kicker I paid that came in and didn't hit anything but squib kicks for field goals, but we still went with him, we're going to go with how it looks and how he's feeling. We're going to have these preseason games to work on it and we don't want to clutter the water. We want to go in that direction and if we have a concern toward the end of the things, then you'd look at it differently."
So just to be clear, the boats aren't burned and the Cowboys won't clutter the water. They're confident in Buehler, but guys like
John Carney
and
Matt Stover
are just a phone call away in early September if the kicking situation is a concern at that point.
June, 16, 2010
6/16/10
11:43
AM ET
Many of you are concerned about the kicking game.
It's understandable after the
Nick Folk
(NFL-high 10 missed field goals) meltdown and how
Shaun Suisham
missed two field goal tries in the postseason that finding a placekicker is a high priority.
David Buehler
is going to get a chance to win the job this summer.
Connor Hughes
is also getting his shot as well, but the job is Buehler's to lose. It should be noted during last week's three-day mandatory minicamp, Buehler didn't attempt a field goal in front of reporters.
That's not to say Buehler didn't try any before we were allowed to watch practice. And we're not saying he didn't attempt any kicks, but it's just interesting.
You could also say the Cowboys might not want to pay a kicker good money and Jerry Jones will tell you that's pretty close to the truth because he pushed out big money (three years close to $6 million with a $2.5 million signing bonus) to
Mike Vanderjagt
in 2006, and he didn't last the season.
All of this brings us to
Matt Stover
.
He's a Lake Highlands product, who would love to play for the Cowboys.
Some negatives: Age: he's 42.
He's missed his last three field goal tries from 50 plus yards and in the last three seasons he's 15 of 23 from between 40-49 yards.
Some positives: In the last five years, a span of 74 games, Stover has made 86.4 percent of his field goals including 93.8 percent in the fourth quarter.
If Buehler doesn't work out, Stover, an unrestricted free agent, is on the market and hasn't announced his retirement. He should get a phone call, if Buehler can't make it happen.
March, 7, 2010
3/07/10
9:21
PM ET
The Cowboys have done nothing in free agency.
It's not a big deal because the team normally doesn't make a splash the first day, or even the first weekend, of free agency.
The last time the Cowboys made news with free agency was 2006, Bill Parcells' first season, when six players were signed. Only one of those players,
Kyle Kosier
, is still with the team. Kicker
Mike Vanderjagt
is out of the league, and
Akin Ayodele
was recently cut by the Dolphins
.
The Cowboys were not going to become major players in this market.
They weren't going to go after
Julius Peppers
,
who signed with the Bears
.
You could ask why the Cowboys wouldn't go after
Brandon Marshall
, a player they like. Well, the team is already committed close to $13 million in guaranteed money to wide receiver
Roy Williams
, whether he's on the team or not. So, why get Marshall?
Antonio Cromartie
's name was floated about in terms of a trade with the Cowboys. To get Cromartie, the rumors had the Cowboys giving up one of their three running backs, something team vice president Stephen Jones said wasn't going to happen. The
Chargers ended up sending Cromartie to the Jets
for a future third-round pick that could become a second-round pick.
Jerry Jones believes that the 2009 draft class, a disappointment due to the injuries it suffered, will bounce back and the upcoming draft is a place where this team can get younger and better.
Will the Cowboys sign somebody in free agency? Sure, but not right now.