Dallas Cowboys:

Nate Allen
October, 17, 2013
10/17/13
5:09
PM ET
IRVING, Texas --
Tony Romo
has a 6-5 record against the
Philadelphia Eagles
as the Dallas Cowboys' starting quarterback with a 3-2 record at Lincoln Financial Field.
Romo
"Some good, some bad," Romo said of his memories of playing the Eagles. "It's going to be a tough environment to play in. They're playing good football right now, and we got to play a good game to win."
Despite the 11 starts against Philadelphia he has spent more time looking at the defense than he has in the past. The Eagles have switched to a 3-4 scheme and have new and old faces in new spots.
Trent Cole
is now an outside linebacker instead of a defensive end. Cornerbacks
Bradley Fletcher
and
Cary Williams
are new.
Nate Allen
is starting at safety again, but he's next to
Patrick Chung
.
"Some of the film you watch to make it just feel like it's like you've played them a number of times," Romo said. "Just by seeing it once or even twice sometimes isn't enough. You need to put yourself there in that situation and pretend you're on the field and see how the movements are going and what the look is taking shape and then you have to go back and do it again to really find the nuances. I think that's what you have to do against a new team and a new system."
June, 22, 2013
6/22/13
12:00
PM ET
»
NFC Eight in the Box:
East
|
West
|
North
|
South
»
AFC:
East
|
West
|
North
|
South
How does each NFC East team look in the secondary, and what still needs to be done?

Dallas Cowboys:
Last offseason, the Cowboys used premium resources to acquire
Brandon Carr
in free agency and
Morris Claiborne
in the draft so they could be better equipped to play man coverage on the outside. Then this offseason, they went out and hired Cover 2 guru Monte Kiffin as their defensive coordinator. Kiffin supposedly will incorporate more man coverage into his play calls, but Carr and Claiborne are not ideal players for Cover 2, which will be Dallas' base coverage. Still, these two, along with nickelback
Orlando Scandrick
and fourth-round pick
B.W. Webb
, give the Cowboys an excellent set of cornerbacks overall. Scheme notwithstanding, Claiborne should be much improved in his second season. Safety is another story though. This position was a huge weakness in 2012. Free-agent signee
Will Allen
is penciled in to start opposite
Barry Church
, who is highly unproven. The Cowboys used a third-round pick on
J.J. Wilcox
, but Allen is not starting material and Wilcox is extremely raw. Wilcox has a ton of ability and should be an immediate standout on special teams, but trusting him to read quarterbacks and route combinations as a rookie could be a disaster. To me, safety remains an immediate weakness for Dallas.

New York Giants:
There isn't a lot of change here from 2012 -- and that isn't really a good thing. Gone is
Kenny Phillips
and in are
Aaron Ross
and
Ryan Mundy
, but this is a franchise that relies on its defensive line to make the defense go -- and the line does look impressive. Safety
Stevie Brown
made a lot of plays last season and will be asked to replace Phillips on more of a full-time basis alongside
Antrel Rolle
, whose best trait is probably his overall versatility. At cornerback, the Giants are counting on
Prince Amukamara
and
Jayron Hosley
to take noticeable steps forward in their young careers, especially from an overall consistency standpoint.
Terrell Thomas
returns from yet another major injury and Ross will provide corner depth, but
Corey Webster
is the player New York absolutely needs to play like he did earlier in his career. In 2012, Webster struggled mightily and Hosley was often beaten, which obviously is a huge concern.

Philadelphia Eagles:
The Eagles gave their secondary a total overhaul this offseason. While there was talent in this group a year ago, it collectively made a ton of mistakes and just allowed far too many big plays. Simply said, the Eagles' secondary was dreadful in 2012. One carryover is
Brandon Boykin
, who played well as a rookie and should be the ideal nickel cornerback going forward. The starters at corner,
Bradley Fletcher
and
Cary Williams
, have plenty of questions around them. I don't see either player as close to being a true No. 1 cornerback, but if they can show some consistency it will be an improvement for Philadelphia at the position. At safety, the Eagles signed Kenny Phillips from the Giants, an excellent move and a massive upgrade if he stays healthy. They also inked
Patrick Chung
away from the Patriots. There is much more uncertainty around Chung, who has never stepped up as many expected he would have by now.
Earl Wolff
,
Nate Allen
,
Kurt Coleman
and
Curtis Marsh
provide the Eagles with young talented depth, but while the secondary has been totally reshuffled, the starters here are far from sure things. But like the rest of Philadelphia's secondary in 2012, Allen and Coleman had a rough go of it last season.

Washington Redskins:
Probably the biggest need area for this team heading into this offseason was the secondary. In free agency, the Redskins added
E.J. Biggers
, who should be a very solid all-around third cornerback. In the draft, Washington addressed its secondary in a big way, using a second-round pick on
David Amerson
, a fourth-rounder on
Phillip Thomas
and a sixth-rounder on
Bacarri Rambo
. Right now, the starters are
DeAngelo Hall
and
Josh Wilson
at cornerback and
Brandon Meriweather
and
Reed Doughty
at safety. Surely the Redskins would love for Amerson, Thomas and Rambo all to challenge for starting spots right out of the gate, but rookie cover men often struggle. Still, Doughty is very average. Meriweather is returning from injury and has been highly inconsistent and untrustworthy, while Hall is one of the more overrated players in the NFL, who can look great one week and terrible the next. Wilson might be the best member of Washington's secondary, which is an indictment of the status of this unit overall. The Redskins have, however, added young talent, and the return from injury of
Brian Orakpo
, their only truly top-notch pass-rusher, also should help the cover men a great deal.
December, 29, 2012
12/29/12
10:00
AM ET
»
NFC Season Wraps
:
East
|
West
|
North
|
South
»
AFC
:
East
|
West
|
North
|
South
Five things to know and my 2012 all-division team:
Division MVP:
Interesting word, "value." The
Washington Redskins
decided that fixing their problem at quarterback by drafting
Robert Griffin III
was worth three first-round picks and a second-round pick. That's the "value" they assigned to Griffin as their short-term and long-term solution at the game's most critical position -- willingly not having another first-round pick until 2015. The first-year result is the current six-game winning streak that has delivered the Redskins' first winning season since 2007 and a shot Sunday night at their first division title since 1999.
[+] Enlarge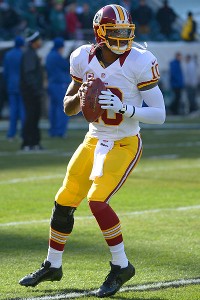 Jonathan Newton/Getty ImagesThe Redskins paid a steep price to acquire Robert Griffin III, but the move has paid off handsomely.
A number of things have gone right to help the Redskins to this point, but at the center of it all has been Griffin, who has delivered big plays with his arm and his legs, has thrown just five interceptions and piloted a Redskins offense that has the most rushing yards and the fewest turnovers in the league through 16 weeks. In their wildest dreams, the Redskins couldn't have imagined Griffin performing at this level in his first year, but the fact that he has is the biggest reason they're where they are at this point. Cowboys quarterback
Tony Romo
is having a big year, as are Cowboys wide receiver
Dez Bryant
and Redskins rookie running back
Alfred Morris
. But the award is for the Most "Valuable" Player, and the upgrade Griffin has provided for the Redskins at the most important position on the field has a value that surpasses anything anyone else in the NFC East has provided this year.
Biggest disappointment:
This one isn't hard. The 2011
Philadelphia Eagles
were a disappointment. That word isn't strong enough to describe what the 2012 Eagles turned out to be. They went into training camp with Super Bowl expectations and a chip on their collective shoulder after last year's flop, and they out-flopped even themselves. There was promise in their 3-1 start, in spite of the turnovers and the fact that they were barely winning. The defense was playing well,
Michael Vick
was leading them from behind in the fourth quarter and it made some level of sense to believe that they would play better and start winning more comfortably.
Instead, it went the other way. The eight-game losing streak that followed that 3-1 start doomed the Eagles to a sub-.500 season, and the 11 losses they already have with one game to go ties the most Andy Reid has ever had as a head coach. (He lost 11 in his first season there.) Injuries were a huge part of this, as 10 of the Eagles' Week 1 starters on offense have had to miss at least one game and the offensive line hasn't been together all year. But the problems go much deeper, and center on a poorly constructed roster that failed to adequately address holes at positions such as safety and a dysfunctional coaching staff mismanaged by the man in charge. Reid appears certain to pay with his job for failing to make good on his mulligan, and big changes are around the corner in Philadelphia.
No defense:
The NFC East hasn't had a repeat champion since the Eagles won it back-to-back in 2003-04, and it won't have one this year either. The
New York Giants
opened November with three more wins than any other team in the division, but their collapse following a 6-2 start has eliminated them from the division race with a week to go. The winner of Sunday night's game between the Redskins and the
Dallas Cowboys
will be division champs. If it's Dallas, it'll be the team's second title in four years and would be the second year in a row (and ever) that the division didn't produce at least one 10-win team. If it's Washington, it'll be its first division title in 13 years and would mean four
different
division champs in four years. This may not be the dominant, monster, "Beast" division it's been in some years past, but the intensity of the rivalries and the closeness of the quality of the four teams keep it the league's most competitive and entertaining year in and year out.
Each NFC East team had a turn in the spotlight this year. The Cowboys flashed greatness in their nationally televised victory over the defending Super Bowl champion Giants in the season opener. The Eagles got out to that 3-1 start. The Giants at one point stood 6-2, and their victories over San Francisco and Green Bay had folks talking about them as the best team in the league. The Redskins are on a six-game winning streak right now and one of the hottest stories in sports. Say what you will about this division or any of its teams, but you can't say it's not fun.
Better "corner" the market:
Looking ahead to the 2013 offseason, expect each of the NFC East's teams to make the secondary a high priority. The Cowboys like their corners, and they may be OK at safety if
Barry Church
comes back healthy, but they'll probably lose
Mike Jenkins
to free agency and could look to maintain their depth back there. The Giants need to figure out whether this is just a bad year for
Corey Webster
or if he's a player in decline, and at safety there are questions about
Kenny Phillips
' long-term status with the team after his injury-plagued season. The Redskins need all kinds of help in the secondary, where
Josh Wilson
has been fairly consistent but not great at corner,
DeAngelo Hall
is clearly in decline and they're getting by with backups at safety. And the Eagles have to figure out whether to keep one, both or neither of their veteran cornerbacks and whether it's time to cut bait with safety
Nate Allen
.
This division includes the No. 21, No. 28 and No. 30 pass defenses in the NFL, and the only NFC East team in the top half in the league in that category (Philadelphia, No. 11) has major question marks at cornerback and especially safety. Once known for its fearsome pass rushes, the NFC East learned this year that you can't always count on even that to be consistent, and it's time for this division's teams to prioritize their last lines of defense.
[+] Enlarge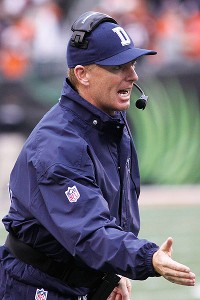 AP Photo/Tom UhlmanJason Garrett's Cowboys, winners of five of their past seven, can win the NFC East with a victory over the archrival Redskins on Sunday.
The men in charge:
You can expect wholesale coaching staff changes in Philadelphia, of course. But what of the division's other three teams, at least one and likely two of which won't make the playoffs? Head coaches Tom Coughlin and Mike Shanahan are clearly safe in New York and Washington, and Jason Garrett appears safe as well in Dallas after a year in which he's admirably led the Cowboys through injury and off-field tragedy into another Week 17 division title game. But that doesn't mean there can't or won't be changes at the coordinator level.
Dallas defensive coordinator Rob Ryan and Washington offensive coordinator Kyle Shanahan are both whispered about when head-coaching jobs come up, and the success of Griffin and the Redskins' offensive system could make Kyle Shanahan an especially hot candidate this offseason. Would he jump ship, or stay to see things through and possibly succeed his father down the road in D.C.? Redskins fans clamor for the head of defensive coordinator Jim Haslett, and I guess you never know, but I think Haslett's got this Washington defense overachieving, and I've heard nothing to indicate that the team is dissatisfied with the job he's doing. As for the Giants' Kevin Gilbride and Perry Fewell ... Fewell's no longer the head-coaching candidate he used to be for some reason, so it's likely a matter of whether they want to keep those guys around. The Giants tend to value organizational stability, and Gilbride and Fewell were coaching in and winning a Super Bowl less than 11 months ago, so it's hard to imagine they're in trouble. But I think the Giants are surprised at the way the last couple of weeks have gone, and I doubt they've seriously considered yet whether changes on the staff are warranted or necessary.
ALL-DIVISION TEAM
We do this every week, so you're used to a lot of these names in a lot of these places. There are some close calls, including at quarterback, where the Cowboys' Romo is as hot as anyone in the league and has thrown just three interceptions in his past eight games after throwing 13 in his first seven. Romo is third in the league in passing yards, and his responsible play and leadership are central reasons for the Cowboys' second-half surge. And if he beats Griffin and Washington on Sunday night, you can make the argument that he deserves the spot. I think it's that close right now. But Griffin's had the more consistent season and, as detailed above, the more dramatic impact. So he holds the spot.
The only other very tough call is at fullback, where
Darrel Young
and the Giants'
Henry Hynoski
are both excellent and worthy. Hynoski, for me, has been the slightly better blocker, but the Giants' recent struggles have hurt his case and Young, who actually touches the ball every now and then, takes the spot away from him. ... Kicker is a good race, as all four have had good seasons. And yes, I know
Kai Forbath
hasn't missed, but he's kicked barely half as many as
Dan Bailey
has. ... Philadelphia's
Brandon Graham
has made a strong case at defensive end with his second-half play, but
Jason Hatcher
's been a rock all season as a 3-4 end for Dallas. ... Dez Bryant and Alfred Morris are no-brainers as the division's best wide receiver and running back. What kind of odds could you have got on that in early September?
October, 24, 2012
10/24/12
1:16
PM ET
Not a lot of changes this week to the All-Division Team. Only two, I think, and neither one is the quarterback. Both
Robert Griffin III
and
Eli Manning
are playing at an extremely high level right now, and yes, I thought about using the fact that Manning won the game against Griffin's team as the tiebreaker. But as I watched that game Sunday, for those three hours, the best player on that field was not the two-time Super Bowl MVP. He got the last laugh, sure. And everyone who reads this blog regularly knows how I feel about Manning. But as of this moment, he's a notch behind Griffin for the starting quarterback spot on the All-NFC East Team. I think this is the first week all year in which they haven't switched places, so it's that close.
Before we go on, the disclaimer that no one will read: This is an all-division team
based on overall season performance to date
. It is not -- repeat,
NOT
-- simply a position-by-position list of those who played the best this week. That's why
Santana Moss
isn't on it.
So as I said, only two changes this week. Not the most exciting week we've had with this. I'll explain those two changes, and offer some insight on which players nearly changed my mind, after I give you the team:
Quarterback:
Robert Griffin III,
Washington Redskins
(Last week: Griffin)
Running back:
Alfred Morris
, Redskins (Morris)
Wide receiver:
Victor Cruz
,
New York Giants
;
DeSean Jackson
,
Philadelphia Eagles
(Cruz, Jackson)
Tight end:
Martellus Bennett
, Giants (
Brent Celek
)
Fullback:
Henry Hynoski
, Giants (Hynoski)
Left tackle:
Trent Williams
, Redskins (Williams)
Left guard:
Evan Mathis
, Eagles (Mathis)
Center:
Will Montgomery
, Redskins (Montgomery)
Right guard:
Chris Snee
, Giants (Snee)
Right tackle:
Todd Herremans
, Eagles (Herremans)
Defensive end:
Jason Pierre-Paul
, Giants;
Jason Hatcher
,
Dallas Cowboys
(Pierre-Paul, Hatcher)
Defensive tackle:
Cullen Jenkins
, Eagles;
Linval Joseph
, Giants (Jenkins, Joseph)
Outside linebacker:
Ryan Kerrigan
, Redskins;
DeMarcus Ware
, Cowboys (Kerrigan, Ware)
Inside linebacker:
Sean Lee
, Cowboys;
DeMeco Ryans
, Eagles (Lee, Ryans)
Cornerback:
Dominique Rodgers-Cromartie
, Eagles,
Prince Amukamara
, Giants (Rodgers-Cromartie,
Josh Wilson
)
Safety:
Antrel Rolle
and
Stevie Brown
, Giants (Rolle, Brown)
Kicker:
Lawrence Tynes
, Giants (Tynes)
Punter:
Sav Rocca
, Redskins (Rocca)
Kick returner:
David Wilson
, Giants (Wilson)
Punt returner:
Rueben Randle
, Giants (Randle)
Bennett had the big game catching the ball, yes, and Celek was off, but Bennett was close behind to begin with. What he and Hynoski are doing as blockers, in the run game and the passing game, is absolutely invaluable to the way the Giants are playing right now.
And yes, Amukamara is the best cornerback in the division at this moment. Wilson is having a fine season, the final play of Sunday's game notwithstanding, but Amukamara has done absolutely nothing wrong since returning from his injuries. With Corey Webster having a down year and the Giants' secondary in need of a boost, he's performing like a first-round pick.
Williams holds down his spot at left tackle after holding off Pierre-Paul all day Sunday. He's playing left tackle as well as anyone in the league. His closest competition in this division is the Giants' Will Beatty.
Looked at Nate Livings for left guard and Chris Chester for right guard, but I still have each a notch below the guy listed at his spot. Herremans hasn't been great, but you don't have to be to beat out Doug Free, Sean Locklear and Tyler Polumbus. I did think Polumbus played a good game Sunday. But again, year-long list.
Thought about Miles Austin over Jackson at that receiver spot but didn't pull the trigger. Another big Ahmad Bradshaw game could have threatened Morris at running back, because of what Bradshaw brings as a blocker. But Morris is the clear running back leader in this division right now.
Kerrigan's had two kinda bad games in a row, and I thought about putting Dallas' Anthony Spencer there instead. (He got a sack!) Will monitor this in the coming weeks to see if Kerrigan returns to his dominant early season form.
I didn't think Rolle or Brown looked remarkably impressive Sunday (Brown's interception notwithstanding), but I really don't see who deserves to have taken the spots from them. Maybe Nate Allen? Meh.
And finally, Lee is obviously not long for this inside linebacker spot, as he's out for the year with a foot injury. The leading candidate to take the spot at this moment is Washington's Perry Riley, but we'll see how the potential replacements play in the coming weeks. It's not ridiculous to think that Lee could hold the spot for a week or two without playing. That's how good he's been.
As ever, I welcome your thoughts.
May, 14, 2012
5/14/12
8:00
PM ET
Thanks for the feedback on the last post. I have been reading through the comments there, and I appreciate the suggestions. Most of them, anyway.
Meantime, Football Outsides has been doing a division-by-division look at the remaining needs for each team, and today
they take on the NFC East
. It's Insider content (which always makes me chuckle, that the Outsiders are Insider), so you need to pay to read it, but here's a little taste.

Dallas Cowboys: "Interior offensive line."
Basically, the FO guys aren't excited about the Cowboys' talent level at guard and center, and seem unimpressed by Jason Garrett's plan to let
Nate Livings
,
Mackenzy Bernadeau
,
Bill Nagy
and
Phil Costa
compete for the three starting spots in the interior of the line. No mention of
David Arkin
, oddly, who would seem to be in the mix. And I do have a nitpick with their claim that Nagy was "banished to the bench" for ineffectiveness last season, when it was actually a broken ankle that ended his season. But in general, the idea that the Cowboys need more strength and power at the interior line positions than they probably have on the roster is probably accurate.

New York Giants: "Osi Umenyiora's replacement."
This seems to posit that the Giants would trade Umenyiora or that he'd hold out and they wouldn't have any pass-rushers at defensive end behind their two excellent starters. I don't think they're going to trade him, and I don't think he's going to hold out of any regular-season games once push comes to shove. But this does point up the idea that the Giants need to be thinking about who replaces Umenyiora next season, assuming he leaves via free agency.

Philadelphia Eagles: "Secondary depth."
The metrics all rate
Asante Samuel
very highly as a cornerback, so it's little surprise that FO treats his departure as one that creates a hole. I think they're right on this score, but the metrics don't take into account Samuel's salary, or the fact that his playing style doesn't fit what they want to do with the cornerbacks this year, so it's hard to get on them for that dump-trade they made with him. Assuming full health and a big steps forward for
Nate Allen
and
Jaiquawn Jarrett
, the Eagles should have a good starting secondary. But I would agree that there is little behind the starters if someone gets hurt. Interested to see whether
Brandon Boykin
can make an impression early and challenge for that nickel corner spot, and I can't rule out the possibility that they add a veteran to the safety mix. There are still quite a few out there.

Washington Redskins: "Cornerbacks."
Yeah,
DeAngelo Hall
and
Josh Wilson
project as the starters, but they're not exactly Deion Sanders and Night Train Lane back there, and as FO points out, the Redskins' efforts to upgrade their secondary don't rank among their greatest successes of this offseason. Washington's defense is emerging as a good one, but the weak spot is still in the back, and they would do well to keep on the lookout for ways to make it better. That's part of why they're bringing so many safeties to camp, but they'll need better performance from Hall and Wilson in 2012 if the defense is to take the next step.
May, 11, 2012
5/11/12
5:15
PM ET
So John Clayton has
this piece
on the 10 best position battles brewing this summer between rookies and veterans in the NFL. I scrolled through it, thinking it would provide me with some material for a late-Friday afternoon post, and to my shock and dismay there wasn't one NFC East mention in the whole thing. Come on, John! Help a guy out, will ya?
Anyway, it got me thinking: There must be some interesting position battles to keep an eye on throughout the offseason and training camps in our division, right? I mean, some situations where things aren't yet set in stone? There are, and here's one for each team.

Dallas Cowboys' inside linebackers:
Sean Lee
is set at one of these spots, but the other will be interesting to watch. The team drafted
Bruce Carter
in the second round in 2011, and they believe he's part of their future on defense. But he was coming off an injury when they drafted him and played in just 10 games as a rookie, and they can't be sure he'll be ready to hold down a starter's spot full-time in 2012. So they went out on the free-agent market and signed
Dan Connor
, formerly of the
Carolina Panthers
, to start next to Lee while Carter continues to acclimate himself to the pro game. The interesting aspect of this will be how good Carter looks in training camp and whether he can play well enough to demand to take reps and snaps away from Connor. The veteran, Connor, will start with the job, but Carter is the future there, and it's just a question of when he's ready.

New York Giants running backs:
Ahmad Bradshaw
is the unquestioned veteran starter, but he doesn't come without questions. Foot injuries have limited him over the past several seasons, and his good friend and veteran safety net,
Brandon Jacobs
, is off to San Francisco to play for the 49ers. Assuming Bradshaw won't be able to make it through the season fully healthy on a starter's workload, there are going to be plenty of snaps to go around. The question is how many of those snaps first-round pick
David Wilson
can steal from holdover youngsters like
D.J. Ware
,
Da'Rel Scott
and
Andre Brown
(who's suspended for the first four games for drugs).

Philadelphia Eagles safeties:
The team wants
Nate Allen
and
Jaiquawn Jarrett
, its second-round picks from the 2010 and 2011 drafts, respectively, to be the starters. Of the two, they're more confident about Allen, who's had some injury issues but played well when healthy last season. They have him penciled in as a starter. Whether Jarrett can fight off
Kurt Coleman
for the other starting spot is one of the training-camp questions the Eagles will face. It's also possible they'll add a free-agent veteran to the mix, but they'd rather get the production they need from their young guys if they can.

Washington Redskins secondary:
There are currently 15 defensive backs listed on the Redskins' roster, and it's safe to assume they can't all make the team. The question is which of them will play.
Josh Wilson
and
DeAngelo Hall
would appear to be set as the starting cornerbacks, but the team did sign free agent
Cedric Griffin
, and intriguing undrafted free-agent cornerback Chase Minnifield will be a name to watch in the summer. The more interesting questions are at safety, where the Redskins lost starters
LaRon Landry
and
O.J. Atowge
and things are wide open. The guy they like the best for the future is 2011 draft pick
DeJon Gomes
, but while they view him as a starter at some point, they don't know yet whether that point is this year. Their free-agent safety signing list is a fascinating one, including
Brandon Meriweather
,
Madieu Williams
and
Tanard Jackson
, any of whom c0uld emerge as a starter. Griffin also might have been brought in with an eye toward playing him at safety, and
Reed Doughty
was a valuable injury fill-in last season and could get a shot at more playing time in this crowded field. The Redskins appear to be installing an all-out competition for safety roles, and from here it's impossible to know who will play well enough to nail them down.
June, 30, 2010
6/30/10
1:45
PM ET
We welcome you to Day 3 of our series on the NFC East. We're a little late, and for that we apologize. Today we look at the Eagles, a team that lost three times to the Cowboys last season. And with that we talked to Philadelphia Inquirer Eagles beat writer Jeff McLane.
Five things to worry about
1. Offensive line.
There are questions at each spot. Tackle
Jason Peters
wasn't great and
Winston Justice
was solid but he has to show he's more than a pass blocker.
Jamaal Jackson
is coming back from ACL surgery and might miss part of camp. I don't think I can count on him.
Nick Cole
had problems in the Dallas game snapping the ball. A lot of question marks.
2. Cornerback.
Asante Samuel
on one side, but teams showed beause he didn't play press coveage they can do some double-screens to give him problems.
Ellis Hobbs
replaces
Sheldon Brown
. The Eagles seem to think if they can get to the passer it's going to be OK.
3. Free safety.
Nate Allen
is an upgrade from
Macho Harris
, who moved to corner. Allen will compete with
Quintin Demps
.
4. Strong side linebacker.
Not sure if
Moise Fokou
is big enough and he's not great in pass coverage.
Stewart Bradley
is another player who might come back and do something.
5. Coaching.
Andy Reid has got a little pressure on him just because
Donovan McNabb
is not here anymore. I'm sure people want to see if he can win without Donovan. It's the biggest test of Andy's career.
Five things not to worry about:
Wide receiver.
They've got
DeSean Jackson
and
Jeremy Maclin
. Maclin will be better than last year. And when you add
Jason Avant
, you might have the best slot receiver in the league. I think they got one of the better wide receiver corps in the NFC East.
Tight end.
Brent Celek
can only get better. It's a little worrysome about the backups.
Clay Harbor
and
Cornelius Ingram
both have issues. Ingram hasn't played in almost three years because of two torn ACLs.
Defensive end.
Trent Cole
and
Juqua Parker
are solid, and adding
Brandon Graham
makes this a position of strength. They made defensive end a priority in the offseason and they felt like they needed to get to the quarterback. I think Graham will be a playmaker.
Quarterback.
I know it's the No. 1 question coming in, but they are a lot more worried about other things than this.
Kevin Kolb
has been in the system for three years and he's developed a rapport with the wide receivers. I think Kolb will do pretty well.
5. David Akers.
He's as good as it gets. A couple of down years, but he's rejuvenated.
April, 22, 2010
4/22/10
11:35
AM ET
Here are the players Scouts Inc. projects to go to the Cowboys in its
seven-round mock draft
... and the players I think the Cowboys would pick at each spot given the guys on the board.
First round (27th overall)
Scouts Inc.:
Boise State CB
Kyle Wilson
There would be a lot of high fives at Valley Ranch if Wilson is there for the taking at No. 27. If he isn't there -- and the Cowboys don't move out of this spot -- Rutgers CB
Devin McCourty
is a solid bet.
Second round (59th overall)
Scouts Inc.:
Maryland OT
Bruce Campbell
Campbell is a top-10 athlete with late-round production. The Cowboys might be willing to gamble on his potential in the second round. But, if South Florida FS
Nate Allen
is there a few picks earlier, expect the Cowboys to try to move up to get him.
Third round (90th overall)
Scouts Inc.:
Oregon S
T.J. Ward
If they haven't drafted a safety and Georgia Tech's
Morgan Burnett
is still available, the Cowboys would pull the trigger quickly. He's a second-round possibility, but Scouts Inc. has him sliding into the early fourth.
Fourth round (125th overall)
Scouts Inc.:
Texas WR
Jordan Shipley
This is a good value pick. Shipley would improve the Cowboys' return units and challenge for playing time as a slot receiver.
Sixth round (196th overall)
Scouts Inc.:
Illinois TE
Mike Hoomanawanui
This only makes sense if the Cowboys trade
Martellus Bennett
. Let's go with Kentucky fullback
John Conner
, which would make recently arrested fullback
Deon Anderson
's job status even shakier.
Seventh round (234th overall)
Scouts Inc.:
Eastern Kentucky OT
Derek Hardman
Can't say I'm familiar with Hardman's work. If the draft goes down like this, guard/center and inside linebackers would be the two biggest needs the Cowboys failed to address.
April, 20, 2010
4/20/10
2:41
PM ET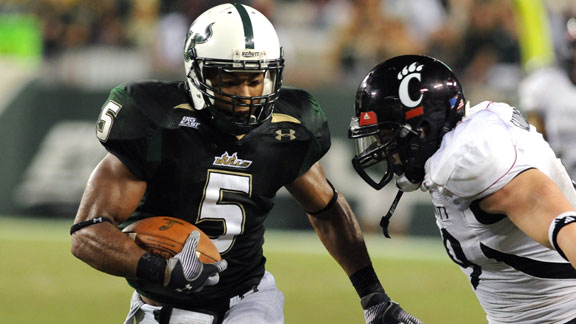 ESPNDallas.com will look at a potential Cowboys pick each weekday leading up to the draft.
NATE ALLEN
School:
South Florida
Size
: 6-0 1/2, 207
Position:
Safety
Scouts Inc. rank:
No. 4 at safety, No. 54 overall
(scouting report)
POSITIVES
[+] Enlarge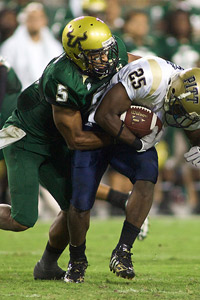 Chris Livingston/Icon SMISouth Florida safety Nate Allen is a tough guy and a willing tackler, but he isn't consistent enough in run support.
Nate Allen
, who started his last 39 games at South Florida, is a smart free safety who possesses excellent leadership skills. He doesn't have blazing speed (4.5 40), but he has good range, in part because he does a good job diagnosing plays and has good instincts. He was a high school basketball star and has good leaping ability, allowing him to frequently win jump balls with receivers. His fluid hips give him the ability to play man coverage against most tight ends and some slot receivers.
NEGATIVES
He's a tough guy and willing tackler, but he isn't consistent enough in run support. He doesn't always take the proper pursuit angles. He needs to do a better job of wrapping up, as he slides off too many tackles, and is vulnerable against elusive backs and receivers in space. He struggles getting off of blocks when matched up against tight ends. He had nine interceptions for South Florida, including four as a senior, but doesn't have great hands.
COWBOY FIT
Allen could compete immediately with
Alan Ball
and
Mike Hamlin
for the starting free safety job that's open after the release of
Ken Hamlin
. He would be a reach at No. 27 overall, but the Cowboys could opt to trade down and target him with a second-round pick they acquire in the deal. His best asset might be his high football IQ, which is what the Cowboys valued most in Hamlin.
April, 15, 2010
4/15/10
9:17
AM ET
ESPN draft expert Mel Kiper has the breakdown of the Cowboys' first four picks for the 2010 draft.
The interesting thing is that Kiper says the Cowboys will draft a tackle in the first round (27th overall), USC's
Charles Brown
, the fifth-rated tackle in Kiper's 2010 Draft Report.
He says
Nate Allen
, the South Florida safety ranked No. 5 by Kiper, will go to Dallas in the second round (59th).
Here's the other Kiper picks: Vanderbilt CB
Myron Lewis
in the third round (90th) and Wisconsin LB
O'Brien Schofield
in the fourth (125th).
For a summary, go
here
.
February, 10, 2010
2/10/10
4:46
PM ET
ESPN's
Todd McShay
says the Cowboys could pick South Florida safety
Nate Allen
with the 27th pick of the first round.
If that's the case, Allen would be the eventual replacement for free safety
Ken Hamlin
, who front office officials and scouts said had an average 2009 season.
Hamlin, who missed four games with a right high-ankle sprain, finished with 74 tackles according to the coaches film and he produced four pass breakups and zero interceptions.
When Hamlin was out, the Cowboys used
Alan Ball
at free safety and he received praise for his aggressivness. The best Hamlin did, at times, was line guys up.
In the regular season finale vs. the Eagles, Hamlin had four tackles and a pass breakup and in the wild card victory over the same Eagles team, Hamlin had three tackles and a pass breakup.
We're not going to talk about what happened to the Vikings.
Now, Hamlin is scheduled to make a base salary of $5.59 million in 2010. If there were a salary cap, his cap number would be $7.096 million, one of the highest on the team.
It's hard to put a rookie back there in the secondary sometimes, as the Cowboys discovered in 2008 when cornerback
Mike Jenkins
struggled with the first-team. But Jenkins played better his sophomore season, earning his first Pro Bowl berth, though it came after several players backed out of the game.
But if Allen is available, maybe the Cowboys should invest in a safety.