Dallas Cowboys:

Nate Newton
August, 4, 2014
Aug 4
4:00
PM ET
Three thoughts on Day 12 of
Dallas Cowboys
' training camp:
A few days ago, I was watching practice with former Pro Bowl guard Nate Newton, while the offense was gashing the defense virtually every play.
Newton leaned over and said, "If Butch Davis or Dave Wannstedt was coaching this defense and they had a day like this, he'd tell one of his guys, 'Enough of this, let's take them to the ground. I want to see somebody get hit.'

Wilcox
Well, J.J. Wilcox took it upon himself to drill
Dez Bryant
during Sunday's Blue and White scrimmage. Less than a minute later, punches were being thrown.
Bryant had been talking trash virtually the entire scrimmage, and he had just taken a slant about 80 yards for a touchdown on the previous series. Finally, Wilcox had heard and seen enough.
He delivered a message. Good for him. Next time, delivering it sooner would be even better.
Zack Martin gets matched up with former Pro Bowl defensive tackle Henry Melton much of the time, and it hasn't seemed to bother him.
It's just training camp, but he looks like a player who is going to be a quality starter for a long time.

Martin
That is good because it's devastating when a franchise misses on a first-round pick. One of the biggest reasons the Cowboys have only one playoff win since 1996 is they missed on a pair of first-round picks in 2008.
Coming off a 13-3 season, the Cowboys had two first-round picks and three of the first 61 picks.
They drafted
Felix Jones
,
Mike Jenkins
and
Martellus Bennett
. Neither first-rounder received a second contract with the Cowboys.
They spent a third-round pick on
DeMarco Murray
to replace Jones, they spent $50 million on
Brandon Carr
to replace Jenkins and they essentially spent a second-round pick on
Gavin Escobar
to replace Bennett.
Jones, Jenkins and Bennett didn't have to be stars, but what if they were? The Cowboys would have more than one playoff win.
The same is true if they had each had been good players like
Anthony Spencer
. Or really good players like Greg Ellis.
None of them were impact players in Dallas, and the Cowboys have spent a lot of time, money and resources cleaning up that mess.
Dallas might have a similar situation with
Morris Claiborne
, but it looks like they got it right with Martin.
If the Cowboys can keep Tony Romo upright -- that is a huge if -- this could be the Cowboys' best offense since the glory days of the early 90s.
In 2007, the Cowboys scored 455 points (28.4 per game) as Tony Romo passed for 4,200 yards with 36 touchdowns and 19 interceptions. Terrell Owens had 1,355 yards receiving with 15 touchdowns, and
Jason Witten
had 1,145 yards with seven touchdowns.
This offense should be able to run it, and the triumvirate of Dez Bryant, Witten and
Terrance Williams
is better than T.O., Witten and Patrick Crayton.
The key, as it was in 2007, will be the offensive line. If that unit plays to its immense potential this offense will be one of the league's best -- as long as Romo is in the lineup.
Key number: 257
The Cowboys' defense was on the field for 1,094 plays last season and 257 of them -- 65 runs and 192 passes -- gained 10 yards or more.
That's 23.4 percent. Wow.
The 65 runs of 10 plus yards they allowed ranked second only to Chicago's 84. Philadelphia (202) and Minnesota (200) were the only teams that allowed more pass plays of 10 yards or more.
The Tampa 2 scheme is designed to stop big plays because the safeties and linebackers are supposed to keep plays in front of them.
This is the biggest indictment of Monte Kiffin as defensive coordinator. He couldn't get his players to play the scheme the way it was designed.
Player to Watch: Martez Wilson
The Cowboys are trying to convert Wilson from a linebacker to a defensive end, in part, because they are so desperate for someone, anyone who can rush the passer.
Wilson, who played nine games with three different teams last season, has a quick first-step and he used it to scoot past tackle
Jermey Parnell
during Sunday's Blue & White scrimmage. Then he stripped the ball from quarterback
Brandon Weeden
and returned it from a touchdown.
"One of the things he has that's just so evident is great quickness and explosiveness off the ball," coach Jason Garrett said. "The biggest thing for him to do is to learn how to play the position and all the nuances of playing with his hand on the ground as a defensive end."
The Cowboys need pass-rushers and playmakers, which is why he will get every opportunity to make the team.
July, 31, 2013
7/31/13
11:00
PM ET
OXNARD, Calif. -- We've all heard stories about
Larry Allen
's strength, power and the raw athleticism that made him one of the best offensive linemen ever.
We can all recite the stories about him bench-pressing 700 pounds and chasing New Orleans linebacker Darion Connor 50 yards to prevent a touchdown as a rookie.
And we've all seen video of him destroying linebackers and defensive backs when he pulled, creating running lanes for
Emmitt Smith
.
"Across the board, he was the best football player I ever played with -- and I played with them all," former Cowboys safety
Darren Woodson
said. "
Troy [Aikman]
, Emmitt,
Michael [Irvin]
,
Deion [Sanders]
... Larry Allen was the best.
"He was also the smartest."
Say what?
That's right. Talk to any player or coach who played with Allen during his 12 seasons in Dallas and they'll tell you he was among the game's most intelligent players.
Former offensive line coach Hudson Houck used to joke that Allen was the best offensive linemen on the field and in the classroom.
"He wanted to know everyone's assignment," six-time Pro Bowl guard
Nate Newton
said. "If the quarterback was rolling out, he wanted to know exactly where he was supposed to end up so he could adjust his block properly.
"He always asked a lot of questions, but he asked a lot of smart questions. He always wanted to know what we were supposed to do if the defensive player didn't do what we thought he would do."
Allen was a second-round pick from tiny Division II Sonoma State in the 1994 draft. Six games into the season, he was starting. The six-time All-Pro played every position except center on the offensive line.
"Do you know how smart you have to be to go from playing at Sonoma State to starting for a two-time Super Bowl champion?" Woodson said. "Think about how big that jump is. Think about the kind of offense we had in Dallas and what he ran at Sonoma State.
"I don't know how Larry did in math or what kind of grades he made, but he understood everything about football and concepts and that's what helped make him a great player. He anticipated things because he knew where everyone was on the field and he could adjust."
July, 26, 2013
7/26/13
9:02
PM ET
Six-time Pro Bowl guard and three-time Super Bowl champion Nate Newton, now of ESPN Dallas 103.3 FM, will weigh in occasionally with his take on the Dallas Cowboys' interior offensive line. His thoughts after watching Friday's practice:
"
Travis Frederick
stayed on his feet in traffic pretty good today, but what bothers me is his hand placement in passing situations. He needs to be able to get his hands up in a guy's chest by aiming at his facemask, and it'll automatically fall into his chest, because he's a big enough guy that they shouldn't be able to sink and push him back in passing situations, whether it's individual pass rush or team situations. I noticed when he missed with his hand placement, they get into him and push him back. He needs to toughen up on that.
"In the run game, he looked OK today. He got to the second level pretty good. He moved well, but we didn't have a lot of run situations where it was congested going into the middle.
"
Nate Livings
was very, very rusty. Feet were slow, hands were slow, getting knocked back. During pass-rush drills and game situations against the defense, he didn't look good at all. But that's to be expected after four months of missing everything -- OTAs, minicamp, everything that matters.
"
David Arkin
looked great today. Good hand placement. Him and
Doug Free
worked well, very well today, especially against the pass-rush situations. He looked good today. He looked solid."
May, 30, 2013
5/30/13
2:53
PM ET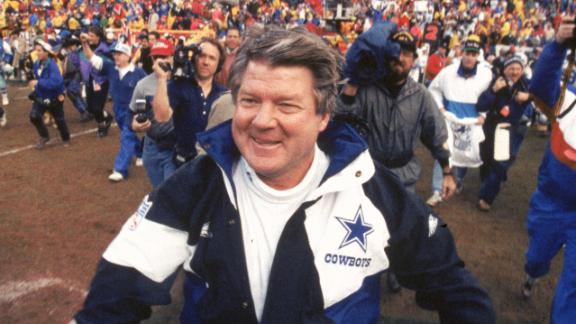 How 'bout them all-time great NFL coaches? Our series looks today at the man who
came in at No. 13 in our poll
, former Dallas Cowboys coach Jimmy Johnson.
Johnson came from the college ranks, and he brought a college coach's fire and intensity to the NFL. Tabbed by his college buddy Jerry Jones to succeed legendary Cowboys coach Tom Landry, Johnson presided over a run of Super Bowl success that burnished the Cowboys' legacy as one of the sport's signature franchises and set a standard to which the team has struggled for nearly two decades now to live up. Former Cowboy Nate Newton offered this as part of his analysis of Johnson's coaching style:
[+] Enlarge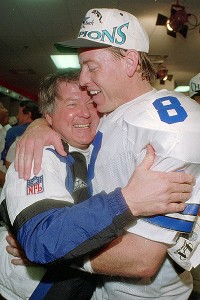 AP Photo/Charles KrupaJimmy Johnson coached the Cowboys to back-to-back Super Bowl titles in 1992 and '93.
"Jimmy was a master manipulator. He didn't have to cuss you out or dog you to get you to do what he wanted you to do. He took what you feared most and used it to motivate you.

"Stuff like Michael Irvin's fear of not being able to feed his family. Or Troy Aikman's fear of not being the best quarterback in the league. or Emmitt Smith's fear of not being on the field.

"He used my fear of letting the coach down. You could say anything and it wouldn't faze me, but you cornered me off and got me in a one-on-one situation and made me commit I would do whatever I said I was going to do because you showed faith and trust in me. Jimmy knew that. And he used it."
It's got to be exhausting to coach the way Johnson coached -- devoted to finding the right way to motivate each individual player on a daily basis. He did it to tremendous effect in Dallas, less so with the Dolphins. And while his résumé was strong enough that he likely could have stayed in coaching, he retired at the age of 56 to a comfortable life of TV broadcasting and fishing in the Florida Keys. His legacy as an all-time NFL coaching great rests on the Super Bowl titles he won in Dallas, coaching legends like Aikman, Smith and Irvin. The fact that he had to fight his way out of Landry's shadow to succeed and that the Cowboys really haven't been the same since he left only strengthen his case for the spot he occupies on this list.
April, 22, 2013
4/22/13
9:10
AM ET
GRAPEVINE, Texas -- Several current and former
Dallas Cowboys
players gathered Sunday night at the Gaylord Texas to support the Taste of the NFL: The Ultimate Cowboys Tailgate Party.
But this wasn't any normal party. Proceeds from the event went to the North Texas Food Bank. The Cowboys have raised more than $1 million and more than four million meals for needy families in the Dallas/Fort Worth area.
The event was hosted by
DeMarcus Ware
and
Jason Hatcher
.
"This means a lot," Hatcher said. "I've heard about this event in the eight years since I've been in the league. It's one of those things I can relate to. I was one of those kids who would leave school in the summer and say, 'Man, I can't get two meals.' That's why I'm here today. I'll put any time and effort I got into a situation like this I can relate to."
Among the current and former Cowboys in attendance:
Nate Livings
,
Caleb McSurdy
,
Brandon Carr
,
Rob Callaway
,
Tony Casillas
,
Nate Newton
, Preston Pearson and
Daryl Johnston
.
Cowboys defensive coordinator Monte Kiffin, defensive line coach Rod Marinelli and secondary coach Jerome Henderson also supported the event.
February, 7, 2013
2/07/13
3:26
PM ET
PODCAST
Former Dallas Cowboys offensive lineman Nate Newton, the co-host of ESPN Dallas 103.3 FM's "Coop & Nate" show, confirmed Tony Casillas' comments that players used horse ointment to help them heal.

Listen

Former Cowboys offensive lineman Nate Newton, the co-host of ESPN Dallas 103.3 FM's "Coop & Nate" show,
confirmed Tony Casillas' comments
on Thursday afternoon that NFL players used "DMSO" to help heal aching muscles during the 1990s.
"Horse liniment. I used it one or two times," Newton said. "It helped healed horses, muscles, aches and pains and little whatnots. It helped you.
"When you put this stuff in you, you had to be careful because it's kind of like a poison. It ain't something you can drink. It's something you've got to rub on you. You can taste it all in your mouth. Your breath smells like onions. You could tell a person that's been using it. I walked by Tony, and was like 'Woah. Tony, you're back on the DMSO?' You could smell it. You could smell it all over the locker room."
For more of the story, click here.
November, 23, 2011
11/23/11
2:00
PM ET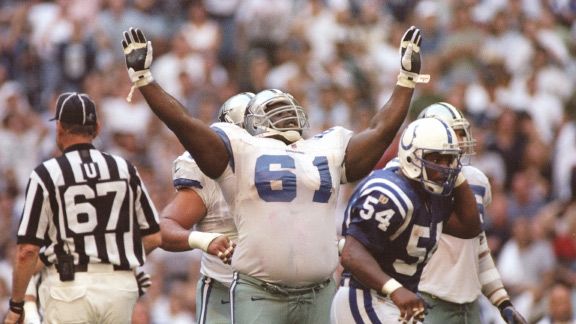 Brian Bahr /Allsport Nate Newton is an eater on Thanksgiving. "You know how you have a serving platter? I eat off of that. A plate's too small."
A very Happy Thanksgiving to all. Hope you have a great day enjoying family, fun, food and football.
As always, I'm particularly thankful for having such a great group of NFC South readers. You're dedicated, you're passionate, you're smart football fans and you keep my traffic numbers rolling.
As noted above, fun, food and football are important on this day. With all of that in mind, I'm going to share a post that involves all of those.
What I'm about to share is one of the most entertaining and fun interviews that ever has taken place in the NFL. It happened the day before Thanksgiving in 1999 in Charlotte.
Back then,
Nate Newton
who spent most of his career in Dallas, was finishing it up with the
Carolina Panthers
. For those who are too young or don't remember, he was a very large offensive guard. And, as you're about to hear, food was very important to him in those days. Times change and people change. Newton
had surgery in 2010
to help him lose weight. He does radio for ESPN Dallas and those who knew him in his playing days, say he now looks like a completely different person.
In his year in Carolina, though, Newton wasn't all that conscious of his weight. As I recall, it was a slow day in the locker room, as it often was during the forgettable tenure of coach George Seifert.
Most of the Panthers were hiding in the players' lounge, but Newton happened to walk into the locker room. I can't remember if the media approached him, but I have a vague recollection that Newton, a very chatty guy, initiated the conversation and went into great detail describing how Thanksgiving worked at "The Newton Crib."
I'm also extremely thankful to Darin Gantt, one of the many fine writers and friends who covered the Panthers back in the day, for somehow saving the transcription of this interview. Darin is pretty sure he still has the tape of this one. When he finds it, I'm going to make a special trip to Charlotte to listen to it because I don't think the written word quite does this justice.
I've cleaned up the transcript slightly because Nate's language sometimes was a little rough and I've also cut it down a good bit because the interview went on for about 40 minutes. Grab a knife and fork and dive into the highlights:
(Newton talking about what it was like when he was with the Cowboys, who routinely played on Thanksgiving):
"We would do it twice. We would do it before the game. Eat and go to the game. The game's over at 7 o'clock, so everybody's ready to eat again. So we would go home and do it again.''
(Newton then really got into the food aspect):
"I like collard greens, then I like the turkey, but it's got to be cooked right. Usually we have a fried turkey. At my house, we would have fried turkey. My mother-in-law would come in and we'd have gumbo, and ham, fried chicken. Winn-Dixie liked us, because we came in and hit every shelf.
"It wasn't like some people, who say 'We're having ham this year, or turkey.' We'd have two different types of turkey, we'd have a baked turkey and a fried turkey. Then we'd have a ham, and we'd have the gumbo and we'd have fried chicken, two or three different kinds of stuffings and salads and dressing. That day's like the Mardi Gras for us.
(Newton was asked if potatoes were on the menu)
"Potatoes? Oh yeah, dog. Mashed potatoes, baked, we do it all, bro. In the Newton crib, we break it down.''
(Some top-secret dining strategy):
"I don't eat with the crowd — I'm more of the entertainer. Make sure everybody's got what they need, I'm talking most of the time, having fun, messing with the kids. Then at the end of the day my wife would have me a big plate. Not a plate, I would eat off a platter. You know how you have a serving platter? I eat off of that. A plate's too small.

(At one point, former Carolina media relations assistant Bruce Speight, now the director of media relations for the Jets walked up and Newton got off the topic of food for just a few seconds)?
"You need me dog, or you just making sure I ain't gonna say too much bad (stuff)? A lot of people don't like when I cuss, but it's my interview.
(Then, back to food):
Man, when I walk into my house, it's going to be so smelly, and warm and rosy. You know what I'm saying? The food and spices and the food. I break into a sweat.
(No question prompted this part, but read it carefully because it might be the best part of the interview):
"See, you all eat. I
enjoy
food. I feel food. You know what I'm saying? I feel the texture when it goes down. You all are sitting there, 'I've got to eat to stay alive.' Food is more than just staying alive, bro. Think about it, think about it.
"The different textures of fried chicken. You bite into the chicken and it's crunchy, but then you get into the meat and it's smooth and kind of chewy. And if you cook it just right, especially the breast, if you cook it just right, when you bite into it and feel the crunchiness, and then you feel the smoothness of the pure meat, and then the juices just come off of that meat. And then it goes down and you take a cold swig of that beer. Oh man! You're like "Whoa.'''
(At this point, Newton got away from Thanksgiving, and on to eating in general):
"Or if you're sitting back eating a hot dog. I don't know what you all like to put on a hot dog, but I like to just fill mine up with everything. Then you just try to eat the whole hot dog and stuff your mouth and try to get your throat as dry as you can, then
BOOM
, you hit it with a fresh soda or Sprite or something. Then the Sprite makes your mouth fizz up, you're like 'Whoa that feels good going down.'''
Enjoy your dinner and your day.
August, 19, 2011
8/19/11
3:06
PM ET
ARLINGTON, Texas – After a six-year layoff, three Cowboys greats will be inducted into the Ring of Honor.
There will still be plenty of deserving candidates after Drew Pearson,
Charles Haley
and
Larry Allen
join the exclusive club.
"I don't want to sound like I don't think about it and there's not a lot of consideration," one-man selection committee Jerry Jones said. "On the other hand, I'm not sitting here with my list that if it drops out of my pocket, you'll see the next five."
Well, Jerry did mention that he listens to input from all sorts of different folks, including the media, so here's some help with the next five:
Darren Woodson –
They still haven't been able to replace Woodson, a safety who was a consummate leader and had the rare combination of being an intimidating hitter and excellent coverage man. How many other strong safeties in NFL history could lock down slot receivers? Woodson played in five Pro Bowls, won three Super Bowls and holds the franchise record with 1,350 tackles.
Harvey Martin –
The NFL didn't officially recognize sacks as a statistic until Martin's final two seasons, but the Cowboys credit him as the franchise record holder with 114 in his career. That included a team-record 23 in 1977, when Martin was the NFL's Defensive Player of the Year. The South Oak Cliff product finished that season as the co-MVP of the Super Bowl. He deserves to be honored posthumously.
Cornell Green –
The name probably doesn't ring a bell for a lot of younger readers, but Green merits serious consideration for the Ring of Honor. He was a five-time Pro Bowler and three-time All-Pro defensive back in the 1960 and '70s, spending most of his career at cornerback before shifting to strong safety. He played all 13 seasons of his career for the Cowboys and was a Pro Bowler on their first Super Bowl title team.
Nate Newton –
Six Pro Bowl appearances and three Super Bowl rings are accomplishments that speak for themselves. Plus, you can just listen to Larry Allen, who speaks very little. When Allen mentions his NFL role models, Nate Newton is the first name out of his mouth.
Jimmy Johnson –
This is one is complicated. The coach spent only five seasons in Dallas and had a nasty, highly publicized divorce with Jones. But Jerry said Friday that he would seriously consider Johnson for the Ring of Honor. Johnson was the architect of a dynasty that went 25-7 and won a pair of Super Bowls in his last two seasons.
December, 24, 2009
12/24/09
3:31
PM ET
IRVING, Texas -- Wade Phillips gave his players Christmas off, a decision that has been greeted with criticism by some local media grinches.

The loudest objectors have been ESPN 103.3's Michael Irvin and Nate Newton. Both of them have three Super Bowl rings' worth of credibility, which is certainly more than you can say for most media members. (Or Phillips, for that matter.) They pulled the Jimmy-woulda-never-done-this card, saying Jimmy Johnson always told them the practice 48 hours before gameday was the most important.

Really, though, is this a big deal?

It's not like Phillips gave the Cowboys an extra day off. They practiced Tuesday, which is their normal day off, a luxury they could take since they played Saturday.

Phillips figured the Cowboys wouldn't be completely focused on football if they practiced on Christmas Day, especially the players who had to leave kids at home. He set the schedule to put the Cowboys in position to have their best possible week of practice. They'll have a Saturday walkthrough before leaving for the airport, as usual, which ought to freshen up anything they forgot while unwrapping presents and sipping egg nog the previous day.

The media that has to report from Valley Ranch every day the Cowboys practice here is with Wade on this one.
December, 8, 2009
12/08/09
11:44
AM ET
ESPN 103.3 FM is hosting its once-a-year Jingle Ball celebration Wednesday, Dec. 9 at Cape Buffalo in Addison. Proceeds benefit the Dallas All Sports Association and the Ron Springs and Everson Walls Gift For Life Foundation. A full list of celebrity appearances can be found on
103.3 FM's events page.
Former and current Cowboys scheduled to appear are:
Joe Avezzano
Tony Banks
Martellus Bennett
Tony Casillas
Patrick Crayton
Michael Downs
Billy Joe Dupree
Cliff Harris
Jesse Holley
Michael Irvin
Rocket Ismail
Bradie James
Eugene Lockhart
Kevin Mathis
Nate Newton
Mike Renfro
Everson Walls
Gerald Sensabaugh