Dallas Cowboys:

O.J. Atogwe
March, 5, 2013
3/05/13
1:00
PM ET
We continue our 10-part series breaking down the Cowboys' free-agency needs, position-by-position:
Defensive backs

Who's on the roster:
CB-
Brandon Carr
, S-
Barry Church
, CB-
Morris Claiborne
, S-
Matt Johnson
, CB-
Sterling Moore
, S-
Micah Pellerin
, CB-
Orlando Scandrick
, CB-
Brandon Underwood
.
Analysis:
The cornerback spot is secure with Carr, Claiborne and Scandrick manning the top spots. The safety position got thin with the release of
Gerald Sensabaugh
. However, the Cowboys return Church, but he's coming off a torn Achilles injury. Johnson missed the entire 2012 season with a hamstring injury and there are high hopes for his ability to play in 2013.
Cowboys free agents:
RFA: S-
Danny McCray
; UFA: CB-
Michael Coe
, S-
Eric Frampton
, CB-
Mike Jenkins
and S-
Charlie Peprah
.
NFL free agents of interest:
CB-
Stanford Routt
, S-
Ronde Barber
, S-
William Moore
and S-
O.J. Atogwe
.
PODCAST
ESPN Dallas' Todd Archer joins Fitzsimmons & Durrett to discuss the Cowboys cutting Gerald Sensabaugh in a salary cap move.

Listen

Need meter: 3.
The Cowboys don't have much money to play with in free agency. And with the money and draft picks invested at corner in the last two seasons, they won't go after a highly-regarded corner such as
Quentin Jammer
. However, safety could be a different story. Barber has played in the Tampa 2 system before and might be an interesting pickup. There was interest in Atogwe a few years ago; might the Cowboys offer him a two-year deal to play strong safety? The Cowboys will bring McCray back as a backup safety/special teams ace. Peprah and Frampton, both in-season pickups in 2012, are two valued players whom the Cowboys should discuss keeping. If that happens, it's doubtful the Cowboys go outside to sign a safety.
May, 11, 2012
5/11/12
5:15
PM ET
So John Clayton has
this piece
on the 10 best position battles brewing this summer between rookies and veterans in the NFL. I scrolled through it, thinking it would provide me with some material for a late-Friday afternoon post, and to my shock and dismay there wasn't one NFC East mention in the whole thing. Come on, John! Help a guy out, will ya?
Anyway, it got me thinking: There must be some interesting position battles to keep an eye on throughout the offseason and training camps in our division, right? I mean, some situations where things aren't yet set in stone? There are, and here's one for each team.

Dallas Cowboys' inside linebackers:
Sean Lee
is set at one of these spots, but the other will be interesting to watch. The team drafted
Bruce Carter
in the second round in 2011, and they believe he's part of their future on defense. But he was coming off an injury when they drafted him and played in just 10 games as a rookie, and they can't be sure he'll be ready to hold down a starter's spot full-time in 2012. So they went out on the free-agent market and signed
Dan Connor
, formerly of the
Carolina Panthers
, to start next to Lee while Carter continues to acclimate himself to the pro game. The interesting aspect of this will be how good Carter looks in training camp and whether he can play well enough to demand to take reps and snaps away from Connor. The veteran, Connor, will start with the job, but Carter is the future there, and it's just a question of when he's ready.

New York Giants running backs:
Ahmad Bradshaw
is the unquestioned veteran starter, but he doesn't come without questions. Foot injuries have limited him over the past several seasons, and his good friend and veteran safety net,
Brandon Jacobs
, is off to San Francisco to play for the 49ers. Assuming Bradshaw won't be able to make it through the season fully healthy on a starter's workload, there are going to be plenty of snaps to go around. The question is how many of those snaps first-round pick
David Wilson
can steal from holdover youngsters like
D.J. Ware
,
Da'Rel Scott
and
Andre Brown
(who's suspended for the first four games for drugs).

Philadelphia Eagles safeties:
The team wants
Nate Allen
and
Jaiquawn Jarrett
, its second-round picks from the 2010 and 2011 drafts, respectively, to be the starters. Of the two, they're more confident about Allen, who's had some injury issues but played well when healthy last season. They have him penciled in as a starter. Whether Jarrett can fight off
Kurt Coleman
for the other starting spot is one of the training-camp questions the Eagles will face. It's also possible they'll add a free-agent veteran to the mix, but they'd rather get the production they need from their young guys if they can.

Washington Redskins secondary:
There are currently 15 defensive backs listed on the Redskins' roster, and it's safe to assume they can't all make the team. The question is which of them will play.
Josh Wilson
and
DeAngelo Hall
would appear to be set as the starting cornerbacks, but the team did sign free agent
Cedric Griffin
, and intriguing undrafted free-agent cornerback Chase Minnifield will be a name to watch in the summer. The more interesting questions are at safety, where the Redskins lost starters
LaRon Landry
and
O.J. Atowge
and things are wide open. The guy they like the best for the future is 2011 draft pick
DeJon Gomes
, but while they view him as a starter at some point, they don't know yet whether that point is this year. Their free-agent safety signing list is a fascinating one, including
Brandon Meriweather
,
Madieu Williams
and
Tanard Jackson
, any of whom c0uld emerge as a starter. Griffin also might have been brought in with an eye toward playing him at safety, and
Reed Doughty
was a valuable injury fill-in last season and could get a shot at more playing time in this crowded field. The Redskins appear to be installing an all-out competition for safety roles, and from here it's impossible to know who will play well enough to nail them down.
November, 18, 2011
11/18/11
8:39
AM ET
By
Bryan Broaddus
| ESPNDallas.com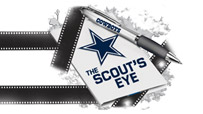 The last time the
Washington Redskins
and
Dallas Cowboys
met, some eight weeks ago, the Redskins were off to a 2-0 start with an impressive opening day win against the
New York Giants
while the Cowboys had just evened their record to 1-1 after
Tony Romo
managed to steal a game in San Francisco despite a broken rib.
Blame quarterbacks for Redskins' slide
Since that meeting, the Redskins have lost five of their last six. A large part of those losses are due to the poor play of the quarterbacks
Rex Grossman
and
John Beck
. When you study the Redskins, the first thing that comes to mind is what we had to deal with during the Dave Campo years here in Dallas when it came to the quarterbacks. During that span we wasted a lot of time trying to get quarterbacks ready to play that gave us no opportunity to win games. I am seeing a lot of the same things in Washington.
Mike Shanahan's inability to successfully identify a quarterback has done a lot of damage to the Redskins. Time, money and draft selections have been wasted on players like
Donovan McNabb
, Grossman and Beck.
Any pro personnel director could tell you without hesitation that McNabb was slipping badly and Andy Reid was more than ready to move on from McNabb with
Michael Vick
. As much as Shanahan wanted to believe that there was still gas left in McNabb's tank, it wasn't the case at all. Everyone knew that except Shanahan.
As the Redskins were going through training camp, Shanahan was still in search of a quarterback and placed a call to the Dolphins about Beck, who have had their quarterback issues as well. The Dolphins were more than happy to ship Beck to the Redskins. Shanahan made his biggest mistake of the off season by not addressing the quarterback situation through the draft when he had the opportunity to do so with a top-10 selection.
Shanahan could have selected
Andy Dalton
,
Jake Locker
or
Christian Ponder
but instead chose to trade down and select linebacker
Ryan Kerrigan
out of Purdue. Kerrigan has been a nice player this season but doesn't help his quarterback situation now or in the future.
Beck has made three starts this season and has yet to win a game. As a matter of fact, Beck has an 0-7 record as an NFL starter. He plays like a quarterback that is afraid to make a mistake. You never see him really push the ball down the field. Everything Beck does is short and underneath.
Beck really struggles because he isn't that accurate when it comes to throwing the ball at any level. He will struggle to hit receivers on the move and he will also struggle to hit them when stationary. The ball doesn't come off his hand with any zip at all; there is no power to his game.
This is also the case of Grossman, who is back after throwing four interceptions in a loss to the Eagles. I have never been a fan of Grossman's game because he really lacks arm strength, but I can't question his toughness. He will stand in there and take shots.
Grossman is not the tallest or most mobile quarterback in the league, but you will see him slide in the pocket to try to help him with throwing lanes. The lack of arm strength appears when the Redskins try to throw the ball down the field.
Cowboys catch a break: No Moss
There have been too many times where
Anthony Armstrong
or
Santana Moss
get a step on a corner but have to wait on the ball because neither Grossman or Beck can get it down the field.
The Cowboys catch a huge break in this game because Moss will miss it due to a hand injury. Moss has punished the Cowboys over the years with his playmaking ability, so the fact that he is out of the lineup is a huge plus for Rob Ryan and this defense.
The Redskins generate offense in two areas.
Tight end
Fred Davis
is the real deal and is someone that nickel back
Frank Walker
and safeties
Gerald Sensabaugh
and
Abram Elam
are going to have to deal with. Davis doesn't play like a traditional in line tight end. Not to say that you won't see him inline, but the majority of his work is in the slot or flexed. Davis likes to work the middle of the field and he will be the go-to guy on third downs. Offensive coordinator Kyle Shanahan likes to move him around the formation and create opportunities.
Redskins also will struggle to run the ball
Shanahan will also try to run the ball against the Cowboys' front seven. Last week against the Bills, Dallas' run defense was outstanding when the game was in the balance. That wasn't the case the previous games against the Eagles and Seahawks.
The Cowboys will need to be ready for running backs
Ryan Torain
and
Roy Helu
in this zone blocking attack. Torain runs the ball hard but he is really straight line and doesn't have many moves. He will attack the hole, then lower his head to finish the run.
The back that I think is the best fit for this offense is Helu. He just plays like he has a better feel for the offense when it comes to reading the blocks, then making the cut. Torain is more about attacking the hole; Helu is more about allowing the blocks to develop then making his cut.
Helu also does a nice job of catching the ball out of the backfield. Solid, dependable hands and does a nice job of getting up the field and gaining positive yards.
I mentioned the issues that the Redskins have at quarterback, which I feel are the most important, but their offensive line -- other than left tackle
Trent Williams
-- really struggle, run or pass.
Left guard
Maurice Hurt
is the weak link of this line. He plays overextended, doesn't adjust to twist stunts and has poor sustain. He has been nursing a knee injury and might not be active for this game. Center
Will Montgomery
would slide over to his spot and
Erik Cook
would take over at center.
Right tackle
Jammal Brown
has had his shares of problems when it has come to pass protection. Have seen defenders get the edge on him without many problems.
Williams can make the cut-off block on the backside and reach the front. Williams had a little trouble in the 49ers game when he and Hurt had to sort out the twist game. Both of them did not adjust all that well. Look for Rob Ryan to throw some movement stunts against this line to see if they have corrected those problems or teams will continue to take advantage of them.
Redskins' defense will create pressure
If the Redskins can ever find a way to build any type of offense, they would have a shot in this division. No matter how bad the offense plays, the Redskins defense is always there to clean up the mess.
Defensive coordinator Jim Haslett and his staff have done a nice job in the games I studied. The pressure that they have able to generate with their front seven, particularly outside linebackers
Brian Orakpo
and Kerrigan, has been impressive.
Orakpo was the first rusher that
Doug Free
faced after the 49ers game, when he struggled so bad with his technique. I was told that Free was really worried about the inside rush from Orakpo and it affected him in the game. Free has been rock solid the last two weeks and appears to once again be playing with confidence.
Both Orakpo and Kerrigan are relentless rushers when coming after the quarterback, but you will also have to deal with them on the backside when running down plays. If the Cowboys' tackles and tight ends don't finish blocks on the backside, then Orakpo and Kerrigan will be right there to make a play.
One of the major reasons for success in this Cowboys running game has been their ability to secure blocks and allow
DeMarco Murray
to use his vision to make cuts when he reads it. Without those backside blocks, this running game wouldn't be as potent.
Watch for safety Landry to key on Cowboys' rushers
In the Buffalo game, safety
LaRon Landry
played more in the box, almost like a linebacker. I have a feeling that Haslett will probably try to do the same to see if he can have some success stopping Murray. Garrett can counter much like he did last week against the Bills -- throw the ball early in the game to get them out of that.
The Redskins have some run players in nose tackle
Barry Cofield
and defensive end
Adam Carriker
. Cofield shows the ability to get up field quickly off the snap and be disruptive in the backfield. Will be interested to see if Cofield lines up over
Montrae Holland
, who has struggled with quickness in the past.
Carriker plays with more brute force and power than great technique. When
Tyron Smith
has had his troubles, it's been against ends that play with power. But to Smith's advantage, this will be the second time that he has faced Carriker, so he can go back and study how he needs to attack him.
Former Cowboys defensive end
Stephen Bowen
is not playing as well against the run as he did when he was here. There is something about Bowen that leads me to believe that he really was an outstanding nickel or backup player, and the more snaps that he has to play, the more he will struggle. Bowen can still generate some pass rush, but he isn't nearly as affective as he was when here.
At inside linebacker, the ageless
London Fletcher
is still around the ball a great deal. When in position to make a tackle, he can get the job done.
I was not impressed with
Rocky McIntosh
at all. I saw too many times where he was beaten in coverage or he missed a tackle. In the 49ers and Bills games, he was really bad in both those areas. McIntosh struggled much more than Fletcher at getting off blocks.
Cowboys should target Barnes in Redskins' secondary
In the secondary, the Redskins will use three safeties when they are all healthy, which at this time they are not. Landry has missed the first two days of practice with an Achilles injury, but he should play. O.J. Atogwe has been dealing with knee and toe problems and
Reed Doughty
has a chest issue.
The best combination for the Redskins is when Atogwe and Landry are the starters. Doughty will try to be physical in the run but doesn't cover all that well.
Of the two corners,
Josh Wilson
knows how to play the fade and doesn't give you much room. He also runs very well.
DeAngelo Hall
likes to bait quarterbacks into throws and will drive on routes. Have been told that he hasn't been playing well this year, but in the games I studied, I didn't see that. The weak link in the group is nickel
Kevin Barnes
, who needs to be attacked.
September, 24, 2011
9/24/11
1:00
PM ET
By
Bryan Broaddus
| ESPNDallas.com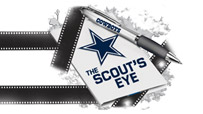 Here are the key matchups for the
Dallas Cowboys
' Monday Night Football contest against the
Washington Redskins
:
Cowboys OT Doug Free vs. Redskins OLB Brian Orakpo:
After playing one of his poorest games since he was named a starter two years ago, Free has the opportunity to put the 49ers game behind him and lock up with one of the NFL's young rising stars in Orakpo.
Last week, Free was as off balance as I had ever seen him at tackle. His punch and footwork was off to the point where I was surprised that
Justin Smith
wasn't more of a factor. The Redskins have two nice rushers in Orakpo and rookie
Ryan Kerrigan
but Orakpo is the more explosive of the two, and that is what Free will have to deal with.
Orakpo works to get the edge on you first but is athletic enough to adjust in mid-rush. Free needs to be careful not TO allow Orakpo to set him up to the outside getting all his weight on that left foot, then working back inside to take a run at the quarterback.
Again, Free struggled last week when he had to adjust quickly. In studying the Redskins-Cardinals matchup, Arizona got hurt most when it used a back or tight end to handle Orakpo. This doesn't work scheme-wise, and don't expect Jason Garrett and the staff to make that as part of the game plan.
PODCAST
Bryan Broaddus, the official scout of ESPN Dallas, joins Ben and Skin to preview the Monday night matchup between the Cowboys and Redskins.

Listen

I don't see Free playing poorly two weeks in a row, but Orakpo is the type of player who can make you look bad if you don't handle him the right way.
Cowboys nickel CB Alan Ball vs. Redskins WR Santana Moss:
Of all the matchups for the Cowboys defense Monday night, this is the one that might be the most important.
When Rob Ryan plays nickel, the adjustment that he will make is putting Ball in as the slot corner to cover Moss. Last week against the 49ers, Ball played inside while
Frank Walker
took his spot at left corner on the outside. Ball wasn't bad in the second half but in the first he had struggles when having to deal with
Ted Ginn
Jr. and
Josh Morgan
.
The biggest problem I see with Ball is that he will play way too cautious. There are times when he allows too much space between himself and the receiver. He has the quickness to drive on the ball but he doesn't always do it.
Moss is a handful because of his skill set. Offensive coordinator Kyle Shanahan likes to move him all over the formation, trying to create mismatches to convert third downs. Moss is a fearless player and will go inside or outside. He will find away to catch the football.
When you watch the Redskins play, you can see the confidence that
Rex Grossman
has in trying to get the ball in Moss' direction. This is a battle that the Cowboys can't lose or handle poorly if they are to get off the field on third down.
Cowboys TE Jason Witten vs. Redskins S Reed Doughty and OJ Atogwe:
The situation at receiver as Garrett would put it is truly day to day.
Miles Austin
is out with a hamstring injury and
Dez Bryant
is trying to work through a thigh injury that hasn't allowed him to practice for the last two weeks. Friday was the first day that the trainers allowed Bryant to even attempt to put weight on the injury. He still has two days to try and get ready for Washington.
Even if Bryant is able to go, Witten is going to once again play a key role in how this offense will function, much like he did last week against the 49ers. The real problem here is that the Redskins will not allow Witten to beat them, so he should see some special coverage schemes from defensive coordinator Jim Haslett.
Of the two Redskins safeties, Doughty will struggle the most in coverage. He doesn't run well enough to hang with Witten down the field or in routes, so Atogwe could draw that assignment. Against the 49ers, Witten was able to make plays by releases from in line or the normal tight end spot against a Cover 2 look. Look for the Redskins not to respect the other Cowboys receivers other than Bryant and try to make it difficult on Witten to get open.
September, 23, 2011
9/23/11
9:00
AM ET
By
Bryan Broaddus
| ESPNDallas.com
In the three seasons I worked with Bill Parcells for the Cowboys, I was always impressed with his ability to not allow injuries to become an excuse for how well our team was going to play that week.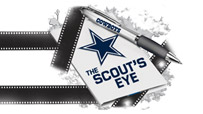 Parcells fought daily to prepare, practice and play with those players that were healthy enough to go, including those players that were able to play despite not being 100 percent. Watching Tony Romo play last week against the 49ers in the condition he was in reminded me of the message that Parcells was trying to drill into our teams.
I get that same feeling listening to and watching Jason Garrett. It's on the players that are on that 46-man game day roster to step up and continue to play regardless of who is taking the snaps, running the routes or carrying the football that day.
The Cowboys have had their share of injuries to key players through the first two weeks of the season, but to the credit of the staff and players in that locker room, no one is making excuses. In the NFL, no one feels sorry for the condition your team is in and the last time I checked the league is not going to cancel the season because you have several starters that will not be able to line up.
With that being said, the Redskins present an interesting challenge to the Cowboys.
Redskins offense
In the second season under Mike Shanahan, this Redskins offense is really a collection of veteran players that Shanahan has been able to piece together and develop into a productive unit.
The Shanahan scheme is about running the football first to set up other opportunities off play-action, using boots and throwing to tight ends Chris Cooley and Fred Davis. When the Redskins run the ball, they like to run the zone stretch with all the blockers stepping hard play side either to the right or left, thus allowing the back to press the ball hard front side, find the soft spot, make a cut, then head up field.
When Shanahan was with the Broncos, there was more violence in the way his offensive line was able to block the backside with cut-off blocks diving into the legs of the defensive linemen. This blocking style was a nightmare for defensive linemen having to fight blockers with their hands to protect their knees and then try to tackle a ball carrier going through the hole. This offensive line will play low on the backside, but it's now more about trying to stay on their feet and run with the defenders.
In the Shanahan scheme, he has always been able to plug in what seemed like any back and have a 1,000-yard rusher. However, when I studied the Giants and Cardinals games, the one area I noticed improvement over last season was at running back.
Last season, the majority of the work went to a broken down Clinton Portis, who just couldn't stay healthy enough to help the Redskins sustain any type of rushing attack. In the offseason, the Redskins went out and made two improvements at running back, adding Tim Hightower from the Cardinals and drafting Roy Helu from Nebraska. I have really been impressed with both of these runners.
Hightower has a real feel for how to run the ball in this scheme. He is a patient runner but also a powerful one. He can get the ball on the edge and around the corner.
Helu doesn't look like he is moving quickly, but once he gets through the hole, he has some shiftiness in the open field. Helu is also an outstanding receiver out of the backfield. There are designed plays where they use wide receiver picks for him to quickly work him into the flat to pick up first downs.
At wide receiver, veterans Santana Moss and Jabar Gaffney are the starters. Moss has always been a difficult player for the Cowboys to deal with no matter who the coach was for the Redskins. It will still once again be that way in that Shanahan will line Moss up all over the formation. The place that he is the most dangerous is when they line him up in the slot and use him to attack the secondary on third down. Moss has always been fearless taking his routes inside and catching the ball on the move.
Gaffney has become a sneaky receiver. Had a nice out-and-up route against the Giants that was a huge play in the game. Like Moss, he is not afraid to take his route anywhere on the field. Will run the slant in the red zone and show no fear for the safety sitting inside.
Earlier in the report, I mentioned the play of tight ends Cooley and Davis. This will be the third week in a row that Rob Ryan's defense will face a tight end that can be a difference maker in the game. Cooley or Davis are not trained killers as run blockers but what they can do is line up flexed or in the slot and get down the field quickly. Both have outstanding hands and can adjust to any type of pass that is thrown from Rex Grossman. Both tight ends are problems for defenses in the red zone because of their ability to use their size to separate.
The Cowboys have to be careful if the Redskins get their running game going on the stretch play, then they try to take advantage of the play-action game using Cooley and Davis.
At quarterback, I have never been a Rex Grossman fan. But to his credit, he has managed to lead his team to a 2-0 start. There is a side of me that truly believes that Shanahan wanted John Beck to start, but Grossman did enough to win the job.
When you study Grossman, you still see the same mistakes that ended his career in Chicago: red zone interceptions, fumbles in the pocket when sacked and tipped passes at the line. Grossman will still struggle with his decision making and his reckless way that he will throw the ball into coverage, thinking that his arm strength can get the job done.
What Grossman does well, is that he can show accuracy hitting the receiver on the move. In the Giants game, he was able to work the ball on the fade to Anthony Armstrong, who made a pretty play.
The Cowboys have to try to affect Grossman in the middle of the pocket. He will move if flushed but the majority of the snaps he likes to stand in the middle of the pocket and throw the ball. The problem with that is that he is not that tall and he will struggle to get power on the pass when he feels the rush in his face.
Last week against the 49ers, Jay Ratliff and the blitzing linebackers were able to cause problems for Alex Smith. I look for Rob Ryan to try and do the same thing to Grossman.
Redskins defense
When I broke down the Redskins offense, I spoke of the new additions at running back and what a difference they have made. But in my view where the Redskins have improved the most is on defense.
I like what the Redskins did with the additions of defensive end Stephen Bowen, nose tackle Barry Cofield from the Giants and the drafting of outside linebacker Ryan Kerrigan. If you are a fan of the Cowboys, you grew to appreciate the fine work of Bowen but Cofield and Kerrigan are really nice players.
Cofield is a strong point-of-attack player that knows how to fight blocks and keep himself square to stop the run. Cofield is also strong in his ability to get push in the middle over the guards on pass rush.
Kerrigan was the Redskins first-round selection out of Purdue this year and opposite Brian Orakpo has been a force not only against the run but as a pass rusher. Kerrigan at Purdue was a hand-in-the-dirt player, but he has made the transition to the outside linebacker spot. Kerrigan is strong against the run and can cover down the field, but he is most effective as a relentless, effort pass rusher.
Kerrigan will see the majority of his plays against Tyron Smith, who I thought was the best offensive linemen for the Cowboys last week against the 49ers. Smith will once again need to match the effort and intensity of Kerrigan and not allow him to get off the rock with any consistency or pace.
In the secondary, Josh Wilson and DeAngelo Hall are the corners with Kevin Barnes the nickel. Hall has always been a gambler in coverage. Wilson is good in tight coverage and can really close on the ball. Wilson can also run well enough to hang with any of the Cowboys receivers. Have seen Wilson be a bit of a hit or miss tackler.
At safety, O.J. Atogwe from the Rams plays as the free safety with Reed Doughty in the lineup for the injured LaRon Landry, who is trying to work his way back from a hamstring injury. Atogwe plays well in the box and is a willing tackler. Doughty will also fill in the running game but doesn't have catch-up speed in coverage. If the Cowboys are to try and take advantage of one of these safeties, it will be Doughty.
There is a ton of movement in this front. The Redskins will slant the line one way then bring the linebackers back the other way. On the blitz, they like to bring the inside linebackers on games.
The Cowboys can't make the mistake that the Cardinals did and that's block Orakpo or Kerrigan with backs. Both play with way too much power and quickness. The way to successfully handle these rushers is try to keep them wide in their rush. Orakpo and Kerrigan like to take a direct path to the quarterback, but they have struggled the most when tackles forced them up the field.
If the Cowboys are going to win this game, Doug Free and Tyron Smith are going to have to handle Brian Orakpo and Ryan Kerrigan.
March, 7, 2011
3/07/11
7:30
AM ET
A pair of accomplished safeties found new homes last week without even an invitation to visit Valley Ranch.
PODCAST
Business in the NFL is changing in big ways; can the Cowboys keep their head above water or will they be drowned in financial trouble? Ben and Skin weigh in.

Listen

Cowboys fans can feel free to panic after O.J. Atogwe and
Bob Sanders
went off the market, but it's probably premature. There will be safeties available in free agency capable of filling the glaring void in the Dallas secondary, assuming that there is free agency this offseason.
It's tough to blame the Cowboys for not taking a risk on Sanders, whose terrific career has been derailed by injuries. He's been healthy enough to play in only nine games in three seasons since being named the NFL's defensive player of the year.
I don't quite understand the Cowboys' lack of interest in Atogwe for the second consecutive season. He's a safety who is reliable against the run and pass and has a track record of forcing turnovers. However, even if the Cowboys were in pursuit of the soon-to-be 30-year-old, they probably would have been outbid by the Redskins. Danny Snyder, a man known to overpay in the free-agent market, gave Atogwe a five-year, $26 million contract.
If the Cowboys don't sign a safety, they deserve to be ripped for ignoring Atogwe. But that's not the case if they sign any of the following six players:
Michael Huff
,
Quintin Mikell
,
Eric Weddle
,
Danieal Manning
,
Dawan Landry
or
Brodney Pool
.
Just a hunch, but the Cowboys might have their hopes set on Huff, an Irving Nimitz and Texas product who has started to live up to his potential as a top-10 pick after a few disappointing seasons at the beginning of his career. Rob Ryan was the Raiders' defensive coordinator when they drafted Huff seventh overall in 2006.
Huff, 28, is an elite coverage safety with a knack for blitzing. He'd be a tremendous upgrade over
Alan Ball
.
Perhaps Huff could be paired with
Gerald Sensabaugh
, although the Cowboys aren't going to give the strong safety the lucrative long-term deal he wants in free agency. Maybe the Cowboys find their second starting safety in the draft.
Anybody who watched the Cowboys play last season knows that improving at safety ranks atop the offseason priorities. The fact that they were spectators while a couple of big-name safeties changed addresses shouldn't prevent them from addressing the problem.
February, 23, 2011
2/23/11
8:00
AM ET
Players:
Alan Ball
(free agent),
Gerald Sensabaugh
(free agent),
Barry Church
(signed through 2012),
Danny McCray
(signed through 2012),
Akwasi Owusu-Ansah
(signed through 2013),
Andrew Sendejo
(signed through 2011)
Top free agents:
Michael Huff
,
Oakland Raiders
; O.J. Atogwe,
St. Louis Rams
;
Bob Sanders
,
Indianapolis Colts
;
Roman Harper
,
New Orleans Saints
;
Quintin Mikell
,
Philadelphia Eagles
;
Danieal Manning
,
Chicago Bears
;
Dawan Landry
,
Baltimore Ravens
[+] Enlarge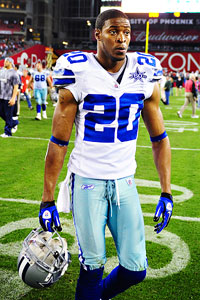 Mark J. Rebilas/US PresswireDon't expect safety Alan Ball to be a starter next season, if he's even on the Cowboys' roster in 2011.
Top draft prospects:
Rahim Moore
, UCLA;
Quinton Carter
, Oklahoma;
DeAndre McDaniel
, Clemson;
Robert Sands
, West Virginia;
Jaiquawn Jarrett
, Temple.
2010 review:
To put it simply, this position was a problem. The Cowboys made a major misevaluation with Alan Ball, who doesn't have the instincts or tackling ability to be a starting free safety for a decent NFL defense. Gerald Sensabaugh was a disappointment for most of the season, although he finished strong by making four of his five interceptions in the last six games. He was not a factor against the run or an intimidating presence in the middle of the field. Barry Church and Danny McCray didn't perform well enough in limited playing time to make a case to contend for a starting job. Akwasi Owusu-Ansah, who missed much of camp due to shoulder surgery and was placed on injured reserve with an ankle injury, essentially had a redshirt season.
Offseason preview:
The Cowboys have to find at least one, and preferably two, new starting safeties. If Ball is on the roster next season, it'll be as a backup and core special teams player. There is a chance that Sensabaugh could return as a starter, but the Cowboys won't give him the lucrative long-term deal he's looking for in free agency. It would behoove the Cowboys to be aggressive in free agency, but they haven't set up a visit with O.J. Atogwe, who is available to sign immediately after being released by the Rams this week. There are no safeties who are projected as top-10 picks, so don't expect the Cowboys to draft one in the first round. They should be able to find a starter in the second or third round.
Need meter:
(1-to-5) 5
July, 29, 2010
7/29/10
9:57
AM ET
SAN ANTONIO – Secondary coach Dave Campo doesn't want
Alan Ball
to be an insurance policy for the Cowboys' cornerback depth.
Wade Phillips has mentioned that the fourth cornerback spot isn't too big of a concern because Ball can play there in a pinch. But Campo wants Ball, a converted cornerback, to focus on playing free safety.
"I'm looking for a guy, because I think Alan has got to spend every minute doing what he's doing," Campo said. "At this point right now, he's a safety. We're looking for corners."
The Cowboys aren't looking outside of San Antonio for a corner. Campo said he believes
Cletis Gordon
,
Jamar Wall
and/or
Bryan McCann
can be an adequate backup this season, with special teams weighing heavily on the decision about which one or two will make the roster.
Barring injury, Ball appears to be a lock to start at free safety. He earned the coaches' trust during his fill-in stint as a starter when
Ken Hamlin
was injured last season, which is why the Cowboys didn't attempt to sign O.J. Atogwe or another safety in free agency.
But Ball, who began working at safety a little over a year ago, is still in the developmental stages as a safety. Campo doesn't want the learning process clouded by having Ball work as cornerback as well.
"Right now, he's at level 101," Campo said. "He's working toward 201. If we get to 201, we're going to be pretty good. Not many guys get to 401."
June, 2, 2010
6/02/10
2:05
PM ET
ARLINGTON, Texas – As far as Jerry Jones is concerned, the Cowboys' secondary is set.
He wouldn't specifically discuss safety O.J. Atogwe, who became an unrestricted free agent at midnight, but he made it clear that the Cowboys weren't shopping for help at that position.
"I'm ready to go into our season with the safeties that we have," Jerry said. "That might answer your question."
Jerry also said that cornerback depth "isn't an area of concern to me at all," although Wade Phillips acknowledged Tuesday that the Cowboys need a fourth cornerback to prove himself.
If Jerry holds true to his words, the Cowboys are relying heavily on
Alan Ball
.
The former seventh-round pick is the heavy favorite to start at free safety. He's also the fourth cornerback, meaning he'll play in the slot in dime packages, as well as the nickel if another corner goes down.
The Cowboys identified their low interception total as an area that needed improvement. They've followed through on that by cutting a starter and counting on Ball to come through.
May, 10, 2010
5/10/10
8:52
PM ET
The Cowboys are interested in safety O.J. Atogwe, but team officials deemed him too pricey to go after him.
According to NFL Network, Atogwe isn't planning on signing his tender deal. He was tendered at $1.226 million, which is far less than his franchise tag salary of 2009 ($6.3 million).
What does this mean?
If Atogwe doesn't sign his tender, the Rams continue to hold exclusive negotiating rights to sign him long-term. On June 1, the Rams can offer 110 percent of Atogwe's 2009 salary, close to $7 million, to retain his rights or release him to become an unrestricted free agent.
Should Atogwe become unrestricted, the Cowboys could make a play for him. However,
Alan Ball
is projected as the starting safety for the Cowboys in 2010 with Michael Hamlin getting a strong look in training camp.
However, maybe Dallas should revisit Atogwe's situation again.
March, 12, 2010
3/12/10
9:42
PM ET
ARLINGTON, Texas -- Cowboys owner Jerry Jones said he's open to doing some things in free agency but is willing to be patient.
Jones said the Cowboys are looking at one or possibly two players. However, the team doesn't necessarily have to bring a player in to Valley Ranch for a visit.
[+] Enlarge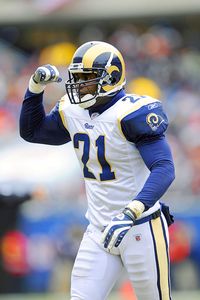 G. Newman Lowrance/Getty ImagesOshiomogho Atogwe
"I wouldn't want to predict, but I would say no," Jones said when asked if the team could bring some players in the near future. "I would say no, but I want to leave it open so that if a couple of things did happen, we might do something."
The Cowboys could look at a safety in free agency, and when a reporter suggested that Jones sign retired Cowboys safety
Darren Woodson
, the two shared a laugh.
St. Louis Rams
free safety
Oshiomogho Atogwe
is a name that is linked to the Cowboys. The Rams placed a right-of-first refusal tender with no compensation on Atogwe at $1.2 million.
Atogwe can sign an offer sheet until April 15, and if that doesn't happen the Rams have until June 1 to give him a guaranteed contract of $7 million for 2010 or trade him. If Atogwe doesn't sign any deals, he becomes an unrestricted free agent on June 1.
Dallas could wait to make a play for him then, and bringing him in for a visit now serves no purpose. The Rams announced in a news release that their intent is to sign Atogwe to a long-term contract.
The Cowboys haven't said who they're interested in yet, "We don't need to visit," Jones said of prospective free agents. "We already had that evaluation [at the combine]. It's one possibly two, I don't anticipate this happening [now]."