Dallas Cowboys:

Pat Summerall
April, 16, 2013
4/16/13
6:57
PM ET
IRVING, Texas – The way Brad Sham sees it, Pat Summerall has few peers when it comes to the history of sports broadcasting.

"He's at the top," said Sham, the longtime voice of the Dallas Cowboys and one of Summerall's friends. "Vince Scully is there. Red Barber. Some of this is now chocolate and vanilla, but whatever short list there is, he's on it and he's out front."

Sumerall died Tuesday. He was 82.

Through the years Sham became friends with Summerall and was part of an old-timers media group that would meet for lunch every so often. Sham would have Summerall re-tell stories he had heard dozens of times, just to hear them again. The last time the group met came March 5.

"You have to separate it personally and professionally," Sham said. "Professionally, he should have been the model for every television play-by-play person. He was living proof that less could be more. He knew exactly how to make the event the star of the show and still partly because of the voice God gave him but partly because he knew what to do with it, everybody knew it was a Summerall event and that made it a big deal. As the head coach of the Cowboys might say, that was his genius. He knew how to make the event the star of the show.

"Personally, he was such a nice man. He was so gentle … He could talk about what things were like when he played. He could talk about what things were like in television as he worked and saw things unfold. And he could talk about the arts, about pop culture. The fact that his Christian faith was so important to him in the last decade of his life, it kept him grounded and delighted."

Summerall's presence could be felt whenever he walked into a press box, according to Sham, not because of domineering personality, but because of the reverence people had for him.

"The era we live in is not an era of eloquent gentility," Sham said. "The era we live in is an era of look-at-me noise. Media helps shape that and also reflects it so that fact that people don't (emulate Summerall) and do what he did or try to doesn't surprise me, but it's a damn shame.

"We say a lot that someone was one of a kind. He was. And they stopped making them a long time ago."

April, 16, 2013
4/16/13
6:03
PM ET
Pat Summerall was famous before the whole world knew what his voice sounded like. As the kicker for the 1958
New York Giants
, he delivered a game-winning 49-yard field goal in the final two minutes of the last game of the regular season to beat the
Cleveland Browns
, 13-10. The win brought the Giants a division playoff game with the Browns a week later, which they would win to advance to the championship game that would come to be known as "The Greatest Game Ever Played." (Which they would lose, to the Baltimore Colts.)
[+] Enlarge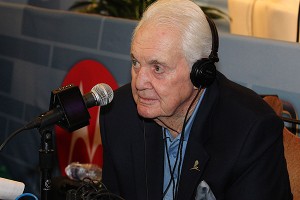 Matthew Emmons/USA TODAY SportsPat Summerall's broadcasting career spanned six decades and included a record 16 televised Super Bowl broadcasts.
Summerall was the Giants' kicker for the final four of his 10 professional seasons. But what ended up making him truly famous was that voice, which would become one of the iconic voices in sports history during a broadcasting career that spanned six decades and included a record 16 televised Super Bowl broadcasts. He lived in Dallas, which meant he called a lot of
Dallas Cowboys
(and, therefore, NFC East) games during his career with CBS and Fox. But he rose to the very top of the football broadcasting industry and became the play-by-play voice for his networks' biggest games.
He was the on-air broadcast partner of John Madden for 22 years, and it's possible that team stands as the most well-known pairing in NFL broadcast history. A generation has come to know Madden as the name of a popular football video game, but those of us who grew up watching games on Sunday afternoons in the 1980s and '90s knew Summerall's smooth baritone and Madden's gravelly exclamations as the soundtrack of the biggest game of the week, no matter which week it was.
Summerall also broadcast golf and tennis and college football along the way, because he had a voice that worked for anything and a brilliantly subtle touch for narrating the action without making himself a part of it. He was the kind of guy who could say more than almost anyone in his profession while saying as few words as possible. If you were a fan of the NFC East (or of any team in the NFL, really) during the 1980s and '90s, his was the play-by-play voice you thought of when you remembered watching the great moments of the great games in your living room on Sunday afternoons.
The Dallas Morning News reported Tuesday that
Summerall has died
at the age of 82. He had the kind of career those of us who cover sports dream of having -- omnipresent at the biggest moments and asked to deliver them to the masses as best he could. He always managed to do it as coolly and naturally as possible. Today his voice is gone, but not forgotten. For countless sports fans who recall it along with some of the great games and plays they've ever seen, that voice is not forgettable.
April, 16, 2013
4/16/13
5:23
PM ET
Former NFL player and Hall of Fame broadcaster
Pat Summerall died Tuesday
at the age of 82.
BIOGRAPHY
Born May 10, 1930 in Lake City, Fla. (full name: George Allen Summerall)


Drafted in the fourth round (45th overall pick) by the Detroit Lions in the 1952 NFL draft.


Played 10 NFL seasons with three teams (Lions, Cardinals, Giants).


Played on offense, defense, and as a kicker.


Member of the Lions' 1952 NFL Championship team (missed most of the season with a broken arm).


Played in the NFL Championship Game in 1958, '59 and '61.


Led NFL in field goal percentage in 1959 (68.9).


Began broadcasting career after his retirement in 1961.


Broadcasted 16 Super Bowls on television (11 as the play-by-play announcer, four as an analyst and one as sideline reporter).


Known for his pairings with Tom Brookshier and John Madden.


The Summerall-Madden team lasted for 22 seasons on CBS and FOX.


1999 inductee to the American Sportscasters Association Hall of Fame.


1994 recipient of the Pete Rozelle Radio and TV Award, given by the Pro Football Hall of Fame.


Also broadcasted college football, golf, tennis, boxing and NBA.


The Pat Summerall Award has been given annually during Super Bowl weekend since 2006.
April, 16, 2013
4/16/13
4:57
PM ET
We'll update this throughout the day, but here is reaction from the Cowboys on the passing of Pat Summerall:

Jerry Jones: "His presence at an NFL game elevated that event to a higher level. He was royalty in the broadcast booth. He was respected and admired by players, coaches, commissioners and Presidents of our country—and always a gentleman—someone who had time for the fans in the parking lot after the game.

"Humility and kindness were his closest companions. He was a trusted friend and confidant, and for all of his immense talents as a professional, he was an even better person. For a man who could dramatically capture a moment with very few words, there simply aren't enough words to adequately describe what he meant to sports and broadcasting in this country.

There is no question that Pat broadcast more Dallas games on CBS and FOX than any other man, and this is a great loss for thousands of Cowboys fans who spent their Sunday afternoons in the living room with Pat. Our hearts go out to Cheri and his family. Pat was an icon and an American original."

Drew Pearson: "To me, Pat Summerall is an original No. 88. When he played for the Giants, he was No. 88. Every time I greeted him, I told him that. He was class, grace and eloquence. I grew up in (South River) Jersey and I saw him play, probably the best play-by-play man ever. He did more with less than anybody that was a broadcaster."

Rich Dalrymple: "The thing that was really special about Pat was his humility and his common touch. He knew everybody on a personal level. Whether it be the commissioner, the quarterback or the President of the United States, he knew them all. But his interest in knowing the third string tight end or the guys in the equipment room was every bit as genuine and sincere. He was a giant in his profession, but he was a warm and caring gentleman -- always. He was especially important to generations of Cowboys fans because he did more Dallas games than any network television broadcaster who ever lived. Weeks in the fall were never complete until Pat closed the Sunday afternoon game broadcast and sent us all to "60 Minutes" and "Murder She Wrote."

Troy Aikman on twitter: "Pat Summerall was a great friend & great man...his impact on the game of football is immeasurable as is the many lives he touched. RIP Pat!"

Darren Woodson on twitter: "RIP Pat Summerall. A true #nfl legend on and off the field. You will be missed."
April, 16, 2013
4/16/13
4:55
PM ET
By
Richard Durrett
| ESPNDallas.com
I didn't know Pat Summerall very well. But I sure felt like I did. He was, in many ways, the voice of my sports childhood. And for a kid who dreamed at an early age of writing and broadcasting sporting events, Summerall was a big deal.
Summerall was there with John Madden for so many of the big NFL games in the 1980s and early '90s. He was there when the
Dallas Cowboys
beat the
San Francisco 49ers
in the 1993 NFC Championship Game at Texas Stadium, his last broadcast for CBS before shifting over to Fox in 1994. He was a fixture at the Super Bowl, calling a total of 16 for CBS and Fox during his tenure (though none of the three Cowboys titles in the 1990s). He spent many a Sunday afternoon at Texas Stadium, with the Cowboys a regularly featured game for CBS' top broadcasting crew.
He was in the tower on the 18th hole at Augusta National when Jack Nicklaus turned back time and won his sixth green jacket at the age of 46 in 1986. Summerall -- along with Ken Venturi -- was as stunned as the rest of us during that memorable final round. He ended up working 27 Masters, his voice still part of the broadcasts years after he left the air.
Summerall's voice was immediately recognizable. He had a way of making you feel welcome, earning your respect and making you want to watch and listen. Summerall was never bigger than the event, stepping back and letting the pictures tell the story when necessary. He made sure others in the booth got their say and understood that, often, less was more.
I didn't know anything of Summerall's battle with alcohol until I read about it later. His friends intervened and he went through the Betty Ford Center in the early 1990s and quit drinking.
I was fortunate to meet Summerall several times, and he was extremely kind. It was a thrill for me to get to work with him on camera a few years ago
as part of ESPNDallas.com's Hall of Fame
. Summerall was one of our panelists, sharing his memories of some of the legendary sports figures in our area. It offered me the chance to talk with the man I grew up watching and listening to on television. It was something I'll never forget and one of those days I was glad that I was in the sports reporting business.
Rest in peace, Pat
. And thanks. I don't know what Sunday afternoons growing up would have been like without you.