Dallas Cowboys:

Paul Soliai
November, 23, 2011
11/23/11
2:56
PM ET
By
Bryan Broaddus
| ESPNDallas.com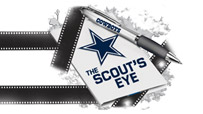 In the NFL, short weeks of game preparation are never easy. It's even more difficult having to play a physical divisional game on the road before an opponent that you see once every four years.
There will be nothing easy about this game against the Dolphins. It's a team that has quality players on both sides of the ball. We should not be fooled by the Dolphins' 3-7 record, because in the games I have studied, this could have very well been a team on a five-game winning streak going into this game.
The Dolphins will give the Cowboys trouble in this game in two areas offensively, wide receiver and running back.
Be wary of Dolphins' Marshall, Bess, Bush, Clay
Wide receiver
Brandon Marshall
can be a physical beast when it comes to having to defend him up the field. He is not afraid of using his body to create separation with the defensive backs. Have seen Marshall get into his route, then take both of his hands and push the defensive back away. Marshall will use his body on the slant to protect the ball.
Matt Moore
likes to try and get him the ball on the move whether that's up the field or on the quick screen. Hard man to bring down when on the move with the ball in his hands. Primary target in the red zone on jump balls or back-shoulder throws.
Terence Newman
and
Orlando Scandrick
will have to be ready for an all-day physical game with Marshall on the outside.
Davone Bess
will play the slot with quickness and the ability to adjust to the ball wherever it is thrown. Bess will need to be watched on third downs because he has a real feel for how to work inside routes and take advantage of coverage that might not be tight.
Running back
Reggie Bush
has proven that he can handle the workload as an every-down back. Bush makes this play-action game go for the Dolphins. Like the way that offensive coordinator Brian Daboll has taken advantage of his skill set with screens and plays on the edge in the passing game.
Bush can run the ball between the tackles, but he is most dangerous when he gets in space. The Cowboys defense has to be careful to not allow Bush to make to loose plays in space. Tackling on Bush will be key this week.
There is one other weapon I want to bring your attention to: fullback
Charles Clay
. We all understand now how important
Tony Fiammetta
is to the Cowboys running the ball. Clay is the same type of player, but he can really hurt you with his ability to get down the field and catch the ball. Clay is a converted tight end that is very athletic. He is a lot like Bess in that you don't cover him, he will make a big play down the field.
Cowboys should target riight side of Dolphins O-line
On the offensive line, the Dolphins have some nice pieces in left tackle
Jake Long
and center
Mike Pouncey
. The weakness of this line is on the right side with tackle
Marc Colombo
and guard
Vernon Carey
. I fully expect Rob Ryan to try and put as much pressure on these two with anything scheme-wise that makes them have to move and adjust. Neither Colombo or Carey move that well, and the more you make them have to do that, the better the chance for successful pressure.
Don't sleep on Dolphins' defensive front, linebackers
I really came away impressed with what the Dolphins' defense is doing scheme-wise and how physical the overall unit plays.
It really starts up front with guys like ends
Randy Starks
and
Jared Odrick
. These are powerful players and they are always working their way up the field, not only defeating single blocks. but handling double teams as well. Nose man
Paul Soliai
is difficult to move, much like what the Cowboys faced with the Jets and 49ers.
But the real strength of this defense is in its linebackers.
Koa Misi
, Carlos Dansby,
Kevin Burnett
and
Cameron Wake
are all outstanding. Misi and Wake are true pressure players. Misi is better against the run, but Wake will be a handful because of his ability to explode off the edge. Misi can get the edge too, but he will fight you more on the rush. Wake will slap, rip all while working his way up the field.
Wake will make
Doug Free
and
Tyron Smith
have to adjust on the move and reset their hands several times. They will need to find a way to anchor down on him.
On the inside, Dansby and Burnett will make plays in the running game. Last week against the Redskins, the Cowboys didn't do a good enough job of handling the linebackers on the second level. If the line has the same kind of problems this week, running the ball will be difficult again.
The Dolphins linebackers run to the ball and they are sure tacklers. If the Cowboys struggle running the ball it will be because these linebackers are going unblocked.
In the games that I was able to study, the Dolphins' front seven make their secondary better. Pressure has really helped this group make plays like they did last week against the Bills.
Safety
Yeremiah Bell
is a hitter. Cornerback
Will Allen
throws his body around. Cornerback
Sean Smith
is a much better cover man than tackler, and corner
Nolan Carroll
will force the run. There will be plays to be made against this secondary if -- and only if -- the Cowboys protection can hold up again Wake, Misi and the veteran
Jason Taylor
.
It's a defense that has found its way since the loss to the Giants and coming off a short week will be a difficult test for the Cowboys.
September, 1, 2011
9/01/11
11:58
AM ET
Memo to Jerry Jones: You don't pay age in today's NFL. And you don't pay players -- even good ones -- who are playing out of position.
No one would argue that
Jay Ratliff
has given the Cowboys more bang for their buck, since he signed a five-year, $20 million deal a few years ago.
PODCAST
ESPN NFL analyst Ed Werder jumps on to discuss the latest news surrounding your Dallas Cowboys.

Listen

But that doesn't mean he deserves a new deal -- not now anyway.
First, Jerry needs to see how Ratliff fits into Rob Ryan's new defense and whether the scheme can make him more effective since he has two years remaining on his contract.
Ratliff is a 30-year-old undersized nose tackle in a scheme that has traditionally demanded the nose tackle be a 330-pound run-stuffer who commands a double team and allows the linebackers to make tackles.
The Cowboys have tried to compensate by aligning him to take advantage of his quickness, which often compromises the integrity of the defense.
Ratliff is probably better suited to be a 4-3 defensive tackle playing on the outside shoulder of the guard, where his quickness and agility would be a significant asset.
Think Warren Sapp or La'roi Glover.
As a nose tackle, Ratliff's body takes a beating limiting his effectiveness.
We're talking about a player on the field for 733 plays, who did not record a tackle for loss.
Not one.
Buffalo's
Kyle Williams
, who just signed a six-year, $39 million extension with $17 million guaranteed, had 10 tackles for loss last season. So did Miami's
Paul Soliai
.
Ratliff, a high-energy and high-character player, had 31 tackles last season for a unit that allowed the most points in franchise history.
The run defense starts with the nose tackle.
Former Texas star
Casey Hampton
, who's listed at 325 pounds and weighs at least 40 pounds more, can't be moved. He had only 20 tackles, but Pittsburgh allowed just 2.7 yards per carry.
At 325 pounds, the Jet's
Sione Pouha
anchored a defensive line that allowed just 3.0 on carry.
Each of those teams were particularly good on first down run defense, which puts the offense into obvious passing situations.
Then, the defense has the advantage.
The Cowboys? They allowed 4.45 yards per carry and 5.24 per carry on first down.
Obviously, it's not all Ratliff's fault, but he certainly played a role in the Cowboys' raggedy run defense.