Dallas Cowboys:

Pete Carmichael
November, 7, 2013
11/07/13
9:00
AM ET
IRVING, Texas – Sean Payton made his bones as a playcaller early on in his time as the
New Orleans Saints
' head coach. Before this season, Jason Garrett had called every play for the
Dallas Cowboys
since 2007.
When these coaches and good friends meet Sunday at the Mercedes-Benz Superdome, Payton will be calling the plays, while Garrett will be overseeing the Cowboys' offense but not directly communicating with quarterback
Tony Romo
.
Payton and Garrett have had role reversals of sorts.
[+] Enlarge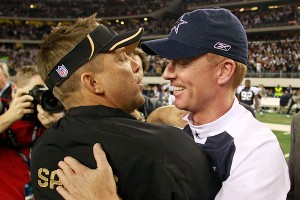 AP Photo/Mike FuentesSean Payton (left) and Jason Garrett made their bones as playcallers. But only one is still at it.
In 2011 Payton was forced to give it up after suffering a serious knee injury on the sideline during a game. Offensive coordinator Pete Carmichael took over with Payton injured, and the Saints scored 62 points in their first game.
"So I told Pete that might be a good one to end on," Payton said. "He did a great job for us in [2011] and a great job for us last year. He's very in tune to what we're doing daily. He's a big reason why we've had the success we've had here offensively, and someone [who] will and during the course of any game call plays for us. [He] puts together all the practice plans and really is very involved in our game-planning. I think more importantly about the details of the execution philosophically, the way you want to approach each week, those things become more important."
Carmichael called the plays last season with Payton serving a one-year suspension, but Payton is back to calling the plays for the Saints.
As good as Payton is as a playcaller, quarterback
Drew Brees
said the Saints missed Payton the head coach more.
"You forget all the things that are required of the head coach to be responsible for," Brees said. "Some are more involved than others. But Sean Payton is a very hands-on coach that kind of has his hands in everything and feels responsible for everything. I think we missed him most in other areas, not necessarily just play calling."
Depending on the story, Garrett this year either had the play-calling duties taken away from him by owner and general manager Jerry Jones or was willing to allow offensive coordinator Bill Callahan to call the plays.
Garrett remains involved in the process, but he has let Callahan run the show with Romo. The Cowboys are fourth in the NFL in points per game (28.6) but 17th in yards per game (342.8). Since a 48-point performance against Denver it has been a struggle for the offense.
But Garrett has remained an observer.
"I think it's been a good thing," Garrett said of the play-calling switch. "It's something that we've tried to do since I became the head coach, coming from the coordinator position. They're two full-time jobs, and in order to do each of them well, you have to focus on really every aspect of them. There are only so many hours in the day, so since I became the head coach, I was always trying to delegate some of the responsibilities I had within the coordinator position and within some of the head-coaching responsibilities that I had. So now I can be more focused on some of the head-coaching stuff.
"Certainly I'm in all of the meetings on offense and many of the meetings on defense during the week. With the installations of the plays, I'm involved in all that. But you need to delegate and more importantly empower the people around you to do those jobs. We've done that. I think that structure has worked well for us. That doesn't mean that because we're in that structure, everything is going to be perfect. We need to keep working hard to make whatever structure we use the best it can be for our players to execute ball plays."
January, 22, 2013
1/22/13
4:45
PM ET
IRVING, Texas -- Just a few days after the Dallas Cowboys' season ended, it was clear that Jason Garrett's days as a play-caller were going to come to an end.
When we talked to Garrett the day after the regular-season finale, the coach said he anticipated the status quo when it came to the calling of plays in 2013. The next day on KRLD-FM, owner and general Jerry Jones said everything was up for discussion and then Garrett told the station he would be open to giving up the duties.
PODCAST
Calvin Watkins of ESPNDallas.com joins Galloway & Company to discuss Jerry Jones hinting that Jason Garrett will not be calling offensive plays for the Dallas Cowboys next season.

Listen

Funny how that stuff works, isn't it? Remember when Garrett said the team would look at other kick returners early in the season only to be followed the next day by Jones saying Felix Jones would remain the kick returner? Well, what do you know, Felix Jones remained the kick returner. It's the same sort of deal here, and it's a reminder that this is and will always be the Jerry Jones Show, especially if coaches don't win.
He was happy to stand to the side for a few years when Bill Parcells came on board but then got itchy. And when the team didn't win a playoff game in Parcells' four seasons, Jones did not try to talk Parcells out of retirement. It gave Jones the chance to say, "Hey, I tried it your way and it didn't work, so we're going back to my way."
Garrett had two full seasons to do it his way, so to speak, and produced a 16-16 record. Now Jones is showing he's in charge.
Which is why Bill Callahan looks to be the next play-caller if you want to read between the lines on Jones' comments from the Senior Bowl in Mobile, Ala.
Yes, the move would neuter Garrett, to a degree, but it'd actually be the best of a worst-case scenario for Garrett.
Should the Cowboys go outside the Valley Ranch surroundings for a new play-caller -- someone like Norv Turner, Pete Carmichael or Hue Jackson -- Garrett would be further muted as head coach.
Garrett would have had no say over the offense if an outsider had come on board.
Turner would've run the same offense, but he would've been all-powerful when it came to the game-day specifics. With Carmichael or Jackson -- or any other coach outside the building -- Garrett would not have had the background in the new offense.
And if the Cowboys want to go that route, then Jones just needs to put an end to the Garrett Era.
If Callahan is the choice, Garrett will be able to keep his thumbprint on the offense. The plays will largely be the same the Cowboys have run since Garrett joined the team in 2007. Callahan was not in the passing game meetings last year; Garrett ran those. Callahan does not have the depth of knowledge in Garrett's passing game as he does in a West Coast scheme. And they will not be making a seismic shift to the West Coast offense with Tony Romo as the quarterback.
If they do that and make a seismic shift on defense from a 3-4 scheme to a 4-3 scheme, then this team will not compete in 2013. It might not be able to compete anyway, but two gigantic changes would make Garrett's job even more impossible.
With Callahan calling plays, Garrett could be in Callahan's ear and offer suggestions that can be viewed as commands.
When Sean Payton and Tony Sparano called plays for the Cowboys, they ran Parcells' offense. Parcells did not let either coach go off on their own when it came to calling the plays. He kept a strong hand on top of them -- which some of you might remember more as a bad thing than a good thing -- and would intervene at times.
Jones will attempt to spin the move as a positive for Garrett, but it's not. Would Jones the general manager be happy if somebody came in to make the draft decisions? Of course not. And that will never happen, as we all know.
But, for Garrett, the move to Callahan would give him some chance to maintain a sliver of offensive control.
It would be up to him to use it as he sees fits, but I can't imagine he would just goes quietly into that good night during the week and during the games.