Dallas Cowboys:

Peter Konz
April, 26, 2013
4/26/13
9:30
AM ET
IRVING, Texas – The Cowboys are hoping
Travis Frederick
will continue a tradition set forth by Wisconsin offensive linemen in recent years.
PODCAST
Arkansas head coach Bret Bielema, who coached Travis Frederick at Wisconsin, joins Fitzsimmons & Durrett to discuss what kind of player the Cowboys got with their first-round pick in the NFL draft.

Listen

Joe Thomas
,
Gabe Carimi
,
John Moffitt
,
Kevin Zeitler
and
Peter Konz
have been high picks in recent years and have had different degrees of success.
"I think that having that tradition helps continue that tradition," Frederick said. "That tradition is one of the reasons why I chose to go to Wisconsin, just knowing that such great offensive linemen have come out of there and would probably or hopefully give me the opportunity if I worked as hard as I could to be in the situation that I'm in today. I'm excited to join that long line."
The Cowboys' recent history with Badgers offensive linemen isn't so good.
In 2003, the Cowboys drafted
Al Johnson
in the second round, and they took
Bill Nagy
in the seventh round in 2011. Johnson missed his rookie year because of a knee injury that subsequently cut his career short. Nagy won a starting job in part by default, but he suffered an ankle injury and was cut during training camp last summer.
"You certainly go case by case and evaluate the player," coach Jason Garrett said, "but there is no question there is a tradition of offensive linemen coming out of Wisconsin. There is a long-standing tradition, but there is also a recent tradition. What that does is allow you to talk to people that know these guys well and compare them to people, 'Hey, compare him to this guy, compare him to that guy. You had him two years ago, how does he stack up?' Those conversations are real because guys who've been around these guys day after day after day can make great evaluations."
April, 25, 2013
4/25/13
10:40
AM ET
PODCAST
Ed Werder joins Fitzsimmons & Durrett live from Kansas City to discuss Jerry Jones' attendance at the Bush Library on NFL draft day, what he expects the Chiefs to do with the No. 1 pick and tell a funny tale about Bill Clinton and Jerry Jones.

Listen

Todd Archer
ran some numbers
, and his conclusion is that the
Dallas Cowboys
struggle with the draft. Here's some of his data:
Since 2007, the Cowboys have drafted 47 players and only 18 remain. That's not good. After a quick perusal of the NFC East, it's the worst percentage (38.3%) of any team in the division. From 2007-12, Philadelphia has 28 of 59 picks left (47.5%); Washington has 24 of 48 picks (50%) and the New York Giants have 24 of 46 picks left (52%).

...

In the last three years, which should be the core of a team, the Cowboys have 15 of 21 picks left. The Eagles are the worst with 23 of 33 picks. Washington is the best at 21 of 27 and the Giants have 16 of 22 picks remaining.
The point of entry for Todd's analysis was a discussion about whether they should have moved down in the 2011 draft, when they stayed put and took
Tyron Smith
at No. 9 and whether they were wise to move up in 2012, when they used their first-round pick and their second-round pick to draft
Morris Claiborne
. Todd thinks last year's move and 2011's non-move were mistakes. I agree, as I think most of you know, about last year. Because I think Smith will be a franchise left tackle, I don't hold the 2011 decision against them.
But what I see here is a clue about how the Cowboys play the top of the draft, and it's a discouraging one. It appears to me that Jerry Jones, who ultimately makes these decisions, falls in love with a player and does what he can to get him, the rest of the draft be damned. And a roster as thin with top-level talent as Dallas' has been for the last couple of years needs to make the second, third and fourth rounds more productive than the Cowboys usually have.
They love Claiborne as a keystone piece for the future, and that's fine. But had they held onto that second-round pick, they might have been able to come out of the first two rounds with, for example,
Fletcher Cox
and
Peter Konz
. (Yes, they'd have had to move up for Cox, but likely not with a second-rounder in the deal.) Two starting pieces instead of one. This is the approach Dallas needs to take this year -- finding a new starting offensive lineman in the first round and then looking for immediate contributors, on either line or at safety, in Rounds 2 and 3.
When they dealt away their second-round pick last year, a lot of Cowboys' fans said that was OK because they always mess up the second round anyway. But 2011's second-rounder was
Bruce Carter
and 2010's was
Sean Lee
. They also got
DeMarco Murray
in the third round in 2011. These are players on which they're attempting to build their future core, and it would be wise to keep in mind the value those picks (and those that follow them) have when things get hot and heavy tomorrow night and the temptation to grab a player they love overrides the value of the pick or picks needed to get him.
Remember, when we critique a draft in progress on this blog, we're not making predictions about how guys will play, because we can't and neither can anyone else. We're looking at the value of the picks and how they were used -- whether they could have waited until the fifth or sixth round for a guy they took in the fourth, for example. That's what you'll find here Thursday night through Saturday night, and we'll have a close eye on the Cowboys, of course, since this is a gigantic draft for them and they can't mess it up.
April, 27, 2012
4/27/12
6:59
PM ET
Moving up for the best defensive player on their board probably cost the Cowboys the best center in the draft.
Wisconsin center
Peter Konz
was available with the No. 45 overall pick, which the Cowboys gave that up along with No. 14 overall to acquire the sixth overall pick from the
St. Louis Rams
and select cornerback
Morris Claiborne
. If the Cowboys had drafted Konz, he likely would have immediately replaced Phil Costa at starting center.
Konz did not make a pre-draft visit to Valley Ranch, but the Cowboys did attend Wisconsin's pro day.
The Rams ended up trading the pick to the
Chicago Bears
, who selected South Carolina receiver Alshon Jeffrey.
April, 9, 2012
4/09/12
9:27
AM ET
It's hard to predict where the Cowboys will go with the 14th pick of the first round in the NFL draft in a few weeks.
The projections have moved from offensive to defense.
After the Cowboys spent $30 million in free agency on offensive linemen
Mackenzy Bernadeau
and
Nate Livings
, it would be easy to assume defense is where the team will focus it's attention at No. 14.
But if you look closely at the pass rushers available --
Courtney Upshaw
,
Quinton Coples
and
Melvin Ingram
are all projected to be available in the teens -- team officials believe they're not much different from
Anthony Spencer
.
The only major difference is Spencer's experience over Upshaw, Coples and Ingram.
Cornerback appears out with the Cowboys giving
Brandon Carr
, a five-year $50.1 million deal.
Safety is a possibility even with the team signing
Brodney Pool
to a one-year deal in free agency.
Mark Barron
, the safety from Alabama, is a good selection. But say the Cowboys don't get him?
Which brings me back to the offense.
Maybe the Cowboys take a chance on an interior lineman.
Guards
David DeCastro
and
Cordy Glenn
and center
Peter Konz
are players who can move right in and start.
If you take Konz, you got your starting center to go along with guards Livings and Bernadeau. Pair that up with tackles
Tyron Smith
and
Doug Free
and you have a pretty imposing offensive line for
DeMarco Murray
and
Tony Romo
.
You build a strong offensive line and you can run the ball with efficiency and keep Romo protected in the pocket. Of course, a new offensive line would need time to develop with five new pieces.
Smith and Free are switching spots at tackle, and you'd have three new interior linemen.
It's OK if the Cowboys stick with a defensive player in the first round, but there's nothing wrong with grabbing an interior linemen.
March, 29, 2012
3/29/12
8:28
AM ET
Todd McShay's
ESPN Insider two-round mock draft
projects the Cowboys to stray from the
BAD-A plan
and pick a guy from another SEC school in the first round:
Mississippi State defensive lineman Fletcher Cox
.
McShay projects a run on Alabama defenders immediately after the Cowboys pick at 14th overall. He has Crimson Tide safety Mark Barron going to the Eagles at No. 15, outside linebacker Courtney Upshaw to the Jets at No. 16 and cornerback Dre Kirkpatrick to the Titans at No. 20.
In the second round, McShay projects the Cowboys to take Midwestern State guard Amini Silatolu with the 45th overall pick. He has
Wisconsin's Peter Konz
, the best center in the draft, slipping to the Patriots a few picks later.
If the Cowboys have a chance to pick Konz in the second round, they should do it without hesitating. He'd step in as a starter at a spot that was the weakest link on the offensive line last season.
March, 19, 2012
3/19/12
10:00
PM ET
The seventh installment of our draft series looks at Wisconsin center Peter Konz.
Scouts Inc. ranks:
No. 1 center, No. 31 overall
Bio:
Started 31 games at center for Wisconsin. Was a Rimington Award finalist as a redshirt junior in 2011, when he was first-team All-Big Ten. Missed seven games due to injury in three seasons. Was an Academic All-Big Ten selection who graduated with a 3.2 grade-point average in communication arts.
[+] Enlarge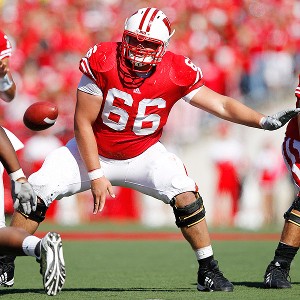 Joe Robbins/Getty ImagesPeter Konz started 31 games at Wisonsin and is rated as the best center in the draft.
Size:
6-foot-5, 314 pounds
40-yard dash:
5.16 seconds
225-pound bench press reps:
18
Did not do agility drills at the combine due to left ankle injury.
Broaddus Breakdown (viewed Nebraska, Ohio State, Michigan State and Oregon games):
Started at center for the Badgers. Was a converted offensive tackle. … Is not a smooth-moving athlete, but can be effective once he gets his hands on you. Herky-jerky style. Is not a pretty player at all. Likes to hit, then grab his man. … Does a really nice job of staying with his blocks. Is able to adjust on the move. Can bend his knees. Can change direction. … Scheme called for him to block back quite a bit. Knows how to play with angles and uses leverage to his advantage. … Can be physical when he is asked to block one on one. Only did 18 reps at 225 at the Combine, which was surprising because you do see him play with better strength. … Has good short-area quickness. … There were some plays where he was a one-shot blocker and ended up on the ground. … Did a nice job when he was asked to reach block to the front side. Has a real feel for how to get the edge and secure it. Good at working to the second level and securing his man. … Showed awareness to help in the pocket when uncovered. Able to adjust to the blitzer when called on. Did not see him get fooled with games or twists. … Didn't get knocked back; able to hold his ground. Really liked the way that he plays with toughness. Is one of those linemen that is always trying to finish his blocks. … Is the best center in the draft with a great deal of experience as a starter. Feel like that you could plug him in right now and he would do a solid job.
February, 12, 2012
2/12/12
11:10
PM ET
This is the sixth installment of our 12-part series breaking down the Cowboys roster. Today we look at centers and guards.

[+] Enlarge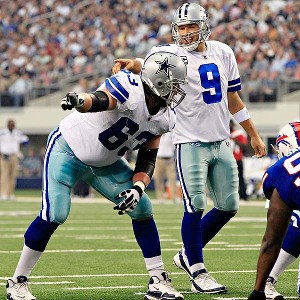 AP Photo/Tony GutierrezIt's uncertain if the Cowboys want to bring guard Kyle Kosier back, but it appears that they do.
Cowboys players:
Derrick Dockery
(free agent),
David Arkin
(signed through 2014),
Phil Costa
(signed through 2012),
Kevin Kowalski
(signed through 2013),
Kyle Kosier
(signed through 2013),
Daniel Loper
(restricted free agent,
Montrae Holland
(free agent),
Bill Nagy
(signed through 2014).
Top free agents:
Guards:
Carl Nicks
, New Orleans;
Dan Connolly
, New England;
Ben Grubbs
, Baltimore. Centers:
Chris Myers
, Houston;
Scott Wells
, Green Bay.
Top draft prospects:
Guards: David DeCastro, Stanford;
Cordy Glenn
, Georgia;
Brandon Washington
, Miami. Centers:
Peter Konz
, Wisconsin; Mike Brewster, Ohio State.
2011 review:
Jerry Jones said the evaluation process of these two positions needs to get better. The Cowboys overestimated the talent level of the guards after training camp, going with younger players who proved to be inconsistent. The health of three veteran guards raised more questions. It's uncertain if the Cowboys want to bring Kosier back, though it appears that they do. Holland and Dockery might not return in 2012. Both players dealt with health issues during the 2011 season. Nagy started the season at guard, but an ankle injury in October ended his season. When
Tony Romo
was pressured from the outside, he didn't have solid footing in the middle of the line.
PODCAST
Ravens OT Michael Oher talks about his new book, Tyron Smith moving from RT to LT and the challenges associated with it and more.

Listen

Offseason preview:
Drafting a guard or center might be a possibility, but Nicks is a free agent if the Cowboys are interested in making him a significant offer. The Cowboys need to get better in this area. Finding more talent in the interior positions could help an improving run game and also assist the passing game. Dallas has to decide if a pass rusher is more important in the first round or an interior lineman.
Bryan Broaddus' Scout's Eye:
Other than third wide receiver and backup tight end, the area of the offense that needs the most work is this position. I'm not a fan of center Phil Costa, and I feel that you need to do better than Holland, Dockery or Nagy at left guard. Free agent Carl Nicks (Saints) would be a huge upgrade, and it would allow you to play with a little less of a center if you choose to do so. In the draft, the Cowboys will have a shot to draft Stanford's David DeCastro -- the best guard -- or they could trade down and think about Cordy Glenn, a massive left tackle from Georgia who is projected to play inside. I think the best way to fix the position is via free agency, so the Cowboys can use the draft picks to help fix the corner or outside linebacker spots. But if they do decide to draft DeCastro, you can plug him in right away -- much like you did with Tyron Smith.
Need meter (1-5):
3
January, 11, 2012
1/11/12
2:08
PM ET
The Cowboys have made a couple of necessary changes to the coaching staff, but that won't be enough to turn this team into a legitimate contender.
There also needs to be a significant personnel overhaul, starting with the players that staff newcomers Bill Callahan (offensive line) and Jerome Henderson (secondary) will be coaching.
Here's a look at the starters the Cowboys need to seriously consider replacing:
CB Terence Newman:
He had a good career here, but there's no sensible reason to keep the 33-year-old Newman as he continues to decline. Opponents picked on him mercilessly in the second half of the season the last two years. He's due to count $8 million against the salary cap, a figure the Cowboys can cut in half by cutting Newman. The problem is
Orlando Scandrick
hasn't proven he's capable of stepping into the starting role. The Cowboys would love Alabama cornerback Dre Kirkpatrick to fall to them in the draft, but that's not likely to happen.
SS Abram Elam:
With his experience in Rob Ryan's system, Elam was supposed to be the secondary's traffic cop, but confusion reigned way too often. The Cowboys need more playmaking out of their safeties, so it makes sense to move on from Elam after his one-year contract expired. Ideally, they could find a rangy free safety, which would allow
Gerald Sensabaugh
to move back to strong safety, although they like young strong safety Barry Church. This isn't a position the Cowboys want to address in the first round of the draft.
ILB Bradie James:
The writing was on the wall for the nine-year veteran as soon as he became a part-time player early in the final season of his contract. The Cowboys need to get
Bruce Carter
, the second-round pick who played sparingly as a rookie after recovering from a college knee injury, ready to step into the starting lineup. The same scouts who were high on
Sean Lee
sold Jerry Jones on Carter, an explosive athlete with the ability to be a three-down linebacker who excels in coverage.
OLB Anthony Spencer:
This might depend on the money. The Cowboys can't pay too much to keep a former first-round pick who has never had more than six sacks in a season. Can
Victor Butler
be a starter after playing less than 25 percent of the snaps last season? Alabama's Courtney Upshaw could be an immediate upgrade with the 14th overall pick.
DE Kenyon Coleman:
He's another one-year rental with experience in Ryan's system who made minimal impact. There will be talk about moving
Jay Ratliff
from nose tackle to defensive end, as there is every season.
Sean Lissemore
could also be ready for a starting role after playing well in limited action, especially if they don't acquire a defensive lineman in the early rounds or free agency.
C Phil Costa:
Costa throughout his first season as a starter, ranking 30th in ProFootballFocus.com's grades of centers. It's too much of a gamble to go into camp with Costa, undrafted Kevin Kowalksi and seventh-round pick
Bill Nagy
competing for the starting job. The free agency market will be flooded with quality centers, including five or ProFootballFocus.com's top six from 2011 (Houston's
Chris Myers
, Minnesota's
John Sullivan
, Green Bay's
Scott Wells
, Indianapolis'
Jeff Saturday
and Atlanta's
Todd McClure
) as well as Baltimore's
Matt Birk
and San Diego's
Nick Hardwick
. Wisconsin's Peter Konz is expected to be the top center drafted and could be a fit for the Cowboys in the second or third round.
LG Montrae Holland:
Holland was a stopgap. The Cowboys need to upgrade at guard.
Todd Archer presented the idea
of making a big splash by signing New Orleans' Pro Bowl guard
Carl Nicks
, who played for Callahan at Nebraska. Stanford's David DeCastro could be the best value on the board when the Cowboys go on the clock at No. 14, and he'd probably form a phenomenal tandem with tackle
Tyron Smith
for a decade or so.
OG Kyle Kosier:
The three-year deal Kosier signed last summer isn't rich enough to give him any job security. He struggled, especially in the running game, while playing through a painful foot injury this season. His injury history is a concern at his age (33), but the Cowboys need to make sure they have an upgrade in place before deciding whether to move on from Kosier.