Dallas Cowboys:

Reggie Wayne
April, 3, 2014
Apr 3
11:05
AM ET
IRVING, Texas -- We had another spirited chat on Wednesday in which we touched on a number of subjects.
One that I will delve further into here in a bit is why the
Dallas Cowboys
didn't sign
Kenny Britt
or
Hakeem Nicks
, and why I don't believe
Chris Johnson
will be coming here.
But we also discussed:
The Cowboys approach to free agency.
The possibility of signing DeMarco Murray to an extension.
If Anthony Barr is in play at No. 16 for the Cowboys.
The future of Morris Claiborne.
If you want to look at the whole chat, you can
click here
.
But let's get back to the Britt, Nicks, Johnson talk.
Here was one question:
Eric (Long beach):
Why didn't the cowboys have interest in guys like Hakeem Nicks or Kenny Britt that signed cheap one year deals? they could have been nice to go along with dez and injury insurance
Todd Archer:
Let me turn the question around -- why would Nicks or Britt want to come here when the Cowboys are committed to
Dez Bryant
and
Terrance Williams
? They are looking for opportunity too. They felt other teams were better opportunities for them.
To build off that subject:
I think far too often we forget the other side of interest in signing with a team. A player's agent is never going to shrink the market for his client, so they would never say never when asked if their guy would be interested in playing for the Cowboys.
Since I've been covering this team, you always hear agents say, 'Player X would love to be a Cowboy.' Some of that is true. Some of that is to drive up the price. And how many times have we heard players say they grew up Cowboys' fans?
Jeremy Mincey
, the new defensive end, said the 1994 NFC Championship Game loss was to the
San Francisco 49ers
was a painful day for him.
Players want opportunities to play. Maybe Nicks and Britt could have beaten out Williams for a starting spot opposite Bryant, but there was no guarantee that was happening here. Nicks signed with the
Indianapolis Colts
and should start at least at the start of the season with
Reggie Wayne
coming back from a knee injury. Britt chose the
St. Louis Rams
in part to reunite with coach Jeff Fisher, who coaxed him into his best years.
Johnson has been a starter since he got into the league. The Cowboys have their running back in Murray. When they are at their best, they ride Murray. They don't split carries. But why would Johnson want to split carries anyway? He will get a better chance to do that somewhere else.
The Cowboys made a mistake in passing on Johnson in 2008 when they took
Felix Jones
. Some thought Johnson was too slight to excel at the position. He's not the same player he was a few years ago, but he has something left. It's just not enough for the Cowboys.
September, 29, 2012
9/29/12
11:41
AM ET
IRVING, Texas -- Last week the Cowboys defense faced a big-play threat in wide receiver
Vincent Jackson
and the
Tampa Bay Buccaneers
.
On Monday night, it will be
Brandon Marshall
who leads the Bears. He has 16 catches for 214 yards and one touchdown. Since 2007, Marshall has compiled 490 catches in 79 games, tied for the third most in the league behind New England's
Wes Welker
and Indianapolis'
Reggie Wayne
.
This season, Marshall's connection with quarterback
Jay Cutler
has struggled at times.
"It hasn't been difficult at all," Marshall responds. "We just need to make more plays and right now we're sitting at 2-1, not a bad position to be in. This is a big week for us and it's going to be tough, we're going against a No. 1 defense. If our offense can get rolling against a No. 1 defense, I think that will give us a lot of confidence, but I think it's going to be really tough going against that Ryan D."
The Cowboys have two corners who can handle Marshall in
Brandon Carr
and
Mike Jenkins
. Marshall faced Carr twice a year when they both played in the AFC West. Jenkins took on Marshall when the Cowboys visited during his time with the
Denver Broncos
and
Miami Dolphins
. Jenkins was injured when Miami played Dallas last season, but he played against Marshall at times in 2009 when he played for Denver.
One of the more visible plays from the 2011 season is former Cowboys cornerback
Terence Newman
hanging onto the back of Marshall during a touchdown reception.
In the last two games against the Cowboys' defense, Marshall has nine catches for 194 yards and two touchdowns.
The issue of who covers him Monday night could vary depending on who defensive coordinator Rob Ryan starts at corner. In the Week 3 victory over Tampa Bay, Carr played free safety and Jenkins took over at cornerback. Ryan hasn't said who takes on Marshall this week, but Carr's shutdown corner skills makes him an early favorite.
"I know a lot about Brandon Carr and I really respect his game," Marshall said. "He does a lot of things at the line of scrimmage, really strong. I've been watching a lot of film on our matchups and I want to approach the game a little differently. (Morris) Claiborne, a rookie corner, respect what he's doing so far. I'm sure there are some things he will clean up out there. I think (Dallas) has a really good No. 1 pick down there."
March, 7, 2012
3/07/12
9:02
AM ET
IRVING, Texas --
Peyton Manning
will be released today by Indianapolis and the Cowboys will be paying attention. Or at least they should be.
PODCAST
Are the Cowboys sniffing around Peyton Manning? Not a chance, but ESPN Dallas' Todd Archer tells Ben and Skin that the Redskins are a major threat for his services.

Listen

No, not to think about signing the future Hall of Fame quarterback, but to see where he ends up playing in 2012.
That could have a direct impact on the Cowboys.
According to multiple reports, Miami, Washington, Seattle and Arizona could be the top suitors for Manning, who did not play in 2011 because of a neck injury. His future is still unknown to a large degree.
The Cowboys would be better served if Manning stayed in the AFC.
The Redskins desperately need a quarterback and have the cap room necessary to land Manning. Washington has some decent pieces in place, but Mike Shanahan's return to the sidelines as not gone well largely because he has not had a quarterback.
A healthy Manning would give Shanahan a quarterback and force the Cowboys to prepare for him two times a year. Now, Shanahan would have to alter his offense some to fit Manning – forget those bootlegs and waggles – and live with the idea that Manning would be the de facto offensive coordinator.
There's a lot of ego involved there, and would the Mannings – Peyton and Eli – want to deal with the stress NFC East faceoffs twice a year? The Manning Bowls would be mean huge television numbers.
Why should the Cowboys care about Seattle? The Seahawks are on the Cowboys' schedule this year. That Seattle defense is going to be good. They have committed to high picks on the line. They just re-signed running back
Marshawn Lynch
. And, according to reports, they would be interested in signing one of Manning's favorite receivers,
Reggie Wayne
, as a package deal with Manning.
Like the Redskins, the Seahawks don't have a quarterback either and a healthy Manning would make Pete Carroll happy.
Why should the Cowboys care about Arizona? Arizona gave
Kevin Kolb
a sizeable contract last year but the Cardinals have questions about him after injuries largely ruined his first year. Add a healthy Manning to the mix with
Larry Fitzgerald
and a defense that was better last year and it's not difficult to see a
Kurt Warner
-like turnaround in the desert.
If you believe in San Francisco's turnaround in 2011, then the Cardinals would figure to be a wild-card contender at worse with Manning, and that would affect the Cowboys.
Manning is 2-2 all-time against the Cowboys, winning in 1999 and 2002 and losing in 2006 and '10. The 2006 loss ended Indianapolis' run at a perfect season and came in the midst of Romo-mania when
Tony Romo
took over the starting job. The '10 loss was to
Jon Kitna
in overtime, 38-35, in what was Sean Lee's breakout game.
In those four games, Manning has completed 107 of 159 passes for 1,184 yards with seven touchdowns and seven interceptions, four of which came in 2010.
October, 14, 2011
10/14/11
3:15
PM ET
Calvin Watkins has an item on
ESPNDallas.com
that says the Cowboys could look to trade either running back
Tashard Choice
or tight end
Martellus Bennett
in advance of Tuesday's trade deadline. Both are high-talent guys who haven't panned out and now seem extraneous in Dallas, so it makes some sense to see about getting a good draft pick for one of them. Watkins talked to Choice, who said he'd like to stay in Dallas but whatever, and he seems to think they have reason to keep Bennett around. Choice has shown a flash or two here and there, so a running back-needy team could take a chance, you never know.
Of course, the two biggest names being thrown around on the trade market today are those of
Denver Broncos
receiver
Brandon Lloyd
and
Indianapolis Colts
receiver
Reggie Wayne
. And those are big enough names to catch anyone's attention. It's hard to imagine the Giants, Eagles or Cowboys making a trade to get a big-time receiver, since all three of those teams seem fine with what they have at receiver right now and the price for guys like Lloyd and Wayne is likely to be high. I guess Wayne would be the second-best receiver on the Giants if they got him, but that doesn't feel like a move the Giants would make.
People will connect these names to the Redskins, since Washington's wide receiver corps has plenty of numbers but no real big names. A field-stretching guy would be a nice complement to the precision, route-running possession guys the Redskins have, but prior negative experience with Lloyd (with the Redskins and with Redskins coach Mike Shanahan while both were in Denver) almost certainly makes Lloyd a no-go. And since the Redskins' plan all offseason seemed to be to conserve resources to continue their rebuilding project next spring and summer, I'd be surprised to see them make a big move for a guy like Wayne. Sure, if they win this week and get to 4-1 the temptation will be to "go for it." And they should. But the Redskins are more likely to "go for it" by sticking with the plan that got them to where they are this season -- good defense and an uncomplicated offense designed to minimize the chance for mistakes. I don't think asking
Rex Grossman
to throw downfield more, no matter who they bring in for him to throw to, is in the plan.
But I could be wrong, and we'll surely talk plenty more about this stuff between now and Tuesday.
April, 26, 2011
4/26/11
4:10
PM ET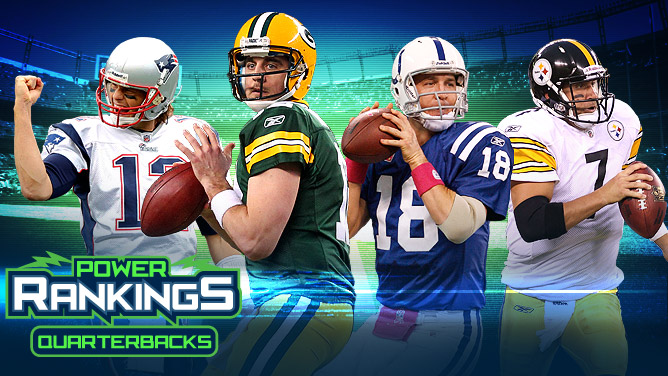 ESPN.com IllustrationNew England's Tom Brady received six of the eight first-place votes to edge out Peyton Manning.
ESPN.com's NFL writers rank the top 10 quarterbacks in the league today.
Next week: Top 10 safeties.
Take eight football writers scattered from Seattle to Tampa and ask them to come up with a list of the top 10 quarterbacks in the National Football League.
Sounds easy enough, in theory. You take the golden gunslingers,
Tom Brady
and
Peyton Manning
, and let everyone else fall naturally into order after that. Well, it didn't quite work out that simply in ESPN.com's Power Rankings for quarterbacks.
Heck, we couldn't even come up with a top 10. We're going with a top 11 because Baltimore's
Joe Flacco
and Dallas'
Tony Romo
tied for No. 10 with five points each in our voting system.
Even at the top, there was more disagreement than you might expect. Brady emerged as No. 1, but it wasn't unanimous and, although Manning finished a strong second, two ballots had a man some consider the best quarterback ever at No. 3.
But let's start analyzing the rankings by focusing on just Brady and Manning. Six voters put Brady at No. 1, but Paul Kuharsky and Mike Sando put Manning in the top spot. Let's hear them out.
"Brady's fantastic, let's start with that,'' said Kuharsky, who covers the AFC South, also known as "The Division Manning Built and Owns." "But no one is asked to do more or does more as a quarterback than Peyton Manning. He almost plays a different position. And while Brady's got three rings to Manning's one and is the reigning MVP, look at their touchdown and interception numbers in their last four playoff games. Manning's are better.''
Sando has no horse in this race, because voters unanimously agreed the NFC West is the division that forgot quarterbacks, at least until
Sam Bradford
gets another season under his belt.
"Brady has the better stats over the last couple seasons, but the Colts would undoubtedly be far worse off than the Patriots if both teams had backups under center,'' Sando said. "Once that was established, Brady's recent postseason struggles became a deciding factor. These quarterbacks have, to an extent, switched roles recently. Manning has won a championship more recently than Brady has won one. Brady has seven touchdowns, seven picks and one victory in his last four playoff games. Manning has seven touchdowns, two picks and two victories in his last four.''
For rebuttal, let's head up to the AFC East, to the man who covers Brady and the
New England Patriots
.
"I'm not sure why everybody needs to consider career achievements when filling out a Power Rankings ballot,'' Tim Graham said. "Power Rankings are a snapshot of the moment and are expected to change regularly, not encompass years of work. But if the reason for selecting Manning ahead of Brady is recent playoff performances that go back a few years, then
Ben Roethlisberger
should be ahead of Manning with that logic. Roethlisberger has been to a pair of Super Bowls and won his second title more recently than Manning's only championship.''
We'll come to Roethlisberger in just a moment, but nobody put him ahead of Manning on his ballot. Kevin Seifert and I each put a quarterback ahead of Manning.
Seifert put Green Bay's
Aaron Rodgers
at No. 2.
"Mostly, I didn't think I could face NFC North blog readers if I voted any other way,'' Seifert said. "Seriously, I think the big advantage Manning and
Drew Brees
have over Rodgers is time. They've been playing longer and therefore have mostly better career numbers and a bigger frame of reference for knowing how they will perform in the long term. But when you take out longevity, Rodgers is right there with them. All three have one Super Bowl victory. Rodgers has a higher career passer rating than any quarterback in the history of the NFL with qualified attempts, better than Manning and Brees and Brady for that matter. So to break the tie, I think you can look at what they did most recently. I think Rodgers had a better 2010 season than Manning or Brees, and that's how I would justify this order.''
I put Brees at No. 2 and don't really want to write a story in which I quote myself, so I'll just say Brees and Manning each have one Super Bowl ring and Brees' numbers over the last four years are just as good or better in most categories. Plus, Brees hasn't spent most of his career surrounded by the likes of
Marvin Harrison
,
Reggie Wayne
,
Dallas Clark
and
Edgerrin James
.
In the final analysis, Brees finished third and Rodgers fourth. Roethlisberger, who has two Super Bowl rings, came in at No. 5. San Diego's
Philip Rivers
, who has zero Super Bowl rings and some gaudy statistics, is No. 6. Relatively speaking, the order from Brees to Rivers, the guy who took his place with the Chargers, was pretty clear-cut.
After that, we had some close calls, strong differences of opinion and one very big coincidence. At No. 7, we've got a tie between Philadelphia's
Michael Vick
and Atlanta's
Matt Ryan
, who each finished with 26 points. For those who don't see the irony in that, Vick was the face of Atlanta's franchise for a long time and Ryan now holds that role.
Eli Manning
of the
New York Giants
came in at No. 9, and Flacco and Romo tied for the final spot. Only three other quarterbacks received votes. They were Tampa Bay's
Josh Freeman
, who I think could be near the top of this list in another year or two, Houston's
Matt Schaub
and Kansas City's
Matt Cassel
.
On to some other notes about the Power Rankings.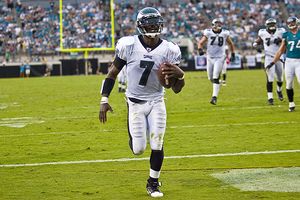 Michael DeHoog/Sports Imagery/Getty ImagesOne recent year of success wasn't enough to put Eagles quarterback Michael Vick on John Clayton's ballot.
The Vick factor
. Despite a hugely productive season last year, Vick was left off one very important ballot. John Clayton, the dean of all of us, didn't have the Philadelphia quarterback on his ballot and was the only one of us who didn't.
"The only reason Michael Vick didn't make my top 10 is because I, after an offseason of thinking, have Michael Vick as my No. 11 quarterback,'' Clayton said. "That still makes him elite. I have 12 elite quarterbacks. Vick moved into the elite category with his performance last year, but it's just one year. He can clearly move up the list this season, but he's in the mix and knocking on the door of the top 10. A year ago, he wasn't a consideration.''
Fighting the Eli fight.
Speaking of Clayton, let's continue to ride that train as we discuss Eli Manning. Seifert, Sando, Graham and I didn't even include Manning in our top 10, but he still made the list.
"I will continue to fight the argument Eli Manning is an elite quarterback,'' Clayton said. "I moved him to No. 8 above Tony Romo, but if Romo had a full season last year, he might have been ahead of Eli. Remember that
Carson Palmer
,
Brett Favre
and
Donovan McNabb
dropped from my elite quarterback categories, which moved guys like Eli up in the mix. Eli has a Super Bowl ring. He's a 4,000-yard quarterback. He wins.''
No tiebreaking here.
Speaking of Romo: Clayton and Sando each had him at No. 9. AFC North blogger James Walker had Romo at No. 10. That was good enough to get Romo five points and a tie with Flacco. One interesting note here: Flacco wasn't on Walker's ballot. I respect James for not doing the easy thing and being a "homer," although I'm sure some Baltimore fans might have different opinions.
"Joe Flacco is a good quarterback, but I don't consider him an elite, top-10 quarterback just yet,'' Walker said. "I need to see more consistency, especially in the playoffs and other big games against the Steelers. Flacco has a lot of natural ability, and I believe he's ready to break through. But, in my book, Flacco needs to first prove it on the field in the biggest games to be elite."
The final analysis.
If you look at this list from a distance, you could say the
Atlanta Falcons
,
San Diego Chargers
and New England Patriots are the big winners. The Patriots, of course, have Brady, but they also drafted Cassel, whom they later traded to Kansas City. If you want to get really technical, the Chargers drafted Brees and Eli Manning and worked a draft-day trade with the Giants to end up with Rivers. If you count the few minutes Manning and Rivers were crossing paths, you could say the Chargers, at one time or another, had three guys on this list. You also could say the Falcons drafted Vick, Ryan and Schaub, who finished in a tie with Freeman for No. 12.
March, 8, 2011
3/08/11
5:35
PM ET
When the 2010 season ended,
Miles Austin
was 25th in catches (69), 14th in yards (1,041) and 21st in touchdowns (seven). He was also tied for 10th with 17 catches of 20 or more yards.
Austin was not the dominant receiver numbers-wise in 2010 like he was in 2009.
Yet, Austin is still an excellent receiver that threatens defenses with his run-after-catch ability. If there was one negative to Austin's game last year it was the career-high 10 drops.
Well in rankings among the ESPN NFL bloggers, they don't think much of Austin's game.
He's not even
ranked
among the Top 10 receivers in the NFL and only one of the voter, James Walker of the AFC North, gave him a vote.
You probably don't have a problem seeing
Andre Johnson
,
Larry Fitzgerald
,
Roddy White
,
Calvin Johnson
and
Reggie Wayne
in the Top 5.
Greg Jennings
and
DeSean Jackson
are most likely Top 10 receivers and are ranked there.
After that it's pretty subjective.
December, 13, 2010
12/13/10
1:39
PM ET
Washington's
Santana Moss
, who has a history as a Cowboys killer, must be licking his chops. The Dallas secondary is in the midst of a historically horrible stretch of failing to cover No. 1 receivers.
Indianapolis'
Reggie Wayne
racked up 14 receptions for 200 yards and a touchdown against the Cowboys. Philadelphia's
DeSean Jackson
followed that up with a four-catch, 210-yard, one-touchdown performance.
Here are a few nuggets to put that into perspective:
*The Cowboys had given up only two 200-yard receiving games in their previous 50 seasons. And they'd gone 37 seasons without doing so. The receivers who put up 200-plus on the Cowboys before the last couple of weeks were the Bears' Johnny Morris in 1962 and the Rams' Harold Jackson in 1973.
*The 1989
New Orleans Saints
were the last NFL team to allow 200-yard receivers in back-to-back weeks. The Rams'
Flipper Anderson
set the NFL record with 336 yards against the Saints, who let Detroit's Richard Johnson shred them for 248 yards the following week.
*There have been only two other teams in the last two decades to allow a pair of 200-yard receiving performances in the same season. The Cowboys join the 1999
Chicago Bears
and 2009
Kansas City Chiefs
in that bad company.
December, 7, 2010
12/07/10
10:16
AM ET
By
Bryan Broaddus
| ESPNDallas.com
Coming off the disappointing Thanksgiving loss, Jason Garrett continued to preach to all those that would listen about finding a way to handle adversity.

As bad as the loss was to the defending Super Bowl champ New Orleans Saints, the NFL schedule-makers did the Cowboys no favors with a trip to face the defending AFC champion Indianapolis Colts. In studying the Colts, injuries had taken a toll in several key areas, except for quarterback Peyton Manning.

Despite lacking a running game and a playmaking tight end and having some banged-up wide receivers, Manning still presented a challenge to a Dallas defense that was making the transformation from Wade Phillips' blitzing, man-coverage style to Paul Pasqualoni's zone coverage and assignment-first scheme.

The Colts have been terrible running the football. You could make an argument that the loss of Joseph Addai was a huge hit for this offense, but breaking down the previous games the Colts played against the Patriots and Chargers, you would see an offensive line that struggled to get any type of push at the point of attack. The Colts are a zone-blocking team that gets no movement up front.

When the Colts did try and run the ball on Sunday, Cowboys linebackers Bradie James, Sean Lee and Anthony Spencer were in position to make plays.

James was a physical tackler, attacking the line of scrimmage and not allowing any room for the Colts to run. Lee had some nice plays clearing blocks as well and playing with his hands.

But Lee was even more of a factor in the passing game with the two interceptions, tackles on the edge against backs out of the backfield and blows delivered to receivers crossing underneath.

Lee also made the last tackle on the punt team to keep the Colts pinned in their own end. That was before the series that Manning had the tipped ball by Mike Jenkins that Lee played well for the game-clinching drive for the Cowboys.

To the naked eye, it would have appeared that DeMarcus Ware had a quiet game against the Colts because he didn't have any sacks. Coming into this game, the Colts were first in the NFL in protecting Manning. There had been some games this season where he had taken hits in the pocket, but not many sacks.

Ware was a handful for tackles Ryan Diem and Charlie Johnson, who coming into the game I thought played soft on the edge. Ware was able to take advantage of some opportunities with his rush that affected Manning in the pocket by using a spin move on Johnson. Ware at times was held but still managed to fight through and get pressure. He also ran down a screen and was able to play off blocks to help in the running game along with the other linebackers.

In the secondary, we all saw the huge game that Reggie Wayne had against this Cowboys secondary and mainly Jenkins.

Jenkins started the game well by doing a nice job of running with Wayne on the route as they both worked down the field, allowing Alan Ball to work over from the middle of the field for the first interception of Manning.

On the touchdown catch that Wayne had, it looked like Jenkins was expecting from the inside from Ball. Jenkins is playing outside technique as Wayne heads inside on the route. Ball is late reacting, giving up the play.

The second big play also involved Wayne, who once again takes his route inside of Jenkins, who appears to be in position to make the play in the middle of the field without safety help. But it was just an outstanding throw and catch.

On the Colts' drive for the game-tying touchdown, Wayne had been running routes inside during the two-minute drill. Wayne fakes the slant, which makes Jenkins react drawing him inside. Wayne then heads up the field as Manning fits the ball between Jenkins and Sensabaugh, who is a little late arriving. Wayne dives to make another big-time reception.

Where Jenkins also struggled once again was as a tackler. He did have one low tackle on the outside, but he also had two misses in space.

With the concussion suffered by Orlando Scandrick in the game, look for rookie Bryan McCann to get the nod as the nickel corner. In the times he was in the game, he wasn't tested as much as I thought he would be, but look for the Eagles to maybe make it a part of the game plan with their receivers.


On offense, Garrett did a nice job of making the Colts have to defend the entire field with his play-calling. He took advantage of the Colts' lighter front seven by using misdirection to get them moving, then bringing the ball on the edge with Felix Jones and Tashard Choice.

The offensive line did a much better job of combo blocking, securing the down linemen then getting a blocker up on the linebackers. This allowed the backs to find the hole without having to deal with a defender in their face immediately.

In the passing game, Jon Kitna did a nice job of moving and buying time when things broke down in the pocket.

There was no doubt in my mind that there would be some struggles on the outside with Dwight Freeney and Robert Mathis, but I thought it would be more over Colombo and what he was facing in Mathis.

Colombo wasn't pretty and never is, but for the Cowboys to run over 70 offensive snaps, I thought he played as well as could be expected. That was my same view of what I thought with Free. Like Colombo, gave up a sack and also had two holding calls (one accepted).

Freeney is such a difficult player to play at Lucas Oil Stadium because of the crowd noise and his explosive first step. Freeney can also get you with his bull or power rushes.

There were several times where it took all Free had to stay in front of him, but in the end, Free and Colombo both managed to survive where others had failed.


There are those that feel that the fumble recovery of Cowboys rookie Lonyae Miller on the kickoff return was the key point in the game. There is no doubt that it was huge, but I want to point out three other plays that might have been just as an important.

With the Cowboys leading 17-14 with 5:52 remaining in the third quarter, the Cowboys lined up for a 46-yard field goal. At the snap, Colts DT Daniel Muir tried to jump onto the back of Andre Gurode, who was lined up at guard. Muir halfway got up on Gurode's back, then fell off. After the kick, Gurode asked umpire Rueben Fowler about what Muir had done, trying to get a call for leverage, but didn't get it.

In the fourth quarter, the Cowboys, trailing 28-27, moved the ball to the Colts 1 and again opted for a field goal. David Buehler made the kick to give the Cowboys the lead, but a flag on the field and a delay of game call against the Cowboys wiped out the kick.

On the play, Muir once again jumped on the back of a Cowboys blocker -- this time, snapper LP Ladouceur. Again Gurode pointed to Fowler, who did nothing. After the penalty was assessed, Buehler again tried the kick, but this time DE Eric Foster jumped squarely on Gurode's back in plain sight of Fowler, who had no choice but to throw the flag and give the Cowboys a first down.

The Cowboys got a fresh set of downs, ran clock and were able to cap the drive with a touchdown and a 2-point conversion instead of settle for three points. Under Wade Phillips, the Cowboys played like a dumb football team. But now, under Jason Garrett, they appear to be a little smarter -- thanks to a heads-up play by Gurode.
December, 4, 2010
12/04/10
8:00
AM ET
By
Bryan Broaddus
| ESPNDallas.com
A look at Sunday's key matchups between the Cowboys and Colts:
Colts QB Peyton Manning vs. Cowboys defensive coordinator Paul Pasqualoni:
If you were going to do a Grudge Match each week against the Colts, you could probably mention Peyton Manning against the opponent's defensive coordinator and just go from there. There is an understanding going into a game each week that your defense will be looked at and studied by the opponent's quarterback, but not to the level of when you play Manning.
In his preparation, there is no stone that is left unturned. Going into the game as the defensive coordinator, you are most likely not going to be able to fool him with a look or show him something that he hasn't seen in his 13 seasons in the league.
Where Pasqualoni has to be careful is the way he matches his front with his coverages. He has to have a feel for when to attack the pocket or play coverage.
Of the elite quarterbacks in the NFL, Manning has the most freedom to adjust the offense as he sees fit. Pasqualoni's defense cannot survive with giving Manning the same look down after down and at presnap. They must be able to disguise what they are playing coverage-wise.
This week will be a huge mental challenge for the Cowboys' defense because it will have to line up in one front or one coverage and in the presnap shift to another.
Where Manning has struggled in the past against the 3-4 defense is picking out the fifth rusher. The last two weeks, Pasqualoni has been able to study the success of the Patriots and Chargers and tailor his game plan to mirror situations that gave the Colts troubles the last two weeks.
*Colts DE Robert Mathis vs. RT Marc Colombo:
It would be really easy for me to focus on the matchup of
Doug Free
against
Dwight Freeney
, but I really see those two cancelling each other out. The matchup that I am going to watch is Mathis against Colombo.
[+] Enlarge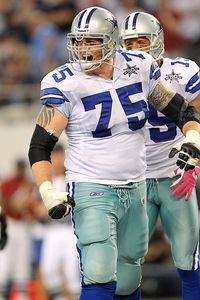 Matthew Emmons/US PresswireMarc Colombo will have his hands full Sunday with the slippery Robert Mathis of the Colts.
Where Colombo has really struggled is with those players that have explosive quickness to the edge. Colombo just doesn't move as well as he once did, and when he doesn't get his hands quickly on the rusher, he struggles with control.
One of Mathis' best moves is when he takes the tackle up the field, getting his weight on the outside foot, then spins inside to the quarterback.
The Cowboys can help Colombo by pounding Mathis in the running game, making him deal with tackles and tight ends. Continuing to fight blocks is the way to soften him up. Every chance that they can hit both Mathis and Freeney would be a step in the right direction to slow their pass rush down.
The Colts ends are really effective when they can rush the passer with a lead. When they don't have to worry about the run, they pin their ears back and really attack you. There is no doubt in my mind that Colombo will need more help in this game than Free from a protection stand point.
*Colts WRs Reggie Wayne and Pierre Garcon vs. Cowboys CBs:
The Colts are in a similar situation when it comes to running the ball as the Cowboys. Neither team really gets any type of push or movement at the point of attack on a consistent basis, so it makes it difficult to sustain a running game. The Colts have also had to deal with the neck injury to
Joseph Addai
, which has also hurt.
But the Colts can really hurt you in the passing game with Reggie Wayne and Pierre Garcon.
Wayne will catch the football all over the field. He is a smooth route runner that has an outstanding ability to create opportunities. In the two games I viewed, Wayne had some drops that you would normally not see coming from him, but still Manning has the utmost confidence in him.
Garcon, according to the scouts I have spoken with, has been in the doghouse some, but you can't tell by the way he plays. Like Wayne, he is smooth and can turn on a dime when running his routes. He will adjust to the ball and is a threat in the red zone and when converting third downs.
The Cowboys will be in nickel the majority of the game to handle these receivers and how they match up down after down will be the difference whether they win or lose this game.
December, 3, 2010
12/03/10
9:33
AM ET
By
Bryan Broaddus
| ESPNDallas.com
In the last two weeks, the defending AFC champion Colts have lost a tough battle on the road to the Patriots on a
Peyton Manning
interception after a late rally and were handled by the Chargers at Lucas Oil Stadium, a place that the Colts rarely lose.
The Colts have been playing the entire season trying to survive injuries at key positions with backup players and to their credit have had those players step up and become productive players.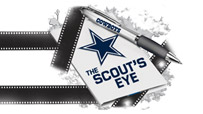 Tight end
Jacob Tamme
has filled in well for
Dallas Clark
, as has former Michigan State walk-on
Blair White
at receiver for
Austin Collie
and
Anthony Gonzalez
.
Donald Brown
at running back for
Joseph Addai
, rookie
Pat Angerer
for middle linebacker
Gary Brackett
and safety
Aaron Francisco
for
Bob Sanders
have all done adequate jobs.
Despite all the injuries, the Colts still have two of the most dynamic players in the NFL in Manning and
Dwight Freeney
.
In studying the Colts on offense against the Patriots and the Chargers, there were three areas that really stood out to me: the number of pocket hits that Manning was taking, the struggles of the offensive line to get movement in the running game and some missed opportunities by the receivers to bring in accurate passes from Manning.
I will start with the offensive line. The anchor of the group is veteran center
Jeff Saturday
. Saturday doesn't play with much power and really is a catch-and-steer blocker. Tackles
Ryan Diem
and
Charlie Johnson
tend to give ground on their sets and can be taken back into Manning. Where the Colts have struggled the most has been inside at guard with
Kyle DeVan
and Jeff Linkenbach.
Last week the triangle of
Jay Ratliff
,
Keith Brooking
and
Bradie James
did a solid job against the Saints. Look for the Cowboys to attack the middle of the pocket against the Colts. Manning does have mobility, but in the games I viewed, he had problems with the rush that was in his face. The Patriots and Chargers were able to alter his launch angles when delivering the ball to his receivers.
If the Cowboys can squeeze the pocket from the outside with
DeMarcus Ware
and
Anthony Spencer
, inside pressure from Ratliff and
Stephen Bowen
could create inaccurate passes from Manning. How well the Cowboys play in their four-man or nickel front will go a long way to deciding the outcome of this game.
The one area that Manning has struggled in the past against the 3-4 teams is his understanding of where that fifth rusher was coming from in the scheme. When Manning is at his best, is when he is able to take the entire play clock and break the defense down.
Defensive coordinator Paul Pasqualoni has to be careful committing his defensive look too early and giving Manning a pre snap read. Early in this game, watch the movement of the Cowboys' front and secondary to see if they try and throw Manning off with disguise. It's difficult to fool Manning because of his preparation, but you can't allow him the ability to get a read on your defense pre-snap because he will break you down with his personnel.
The Colts' offensive line, much like the Cowboys', has really struggled to run the football. Addai has been out with a neck injury and could be back to action this week. The Colts struggle to get any type of movement or push at the point of attack. When the Colts run the ball it's a stretch or zone-blocking scheme that they use, but it hasn't been the least bit effective.
The Cowboys faced this type of scheme when they played the Redskins and Texans earlier in the season. If the Colts can get the running game going, then Manning will use his play-action game to create opportunities down the field. Manning is one of the better ballhandlers in the league and puts serious pressure on the linebackers when he fakes to the backs.
The Dallas secondary has the difficult task of dealing with
Reggie Wayne
,
Pierre Garcon
and White, who has stepped in nicely for Collie. The Colts will play in a three-wide package the majority of the time. The will put the Cowboys nickel on the field to match.
These Colts receivers will run routes all over the field. Wayne and White tend to handle the inside and crossing stuff, while Garcon is more to the outside. Manning will find that matchup that works for him.
The safety play for the Cowboys will be huge because of the crossing and vertical routes and the way that the Colts use the tight end in the passing game. The pressure will be on the corners, but there will be more pressure on
Alan Ball
and
Gerald Sensabaugh
to help make plays. With Manning and this offense, things happen quickly and any hesitations by the safeties will create a host of problems.
*The Colts' defense runs a similar scheme to that of the Bears, which the Cowboys faced earlier in the season. It's a Cover 2 look with a quick, moving front.
The biggest difference of the two teams is that the Colts have two outstanding pressure players in Freeney and
Robert Mathis
. Where these guys really shine is when they are playing at home and they have a lead, letting them pin their ears back and really come after the passer.
Cowboys offensive tackle
Doug Free
has played outstanding this season and will once again draw the difficult assignment of Freeney, who is all about getting up the field as fast as he can. He will try to hit you some with a bull or power rush, but he is at his best is when he explodes to the corner and around the edge.
Free needs to be quick out of his stance but do everything in his power to get his hands on Freeney immediately to stop his charge and make him restart his rush. Any momentum that Freeney gets will work against Free.
On the other side,
Marc Colombo
will have to deal with a similar rusher in Mathis, whose big pass rush move is the spin. I know this is going to sound crazy, but in the game plan, if I was the Cowboys staff, I would try and focus on helping Colombo with the hope that my best offensive lineman is going to handle their best pass rusher one-on-one.
Colombo will need help against Mathis. Colombo doesn't move anywhere near as well as he once did. He will fight Mathis, but when Mathis really explodes to the edge, Colombo will struggle to move his feet quickly enough to handle his movement. Look for
Jason Witten
,
Martellus Bennett
, or one of the backs to help to that right side.
The Cowboys have played better on the offensive line since Jason Garrett has taken over as the head coach. He will tailor his game plan to try to control this rush. The way to do that is with a balance of runs and screens.
I really do like
Tashard Choice
in this game if given the opportunity. He shows better vision than
Felix Jones
at times, but he can run with the power of
Marion Barber
. Garrett has to do all he can this week to help his defense not have to play a large number of snaps against Manning.