Dallas Cowboys:

Riley Cooper
October, 14, 2013
10/14/13
12:40
PM ET
ARLINGTON, Texas – Like every team in the NFL, the Cowboys live with the 24-hour rule, but sometimes you have to move on sooner than 24 hours whether you win or lose.

As Sunday night turned into Monday morning after Dallas' 31-16 win against the
Washington Redskins
, some of the talk in the locker room turned to the next game at the
Philadelphia Eagles
.
First place in the NFC East will be on the line; each team sports a 3-3 record and a 2-0 mark in the NFC East. The Eagles have won their last two games after losing three in a row.
"They're playing tough football," quarterback
Tony Romo
said. "I was watching a little bit of their tape last week because it's a different opponent as far as seeing them on television, just seeing what they're doing. It's going to be interesting to see all of the stuff they're doing with the new system. It'll be a good test for us, and we'll be ready."
Michael Vick's status is in question because of a hamstring injury, but
Nick Foles
threw for 296 yards and three touchdowns in Philadelphia's win Sunday against the
Tampa Bay Buccaneers
.
DeSean Jackson
had two touchdown catches and
Riley Cooper
had 120 yards receiving and a touchdown.
LeSean McCoy
ran for 116 yards.
"It's going to be a tough game," Dallas linebacker
Sean Lee
said. "They have a lot of athletes and an ability to score."
August, 1, 2013
8/01/13
3:31
PM ET
By
Calvin Watkins
| ESPNDallas.com
OXNARD, Calif. -- Cowboys starting safeties
Will Allen
and
Barry Church
said that a racial slur used by
Philadelphia Eagles
wide receiver
Riley Cooper
, caught on video during a concert, will make him a target of other players.
PODCAST
Nate Newton joins Fitzsimmons and Durrett live from Oxnard, Calif., to discuss the latest news at Cowboys training camp.

Listen

"Absolutely. I'm just going to be honest," Allen said after Thursday's walk-through practice. "You don't want to see that somebody is going to be mad and perpetuate the negativity. I don't think it's something that we should do. I'm sure it will happen."
Church didn't know about the incident until a reporter told him.
"I feel like that's one of the words you shouldn't say at all," Church said. "Even as a black person, you shouldn't say it. I mean, it's unforgivable, but we're all not perfect in this world. Everybody makes mistakes. I've made some myself. I'm offended by it, but if he apologized, I guess you've got to let bygones be bygones."
When asked if this put a target on Cooper, Church said, "There are going to be players in the league that definitely are going to put a target on him. For me individually, if he apologized, I have no wrongdoing for him or harsh feelings for him. But there's definitely going to be a target on him from other players in the league. I can tell you that much."
On ESPN Radio, commissioner Roger Goodell said the NFL will not punish Cooper for his use of the racial slur, but the Eagles fined him and ordered him to undergo sensitivity training.
In terms of how the locker room will handle Cooper, Eagles running back
LeSean McCoy
told the NFL Network, "I can't respect a guy like that." However, in a later interview with the Philadelphia Inquirer, McCoy said he forgave Cooper.
Cooper apologized to his teammates Wednesday.
"I'm sure it will be a difficult task with all the things going on in this world and just the divide we still have [as a society]," Cowboys cornerback
Brandon Carr
said. "It's going to be a difficult task, but if you have the same goal, the same purpose, you should be able to move on and forgive. It's out of your control after that."
The Cowboys play the NFC East rival Eagles at Philadelphia on Oct. 20 and in the regular-season finale Dec. 29 at AT&T Stadium.
March, 30, 2013
3/30/13
10:00
AM ET
»
NFC Eight in the Box
:
East
|
West
|
North
|
South
»
AFC
:
East
|
West
|
North
|
South
How do the Cowboys look at wide receiver and what still needs to be done?

Dallas Cowboys
:
Dez Bryant
broke out in a huge way in the second half of his third NFL season and finished the year with 92 catches for 1,382 yards and 12 touchdowns. If he can keep himself in one piece, he's one of the top wideouts in the league.
Miles Austin
is the perfect complement on the other side -- good enough that defenses have to pay attention to him but not the kind of guy who's going to complain if Bryant gets more catches. Austin has to keep his hamstrings healthy, and if he does the Cowboys have a top one-two wide receiver combo.
Dwayne Harris
came on strong last year as a No. 3 wide receiver, and guys such as
Cole Beasley
and
Danny Coale
could provide intriguing depth. Dallas could look to add a veteran wide receiver to its mix heading into training camp in case the young guys don't produce, but it's not a high-priority issue.
To see what the other NFC East teams look like at WR, click here.
November, 14, 2012
11/14/12
9:51
AM ET
IRVING, Texas – Sorry for the delay on this week's "A Look Back." Maybe we should call it "Better Late than Never" this week as we give a quick review of the Cowboys' win last week at Philadelphia.
Once again, Rob Ryan relied on a four-man rush most of the time, even as people want to view him as a blitz-happy defensive coordinator. The Cowboys used a four-man rush 29 times against the Eagles, three-man pressure five times and brought five or more eight times.
Did things change drastically after
Michael Vick
suffered a concussion and was replaced by rookie
Nick Foles
?
Vick was in on 18 snaps and 10 pass calls. The Cowboys rushed three guys four times against Vick. They brought four-man pressure three times and three times they brought five or more guys. When they brought at least five guys Vick was 0-for-3. His final snap came on a screen in which Dallas brought pressure with
Ernie Sims
up the middle.
The Cowboys brought five men against Foles five times.
DeMarcus Ware
hit him on the first blitz, but the second time the Cowboys brought heat it was blocked enough for Foles to slide to his right and find
Jeremy Maclin
for a 44-yard touchdown after a coverage bust by
Charlie Peprah
.
How did the offense hold up against Philadelphia's pressure?
Defensive coordinator
Todd Bowles
brought six-man pressure five times and twice the Eagles were able to sack
Tony Romo
. The Cowboys' only completion against six-man pressure came on a deep sideline throw to
Dez Bryant
.
In the second half Bowles used that six-man pressure just once, and it led to a Romo throwaway.
Romo's two touchdown passes came against four-man pressure. Overall, Romo completed 15-of-20 passes against four-man pressure, but the Cowboys were unable to get the ball down the field often. Romo's deepest throw against four-man pressure was the 25-yarder to
Miles Austin
where Austin eluded three defenders and made something out of nothing.
The last time the Cowboys returned a punt for a TD before Sunday was Nov. 21, 2010 against Detroit when
Bryan McCann
alertly picked up a loose ball and ran 97 yards for the score. Dwayne Harris' 78-yard return for a score was not a sign of great point-of-attack blocking but a sign of how the return is set up.
Vince Agnew
and
Orlando Scandrick
did a nice job on the gunners to free Harris, though Agnew's block was close to a penalty.
Lance Dunbar
and
Eric Frampton
double-teamed
Riley Cooper
out of the way as Harris reached the sideline, and
Danny McCray
took care of
Mat McBriar
.
That was really it as the other blockers did a nice job of setting up the return before Harris was able to get up to speed.
Can the Cowboys get another return for a touchdown? The last time they had multiple punt returns for a touchdown in a season also came in 2010.
November, 11, 2012
11/11/12
10:32
PM ET
PHILADELPHIA -- After the game, coach Jason Garrett and owner/general manager Jerry Jones talked about the importance of the Cowboys' first drive of the game, which is why it is the Drive of the Game.
After seeing Philadelphia drive 81 yards on 10 plays for a touchdown --
Michael Vick
to
Riley Cooper
from two yards out -- on its first drive, the Cowboys answered with a 13-play, 80-yard drive of its own that ended with an 11-yard touchdown pass from
Tony Romo
to
Felix Jones
.
"I really thought the telling thing that we hung onto all day long was the way we answered their touchdown and came back and made that drive principally on the ground," Jones said. "I really thought that gave us something to hold onto. I know it did for me. Even when they came in the third quarter, I said, 'Now let's go out here and do this against a good defense.' "
Jones had 41 of the Cowboys' 80 yards with 30 coming on five carries. He finished with 71 yards on 16 carries and caught three passes for 22 yards.
It was the second time this year the Cowboys have scored a touchdown on their first drive and it was much needed.
January, 18, 2012
1/18/12
11:34
AM ET
By
Bryan Broaddus
| ESPNDallas.com
This is the third installment of Fixing the Cowboys:
When the final whistle blew on that chilly night at MetLife Stadium, the season ended for the
Dallas Cowboys
. The hope of a division title died with a roster that wasn't good enough to compete with the Giants for the second time in four weeks. If Jerry Jones and Jason Garrett are honest with themselves, they will look at this roster and say that it's just not good enough to compete with the Giants and the Eagles. We can talk about the Super Bowl all we want, but if you are not playing well in your division, there are going to be problems.

When I worked for the Cowboys, the biggest issues I had during our final meeting of the season was that we were not honest with the makeup of our squad. When you go 5-11 for three straight seasons and the coaches talk about the players like we were 11-5, there are going to be problems. Garrett and these coaches can't keep Jerry from believing his roster is better than it really is. I'm not going to say that there isn't talent on this team, but I will say there were players on this roster that Jones and Garrett were counting on that just weren't good enough.
Here is what I would try and do to help it:
1. As much as I want to overhaul this secondary, I am going to try and fix the left cornerback spot first.
Terence Newman
needs to be replaced immediately. His level of play has clearly slipped and he no longer plays with any confidence. When a corner lacks confidence you might as well be playing with a speed bump out there. There are two ways that Jones can attack this area. The first is to trust his pro scouting staff, which brought him
Laurent Robinson
and
Tony Fiammetta
. The big name corners on the market this spring will be
Cortland Finnegan
of the Titans and
Brent Grimes
of the Falcons. Both of these players are similar in age and will command top dollar. If I had to lean one way, I would probably go toward Finnegan because of his aggressive style and the nastiness in his play, which this team lacks. If there might be a hitch, it'd be that Jones and Garrett would like to have a corner with more size -- Finnegan and Grimes are both in the 5-9, 185-pound range.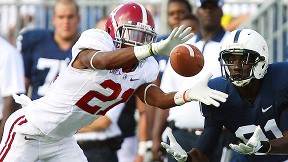 Matthew O'Haren/Icon SMIThere's no doubt that Alabama's Dre Kirkpatrick could instantly help the Cowboys' secondary, but can the team look past his recent arrest for marijuana possession?
The second way this area could be addressed is through the draft, which can either be feast or famine. Sitting in the 14th spot, Jones is still in decent shape because you usually have between 15 to 18 players that have first-round grades on your board. The second-best corner on the board will be
Dre Kirkpatrick
from Alabama. There is no questioning Kirkpatrick's ability or size (6-2, 192 pounds), but now character issues have been raised -- he was charged with possession of marijuana Tuesday and was released after paying a $120 fine.
When I worked for Bill Parcells, he put players with character flaws into "The Box" -- an area where you put players that you did not want to draft, period. I guarantee there will be teams that will take Kirkpatrick off their boards and into "The Box." The question for the Cowboys: Will Kirkpatrick be able to explain what happened, and will other examples of questionable behavior be uncovered? I would still consider Kirkpatrick an option for the Cowboys, but he really has to convince me that it'd be in my best interest to select him. I promise the Cowboys will turn over every rock to get to the bottom of this. He's that good of a player.
2. As much as I want to fix the interior of this offensive line with the addition of a free-agent guard like the Saints'
Carl Nicks
, I have to think about the amount of funds I wound have to allow for this to work. Don't get me wrong, it'd be money well spent, but there's also an opportunity to select the best guard in the draft -- Stanford's
David DeCastro
.
Jones and Garrett have to ask themselves if finding a replacement for OLB
Anthony Spencer
is more important than filling a position where you seem to have better options. Does
Kyle Kosier
,
Montrae Holland
,
Derrick Dockery
,
Kevin Kowalski
,
Bill Nagy
and
David Arkin
make you feel comfortable enough with the guard spot as is, whereas you just have
Victor Butler
and
Alex Albright
at outside linebacker? There is no doubt the Cowboys lacked a pass rusher that could help
DeMarcus Ware
on the other side. The Cowboys like Butler -- and he very well could be the starter going into 2012 -- but why not use the 14th pick to upgrade that spot with Alabama's
Courtney Upshaw
or South Carolina's
Melvin Ingram
? The Cowboys must do a better job of pressuring the quarterback because Ware can't do it alone. I have been critical of Ware, but a player on the other side could take pressure off him
and
help this defense tremendously.
[+] Enlarge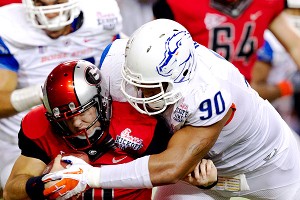 Bob Kupbens/Icon SMIBoise State's Billy Winn could be an interesting draft choice for the Cowboys as his physical presence could help them at the defensive end spot.
3. Sticking with the defense, I'm also taking a hard look at three spots -- defensive end, inside linebacker and safety. At defensive end, I'd move on from
Kenyon Coleman
, who wasn't nearly as good at the end of the season as he was at the beginning. I like
Jason Hatcher
, and I also think there is a role for
Marcus Spears
.
Sean Lissemore
proved to be a nice swing guy, but he looked better at nose tackle, so I'm tempted to keep him there. The scouts have hope for
Clifton Geathers
, but I don't share that. I would look to draft a productive player like Boise State's
Billy Winn
, who played tackle but should be suited more for play on the outside.
4. I'm also looking for help at inside linebacker, because there's really no depth. It's time to move on from
Bradie James
and
Keith Brooking
.
Bruce Carter
will be ready to play in 2012 and will be productive playing next to
Sean Lee
. However, behind those two, there's nothing. I'd try to add player in the fourth round that could be a quality backup but also help in the nickel, like
Kevin Burnett
did several years ago. Texas'
Emmanuel Acho
could be an interesting choice. Acho has a nose for the ball and is super active.
5. At safety, I'm moving on from
Abram Elam
because I need someone with more range. I have too many safeties on this roster that are forward players, such as
Barry Church
and
Danny McCray
. This defense needs someone that gets their hands on the ball and can help off the hash or middle of the field. I don't need safeties that can't adjust to
Victor Cruz
going down the field or
Riley Cooper
catching a jump ball from
Michael Vick
. If the Cowboys have a safety with range, it would be a step in the right direction in helping this secondary.
For all the problems that Garrett has had with game management, I feel he's got a good eye for talent and understands how you go about gathering players. Despite what people want to believe, the head coach does have a great deal of say in what players are signed and drafted. Bill Parcells took advantage of this; Dave Campo didn't. Chan Gailey convinced Jones that he wanted nothing to do with
Randy Moss
. Jason Garrett went to USC last season to see
Tyron Smith
work out and talk with members of the staff to get a feel for him.
You might not want to trust Jerry Jones, but you should trust Jason Garrett. I think he gets it.
December, 27, 2011
12/27/11
4:41
PM ET
By
Bryan Broaddus
| ESPNDallas.com
There was going to be two ways that Jason Garrett and the Cowboys were going to play this game against the Eagles on Christmas Eve: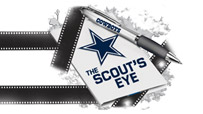 * If the
New York Jets
had beaten the
New York Giants
earlier in the day, then it was going to be all hands on deck to try and win the NFC East divisional title.
* If the Giants won, it'd be a meaningless game and Garrett would need to manage the game to try and protect players injured players such as
Felix Jones
,
Jay Ratliff
and
DeMarcus Ware
before this week's showdown vs. the Giants.
What Garrett didn't count on was quarterback
Tony Romo
getting injured. What surprised me the most about the way that Garrett played this game was the amount of snaps that he gave to Ware and Ratliff. I was convinced Jones, Ratliff and Ware wouldn't play much, but it didn't work out that way. To their credit, Ware and Ratliff were the best players on defense.
PODCAST
Bryan Broaddus and Tim MacMahon discuss how the offseason may shape up if the Cowboys wrap up the season at 8-8.

Listen

Cowboys' ends limit McCoy's effectiveness this time
I felt Eagles RB
LeSean McCoy
would cause the most problems on offense, both in the running and passing games. When the Cowboys and Eagles met in Week 8, the Cowboys' front seven -- particularly DEs
Marcus Spears
,
Kenyon Coleman
and
Jason Hatcher
-- played poorly. They couldn't get off blocks and did nothing to hold the point of attack.
In Saturday's game, the Cowboys' ends did a much better job of not getting pushed around, allowing the linebackers to flow and make plays. Spears had several plays where he was square to the line of scrimmage and was able to stack the blockers, which gave McCoy no room to run. Where the Cowboys' defense was outstanding was playing backside technique and not allowing McCoy to make that stop-start cut which hurt them last time.
Newman, Cowboys' secondary struggle yet again
In the first half, there were once again problems in the secondary with coverage. On the first drive of the game, the Cowboys were able to get pressure on
Michael Vick
.
With
Anthony Spencer
flushing Vick to his left, Spencer grabbed a hold of Vick's facemask while trying to get him to the ground. Down the field,
Mike Jenkins
lost contact with receiver
Riley Cooper
as he started up the field.
Gerald Sensabaugh
tried to get over to help, but was left backpedaling while trying to locate the ball as it floated over his head. Safety
Abram Elam
also tried to get over to help, but he badly misplayed the ball as well. The result: Cooper caught the ball with three defenders within two yards of him.
There were several plays in this game where
Terence Newman
was not near good enough. In the second quarter, Newman misplayed a ball on second-and-10 after Marcus Spears made a nice square tackle on first down against McCoy.
When you study Vick, the one place that he loves to throw the ball is the middle of the field. On this particular play, receiver
DeSean Jackson
drove on a crossing route against Newman in man coverage. When Jackson broke inside, Newman lost contact with him and then tried to undercut the route but was a step late. Ware was able to get pressure on Vick, but not enough to affect the throw. Vick ripped it down the middle of the field to Jackson with Newman in chase position, giving up a catch and the first down.
On the Eagles TD with 10 seconds left in the half, Newman and Jenkins were playing in-and-out coverage on
Jeremy Maclin
from the 6. Newman was on the inside and Jenkins on the outside as Maclin started his route up the field and then inside. Newman passed Jackson inside to Sensabaugh from the slot and turned his attention to Maclin on the outside. Jenkins saw Maclin start inside but Newman didn't react quick enough to pick him up. As Maclin got away from Jenkins and cleared Newman, Vick saw Newman not react and fired the ball to the middle of the end zone for a TD.
In the third quarter, the Eagles dialed up a screen pass to tight end
Brent Celek
. Where the Eagles are dangerous is that they'll throw a screen at any point on the field. On this play, Newman was once again trying to cover Maclin down the field but misplayed his route and got turned around and had his back to the screen. As Newman is hand fighting with Maclin, Celek ran right by him and up the field for a big play. If Newman hadn't got in such bad position on the route, he could have made the tackle, keeping Celek from getting down the field.
Cowboys' offensive line failed to protect Romo
This game was going to be a struggle for the Cowboys' offensive line to provide protection, with or without Romo in the lineup. Romo doesn't have Vick's mobility, but he has been able to buy second and third chances with his legs the last several weeks. That's why the offense has been so productive.
The challenge for the line this week was to block defensive ends
Jason Babin
and
Trent Cole
. Once again, the line struggled most with protection as a result of not picking up the twist stunt. On the play that Romo was injured, the Eagles used a blitz that they've run in several games this season.
With the Cowboys facing a third-and-4, the Eagles blitzed Matthews in the front side "A" gap, which was picked up by
Phil Costa
. Patterson hit the "B" gap, which was blocked by
Kyle Kosier
. Jason Babin was lined up on the outside shoulder of
Tyron Smith
, started into the line then looped all the way behind his teammates hitting the gaps. Smith tried to crash down inside to wad up the rushers, but Babin made it clean all the way through the center box while Costa was still locked up on his man.
Kosier saw what was happening and tried to work inside to block Babin but went to the ground. Babin had a free run at Romo, who was trying to get the ball to
Miles Austin
on a crossing route. The problem with this play is that Austin and
Dez Bryant
were trying to cross by each other with one of them not running the route deep enough, causing both receivers to not get to their spot cleanly. Romo had Babin in his face to the point that his hand hit Babin's helmet. In all discussions that I have had with members of the front office, Romo should be ready to play against the Giants on Sunday.