Dallas Cowboys:

Rob Gronkowski
January, 15, 2014
Jan 15
8:00
AM ET
In some ways 2013 did not answer enough questions for the Cowboys regarding personnel. NFL Nation reporter Todd Archer looks at players the Cowboys don't know about for a variety of reasons.
IRVING, Texas -- The initial reaction when the
Dallas Cowboys
drafted
Gavin Escobar
in the second round with the 47th overall pick was, 'Why another tight end in the second round?'
It didn't work for the Cowboys in 2006 with
Anthony Fasano
and it didn't work with
Martellus Bennett
in 2008.
But 2013 promised to be different with the Cowboys changing their offense to a more "12 personnel," look. Think
New England Patriots
with
Rob Gronkowski
and
Aaron Hernandez
.
Well, 2013 did not work out for Escobar and the Cowboys.
The Cowboys go into 2014 not really knowing what Escobar can do. They don't know if he is an eventual successor to
Jason Witten
or not. It's not solely his fault. He never asked to be picked in the second round. And with the injuries on the defensive line, the pick received even more scrutiny as the season went on.
The Cowboys knew he would need time to develop as a blocker, coming in at 249 pounds and asked to do little of it at San Diego State. Maybe they did not know it would take
that
long, but Escobar was unable to beat out the 2012 sixth-round pick
James Hanna
. And the "12 personnel" package never really took flight as they hoped or promise with the Cowboys still relying more on three wide receiver formations.
Escobar finished with nine catches for 134 yards and two touchdowns. The Cowboys have to receive more production from a second-round pick. The coaches did not do enough to use his strengths to create a package for him in the offense. He went eight games without a catch. He never had more than two in a game.
If you are going to commit a resource as high as a second round pick, then there has to be a conviction to play the guy. They never had the conviction.
This is a huge offseason for Escobar. He has to get bigger and stronger. He has to show a willingness to block. This is a huge offseason for the coaches too. If he does not become a bigger part of the offense in 2014, then they failed and the Cowboys will have wasted another second round pick on a tight end.
Proof of purchase
Lance Dunbar
Morris Claiborne
January, 13, 2014
Jan 13
10:00
AM ET
IRVING, Texas -- The
Dallas Cowboys
have had a familiar refrain the last two seasons when it has come to injuries.
You have heard Jason Garrett spout off his "next man up" philosophy time and time again. You've heard Jerry Jones and others say injuries are not an excuse, while sure making them sound like an excuse for another 8-8 season.
Do you know a team that had more injuries than the Cowboys? The
New England Patriots
. And they are one win away from playing in another Super Bowl.
The Patriots lost defensive tackle
Vince Wilfork
for 12 games with a torn Achilles. They lost linebacker
Jerod Mayo
for 10 games with a torn pectoral muscle. Tight end
Rob Gronkowski
missed nine games as he recovered from offseason back surgery and had a gruesome knee injury during the year. That does not count the departure of
Aaron Hernandez
in the offseason after he was charged with murder.
Who would be the Cowboy equivalents for missing 47 games in a season?
How about
DeMarcus Ware
,
Sean Lee
,
Jason Witten
and pick somebody that played 600 snaps or more. And how would the Cowboys look without those guys?
The Cowboys had injuries in 2013. They lost defensive end
Anthony Spencer
for 15 games with a knee injury. Cornerback
Morris Claiborne
and linebacker
Justin Durant
missed six games apiece. Right guard
Brian Waters
missed the final seven games.
Miles Austin
missed five. Lee missed five. Ware missed three.
The Patriots were able to overcome and adapt. The Cowboys could not overcome or adapt.
As Jones examines the roster and where the Cowboys need the most help he can't bank on the return of health of Lee or Claiborne. If they make it through 2014 healthy, somebody else of consequence will get hurt.
Garrett has kept the brave face when it has come to injuries. He has said the right thing. He has attempted to do the right thing as well. It just hasn't worked for him.
This might be Bill Belichick's best year coaching because he has done so much with less. Somehow Garrett and the Cowboys have to figure out to do more with less.
November, 19, 2013
11/19/13
9:00
AM ET
IRVING, Texas -- Refreshed off the bye week, Five Wonders is back and ready for action.
We'll start with this mini-wonder: Does anybody more than wonder whether the Dec. 29 meeting between the
Dallas Cowboys
and
Philadelphia Eagles
at AT&T Stadium will be to win the NFC East?
I wonder it, but only if the Cowboys beat the
New York Giants
this week.
On to the wonders:

• I wonder if the season is on the line Sunday against the New York Giants. The Cowboys would still be alive because of the state of the NFC East, but at 5-6 and reeling it would be hard to see a turnaround. They would have lost three of four and the only win came on a 90-yard drive in the final minute against the
Minnesota Vikings
. The Cowboys carry emotional baggage with them no matter how much Jason Garrett attempts to keep them in the present. Injuries have piled up again. Questions about the scheme have rumbled on both sides of the ball. There is a lot on the line this week. The Giants have won four in a row to claw back into the race after a 0-6 start. Their wins have not come against the best quarterbacks but winning breeds confidence and the Giants have confidence. Maybe the feeling comes from the 32-point loss to the
New Orleans Saints
before the bye, but the Cowboys sure seem fragile mentally right now as well as physically.
[+] Enlarge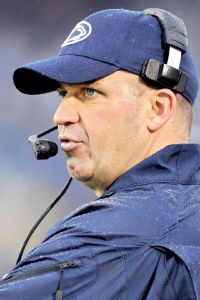 Abby Drey/Centre Daily Times via Getty ImagesIf the Cowboys fail to make the playoffs this season, Penn State coach Bill O'Brien could be an interesting choice to replace Jason Garrett.
• I don't believe owner and general manager Jerry Jones wants to replace Garrett. I truly believe he wants Garrett to be the Cowboys' head coach for a long time. But if the Cowboys don't make the playoffs this season, it would not surprise me if Jones made a move. That would be four straight seasons without a playoff appearance. Jones can sell anything, but selling a status quo wouldn't be easy. One thing I don't wonder about is if Lovie Smith would get an interview. I believe he would. But here's another guy I wonder about: Penn State coach Bill O'Brien. I don't know all of the particulars of the buyout at Penn State, but O'Brien was tempted by the NFL last season. His background with Bill Belichick and
Tom Brady
gives him a plus, and how he has handled the mess that has enveloped Penn State gives him a few more pluses. His time running the Patriots' offense, however, means more to me. The Cowboys drafted
Gavin Escobar
to be more of a "12 personnel" team but the Cowboys have not been creative enough in getting people involved. They are running the same plays they did with
Anthony Fasano
and
Martellus Bennett
as the second tight end and they were not able to produce. O'Brien made the
Rob Gronkowski
-
Aaron Hernandez
package work well with Brady. Do I believe O'Brien would get an interview? I don't know any of it, but I would have him on the list. Not that Jones would listen to me.
• The Cowboys drafted
Kyle Wilber
with the idea that he could play outside linebacker in a 3-4. With the move to the 4-3, he was moved to defensive end. Now he is playing some outside linebacker again because of an injury to
Justin Durant
. I wonder if Wilber is a man without a position. When
Anthony Spencer
went down in training camp with a knee injury, Wilber got the first look and then saw
Ben Bass
take some of his snaps. Then it was
George Selvie
who took them later on. When
DeMarcus Ware
got hurt in the season, Wilber took over but then saw
Jarius Wynn
take over the starting spot. Wilber always was a tweener, but the coaches have yet to feel like he can handle the full-time duty. If they did, they wouldn't be moving him around so much, especially because the defensive end spot is much more valued in this scheme than strong side linebacker.
• I wonder if we'll see a more engaged
Bruce Carter
now that
Sean Lee
is out of the lineup. There is no other way to say it then this: Carter has been a disappointment this season. The Cowboys did not need him to be
Derrick Brooks
in this defense, but they needed him to be productive. He had two sacks in the first two games. He had a pass deflection and a quarterback pressure. He has just two pressures and a pass deflection in the last eight games. He has one tackle for loss. The weak-side linebacker spot is designed to be the playmaker in this defense. When the Cowboys lost Lee last year to a toe injury, Carter stepped up his game before an elbow injury KO'd him for the year. The Cowboys need that Carter and not the Carter that ended the New Orleans game. We can pick on just about everybody on defense from that game, but Carter was ready for that game to end sooner than it did.
•
Back in June I wondered
if people were sleeping on just how effective
Lance Dunbar
would be when the season started. I pegged him in for 30 catches out of the backfield. I saw his speed and elusiveness as being a big part of a revamped offense. I was wrong. While not as big a disappointment as Carter, Dunbar has not been able to deliver on offense. He has four catches for 21 yards and 15 carries for 48 yards. Some of it is injury. Some of it is ball security. Some of it is scheme. Jerry Jones said he wanted to see Dunbar more involved. Bill Callahan said he would like to get Dunbar more involved. Sometimes there's just not enough of the football to go around. Dunbar has seen his role taken by
Cole Beasley
to a degree because of the use of the "empty" package. Maybe things change in the final six games, but I would be surprised.
August, 23, 2013
8/23/13
2:01
PM ET
It sounds crazy, but tight end
Jason Witten
has been an afterthought in the Dallas Cowboys' red-zone offense.
PODCAST
Ed Werder joins Fitzsimmons and Durrett for his weekly visit to give his thoughts on the Sean Lee extension, discuss who Jerry Jones should sign to an extension next and take a look at the other three teams in the NFC East.

Listen

Witten has four seasons on his resume with more than 1,000 yards receiving and 90-plus receptions.
The eight-time Pro Bowler caught a NFL-record 110 catches for a tight end in 2012, and his 1,039 receiving yards tied for fourth-most in league history at that position.
But why can't Witten get targets in the red zone? He was targeted just once in 2012 and it resulted in a touchdown. Meanwhile, the top four red-zone scorers last season were tight ends --
Rob Gronkowski
,
Heath Miller
,
Kyle Rudolph
and
Tony Gonzalez
.
Dez Bryant
led the Cowboys with three red-zone scores, tied for 18th in the NFL.
"That's something we talked about this year, more than ever," Witten said. "The field gets tight there, and I think part of it is we try to use Dez there with fades on one-on-one coverage. Offensively we just haven't done a good enough job putting points on the board and I'm apart of that. Hopefully I'll get more touches and opportunities, and that's something we worked on this offseason. I felt like in training camp we saw some results of that and I'm excited to see it carry over into the regular season."
Witten's responsibilities are different in the red zone. There are times where he has to help block a defensive end or outside linebacker and, by the time he releases into the field of play to become a target, quarterback
Tony Romo
has already gone through his progressions.
The Cowboys hope the offensive line improves in 2013 so Witten won't have to chip in as much. And with a focus on two tight-end sets, perhaps
James Hanna
or
Gavin Escobar
will block so Witten can become a target.
"That's part of it, trying to get the protection and then get laid out and attacking on the outside," Witten said. "That's just strategy that we've done. Tony has done a real good job the last couple of years with the protection, just finding receivers. You never want to take away from a team finding a way to score. At the same time, you want to maximize with the tight ends. There's a mismatch down there sometimes."
July, 28, 2013
7/28/13
8:08
PM ET
OXNARD, Calif. – They made it look so easy it made you wonder why it doesn't happen more often.
After quarterback
Tony Romo
froze linebacker
Sean Lee
with a play-action fake, tight end
Jason Witten
got wide open against strong safety
Will Allen
for a 25-yard touchdown Sunday afternoon.
There are precious few safeties and even fewer linebackers in the league who can cover Witten. So why isn't he much more of a red zone weapon? Witten ranks third among tight ends in NFL history with 806 catches for 8,948 yards, but he has only 44 touchdowns in his 10-year career, including only three scores last season.
That doesn't make sense, and the Cowboys spent a lot of time at Valley Ranch this offseason searching for a solution. Not coincidentally, Witten has gotten a lot of work in the red zone during training camp.
"That's an area of the field I want to attack, and I feel like we can do a better job of it," Witten said. "It's good to see that paying off for us right now. Some of those play-action fakes, Tony does such a great job drawing those 'backers up."
Witten was targeted 14 times in the red zone last season, catching seven passes, including all three of his scores. Unlike other elite tight ends, his targets often didn't come in the end zone. New England was 10-of-18 for eight scores targeting
Rob Gronkowski
in the red zone. New Orleans was 8-of-16 for seven scores targeting
Jimmy Graham
inside the 20.
Witten's touchdown Sunday came on the same play that produced a 17-yard score in last season's win over the
Pittsburgh Steelers
. The same play also resulted in a 27-yard gain that set up a 1-yard touchdown run in the Cowboys' December win over the
Cincinnati Bengals
.
Why not run it more often? That's a legitimate question, but the key is for the Cowboys to run the ball more effectively, making defenses respect the play-action fakes. Witten figures to benefit greatly if the Cowboys accomplish their goal of vastly improving a rushing attack that finished second to last in the league a year ago.
"Really, it's every football team's best friend, but mostly the tight end," Witten said of the running game. "The play-action is where he lives, you know? We've done a great job over the years on winning on man-to-man routes, but if you can get that play-action, it really becomes pretty easy. The run game is critical to us. That's what we focused on all offseason. I think we saw the benefits of it today with the play-action."
The hope is that we'll see it a heck of a lot more than a few times in the regular season.
May, 1, 2013
5/01/13
9:31
AM ET
IRVING, Texas -- The Cowboys made it clear they will become a two-tight end personnel team after the draft.
PODCAST
ESPN Dallas' Jean-Jacques Taylor weighs in on Jerry Jones' remarks regarding Tony Romo's work ethic, Romo's commitment to being the Cowboys' QB and more.

Listen

Jerry Jones invoked the
New England Patriots
when discussing the scheme following the selection of San Diego State tight end
Gavin Escobar
in the second round. The Cowboys also had Notre Dame's
Tyler Eifert
graded as a first-round pick.
With
Jason Witten
(who is coming off a 110-catch season),
James Hanna
and Escobar, the Cowboys are in position to attempt to simulate what
Tom Brady
does with
Rob Gronkowski
and
Aaron Hernandez
.
We offer a Q&A with ESPN Boston's Mike Reiss for an explanation of how New England uses its "12 personnel."
Archer: What makes the Patriots' use of the two-tight end package work so well?
Reiss:
It starts with the unique talents of the tight ends themselves. Rob Gronkowski (6-foot-6, 265 pounds) is obviously a very tough matchup for a linebacker or safety. He's more likely to be aligned closest to the offensive tackle, but because he runs so well, the Patriots will also split him out wide. He's equally as effective as a blocker or pass-catcher, making him a true "combination" tight end. Aaron Hernandez (6-1, 245) is a nice complement to Gronkowski. He is more receiver-like and thus is split out wide more often or on the move, although he does align close to the tackle on occasion and is competitive as an in-line blocker even though it's not his forte. We've seen the Patriots run the same offense with different tight ends and it hasn't been as effective (e.g., last season's playoffs when Gronkowski was out with injury), so I think the first key is to acknowledge that it's more about the players than the scheme when it comes to the Patriots' two-tight end package and its success.
Archer: How does it differ, in your mind, from how other teams use the package?
Reiss:
Probably the biggest thing is how many formations and adjustments they can run out of it, which comes back to the versatility and unique skills of the top two tight ends, Gronkowski and Hernandez. They could be empty in the package, with both tight ends split out wide, or more tightly compact in a traditional look with both tight ends aligned next to the tackles. Sometimes they play up-tempo with it. Other times they slow it down. So there are really so many things you can do out of the package, which again is tied to the uniqueness of Gronkowski and Hernandez. When one of those players has been injured, the package isn't as dynamic, and at times in those situations, the Patriots will use a third receiver over a second tight end.
Archer: How do most teams combat it with their defensive personnel?
Reiss:
I'd say most teams combat it with a nickel package, essentially treating Hernandez as a receiver. When that happens, the Patriots have made a concerted effort to turn to the running game, feeling that a two-TE package should be able to win that matchup against a smaller defense. The results were uneven last season when it was two-TE versus nickel, in part due to some injuries on the offensive line. One of the clear-cut examples of it working to a T was last year's Sept. 30 win over the Bills, when they played a small nickel the entire game (it could have even been a dime but they listed 6-1, 220-pound safety
Bryan Scott
as a linebacker) and the Patriots powered through them for 247 rushing yards. Other teams have stayed in base, but it takes special personnel to do that and not get beaten by the tight ends in the passing game.
Archer: Is there ever a downside to it, like shrinking the field too much?
Reiss:
If we wanted to nitpick from a Patriots perspective, we could say that relying so heavily on the two-TE package when your top receiver is more of a slot option (
Wes Welker
from 2007 to '12) means that your three best pass-catchers all do their best work in the middle of the field. So I guess there is a part of it where "shrinking the field" could come into play, but I don't think that's a reason not to do it. If you have two special tight ends, they can be matchup-busters and you can dictate terms based on their versatility. If the defense plays nickel against you, pound it at that team. If the defense plays base personnel, spread that defense out and let it rip.
Archer: Has the package all but eliminated the fullback in the offense?
Reiss:
Yes, for the most part. The Patriots used tight end
Michael Hoomanawanui
in a fullback role at times last season. Other times, most often closer to the goal line, they used an offensive lineman as a fullback. But overall, when running so much of the offense with two tight ends, you're most often going to see two receivers and a running back paired with them unless it's a short-yardage situation. In terms of building the 53-man roster, one point that Bill Belichick has made is that the fullback is basically competing against a running back, tight end or linebacker for a spot, and it often can come down to special teams contributions. The Patriots didn't carry a pure fullback last season.
April, 26, 2013
4/26/13
6:47
PM ET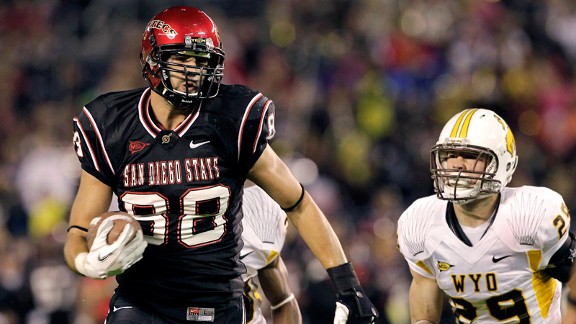 AP Photo/Gregory BullAnthony Fasano and Martellus Bennett were the previous tight ends picked in the second round by the Cowboys since 2006. Will the third, San Diego State's Gavin Escobar, meet expectations?
IRVING, Texas -- Can
Gavin Escobar
do what
Anthony Fasano
and
Martellus Bennett
couldn't?
For the third time since 2006, the Cowboys have selected a tight end in the second round.
Fasano was the 53rd overall pick in 2006 but lasted only two seasons before he was traded to Miami. He caught 28 passes in two seasons.
PODCAST
Galloway & Company react to the Cowboys trading down in the NFL draft and their first-round pick Travis Frederick. They also discuss Jerry Jones' comments on why the Cowboys did not select Sharrif Floyd.

Listen

The Cowboys took Bennett in 2008 with the 61st pick, and he never lived up to the expectations.
Now, they are going with Escobar, considered a pass-catching tight end, to play behind
Jason Witten
.
Fasano and Bennett were able to find more success elsewhere in part because Witten never came off the field to allow them playing time while with the Cowboys.
Can the Cowboys design their offense in a similar way to how New England uses
Rob Gronkowski
and
Aaron Hernandez
?
If they don't, then this pick comes with a lot of questions. If they do, then it makes some sense.
Witten, who is entering his 11th season, is coming off an NFL record for catches in a season by a tight end (110) and was named to the Pro Bowl for the eighth time.
April, 28, 2012
4/28/12
4:14
PM ET
IRVING, Texas --
James Hanna
won't have to travel far to get to the Cowboys' rookie mini-camp next week. It's just about a 20-minute ride from Flower Mound to Valley Ranch.
The Cowboys took the Oklahoma tight end in the sixth round Saturday, fulfilling a need pick with only
Jason Witten
and
John Phillips
on the 53-man roster.
"Honestly I didn't know where I'd go and just coming to the Cowboys, it was an even better feeling than I thought it would be," Hanna said. "It was real exciting."
Hanna did not take part in the Cowboys' Dallas Day workout because he was visiting Minnesota, but he met with the Cowboys at the NFL scouting combine. Hanna caught 52 passes for 720 yards and nine touchdowns in four years with the Sooners. He was a second-team All-Big 12 pick last year with 27 catches for 381 yards.
The Cowboys love to use multiple tight end sets and had only Jason Witten and John Phillips on the roster.
"He's my role model," Hanna said of Witten, a seven-time Pro Bowler. "I've grown up all through football since I've been playing a Cowboys fan and just watching him, he's been there a long time. He's a great player and I'm really looking forward to getting to learn from him."
Hanna was timed at 4.46 seconds in the 40-yard dash, incredibly fast for a tight end, but with players like Witten, San Francisco's
Vernon Davis
, New Orleans'
Jimmy Graham
and New England's
Aaron Hernandez
and
Rob Gronkowski
, tight ends are becoming downfield threats.
"There seems to be so many teams that really look to use tight ends, even multiple tight ends," Hanna said, "and I couldn't be happier with the time I'm in the league and I'm grateful for the opportunity."
March, 22, 2012
3/22/12
4:08
PM ET
So we have this thing where you can
go on and vote
for who you think should be on the cover of "Madden NFL 13," and perhaps because it's March it's been set up as a bracket. There are 32 players in the bracket. The idea was that there'd be one for each NFL team, but as you can see the Patriots and Jets each now have two. All the Jets had to do to get their second was spend Wednesday completely embarrassing themselves.
But I digress.
New York Giants
wide receiver
Victor Cruz
is the 2-seed on the left side of the bracket, matched up in the first round against 15th-seeded
Washington Redskins
linebacker
Brian Orakpo
. We all like Orakpo, and he's sure to get a bit of a boost from the small measure of fame he's earned giving the caveman a hard time on the Geico commercials. But Cruz is the popular breakout star of the surprise Super Bowl champs, and he's sure to roll through the first round. In fact, as I break down the bracket, Doug Gottlieb-style, I don't see too many potential tough matchups for Cruz until the final. Fourth-seeded
Larry Fitzgerald
could give him a run, but I think the winner of that stellar second-round matchup between Fitz and the
Philadelphia Eagles
'
LeSean McCoy
is going to be spent. And I like Cruz's chances even against top seed
Cam Newton
in the semis. I'm picking Cruz to salsa right into the final.
McCoy is the fifth seed on the same side of the bracket, and he's got a tough draw. A first-round matchup against an underseeded
Reggie Bush
, who has a Kardashian history and may pull in some tabloid votes, is brutal. Then he's likely to see Fitzgerald in the second round and Newton in the third. If McCoy makes it to the semis, he'll have earned his way there, no doubt about it.
On the other side of the bracket,
Dallas Cowboys
linebacker
DeMarcus Ware
is the No. 10 seed and matched up in the first round against No. 7 seed
Jared Allen
of the Vikings. I like Ware to pull the upset here, and while there's trouble looming in the second round from No. 2 seed
Rob Gronkowski
, I think Ware's won enough "Madden" games over the years that he can upset Gronk as well. I have Ware in my Elite Eight, but that's where his dream ends. He's going to get either
Tim Tebow
,
Arian Foster
or
Calvin Johnson
there, and those guys are heavyweights.
My bracket has Cruz meeting
Aaron Rodgers
in the final and Rodgers getting his discount double-check revenge for the Giants' victory over the Packers in the NFC playoffs. But what do I know? I picked the Packers to win that game, and I never do well in the bracket pools.
Anyway, go vote. It'll give you something to do while you wait for
London Fletcher
to sign or the Giants to do something or whatever it is you're doing these days as a fan of a team in the super-quiet NFC East.
October, 14, 2011
10/14/11
10:55
AM ET
By
Bryan Broaddus
| ESPNDallas.com
If you believe in fate and are a fan of the
Dallas Cowboys
, here is something that maybe you can hang your hat on. The last time defensive coordinator Rob Ryan had a week off to prepare for
Tom Brady
and the
New England Patriots
, his
Cleveland Browns
walked away with an impressive 34-14 victory in 2010.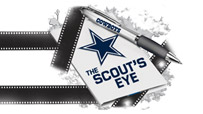 Cowboys defense vs. Patriots offense
Ryan's defense has played outstanding through the first four weeks of the season, but the task ahead is different from any of those that you generally face during an NFL season. When you play an elite quarterback such as Tom Brady, the amount of pressure he puts on you is greater than when you face
Mark Sanchez
,
Alex Smith
or even
Matthew Stafford
.
Mistakes in assignments are magnified when you play against Brady because of his ability to read defensive schemes and take advantage of the situation by adjusting his protection and moving his personnel to attack the void. In the NFL, it's all about the matchups, how you create them and then take advantage of the ones in your favor.
The Patriots take advantage of match-ups better than any other team in the league. When you study the Patriots, it's about "scheme fits." It's not only about a player like
Wes Welker
. You also have to be wary of tight ends
Rob Gronkowski
and
Aaron Hernandez
, and running backs
BenJarvus Green-Ellis
and
Danny Woodhead
as well.
The Patriots create match-up problems for a defense because there is so much flexibility where their skill players can line up in the formation. Rarely do you see the Patriots use the same formation early in the game, because this exposes your game plan defensively. Once Brady has an idea of how you are going to defend the offense, then he goes to work.
Patriots WR Wes Welker vs. Cowboys secondary
It's interesting to watch the Patriots on offense because they no longer have a straight vertical threat like
Randy Moss
. Instead they use Welker, Gronkowski and Hernandez all over the field. Welker is a crafty route-runner, but maybe his greatest strength is his ability to read coverages and react to what the defense is doing to him. When Welker's on the move, you can see his eyes looking at the secondary and plotting where he will take his route.
Brady has a tremendous understanding of where Welker is going to be in his route to deal with the coverage. With the Patriots, you will see several routes down the field that are crossing routes. The Patriots like to take routes through zone coverage, running to open spaces -- which is effective against teams that like to play Cover 2.
Last week, the Jets were able to match
Darrelle Revis
against Welker, who really struggled to generate any type of separation or space. Revis was physical off the line but, more importantly, he was able to carry Welker all over the field. The Cowboys will get an important piece of their secondary back this week when cornerback
Orlando Scandrick
returns from a high ankle sprain.
I have always viewed Scandrick as one of the Cowboys' best cover men. To play slot corner, you have to play with a great deal of quickness but, more importantly, you have to have the understanding of what types of routes that the man you are covering might run. Scandrick will have to be prepared to play a ton of snaps, so his conditioning will be tested. In what we have been allowed to see during practices, he looked explosive and confident that the ankle sprain is behind him.
Patriots tight ends are more like WRs
Earlier I mentioned that you have to be wary of Patriots tight ends Rob Gronkowski and Aaron Hernandez, and there was a reason for this. Neither one of these guys plays like a true tight end. Rather, they're more like 255-pound wide receivers that can get down the field. Both Gronkowski and Hernandez are vertical players that run well, but their most impressive trait is their ability to catch the ball.
The Cowboys have done a nice job against some outstanding tight ends this season, but Gronkowski and Hernandez present a different challenge because you see them down the field in combination routes with the receivers. Brady might look to Welker first, but I've seen him throw to Gronkowski and Hernandez in coverage and still they managed to come up with the ball.
Achilles' heel of Patriots offense: RT Nate Solder
If you are looking for a weakness on the Patriots offense, it is rookie right tackle Nate Solder, who has had to start because Sebastian Vollmar has been dealing with a back injury. Solder looks very similar to what I had seen on college tape before the draft. He's not very strong and, for someone that is a good foot athlete, he struggles with rushers off the edge.
Two weeks ago, the Cowboys didn't take advantage of the
Detroit Lions
' poor pass blockers. The Patriots' O-line is much better on both run and pass, but it will struggle at times when teams run games on them with movement in the passing game. If Rob Ryan is going to get pressure on Brady, this will most likely be the route that he tries to go.
Cowboys offense vs. Patriots defense
When you study the Patriots on defense, the one area that jumps out at you is how much space their secondary gives up in routes. I didn't see the tightness in the coverage that I have seen with other defenses that the Cowboys have faced so far this season.
Earlier in the season, the Patriots played a great deal of man coverage but with little success. Now you see them playing much more zone. Another area where the Patriots have struggled is their inability to rush the passer. New England doesn't have that dynamic pressure player coming off the edge. Defensive ends
Andre Carter
and
Shaun Ellis
are veterans, but they don't rush the passer like a
Brian Orakpo
or
Kyle Vanden Bosch
.
Patriots' defensive force: Vince Wilfork
The strength of this Patriots defense is up the middle with defensive tackle Vince Wilfork, who is one of the more dominate players in this league. For a man his size, Wilfork moves very well. He is not one of those tackles that sits in a spot and just anchors down. He is very active -- not only in his pass rush, but also his ability to play the run right at him or working down the line.
Kyle Kosier
,
Phil Costa
and
Bill Nagy
had to deal with the inside power and the push that the Lions'
Ndamukong Suh
and
Corey Williams
were able to get. To the credit of the Cowboys' inside three, however, they were able to hold up the majority of the time. Wilfork has power, but he has pass rush technique.
Breaking down the Patriots' defense
On the other side,
Albert Haynesworth
will see action. But also be aware of second-year player
Kyle Love
, who is a much lighter and more mobile player. When the Patriots' defensive line tries to get pressure, it's usually by using twist stunts. They will also use blitzes from the secondary -- twice using a slot blitz vs. the Jets and a straight corner blitz against the Raiders.
Linebackers Jarod Mayo and
Brandon Spikes
are very active. Both really try to play downhill and attack the ball. They like to give you a tight look with one of the linebackers at the line, drop him, then fire the one from the other side. Where this group had some trouble was when the Jets went with an empty formation and it caused some confusion.
Also watch passing plays on the outside against this defense. The
Buffalo Bills
were able to work their screen packages but were also able to make plays in the flat with their running backs catching the ball against these linebackers.
Another potential target spot: Patriots safety
Another potential weakness for the Patriots is at safety. Starter
Josh Barrett
has been banged up, as has
Patrick Chung
. The Patriots have been trying to make do with
Sergio Brown
, who tends to misplay the ball in flight and is a poor tackler.
James Ihedigbo
is a better player when he can react to the ball in front of him. It will be interesting to see if the Cowboys can take advantage of this defense.
October, 13, 2011
10/13/11
9:05
AM ET
Five-star question: Will the Patriots tie the NFL record of 14 consecutive games with at least 30 points this week?

I think the Patriots' run comes to an end this week, but not by much since I predicted a 28-24 Patriots' victory.

Some of it will have to do with Rob Ryan's defense against Tom Brady. Some of it will have to do with how much the Cowboys control the ball. Some of it will have to do with all good things coming to an end.

The last time New England did not score 30 points came against Ryan's defense in Cleveland. They held the Patriots to 14 points in Week 9 last year. Having worked in New England as an assistant coach, Ryan has an understanding of what the Patriots and Brady like to do.

And I'm sure some phone calls will be made to the New York Jets as well with Ryan picking the brain of his brother, Rex.

The Cowboys will have their top three cornerbacks available to them for the first time this season with the return of Orlando Scandrick from an ankle injury. That will give Ryan some flexibility to be creative with his coverages that he was not able to do in the first four games.

The key, however, will be pressure on Brady. Bill Belichick said DeMarcus Ware is the best player the Patriots have seen this season, but New England's offensive line will be the best the Cowboys have seen this season. Brady has been sacked eight times and is averaging 9.56 yards per attempt. He is deadly with time to throw to Wes Welker, Rob Gronkowski, Aaron Hernandez and Deion Branch.

He'll be deadly again Sunday; just not enough to score 30.