Dallas Cowboys:

Robert Quinn
April, 4, 2012
4/04/12
9:20
AM ET
Continuing our team-by-team series on the history of the specific draft picks each NFC East team has this year, we take a look today at the
Dallas Cowboys
, who have eight picks in this year's draft.

Turning up some interesting trivia in these. For instance, the Cowboys have the 186th pick, which produced Deacon Jones, and the 152nd pick, with which the
Houston Texans
last year took a quarterback who a few months later started their first two playoff games in franchise history.
PICK 14
(14th pick, first round)
Last five players taken
2011 --
Robert Quinn
, DE, Rams
2010 --
Earl Thomas
, S, Seahawks
2009 --
Malcolm Jenkins
, DB, Saints
2008 --
Chris Williams
, T, Bears
2007 --
Darrelle Revis
, CB, Jets
Cowboys' history of No. 14 picks
The Cowboys have never had the No. 14 pick.
Hall of Famers picked No. 14
Jim Kelly (1983), Gino Marchetti (1952), Len Ford (1948, AAFC)
Other notables
Jeremy Shockey
(2002), Eddie George (1996), Dick Stanfel (1951)
PICK 45
(13th pick, round 2)
Last five players taken
2011 --
Rahim Moore
, DB, Broncos
2010 --
Zane Beadles
, G, Broncos
2009 --
Clint Sintim
, LB, Giants
2008 --
Jordon Dizon
, LB, Lions
2007 --
Dwayne Jarrett
, WR, Panthers
Cowboys' history of No. 45 picks
1968 -- Dave McDaniels
Hall of Famers picked No. 45
Dave Casper (1974)
PICK 81
(19th pick, third round)
Last five players taken
2011 --
DeMarcus Van Dyke
, DB, Raiders
2010 --
Earl Mitchell
, DT, Texans
2009 --
Roy Miller
, DT, Buccaneers
2008 --
Early Doucet
, WR, Cardinals
2007 --
Jay Alford
, DT, Giants
Cowboys' history of No. 81 picks
1984 -- Fred Cornwell
1982 -- Jim Eliopulos
1981 -- Glenn Titensor
1977 -- Val Belcher
Hall of Famers picked No. 81
None, though Art Shell was the 80th pick in 1968 and Joe Montana was the 82nd in 1979.
PICK 113
(18th pick, round four)
Last five players picked
2011 --
Chimdi Chekwa
, DB, Raiders
2010 --
Aaron Hernandez
, TE, Patriots
2009 --
Vaughn Martin
, DT, Chargers
2008 --
Dwight Lowery
, CB, Jets
2007 --
Brian Smith
, DE, Jaguars
Cowboys' history of No. 113 picks
1989 -- Keith Jennings
1984 -- Steve Pelluer
1975 -- Kyle Davis
Hall of Famers picked No. 113
None. But Steve Largent was picked 117th in 1976 and George Blanda was picked 119th in 1949.
PICK 135
(40th pick, fourth round)
Last five players picked
2011 --
Ricky Stanzi
, QB, Chiefs
2010 --
Dominique Franks
, DB, Falcons
2009 --
Troy Kropog
, T, Titans
2008 --
Josh Sitton
, G, Packers
2007 --
Joe Cohen
, DT, 49ers
Cowboys' history of No. 135 picks
1983 -- Chuck McSwain
Hall of Famers picked No. 135
None. Closest were Jackie Smith and Roger Staubach, who were picked No. 129 in 1963 and 1964, respectively.
PICK 152
(17th pick, round 5)
Last five players picked
2011 --
T.J. Yates
, QB, Texans
2010 --
Otis Hudson
, G, Bengals
2009 --
James Casey
, TE, Texans
2008 --
Letroy Guion
, DT, Vikings
2007 --
Antonio Johnson
, DT, Titans
Cowboys' history of No. 152 picks
1984 -- Eugene Lockhart
1969 -- Rick Shaw
Hall of Famers taken No. 152
None. Closest I found was Arnie Weinmeister, No. 166 in 1945.
PICK 186
(16th pick, round 6)
Last five players taken
2011 --
D.J. Smith
, LB, Packers
2010 --
Clifton Geathers
, DE, Browns
2009 --
Robert Henson
, LB, Redskins
2008 -- Colt Brennan, QB, Redskins
2007 --
Thomas Clayton
, RB, 49ers
Cowboys' history of No. 186 pick
2003 -- Zuriel Smith
1976 -- Greg Schaum
Hall of Famers picked No. 186
Deacon Jones (1961)
PICK 222
(15th pick, round 7)
Last five players taken
2011 --
Anthony Gaitor
, DB, Buccaneers
2010 --
Marc Mariani
, WR, Titans
2009 --
Pat McAfee
, P, Colts
2008 -- Chester Adams, G, Bears
2007 -- Derek Schouman, FB, Bills
Cowboys' history of No. 222 picks
1984 -- Mike Revell
1978 -- Homer Butler
Hall of Famers picked No. 222
None. Closest was Andy Robustelli, picked 228th in 1951
October, 23, 2011
10/23/11
10:00
AM ET
As you get ready for this afternoon's game against the
St. Louis Rams
in Dallas, here's one reason for Cowboys fans to feel good and one reason for concern:

Feeling good:
It's tough to pick just one, honestly. The Rams have yet to win a game. They allow 33 more yards per game on the ground than does the second-worst run-defense team in the league. It looks as though they'll be without starting quarterback
Sam Bradford
, which means
DeMarcus Ware
gets a shot at
A.J. Feeley
once he gets past St. Louis' woeful pass protection. The Rams' best hope is running back
Steven Jackson
, and no team in the league has been better at stopping the run this year than have the Cowboys. Unless Feeley can get something going right away with new receiver
Brandon Lloyd
, Dallas should be able to key on the run game and limit it effectively.
Cause for concern
: If the Rams can keep it close, they have the kind of pass-rushing defensive line that could cause trouble for the Cowboys' banged-up offensive line.
Chris Long
and
Robert Quinn
have shown an ability to get to the quarterback, and rookie right tackle
Tyron Smith
looked like a rookie for the first time last week.
October, 21, 2011
10/21/11
9:00
AM ET
By
Bryan Broaddus
| ESPNDallas.com
After two difficult losses against the Lions and the Patriots, the Cowboys face the
St. Louis Rams
in a contest where both teams need a win in the worst way.
The Rams were picked by many as preseason NFC West favorites with
Sam Bradford
at quarterback. Instead they are 0-5 and really not doing anything well on offense or defense.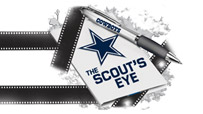 RAMS OFFENSE
The Rams are hurting the most on the offensive line, which is surprising because they have invested high draft picks in tackles Rodger Saffold and
Jason Smith
. Safford is the starter at left tackle and is the best of the Rams' offensive linemen. Smith was drafted with the third overall selection of the 2009 NFL Draft and really hasn't lived up to the billing.
At 6-foot-4 and 318 pounds, Saffold looks a lot longer on tape. Tends to come off the ball high at times and without much bend in the knees. Saffold is a catch blocker more than a puncher. He will place his hands on the rusher then try to steer them away from the ball or up the field. He will do a nice job of running his man up the field.
Smith tends to play without power but can run, which is his way of getting out of trouble. Cowboys rookie right tackle
Tyron Smith
already plays like a better player than Jason Smith, who is going into his third season with the Rams. Of the two St. Louis tackles, Smith is the one that gets the most help from tight ends and backs that stay in the game to block.
The weakest position on the offensive line for the Rams is at right guard.
Harvey Dahl
was signed as a free agent by the Rams from the Falcons on July 31, and the more you study him, the more you feel like that is was money poorly spent.
I am going to be real honest, there is nothing about Dahl's game to like. If you think that the Cowboys have had problems at left guard, the Rams have had it worse with the way that Dahl has played. Dahl will pull and miss. He is not athletic enough to execute the cut-off block or keep his man from overpowering him in the passing game.
I have talked about for weeks how Rob Ryan has done a nice job of identifying the offensive line's weakest link that needs to be attacked to create the best matchups to win. Ryan should take advantage of Dahl several times this game.
The two best players on the Rams offense are Bradford and running back
Steven Jackson
. I have always been a big Bradford supporter. Watching him play down after down, there is no reason to change that thought.
Bradford, who might not play Sunday due to a high ankle sprain, had better offensive talent around him college at Oklahoma. Despite all that, he is able to make all the throws. He is accurate and mobile, but this ankle injury that might limit him from making some plays with his legs.
Bradford has a nice feel in the pocket and is able to slide and move to buy a second chance. The Rams like to run waggles, dragging the tight ends from the opposite side, so it will be interesting with this injury if offensive coordinator Josh McDaniels will still make this part of the game plan.
The Rams are last in the NFL in rushing offense, but if you use the Jason Garrett theory, the Rams run the ball poorly because they are always behind in games and need to pass to try to get back into games. The problems I see again fall more on the offensive line than they do on Jackson.
While I am on the subject of Jackson, our scouting department had a first-round grade on him, but there some medical concerns at the time with a back injury. When it came our time to pick, the
Buffalo Bills
called and wanted to offer us the next year's first-round selection for our pick at that time. The discussion in the draft room at the time were that
Julius Jones
, who we had in the second round, was just as good of a back. Jerry Jones and Bill Parcells agreed and we made the deal with the Bills. For that selection the following year, we drafted
Marcus Spears
.
In looking back in that draft, we made a mistake on Jackson. I believe that we had the right grade on the board, but we had the wrong vision for the player and what he would become in his career.
Jackson is not an explosive player, but he is consistent in the way he attacks. Will try to bounce more balls to the outside than he will take inside. The Rams have some success with him when they get in the gun, then hand the ball to him on the inside.
McDaniels also likes to try and throw him the ball on screens. He will sneak out of the back field, then mesh with the line.
If Jackson does struggle, it is as a pass protector. As much as Ryan likes to bring pressure from all angles, this will be a difficult task for him. As the game develops, watch how many screens that the Rams run and if they use Jackson in pass blocking.
On the outside, the Rams made a deal at the trade deadline for some help.
Brandon Lloyd
joins the squad after a stint with the Broncos. There are a couple of ways to look at this for the Rams. The most important way is that it's another weapon for Bradford on a team that has failed to address the wide receiver position the last two years.
Sure, the Rams have drafted receivers but none that could be a difference maker. Lloyd has that chance and should be ready to hit the ground running in this offense because he was with McDaniels at the Broncos.
The one thing that the Cowboys on defense might not be able to count on is turnovers from the quarterback. Bradford is one of the best in the league at not throwing interceptions.
RAMS DEFENSE
When you study the Rams, it's a defense that appears to be very talent poor. There are two players that really stood out: middle linebacker
James Laurinaitis
and defensive end
Chris Long
.
The Rams drafted defensive end
Robert Quinn
in the first round in 2011, but like tackle Jason Smith, he hasn't made the impact that they had hoped for. When you are playing with 14-year veteran
Al Harris
at corner, your defense is going to have some issues.
Laurinaitis is a very similar to what
Sean Lee
is for the Cowboys. He can run, he reads the play quickly, he reacts and he tackles well. Laurinaitis has a real nose for the ball. He is a sideline to sideline player. He does a nice job in coverage. Did not see an effective blitzer in the early games I studied against the Giants and Ravens.
As a pass rusher, defensive end Chris Long is a relentless player but doesn't play with the rush skill of what the Cowboys offensive tackles have seen the early part of this year. Tyron Smith needs to have a bounce-back game after not being at his best last week. Long will not be able to use power against Smith, which is the one area that gives him the most trouble.
The Cowboys should be able to move the ball on the ground against the Rams' down linemen, who struggle getting off blocks. Again, the key here will be the inside players for the Cowboys, mainly
Montrae Holland
working with
Phil Costa
and
Kyle Kosier
to not allow Laurinaitis to make all the tackles.
I also look for the Cowboys offensively to have some success throwing the ball. The Rams' secondary have struggled with coverage at the corner with Harris and
Justin King
. Against the Ravens, King was beaten badly on several deep, vertical routes that went for touchdowns.
Look for Garrett to test this secondary to try and make some deep throws down the field to try and stretch this Rams defense that has limited range with safeties
Quintin Mikell
and
Craig Dahl
.