Dallas Cowboys:

Simeon Rice
March, 18, 2014
Mar 18
9:21
PM ET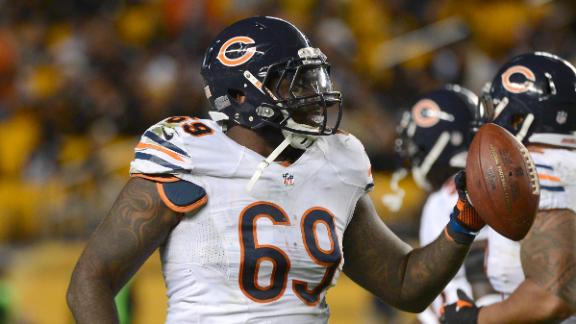 IRVING, Texas -- In Rod Marinelli, the
Dallas Cowboys
believe they have one of the best assistant coaches in the NFL.
He might be a pretty good recruiter, too.
The Cowboys' ability to land free-agent defensive tackle
Henry Melton
was a lot about the contract, a lot about Melton possibly wanting to play at home and a lot about Marinelli.

Marinelli
Melton
"I'm excited to come back home and work with Rod [Marinelli] and get back to my Pro Bowl form," Melton told ESPNDallas.com's Calvin Watkins.
Melton developed into a Pro Bowl defensive tackle under Marinelli with the
Chicago Bears
from 2010-12. Melton had 15.5 sacks and was named to the Pro Bowl after a six-sack season in 2012. He also had 71 tackles and nine tackles for loss with Marinelli as his mentor.
He might talk softly, but Marinelli has a way of forging relationships with defensive linemen. He did it with
Warren Sapp
and
Simeon Rice
with the
Tampa Bay Buccaneers
. He did it with Melton and
Julius Peppers
with the Bears. He did it with
Jason Hatcher
and
DeMarcus Ware
with the Cowboys.
The Cowboys were forced to use 20 defensive linemen in 2013 and were one game away from making the playoffs. Marinelli was able to make it work to a certain degree with guys such as
George Selvie
,
Nick Hayden
,
Jarius Wynn
,
Corvey Irvin
and
Frank Kearse
.
He never had Jay Ratliff or
Tyrone Crawford
. He had
Anthony Spencer
for 34 snaps in one game. He was without Ware for three games and Hatcher for one.
Melton becomes the third defensive linemen to join the Cowboys as a free agent.
Jeremy Mincey
and
Terrell McClain
signed with the Cowboys last week.
Mincey was unable to meet face to face with Marinelli because of the coach's schedule, but they were able to talk on the phone. Mincey was coached with the
Jacksonville Jaguars
by Joe Cullen, who coached under Marinelli with the
Detroit Lions
.
"Genuine and a believer," Mincey said last week. "He believes in what I believe: going out there and giving your all and trusting the process and seeing what happens. You never know what's going to happen, especially with a bunch of guys who are hungry, who are dedicated and motivated for a larger purpose."
The job is not over. The Cowboys concluded a visit with
Jared Allen
on Tuesday, and the veteran could be the next one added to the Marinelli mix.
January, 7, 2014
Jan 7
1:15
PM ET
IRVING, Texas -- When the
Dallas Cowboys
made the switch to the 4-3 scheme last year, they thought they had the pieces in place to make a smooth transition.
Nobody could have seen what happened to the defense in 2013, finishing last in the NFL.
Carr
Revis
But when Monte Kiffin was hired last January, we all tried to make the pieces fit, comparing the Cowboys players to what Kiffin had during his run with the
Tampa Bay Buccaneers
or what Rod Marinelli had with the
Chicago Bears
.
DeMarcus Ware
would be
Simeon Rice
. Jay Ratliff would be Warren Sapp.
Bruce Carter
would be Derrick Brooks.
Sean Lee
would be Brian Urlacher.
The secondary was an issue. The Cowboys had man-to-man corners in
Brandon Carr
and
Morris Claiborne
, and they didn't really have a John Lynch at safety, but they liked
Barry Church
.
Kiffin told his guys to study up on what the
Seattle Seahawks
did defensively as a sign that they would not be a traditional Tampa 2 team.
Now that Lovie Smith has taken over the Buccaneers, the same comparisons are being made.
Gerald McCoy
will be Sapp.
Lavonte David
will be Brooks.
So who's
Darrelle Revis
?
"We're a 4-3 team," Smith said in his introductory news conference. "There's a reason why we have Tampa-2 associated to one of our coverages, but I just want you to know, especially [in reference to cornerback] Darrelle Revis, we don't play Cover-2 every snap. We have a place for a great cover corner that's physical and can do all things."
Now Revis is better than Carr and Claiborne. I'm not making the player-for-player comparison. If he's not the NFL's best corner, he is at least in the conversation, and he was coming off a knee injury. I'm making the style of play comparison.
But there was a frustration from Carr and Claiborne about the lack of man coverage the Cowboys were playing, especially early in the season. Players want to do what they do best, and too often they felt like they had to play off and soft in zone coverage.
So Smith might be able to promise Revis that he will be able to man his own island, but the proof will be when the games count, because coaches want to do what they know best.
That was part of the Cowboys' growing pains in 2013.
July, 23, 2013
7/23/13
8:45
AM ET
OXNARD, Calif. – With the Cowboys beginning their third day of training camp practice today, there's no better time than now to break out Five Wonders, the award-winning blog post -- and by award-winning, I mean in the eyes of my two daughters.
On to the Wonders:
PODCAST
Fitzsimmons and Durrett discuss whether Cowboys coach Jason Garrett is on the hot seat and what it will take for Garrett to keep his job after this season.

Listen

The Cowboys say they will keep their search for defensive end help largely inside the building with Tyrone Crawford out for the year with a torn Achilles. While some of you want to go out and sign a John Abraham or even a Richard Seymour, I wonder if the Cowboys might give Jason Hatcher a look at defensive end. It's a two-for-one move to a degree and that's never good. You might be taking away a strength at tackle. But Hatcher might have the ability to spell Anthony Spencer from time to time the way Crawford would and Sean Lissemore could play more tackle in pass rushing situations. Hatcher said he would be open to a move if needed.


Is it too early to wonder about playing time in the preseason? Maybe, but I wonder if the Cowboys play their regulars a little bit more than they have in the past because of the change to the 4-3 and the change in offensive playcaller in Bill Callahan. As much as Jason Garrett likes to do situational work in practice for the players, he might want to do it for Callahan too. The coach has to knock some of the rust off his play-calling skills since he hasn't done it in so long. And there's this wonder within a wonder: does Tony Romo need more playing time because he did not have an offseason due to the back surgery?


It's way too early to speculate on this subject since Demetress Bell is not in good enough shape to practice yet, but I wonder if the Cowboys could use their veteran depth as a potential trade bait. Now, this is all provided Bell plays well and a lot better than he did a year ago in Philadelphia. He or Jermey Parnell could be attractive to other teams as a potential need fit because of injuries and both come at decent prices. Parnell counts $1.35 million against the cap. Bell counts $555,000. I think the Bell signing was more to help the Cowboys get through training camp with quality enough backup play to make things a little easier for Kyle Orton, but in the back of my mind there's a possibility here.


Let's get back on the subject of Spencer here for a moment. The Cowboys did not really come close to a long-term deal for him before a July 15 deadline, which means he will play this year on the franchise tag ($10.6 million). Teams can't pay everybody, and Spencer would represent a decent financial commitment with guys like Sean Lee and Bruce Carter coming up into free-agent years. With that in mind, I wonder if we need to look back at Tampa Bay's defense under Monte Kiffin for how money gets structured. At defensive end, Simeon Rice got paid the big bucks. The other guys – Chidi Ahanotu, Marcus Jones and Greg Spires – were paid OK but not great. With the Cowboys, DeMarcus Ware gets the big bucks. I wonder if there's just not enough for Spencer.


I wonder when the Cowboys move to their new practice facility in the next few years – and Frisco is believed to be the leader in the clubhouse over Irving and Arlington – if they will hold at least a portion of training camp there. The weather is an obstacle, but Miami manages to deal with the hot and sticky stuff with the option of going indoors if they want every now and again. But there's a reason why teams are opting to practice at home more. Their facilities have places for fans to watch the show, and don't think that doesn't matter. It does. Teams can make some cash on their own through parking and concessions instead of running out to colleges or other spots for practice. That is not an option presently at Valley Ranch. There is no place to put fans. A new facility would undoubtedly have either permanent or portable seating for fans and plenty of parking.
May, 29, 2013
5/29/13
10:30
AM ET
IRVING, Texas – Like
DeMarcus Ware
,
Anthony Spencer
has used the offseason to gain more weight as he moves to defensive end in the Cowboys' switch to the 4-3 scheme.
"A strong 10," Spencer said of how much weight he gained.
Spencer was listed at 250 pounds last season but said he played at about 253. He said he weighs about 263 pounds now.
"I changed my diet for the first couple of months," Spencer said. "I usually don't eat a lot of red meat, burgers. I just ate whatever I wanted to and then after that I got back to the weight room and leaned up."
Defensive coordinator Monte Kiffin has acknowledged that Ware (262 pounds) and Spencer are slightly undersized from what he had in Tampa Bay when
Simeon Rice
(6-foot-5, 268 pounds) and
Greg Spires
(6-foot-1, 265). Indianapolis excelled in the same defense with
Robert Mathis
(235 pounds) playing Spencer's left defensive end spot and
Dwight Freeney
(268) playing Ware's spot on the right side.
"They pretty much preach speed," Spencer said. "The thing is getting off and using speed and athleticism to beat blocks. But at the same time we went down in weight to be outside linebackers, so this pretty much gets us back to our ideal weight."
February, 28, 2013
2/28/13
2:28
PM ET
This scouting combine story
from Todd Archer
tells us that the
Dallas Cowboys
were planning a switch from a 3-4 defense to a 4-3 defense even before the 2012 season ended. According to coach Jason Garrett, they believe they have the right kind of personnel to make the switch:
"You just go through all those scenarios and at the end of it we felt good about, 'Hey, we can do this and it won't take us three years to do this,'" coach Jason Garrett said. "And we certainly want to continue to add pieces to it and make that defense better, but we felt good about the flexibility and versatility of the guys we already have."

Monte Kiffin and defensive line coach Rod Marinelli agreed with Garrett's analysis after they joined the staff. They used players such as Simeon Rice, Warren Sapp, Derrick Brooks and Brian Urlacher as frames of reference for DeMarcus Ware, Jay Ratliff, Sean Lee and Bruce Carter.
Well, yeah. I mean, if all of those guys at the end of that sentence play like all of the guys at the beginning of that sentence, then yeah, the Cowboys will really have something. But there are some "ifs," and most of them are tied to health. For instance, I think Lee can be a brilliant playmaking middle linebacker in a 4-3. But he has to stay on the field, and he's had trouble doing that. And then there's this later in the story from former Cowboys exec Jeff Ireland, comparing Ware to
Cameron Wake
, who moved from a 3-4 outside linebacker to a 4-3 end last year for Ireland's Dolphins:
"We felt like when Wake was in a three-point stance he probably was a better rusher than he was in a two-point stance," Ireland said. "I don't know that about DeMarcus. I'd have to study that, but I'm sure he's equally efficient in a three-point or two-point stance, so I don't think it will be that tough."
Ware is a very interesting part of all of this. Again, I don't think it's a question of his ability to perform effectively in a 4-3 but rather his ability to hold up physically while playing closer to the ball and mixing it up more directly with bigger offensive line bodies. Ware has shown some signs the past couple of years that his body could be beginning to break down, and if that is a trend and not an aberration, then a move like this isn't going to help with it.
This transition to the 4-3 is one of the very interesting stories of the Cowboys' offseason, so we'll continue to examine it as it goes along. I think they have the right kinds of players to pull it off, but a lot depends on who goes, who stays and who shows up to play it once the salary cap is straight and free agency and the draft have settled.
February, 22, 2013
2/22/13
6:51
PM ET
INDIANAPOLIS – The
Cowboys
won't see
DeMarcus Ware
on the practice field until they get to Oxnard, Calif., but coach Jason Garrett expressed relief the Pro Bowler will not need surgery on his right elbow.
Ware is rehabilitating from major surgery to his right shoulder for an injury that did not keep him out of any games, but limited his strength. He suffered the elbow injury later in the season and had to wear a brace.
"We were prepared to do whatever we needed to do and wanted to do it as early as we could," Garrett said, "but that's certainly a good outcome for us and it seems like he's getting better and better."
By not undergoing the elbow surgery, Ware does not need to take a break from his rehab on the shoulder. If he had the second operation he would have needed a few weeks to recover and lay off the shoulder work.
With the Cowboys' move to a 4-3 defense, Ware, whose playing weight has been between 254-260 pounds, will also be making a full-time move to the defensive line.
Under Monte Kiffin in Tampa Bay,
Simeon Rice
played at 268 pounds, and under Rod Marinelli the past two seasons
Julius Peppers
played at 283 pounds.
"I think the Ware player in the past is pretty close," Garrett said. "Simeon looked like a basketball player."
January, 10, 2013
1/10/13
5:08
PM ET
IRVING, Texas -- From 1996 to 2008, Monte Kiffin ran one of the best defenses in the NFL, finishing in the top 10 in total defense in 11 of his 13 years.
PODCAST
Galloway & Company discuss the possibility of Monte Kiffin replacing Rob Ryan as the Cowboys defensive coordinator.

Listen

The Buccaneers' trademark was the ability to make game-changing plays with game-changing players, like
Derrick Brooks
,
Warren Sapp
,
John Lynch
,
Simeon Rice
and
Ronde Barber
.
In Kiffin's 13 years as Tampa's defensive coordinator, the Buccaneers averaged 39 sacks, 19 interceptions and 12 fumble recoveries a season.
Since Jerry Jones took over the Cowboys in 1989, the Cowboys have had only three seasons in which they had more than 19 picks, five seasons in which they had more than 12 fumble recoveries and six seasons in which they had more than 39 sacks. Four of those sack seasons came after the switch to the 3-4 and the arrival of
DeMarcus Ware
.
For far too long, the Cowboys have not been able to take the ball away on defense, regardless of who the coordinator was. They didn't do it under Rob Ryan and couldn't do it under Wade Phillips or Bill Parcells.
Turnovers and sacks change games.
Points matter most.
The Bucs allowed more than 300 points in a season three times with Kiffin as coordinator (and that's taking into account returns for touchdowns). Since Jones took over the Cowboys, they have allowed more than 300 points in a season 15 times.
Kiffin has not coordinated an NFL defense in four years. He will be 73 in February.
If he turns out to be the Cowboys' next defensive coordinator, the only numbers Jones will care about will be interceptions, fumbles and sacks and points allowed; not age.