Dallas Cowboys:

Stewart Bradley
July, 26, 2011
7/26/11
8:02
AM ET
»
NFC
:
East
|
West
|
North
|
South
»
AFC
:
East
|
West
|
North
|
South
»
Unrestricted FAs
A look at the free-agent priorities for each NFC East team:
New York Giants

1. Figure out which of their own guys to keep.
With
Ahmad Bradshaw
,
Barry Cofield
,
Mathias Kiwanuka
,
Steve Smith
and
Kevin Boss
all set to potentially go free, the Giants have to prioritize and figure out which guys they're keeping. The top priority is probably going to be Bradshaw, an emerging star at running back, and it appears they'll let Cofield walk while trying to bring back Boss. They think the injury situations with Kiwanuka and Smith will help keep those guys' prices reasonable. But before the Giants hit the market, they'll need to get their own free-agent house in order.
2. Get at least one linebacker.
The Giants have ignored this position over the past couple of years, and they seem to believe
Jonathan Goff
can handle the middle linebacker spot. They'd probably be better off moving him back outside and exploring the middle linebacker market, which includes
Stephen Tulloch
,
Barrett Ruud
and
Paul Posluszny
. But if they're set on keeping Goff in the middle, perhaps someone such as
Manny Lawson
or
Nick Barnett
could be a fit. It's one thing not to prioritize a position, but it's another to ignore it completely, and the Giants have been doing that with linebacker, to their detriment.
3. Some offensive line insurance.
There were lots of injuries along the line in New York last season, and although it didn't kill them, it was a potential sign of things to come. The Giants hope
Will Beatty
will soon be ready to take over at left tackle for a declining
David Diehl
, but they must watch out for the health of
Shaun O'Hara
at center. And if they have to cut
Shawn Andrews
to sign some other guys, they'll need to replace him with a tackle who can provide depth.
Top five free agents
: RB Bradshaw, DE/LB Kiwanuka, TE Boss, DT Cofield, WR Smith
Philadelphia Eagles

1. Settle the Kevin Kolb situation
. If they can get the great deal for him that most believe they can (i.e., a first-round pick plus), the Eagles will deal Kolb and look for a reliable backup quarterback who can play if and when
Michael Vick
gets hurt. If they can't get good value for Kolb, they'll probably keep him to serve as said reliable backup. A trade is most likely, but whatever happens, the Eagles will probably settle this soon after the league year begins.
2. Sign a cornerback.
The starting spot opposite
Asante Samuel
is open, and no one on the current roster appears able to fill it. That's why you've heard, and will continue to hear, the Eagles connected with Asomugha. Philadelphia must rank among his most likely destinations at this point. If they don't get him, they'll look down the list at guys such as
Johnathan Joseph
,
Ike Taylor
and
Antonio Cromartie
. And there's a chance they could get a cornerback for Kolb. But they'll get one somewhere.
3. Re-sign Stewart Bradley.
Sure, they could let Bradley go and play
Jamar Chaney
at middle linebacker. Chaney looked, at least, capable in that spot last season and may be the Eagles' future at the position. But if Bradley leaves, the Eagles' problems will be about more than just the alignment of the linebackers. They'll actually be short on bodies and will need to play the free-agent field to find a replacement. Bradley's had injury problems, but when healthy, he's the Eagles' best linebacker and could be a key cog in whatever new defensive alignment Juan Castillo and Jim Washburn are cooking up.
Top five free agents
: LB Bradley, S Mikell, G
Nick Cole
, RB
Jerome Harrison
, CB
Ellis Hobbs
Washington Redskins

1. Fill out the defensive line.
Whether they add a free-agent nose tackle such as
Aubrayo Franklin
or look at defensive end options like Jenkins, the Redskins must figure who their starting defensive linemen are. They like their linebacking corps, and although they also need a cornerback, they love their safeties with
Oshiomogho Atogwe
in the fold next to
LaRon Landry
. But their good, young outside linebackers will need big, space-eating ends in front of them to open up lanes to the passer. And they'll also need to get some sort of pass rush from the line, whether it's from the nose or the ends.
2. Re-sign Santana Moss.
The Redskins are making noise about pursuing a big-time wideout such as
Santonio Holmes
or
Sidney Rice
. But the reality is that it's going to be tough to convince receivers to sign in Washington while they're not viewed as a contender and the quarterback situation remains so cloudy. Moss likes it in Washington. The Redskins like him. And he's a nice guy to have around to help out young receivers
Anthony Armstrong
and
Leonard Hankerson
-- not to mention inexperienced quarterback
John Beck
.
3. Resolve the Donovan McNabb and Albert Haynesworth situations.
They don't want either player on the team anymore, but the question is how to get rid of them. They might be able to dump McNabb for a late-round draft pick, but if they can't, they'll probably just cut him and let him find his next job on his own. Haynesworth has trade value in a league where many 4-3 teams are looking for interior defensive line help. Don't expect the Redskins to cut Haynesworth, because they don't want to do him any favors and they don't want him free to sign with former Tennessee D-line coach Washburn in Philadelphia. If they can't get value for him, don't be surprised if Haynesworth remains on the team all season and has a hard time getting into games.
Top five free agents
: WR Moss, OT
Jammal Brown
, CB
Carlos Rogers
, LB
Rocky McIntosh
, QB
Rex Grossman
December, 9, 2010
12/09/10
11:00
PM ET
By
Bryan Broaddus
| ESPNDallas.com
The Cowboys have faced several outstanding quarterbacks already this season, but they have yet to face one that has the talents of
Michael Vick
.
When I see Vick play, I have to laugh at the fact that any team in the NFL could have had Vick's numerous skills on their roster if they had only offered the Eagles enough in the form of a draft pick. Last offseason, the Eagles made the commitment of playing
Kevin Kolb
, but when Kolb was banged up against the Packers opening day, Vick was pressed into the starting lineup and Kolb quickly became a backup quarterback.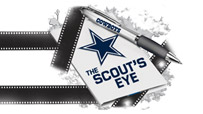 It is truly amazing that Vick was gone from the game for two seasons then spent one season as the "wildcat" quarterback. He now is nowhere near that quarterback that struggled to read defenses or to make accurate throws that he was in Atlanta.
The ability to escape the rush and make plays with his feet is still there, but he now can beat you throwing the football. Vick no longer has to play with just a simple high-low read on the boot. He can stand in the pocket and hit receivers on vertical routes or across the middle. He can throw screens and checkdowns with touch. He can fit balls into tight spots with the confidence of
Drew Brees
or
Peyton Manning
.
Vick has become the quarterback that scouts thought he would be, except no one believed that he had the ability to make all the throws and can be successful executing them. When you now watch Vick throw, there is some snap to it. He can deliver the ball on the line. The ball isn't all over the place, and receivers don't have to make adjustments to catch each throw like his teammates in Atlanta did.
These Eagles' receivers,
DeSean Jackson
and
Jeremy Maclin
, are outstanding in space. Any time they get the ball on the move, it's difficult for defenders to deal with. Both Jackson and Maclin have speed, but their most impressive trait is their quickness.
The Eagles like to use Jackson on screens or misdirection sweeps. Maclin is the better route runner of the two and appears to have the better hands. Maclin gets in and out of breaks without any wasted movements.
You have heard me talk about
Miles Austin
and the way he runs routes without changing speeds; Maclin is the same type of player. He runs his routes all the same speed and makes it difficult for corners to get a read on him.
[+] Enlarge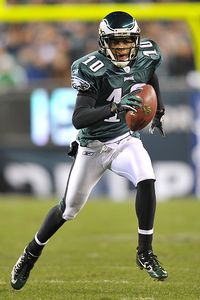 Drew Hallowell/Philadelphia Eagles/Getty ImagesEagles receiver DeSean Jackson is fast, but it's his quickness that really creates issues for defenses.
At tight end, the Eagles have a nice player in
Brent Celek
, who is an upfield player and is always a factor in the red zone. Celek has more than dependable hands and is usually a mismatch for linebackers in coverage.
Would not be the least bit surprised to see Paul Pasqualoni have
Anthony Spencer
try to hammer Celek all night off the line of scrimmage. Any time you give Celek free access in a route, he is going to be a problem.
Other than quarterback, the area that I feel like the Eagles have made the biggest jump is at running back. For many years, I was a
Brian Westbrook
fan for all the ways he could hurt you in a game, but with
LeSean McCoy
in that role now, the Eagles have an even more dynamic player.
McCoy is an explosive ball carrier that can make you miss in the open field or punish you with power. He is good in space, and his hands are steady. Vick likes to throw him the ball in the flat on simple plays, and he has the ability to turn them into large gains. Would not call him a killer as a pass blocker, but he will chip and then get in the route. Does a nice job of running the stretch play, finding the hole and then making the cut inside.
The Cowboys' defenders need to get to him before he can get started. He hits the hole in a hurry and can extend the run. The Eagles like to run a play-action game with boots and waggles off action involving McCoy.
The Eagles' offensive line benefits from players like Vick, McCoy, Celek and the two receivers. These players that I have mentioned all hide the sins of this line, whether it's Vick's ability to scramble and avoid the rush, McCoy busting through a defense that is not cleanly blocked or Jackson running with a screen.
[+] Enlarge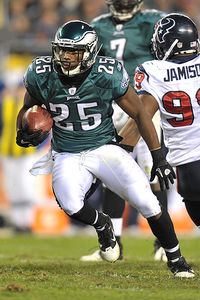 Drew Hallowell/Philadelphia Eagles/Getty ImagesLeSean McCoy has skills in the open field similar to former Eagles running back Brian Westbrook, but he can also punish you with power.
There are some flaws along this line when it comes to pass protection. The Eagles' line doesn't handle movement all that well and will set on different levels in pass protection. Teams have been able to create pressure because the longer this line has to hold a block, the more trouble it has finishing the block.
The Bears were able to get pressure with a four-man rush and movement up front. Pasqualoni will try to do the same, keeping his rushers wide and playing coverage behind the rush. If the Cowboys can hold up on the back end, the opportunity to get someone home on the rush will increase.
*Week 16 and the Wild Card game last season against the Cowboys are two games that Eagles defensive coordinator
Sean McDermott
would like to forget.
In neither of those two contests was his defense ready to play or did he and the staff manage to come up with any type of answers to slow down this Jason Garrett-led Cowboys offense.
McDermott is in his second season since taking over for the late Jim Johnson, who was a master at creating all types of blitz packages and schemes to get your offense off the field. McDermott will give you different looks defensively, but he isn't close to the exotic blitzer that Johnson was.
The defensive line likes to be active up front with movement, and the linebackers will play tight to the line of scrimmage. When the Eagles do blitz, it's usually through the double "A" gap with linebackers
Stewart Bradley
and
Ernie Sims
.
From the secondary, McDermott will bring safety
Quintin Mikell
. who is playing the role of
Brian Dawkins
but is nowhere near as effective as Dawkins once was in this scheme.
The Eagles' best pass rusher is defensive end
Trent Cole
. Cowboys left tackle
Doug Free
once again draws the assignment of handling the opponent's best rusher. Unlike Colts defensive end
Dwight Freeney
, Cole plays the run well, so Free will need to be at his best each snap and work to finish his blocks and not allow Cole to chase down the play.
In the secondary, the ball-hawking cornerback
Asante Samuel
returns to the lineup after missing the Chicago and Houston games with a knee injury. In Samuel's place, nickel man
Joselio Hanson
has been the starter at left corner.
Samuel has a history as a gambling player. Samuel loves to bait quarterbacks into thinking their receivers are open, then driving on the football to make a play.
Samuel also has a history of not wanting anything to do with the tackling side of the game. There have been times where he flies forward on a play to miss badly.
I would expect this Cowboys offense to test him on the outside early to see the condition of his knee and also see how committed he is in playing in a physical game. Any ball that spills to his side of the field will be a soft force and will be something worth watching.
January, 6, 2010
1/06/10
2:27
PM ET
IRVING, Texas – The
Philadelphia Eagles
helped their bitter rival build the NFC's stingiest defense.
In a rare trade between division rivals, the Eagles sent the Cowboys their first-round pick in 2007. With the 26th overall selection, Dallas drafted outside linebacker
Anthony Spencer
, whose development into a dominant player during his first season as a starter has been a key to the defense's success.
Spencer has been outstanding against the run all season and has racked up six sacks in the last six games. He had two sacks, two quarterback pressures and a forced fumble in Sunday's shutout of the Eagles, earning the NFC's defensive player of the week award.
Not that Spencer has any hard feelings about Philadelphia passing on him. Far from it.
"I'm not mad," Spencer said. "I'm happy where I am."
The Eagles' take in the trade was a high second-round pick the Cowboys had acquired from the
Cleveland Browns
, a third-rounder and a fifth-rounder. None of those players will help the Eagles in Saturday's playoff game. Second-round quarterback
Kevin Kolb
might have a bright future, but he's carrying a clipboard these days. Third-round linebacker
Stewart Bradley
is a good player who spent this season on injured reserve. Fifth-round safety C.J. Gaddis never played a game for the Eagles.