Dallas Cowboys:

Terry Glenn
September, 14, 2012
9/14/12
9:42
AM ET
IRVING, Texas – A stat pack to complement
Todd Archer's tearjerker about Tony Romo's last trip to Seattle
:
9:
Current Cowboys who were on the roster for that game:
Tony Romo
,
Jason Witten
,
Marcus Spears
,
DeMarcus Ware
,
Miles Austin
,
Jason Hatcher
,
Jay Ratliff
, L.P. Ladouceur,
Kenyon Coleman
. Romo, Witten, Spears and Ware are the only current Cowboys who started in that game. Coleman left Dallas after that season and returned after four years.
112:
Yards rushing on 22 carries by
Julius Jones
against the Seahawks that night, including a 35-yard run to set up the infamous botched field goal.
189:
Passing yards by Tony Romo, who completed 17 of 29 passes with one touchdown and no interceptions. Coach Bill Parcells protected the first-year starting QB with a conservative game plan despite facing a Seattle secondary that was so depleted the ex-Cowboy
Pete Hunter
, who was working as a loan officer in Dallas, was signed that week and played in the nickel package.
93:
Yards on a kickoff return for a touchdown by Miles Austin, then an undrafted, unknown rookie.
50:
Yards on the field goal
Martin Gramatica
made in the first quarter
2:
Catches by
Terrell Owens
for 26 yards.
2:
Touchdowns for Seattle tight end
Jerramy Stevens
2:
Points for the Seahawks on the safety that resulted from Terry Glenn's fumble in the fourth quarter, when the ball bounced out of the end zone. It was a critical play in the game that's largely forgotten because the Cowboys had a chance to win on the field goal with 1:19 remaining.
1:
Tackle by DeMarcus Ware, who did not have a sack.
20:
Yards gained by Seattle's
Shaun Alexander
off left tackle on the snap after the hold slipped through Romo's hands. That run essentially sealed the win for the Seahawks. The Cowboys otherwise did an outstanding job against Alexander, holding him to 69 yards on 24 carries.
0-2:
Parcells' record in playoff games with the Cowboys, his only stop as a head coach where he failed to get a postseason win.
July, 29, 2011
7/29/11
9:47
AM ET
SAN ANTONIO -- Wide receiver
Sam Hurd
has agreed to terms on a contact to play for the
Chicago Bears
.
The Cowboys signed Hurd as an undrafted free agent in 2006 from Northern Illinois.
Hurd, a San Antonio native, always had a goal of being a receiver, but he made his mark with the Cowboys on special teams.
A special teams captain last year, Hurd finished second on the team with 21 tackles. In 2009, Hurd led the Cowboys with 19 special teams tackles.
"I'm excited about this, no hard feelings towards Dallas," Hurd told ESPNDallas. "It's a job and it had nothing to do with the Cowboys. I would love to play for the Cowboys but I've always loved the city of Chicago and what the Bears stood for."
Hurd brings speed and experience to the Bears receiving corps. When Hurd signed with the Cowboys he was tutored on how to run routes, catch passes and be a professional from
Terrell Owens
and
Terry Glenn
. In later years he learned how to get better from
Roy Williams
.
Still, Hurd couldn't surpass,
Patrick Crayton
and eventually
Miles Austin
on the depth chart. Last season when the Cowboys drafted
Dez Bryant
, it was the writing on the wall for several players including Crayton, who was eventually traded to San Diego. Hurd asked for a trade as well, but it didn't happen.
Kevin Ogletree
's emergence also complicated things for Hurd, who couldn't get enough playing time on offense.
The Cowboys did make Hurd an offer to stay, but the Bears made a commitment to make him a wide receiver.
"I hear great things about Chicago," Hurd said. "I know Lovie is a great mind and I hear great things about Mike Martz. I'm excited and my mind and heart is open and I get a chance to play receiver. That's all I can ask for. If the other guy is better than me, hey, I'm all about team and I'm happy for that guy. But if I can compete for a spot I will do that."
July, 29, 2010
7/29/10
7:07
PM ET
SAN ANTONIO –
Kevin Ogletree
has had a slight case of the dropsies recently, but he made a clean catch of a
Jon Kitna
deep ball during Thursday's practice.
Ogletree read the coverage to determine that he would run a corner route instead of a post, and Kitna put the ball on the money, probably his best throw of camp so far. Safety
Danny McCray
had no chance to catch Ogletree, who raced into the end zone for the touchdown.
The play offered a reminder of Ogletree's big-play potential. He's the Cowboys' fastest receiver with 4.36 speed, and coach Wade Phillips said his route-running ability reminds him of ex-Cowboy
Terry Glenn
.
"I told him to stay consistent," receivers coach Ray Sherman said. "You don't want to be a guy who does something well then get a couple plays then you are doing something else, you want to be consistent."
July, 29, 2010
7/29/10
7:07
PM ET
SAN ANTONIO -- Wade Phillips was in a good mood after his Thursday afternoon news conference. Before riding in a golf cart with his wife, Laurie, Phillips joked to reporters that he had to take his girl friend home and watch film.
*Phillips said Teddy Williams, the newly signed cornerback who didn't play college football, seems aggressive, has quick feet, good hip turn and won't play wide receiver. He's mainly a corner.
*Wide receiver
Kevin Ogletree
is getting better. He's trying to get more playing time over
Patrick Crayton
and
Sam Hurd
. Phillips said he's doing better on special teams compared to last year and is running routes better. Phillips compared him to former Cowboy
Terry Glenn
and how good of a route runner he was. "He's doing fine," Phillips said of Ogletree.
*Phillips admitted right tackle
Marc Colombo
should have finished the regular season on the bench instead of coming back from leg injuries. Phillips praised Colombo's leadership in meeting rooms and on the field. "He was always the leader in the classroom," Phillips said. "A little bit on the field a vocal leader too. Not a big change there."
*There's a chance three injured players might return on Monday. The likely choices are
Jason Hatcher
(elbow), Josh Brent (hand) and
Sean Lee
(quad). Patrick Watkins (knee) might need a little more time.
Martellus Bennett
, who hasn't practiced this summer because of a sprained ankle, should return Friday. Bennett will be limited.
May, 28, 2010
5/28/10
9:53
AM ET
We understand that
Patrick Crayton
wants to make sure he's going to get a fair shake for one of the Cowboys' wide receiver spots.
Crayton has some trust issues with the organization right now. We get it.
Crayton is one of the more trusted veterans on this team and believes he should be treated better. We get it.
But this approach of staying away from organized team activities to force a trade isn't right.
[+] Enlarge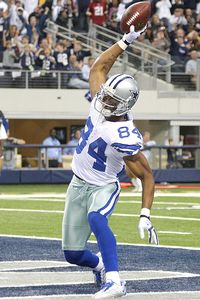 AP Photo/LM OteroIf wide receiver Patrick Crayton competes for his job on the practice field, he might find himself celebrating in the end zone for the Cowboys next season.
In 2007, when
Terry Glenn
battled knee injuries, Crayton emerged as a solid No. 2 with 50 catches for 697 yards and seven touchdowns, all career-highs.
For his efforts, Crayton was given a five-year contract extension with a $6 million signing bonus. The kid from DeSoto blew up. We get it.
In 2008, Crayton played the good soldier when the team made a deal for
Roy Williams
at the trade deadline. Crayton was moved back to No. 3 on the depth chart and all he did was average 14.1 yards per catch and four touchdowns.
Last season, with
Terrell Owens
gone, Crayton moved back into the starting lineup alongside Williams. However, when
Miles Austin
had that breakout game in Kansas City, Crayton was moved back to the bench.
The way the team handled it was a poor. Someone should have told Crayton he was getting benched. The team shouldn't have let Crayton find out elsewhere that a change was coming. He had a legit complaint. We get it.
Now the drafting of
Dez Bryant
has forced Crayton's hand again. The potential of
Kevin Ogletree
also has pushed Crayton to the edge of the stage.
He wants out. We get it.
But he should be the good soldier. Why?
There are examples on his own team of players who didn't ask out. When the Cowboys traded for Williams, Owens embraced the challenge and didn't complain.
In 2008, when the Cowboys drafted two running backs, starter
Marion Barber
didn't complain, he just kept on going.
After the Cowboys drafted Bryant, Williams didn't ask for a trade or complain. Instead, Williams said it was good for business and wanted to help the rookie anyway he can.
Doug Free
is the projected starter at left tackle. When the team traded for
Alex Barron
, Free welcomed the challenge.
We're not saying Crayton shouldn't be upset. He should be. We get it.
But staying away from Valley Ranch and working out in McKinney isn't going to make the Cowboys trade Crayton any faster. In fact, it pushes the team to keep him even more.
Now if Ogletree beats out Crayton in training camp, then the Cowboys could release Crayton. Then he would be mad. We get it.
For now, Crayton should compete for the job. Fight for your right to remain on the roster. That's the best move.
January, 22, 2010
1/22/10
10:32
AM ET
IRVING, Texas -- According to Jerry Jones, wide receiver will not be a draft priority for the
Dallas Cowboys
.
"We've got some receivers, enough where if I left the draft without a receiver, I'd sleep like a baby," Jerry said.
Believe that at your own risk. Jerry has a recent track record of fibbing when it comes to receivers.
You might recall Jerry talking in the spring of '08 about how
Terry Glenn
would play a significant role for the Cowboys. Glenn was cut on the first day of training camp.
You might recall Jerry denying in the middle of the '08 season that the Cowboys were trying to trade for a receiver. He pulled the trigger on a blockbuster deal with Detroit to get
Roy Williams
.
You might recall Jerry essentially assuring
Terrell Owens
' return last offseason. Weeks later, Jerry drew a line in the tablecloth and cut T.O.
Now Jerry says the Cowboys don't need to draft a receiver? It's almost enough to make me think Notre Dame's Golden Tate is going to the Cowboys with the 27th overall pick.