Dallas Cowboys:

Tex Schramm
May, 1, 2014
May 1
10:00
AM ET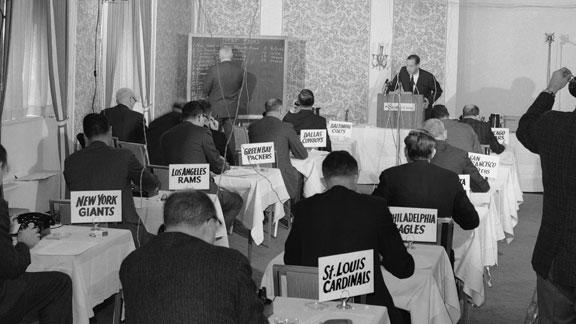 IRVING, Texas -- Roger Staubach found out he was drafted by the
Dallas Cowboys
in the 10th round of the 1964 NFL draft by reading the Washington Post.
"I was in my room at the Naval Academy," Staubach said. "No one called me. They had this little story, 'Staubach drafted in Round 10.' … To me, it wasn't a big deal. I had five years to go before I could go play."
Staubach is the greatest 10th-round pick in NFL history. He surely is part of one of the best draft classes ever. The 1964 NFL draft produced a record 11 Hall of Famers, and three were drafted by the Cowboys: Mel Renfro (second round), Bob Hayes (seventh round) and Staubach.
"You know why it was special?" said Gil Brandt, the Cowboys' vice president of player personnel at the time. "Because basically Tex [Schramm] and I did it by ourselves. We didn't have nine scouts and all that stuff."
The only team to produce more Hall of Famers from the same draft class in NFL history is the
Pittsburgh Steelers
, who drafted Lynn Swann, Jack Lambert, John Stallworth and Mike Webster in 1974.
The Cowboys had 19 picks in 1964, and Brandt can recite scouting reports on all of them to this day. Only seven played for the club, but the Hall of Fame trio makes it Brandt's favorite draft.
[+] Enlarge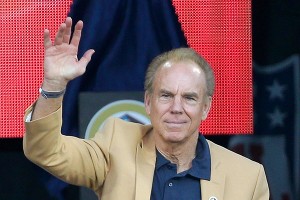 AP Photo/Tony DejakRoger Staubach led the Dallas Cowboys to five Super Bowl appearances in his Hall of Fame career.
The Cowboys' 1975 draft became known as the "Dirty Dozen" with 12 picks making the team, led by Hall of Famer Randy White. From 1988 to 1990, the Cowboys' first-round picks were Michael Irvin, Troy Aikman and Emmitt Smith. All three call the Pro Football Hall of Fame home.
Drafting Renfro, Hayes and Staubach spoke to the Cowboys' advantages over other teams in that day -- and a little bit of good fortune.
Had they not held training camp in Forest Grove, Ore., it is doubtful Brandt ever meets Renfro as a high school senior. Air Force assistant coach Pepper Rodgers was recruiting Renfro and brought him to Cowboys camp, where he met Brandt.
Brandt remained in contact through Renfro's time at Oregon. When it came time to pick in the second round in 1964, the Cowboys held up the draft for six hours so a doctor could examine Renfro's injured wrist. After getting the news they wanted, they picked Renfro, and Brandt was on a flight from Chicago to Portland the next day.
"I called Mel. 'Mel, I'm coming in on United flight so and so, and I get in at 1,' or whatever time it was, and he said, 'OK, I'll meet you at the airport,'" Brandt said. "I get off the plane, go down three or four steps and there's Mel. We signed right there in the airport.
"Now the coup de grace is you had to get the contract witnessed at the time because this was during the war between the two leagues. So we're in Portland and we've got to get down to Eugene, but we've got to get this contract witnessed, so we stop at Oregon State to get a contract for an Oregon kid witnessed."
Renfro made the Pro Bowl in each of his first 10 seasons, six at safety and the final four at cornerback. His 52 career interceptions remain a team record, and he was inducted into the Hall of Fame in 1996.
Like Staubach, Hayes was a future pick, but not many teams knew he was eligible. Brandt went to Florida A&M to visit with the coaches.
"I saw him in person, but he was like a third-team running back," Brandt said. "He wasn't a typical sprinter. He was well-defined. I mean he was a strong guy."
He also visited Hayes' mother in Jacksonville, Fla., at the restaurant where she worked.
"The big thing then was Pepsi Cola, 12 full ounces for a nickel too," Brandt said, recalling the soda's jingle at the time. "When you ate those chitlins, you drank one of those big 12-ounce Pepsis."
With Hayes' speed, Brandt saw a game-changing wide receiver. Hayes went on to win two gold medals in the Tokyo Summer Olympics, earning the "fastest man in the world" title, and joined the Cowboys in 1965.
[+] Enlarge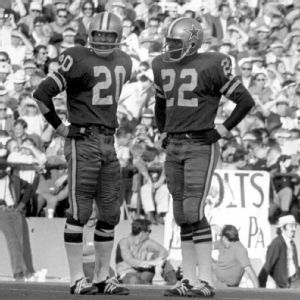 AP Photo/NFL PhotosThe Cowboys selected three future Hall of Famers in the 1964 draft, including Bob Hayes (20) and Mel Renfro.
The Cowboys took Hayes with the 88th pick in the draft, one spot before the
Detroit Lions
took a future Cowboys head coach in Bill Parcells. Hayes caught 46 passes for 1,003 yards and 12 touchdowns in 1965 and was named to the Pro Bowl three times in his career. Because of his speed, Hayes changed the game, forcing defenses to use zone coverages.
In 2009, Hayes was inducted into the Hall of Fame.
Staubach wasn't even sure he was eligible for the draft. Because he spent a year at the New Mexico Military Institute in 1960 before going to Annapolis, the Cowboys were able to use a future pick on Staubach.
"It was about 2 o'clock in the morning when we drafted Roger," Brandt said. "At that part of the draft, it's all about taking risks."
The summer before Staubach's Heisman Trophy season, Brandt visited the quarterback's parents in Cincinnati. Brandt wanted to see if Staubach could get out of his five-year commitment to the Navy after graduation.
"Gil likes to tell the story about talking to my mother and she threw him out of the house. 'Roger has an obligation to the Naval Academy,'" Staubach said. "And that was that."
The AFL's
Kansas City Chiefs
also drafted Staubach, but he chose the Cowboys because he was an NFL guy, growing up as a
Cleveland Browns
fan. It also helped that they agreed to pay him $500 a month and a $10,000 signing bonus in his years with the Navy.
After returning from Vietnam, Staubach was stationed in Pensacola, Fla., and took two weeks leave to go to Cowboys training camp in Thousand Oaks, Calif., in 1967.
"That's what made the difference, changed my life, really," Staubach said. "I had a really good camp, and I think Coach [Tom] Landry thought I was mature enough so they possibly wouldn't have to get a veteran quarterback."
In 1969, Don Meredith retired unexpectedly. Craig Morton, the Cowboys' first-round pick in 1965, would take over. Jerry Rhome, who was picked in the 13th round in 1964, was traded to Cleveland.
"We're getting ready to leave Pensacola and then go to Thousand Oaks, and I told [his wife], 'I'm second team and I haven't done anything. Don't worry,'" Staubach joked. "But if not for that year before, I think Coach Landry would've traded for a veteran quarterback behind Craig."
By 1971, Staubach delivered the Cowboys their first title, winning Super Bowl VI and earning Most Valuable Player honors. The Cowboys won Super Bowl XII and appeared in five Super Bowls with Staubach, who earned the Captain Comeback nickname for his 23 late-game wins.
He was inducted into the Hall of Fame in 1985.
Like fishing stories, scouts have famous stories about the ones that got away. As good as the '64 draft was, Brandt knows it would have been better if they were able to get Paul Warfield and Dave Wilcox, who went on to Hall of Fame careers.
The Cowboys would have drafted Warfield in the first round but made a wink-wink trade with the Steelers for wide receiver Buddy Dial. The Steelers received the Cowboys' pick in return, Scott Appleton, who signed with the Houston Oilers instead of the Steelers.
Dallas did not have a third-round pick in 1964 but were so confident they would land Wilcox that Brandt had scout Red Hickey with the defensive end. Instead, the
San Francisco 49ers
took Wilcox with the first pick of the third round.
"We could've had five [Hall of Famers] if it would've gone right for us," Brandt said. "We could've had four, but we had three. And I thought that was pretty good."
More than pretty good.
July, 6, 2013
7/06/13
11:30
PM ET
By
Richard Durrett
| ESPNDallas.com
There are plenty of choices for the
Dallas Cowboys
Mount Rushmore, but we can only pick four. It wasn't easy, but we've narrowed down our list. Does it look like yours? Here's ours:
Tom Landry:
He's the George Washington of our Cowboys Mount Rushmore. Landry, with fedora of course, has to be on any monument dedicated to all-time Cowboys greats. One of the greatest coaches of all time, Landry roamed the sidelines from 1960 to 1988 and won two Super Bowls, five NFC titles and 13 division titles. He was an innovator, creating defensive systems that are still mimicked.
Roger Staubach:
He led the Cowboys to two Super Bowl titles (and four Super Bowl appearances), won a Heisman Trophy and engineered some memorable comebacks. Staubach set the standard by which all quarterbacks of America's Team are measured.
Jerry Jones:
Probably the most controversial of our choices, especially if you consider this club's run of mediocrity since the mid 1990s. But do the Cowboys win three Super Bowls in the 1990s without Jones? He botched the handling of Landry's firing, but he hired Jimmy Johnson as his replacement and watched the team transform back into a champion. He isn't on here as a GM. He's on this monument as an owner.
Emmitt Smith:
An argument could be made for any of the "Triplets" and maybe even more than one being on this Cowboys Rushmore. But we chose Smith, the NFL's all-time leading rusher. The Cowboys' ground game was nearly unstoppable during Smith's prime and he was an iron man, playing through injuries and leading by example.
Others considered (in no particular order):
Troy Aikman:
Won three Super Bowls and led the club's productive offense. He's one of the greatest QBs in franchise history.
Bob Lilly:
The former TCU defensive tackle was the first draft pick in Cowboys history. And it was terrific pick. Lilly was an All-Pro seven times and anchored the "Doomsday Defense."
Michael Irvin:
The wide receiver made big plays, clutch scores and certainly fired up his teammates. A part of the "Triplets," Irvin was dynamic.
Tex Schramm:
The first GM in Cowboys history helped put together a winning franchise -- hiring Tom Landry and Gil Brandt -- not to mention adding the Dallas Cowboys Cheerleaders and adding many key rules to the NFL. He did a lot for not only the Cowboys, but the league.
Tony Dorsett:
If not for Emmitt, he'd be the top running back on this list.
Randy White:
The Hall of Famer played in Dallas for more than a decade as one of the best linemen in league history.
Drew Pearson:
He's the reason No. 88 carries so much meaning for the Cowboys. He made the big catches and was reliable.
Don Meredith:
Dandy Don spent nine seasons with the Cowboys after playing for SMU and was an important leader during the Cowboys' early years.
Jimmy Johnson:
Rebuilt the Cowboys into a champion and won two Super Bowls. Barry Switzer won another Super Bowl with the team that Johnson assembled.
Herschel Walker:
Seems strange, doesn't it? But without the haul the Cowboys received from Minnesota, do the Cowboys win three Super Bowls?
August, 19, 2011
8/19/11
3:53
PM ET
ARLINGTON, Texas -- Over the years, some people have pleaded with Jerry Jones to change the selection process to the Ring of Honor.

They mentioned having fellow Ring of Honor members vote or the team's Hall of Famers have a vote. There has been consideration to have a media vote, too, according to the Cowboys owner and general manager.

But Jones said he is following Tex Schramm's orders and keeping it a committee of one.

So will Jones have to retire before he is added to the Ring of Honor?

"I ask for the vote in the mirror and I can't get the vote," Jones joked. "He won't agree. He knows too much."

While Jones has infuriated some since he bought the team in 1989 there is no doubting he has added to the team's cache on and off the field. The Cowboys won three Super Bowls in the 1990s, are considered one of the most famous franchise's in the world and play in what is considered the finest stadium in the world.