Dallas Cowboys:

Texas Rangers
August, 10, 2013
8/10/13
12:15
PM ET
OAKLAND -- The
Dallas Cowboys
are in the final stages of moving their practice facility from Irving, Texas to Frisco, Texas.
Cowboys owner/general manager Jerry Jones has been mum on the potential move until a brief comment about it after the Cowboys' loss to the
Oakland Raiders
on Friday night.
"The protocol here is for the council to address it," Jones said, referring to the Frisco city council, which meets Monday to make a final determination on the move. "The leaders there, the city leaders, will address that, but we are moving toward a time when on Monday they will all review it."
The Cowboys have practiced in their Valley Ranch complex since 1983, but after Cowboys Stadium -- now AT&T Stadium -- was built some North Texas cities have expressed interest in upgrading the practice facility.
Arlington, Irving and Frisco were the main cities in line for a move.
Irving would most likely have had to upgrade the current facility, and Arlington could have built one next to AT&T Stadium.
Frisco seems like the best fit based on available land and the city's commitment to adding sports teams.
The Dallas Stars train in Frisco, the
Texas Rangers
' Double-A team, the
Dallas Mavericks
' D-League team and the MLS' FC Dallas team plays in the city.
"We are close enough to Monday, and the right thing for everybody concerned here is to let the council and let the leadership look at everything," Jones said. "Evaluate it, make their decision and we will go from there, and that's going to happen sooner rather than later."
August, 29, 2012
8/29/12
12:42
PM ET
PODCAST
ESPN Dallas 103.3 FM's Coop & Nate weigh in on who they think would be a riskier investment, Josh Hamilton or Dez Bryant.

Listen

First Take's Skip Bayless and Stephen A. Smith weigh in on ESPN Dallas' Hot Button topic: Who is the more risky signing moving forward, Josh Hamilton or Dez Bryant?
You can read arguments by Tim MacMahon and Todd Archer and cast your vote
here
, and discuss the topic
here
.
June, 22, 2012
6/22/12
7:55
PM ET
PODCAST
Randy Galloway and Matt Mosley weigh in on which athlete is under the most pressure to win his first title.

Listen

Now that LeBron James won his first title, does Tony Romo become the athlete with the most pressure on him to win a championship? What about the Texas Rangers?
ESPNDallas.com's Richard Durrett and Tim MacMahon debate who's under more pressure to bring home a title.
May, 30, 2012
5/30/12
10:30
AM ET
By
Richard Durrett
| ESPNDallas.com
ARLINGTON, Texas --
Mike Adams
, a Dallas Cowboys season ticket holder, will catch quarterback Tony Romo's ceremonial first pitch prior to Wednesday's game with the
Seattle Mariners
.
"Hopefully he hits the target," said Adams, who has a Cowboys helmet in his locker and has caught passes from Romo at Cowboys Stadium after a practice last year. "It's really awesome. It's a cool thing, especially coming from one of the Cowboys players and a premier quarterback. That's neat."
Adams has actually caught a first pitch from an NFL quarterback before, stretching to catch a wide one from San Diego Chargers quarterback Philip Rivers while Adams was with the Padres last season.
Adams doesn't plan on giving Romo some advice.
"I'm just going to ask him if he needs me to be on my toes or not," Adams said. "I need to know if I've got to go diving out or anything."
March, 16, 2012
3/16/12
5:00
PM ET
November, 1, 2011
11/01/11
4:33
PM ET
ESPN's Outside The Lines explored recent sports letdowns in the Dallas area with Mavs center Tyson Chandler and ESPN Dallas' Richard Durrett and Calvin Watkins. The show discussed the Mavs' championship defense being on hold, the Rangers' World Series heartbreak and the Cowboys' less-than-inspiring start.
Watch Part I
above and
Part II here
.
August, 23, 2011
8/23/11
6:56
PM ET
By
Richard Durrett
| ESPNDallas.com
ARLINGTON, Texas -- Rangers reliever Mike Adams stopped by Cowboys practice Tuesday and was surprised to find himself on the field, throwing passes during drills.
"
Jon Kitna
asked if I wanted to go out there," Adams said. "It was neat. That made my day."
Adams doesn't try to hide the fact that he's a huge
Dallas Cowboys
fan. He's talked about wagering with Rangers general manager Jon Daniels, a big Giants fan, on the outcome of the games the two teams play this season. Adams, who is from Corpus Christi and went to Texas A&M-Kingsville, has plenty of Cowboys jerseys and walked into the clubhouse on Tuesday wearing a Cowboys T-shirt.
"It was awesome," Adams said. "I just wanted to go meet some guys and get some stuff signed. I don't know who I was throwing too, I just wanted to make sure I made a good throw."
Adams said his favorite Cowboys players were
Emmitt Smith
,
Troy Aikman
,
Michael Irvin
and
Deion Sanders
, and his current favorites are
Tony Romo
,
Jason Witten
and
Miles Austin
.
"I'm a complete fan," Adams said. "There's a pro level and then there's a fan level, and I'm on the fan level over there. They said they were following us. Romo, Miles, Jason all said they were keeping up a little bit and pulling for us."
Adams ran into Cowboys owner and GM Jerry Jones on his way out.
"He said I had an open invitation any time I had a few free minutes," Adams said.
But the reliever doesn't need tickets. He's a season-ticket holder, though he knows he could miss some games this year because of baseball playoff games. Adams said he's hopeful some of the Cowboys players will come over and take batting practice at some point.
February, 19, 2011
2/19/11
8:00
AM ET
By
Richard Durrett
| ESPNDallas.com
SURPRISE, Ariz. –
Ian Kinsler
said he was just showing his loyalty to the Dallas Cowboys and Arizona Cardinals when he mentioned two Philadelphia Eagles on Thursday in an effort to explain why he feels
Michael Young
will join the team this weekend.
Kinsler said Thursday: "This isn't DeSean Jackson or Michael Vick or
Manny Ramirez
. Michael Young is a professional. It would be completely out of his personality not to be here."
Kinsler said Friday that he's been a Cardinals fan his entire life, but has added the Cowboys to his list of favorite teams.
"I would never say Beanie Wells or T.O. or anyone with the Cowboys or Cardinals," Kinsler said. "I've always been a Cardinals fan because it's home, but when you move to Dallas, honestly, you really have no choice."
Kinsler said he's met Cowboys tight end Jason Witten a few times at charity events and used to attend two or three Cowboys games each season when
Vernon Wells
was hosting tailgate gatherings. Kinsler also went to the Super Bowl earlier this month at Cowboys Stadium.
October, 21, 2010
10/21/10
10:45
AM ET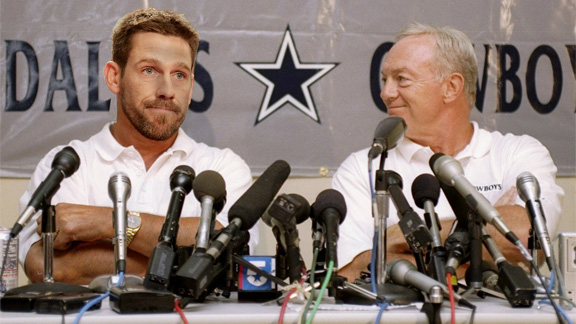 Getty Images/ESPN.com Illustration
Dave Wilson of ESPN Pg. 2 wondered what would it be like if a revered figure for one team opted to jump ship to a less-successful neighbor -- much like soccer star Wayne Rooney is pondering about a possible move from Manchester United to Manchester City.
If you have trouble picturing it, these illustrations can serve as your visual aid.
For more swaps (and photo illustrations),
go here.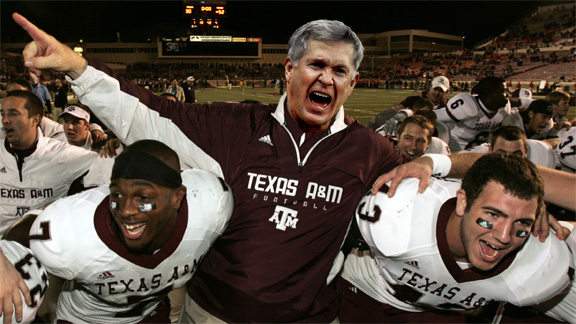 Getty Images/ESPN.com Illustration
October, 20, 2010
10/20/10
12:46
PM ET
By
Richard Durrett
| ESPNDallas.com
IRVING, Texas -- Cowboys wide receiver Jesse Holley sat at his locker on Wednesday afternoon with his New York Yankees cap on backward.

Holley isn't quite ready to concede the American League Championship Series to the Rangers, despite a 3-1 deficit and the Yankees' inability to get going on offense.

"The Rangers are a good team, but one thing you have to understand about the Bronx Bombers is that champions never go away," Holley said. "They are the best team money can buy, we all know that, and they have very talented and experienced players. They'll come out in Game 5 and do what they have to do."

Holley said he's confident in CC Sabathia, today's starter for the Yankees, and believes the offense will start to figure some things out.

"They've got Derek Jeter and A-R0d and [Robinson] Cano," Holley said. "They'll get going. Champions never die. They win Game 5. Definitely."