Dallas Cowboys:

Texas Stadium
July, 25, 2013
7/25/13
12:39
PM ET
OXNARD, Calif. -- For the first time in franchise history, the
Dallas Cowboys
have chosen cash over cachet, and it's hard to blame them.
As their $1.2 billion home begins its fifth football season, it will now be
known as AT&T Stadium
, and no longer Cowboys Stadium, as part of a deal with the telecommunications company.
PODCAST
Tim MacMahon joins Richard Durrett and Landry Locker from Oxnard, Calif., to discuss the latest news from Cowboys training camp.

Listen

Whatever AT&T has paid the Cowboys for the naming rights, it will be significant and obviously a lot better than the $0 they received in the stadium's first four years.
But when you said Cowboys Stadium, people knew what it was, if not necessarily where it was. With AT&T Stadium, will everybody immediately know what and where it is? Maybe.
Think about the most famous stadiums or arenas across the country. Yankee Stadium doesn't have a naming-rights deal. Fenway Park, Lambeau Field, Soldier Field and the Rose Bowl are iconic and without naming-rights deals.
Do people know the difference between the American Airlines Center and AmericanAirlines Arena?
From 1960 to 1971, the Cowboys called the Cotton Bowl home. Early in the 1971 season, they moved to Texas Stadium in Irving, where they remained until 2008.
They have called Cowboys Stadium in Arlington home since 2009.
Already the most-valued NFL franchise and the fifth-highest-valued franchise in the world, according to Forbes Magazine, maybe this deal will push the Cowboys ($2.1 billion) back into the top three ahead of the New York Yankees ($2.3 billion) and FC Barcelona ($2.6 billion).
This isn't to blame owner and general manager Jerry Jones for doing what he's doing. He's the NFL's best marketer, and it had to pain him to not have a naming-rights deal for so long. The economy was terrible when the stadium opened but has gotten better. He put a lot of his own money into the stadium and has a debt that he has to pay off -- and he is supposedly close to paying it all off if he wants to do so.
Some of the in-fighting among NFL owners over the years has been about teams' inability to sell. Legend has it that Jones famously told Cincinnati owner Mike Brown to come up with a naming-rights deal for his stadium if he wanted more money. The Bengals' home is known as Paul Brown Stadium, named after the franchise's founder.
There was some irony when Jones could not sell the name for the price he wanted, putting him in the same company with Brown.
So now Jones and AT&T have come up with an agreement.
But will you call it AT&T Stadium? Or has Cowboys Stadium earned its way into the lexicon?
October, 4, 2012
10/04/12
3:00
PM ET
IRVING, Texas -- Wherever the Cowboys travel their following is always there, even in New York, Philadelphia and Washington.
PODCAST
ESPN NFL insider Chris Mortensen comments on the national perception of the Dallas Cowboys.

Listen

In the 2005 season opener at San Diego, Cowboys' fans were so loud the Chargers had to use a silent count late in the game.
On Monday, Cowboys Stadium was hardly a home-field advantage. Of the 90,080 on hand, a number of them were Chicago fans and let their presence be known. As one "Let's go Bears" chant broke out late, linebacker
Brian Urlacher
was seen mouthing, "Wow."
"Last time we came down here, there's nothing like hearing the "Let's go Bears," chant early and throughout the game," Bears coach Lovie Smith said after the game. "I thought our fans were outstanding. The Chicago Bear colors were all around, they really were. I'm glad we are able to give our loyal fans that type of effort."
Jason Garrett was asked about how loud the Bears fans were on Tuesday.
"Oh, the Bears have a great national following," Garrett said. "They've had it for a long, long time, so that doesn't surprise us. And certainly the way the game went, we gave them some reasons to get fired up. That's just the nature of it. The Chicago people love their Bears. They have for a long, long time."
Another visitor to Cowboys Stadium has a great national following, too. Pittsburgh visits Dec. 13. The last time the Steelers came to the area in 2004, Terrible Towels overran Texas Stadium. Cowboys Stadium could be more of the same.
After a 6-2 record to open the $1.2 billion stadium in 2009, the Cowboys have a 7-10 home record.
April, 11, 2010
4/11/10
5:51
PM ET
The demolition of Texas Stadium did more than send ash and dust flying. It stirred up quite a few strong emotions and great memories.
Calvin Watkins was there to chronicle the reaction.
Read his account here
, and while you're there push the red button to set off the explosives.
April, 11, 2010
4/11/10
9:06
AM ET
IRVING -- The demolition of Texas Stadium on Sunday morning was emotional for the Jones family.

Charlotte Jones, the daughter of Jerry Jones was crying as was her daughter Haley. But Jerry Jones, the man who owns the Cowboys, also teared up as he watched the stadium come down.

Jones sat next to Bruce Hardy, the long-time general manager of Texas Stadium, who is now a senior consulant for Cowboys Stadium in Arlington.

"When that roof started coming in it was sad," Jones, with a tear in his right eye, said. "That's about all you can say with that. It certainly wasn't fun."



April, 11, 2010
4/11/10
8:41
AM ET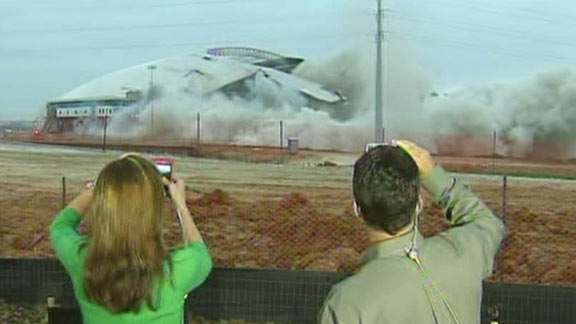 Texas Stadium, the longtime home of the Dallas Cowboys in Irving, came tumbling down early Sunday morning in a spectacular implosion.
* To see highlights of the implosion,
click here.
* To watch the ESPN3.com replay of the ceremony (hosted by ESPN's Chris Berman), including the pre-implosion fireworks show,
click here.
* To read about the successful implosion,
click here.
* For ESPNDallas.com's coverage of the event,
click here.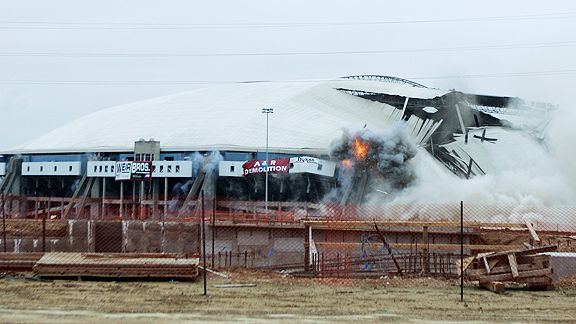 AP Photo/Mike FuentesWith thousands watching, the last show at Texas Stadium went off without a hitch.