Dallas Cowboys:

Tim Jennings
April, 25, 2014
Apr 25
1:00
PM ET
IRVING, Texas -- Part 1 of the
Dallas Cowboys
' Twitter mailbag is ready.
In it we discuss the Cowboys possibly taking a safety in the first round, why
Caleb Hanie
was brought in, drafting a cornerback in the first round, Rod Marinelli's ability to adapt and
Tony Romo
as a free agent.
Part 2 of the mailbag will be delivered on Saturday. If you have a question, fire one off to me via Twitter (@toddarcher).
Away we go:
.
February, 22, 2014
Feb 22
11:45
AM ET
INDIANAPOLIS -- Rod Marinelli has been through a defensive rebuilding job before. Maybe not as severe as he has to do with the
Dallas Cowboys
, but a rebuild nonetheless.
In 2009, Marinelli joined the
Chicago Bears
as defensive line coach. The Bears finished 17th in total defense, 13th against the pass, 23rd against the rush and 21st in points allowed.
In 2010 Marinelli became the defensive coordinator and the Bears finished ninth in total defense, 20th against the pass, second against the rush and fourth in points allowed.
[+] Enlarge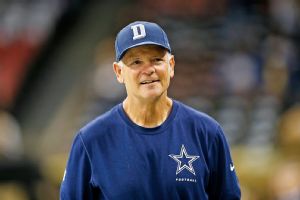 AP Photo/James D. SmithDefensive coordinator Rod Marinelli hopes Dallas adds pieces to its front seven this offseason.
The Cowboys were 32nd in yards, 30th against the pass, 27th against the rush and 26th in points allowed.
Monte Kiffin was moved to assistant head coach/defense and Marinelli was promoted to defensive coordinator last month.
"We've kind of got things in place for the most part," Marinelli said from the NFL scouting combine "Now you've just got to make some corrections, add some people and go from there."
The Bears started four different defensive linemen from 2009 to 2010, and added
Julius Peppers
as a free agent. Middle linebacker Brian Urlacher returned to the lineup from a wrist injury after playing in just one game in 2009. Free-agent pickups
Tim Jennings
and Chris Harris solidified the secondary.
Chicago went from a 7-9 record to an 11-5 finish.
Despite their defensive woes in 2013, the Cowboys finished 8-8, losing their third straight winner-take-all NFC East championship game in Week 17 to miss the playoffs.
To Marinelli, there is no mystery to his success.
"With me, I think it's just going back to being really fundamentally sound," he said. "That's kind of always been my base. Just getting guys to do things right and coach these guys extremely hard ... Being really detailed in what you're doing, being exact. Again just being with these guys is going to help, and I think adding some pieces is going to help."
The Cowboys will be hard-pressed to add significant pieces in free agency with their salary-cap situation. The futures of
Jason Hatcher
,
Anthony Spencer
and
DeMarcus Ware
are in question. A healthy
Sean Lee
will help. So would a healthy
Morris Claiborne
. Improvement from
Bruce Carter
and
Brandon Carr
is a must. They also must find players in the early rounds of the draft that can contribute.
Where does Marinelli want to see the most help?
"Your front seven," he said. "You always look at it. You've always got to look at the front seven. That kind of drives the whole thing for us. So hopefully we'll be adding pieces, and I like some of the guys that were injured last year, (Tyrone) Crawford,
Ben Bass
. Some of these other guys I'm looking forward to seeing."
Marinelli will continue to coach the defensive line, but he said Leon Lett and Ben Bloom will alleviate some of the workload. It's how he operated in Chicago as well.
"The key is the foundation," Marinelli said. "If you can get that going, you get yourself a foundation and you build off that. Get the right pieces, the right couple of guys and things will jump quick."
That's the Cowboys' hope.
February, 11, 2014
Feb 11
11:30
AM ET
IRVING, Texas -- Since Rod Marinelli was named the
Dallas Cowboys
' defensive coordinator, I've been asked more than a few times if the defense will look different in 2014.
Since Marinelli worked with Monte Kiffin in Tampa Bay for so long, the easy answer is no, it won't.
From 2010-12, Marinelli served as coordinator for the
Chicago Bears
after his stint as the head coach of the
Detroit Lions
. He had incredibly successful defenses. They forced a ton of turnovers (59 fumbles, 65 interceptions), scored 13 touchdowns and, most importantly, allowed the fourth-fewest points (904).
In 2012, the Bears had four Pro Bowl players in cornerbacks
Tim Jennings
and
Charles Tillman
, defensive end
Julius Peppers
and defensive tackle
Henry Melton
. They had a league-high 44 takeaways and finished in the top 10 in rush defense, pass defense and points allowed.
I wanted to get a feel for a Marinelli defense versus a Kiffin defense, so I watched two Bears games from 2012 against the Cowboys and
Green Bay Packers
. The Bears intercepted
Tony Romo
five times and forced a sixth turnover in their 34-18 win at AT&T Stadium in Week 4. The Packers game came in Week 15 and Chicago did not have
Brian Urlacher
. The Packers won, 21-13.
[+] Enlarge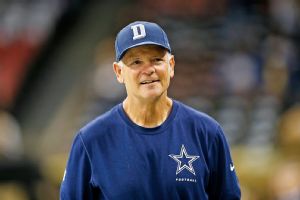 AP Photo/James D. SmithThe Cowboys' defense under Rod Marinelli shouldn't differ much schematically from the one the Cowboys ran under Monte Kiffin.
Like Kiffin, Marinelli did not employ a dime defense (six defensive backs) in either game. He played a nickel defense when faced with three-wide-receiver sets or empty packages. He brought five or more on a pass rush just 17 times in 98 pass plays.
Here's the breakdown:
Green Bay
Three-man pressure: None.
Four-man pressure: 34
Five-man or more pressure: 9
Dallas
Three-man pressure: 1
Four-man pressure: 44
Five-man or more pressure: 8
The Bears sacked
Aaron Rodgers
three times. They got Tony Romo once. While the Bears showed A-gap pressures with Urlacher and
Lance Briggs
against the Cowboys, they never brought both of them up the middle. Twice they brought the cornerback off the slot for a blitz. Most of the time Briggs was the extra rusher. The only time the Bears brought six rushers in the game came on Tillman's pick-six of Romo after a miscommunication with
Dez Bryant
.
Against the Packers, Marinelli used some zone blitzes, dropping Peppers into coverage with the slot corner and Briggs or
Nick Roach
bringing the pressure. He was more willing to bring both linebackers on blitzes up the middle against the Packers. Most of the pressure packages came on third-and-long, however the one time he brought seven rushers against Rodgers came on third-and-5 and the Bears got a stop.
Chicago played mostly zone in the two games I watched, which might not make guys like
Brandon Carr
and
Morris Claiborne
happy. Kiffin was reluctant to play man coverage at times and Carr and Claiborne never really earned trust to play it more.
Against the Cowboys, Marinelli allowed his cornerbacks to press more (12 times, including eight in the first half). He did not want Bryant and/or
Miles Austin
to get a head of steam going off the line of scrimmage, which helped put pressure on Romo almost from the outset.
Against the Packers, the Bears played only four snaps of press coverage, two in each half.
The key to the defense was the line play. That's nothing new. That's what helped the
Seattle Seahawks
win a Super Bowl. That's what helped the Bears lead the league in takeaways in 2012. For this defense to work, the front four must get pressure, as witnessed by the low total of blitzes.
The Bears could get pressure with or without playing games up front with twists and stunts. It wasn't necessarily sacks. Remember, Romo was sacked just once in the game, but the Bears took it to the Cowboys' offensive line by just being active. Rodgers also felt pressure, although not as much.
So I'll go back to the original question: Will the Cowboys' defense look different in 2014? Schematically, I'd say not so much. And that's OK. The key, as it always is, will be the players playing it better.
"There's a certain philosophy, a certain defense they believe in," linebacker
Sean Lee
said, "but we obviously have to get great at that base [defense] if we want to be able to build off that. I think Coach Marinelli has had a ton of success in the past. He's a great coordinator and we're going to have to find a way to improve individually if we want to play well within this defense."
July, 5, 2013
7/05/13
8:00
AM ET
The last in ESPNDallas.com's 10-part position series:
Roster locks:
Brandon Carr
,
Morris Claiborne
,
Orlando Scandrick
,
B.W. Webb
On the bubble:
Sterling Moore
Long shots:
Xavier Brewer
,
Devin Smith
,
Brandon Underwood
What's new?
Monte Kiffin's known as the architect of the Tampa 2, but it's not like the Dallas Cowboys will be solely a Cover 2 defense now. Brandon Carr and Morris Claiborne will still play a lot of man and Cover 3.
They won't play off of receivers very often, though. Kiffin's corners will play press on a regular basis, a challenge they welcome. As Carr likes to say, they'll be in the faces of receivers who will find out the coverage after the snap.
Unlike last season, Claiborne had a healthy offseason. He was behind the curve when he reported to his rookie training camp because he missed all of the offseason practices while recovering from wrist surgery. He's more comfortable and confident entering his second season.
Fourth-round pick B.W. Webb gives the Cowboys another natural slot cornerback, something the team lacked when Orlando Scandrick suffered a season-ending injury last year.
Camp competition:
Webb would have to be phenomenal in Oxnard to challenge Scandrick for the nickel corner role. That should be a camp competition at some point, but probably not this year.
For this year, we'll have to settle for Sterling Moore trying to hold off the undrafted rookies for the fifth corner job.
2013 hope:
The starting corners need to live up to their billing. That didn't happen in 2012, when Carr and Claiborne combined for only four interceptions, one forced fumble and two fumble recoveries.
That's not good enough for a tandem that features a $50 million man and the No. 6 overall pick in a draft.
After Kiffin's hiring, the Cowboys' corners were told to study the schemes in Chicago and Seattle from last season. They saw the standard for cornerbacks in the modern-day version of the Tampa 2. They watched tough, physical playmakers in Seattle's
Richard Sherman
and
Brandon Browner
and Chicago's
Charles Tillman
and
Tim Jennings
.
The Cowboys believe Carr and Claiborne can be that of corner tandem.
Future forecast:
The starters are set for the foreseeable future.
Carr, 27, is entering the second season of a five-year deal that was actually negotiated with the expectation that he'd play the entire contract. Claiborne, 23, has three seasons remaining on his rookie deal.
Scandrick's future job security, on the other hand, isn't so certain. He should be a roster lock again next year, when the Cowboys would lose a little more than $100,000 in cap space if they cut him. In 2015, Scandrick will probably have to beat out Webb to keep his spot on the Cowboys' roster.
The Cowboys could create about $3.5 million in cap space if they cut Scandrick in 2015, which would be the fourth year of his five-year, $27 million deal. Webb is due to count only $695,845 against the salary cap that season.
The Cowboys ranked Webb as the No. 47 player on this year's draft board. If they're right about him, he'll be a cap-friendly slot corner by his third season, and Scandrick will move on to another team.
May, 17, 2013
5/17/13
2:11
PM ET
Monte Kiffin told his players to study two teams' defenses from last season: the
Chicago Bears
and
Seattle Seahawks
.
A couple of Kiffin disciples (new Dallas defensive line coach Rod Marinelli and new
Jacksonville Jaguars
head coach Gus Bradley) coordinated those two units, which ranked among the NFL's top five in scoring defense, total defense and turnovers forced.
PODCAST
Cowboys safety Barry Church joins Fitzsimmons & Durrett to discuss the new defensive scheme and the impact it will have on him, how much more intense he expects practice to be with Monte Kiffin and his expectations.

Listen

Another thing the Chicago and Seattle defenses had in common: They featured tough, playmaking cornerbacks. In fact, those were arguably the best two cornerback combos in the league last season.
Chicago's
Tim Jennings
led the NFL with nine interceptions. His counterpart,
Charles Tillman
, forced a league-high 10 fumbles, recovered two and returned all three of his interceptions for touchdowns.
Seattle's
Richard Sherman
tied for second behind Jennings with eight picks and tied for second among corners with three forced fumbles.
Brandon Browner
, the bully who plays opposite of Sherman, also forced three fumbles and had three picks despite missing four games due to a suspension.
See why the Cowboys were so dismissive about the discussion that Kiffin's scheme didn't put a premium on cornerbacks?
The corners in Chicago and Seattle set the standard for
Brandon Carr
and
Morris Claiborne
.
"They're aggressive. They're physical. They're always attacking the ball," Carr said. "They're showing press with Seattle. With Chicago, they're playing the hard Cover 2 scheme, but they're up there dictating the flow of the receivers. That's what we want to do. We want to dictate the flow and not let them attack us. We're going to attack them."
The Cowboys didn't get enough of a return on their investments in the corners last season. After giving Carr a five-year, $50 million deal and packaging their top two picks to move up to sixth overall to select Claiborne, the Cowboys' starting corners combined for only four interceptions, one forced fumble and two fumble recoveries in 2012, when Dallas forced the second-fewest turnovers in the NFC.
That's one of the primary reasons Rob Ryan no longer reports to work at Valley Ranch. As the defense's injuries stacked up throughout the course of the season, the corners were assigned to play soft zone coverage more frequently, which caused some behind-the-scenes grumbling.
Despite the Tampa 2 tag, the Cowboys will blend in several other looks with the Cover 2 staples. The corners have been told that they'll consistently be lined up within breath-smelling distance of receivers.
"This defense kind of caters to Claiborne's and my abilities out there, our traits, our qualities," Carr said. "It allows us to go up there and press pretty much the whole game. Whether we play Cover 1, Cover 2, Cover 3, you'll have to find out after the (snap), but it allows us to be aggressive and go out there and dictate the game."
Are Carr and Claiborne worth the price the Cowboys paid for them? They'll have a chance to prove they are in a scheme similar to ones that feature star corners in Chicago and Seattle.