Dallas Cowboys:

Tony Romo injured 2013
December, 25, 2013
12/25/13
10:00
AM ET
IRVING, Texas -- There are reasons why
Dallas Cowboys
head coach Jason Garrett and Jerry Jones are saying
Tony Romo
could play Sunday against the
Philadelphia Eagles
despite a back injury.
Near the top of the list is the competitive advantage. The Cowboys want to make the Eagles believe Romo could play for as long as they can. Since the inactives are not due until 90 minutes before the game, you can expect the Cowboys to take all the time necessary before making a decision, unless there is a decided downturn in Romo's health.
Garrett said Romo and Orton are similar style quarterbacks. In a way he's correct. Both can stay in the pocket and make all the throws. Romo, however, has more improvisation to his game and can elude trouble. With a bad back, that makes that iffy.
But the Cowboys do not feel the need to give the Eagles any kind of advantage by knowing Orton will be their quarterback in the NFC East matchup. Garrett is following the same protocol he has laid out on injuries all season. He has called Romo "day to day" because he calls every injured player "day to day." The quarterback is the most important player on the team, but Garrett will not change how he has approached injury talk all season. He does not want to set Romo apart from how he has talked this season about
Sean Lee
,
Morris Claiborne
,
DeMarcus Ware
or
Jason Hatcher
.
Another reason Garrett has taken that approach is what happened last week with wide receiver
Terrance Williams
.
The rookie did not practice on Wednesday and Thursday because of a hamstring injury but was able to work on Friday. He played against the
Washington Redskins
and had four catches, including the second-biggest play of the winning drive -- a 51-yard grab.
"You've got to be careful making these proclamations about the future in regard to injury," Garrett said. "You got to take them day by day and make your best evaluation."
And he does not view a hamstring strain different than a reported herniated disk that will require surgery, as a source told ESPN's Chris Mortensen.
"I think an injury is an injury," Garrett said. "And the availability of the player, and based on the information that you have, again, getting feedback from him and the medical staff, you just try to make your best judgments."
So we wait.
Merry Christmas to all.
December, 24, 2013
12/24/13
4:00
PM ET
IRVING, Texas – The
Dallas Cowboys
are hoping an epidural
Tony Romo
received on Monday will help
alleviate some of the issues with the quarterback's injured back.
It might not be a cure-all, but it could be a cure enough for Romo to play Sunday against the
Philadelphia Eagles
.
But the Cowboys have to keep in mind the same things the
Green Bay Packers
have kept in mind in deciding when the right time is for
Aaron Rodgers
to return to the field.
[+] Enlarge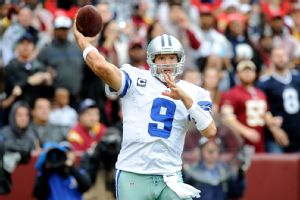 Greg Fiume/Getty ImagesThe dilemma for Dallas: Even with a healthy Tony Romo, would the team be a legit title contender?
The Packers have made this a medical-only decision and have thought about the long-term possibilities regarding Rodgers.
The Cowboys have to think about the long term when it comes to Romo. He is 33 and facing his second back surgery in less than a year, but whatever window the Cowboys have closes when Romo is done. They have not started the process of finding his successor, although this injury could speed up that process in next year's draft.
If Romo can play, then the Cowboys will have to measure the risks against the reward.
To owner/general manager Jerry Jones, just getting into the playoffs means a team has a chance to win a Super Bowl. He points to the
New York Giants
,
Pittsburgh Steelers
and Packers as recent examples. But he fails to point out those teams got hot late in the year and were much better defensively than the Cowboys have ever been this entire season.
Could the Cowboys make a Super Bowl run? Anything is possible, but extremely remote. In 2006 the Cowboys really felt like they could at least make the NFC Championship Game had they beaten the
Seattle Seahawks
. That team, however, had more of a chance to make a run, even with an injured
Terrell Owens
, than this team. The arrow, as Jones likes to say, was pointing up.
In 1991, the Cowboys got hot late without
Troy Aikman
.
Steve Beuerlein
was the starter for the final four games of the regular season and beat the
Chicago Bears
in the first round. Aikman was coming back from a knee injury and the thought was he might be able to play in the season finale against the
Atlanta Falcons
.
Jimmy Johnson stuck with Beuerlein and won a playoff game with the backup.
But here's what Aikman said leading into the Atlanta game: "Nothing, not even winning the Super Bowl, is worth having your career end. But there are never any guarantees in this business. Who knows what might happen? I don't look as far down the road as other people might. I'd like to be a part of what's happening now."
So would it be worth risking Romo's next two or three years for the chance to make the wild-card round of the playoffs?
You play to win the game, Herm Edwards once famously said. But you cannot ignore the consequences.
December, 24, 2013
12/24/13
10:24
AM ET
Jason Garrett walked to the podium at the Cowboys practice facility on Monday afternoon like it was a normal day.
He smiled to reporters and asked how they were doing.
Things were not normal.

But Garrett tried to make it as such.
Quarterback
Tony Romo
has back issues so severe sources are telling ESPN he will miss the rest of the season.
Garrett won't confirm Romo's absence for the Eagles game on Sunday. Garrett handed out the standard answers for Romo as if he were the defensive end and not the franchise quarterback.
Treatment and evaluation is what Garrett basically said.
The loss of Romo might be too much to overcome for the Cowboys. Losing Romo will hurt on the field but emotionally the Cowboys might be unable to handle this.
This entire season has been drama filled.
Jay Ratliff's feud with Jerry Jones, the loss of
Anthony Spencer
to knee surgery,
Brian Waters
season-ending triceps tear,
Dez Bryant
's outburst in Detroit, his departure from the field at Cowboys Stadium with 1:21 remaining in the game, a change in the structure to who signals in the plays, defensive injuries and now this.
Romo, the franchise quarterback, the man whom Jerry Jones extended to a $108 million contract will miss the biggest game of the season.
It's one thing to push through adversity on the field, but another when injuries pile up so much, you can't do anything about it.
This Cowboys' team won't give up on their season, but emotionally can this group survive this?
"It's the next man up philosophy," Garrett said. "Again that's alive and well in our organization. That is something we believe in. Our belief in it. We try as best we can in our organization to make sure we can absorb different injuries at all positions and put our roster together in such a way that if something does happen to one of our players we can put the next guy in and be a team that can function successfully."
The biggest drama regarding the Cowboys on Sunday was their dramatic victory over the
Washington Redskins
in Landover, Md., where they overcame a nine point fourth-quarter deficit.
They overcame adversity in the game and kept their season alive.
Losing Romo might just be too much for them to handle.
December, 24, 2013
12/24/13
10:20
AM ET
IRVING, Texas -- History tells you
Dallas Cowboys
quarterback
Tony Romo
will do everything he can to play Sunday against the
Philadelphia Eagles
, despite what sources have told ESPN is a herniated disk in his back.
"It's like anything, you play through it," Romo said after the 24-23 win against the
Washington Redskins
. "It's football."
Romo has played through pain countless times in his career.
In 2008 he tried to play with a broken pinky finger on his throwing hand against the
St. Louis Rams
, going through pregame warm-ups until the coaches decided to start
Brad Johnson
. Romo missed three games that year. In the finale that year against the Eagles -- a 44-6 loss -- he suffered a rib injury that led to him collapsing in the shower.
He attempted to put himself back in the game after breaking his collarbone against the
New York Giants
in 2010 before he was pulled back by a member of the athletic training staff. In 2011, he played through a broken rib and punctured lung, wearing a protective vest for six weeks and needed pain-killing injections.
On Sunday, with pain down his legs for most of the second half after a hit aggravated his back, Romo led the Cowboys on an 87-yard game-winning drive that ended with a fourth-and-goal touchdown pass to
DeMarco Murray
with 1:08 to play. Twice on the series Romo ran free from pressure to make big completions.
"Line one with Tony Romo is his competitive spirit," coach Jason Garrett said Monday. "When you evaluate him that's what you love about him more than anything else. He's demonstrated that over the course of his career with us. A couple of years ago he played in San Francisco and he had that rib/lung issue and told you guys this story before he came out in the second half and literally just kind of said, 'I'm in.' We didn't know the extent of the injury at that point but he went in there and played and we won that game in overtime. And he made some big throws down the stretch. That's his nature. He's played with injuries before. He's played with pain before. That's a part of the job description in the National Football League. A lot of guys on our team do that. A lot of guys around the league do. Tony's no different but certainly you appreciate his competitive spirit, his desire to play and really at the level he played down the stretch to be able to deal with that is awfully impressive."
Owner and general manager Jerry Jones refused to rule Romo out on his weekly radio show on 105.3 The Fan in Dallas on Tuesday, but even if he is cleared by the doctors, the Cowboys will still have to go through the long term risk and rewards of playing him.
December, 24, 2013
12/24/13
9:00
AM ET
IRVING, Texas -- The
Dallas Cowboys
have had to deal with life without
Tony Romo
before.
It happened in 2010 when Romo broke his collarbone in the first half of a 41-35 loss to the
New York Giants
. The Cowboys fell to 1-5 at that point and were effectively done for the season.
Romo
Jon Kitna
started the next nine games and had a 4-5 record.
Stephen McGee
started the regular-season finale against the
Philadelphia Eagles
and the Cowboys won 14-13.
The offense did not suffer in Romo's absence, especially after Jason Garrett was elevated to interim head coach after Jerry Jones fired Wade Phillips following a 1-7 start to the season.
Kitna, who was 38, finished the season with 2,365 yards on 209-of-318 passing with 16 touchdowns and 12 interceptions. In his seven games with Garrett as head coach the Cowboys went 4-3. In the six games he started and finished, the Cowboys averaged 32.2 points per game.
Two of the losses came by three points. One came on a final-second field goal after the Cowboys missed a point after attempt. Kitna had two three-touchdown games and two two-touchdown games.
The Cowboys ran the ball more and better down the stretch that season. They had three games with 400 yards of offense and had at least 100 yards rushing as a team in every game.
The system prevailed then with Kitna. Garrett needs his system to prevail Sunday against the Eagles with
Kyle Orton
as the starter.
"Kit played the last half of that season and played very well," Garrett said. "He and Kyle were probably at similar points in their career with similar number of starts, and they understand what we are trying to do offensively and they do a good job of playing within the system, getting guys involved and just playing quarterback the right way. So, that's what we have to do if Tony is not available to us, and we are excited to have that opportunity. If Tony can't play, just stick Kyle in there and go forward."
December, 23, 2013
12/23/13
9:25
PM ET
IRVING, Texas -- If there's any good news regarding the loss of Cowboys quarterback
Tony Romo
, it revolves around coach Jason Garrett.
It seems Garrett's job is on the line as he enters this win-or-go home game against the
Philadelphia Eagles
on Sunday night. Yet how difficult is it to judge Garrett in the biggest game of the season if he doesn't have his franchise quarterback?
[+] Enlarge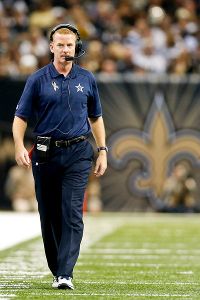 Derick E. Hingle/USA TODAY SportsA loss on Sunday would eliminate the Cowboys from the playoffs in Week 17 for the third consecutive season. But can Jason Garrett be blamed without Tony Romo?
Jerry Jones fired defensive coordinator Rob Ryan last season despite numerous injuries to the defensive unit. Jones felt the scheme was too complex and he thought the defense underachieved with Ryan.
What about Garrett?
He's had injuries, losing guard
Brian Waters
, wide receivers
Miles Austin
and
Terrance Williams
, and running back
DeMarco Murray
for some games. Waters, signed as an upgrade at the position, is out for the season. Austin, Williams and Murray are healthy and in the lineup.
There have been some issues with the play calling, and Garrett took matters into his own hands by switching the role of quarterbacks coach Wade Wilson by moving him to the press box so he could relay the play calls from Bill Callahan to Romo.
Murray has taken over the running attack with 100-yard games in two of the past three weeks, and he caught a game-winning 10-yard touchdown reception in the season-saving victory over the Redskins on Sunday.
A defensive line that has too many no-name players to mention has also endured injuries. The secondary has also encountered injuries and poor play.
Yet, Garrett is trying to save his gig here by managing a mess of a roster that's underachieved at some positions and hasn't played well at others.
Jones doesn't want to fire Garrett but might be forced to depending on the regular-season finale.
In the past two seasons, the quarterback play has decided the Cowboys' playoff fate.
In the 2011 finale, Romo was outplayed by
Eli Manning
, who threw for 346 yards and three touchdowns in a blowout victory. In last season's finale, Romo threw three interceptions in the loss to the Redskins.
Now Romo is gone and
Kyle Orton
starts in another win-or-go home game for the Cowboys. If Orton gets beat on Sunday by the Eagles, does that mean it should be the end for Garrett?
Should the Cowboys lose, that's three full seasons of missing the postseason under Garrett. At some point, you have to hold the man accountable for this. You just can't keep firing assistant coaches and thinking things will get better.
At the same time, maybe Garrett might get a pass, considering he doesn't have his franchise quarterback.
December, 23, 2013
12/23/13
7:58
PM ET
IRVING, Texas – The
Dallas Cowboys
' season now rests on
Kyle Orton
.
Coach Jason Garrett would not rule out
Tony Romo
, but multiple sources told ESPN that Romo is out for the year, and a source told ESPN Senior NFL Insider Chris Mortensen the quarterback will need surgery.
[+] Enlarge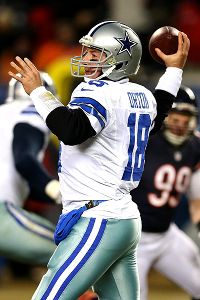 Jonathan Daniel/Getty ImagesKyle Orton is 35-34 as a starter in the NFL, but he hasn't started a game in nearly two years.
Without Romo, the Cowboys will turn to Orton, their veteran backup.
Orton is 31 and has a 35-34 career record as a starter for the
Chicago Bears
,
Denver Broncos
and
Kansas City Chiefs
, but he has not started a game since the 2011 finale for the Chiefs against the Broncos. The Chiefs won 7-3, and Orton threw for 180 yards on 15-of-29 passing.
The Cowboys gave Orton a $5 million signing bonus as a free agent in 2012 as part of a three-year, $10.5 million contract. The Cowboys were mildly criticized for the deal, but owner and general manager Jerry Jones and Garrett viewed Orton as a critical insurance policy.
The Cowboys are about to cash it in, while other teams, such as the
Green Bay Packers
without
Aaron Rodgers
, have seen their season teeter on the brink without a solid backup.
Garrett's affinity for Orton goes back to when he was coaching quarterbacks for the
Miami Dolphins
and Orton came out of Purdue. Quarterbacks coach
Wade Wilson
coached Orton with the Bears, who drafted Orton in the fourth round in 2005.
"He played the quarterback position the way it's supposed to be played," Garrett said. "He's very prepared. He's an experienced guy. He throws the football very well. He's smart, he's tough, he's accurate. He understands what you're trying to do on offense. He understands defenses. He knows where the ball needs to go. He has a poise and a calmness and a composure about him of a veteran player."
Orton has experience – he has 81 touchdown passes and 57 interceptions in 74 games – but he has thrown only 15 passes in the last two seasons, completing 12 of them for 129 yards and a touchdown. This season, he completed 3 of 5 passes for 40 yards in the Dec. 9 loss to the Bears in mop-up duty.
"Obviously Tony is a big part of everything we try to do as a football team and obviously as an offense," tight end
Jason Witten
said. "He's been pretty resilient and I know he'll do everything he can to get back. But just like any position, that one is probably a little bit tougher, but Kyle has played at a high level and had a lot of success in the league, so [he is] somebody we respect."
Orton has taken few snaps with the first-team offense this season. In the preseason he completed 17 of 22 passes for 158 yards and two touchdowns, with two interceptions.
But Sunday's game against the Eagles is for the NFC East title and a playoff spot. It's a far cry from an August preseason game.
"Kyle and Tony play the quarterback position probably fairly similarly," Garrett said. "They have a little bit of a different style, but they're NFL quarterbacks who drop back and throw the ball. So regardless of who our quarterback is, Kyle has a real comfort level with what we're doing. He certainly understands it intellectually. He's had a lot of experience with the different concepts we use in the passing game. If he plays in this ballgame, he'll be ready to go and we'll try to give him some things that he's comfortable with."
December, 23, 2013
12/23/13
7:50
PM ET
IRVING, Texas -- The reality of Cowboys quarterback
Tony Romo
missing Sunday's win-or-go home game against the
Philadelphia Eagles
creates some challenges for coach Jason Garrett and his offensive staff.
According to ESPN Stats & Information, the Cowboys called passes on 66 percent of their plays this season, only four other teams have called more, and two of them -- Miami (67 percent) and New Orleans (66.9 percent) -- have winning records.
Garrett and offensive play caller Bill Callahan could keep things the same with backup quarterback
Kyle Orton
. The Cowboys have explosive weapons in
Dez Bryant
,
Jason Witten
and
Terrance Williams
in the passing game and
DeMarco Murray
as a dual threat rushing and receiving.
However, Orton has a career completion percentage of 58.4 percent and the last time he was a full-time starter, 2010 with the
Denver Broncos
, he completed 58.8 percent of his passes in 13 starts where he threw 20 touchdowns and nine interceptions.
Accuracy is an issue for him. Knowing that, maybe the Cowboys don't allow him to throw it 30 to 35 times against the Eagles.
"They have a little bit of a different style, but they're NFL quarterbacks who drop back and throw the ball," Garrett said. "So regardless of who our quarterback is, Kyle has a real comfort level with what we're doing. He certainly understands it intellectually. He's had a lot of experience with the different concepts we use in the passing game."
Leaning on the running game is another way Garrett and his staff can go about playing minus Romo.
Murray has rushed for 376 yards and two touchdowns the past three weeks and the offensive line has been a productive force in terms of being aggressive against opposing defenses. Murray has done an excellent job of carrying the offense when given opportunities, especially in the first half of games.
The biggest problem for the Cowboys is trusting him late in games.
Sunday against the Redskins, Callahan called for Murray to do more. He touched the ball 12 times, including four consecutive times on the last drive of the game, which featured him getting the ball inside the 5 on three run plays. Murray's 10-yard touchdown reception, when he was left alone in the flat was the difference in the victory.
Murray can be used this way with Orton if the Eagles take out some of the offensive weapons in the passing game. Murray is quite capable of making plays out of the backfield and is a security blanket for Romo on short passes.
Orton has options here with Bryant, Witten and Williams along with Murray's abilities to help in the run game.
All it takes is for him to produce.
"We have Kyle Orton here for a reason," Garrett said. "He's a veteran quarterback who has started (69) games in the National Football League, so he understands what his role is each and every week in terms of his preparation. Right now we have a quarterback who is getting treatment for an injury he had yesterday in the ball game. Kyle knows that he has to be ready. Kyle prepares as if he's the starting quarterback each and every week. We do logistically probably have to bring another guy in just because we don't know what Tony's status is for practice. You can't just have one quarterback on your roster to go through practice."
December, 23, 2013
12/23/13
7:21
PM ET
IRVING, Texas -- Without
Tony Romo
, the
Dallas Cowboys
need another quarterback.
While the Cowboys are not ready to rule Romo out for Sunday's game against the
Philadelphia Eagles
, coach Jason Garrett acknowledged the team has to find a third quarterback not only in case Romo is unable to play but to get through practice.
Finding one ready to play could be problematic.
"Well, you just look at who's available and you go out and sign them," Garrett said. "It's a position that I'm sure a lot of people would like to have. You can't sign people off of other team's rosters, but there are quarterbacks out there. Hopefully we can find one that can help us. I think that's one of the best things we've done as a team is we've handled injuries and we've gotten guys who can come in and play at a moment's notice."
David Carr
and
John Skelton
are scheduled to visit with the Cowboys on Tuesday. Carr was cut by the
New York Giants
on Aug. 31 and has thrown three passes since 2010. Skelton went 8-9 with the
Arizona Cardinals
from 2010-12. He was cut by the
Cincinnati Bengals
in training camp and spent time with the
San Francisco 49ers
and
Tennessee Titans
. He was released by the Titans on Dec. 17.
Finding a quarterback is different than finding a defensive lineman. The Cowboys have dressed 19 different defensive linemen this season. They have had only two quarterbacks on the 53-man roster all season and lost
Alex Tanney
off the practice squad to the
Cleveland Browns
on Nov. 26.
Preferably the Cowboys would like a quarterback either familiar with Garrett's offense or one who has run a variation of it elsewhere.
In 2010 the Cowboys signed
Chris Greisen
the final week of the season when
Jon Kitna
suffered an oblique strain. Unable to start, Kitna served as the backup to
Stephen McGee
in the 14-13 win against the Eagles and Greisen was inactive.
The Cowboys could sign a player from another team's practice squad. Nick Stephens went to training camp with the Cowboys and was cut on Aug. 27. He has been on the
Baltimore Ravens
practice squad. Stephens completed 11 of 19 passes for 102 yards and an interception in the preseason before he was cut.
Update:
The Cowboys are also working out quarterbacks
Tyler Thigpen
and
Richard Bartel
on Tuesday.