Dallas Cowboys:

Trent Richardson
April, 22, 2013
4/22/13
11:00
AM ET
Our man Todd McShay has
re-worked his latest mock draft

to reflect Sunday's
Darrelle Revis
trade, and there are changes throughout. This is a first-round-only update, so sorry, Redskins fans. We'll catch up with you a little bit later in the day. As for the fans of the other three NFC East teams, here are Todd's latest picks and my thoughts. Which I know is why you're here, after all. Right? Right????

4. Philadelphia Eagles
:
Lane Johnson
, OT, Oklahoma.
In this mock, the top two tackles (
Luke Joeckel
and
Eric Fisher
) go to Kansas City and Jacksonville with the first two picks and the Raiders take defensive tackle
Sharrif Floyd
at No. 4. So Todd gives the Eagles Johnson, who seems to be a fast riser and has been identified by draft analysts as a good fit with Chip Kelly's offense due to his athleticism. (Never gets old, right?) And while I have no issue with the Eagles going offensive tackle at No. 4, this feels high for Johnson with defensive guys like
Dion Jordan
and
Star Lotulelei
still on the board. If Fisher or Joeckel is there, I think they'll bite. But if those guys are gone, I'm thinking defense for the Eagles at No. 4.

18. Dallas Cowboys:
Sheldon Richardson
, DT, Missouri.
Look. Basically, I've decided I'm not going to believe in this historic first-round run on offensive linemen until I see it. Todd has six offensive linemen being taken in the top 15, which has not happened since 1966. And while I acknowledge that this is a somewhat unique draft devoid of
Andrew Luck
/Robert Griffin III/
Trent Richardson
-type skill position talent at the top, I still feel like somebody's going to draft a quarterback or two earlier than we think they should. Three days before the 2011 NFL draft, you couldn't find a mock that had
Jake Locker
,
Blaine Gabbert
and
Christian Ponder
all going in the top 12, and yet there they all went.
Some of the teams drafting in the first half of the first round are doing so every year, and you don't become one of those teams by making good decisions on draft day. The Cowboys need an offensive lineman badly in the first round, and while I respect the heck out of Todd's work and Mel Kiper's work, I'm leaning on history for my belief that one of the top six offensive linemen will be there for Dallas to take at 18. If not, absolutely a three-technique defensive lineman is a great pick here as long as they're going to grab a guard in Round 2. I just don't think it comes to that.

19. New York Giants:
D.J. Hayden
, CB, Houston.
Well, here's a new name for the Giants. I like what Todd's doing here, applying a big pile of history that tells us the Giants don't like to take linebackers and offensive linemen in the first round and identifying a position they
do
, historically, consider worthy of a first-round pick. In this mock, Hayden is the third defensive back off the board, following Alabama corner
Dee Milliner
(to Tennessee at 10) and Texas safety
Kenny Vaccaro
(to St. Louis at 16). I don't know how the Giants have him rated vis-a-vis guys like
Desmond Trufant
and
Xavier Rhodes
, but in no way should anyone be surprised if they take a cornerback here.
February, 15, 2013
2/15/13
2:11
PM ET
IRVING, Texas –
Gary Brown
played eight years in the NFL for three different teams and has two 1,000-yard seasons to his credit.
PODCAST
Ben & Skin discuss the Cowboys assistant coaches' press conference at Valley Ranch.

Listen

His résumé as a player should help him as the Cowboys' new running backs coach.
"Well, I think what happens is it gives you a little bit of reprieve because they know that you've played, but then you have to prove you know what you're talking about," Brown said. "You have to prove that you're there for their best interests and make sure they're the best player, and you try to do that every time you go out there. And hopefully these guys realize that and they go out and have some fun with this."
Brown was the final assistant added to the Cowboys' staff after a five-year run in Cleveland in which he had two 1,000-yard rushers (
Trent Richardson
and
Peyton Hillis
)
"Basically, I just kind of coach the way I wanted to be coached when I was playing," Brown said. "I want to be honest. I want to be fair. I want to work hard and just go out and do the best we can. I'm not that type, screamer, yeller type. I just want to teach and get the guys playing the best they can."
Brown knows enough about
DeMarco Murray
to realize the Cowboys have to figure out ways to keep the third-year runner healthy. He also knows the Cowboys need to have at least two viable options in the backfield.
"I think anytime you want two guys who can produce, and that's any team," Brown said. "That's Cleveland last year, we wanted to have two. In high school we wanted to have two. In college we wanted to have two. You always want to have two, but you want to have that guy that when it's third-and-1 you can count on, when it's time to close the game out you have that guy. We're looking to make DeMarco that guy, and hopefully we can get a second guy to take a little bit of pressure off."
February, 11, 2013
2/11/13
4:20
PM ET
The
Dallas Cowboys
announced the hiring of running backs coach Gary Brown on Monday.
PODCAST
A recent survey reveals that the Rangers are more popular than the Cowboys. Coop & Nate discuss.

Listen

Brown replaces Skip Peete, who was let go after the 2012 season. Peete was later hired by the
Chicago Bears
.
Brown spent the last five seasons as the running backs coach of the
Cleveland Browns
.
Last season under Brown, No. 3 overall pick
Trent Richardson
rushed for 950 yards and 11 touchdowns, tying a franchise record for a rookie with three 100-yard games.

Brown takes over a unit that finished 31st in the NFL in rushing with 1,265 yards, the lowest in a 16-game season in franchise history.
DeMarco Murray
led the Cowboys with 663 rushing yards on 161 carries in 2012. However, he missed six games with a severely sprained foot.
Backup
Felix Jones
is a free agent and most likely won't return. The Cowboys also have
Phillip Tanner
and
Lance Dunbar
on the roster.
December, 13, 2012
12/13/12
11:58
AM ET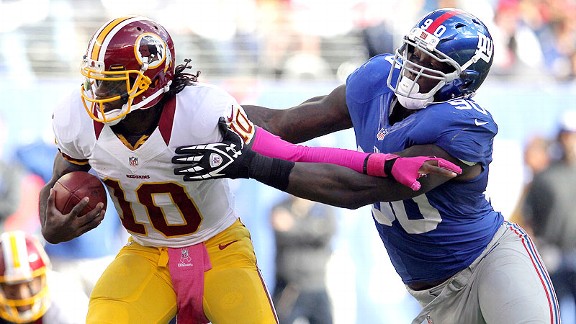 Brad Penner/US PresswireNew York's title hopes may depend on Jason Pierre-Paul and a Giants pass rush that has been underwhelming this season.
Can the
New York Giants
' pass rush perk up and help a Big Blue defense that held the Falcons offense scoreless during the playoffs last season repeat that performance Sunday in Atlanta?
Can the two men the
Dallas Cowboys
brought in to be shutdown cornerbacks keep the Steelers receivers covered while
Ben Roethlisberger
scrambles to keep plays alive?
Can the
Washington Redskins
scheme, adjust and work around their defensive personnel shortages for another week, keeping
Trent Richardson
in check and daring
Brandon Weeden
to beat them in Cleveland?
These are the key storylines Sunday as the NFC East race spins into its final weeks. Amend them with different opponents, and they are likely to remain the key storylines in this division the rest of the way. Although the quarterbacks get all the attention in this division and statistically there's not a top-10 defense in the bunch, the team that plays the best defense in these final three games is the one most likely to emerge with the division title.

The NFC East race is a jumble. The defending champion Giants hold a one-game lead, but they have road games the next two weeks in Atlanta and Baltimore and are far from assured of winning out. The Falcons and Ravens are a combined 11-1 at home this season and 65-11 the past five. Sure, New York is a defending Super Bowl champion that has shown it can win anywhere, but there's not a team out there that could safely assume it would go 2-0 in those games. The Giants are going to have to play the way they played in January, not the way they've played for most of the past month and a half, if they're going to keep control of the division. To do that, they need to be more ferocious on defense.
The Giants have 31 sacks -- tied for 12th most in the league.
Jason Pierre-Paul
leads them with 6.5.
Osi Umenyiora
has six.
Justin Tuck
has only three.
The numbers are fine, but they're not
Giants
numbers. This is a pass rush that took out
Matt Ryan
,
Aaron Rodgers
and
Tom Brady
en route to its second Super Bowl title in five years. Unless someone gets more than one sack a game the rest of the way, they're going to finish the regular season without anyone in double figures. That doesn't compute, and it has as much to do with why the Giants haven't already put away this division as anything.
It's possible that seeing Ryan and the Falcons will rekindle memories of how dominant they were up front 11 months ago, and if that's the case, the Giants could be the team that gets on the defensive run that gives them the division title.

The Cowboys sit one game back of the Giants, tied with the Redskins for second place. Statistically fine for much of the season, the defense has endured a brutal rash of injuries. Both starting inside linebackers, a starting safety, a starting defensive lineman and their nickel cornerback are on injured reserve. This week, star pass-rusher
DeMarcus Ware
(elbow) and starting cornerback
Morris Claiborne
(concussion) have already missed practice. Nose tackle
Jay Ratliff
remains in doubt, and his backup,
Josh Brent
, is out because of his
well-publicized issues
. The Cowboys are running short of players on defense, which could take them right out of this picture if it continues.
But they've made it this far in spite of their deficiencies. They've won four of their past five games. Running back
DeMarco Murray
is back in the fold, red-hot wide receiver
Dez Bryant
apparently
is determined to play
in spite of a broken finger, and the offense is humming.
The defense has to hold it together, and the key is in that secondary. Ware and
Anthony Spencer
are playing well at outside linebacker, and the defensive line is average and going to stay that way. The defense is counting on Claiborne and fellow corner
Brandon Carr
to shut down receivers, especially in a game such as this Sunday's against Pittsburgh's receivers. If Claiborne can't go, the responsibility falls to
Sterling Moore
, who has looked good in his short time in Dallas.
Carr and Claiborne have been occasionally brilliant but generally inconsistent in coverage this season. The price the Cowboys paid for Carr in free-agent money and for Claiborne in draft picks says they're big-time talents who need to play that way. If they can shut down opposing receivers the next three weeks, the Cowboys' chances of coming from behind and stealing this division are a lot better.

In Washington, all eyes are on rookie quarterback
Robert Griffin III
, who has a knee injury and may not play Sunday in Cleveland.
But the Redskins aren't really worried about their offense. They can run the ball with
Alfred Morris
,
Pierre Garcon
can get open down the field for backup
Kirk Cousins
, and they can score enough points.
Defense has been the Redskins' issue all season. They rank 28th in total defense and 31st against the pass. A secondary that didn't look all that great to begin with is now missing two starting safeties and a starting cornerback. The defense is also missing its best pass-rusher,
Brian Orakpo
, and starting defensive lineman
Adam Carriker
. It has been a struggle.
Yet the Redskins, which have managed to win their past four games to move within a game of the Giants, have a real chance. They have looked bad on defense for long stretches during the streak -- the second half against Dallas on Thanksgiving, the first half against Baltimore last week -- but they've managed to hold on. Coordinator Jim Haslett is doing an excellent job of changing up the game plan from week to week and half to half to maximize any advantage he can find. Outside linebacker
Rob Jackson
can be a disruptive pass-rusher for a half.
DeAngelo Hall
can be a decent cover corner for a couple of drives.
They mix, match and patch it together, and so far it's not falling apart. The key will be for the Redskins to keep walking that tightrope, and if they can do it for three more games, they absolutely have a chance.
So if you're trying to make sense of this NFC East race as it hits the home stretch, look not to the big-name quarterbacks and receivers but instead to the defenses. If one of these three teams can do something on defense it hasn't been able to do so far, that could make enough of a difference to decide the division.
November, 19, 2012
11/19/12
1:15
PM ET
IRVING, Texas – With a quick turnaround before Thursday's game against Washington, we give you a quick turnaround of the weekly A Look Back post from Sunday's win against Cleveland.
PODCAST
Cowboys owner Jerry Jones talks about the play of the offensive line and how happy he is that the team came away with the win.

Listen

We'll start with the offense:
Tony Romo
took a beating with a career-high seven sacks.
Doug Free
had a hand in four of them.
Jermey Parnell
had a hand in two.
Derrick Dockery
and
Mackenzy Bernadeau
share blame for the seventh with most of it on Dockery for failing to help his center.
Free's day was a nightmare. On the first sack he allowed he whiffed on defensive end
Jabaal Sheard
, who was coming off the edge. On the second, he was late to recognize a blitz and missed the chance to pick off
Kaluka Maiava
or
Usama Young
. You might want to put some of it on
Felix Jones
, too. On the third, he and Dockery failed to pick up a simple twist as
Ahtyba Rubin
dropped Romo. The last one came in overtime when he was overpowered by linebacker
Craig Robertson
.
Parnell missed
Frostee Rucker
on the sack-fumble of Romo, but the quarterback might have been able to get rid of the ball sooner. Still, Parnell got over-extended and could not keep up with Rucker, who swiped the ball away from Romo from behind. The Cowboys had a seven-man protection against Cleveland's five-man pressure there, which is not good.
Parnell's first extended playing time was a mixed bag of good and bad and very little in between.
Three of Cleveland's sacks came on four-man pressure, three came on five-man pressure and one came on a six-man pressure.
On to the defense:
If Rob Ryan was going to go down Sunday it was not going to be because he went after
Brandon Weeden
. The Cowboys had more three-man pressures than five- or six-man pressures against the Browns rookie quarterback.
Weeden was 5 of 8 when the Cowboys brought three guys, including a touchdown to
Benjamin Watson
. Ryan's version of flooding the zone did not work to well.
Ryan brought four-man pressure 24 times, resulting in both sacks of Weeden. Ryan only brought five or more five times. The one time he brought six came on the Browns first drive of the second half. Safety
Charlie Peprah
went for the kill shot on
Trent Richardson
on a throw to the flat and missed giving the running back an easy first down.
Watson's second touchdown of the game came with the defense late to align. Either Ryan was late with the call or it was not properly relayed to the unit from the huddle quick enough. Safety
Danny McCray
, who had an outstanding game otherwise, was slow to get on Watson at the snap and gave up inside leverage on the seam route even though
Gerald Sensabaugh
was outside for some help.
If you're handing out game balls to the defense, Sensabaugh, McCray and
Anthony Spencer
should be at the top of the list.
In charting the press coverage of corners
Morris Claiborne
and
Brandon Carr
, you see a sign of Ryan's game plan. The Cowboys played full press only five times. They played off 43 times and half press 20 times.
November, 18, 2012
11/18/12
7:07
PM ET

D
Rushing Offense
The Cowboys' patchwork offensive line got whipped way too often by the Browns' front seven. Dallas running backs were dropped for a loss on six of their 19 carries. Felix Jones and Lance Dunbar combined for 53 yards on 19 carries, an average of 2.8 per pop. The right side of the Cowboys' offensive line was especially poor, with tackle Doug Free and fill-in guard Derrick Dockery consistently getting knocked backwards. The Browns' pass rushers were able to pin back their ears because the Cowboys couldn't run the ball with any consistency.

C-
Passing Offense
Dez Bryant dominated, catching 12 passes for a career-high 145 yards and a touchdown, but the Cowboys should have had much more success throwing the ball against an injury-ravaged Browns secondary. Tony Romo's protection was terrible, as evidenced by his career-high seven sacks. He did a poor job protecting the ball on one of those, resulting in a lost fumble while the Cowboys were protecting a late lead. Romo threw for 313 yards, but he averaged only 6.3 yards per attempt, primarily because the Cowboys couldn't block well enough to let him attack downfield.

B
Rushing Defense
The Browns pounded away with stud rookie running back Trent Richardson and the Cowboys did a decent job holding their ground. He finished with 28 carries for 95 yards, with the Dallas run defense growing stronger late in the game. Richardson gained only 18 yards on eight carries in the fourth quarter and overtime. Safeties Danny McCray and Gerald Sensabaugh were especially strong in run support. Outside linebacker Anthony Spencer, as usual, was also a force against the run, recording six tackles, including one for a loss.

C
Passing Defense
The Cowboys weren't able to rattle a rookie quarterback. Brandon Weeden completed 20 of 35 passes for 210 yards, hitting tight end Ben Watson for two touchdowns. Defensive coordinator Rob Ryan didn't blitz often and the Cowboys struggled to get pressure on Weeden, who tends to commit turnovers when he has heat on him. Dallas had only two sacks, one shared by DeMarcus Ware and Jason Hatcher and one by Anthony Spencer that was a trifecta (sack, forced fumble, fumble recovery). The Cowboys had two golden opportunities for interceptions when they got pressure on Weeden, but Spencer and nose tackle Josh Brent dropped the ball.

B
Special Teams
The Cowboys twice made the mistake of punting to Cleveland's Josh Cribbs and paid a steep price both times. His 20- and 22-yard returns set up the Browns' two touchdown drives. Brian Moorman booted the ball out of bounds on his other five punts, including three that landed inside the 20. Dallas' Dwayne Harris made a critical big play on a punt return for the second consecutive week. After taking one to the house in Philadelphia, Harris had a 20-yard return to set up the game-winning field goal. Dan Bailey was 3-for-3 on field goals, including the winner. An onside attempt was unsuccessful, but the Browns didn't convert that field position into points.

D
Coaching
Jerry Jones gushed about the halftime adjustments made by Jason Garrett and Rob Ryan. Well, how about the preparation during the week? It's inexcusable to have dug a 13-point hole at halftime against a two-win team. The offense was especially awful in the first half, accounting for only 68 total yards. It shouldn't have taken Garrett two quarters to figure out that his offensive line wasn't good enough to allow Romo and the receivers to attack the Browns vertically. The Cowboys managed to pull out the win -- or the Browns found a way to lose -- so this won't go down as a disaster. But it certainly doesn't inspire confidence that Garrett is the right guy.
November, 18, 2012
11/18/12
9:00
AM ET
ARLINGTON -- The Cowboys are home for the next three weeks and must take on one of the worst teams in the NFL in Cleveland (2-7) at Cowboys Stadium on Sunday afternoon.
Here's a preview:
The series:
This is the first time the
Cleveland Browns
have played at Cowboys Stadium. The last time these teams faced each other was in 2008, when the Cowboys beat the Browns at Cleveland Browns Stadium, 28-10. Cleveland leads the all-time series at 15-11 but is 6-7 in road games. Cleveland's last victory against the Cowboys came in 1994. Dallas has played them twice since then.
Who's playing:
Don't expect running back
DeMarco Murray
to play today, he'll miss his fifth consecutive game with a sprained foot.
Felix Jones
will start. Cornerback
Mike Jenkins
is doubtful with a sore back, but don't expect him to participate. Cleveland had five cornerbacks listed on the injury report Friday, which included starting left corner
Joe Haden
. He didn't practice Friday with a oblique injury and is listed as questionable.
Will we see more turnovers?:
The Cowboys intercepted a pass and recovered a fumble in the victory against the
Philadelphia Eagles
last week. Will we see more against the Cleveland Browns? As a team, the Browns are plus-1 in the turnover-ratio, tied for 12th in the NFL. However, rookie quarterback
Brandon Weeden
has thrown 12 interceptions on the season, second most in the league to Dallas'
Tony Romo
(13 picks). Romo hasn't committed a turnover the last two weeks.
A new center today:
The Cowboys will have their third different starter at center today when
Mackenzy Bernadeau
moves from right guard to center with
Ryan Cook
(knee) not expected to play.
Derrick Dockery
will move to right guard. Starter
Phil Costa
is out with a right ankle sprain and still has a slight limp when he walks.
Stopping Trent Richardson:
Coach Jason Garrett said you have to get population to the ball when the Browns rookie running back gets the ball. Richardson is 16th in rushing yards (575) and third among rookies. Overall, Cleveland is just 27th in the NFL in rushing offense and the Cowboys' defense is 13th against the run.
Ohio ties all around:
Let's start with the obvious ones. Garrett went to The University School, a high school in Chagrin Falls, Ohio, with his brothers -- tight ends coach John and director of pro scouting Judd. Rob Ryan was the Browns defensive coordinator for three seasons (2009-2010). Ryan had a slew of coaches with him in Cleveland from Matt Eberflus,
Jerome Henderson
, Keith O'Quinn and Ben Bloom. Fullback
Lawrence Vickers
played for Cleveland from 2006 to 2010.
Texas roots, too:
Oh yeah, don't forget Cleveland kicker
Phil Dawson
(who hasn't missed a point-after-attempt or field goal) went to Lake Highlands High School and the University of Texas. Browns wide receiver
Josh Gordon
and defensive lineman Phil Taylor went to Baylor. Quarterback
Colt McCoy
is from Tuscola, Texas, and played at Texas.
Home record is what again?:
The Cowboys are 14-13 at Cowboys Stadium since it opened in 2009, but in November they are an impressive 6-1. With the stadium roof closed, the Cowboys are 8-0, but with it opened, the Cowboys are 1-5. However, with the roof open and the plaza doors closed, the Cowboys are 2-0. With the roof closed and the plaza doors open, Dallas is 3-0.
November, 17, 2012
11/17/12
3:47
PM ET
By
Jason York / ESPN Stats & Information
The
Dallas Cowboys
have a chance to get back to .500 with a win over the
Cleveland Browns
though quarterback
Tony Romo
will have to curb his interception habit at home this season. Romo has thrown an NFL-high 10 interceptions at home, including nine in his last two games. At home this season overall, the Cowboys have a minus-9 turnover margin, and only the Chiefs (minus-13) have been worse.
Here five other statistical areas to watch Sunday:
" The Cowboys have limited the number of pass rushes with five or more defenders this season, and their pass rush has been more effective as a result. The Cowboys allowed a league-high 13 touchdowns when using such pressure last season, but have allowed only three this season. If the Cowboys send extra pass-rush pressure, Browns quarterback
Brandon Weeden
has proven susceptible to it. Weeden has the NFL's lowest Total QBR (14.2), and is averaging 5.5 yards per pass attempt against five or more pass rushers lowest in the league.
" Cleveland rookie running back
Trent Richardson
has rushed for 100-plus yards in each of his last two games, and he has done it between the tackles. Richardson has gained 505 of 575 yards rushing this season between the tackles. When Richardson is on the field and running effectively, the Browns protect the quarterbacks better as well. The Browns allow a sack once every 35.3 dropbacks with Richardson on the field, 18.0 when he goes off it.
" The Browns have struggled to throw the ball downfield this season. Weeden has completed just 7-of-36 passes thrown more than 20 yards downfield, though four of those completions have been for touchdowns. Only the Bills'
Ryan Fitzpatrick
(18.2 percent) has a worse completion percentage on such throws than Weeden this season.
" Romo has gone 5-of-7 on throws more than 20 yards downfield in his last two games after going just 7-of-30 in his first seven games. Last season, Romo had the second-best completion percentage (53.2) on such throws. The Browns have only allowed 13-of-44 passes (29.5 percent) throw 20 or more yards downfield to be completed against them.
" Romo has thrown four touchdown passes when outside the pocket this season, tied for most in the NFL. The Browns have allowed just one touchdown outside the pocket this season and have two interceptions on such pass attempts.
November, 15, 2012
11/15/12
2:33
PM ET
It took
Trent Richardson
some time to win over Jim Brown. But he always had one Hall of Fame running back in his corner.
Richardson has a close relationship with former Cowboys running back
Emmitt Smith
. They attended the same high school (Escambia High School in Pensacola, Fla.), and Richardson regularly gets advice from Smith.
When the Browns play at the Cowboys on Sunday, Richardson hopes Smith will be in attendance.
"I'm one of Emmitt's biggest fans, so it would mean a lot to me if he's at the game," Richardson told the
Chronicle-Telegram
. "He's someone who I've gotten to know pretty well and he's a great man. We talk probably two or three times a month, and the thing I appreciate the most is he'll be straight with you. He'll tell me exactly how I've been doing and what I need to do to get better."
Richardson is going for that elusive Browns rookie trifecta. He is looking to become the first Browns rookie to ever rush for 100 yards in three consecutive games.
Before the bye, Richardson ran for 122 yards against San Diego and 105 yards against the Ravens. On Sunday, he is going against Dallas and the NFL's 13th-ranked run defense.
Because of the break, Richardson should be healthier now than his previous two productive games. He has been dealing with a rib injury, but he told coach Pat Shurmur that he feels better now.
"I haven't, like, punched him in the ribs or anything, but he's going to be out there practicing," Shurmur said. "He said he feels good."
On the official practice report, Richardson had full participation Wednesday but he is listed with rib, chest and finger injuries.
November, 15, 2012
11/15/12
10:49
AM ET
IRVING, Texas – For this week's segment of The Other Side, we check in with long-time
Cleveland Browns
expert Tony Grossi, who works for ESPN Cleveland.
Away we go:
Todd Archer - Will the ownership change recently make much of a difference? Is this Joe Banner's show?
Tony Grossi -
Not entirely. I think Jimmy Haslam will be very hands-on, much like Jerry Jones but without the additional roles of president and GM. Like Jones, Haslam has made a huge financial and emotional investment in the Browns. He wears his emotions on his sleeve and has quickly picked up on the frustration and disappointment of long-suffering Browns fans. He will rely on Banner a lot, but I expect Haslam to be in the draft room, on the practice field and in the Dawg Pound -- but not on the sidelines.
TA - Is there reason to believe Brandon Weeden is the guy for the Browns? They've gone through so many quarterbacks that you wonder if they're ever going to get it right.
TG -
For a dozen or so years I've advocated the need for a more physical quarterback for the Browns to compete in the AFC North and also in their geography. Weeden has those tangibles -- big stature, big arm. He has an exceptional arm and also a nice release. I'm of the opinion that's where you start with a quarterback in this climate, playing outdoors, in an extremely physical division. The days of Brian Sipe magically floating balls into tight windows are long gone in the NFL. The jury is still out on Weeden's intangibles -- reading defenses, decision-making, etc. I'm liking what I'm seeing, though.
TA - Are we starting to see the Trent Richardson that had everybody excited back in April?
TG -
Maybe not Sunday, but he's trending up, no doubt. He missed all of preseason after knee scope in August. He had 100 yards in his second NFL game. Then the coaches fell in love with Weeden's arm for two games and underused Richardson. Then he hurt his ribs. He played through a painful injury for two games and wasn't effective. Then he had two 100-yard games, still not at 100 percent. He said this week he's still not completely over the injury. I can't wait to see him totally healthy. Barring a setback, he should have the final month to show us the real Trent Richardson. He is the ultimate team guy.
TA - The Cowboys are going through some growing pains with Morris Claiborne and they use Joe Haden as an example for the rookie CB to follow. He was suspended for four games but seems to have come back and played well. Where is he in terms of his development?
TG -
In training camp, Haden viewed this as his breakout year. He dropped 5 INTs last year and he was all geared up to establish himself as a shutdown corner, a Pro Bowl CB. The suspension kept him out Games 2-5. He had INTs in Games 1-6. He is their best player on defense -- a very good cover corner who is not shy about tackling. But I feel his size (5-foot-11, 190) will always betray him when covering the real giant elite WRs like
A.J. Green
,
Calvin Johnson
, etc. Green, one of the very best WRs, and also a divisional opponent, always seems to make the great catch over Haden. But Haden is very good and his absence showed his value. They were 0-4 without him and gave up 10 TD passes.
TA - I know I asked about Weeden already, but how has Colt McCoy handled this season and is there a future for him in the NFL if not in Cleveland?
TG -
McCoy has impressed everyone the way he has handled his situation. You can tell it is eating him up. He is such a competitor. It's not like Weeden is lighting it up. I mean, they are 2-7, and Weeden has 12 INTs. I'm sure McCoy feels they'd have more wins with him. But he is a true team player and I respect him a lot for holding his tongue. I feel he's gotten a raw deal here, what with the concussion game last year, and then having to watch his job taken from him. Everyone says he's the ideal backup now, but, really, I've never seen him enter a game as a backup and manage the game from that perspective. I truly believe he has a greater chance at success in the NFL with a dome-based team or one in a milder climate. I wouldn't rule him out as a starter in the right situation, but I'm afraid it's not in a cold-weather, physical division. He can't spin the ball through the wind like Weeden.
November, 13, 2012
11/13/12
11:00
AM ET
Here are three second-half goals for the Browns coming off the bye:

1. Figure out whether Brandon Weeden is a franchise quarterback
. This is the biggest question facing the Browns organization under new owner Jimmy Haslam. No one knows the answer to this right now, and it might not be clear by the end of the season. But Weeden was drafted by the previous regime and the current one has to decide whether it has to draft a new one next April.
PODCAST
Cowboys defensive coordinator Rob Ryan comments on the importance of beating the Eagles, creating turnovers on defense and says next week's game against Cleveland is personal.

Listen

So, what do the Browns know about Weeden at this point? He has an NFL arm who can stretch the field but he hasn't shown great football instincts. Weeden has improved since the start of the season. His fumbling problems have disappeared and his interceptions have decreased. But he hasn't thrown a touchdown pass in his past nine quarters and looked awful in the red zone against Baltimore in his last game. There's no chance of benching Weeden. The Browns need the next seven weeks to get some answers.
2. Finish games
. This season would have a different feel to it if the Browns had come through in clutch situations. There was the one-point loss to the Eagles in the season opener and the couple failed shots to the end zone in a seven-point loss at Baltimore. The Browns also would've won the last two games they lost if
Josh Gordon
had caught that pass around the goal line in Indianapolis and they held onto the fourth-quarter lead against the Ravens.
3. Figure out the third-and-1 conundrum
. Many talk about how football is a game of inches. For the Browns this season, it's been about one lousy yard on third down. Cleveland has been dreadful in short-yardage situations, converting only 8 of 18 chances on third-and-1. This shouldn't be a problem with a tough runner like
Trent Richardson
. But he's been 2-of-7 on third-and-1 tries.
April, 26, 2012
4/26/12
11:04
PM ET
IRVING, Texas – It was a big day in the NFC East with the Cowboys making the boldest move by trading up to the sixth spot in the first round to draft cornerback
Morris Claiborne
.
As expected, Washington added quarterback
Robert Griffin
III with the second overall pick, but not expected was Philadelphia being able to land defensive end
Fletcher Cox
, which gives the Eagles another pass rusher to add to Jason Babin, Trent Cole and Cullen Jenkins.
Oh, the defending Super Bowl champs
New York Giants
added Virginia Tech running back
David Wilson
.
Griffin was the sure-fire second pick in the draft all along behind
Andrew Luck
and the Redskins are hoping he fills a piece of the puzzle that coach Mike Shanahan has not been able to land. Griffin is an electrifying playmaker and should be able to thrive with the way Shanahan likes to move the quarterback outside the pocket.
The Eagles coveted Cox and were glad to see him available with the No. 11 pick. He can hold the fort when Philadelphia spreads the field with its defensive ends and provide some interior pass rush. The Eagles appear to be doing what the Giants do with pass rushers: get a lot of them.
The Giants needed a running back to pair with Ahmad Bradshaw after losing Brandon Jacobs. Wilson had 1,709 yards at Virginia Tech and was the third running back taken in the first round behind
Trent Richardson
(Cleveland, No. 3) and
Doug Martin
(Tampa Bay, No. 30).