Dallas Cowboys:

Tyler Patmon
August, 24, 2014
Aug 24
1:00
PM ET
MIAMI -- Three thoughts on the
Dallas Cowboys
'
25-20 loss
to the
Miami Dolphins
1) Tyler Patmon, an undrafted rookie free agent, intercepted two passes (returning one for a TD) and forced a fumble.
Ultimately, the game is about making plays and he provided the coaching staff with several reasons why he should be on the roster, especially at a position where the Cowboys have a plethora of questions.
[+] Enlarge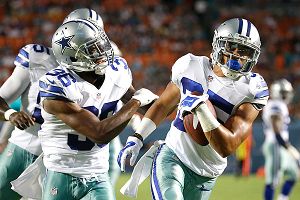 AP Photo/Lynne SladkyTyler Patmon, right, made a number of big plays against the Dolphins, including making two interceptions.
Patmon forced a fumble with a perfect open-field hit at the Dallas 36-yard line, ending one potential Miami scoring drive.
In the third quarter, he intercepted starter
Ryan Tannehill
's underthrown pass along the sideline at the Dallas 5. Patmon made his biggest play in the fourth quarter, intercepting a swing pass at the Miami 9 and returning it for a touchdown that gave Dallas a 20-11 lead with about seven minutes left.
Each play changed the game, and it will help that Patmon made his first two plays against Miami's starters.
2) In case you didn't know it, Dwayne Harris showed why he's one of the Cowboys' most valuable players.

He's a difference-maker on kick and punt returns, the kind of player who will help the Cowboys win a couple of games this season with his work in the return game.
He averaged 38.5 yards on two kickoff returns, including a 50-yard return that he nearly took back for a touchdown. He has outstanding vision and a feel for the soft spots in coverage, and once he sees an opening he attacks it.
3) Right now, safety Ahmad Dixon gets the vote for the player most likely to give Jason Garrett a migraine. Or turn his red hair gray.

Still, there's something to like about Dixon's aggressive -- perhaps reckless is a better word -- approach. If it can be harnessed, then Dixon could eventually be a really nice addition to this secondary.
Last week, he didn't play as punishment for being late to a walk-through practice the day before the Baltimore game. Against Miami, he made a poor decision that resulted in a 15-yard penalty for unnecessary roughness late in the fourth quarter.
On third-and-9 from Dallas' 22-yard line with 2:11 left, Miami quarterback
Matt Moore
overthrew receiver
Matt Hazel
near the goal line. Dixon might have been able to intercept the pass if he hadn't been so intent on punishing Hazel.
Instead, Dixon blasted Hazel in the chest. It was a classic example of hitting a defenseless receiver and drew a penalty.
An incompletion would've forced Miami, trailing 20-19, to attempt a field goal and would've given Dallas an additional 30 seconds or so to rally had Miami made the kick.
The penalty moved the ball to the Dallas 11 and five plays later Miami scored the go-ahead touchdown.
Key number: 3.4
The Cowboys gained only 110 yards on 32 first-half plays.
Tony Romo
played the entire first half, so that excuse has been eliminated. The Cowboys didn't have any pass plays of 20 yards or more or running plays of 10 yards or more, so we shouldn't be surprised their offense produced just two field goals. More important, they failed to control the line of scrimmage.
Player to Watch: Ryan Williams
Williams is doing his best to make it difficult for the Cowboys to cut him. He finished with 12 carries for 47 yards, a 3.9 yard average per carry, but he's a more dynamic runner than
Joseph Randle
.
The problem, of course, is the third running back has considerably more responsibilities than just running the ball since
DeMarco Murray
and
Lance Dunbar
will get the vast majority of carries.
Randle is better in pass protection and he's better on special teams. Randle delivered a big hit on kickoff coverage against Miami. The Cowboys can suit him up and know he has a role; they can't do that with Williams.
This is the best competition for a roster spot on the team. Each week, Williams makes it more difficult.
He has one more opportunity to sway the coaching staff, but he needs to do it without the ball in his hands.
July, 16, 2014
Jul 16
1:30
PM ET
Constructing a 53-man roster is a difficult process, piecing together 10 positions groups and matching up present needs with future production of older and younger players. This week we take a look at constructing the Dallas Cowboys' roster.
Cornerbacks
On the roster:
Brandon Carr
,
Orlando Scandrick
,
Morris Claiborne
,
Sterling Moore
,
B.W. Webb
,
Terrance Mitchell
,
Tyler Patmon
,
Dashaun Phillips
Locks:
Carr, Scandrick, Claiborne
Inside track:
Moore, Mitchell
Need help:
Webb, Patmon, Phillips
How many fit?
Remember when the Cowboys kept only three cornerbacks a few years ago? And the fourth was
Alan Ball
, who was a starting safety? They can't go that light again, but the Cowboys rarely used a dime package (six defensive backs) last season and Rod Marinelli did not use it much when he was with the
Chicago Bears
.
While some teams will carry six cornerbacks, taking five is the most likely option.
Carr, Scandrick and Claiborne are starters (yes, the third corner is like a starter). The remaining two spots are up for grabs, but Moore's ability to play inside and outside should give him a leg up provided he plays as well in the summer as he did in the spring. He should have had the job last season, but the Cowboys kept Webb instead and he never really developed as a rookie. Webb's struggles continued for most of the spring, but he was a little better in the minicamp. His draft status last season was a big part of why he made the roster, but he might not be so fortunate this summer.
Mitchell missed most of the offseason because Oregon did not graduate until late, but he made a favorable impression at the minicamp. The coaches like his swagger and he also possesses good size. The Cowboys feel lucky that they were able to grab him in the seventh round. Phillips was given the largest signing bonus of any undrafted free agent ($7,500) and Patmon earned a spot on the 90-man roster by making the most of an invite to the rookie minicamp. Of the two, Patmon was noticed more in the spring, but Phillips showed ability to go get the ball at Tarleton State.
The series:
Quarterbacks
Specialists
Running backs
Safeties
Wide receivers
June, 20, 2014
Jun 20
9:00
AM ET
IRVING, Texas -- Part 1 of the
Dallas Cowboys
' Twitter mailbag is ready.
In it we discuss:
Away we go:
@toddarcher #cowboysmail, what list will Orton go on if he is a no show and is not cut from the roster? Will he take up a roster spot?

— David Ensley (@roodmood74) June 19, 2014
@toddarcher
: He will go on the refused to report list if he does not show and is not cut and the Cowboys would gain a spot on the 90-man roster in his absence. I want to get more into the "why" on Orton's absence. I don't believe it's unhappiness with his contract. I don't think he is looking to go anywhere else. I truly believe he doesn't want to play. But if the Cowboys don't cut him, then he might have to play. We all should be so burned to have to come back and earn $3 million for a season in which he might not play a snap. Orton can skip the first week of camp before the Cowboys would be able to come after some of his signing bonus money. If he retired, then he would have to repay the team $3.4 million. Would you want to write that check? Would you be willing to give up about $300,000 in fines, de-escalators and still make excellent money? I believe we'll see Orton sometime in late July in California.
Todd, do you think B. Carter could be used more as a run stopper/pass rusher this season? His lack of coverage skills worry me. #cowboysmail

— Fabio Key (@fabiokey) June 18, 2014
@toddarcher
: No, because those aren't his strengths either. He can run with running backs and tight ends. When he plays with confidence, he is fine. He had a solid offseason in coverage, improving as the OTAs and minicamp went along. Now that doesn't mean anything when the pads come on but there were some encouraging signs. Linebackers coach Matt Eberflus made it sound like Carter is much more into the process of learning everything he needs to learn. That's a good thing. He's just not built to be a run stopper/pass-rusher. The weak-side backer in this scheme has to be the playmaker. Think
Lance Briggs
in Chicago. Carter has those skills, but can he put it all together? I'm not sure, but he did some good things in the spring.
Cowboys fan from Australia... How many rookies do you think make the final roster? #cowboysmail @toddarcher

— Josh (@joshDNuggets) June 18, 2014
@toddarcher
: As an Aussie, I was expecting a
Mat McBriar
question. Oh well. The Cowboys had nine picks. Do I think all nine will make the 53-man roster? No. I'll make
Zack Martin
,
DeMarcus Lawrence
,
Anthony Hitchens
and
Devin Street
locks. I like
Ben Gardner
,
Ahmad Dixon
and
Terrance Mitchell
to make it as seventh rounders. I think
Ken Bishop
and
Will Smith
will have chances too, but I'm just playing a numbers game right now. Then there are the undrafted rookies, like
Tyler Patmon
,
Ben Malena
and Davin Coleman. The Cowboys look to have some rookies who can contribute if not this year, then in the future.
@toddarcher Jason Babin an option to bring in? #cowboysmail

— Lance Gholston (@GholstonLance) June 19, 2014
@toddarcher
: I've asked and was told no. I think his day is done and I think the Cowboys want to see what they already have. There's something about Babin that just doesn't fit. He has been in a ton of spots the last couple of years. Teams keep biting on his talent. The Cowboys are content with their defensive line mix.
@toddarcher could the #Cowboys use the nickel as their base given how much teams use "11" personnel these days? #Cowboysmail

— Turnip-nip (@JaredHopsonWill) June 19, 2014
@toddarcher
: If you think about it, it is their base package. They will play more nickel defense than base package just because of what you said. It's all dependent on personnel groupings. If teams want to line up with a fullback or two tight ends, you'll see their base defense. If they want to spread the field, they'll go with a nickel look. The Cowboys feel like they're covered at cornerback with
Brandon Carr
,
Orlando Scandrick
and
Morris Claiborne
. They like their defensive line rotation, although there are a lot of questions simply based on the untested or unknown players added in the offseason or coming back from injuries. But at the end of the day, Rod Marinelli will be in a nickel defense 60-65 percent of the snaps.
June, 13, 2014
Jun 13
10:30
AM ET
IRVING, Texas -- Part 1 of the
Dallas Cowboys
' Twitter mailbag is ready.
In it we discuss:
The state of the Cowboys defense.
Adding a new name to the veteran linebacker mix.
The future of B.W. Webb.
Tony Romo's two back surgeries.
Bruce Carter's performance in organized team activities.
Away we go:
@toddarcher people say the D is going to be worse cause Ware and Hatcher but it was bad with them, how do you think we'll fair #cowboysmail

— EazyT" (@CorralesTrey) June 10, 2014
@toddarcher: The odds say the defense can't be worse than it was last year, but I was saying the same thing about the 2013 defense compared to the previous year. Look where that got me. The Cowboys don't have a pass-rusher better than
DeMarcus Ware
on the current roster. They believe
Henry Melton
can be a younger (and better fit) version of Hatcher, but he's coming back from knee surgery. They will not have
Sean Lee
. It's hard to say the defense will be better. There are questions at every level and with almost every player. The safest picks are
Barry Church
and
Orlando Scandrick
. You know what you will get from those guys. Do you know what you'll get from anybody else? I'm not so sure. I'm playing the odds and say they will be better, but I don't see them cracking the top half of the league. If they can get in the low 20s, then they'll have a chance to make the playoffs.
@toddarcher Hey Todd why don't the Cowboys go after LB James Harrison think he could be a good back up or starter?#cowboysmail

— Chido Ekwu (@Tha_Big_Cheeze) June 9, 2014
@toddarcher: Well,
James Harrison
doesn't play a position of need here in this scheme. If they were in a 3-4, I'd say yes. He was marginal last year in Cincinnati in a 4-3. Too many times we get caught up in names when it comes to the Cowboys. That's why everybody mentioned Brian Urlacher. Harrison was a great player, on par with Ware. He made a ton of disruptive plays. But he's not that guy anymore. And he doesn't fit a need. The strong-side linebacker in this scheme is going to play 40 percent of the snaps. It will be either
Kyle Wilber
or
DeVonte Holloman
, and Wilber will get my vote. Harrison had his time. He's not a guy the Cowboys need to go after.
@toddarcher Seems BW Webb is always on the bad end of OTA reports right now. Is he on or off your 53-man roster as of today? #CowboysMail

— Jess Haynie (@CBA_Haynie) June 11, 2014
@toddarcher: If I was putting together a 53-man roster right now, Webb would not be on it.
Sterling Moore
has been better.
Tyler Patmon
, who was at the rookie minicamp on a tryout basis and earned a job, has been better. We haven't seen seventh rounder
Terrance Mitchell
since the rookie camp because of league rules, but I'd put him ahead of Webb right now. You're just not seeing progress either outside or in the slot. I hate to give up on a guy in his second year, but sometimes it's just obvious. He has the athletic ability but it's just not translating. He was getting virtual one-on-one coaching last year when he was forced to play and he struggled. Right now he would be my fifth or sixth corner at best. He has to have a really good training camp and preseason to make the club.
@toddarcher #CowboysMail Why do u say that Romo had 2 back surgeries in a year when 1 was just a cyst? Was the cyst something more serious?

— Bryan Nevin (@nevinfamily) June 12, 2014
@toddarcher: It's still a surgery. They still had to knock him out. It still kept him out for an entire offseason. Jerry Jones likened it to a toothache, but it was enough to keep him out of everything. Was it as serious as the one he had last December? No, but it's still something. It's still accurate.
@toddarcher #CowboysMail How has Bruce Carter looked in OTAs? Specifically in coverage

— Luke Bahry (@LukeBahry) June 11, 2014
@toddarcher: I wish I could say he's been different than in the past, but he's been about the same. I'm not meaning to sound down on him, but it's difficult to cover
Jason Witten
. I haven't noticed him on backs as much and he struggled there last year. But he's been in position a few times and not made a play. He's made some plays. It's been OK. He needs to be better than OK. That doesn't mean he has to turn into
Derrick Brooks
, but he has to take a step forward. Sometimes he will do something and you'll say, Wow. Other times you're left wondering what he was watching.
May, 22, 2014
May 22
5:47
PM ET
IRVING, Texas -- The
Dallas Cowboys
signed offensive tackle
Darius Morris
and waived/injured guard
Jarrod Pughsley
on Thursday.
Morris is the second player to sign with the club in two days after performing well on a tryout basis in last weekend's rookie minicamp. Cornerback Tyler Patmon was signed Wednesday after safety
Marvin Robinson
was waived/injured.
Morris went to camp with the
Houston Texans
in 2011. He was a two-time All-MAC selection in 2009-10 while at Temple.
Pughsley, who received a $5,000 signing bonus as an undrafted free agent, suffered a torn biceps that will require surgery. If he clears waivers, he will revert to injured reserve.
May, 21, 2014
May 21
4:06
PM ET
IRVING, Texas -- Tyler Patmon has turned a weekend invite to the Dallas Cowboys' rookie minicamp into a contract.
The Cowboys signed Patmon, a cornerback, on Wednesday and waived/injured safety
Marvin Robinson
, who received a $2,000 signing bonus as an undrafted free agent. Robinson hurt his knee in the rookie minicamp.
Patmon started five games last year at Oklahoma State after a three-year run at Kansas. He had 30 tackles, nine pass breakups and an interception in 2013.