Dallas Cowboys:

Tyler Wilson
November, 27, 2013
11/27/13
7:00
PM ET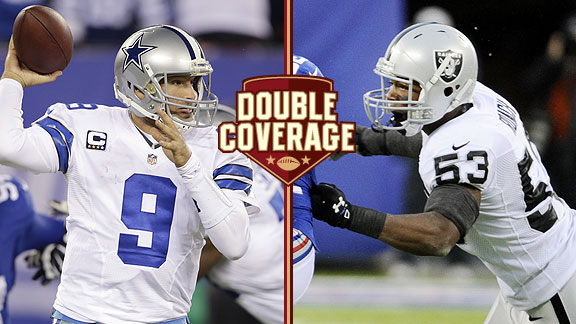 AP PhotoTony Romo's Cowboys host Nick Roach and the Raiders in a Thanksgiving Day duel.
IRVING, Texas -- For the second time in five years, the
Dallas Cowboys
and
Oakland Raiders
meet on Thanksgiving at AT&T Stadium.
The Cowboys won the 2009 matchup 24-7 with
Tony Romo
throwing for 309 yards and two touchdowns and
Miles Austin
catching seven passes for 145 yards. Since that game Austin has had more yards in a game just twice.
ESPN.com's Raiders reporter Paul Gutierrez and Cowboys reporter Todd Archer bring you this week's holiday version of Double Coverage.
Todd Archer:
The Cowboys are bad in most areas defensively, but they have given up 200 yards rushing in three games this season. The Raiders' strength, from afar, seems to be their running game. What makes it so good and how has it differed with
Terrelle Pryor
out?
Paul Gutierrez:
Hey, Todd, it's not just Pryor being out, but also
Darren McFadden
, who has missed three straight games and four overall with a strained right hamstring. He said Monday night he hopes to play after practicing (limited) for the first time since Nov. 1. The run game, though, has not missed a beat with underrated
Rashad Jennings
picking up the slack. In the past four games, he has run for 413 yards while averaging 5.7 yards per carry. In fact, the running game has been so surprisingly solid without McFadden and Pryor that the play-action pass game has picked up with undrafted rookie
Matt McGloin
under center.
Speaking of passing games ... no doubt Tony Romo can rack up stats, but has he decided to assume more of a leadership role yet as the QB of America's Team, or is that just not in his makeup?
Archer:
He has developed over the years as a leader, but there's no question that this has been "his" team the past three seasons. He is the veteran. He is the guy the Cowboys look to. The guys on this team now don't know of the Romo who burst on the scene in 2006 or had to deal with the
Terrell Owens
stuff. He's the guy who led the lockout practices and has been the big voice in the room. This year he has been given the added responsibility of being more involved in the game plan. The Cowboys' past two wins have come on last-minute drives led by Romo to beat Minnesota and the
New York Giants
. I don't think there's anybody questioning his leadership anymore. And if they did, well, the $106 million extension Jerry Jones gave him in the offseason should be more than enough proof to those guys that this is Romo's team.
Let's stick with the quarterback theme. Before the Cowboys lucked into Romo, they ran through a ton of guys after
Troy Aikman
's departure. Is there any reason to believe McGloin or Pryor can be a solution or do the Raiders need to go after one of these guys in next April's draft?
Gutierrez:
Well, the way I put it earlier in the season, before Pryor hit his purported ceiling and sprained his right knee, robbing him of his greatest strength (running) while accentuating his biggest weakness (passing), if Pryor was not the Raiders' Mr. Right, he was their Mr. Right Now. McGloin is a pure quarterback, a pocket passer whom Dennis Allen prefers for what he wants to accomplish offensively. It's hard to give Allen and GM Reggie McKenzie much credit for their evaluation of QBs, though, what with their misses on
Matt Flynn
and
Tyler Wilson
, not caring much for Pryor early on and then, similar to the Cowboys with Romo, stumbling upon McGloin. But it's hard to see them going all in with the undrafted rookie from Penn State, too. At least hard at the moment. Unless McGloin continues to improve and wins a few games, it would behoove the Raiders to draft another QB if they see one as a can't-miss prospect. I know, I know, they really wanted USC's
Matt Barkley
but Philadelphia traded in front of them so they traded back and selected Wilson. Oops. There is no doubt, though, that this Raiders regime prefers McGloin as a prototypical QB over the more electric Pryor.
No matter who is under center for Oakland, though, the Raiders' QB is going to have to keep an eye on
DeMarcus Ware
. Is he rounding back into shape as a dominant pass-rusher, or is he more decoy as he rehabs from his quad strain?
Archer:
I think he's still feeling his way through it. The fact that he made it through the Giants game healthy was a plus. He has been dinged up in just about every game with stinger and back strains earlier in the season before the quadriceps injury. We'll see how he fares on a short week, but the defense is a lot better with even the threat of Ware on the field.
Jason Hatcher
had two sacks against the Giants at least in part because of the attention Ware received. Ware has talked about wanting to make up for lost time. He has five sacks so far, his fewest this late in a season since his rookie year in 2005. Thursday would be a good time to look like the DeMarcus Ware of old.
This game is a homecoming of sorts for guys like
Mike Jenkins
,
Andre Gurode
,
Kevin Burnett
and Tony Sparano, but it's a real homecoming for Dennis Allen. How is he perceived in Oakland and will McKenzie be more patient with him than, say, Al Davis would have been?
Gutierrez:
The jury, so to speak, is still out on Allen in the streets of Silver and Blackdom. Of course, when the Raiders win a game, he's the man. When he loses, the fans turn on him and start pining for Jon Gruden ... again. But isn't that the nature of the beast? Even Allen himself said this was a results-oriented business. Of course, he was referring to the quarterback position at the time, but it still applies. Make no mistake about it, Allen is McKenzie's "guy" and he's going to roll with him and have patience with him. The plan coming in was to give Allen at least three years to right this ship and really, the only thing that could damage Allen's chances of lasting another year would be if the team quit on him, like it did last November before playing hard again at the end. Then again, it might not be McKenzie's choice. Owner Mark Davis is a more patient owner than his father and wants McKenzie to handle all football-related decisions. But a year after stating he was fine with just about anything but regression, Davis wants progress. Stagnancy won't cut it, either. So, stay tuned.
Sticking with the coaching theme, is Jason Garrett in Jerry World for the long haul, or was Jerry Jones' support merely the dreaded vote of confidence?
Archer:
Jerry has publicly backed Garrett, but he's also been a guy who's said, "Just because I say something, doesn't mean it's true." I do know this: He wants Garrett to be the guy. He desperately wants it to work. I really believe that. He believes in Garrett's approach and how he builds a team. Garrett will provide some blow-back to Jerry but not as much as, say, a Bill Parcells. Garrett knows what makes Jerry work and knows how to work around it to a degree or push Jerry in a certain direction. Honestly, Cowboys fans should want the Garrett deal to work out because it might be the best combination to mitigate the bad parts of Jerry and keep the good parts of Jerry.
April, 29, 2013
4/29/13
9:06
AM ET
IRVING, Texas – The Cowboys draft is over but not forgotten, so there's no time like now than to wonder about things that did and did not happen.
On to 5 Wonders:
** If the Cowboys are going to be a predominantly two-tight end team, like they say they are, then I wonder if they should have taken Notre Dame's
Tyler Eifert
at No. 18 and risked the chance that
Travis Frederick
would be there at No. 47. If they had gone that route, they would have had the best tight end and best center in the draft with their top two picks. The Cowboys had their eyes on
Justin Pugh
with the No. 31 pick, but he went to the
New York Giants
at No. 19. They felt Frederick was the final offensive lineman in the draft capable of being a Day 1 starter and did not want to risk losing him or waiting until the second round. That's a draft for need, which is OK at that point, but Eifert will be somebody worth watching for the next few years.

** I wonder if the Cowboys will alter how they will evaluate defensive lineman after what happened with
Sharrif Floyd
. He was among the top-10 players on their board, perhaps the highest rated defensive player, and he was staring them in the face with the 18th pick. And they passed on him. Then you hear about the kid's arm length and lack of sacks. Well, those were things everybody knew before the draft. What it came down to was scheme fit and Floyd wasn't deemed to fit in what the Cowboys wanted in 4-3 tackles. Had they stuck with the 3-4, then I can almost guarantee they would have selected him. If a player is not a scheme fit, then he just can't be that high on their draft board.
** I wonder if Jerry Jones understands how even in points of praise he can also hurt. Take
Tony Romo
as an example. On Friday, Jones said Romo played a part in the selections of
Gavin Escobar
and
Terrance Williams
in the second and third rounds. Jones was attempting to show Romo was all-in. Well, what about the current players on the roster at those positions. Should they now think Romo didn't like them as much? And then Jones said part of the quarterback's new megadeal meant he had to spend "Peyton Manning time" at the facility. For those who questioned Romo's commitment, that was all they needed to further their belief that Romo was not fully vested when Romo has always been a "football junkie."
PODCAST
Did Jerry Jones call out Tony Romo? Fitzsimmons & Durrett react to exclusive audio of Jones talking about the quarterback's increased role, who will be calling plays for the Cowboys and the Peyton Manning-like time he anticipates Romo putting in.

Listen

**Over the last two years every team in the NFC East has looked at a quarterback-of-the-future/present in the draft. Washington did it last year with
Robert Griffin
III and also took
Kirk Cousins
. Philadelphia traded up for the top pick of the fourth round to take
Matt Barkley
a year after they took
Nick Foles
. The New York Giants grabbed
Ryan Nassib
in the fourth round. And the Cowboys chose to pass on the position. Again. Romo turned 33 recently.
Kyle Orton
is signed through 2014. I wonder if next year is the year the Cowboys look to the quarterback position. No, I do. Really. I had no problem with the club not taking a QB this year, but had Barkley, Nassib and
Tyler Wilson
dropped to them in the fourth round, I wonder if they would have pulled the trigger this year. Since they passed on
Landry Jones
, I think we know he wasn't their guy. Is it too early to think about A.J. McCarron or Aaron Murray or any other QB? And, yes, I realize Johnny Manziel could be draft eligible. A quick aside: For those wondering why the Cowboys didn't go after Tyler Bray, think about it. His coach, Derek Dooley, is on this staff now. Don't you think the team would need to know all (stress all) there would be to know? And if the kid panned out at Tennessee, then Dooley would still be the Vols coach.
** I hope
Marcus Lattimore
turns into a great success. His story would be a terrific inspiration for everybody. But he wasn't what the Cowboys needed. I wonder if people realize San Francisco was able to take a flier on Lattimore, who is coming back from a horrific knee injury, because it had so many picks. The Niners had the opportunity to offer up a redshirt year for Lattimore. The Cowboys, who entered the draft with six picks and added one through a trade with the Niners, didn't. They needed a running back to help right now and they got
Joseph Randle
in the fifth round. If Lattimore becomes a star, then good for San Francisco but I would not use that as a knock on how the Cowboys ran their draft.
April, 27, 2013
4/27/13
8:04
PM ET
IRVING, Texas -- With
Matt Barkley
,
Ryan Nassib
,
Tyler Wilson
and
Landry Jones
available in the fourth round Saturday, it looked like the Cowboys could have had to chance to do something they don't do often and draft a quarterback.
By the time they picked at No. 114, only Jones was available and he went to Pittsburgh with the next pick.
Barkley went No. 98 to Philadelphia, Nassib went to the
New York Giants
at No. 110 and Wilson went to Oakland at No. 112.
The last quarterback the Cowboys drafted was
Stephen McGee
(fourth round) in 2009. Since 1990 the Cowboys have drafted only three quarterbacks:
Bill Musgrave
(1991),
Quincy Carter
(2001) and McGee.
The Cowboys have
Tony Romo
, who turned 33 earlier in the week,
Kyle Orton
and
Nick Stephens
on the roster and agreed to a deal with undrafted rookie
Dalton Williams
on Saturday.
"I think every team wants to develop a quarterback," coach Jason Garrett said. "You want a guy coming along. We feel really good about the quarterbacks we have on the roster right now and what their roles are. If one of those top guys had fallen further we would've had another conversation about it. We felt those guys were good players and maybe good value but maybe not for us where we were picking."
April, 18, 2013
4/18/13
11:30
PM ET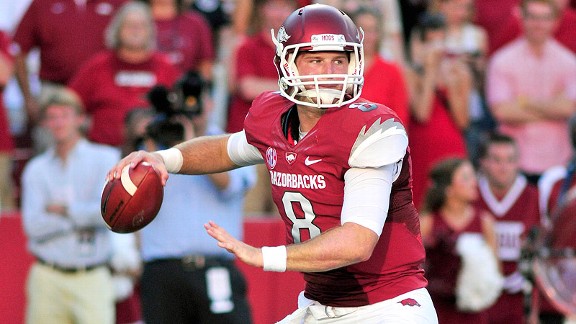 AP Photo/April L. BrownArkansas QB Tyler Wilson shows good poise in the pocket and can make all the NFL throws.
To help preview who might be on the Dallas Cowboys' board for the NFL draft, ESPNDallas.com has identified five players at five key positions that we'd like to learn more about. Along those lines, we've asked former Cowboys assistant coach Glenn "Stretch" Smith – the official scout of Galloway & Company – to study tape of each player and give his thoughts.
Height/weight:
6-foot-2 1/8, 215 pounds
School:
Arkansas
Why he's on the radar:
No, not just because Wilson played for Jerry Jones' alma mater. He's a tough, poised passer who has proven his ability to throw accurately under pressure. He was productive as a senior despite extremely difficult circumstances, throwing for 3,387 yards and 21 touchdowns on a team that endured coach Bobby Petrino's personal scandal and dismissal and lost its top three receivers from the previous season.
Projection:
Second or third round
Stretch Truths:
Like this kid's upside. ... Has the arm to make all the NFL throws. ... Good feet in the pocket. ... The pass rush does not bother him; keeps his eyes down the field and handles pressure. ... When he gets comfortable under center, think he can be dangerous at NFL level. ... Needs to be an understudy for a couple of years, but it's all in front of him.
April, 9, 2013
4/09/13
1:00
PM ET
The
Dallas Cowboys
signed
Tony Romo
to a seven-year contract extension worth $119.5 million, giving the team security at the position for the next four to five years.
But does that mean the Cowboys won't draft a quarterback for the future? Or that the Cowboys won't draft a quarterback this year?
The Cowboys have drafted 28 quarterbacks in franchise history, producing two Hall of Famers -- Roger Staubach and
Troy Aikman
. They have drafted two in the first round -- Craig Morton and Aikman -- and three total since Aikman retired in 2000.
One of the quarterbacks drafted since Aikman's retirement,
Isaiah Stanback
, was moved to wide receiver.
The Cowboys don't have an immediate need for a quarterback, but Romo will be 33 in Week 1 and backup
Kyle Orton
(30) is signed only through 2014.
The quarterback class is considered weak this year, but there are some intriguing names projected to go in the second and third rounds.
Ryan Nassib
,
EJ Manuel
,
Tyler Wilson
,
Mike Glennon
,
Landry Jones
and
Tyler Bray
are all projected to go in the middle rounds.
The perception is the Cowboys don't need a quarterback because they locked up Romo and have other areas of need (offensive and defensive line, safety and running back). But there's nothing wrong with adding to the position with young talent.
Stephen McGee
was a fourth-round pick in 2009 who was groomed to be a No. 2, but he never developed.
You could blame McGee or the coaching staff for the lack of progress.
Since 2000, NFL teams have drafted 14 quarterbacks in the fourth round, with the most notable names being Orton and
David Garrard
.
However, notable second-round selections since 2000 are
Andy Dalton
,
Colin Kaepernick
,
Kevin Kolb
and
Drew Brees
. Brees has won a Super Bowl and Kaepernick played in one this year.
Quality quarterbacks can be found in the early portions of the draft and even the middle rounds --
Russell Wilson
and
Matt Schaub
were third-round picks -- but making that commitment to the future is key for any NFL team.
While the Cowboys do have other needs, getting a quarterback this April could make just as strong a statement as giving Romo $55 million guaranteed.