Dallas Cowboys:

Tyson Alualu
October, 29, 2010
10/29/10
8:00
AM ET
By
Bryan Broaddus
| ESPNDallas.com
The 1-5
Dallas Cowboys
host the 3-4
Jacksonville Jaguars
in a battle of two teams that struggled to defend the run last week in their losses.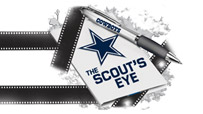 The Cowboys allowed the Giants 201 yards on the ground. The Jaguars allowed the Chiefs to rush for 236.
It's another week and another quality running back that Wade Phillips' squad must face. When you study the Jaguars offense, the one player that stands out is running back
Maurice Jones-Drew
. He is nowhere the height of
Arian Foster
or
Adrian Peterson
, but he runs with the same power and determination of those larger backs.
Jones-Drew has impressive stop-start quickness. He runs with outstanding patience and vision. He does much of his work on his own because his offensive line doesn't always get the type of push that some of the top running teams get in this league.
Jones-Drew is a difficult back to tackle because of his low-to-the-ground running style. It's hard to get a clean hit on him because of his compact body type. Jones-Drew is not afraid to carry the ball inside but does a very nice job of getting it on the edge and around the corner. Quick feet and powerful legs are his trade marks.
Another area that the Cowboys must be concerned with is Jones-Drew's ability to catch the ball. The Jaguars will use him in the red zone, trying to create mismatches with linebackers on Texas routes inside.
If the Cowboys are going to have success on defense this Sunday, controlling Jones-Drew is a must. A repeat of what happened to them last week against the Giants will only create more opportunity for this offense.
Jaguars quarterback
David Garrard
missed last week's game in Kansas City with concussion that he suffered in a Week 6 loss to the Titans. Jacksonville fans have always had a love/hate relationship with their signal-caller. Garrard is 34-34 as a starter, and depending who you were talking to in the Jaguars organization, there were those that believed that this was a make-or-break year for him.
Garrard has had two three-touchdown games this season. In the Jaguars' three wins, Garrard has completed 77 percent of his passes with eight touchdowns and one interception.
Garrard has really shined in his starts in the fourth quarter. His quarterback rating is 114.8 and he has three touchdowns and no interceptions.
When the Jaguars throw the ball, it's usually going in the direction of the two "Mikes" --
Mike Sims-Walker
and
Mike Thomas
. Both are not big-name type of players, but it was interesting to study them getting ready for this game.
I was impressed with the playmaking ability of Thomas, a DeSoto native. He is like Jones-Drew in that he is a short guy, only 5-foot-7 and change, but he has playmaking ability not only on the offensive side of the ball but also as a punt returner. Thomas has 4.30 speed and unbelievable quickness. He is a slippery player with the ball in his hands.
Offensive coordinator Dirk Koetter does a nice job of creating opportunities for Thomas by getting the ball in his hands through screens and reverses. Thomas uses his speed and quickness in his route running as well. Saw one ball where he adjusted very well to a low ball across the middle, but the next time was unable to bring it in.
The Jaguars have a talented tight end in
Marcedes Lewis
. Lewis is a large target that is a nice up-the-field player. He has solid hands and runs very well. The Jaguars will use him out of the backfield, flexed and inline. Lewis has the potential in this game to be a matchup problem for the linebackers and the safeties. Like Thomas, the Jaguars like to get the ball in his hands on the waggle and in the red zone.
*On defense for the Jaguars, there is nothing particularly good that they do. They are ranked near the bottom in most statistical areas. They are 30th in total defense and 31st in points allowed.
The pass rush is poor and they struggle to get consistent pressure on the quarterback. Former Packers defensive end
Aaron Kampman
is really the only bright spot as a pass rusher with four sacks. Kampman is a try-hard guy that plays with big effort and will show a variety of pass rush moves as he works his way to the quarterback.
Kampman will work from both sides but mainly over
Doug Free
. When he switches to the other side in the nickel, rookie
Larry Hart
will take his spot at right end.
Rookie
Tyson Alualu
plays the 3 technique while Terrence Knighton lines up as the 1 in this 4-3 defense. I really do like the motor on Alualu and the way that he keeps coming after you inside. Need to watch the matchup of
Leonard Davis
and
Phil Costa
against Alualu. He plays with nice power and strength but has also shown the ability to use his quickness to be disruptive pushing the pocket inside.
Jon Kitna
is not the most mobile quarterback. He has the most problems when the front of the pocket becomes soft and there is not a wall for him to move forward in.
In the secondary, cornerback
Rashean Mathis
is the best player and is someone that the Cowboys should avoid at all costs.
Mathis played left corner in the Kansas City game last week but then played right corner against the Titans. Mathis will bait you into throws. He gives you a look like his man is open, then drives on the football after the quarterback throws it. He is instinctive and a reader. There were times that he floats in coverage then comes off his man to make a play on the ball in another area.
If the Cowboys on defense are going to struggle to cover tight end Lewis, the Jaguars will struggle to cover
Jason Witten
as well. Was not one bit impressed with the linebackers or safeties in coverage. Kansas City had a great deal of success running waggle and boots to their tight ends, which gave the Jaguars fits. Would not be the least bit surprised if Kitna calls Witten's number several times in this contest, because the Jaguars do not have anyone that can cover Witten.
It will be interesting if offensive coordinator
Jason Garrett
goes with a game plan to try to get his running game going to help Kitna, or does he throw the ball all over Cowboys Stadium on Sunday because of the lack of a pass rush for the Jaguars and some match up problems in the secondary?
April, 9, 2010
4/09/10
12:00
AM ET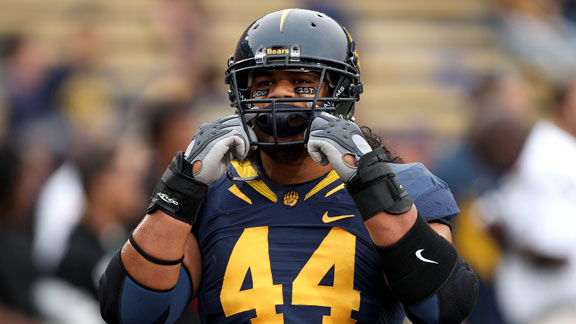 ESPNDallas.com will look at a potential Cowboys pick each weekday leading up to the draft.
TYSON ALUALU
Size:
6-2 3/8, 295
School:
California
Position:
Defensive end/defensive tackle
Scouts Inc. rank:
No. 6 at position (DT), No. 35 overall
(scouting report)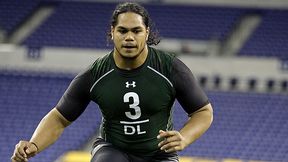 AP Photo/Michael ConroyCal's Tyson Alualu, projected as an early second-round pick, has experience in the 3-4 defense.
POSITIVES
Alualu is a tough, experienced 3-4 defensive end with the versatility to also play nose tackle. He's similar to Jay Ratliff in that he doesn't have prototypical size but plays with a nonstop motor. Alualu has extremely strong hands and does an excellent job playing with leverage, allowing him to be a force at the point of attack. He sheds blocks well and is a powerful tackler. Alualu, who is married with two kids, is considered a high-character prospect.
NEGATIVES
While he's a good bullrusher, he doesn't have reliable pass-rushing counter-moves. He relies primarily on strength and effort to rush the quarterback and needs to improve his technique. His footwork against the run is inconsistent. He doesn't have the elite range required to chase down running backs in the backfield. He's not extremely explosive off the ball and doesn't change directions quickly. He doesn't have prototypical height for a 3-4 defensive end or the ideal bulk to play inside.
COWBOY FIT
Alualu is projected as an early second-round pick, so he could be the Cowboys' target if they trade down. The Cowboys have three defensive ends who will be playing on one-year tenders next season in Marcus Spears, Jason Hatcher and Stephen Bowen. It's unlikely that all three will return in 2011, so there is a need at the position. With his experience in a 3-4, Alualu could compete for playing time immediately.
CAL DEFENSIVE LINE COACH TOSH LUPOI
"If there's a word that truly represents Tyson's game, it's versatility. He can do so much at so many different positions and be so effective. We played him as a wide rusher, dropped him in coverage, used him as a 3 technique, as a 5 technique and as a nose. Amongst all those responsibilities, it was rare for him to make a mental error and his production was excellent, leading Pac-10 defensive linemen in tackles. ... He can be a starter for someone and provide depth at multiple positions. He'd be your 5 technique and 3 technique and be very effective at those two positions and still be able to contribute in other places. He's someone who can really get after the passer in third-down and nickel situations, but he can also be an every-down player. ... One of the strengths of his game is the ability to use his hands. He can very quickly shed a blocker and use that guy's body to close a gap while getting in the other gap. He's able to strike someone and defeat them mano-a-mano and he complements that with his movement. ... [His character] is literally as good as it could possibly get. He's a family man, very religious. He has a wife and two children, and football is very important to him. He constantly wants to get better and is always in the coaches' office trying to learn. He's someone you'll never, ever have to worry about."