Dallas Cowboys:

Uche Nwaneri
August, 8, 2014
Aug 8
3:00
PM ET
OXNARD, Calif. -- Three thoughts on Day 16 of
Dallas Cowboys
' training camp:
1. You can't get fooled by anything you see in a preseason football game, especially the first one.
Randle
Several starters, including
Tony Romo
, didn't play against San Diego, and the Cowboys did little game-planning for this game. Still, you should be pleased with play-caller Scott Linehan's first game calling plays for the Cowboys.
San Diego stopped
Joseph Randle
for no gain on the game's first carry. Normally, the Cowboys would throw the ball on second down. Instead, Randle carried again. This time he gained 10 yards and a first down. He gained six yards on his third straight carry.
Then
Brandon Weeden
faked a handoff and thew a deep post to
Dwayne Harris
, who dropped a pass that was a tad high. Harris had created so much separation that he might have scored had he caught the ball. The Cowboys finished the first half with 17 passes and 15 runs, and that's with Weeden throwing seven straight times to end the half.
No one expects the Cowboys to have a 50-50 run pass ratio, but anything over 62 percent passes is not a winning number for the majority of NFL teams. Only New Orleans made the playoffs throwing the ball that much -- and they have to be considered an outlier because their team is built to play that way.
2. A defense playing the Tampa 2 scheme isn't supposed to give up big plays.

The entire defense is predicated on making the offense drive the ball methodically down the field until it makes a mistake or the defense makes a play. The Cowboys gave up a league-high 252 plays of 10+ yards last season, and the preseason game didn't reveal much improvement.
Few starters played Thursday, but conceptually it's still a tad surprising to see the defense allow so many big plays. Dallas allowed 14 plays of 10 yards or more, including five of more than 20 yards. Those 14 plays accounted for 297 yards; the Chargers gained just 98 yards on their other 44 plays.
The defense will obviously improve as the starters begin to play next week, but the big plays will continue to be concerning until they stop happening so frequently.
3. The starting offensive line did a nice job creating running lanes, and the pass protection was nearly flawless.
The one time Brandon Weeden did get pressured, he stepped up into the pocket and scrambled for positive yards. The strength of this team will be the offensive line, and they showed quite a few positives in one series.
Key number: 27
The Cowboys had 27 players who didn't play against San Diego, including 13 starters or key contributors. Most weren't hurt, and the Cowboys didn't want to take a chance anyone would get hurt. Even a key role player such as
Lance Dunbar
spent the game on the sideline.
Player to Watch: Uche Nwaneri
Nwaneri has started 91 of 95 games the past six seasons for Jacksonville. He will be fortunate to make the roster, an indication the one thing head coach Jason Garrett has done right is re-build the offensive line.
Mackenzey Bernadeau, who plays center and guard, is the sixth offensive lineman and
Jermey Parnell
will probably be the third tackle and seventh lineman, though he needs to play better.
If the Cowboys keep an eighth offensive lineman, Nwaneri is probably competing against a player such as
John Wetzel
, a 23-year-old with a year of experience, who can play guard and tackle. Nwaneri is the better player now, but will he be at the end of the season? And do the Cowboys want to pay him $855,000 instead of the $495,000 Wetzel would earn?
Nwaneri is a solid veteran and the Cowboys wouldn't have any issue using him in a game, but he must be considerably better than a youngster to earn a roster spot. Especially because the Cowboys usually only dress seven lineman on game day, and he would be inactive most weeks because Bernadeau can play two positions.
July, 18, 2014
Jul 18
11:00
AM ET
IRVING, Texas -- Examining the
Dallas Cowboys
' roster:
QUARTERBACKS (2)
The
Kyle Orton
watch is over now that the Cowboys released the veteran backup. The timing of it is a surprise, and Jason Garrett spoke optimistically all offseason about Orton's return. Now the Cowboys turn their attention to Weeden as Romo's backup. Weeden had a productive spring, running the first-team offense as Romo recovered from back surgery. The Cowboys haven't kept a third quarterback since 2011, and
Caleb Hanie
and
Dustin Vaughan
will have work to do to crack the 53-man roster
RUNNING BACKS (4)

The last two spots could be up in the air. Randle, a fifth-round choice, will be pushed by free-agent pickup
Ryan Williams
in the preseason. Williams, a former second-round pick, was not able to stay healthy in Arizona. The Cowboys have given him a chance to win a backup job. Clutts did a nice job as a late-season pickup in 2013. He is more versatile than undrafted rookie
J.C. Copeland
, but I don't think having a fullback on the 53-man roster is set in stone.
WIDE RECEIVERS (5)

I debated whether to go with a sixth, but later on you will see why I stuck with five. It is possible the Cowboys will look for a veteran in the final cuts if they feel limited by their depth because of injury, but I think they like the overall group. They will work their No. 3 receiver role on a rotation basis, but Beasley could emerge as a bigger threat on third down. There will be a lot of eyes on Williams, who takes over the No. 2 role on a full-time basis. Bryant is set for another Pro Bowl-type season.
TIGHT ENDS (3)

Witten remains near the top of the game at his position. His total catches were down last year, but his touchdowns were up. Escobar's role figures to expand, especially as a No. 3-type receiver. Hanna has the inside track on the third spot, but I have a feeling the Cowboys will be looking for more of a traditional blocker, especially if they want to get away from the fullback spot to open up a role elsewhere.
OFFENSIVE LINE (9)
The top six are set, with Bernadeau or Leary fighting it out for the left guard position and the loser becoming the top backup on the interior. Parnell is in the final year of his deal, and if Weems develops, I wonder if the Cowboys would look for a trading partner. They have invested a lot in Parnell in time and money for him to be a backup, so it would be a risk, but perhaps one worth taking. Weems had a decent offseason. Clarke gets the nod as the No. 9 guy right now, but veteran
Uche Nwaneri
could work his way into the mix.
DEFENSIVE LINE (10)
I think the Cowboys will go heavy here, especially considering what happened last year and the numbers they have thrown at the position this year. Four of them are rookies -- Lawrence, Gardner, Bishop and Coleman. I believe
Anthony Spencer
and possibly
Amobi Okoye
will start the year on the physically unable to perform list, so they don't make this 53-man roster with the idea that they join the team after the sixth game of the season. Wilson garnered the last spot over a 2013 starter,
Nick Hayden
, but there will be a few players in the mix for the final few spots, including
Ben Bass
.
LINEBACKER (7)
Carrying seven linebackers might be a little heavy, but I have special teams in mind when it comes to Will Smith. He benefits from having only two quarterbacks on the 53-man roster. The Cowboys spent the offseason telling us games are won and lost up front, so carrying an extra offensive or defensive linemen could get in this mix as well. McClain gets a spot only because of his experience. Backups of Holloman, Hitchens and Smith would be tough considering their youth, and I can see the Cowboys looking for veteran backup help around the final cut dates.
CORNERBACK (5)

Carr and Claiborne have to play exceptionally well for this defense to have a chance, and they might have to do it without much help from a consistent pass rush. Scandrick is coming off his best season, and Claiborne will have to beat him out to reclaim the starting spot. Moore can play inside and out. Mitchell showed in his limited offseason work that he can make plays. Last year's fourth-round pick,
B.W. Webb
, will have to fight for a spot. Based on his offseason work, he did not make the cut for this roster.
SAFETY (5)
Church is the only player without questions. The Cowboys are projecting the other four with their biggest bet on Wilcox. He enters camp as the starter, but he could be pushed by Heath and Hamilton. Dixon will be more of a special-teams threat if he is to make the roster. Hamilton showed some playmaking in the offseason. No
Matt Johnson
? Not right now, especially after he couldn't practice -- again -- for most of the offseason.
SPECIALISTS (3)

Perhaps
Cody Mandell
can push Jones, but Jones is the more consistent punter and has a good rapport as a holder for Bailey. Ladouceur remains one of the best long-snappers in the game. This group won't change during the summer unless there is an injury.
July, 18, 2014
Jul 18
9:00
AM ET
Constructing a 53-man roster is a difficult process, piecing together 10 positions groups and matching up present needs with future production of older and younger players. This week we take a look at constructing the Cowboys' roster.
Offensive line
Smith
On the roster:
Tyron Smith
,
Mackenzy Bernadeau
,
Travis Frederick
,
Zack Martin
,
Doug Free
,
Jermey Parnell
,
Ronald Leary
,
Darrion Weems
,
Uche Nwaneri
,
John Wetzel
,
Josh Aladenoye
,
Brian Clarke
,
Andre Cureton
,
Darius Morris
Locks:
Smith, Bernadeau, Frederick, Martin, Free, Leary, Parnell
Inside track:
Weems, Nwaneri
Need help:
Wetzel, Aladenoye, Clarke, Cureton, Morris
How many fit?
The Cowboys had 10 offensive linemen on the 53-man roster to start last season and through attrition ended with eight on the final 53-man roster of the season. Eight seems too light, but the Cowboys have carried just seven to the game for the past few seasons. Ten might seem like too many but finding offensive linemen can be tricky and the future has to be factored in with Free and Parnell entering the final year of their contracts.
As the Cowboys head to Oxnard, California, for training camp, I believe nine is the magic number. The top six are without question Smith, Bernadeau, Frederick, Martin, Free and Leary. The Cowboys could have their best line since 2007 when Flozell Adams, Andre Gurode and Leonard Davis made the Pro Bowl. The Cowboys invested three first-round picks in Smith, Frederick and Martin. Free rebounded with a solid 2013 season. Bernadeau and Leary are good enough to win with.
The questions are with the backups.
With Parnell entering the final year of his contract, could he be trade bait late in camp provided Weems shows he can be the swing tackle on game day?
There would be some salary-cap benefit, saving $1.5 million, especially if Parnell isn't viewed as a starter in 2015 or beyond. The Cowboys could choose to extend Free's deal, which could make a Parnell move possible. It's all predicated on Weems, who had some good moments in the offseason.
The interior depth is a little in question. The loser of the left guard battle between Bernadeau and Leary becomes the top backup with Bernadeau serving as the backup center. Nwaneri has a lot of experience. Clarke could be a guy worth grooming for the future after what he showed as well. Wetzell might have some position flexibility as well at tackle and guard.
The series:
Quarterbacks
Specialists
Running backs
Safeties
Wide receivers
Cornerbacks
Tight ends
Linebackers
July, 2, 2014
Jul 2
10:45
AM ET
IRVING, Texas – When Jason Garrett said goodbye to us all after the Dallas Cowboys' minicamp ended on June 19, he was asked about the state of the roster.
"We'll continue to make evaluations of individual guys, where they stack up, if they belong on the roster, who else is on the landscape,"
Garrett said then
. "You're always trying to do that. Feel good about how guys have come in here and worked. A lot of young guys got a lot of work over the course of the OTAs and minicamp. A lot of veteran players worked hard, felt competition. That's a good thing for our team and we want to continue to do that. Whether the competition comes from within or without, it's our job to make sure we're always trying to put the most competitive situation available out there on our roster."
[+] Enlarge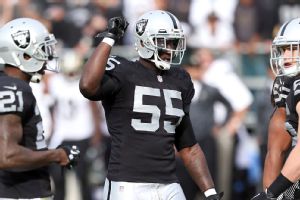 AP Photo/Paul SpinelliThe Cowboys hope recent acquisition Rolando McClain can help fill the void left by the injury to Sean Lee.
Since then the Cowboys have added two veterans: guard
Uche Nwaneri
and linebacker
Rolando McClain
.
The player acquisition business is 365 days a year. It never stops.
In Nwaneri the Cowboys have a veteran with 92 starts to his credit. The loser of the left guard battle between
Mackenzy Bernadeau
and
Ronald Leary
would be the top backup on the inside. The other backup candidates are inexperienced with
Brian Clarke
,
Andre Cureton
and
Ronald Patrick
. At the least, Nwaneri gives the Cowboys a lineman to help the backup quarterbacks have a chance in preseason games. At the best, he is a possible starter.
Trading for McClain is something of a gamble because of his past and his two forays into retirement. Does he truly want to play? If he does, then maybe the Cowboys have hit on a player who will be just 25 years old when training camp begins at a position of need with
Sean Lee
out for the year.
For all of the talk of
Brian Urlacher
joining the Cowboys, signing a 36-year-old with a bad knee after sitting out one year made less sense than adding a soon-to-be 25-year-old who sat out a season.
So where do the Cowboys look next for help before camp starts?
In the minicamp post referenced earlier, I mentioned they could look at linebacker, interior offensive line and tight end for help. Two of the three have been checked off. All that is left is tight end.
Why tight end?
They have a need for a blocker behind
Jason Witten
. That's not
Gavin Escobar
's forte.
James Hanna
is willing but that's not his strength either.
Jordan Najvar
is an undrafted free agent. There aren't many current candidates available to fit the bill in price or job description, but the Cowboys could spend time in training camp looking at other rosters for help.
June, 27, 2014
Jun 27
5:30
PM ET
The
Dallas Cowboys
made it official on Friday when they signed guard
Uche Nwaneri
to the 90-man roster.
To make room for Nwaneri, the team placed guard
Tyronne Green
(calf strain) on the reserve/injured list.
Nwaneri, a 2007 fifth-round draft pick by Jacksonville, started in 92 of 104 games in his career.
The Garland, Texas native, played high school football at Naaman Forest High School.
Nwaneri adds depth to the offensive line that's in need of youth and experience. Currently, there is only one spot open along the line, at left guard, and the Cowboys are having
Ronald Leary
and
Mackenzy Bernadeau
compete for that spot.
June, 26, 2014
Jun 26
4:50
PM ET
The
Dallas Cowboys
haven't made the signing of guard
Uche Nwaneri
official because they have to make a roster move first.
Nwaneri
Moving
Sean Lee
to injured reserve, thus clearing space when training camp starts, is one possibility. The Nwaneri signing means the Cowboys want to add experienced depth to an offensive line that is getting younger at its core.
Four potential starters are each under 25 --
Ronald Leary
,
Travis Frederick
,
Zack Martin
and
Tyron Smith
.
Smith, 23, anchors the left tackle spot and is coming off a Pro Bowl season. The team picked up his vested option for next season and has plans to give him a long-term deal.
Martin, 23, was a first-round draft pick this year and will play right guard with the potential to move to right tackle in the future.
Frederick, also 23 and last year's first-round pick, was solid at center and appears ready for a long-term future with the Cowboys.
Mackenzy Bernadeau
is 28 and he's competing for a starting left guard spot with Leary.
The old man of the group if you will, is 30-year-old
Doug Free
, who played well in 2013 after taking a pay cut. The Cowboys value him. The question is for how long, considering they have Martin on the roster as well as two younger tackles,
Darrion Weems
and
Jermey Parnell
.
Nwaneri is 30. If he makes the team, he's got eight years of experience and adds depth to the interior of the line, which is important to the Cowboys.
Cowboys owner and general manager Jerry Jones has said protecting
Tony Romo
up the gut is essential considering the quarterback is coming off back surgery.
This offseason, the Cowboys devoted themselves to getting younger and as one team official said, youth is important.
When you stick with youth, mistakes happen, and the Cowboys are willing to deal with that -- at least right now.
But there is nothing wrong with adding an experienced player to the line, and if Nwaneri's deal is completed that's what the Cowboys will have accomplished.