Dallas Cowboys:

Winston Justice
June, 10, 2013
6/10/13
4:11
PM ET
The
Dallas Cowboys
have $9.7 million in salary-cap space to sign their remaining draft picks without contracts and potential free agents.
PODCAST
ESPN NFL Insider John Clayton joins Fitzsimmons & Durrett to discuss the Cowboys and Tony Romo missing OTAs.

Listen

Here are five free agents with the potential to join the Cowboys in case of injury:
Laurent Robinson.
He's on the market because of health issues. He didn't recover from a concussion last season while in Jacksonville, but Cowboys officials are more concerned about an ankle injury. When Robinson played with the Cowboys in 2011, he caught 54 passes for 858 yards and 11 touchdowns. The Cowboys couldn't afford him when he hit the free-agent market, but if something happens to one of their receivers, they can pick him up for the veteran minimum now.
Winston Justice.
The Cowboys expressed interest in the right tackle but were able to get
Doug Free
to accept a pay cut to stay with the team. If the Cowboys want a veteran tackle, Justice is available. His salary demands were a little high a few weeks ago, but he could lower them as the season nears.
Cedric Benson.
The Cowboys drafted
Joseph Randle
in the fifth round to complement
DeMarco Murray
, who has battled injuries the past two seasons, and serve as an insurance policy if Murray is injured again. Benson has endured some off-field issues, but he could be a nice pickup in case of injury.
Sedrick Ellis.
Health and age are concerns with the projected starters on the Cowboys' defensive line. Ellis would be a nice signing in case one of the tackles,
Jay Ratliff
or
Jason Hatcher
, goes down. Ellis has drawn interest from several teams, so his availability is a question mark.
Anthony Hargrove
is also on the roster, is somebody who can play defensive end and tackle, and provides the team with veteran depth.
Ronde Barber.
He's retired and headed to television, but with inexperience at the Cowboys' safety position, maybe he'll return. Barber knows the Tampa 2 defense and is a veteran whom defensive coordinator Monte Kiffin trusts. It would be for only one season, and pairing him with
Barry Church
could be seen as a positive.
August, 31, 2011
8/31/11
8:49
AM ET
By
Ben Rogers
| ESPNDallas.com
Rabid Reaction: Our series of knee-jerk-styled, emotional overreactions from Ben Rogers of 103.3 FM ESPN's Ben and Skin Show. He's known to get way too excited over even the slightest of developments with the teams he grew up with in the DFW. Proceed with caution ...
The word on the street is a horde of hoodwinked football souls are out peddling doom and gloom to an already beleaguered and vulnerable
Dallas Cowboys
fan base. Half-empty glass brokers are cornering susceptible co-workers at water coolers, pulling up barstools next to defenseless buddies at happy hour, and
fashioning well-worded, panic-inducing crisis columns on world class websites
.
Not only are these Debbie Downers breaking out their giant Paul Bunyan axes on your trees of hope, but they're also using extremely rude langue in the process. They're throwing around the "R-word" like it's a Nerf football in your front yard on Thanksgiving Day.
"Rebuilding."
Now that's just plain reckless.
To classify a team as being in "rebuilding mode" is to say that they have zero chance for success in the present. Teams rebuild when they hit rock bottom, can longer compete, lose all remaining shreds of hope and have no choice but to tear everything down and start over.
August pigeonholing of an NFL team as such is a flat-out declaration that their upcoming season is entirely inconsequential.
The idea is that a rebuilding team sacrifices their short-term aspirations in an effort to invest in their future. Take a step back now in order to take two forward down the road. Play the youngest guys you can find in your locker room during a season that won't matter in hopes that the experience will pay off for those players once games matter again some day.
People who think along these lines generally believe there are just two gears for a franchise engine: rebuild, and contend. They think you do your best to build a contender until it clearly runs out of gas, and then you tear it down and start over.
The reality is that the healthiest sports organizations simultaneously execute both gears. They are not mutually exclusive.
When the Cowboys added five-time Pro-Bowl center
Andre Gurode
to the parade of veterans being shown the door, local panic mongers leapt at the opportunity to scream "Shark!" on the football beach.
They alleged that by overhauling their offensive line with three young, new starters, the Cowboys have given clear indication that they are officially (gulp!) rebuilding. After all, how can they part ways with legends like Marc Colombo,
Leonard Davis
and Gurode? How can they replace them with two rookies (
Tyron Smith
and
Bill Nagy
) and a second-year player (
Phil Costa
)? How can they do that and expect to compete with the likes of the mighty
Philadelphia Eagles
in the treacherous NFC East?
The Eagles, who just treated free agency like it was their own private superstar buffet, would never find themselves in the embarrassing and pitiful position that the Cowboys do with their offensive line. They wouldn't hear of such a thing. Someone hand Jason Garrett a white towel, quickly. Stop the fight! Stop the fight!
Um, yeah ... about that.
Truth is, the Philadelphia World Champs of August find themselves in an extremely similar situation with their big uglies. As it stands now, it appears that they too will start two bright-eyed rookies (RG
Danny Watkins
and C
Jason Kelce
) on their offensive line. In addition, they've moved their left guard of the past several seasons,
Todd Herremans
, to right tackle and will be starting
Evan Mathis
at left guard. He joined their team a week into camp.
Maybe the incredibly average
Winston Justice
hobbles back to the rescue at tackle to save the day a few weeks into the season. Either way, the Eagles are still looking at two rookies and lots of chaos on the offensive line that protects their $100 million quarterback.
So with all of that youth and transition, are the Eagles rebuilding too?
No. Of course not. They signed most of their post-lockout free agent horses to one-year deals. They're in go-for-it-now mode as much as anyone in the league, and you better believe they're contenders.
By the way, last season the Eagles went to the playoffs as one of the youngest teams in the league, which ultimately proves that they were both rebuilding and contending simultaneously.
That's not to say that the Cowboys are anywhere near as rosy-cheeked an organization as the Eagles, who seem to have more cap room hidden under their mattress than any team in the history of ever. But perhaps the Cowboys are learning a thing or two from their hated rival.
Working young players into the mix is merely a sign of a healthy franchise. It's nothing to panic over. Jason Garrett has created a competitive environment where no job is secure based solely on contract commas. Fierce competition for jobs will bring the best out of a football team that has admittedly felt "entitled" in the past.
It's a sizable leap to go from fueling the fires of competition to cowering under the umbrella of surrender.
Besides, why would a team with superstars in the prime of their prime like
Tony Romo
,
Jason Witten
,
DeMarcus Ware
and
Jay Ratliff
concede a season in a league drenched in parity sauce? Let's not forget that the NFC featured a 7-9 team in the playoffs last year.
The Cowboys' schedule doesn't exactly breathe fire on tiny people. It's hardly a scary monster. Nine of their first 12 opponents had sub-.500 records in 2010. Why in the world would they concede this upcoming season in order to rebuild?
Granted, they have holes. Their new offensive line will need to find continuity quickly in order to keep Romo off of a stretcher. And you get the feeling that this new defense will remain a work in progress as the mad silver-mulleted scientist Rob Ryan and his two-ton playbook will take some time for players to wrap their arms around. But once again, the schedule is more than willing to lend a helping hand as the Cowboys work out the kinks.
A bye in Week 5 is generally viewed as a potential disruption for early season momentum. Teams typically would rather have the bye in the back half of the season to give broken bodies an extra week to recover before the stretch run. However, in the Cowboys' case, considering that the lockout deprived them of critical installation time for Ryan's mysterious blueprint, Week 5 will serve as an ideal opportunity to regroup, adjust and move forward with four games of valuable film to dissect.
This team is two years removed from being 11-5 with a playoff win. They rid themselves of a somewhat directionless head coach, replaced a stale defensive scheme and have run off a handful of generals from the entitlement brigade.
Uncontaminated competition at it's purest is fueling a talent revolution at Valley Ranch. Suddenly, Cowboys draft picks can do more than grab Bill Parcells a cup of water and accompany Tony Romo to an exotic beach destination. A much-maligned football culture has been miraculously transformed.
Their schedule is friendly. Their quarterback is healthy. Their defense will soon learn the ways of the Ryan family swagger. Most importantly, their head coach is in charge.
This thing is finally headed in the right direction, and it isn't backwards.
If anyone tries to tell you that the Cowboys are "rebuilding", just smile and ask yourself if they truly understand the meaning of that big "R-word" that they're so recklessly brandishing.
10-6.
June, 9, 2011
6/09/11
2:39
PM ET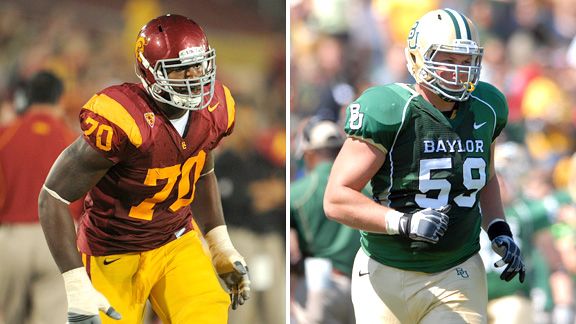 Icon SMIThe Cowboys (with Tyron Smith) and the Eagles (with Danny Watkins) used the draft to address a need along the offensive line.
Our readers like to call this division "The Beast," but I'm not so sure. I mean, I
get
it -- it rhymes with "East," and it reflects the kind of toughness and meanness that fans like to attribute to their favorite teams. And not long ago, it fit nicely. The NFC East was the NFL's toughest division. Sent three teams to the playoffs in 2006 and 2007. Took out the undefeated Patriots in the Super Bowl. Very Beast-like stuff, no question.
But things change quickly in the NFL, and 2010 wasn't this division's most Beastly year. For the first time in six seasons, the NFC East last year came up with just one playoff team. The division had as many 10-loss teams as 10-win teams, and the only playoff game it has won in the past two seasons was Dallas' January 2010 intradivision victory over Philadelphia.
A fluke? Sure, it's possible. Most people expect the Cowboys to bounce back in 2011 (assuming there is a 2011). And John Clayton pointed out last week that a slate of 2011 games against NFC West opponents could help inflate NFC East teams' records the way that delicious bit of scheduling helped out NFC South teams in 2010. But if the teams in this division want to make sure this little downturn is nothing more than a blip on history's radar, they would all do well to take a look at their offensive lines.
All four teams in the NFC East had offensive line issues last year. The Giants couldn't keep theirs healthy. The Cowboys couldn't seal off the right side. The Eagles couldn't keep
Michael Vick
's uniform clean. The Redskins were rebuilding. Although most, if not all, of those issues are resolvable, the teams need to work to make sure they're resolved. If there's one area whose erosion can really affect the toughness, meanness and other Beast-like qualities of a team or group of teams, it's the offensive line.
To their credit, the Cowboys and Eagles at least seem to understand they need to do something. Dallas took USC tackle
Tyron Smith
in the first round in April and spent three of their eight total draft picks on offensive linemen -- snagging guard
David Arkin
in the fourth round and guard/center
Bill Nagy
in the seventh. Smith is the only one of the three expected to start in 2011, as he's slated to be the right tackle, but depth on the O-line is never a negative.
Philadelphia needed a right guard so badly that it drafted 26-year-old former hockey player and firefighter
Danny Watkins
in the first round. He'll surely start at right guard, and Philadelphia picked up two more interior offensive linemen later in the draft. The Eagles still need to figure out what's going on there on the right side with
Winston Justice
and
King Dunlap
, and that tackle spot might potentially be something they address in free agency. With a left-handed quarterback, right tackle is to the Eagles what left tackle is to most other teams -- the protector of the "blind side."
Washington used only one pick this year on an offensive lineman, and it was a seventh-rounder. But the Redskins spent the fourth overall pick in the 2010 draft on left tackle
Trent Williams
, who looks as if he'll be a star at that spot, and they're piecing things together across the middle. They will need to address right tackle if they lose both
Jammal Brown
and
Stephon Heyer
in free agency, but the Redskins are in rebuilding mode. At least they have the franchise left tackle in place.
The Giants ... sigh. The Giants could have used offensive line help in the draft. But these are stubborn people who don't believe in drafting for need. They used their first-rounder on a cornerback, even though they already had plenty of those. The "value" of
Prince Amukamara
that late in the round was too much for the Giants to pass up, so they didn't end up taking a lineman until the fourth round, and they didn't bother taking another one after that. Now, if healthy, the Giants' offensive line is the best one in the division. But the five projected starters have an average age of 31.6.
Shaun O'Hara
missed 10 games and
David Diehl
missed four last year as the fates practically screamed at the Giants about the value of depth on the O-line. Injury and age on the line didn't sink the Giants' season per se, but they reared their heads and offered a warning. So far the Giants have yet to show they heard it.
The success of the teams in the NFC East -- this year and in the years to come -- will depend largely on the ways in which the four teams address the issues bubbling up across their offensive lines. I believe the division could have three playoff-caliber teams in 2011. The Redskins are doing some nice things but still have a long way to go and, currently, no quarterback to take them there. The other three teams have skill-position talent spilling out of their ears, but holes along the line can keep even the most skilled players from making the highlight-reel plays for which they're paid. Offensive line play was one reason the NFC East looked a little meeker than usual in 2010. It may be the key to "The Beast" regaining its teeth.
January, 1, 2011
1/01/11
5:37
PM ET
By
Bryan Broaddus
| ESPNDallas.com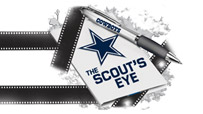 The league hoped this would be a matchup of two teams once again fighting for a division title, much like last season. It has turned into a preseason game in cold conditions.
The Philadelphia Eagles and Dallas Cowboys will be starting backup quarterbacks this week but for different reasons. The Eagles have nothing to play for after a crazy week of playing a Tuesday night game against the Minnesota Vikings and getting
Michael Vick
banged up with a quad contusion. They will have to turn around and play a wild card game next week, so Andy Reid is taking the smart approach by resting his Pro Bowl quarterback.
The Eagles are a dynamic offensive team with Vick in the lineup, but without him you can really see the flaws of this offensive line. When these two teams met in the second week of December, it was impressive the amount of pressure that defensive coordinator Paul Pasqualoni was able to generate. Vick took some tremendous shots in that game, and it seemed to affect the way he threw the ball and his willingness to take off and run with the ball.
The Vikings took the same game plan and attacked the Eagles' front and backs. With Vick out of the lineup, the Eagles lose that ability to have their quarterback save the line when they struggle to hold their blocks for any length of time.
What Vick does is he extends the play.
Kevin Kolb
has mobility but nowhere near as effective as Vick. The plan for the Cowboys should be simple: continue to attack this Eagles' offensive line, which will struggle.
For all the money that the Eagles spent on
Jason Peters
, the results can't be what they hoped for. He is not a dominant player and has his moments where he struggles on the edge and with his ability to hold blocks.
On the other side,
Winston Justice
is athletic, but he plays way too soft and tends to catch blocks. Justice tries to steer or take his man where he wants to go instead of hammering him off the ball. For all the games where
Anthony Spencer
was a nonfactor, the Eagles game earlier was one of his best.
The Cowboys will be able to rush these tackles and have some success getting to Kolb because he doesn't have the skill of Vick to avoid the rush.
Something else to watch in this game is the ability of the Cowboys to put pressure on these Eagles running backs to have to play in pass protection. As good as
LeSean McCoy
is running and catching the ball, he struggles as a pass blocker. In the Vikings game Tuesday, they put him to the test. The Eagles want to get the ball in his hands as much as possible, but there will be times where he is going to have to step up and help Kolb out in blitz pickup.
The Eagles are a big screen team and are not afraid to do it at any point on the field. The Cowboys have to be careful when they do blitz that McCoy doesn't sneak into the flat or work into the middle of the field and take a pass.
It's not that McCoy doesn't give the effort in pass protection. He is much like a
Felix Jones
in that he tries, but the technique and the results don't always work out.
On the outside these Eagles receivers are tough to deal with.
DeSean Jackson
was listed as questionable this week, so like Vick, he might sit. Jackson had a monster game the first time these teams met. As the Cowboys found out, any time the Eagles get him the ball on the move, he puts a great deal of pressure on the defense.
[+] Enlarge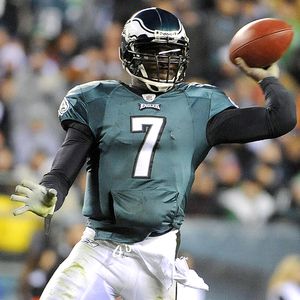 Barbara Johnston/US PresswireThe Cowboys won't have to deal with Pro Bowler Michael Vick, who will get some rest to be healthy for a wild-card game next week.
Both Jackson and
Jeremy Maclin
have speed, but their most impressive trait is their quickness. The Eagles like to use Jackson on screens or misdirection sweeps. Maclin is the better route runner of the two and appears to have the better of the hands. Maclin gets in and out of breaks without any wasted movements.
At tight end, the Eagles have a nice player in
Brent Celek
, who is an upfield player and is always a factor in the red zone. Celek has more than dependable hands and is usually a mismatch for linebackers in coverage. The Eagles have also begun to use backup
Clay Harbor
in the red zone more as well. Harbor is like Celek in that he can get up the field and is decent enough as a get-in-the-way blocker to help in the running game.
The weapons are still there offensively for the Eagles, but the key man in the offense is not. Vick has played like an MVP in 2010 and has hidden the sins of this offensive line, so it will be interesting to see how well they function with Kolb in the lineup.
When studying the game tape after the first matchup, I came away with the thought that this wasn't one of Jon Kitna's better games. There were too many times where plays were well-protected and he saw ghosts, which led to rushed decisions. There were plays that were left on the field -- the pass to
Roy Williams
early in the game along the sideline, the forced pass to
Miles Austin
that ended up as a tipped-ball interception and the underthrow to
Martellus Bennett
on a blown coverage by the Eagles.
When you are playing a team like the Eagles, they put images in your head of blitzing and attacking, which causes a quarterback to make poor choices.
For the most part, the line did a nice job of handling what Eagles defensive coordinator
Sean McDermott
threw at them.
Trent Cole
is the Eagles' best pass rusher and once again will be matched up with
Doug Free
, who wasn't at his best last week against the Cardinals.
Cole doesn't get the credit that he deserves as a run player. Free will need to block him throughout the play. He is not one of those guys that you give one shot to and he goes away.
When you play in Philadelphia, you always have to deal with the crowd noise. This is always an advantage to a guy like Cole that gets off the snap with solid quickness.
In the secondary, the Eagles have a big time player in
Asante Samuel
. Samuel didn't play in the first game and has been nicked up some the last few weeks, but he was in the lineup against the Vikings on Tuesday.
Whether it's
Stephen McGee
or Kitna at quarterback for the Cowboys on Sunday, they will be well aware of Samuel, who loves to bait quarterbacks into thinking that their receivers are open, then drive on the football to make a play.
Samuel also has a history of not wanting anything to do in the tackling side of the game. There have been times where he flies forward on a play to miss badly. In the past, teams have tried to take advantage of this part of his game.
Safety
Quintin Mikell
is no
Brian Dawkins
, but McDermott likes to use him in that way. Against the Cowboys last time out, Mikell was a steady performer. He will play forward and around the line of scrimmage. He will also be used on the blitz, which is an area that the Eagles have been outstanding at over the years.
Kitna missed a slot blitz by
Joselio Hanson
for a sack, and if McGee is the starter on Sunday, he will see more of the same. The Eagles like to create confusion with their scheme. Jason Garrett will tailor a game plan that won't expose McGee too much. The throws that he was able to make were quick ones. Slants or inside routes to receivers and
Jason Witten
working all over the field will help.
Where the Cowboys had some success was getting the ball to the backs on the outside in space. Garrett will ask his quarterback to make throws without much reading involved. The most important thing is that if McGee does in fact start, he received all the reps in practice this week and he does have the confidence of his teammates to get the job done.
December, 12, 2010
12/12/10
4:58
PM ET
ARLINGTON, Texas -- While its snowing in the midwest, we have beautiful but cool weather here as the Cowboys host the Eagles tonight. It's the first of two meetings in the last four weeks of the season between these NFC East rivals. The Cowboys have played no team more than the Eagles. This is the 103rd meeting, and the Cowboys own a 58-44 mark lifetime.
Now to what's happening.
Cowboys update (4-8):
Marion Barber is out for today's game with a strained calf so expect Felix Jones to start and Tashard Choice to also get a bulk of the carries today. DeMarcus Ware has 1.5 sacks the last three weeks and none at Indianapolis last week. Out of his 74 career sacks, Ware has just half a sack against Michael Vick. Against the Eagles, Ware has 6.5 sacks. Ware said he's got to play fundamental this week because Vick will take off on him for big yards if he scrambles. If the Cowboys lose today, they are elminated from postseason contention.
Cowboys inactives:
QB
Tony Romo
, RB
Marion Barber
, LB
Kenwin Cummings
, OLB
Victor Butler
, DE
Clifton Geathers
, C
Phil Costa
, OT
Sam Young
, OT
Jermey Parnell
Eagles update (8-4):
The Eagles are tied for first-place in the NFC East with the New York Giants and have to wait until Monday evening to see if they will still be tied. The Giants will play the Vikings in Detroit on Monday afternoon due to the snow storm in Minneapolis causing damage to the Metrodome (Mall of America Field). Eagles corner Asante Samuel will miss his third consecutive game with a knee injury. Joselio Hanson replaces him in the starting lineup. Also, right tackle Winston Justice is out and it's possible King Dunlap will take his place in the lineup. Vick has completed at least 60 percent of his passes the last three games and is a leading MVP candidate.
Eagles inactives:
QB
Mike Kafka
, CB
Asante Samuel
, CB
Brandon Hughes
, DE
Daniel Te'o-Nesheim
, OT
Austin Howard
, OT
Winston Justice
, TE
Garrett Mills
, LB
Omar Gaither
Scouts scheduled to attend:
New Orleans
Officials:
Referee -- Terry McAulay, Umpire -- Paul King, Head Linesman -- Greg Bradley, Line Judge -- Mark Steinkerchner, Field Judge -- Terry Brown, Side Judge -- Michael Banks, Back Judge -- Greg Steed, Instant Replay -- Earnie Frantz.
December, 11, 2010
12/11/10
10:32
AM ET
The Eagles will leave two starters in Philadelphia this weekend.
The team announced that cornerback
Asante Samuel
and right tackle
Winston Justice
would not make the trip to Texas. They had been listed as questionable with knee injuries.
Joselio Hanson
will replace Samuel, who leads the NFL with seven interceptions.
Trevard Lindley
will have to play in nickel situations.
King Dunlap
, who has allowed three sacks in limited playing time this season, will replace Justice.