September, 29, 2014
Sep 29
6:15
PM CT
AUSTIN, Texas -- Charlie Strong knew his
Texas
team would be an underdog against No. 7
Baylor
. He hadn't heard how badly Vegas is doubting his team this week.
"They're really good," Strong said of Baylor on Monday. "I don't know, what's the spread? How big is it?"
A couple touchdowns, he was told. In fact, the line has already moved from 13.5 to 16.
Strong looked down and raised his eyebrows. Then he had to grin and laugh.
"Wow, there's something," he said. "They deserve every bit of it!"
[+] Enlarge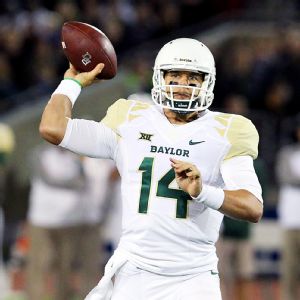 AP Photo/Bill WippertBryce Petty and the unbeaten Baylor Bears will play at Texas in a marquee Week 6 matchup.
If Baylor was looking for more good bulletin-board material, Strong did indeed disappoint on Monday. The Longhorns' first-year coach had nothing but praise for Baylor's No. 1-ranked offense during his weekly news conference. If anything, he offered admiration as a veteran defensive guru for what this prolific offense has put on tape.
"It's almost like watching a video game," Strong said.
Strong isn't one to cling to the underdog mentality -- he was a double-digit dog just four times as head coach at Louisville -- but he'll take anything he can get this week as he prepares his defense for the Bears' onslaught.
"We're going to have to play really well," he said. "We will have to play really well to be in the ballgame."
He's seen the numbers -- Baylor's nation-leading 56.8 points and 641 yards per game -- and he's seen the film. Texas has a top-20 defense thus far, both in scoring and yardage, but Strong admitted coming up with ways to slow down this particular offense is "going to keep us up at night." Especially when it comes to disrupting
Bryce Petty
.
"He's the leader of that team, he releases the ball and hasn't taken any sacks," Strong said. "He's just so heady and he knows exactly where to put it."
Strong said he's reminded of former Heisman Trophy winner Danny Weurffel when he watches Petty run the show, citing "just how smart he is and where he places the ball. He doesn't make mistakes with the football."
As for the loaded group of Baylor receivers, what impresses Strong isn't just their explosiveness and big-play capability. He's noticed strategies on tape that he'd never seen before.
"It's amazing to watch them," Strong said. "You can watch one side (of the field) and the receivers do nothing, they don't run off the ball and they stop. They'll work you to the front side. It's almost like, 'Stop us. The ball is coming over here and we're just seeing if you're good enough to go cover us and stop us.'"
Though Strong has never faced Art Briles in his career, he's quick to recognize the system's intent: Exploit mismatches, cause confusion, blend inside power and outside speed and do it all as fast as possible.
And few defenses handled that attack in 2013 as well as Texas did, at least in the first half.
Baylor finished with 3 points through two quarters despite 232 total yards. The Longhorns forced three punts. The Bears had two missed field goals. They had a tied ballgame at the half. But Texas couldn't finish, and didn't have the firepower on offense to keep up despite holding Baylor to 30 points that night.
Strong doesn't know how many points it'll take to beat Baylor this time. He just knows his offense, averaging 21.3 points per game, isn't ready for a high-scoring affair.
"We can't get into a track meet, and we know that as a staff," Strong said. "There's no way. We can't generate the points to get into a track meet."