Dallas Colleges:

Cincinnati Bearcats
March, 11, 2014
Mar 11
8:00
AM CT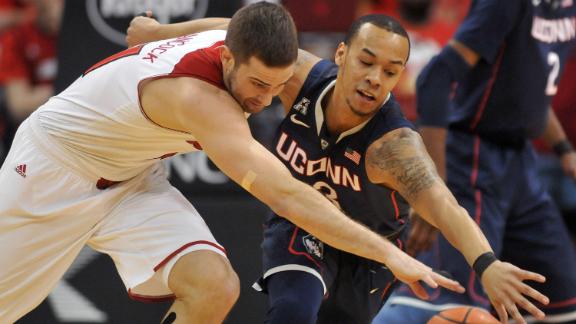 The regular season in the
American Athletic Conference
was so tight, it came down to a coin flip.
Cincinnati
and
Louisville
won on each other's home courts in games decided by a combined four points. They shared the regular-season title, but the Bearcats took the No. 1 seed for the conference tournament after winning the coin toss.
There's not much that separated the top five finishers in the conference. In fact, fifth-seeded
Memphis
swept its meetings with Louisville. Both No. 4 seed
UConn
and No. 3 seed
SMU
beat Cincinnati. It would come as no surprise if any of those teams won
the league tournament
.
[+] Enlarge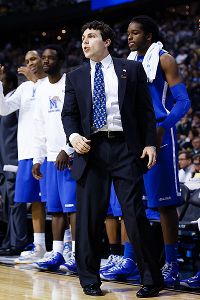 Rick Osentoski/USA TODAY SportsMemphis coach Josh Pastner, who is 1-3 coaching in the NCAA tournament, needs a big showing from his team in the American Athletic Conference tournament.
The 10-team league has what promises to be one of the best quarterfinal matchups of any league tournament when the Tigers face UConn. The Huskies swept the regular-season matchup but needed overtime to win at Memphis.
As for the bottom five teams, March doesn't contain enough madness to describe the reaction if
Houston
,
Rutgers
,
Temple
,
UCF
or
USF
emerge as champion. At 16-15, the Cougars are the only team among the five with a winning record.
The inaugural AAC tournament is held at FedEx Forum in Memphis, meaning the Tigers will have the unofficial advantage of being on their home court. As a member of Conference USA, they won the last five league tournaments that were held in Memphis. The last time the Tigers didn't win a league tournament they hosted was in 2005, when they lost in the title game to Louisville.
What's at stake?
Defending national champion Louisville, short of winning the American tournament and defeating two more ranked teams in the semifinals and title game, can expect to get a seed that won't match the way it's currently playing. The Cardinals didn't have any marquee nonconference wins, and they lost their first four games against ranked opponents. Now they've won three of their past four against ranked foes, including an 81-48 smashing of UConn in the regular-season finale. Could it be too late for the tournament committee? Possibly.
ESPN bracketologist Joe Lunardi
had the Cards listed as a No. 4 seed, which isn't entirely bad. Coach Rick Pitino guided the Cards to the Final Four while seeded fourth in both 2005 and 2012.
SMU got a wakeup call with its loss to Louisville in the home finale. The Mustangs had been unbeaten at home this season, but they showed signs of inexperience from a program new to winning. It's not enough for an early lead and a raucous crowd to win games. SMU has been free of expectations and winning big for some time now. But its third-place finish in coach Larry Brown's second season is clearly a sign of progress. The looming question for the Mustangs: Will they be content with what they've already achieved?
Teams with most to gain
Cincinnati coach Mick Cronin and Memphis coach Josh Pastner could both use a little momentum going into the NCAA tournament. Cronin and the Bearcats advanced to the Sweet 16 in 2012. Pastner, who has a 1-3 NCAA record, has yet to get the Tigers out of the first weekend. Both teams seemingly have the main ingredient for success in the postseason -- experienced backcourts. Winning the American tournament could be a springboard for NCAA success.
Some have loosely compared UConn senior guard
Shabazz Napier
to former standout Kemba Walker for his ability to come through in the clutch. If Napier really wants to cement his legacy with the Huskies, he'll need to come through in the postseason.
Walker carried the 2011 Huskies on an unprecedented run winning five games for the Big East tournament title before winning six games to capture the NCAA title. Napier's job isn't nearly as tough. He'd only have to win three games for a conference title. Napier has the ability to make his teammates better and take control of a game when needed. And the Huskies will be looking to rebound after their most lopsided loss in more than two decades.
March, 4, 2014
Mar 4
12:18
AM CT
We're just two weeks away from the start of the NCAA tournament. And we still have some legitimate questions about a few squads, right?
Well, here are eight teams that you shouldn't trust yet:

North Carolina:
The Tar Heels made some great plays to finish Notre Dame in a 63-61 win on Monday and extend their winning streak to 12 games. But they entered the second half with a 14-point lead against a Fighting Irish team with a 6-12 record in ACC play. That's just North Carolina basketball. That stretch illustrated their entire season. Always up for the top dogs, always vulnerable against the rest. This team might show up and make a remarkable run in the Big Dance. But don't be surprised if they don't get past the first weekend, either.

Texas:
The truth about Texas is that Rick Barnes' program has been overachieving for months. The Longhorns have lost three of their past four, although all three losses came on the road against ranked teams. This is a squad that's hovering around the 50s in Ken Pomeroy's adjusted offensive and defensive efficiency ratings. The Longhorns have had issues with turnovers.
Javan Felix
is enduring a tremendous 16-for-48 slump.
Isaiah Taylor
looks like a freshman. But Texas has wins over North Carolina, Iowa State and Kansas because it has found ways to play to its potential in tough matchups. Texas is a good team on its best nights and a really sloppy, poor-shooting, turnover-prone assembly on its worst nights.

Oklahoma State:
In its past four games, Oklahoma State has been reborn. This four-game winning streak (victories over Texas Tech, TCU, Kansas and Kansas State) has been orchestrated by a desperate team that's making a strong push for an at-large bid. If the Pokes make the field of 68, they'll be only the second team since tourney expansion in 1985 to reach the Big Dance after enduring a seven-game losing streak, according to ESPN Stats & Information. Remember that losing streak? Remember the Oklahoma State team that struggled for about three weeks? Maybe everything is different now with
Marcus Smart
back. Travis Ford's program has played well in recent matchups. But let's see if it lasts.

Cincinnati:
Cincinnati possesses one of America's most impenetrable defenses. Only 11 of its 29 opponents thus far have scored 60 or more. There's just one problem. The Bearcats (129th in adjusted offensive efficiency, per Ken Pomeroy) can't score.
Sean Kilpatrick
is a dynamic player, but it's clear that he's also Mick Cronin's only reliable scoring option in clutch situations. When he's on, Cincinnati usually finds enough offense to compete with the best teams in the country. When he's off (18-for-60 in the team's past three losses), Cincy is an unstable operation. Can the Bearcats beat the best teams in America? Yes, they've proven that. But few teams rely so heavily on one player's production to reach their ceiling.

Wichita State:
This is probably unfair. Wichita State's limited competition in the Missouri Valley Conference and throughout its nonconference slate (BYU, Tennessee and Saint Louis are its best wins), however, demands it. The Shockers were in the Final Four last year, and this team seems equally capable of making another run. Fred Van Vleet is one of America's best point guards. Gregg Marshall also has
Tekele Cotton
,
Ron Baker
,
Cleanthony Early
and a bunch of glue guys. That's a good formula for a repeat. But the naysayers can't be dismissed. Wichita State, in terms of national perception, still has something to prove in the Big Dance. A run in the NCAA tournament would add another layer of validation to Wichita State's 31-0 record. But beyond that, we need to see Wichita State face an opponent that's in the top 50 of the RPI because the MVC (Indiana State is 74th) doesn't have one outside Wichita, Kan.

Iowa:
Which Iowa will show up in the NCAA tournament? It's not clear. Fran McCaffery clearly has his best roster in Iowa City, but he also commands a program that can't seem to get out of its own way in critical moments.
Roy Devyn Marble
& Co. have already proven their worth in wins against Ohio State and Michigan, but the Hawkeyes also have looked like the same team that hasn't been able to finish tight games in recent years. And their defense hasn't been impressive in weeks. This stretch of three losses in four games has created some suspense about the Selection Sunday fate of a team that should be a unanimous lock for the NCAA tourney by now. The Hawkeyes should get into the field, but they haven't exactly looked like a squad that will do much if they do secure a berth.

Saint Louis:
Jim Crews' squad has been a defensive force all season. The Billikens are fifth in adjusted defensive efficiency, per Ken Pomeroy. And they've only lost four games this season. It's not like teams are praying that Saint Louis ends up in their region, but in these past two games, losses to Duquesne and VCU, the Billikens have committed 33 turnovers combined. They've recorded turnovers on nearly one of five possessions (18.4 percent, 169th, per Ken Pomeroy) this season. For a team with a mediocre offense, its margin for offensive error is slim. And that's what we've learned in the past week about Saint Louis. Definitely a dangerous team. But it's also a program that could be hindered by its offensive inconsistency and questionable ballhandling.

Kentucky:
Well, this didn't work. Kentucky entered the season as one of the most hyped squads in college basketball history. The Wildcats had everything, it seemed.
Julius Randle
& Co. were supposed to be another great Kentucky team. Now look at the Wildcats, who lost to South Carolina over the weekend. You definitely can't trust them. But this is still a team with a bunch of guys who could be NBA millionaires in a matter of months. Yes, a win over Louisville is the only major accomplishment on Kentucky's resume. The Wildcats are ranked only because they're the Wildcats. Who have they defeated? And yet, no coach in America wants to play this disjointed group of talent that might figure it out in the Big Dance.
May, 30, 2013
5/30/13
11:00
AM CT
Noted college football guru Phil Steele has unveiled his
2013 preseason All-American Athletic Conference
team.

More than anything, this group should serve as a primer for anyone who wants to get to know the new teams in the league, and the new players in the league that have a chance to make a big impact on their respective teams.
Having said that, there were not too many surprises on the first team, populated mostly by players on returning Big East teams. Only four players from incoming teams made either the first-team offense or first-team defense. One of those was Houston running back
Charles Sims
, who decided to leave the team after Steele's preseason team went to press. Steele had Rutgers'
Savon Huggins
and UCF's
Storm Johnson
on the second-team at running back.
Here are a few of my takeaways:
I am trying to figure out how Louisville receiver Eli Rogers is not listed on any team. We are talking about four teams with three receivers each. Am I missing something here? The Cardinals did get two receivers tabbed -- DeVante Parker on the first team and Damian Copeland on the fourth team. But in my book, Rogers is one of the top 12 receivers in this league. His is the biggest omission I saw.
USF has the potential to be really good up front defensively. Hard to argue with Ryne Giddins and Aaron Lynch on the first team at defensive end, although Rutgers' Jamil Merrell could make a case. Giddins is due for a bounce-back season, and Lynch turned heads all spring. Tackles Luke Sager (third team) and Todd Chandler (fourth team) also were named. Louisville and USF were the only teams with their entire starting defensive front named.
UConn coach Paul Pasqualoni moved safety Byron Jones to cornerback to help fill some of the gaps in the secondary. By all accounts, Jones had a great spring. Steele has Jones listed on the first team, along with linebacker Yawin Smallwood. Plenty of defensive talent still left on that team.
Steele also has a good number of transfers named, and these are definitely players to keep an eye on this fall. Among them -- Cincinnati linebacker Jeff Luc (second team), UConn linebacker Graham Stewart (fourth team), Houston linebacker Trevon Randle (third team), SMU running back Traylon Shead (third team), Louisville tight end Gerald Christian (first team) and Lynch (first team).
How's this for a flip flop? Rutgers has four offensive players listed on the first team -- receiver Brandon Coleman and offensive linemen Betim Bujari, Antwan Lowery, and Kaleb Johnson. Zero listed on the first-team defense.
Preseason favorite Louisville led the way with seven first-team selections. Rutgers and Cincinnati were next with four, followed by: Houston (3), Memphis (3), UConn (3), USF (2), Temple (1) and SMU (1).
April, 4, 2013
4/04/13
12:00
PM CT
Last Wednesday's announcements that Connecticut
had agreed to a home-and-home series with Boise State
and that Cincinnati
would be heading to the Big House in 2017
were the latest in a trend that has seen BCS-conference schools boost their nonconference schedule strength.
While the soon-to-be-former Big East is entering its last season as a BCS school, before the four-team college football playoff takes into effect in the 2014-15 season, aggressive scheduling is one way to keep the league on the national radar.
The slates will provide several opportunities for big national upsets in the coming years, so here's a look at some of the notable future opponents for SMU.
SMU
: The Mustangs have quite the in-state home-and-home lineup. They canceled this season's home game with Baylor, and while it is unknown if the 2013 game will be made up or bought-out completely, the schools still have a home-and-home scheduled through 2019. The Battlle for the Iron Skillet with TCU will continue through 2017, with the Horned Frogs playing host this season. SMU will go to Texas A&M this year and host the Aggies in 2014, closing out a four-year home-and-home. They begin this season with a Friday night home contest against Texas Tech.
March, 7, 2013
3/07/13
12:45
PM CT
Now that the Big East has finally released its
2013 football schedule
, here are some first impressions on the upcoming slate.
Louisville is clearly the marquee team to watch this year, and the schedule makers treated the Cardinals that way. They have at least four games set for national television -- all midweek games, all against Big East competition. The first is against Rutgers on Thurs., Oct. 10. In 2012, the two teams met on the final weekend of the regular season with a BCS berth on the line. Rather than duplicate that schedule this year, Louisville will end the season at Cincinnati on Thurs., Dec. 5, in what could be the final matchup between the two longtime rivals.
Speaking of rivals, I applaud what the Big East did with its biggest rivalry games in 2013. The league scheduled them to end the season. First, USF plays at UCF and SMU plays at Houston on Nov. 29. The Big East should work hard to build up these two rivalries, as these four teams remain in the league for the foreseeable future. The following week features the Keg of Nails game between Louisville and Cincinnati. There are so many juicy subplots in that game, especially since these two teams are expected to start the season at the top of the league. The Big East would like to remind you that in each of the last four years, its BCS representative has been determined in the last week of the season.
Five of the league's 10 games in Week 1 are being played on either Thursday or Friday. Of those five, two are very intriguing -- Rutgers at Fresno State on Thurs., Aug. 29, and Texas Tech at SMU on Fri., Aug. 30 at 8 p.m. on ESPN.
Temple has a tough two-game opening stretch. The Owls start the season at Notre Dame on Aug. 31. The following week, they open Big East play against Houston -- the first league game of 2013. In fact, Houston and Temple are the only two teams to have a conference game in the month of September.
Biggest nonconference day? That would be Sept. 21, when Michigan plays at UConn, Arkansas travels to play Rutgers and SMU is at Texas A&M. Michigan and Texas A&M are expected to be ranked in the Top 25. Meanwhile, Rutgers will be hosting an SEC opponent on its campus for the first time in school history.
Interestingly enough, the Big East has more matchups against the Big Ten (five) and SEC (four) than the ACC (three), traditionally the conference it plays the most.
Only Houston, Memphis and Temple have nonconference games in the middle of Big East play.
Only a handful of games have been designated with a start time and TV network. There will be many more games selected for national television at a time to be determined.
December, 10, 2012
12/10/12
10:30
AM CT
Cincinnati wasted little time finding its man. Just one day after watching Butch Jones leave for Tennessee, the Bearcats hired Texas Tech coach Tommy Tuberville, who was introduced Saturday night. Tuberville used to coach Auburn, where he knew Cincinnati athletic director Whit Babcock, who was then an assistant athletic director for development with the Tigers.
Tuberville follows three successful coaches who all left Cincinnati after three years on the job -- Mark Dantonio, Brian Kelly and Butch Jones. And he will look to continue to build off the Bearcats' recent stretch, which has been the greatest in school history.
Tuberville spoke with ESPN.com Saturday night upon accepting the job.
[+] Enlarge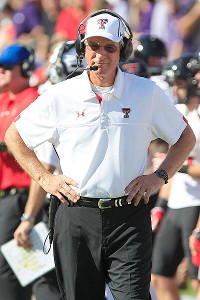 AP Photo/LM OteroTommy Tuberville was 20-17 is his three seasons leading Texas Tech.
Cincinnati, as you know, has gone through a series of three-year coaches. Do you intend for this to be your last job? Do you intend to make this a destination point?
Tommy Tuberville
: Yeah, I sure hope it is. My wife's family lives here. We've got personal connections. It's a great place to live. I've got two boys, one who's a freshman in college, one is a 10th-grader in high school. And I've got a lot of years left, but I'd sure love for this to be it. There are a lot of possibilities here.
Offensively, do you plan on bringing the same style you had at Texas Tech to the Big East?
TT
: Well, we were the No. 2 passing team in the country this year, and I'd sure like to have the ability to do that. I don't know the talent here enough. I don't know the league well enough yet to figure out what we need to do. I've talked to several people about being the offensive coordinator but I haven't decided on it yet. I'm not sold on any one offense yet. They all start with the quarterback, and what kind of starting quarterback we have. At Texas Tech we had
Seth Doege
, who was an excellent quarterback, threw for almost 4,000 yards this year. So I really don't know yet.
Have you gotten a chance to speak with the players a whole lot?
TT
: I met with the team tonight for about 10 minutes and just kind of gave them a little bit of insight into who I am. They don't have a clue. These are 18-, 19-year-old kids that are looking at a 58-year-old guy going "Who is this guy," you know? But I explained a little bit of my philosophy. I want to be here long at Cincinnati and I want each one of them in my office so I can visit with them. It's kind of a growing process. It will take awhile for me to kind of find out what kind of players we have or we need. We're jumping right into recruiting.
Can you describe your relationship with Whit Babcock?
TT
: Whit and I go back to the early 2000s, back at Auburn. And he's the reason I'm here today. A young athletic director's not going to hire somebody that they don't know, that they don't understand. That's one of the reasons that I'm here today is because I know and understand, and he explained the situation around here, the possibilities. And we did it, I'm here tonight, we're ready to go.
This move seemingly came out of nowhere. Can you describe as best you can where this all came about?
TT
: Twenty-four hours ago I was the head coach at Texas Tech getting ready for a bowl game. And as we talked, there wasn't a lot of interest early, but we talked about the program here, the people. You know, it's all about the people. He talked about the enthusiasm, how emotional they are about their sports here, which is a great city to live in. I've spent some time here with my wife's family, which lives across the river in Indiana, and so it was kind of a growing process on me for the last 12 or 14 hours, and it's funny how things happen so quickly.
Lastly, obviously you know about this program's success: four conference titles in the last five years. They're on the greatest run in program history. How invigorated are you by maintaining that and exceeding those expectations, and to keep this program moving upward?
TT
: Yup, we preached that before. There's been a lot of success here and we're going to have to keep that. I understand, I've been in places where they've got that kind of success. One thing you can't do is rest on what you've done, you've got to worry about what you do in the future, and that all starts with building. How do you parlay what you want to do, from your philosophy, how you formulate your staff -- your staff has to be all on the same page -- and then you have to create the foundation of recruiting. So that's where it all starts.
December, 8, 2012
12/08/12
1:25
PM CT
Tommy Tuberville is the new head coach at
Cincinnati
, a
Texas Tech
spokesperson confirmed to ESPN.com on Saturday.
He will replace Butch Jones, who accepted the head coaching job at Tennessee on Friday.
Texas Tech officials were "completely blindsided" by the decision.
For
more on this story, go here
.