Dallas Colleges:

Duke Blue Devils
April, 29, 2014
Apr 29
8:00
AM CT
Florida has Florida State. Georgia has Georgia Tech. Kentucky has Louisville. And, of course, South Carolina has Clemson.
When it comes to the
new SEC scheduling format starting in 2016
, those four schools are already on board. Their annual rivalry games fulfill the league's forthcoming requirement for a yearly nonconference game against an ACC, Big 12, Big Ten or Pac-12 school.
But for the rest of the teams around the league, there's a void.
Sure, they can go year to year and rotate in nonconference opponents. But where's the fun in that? Let's create some new rivalries, and in the case of some programs, reignite old ones.
[+] Enlarge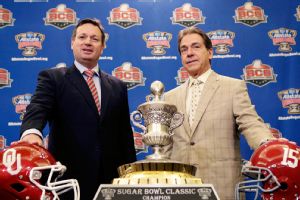 AP Photo/Gerald HerbertThe spectacular salaries of college football coaches such as Bob Stoops, left, and Nick Saban are generated mostly by the labor of unpaid workers.
Alabama-Oklahoma:
If FSU wasn't already taken, the Noles would have been a perfect fit. The physical and philosophical proximity between programs is obvious. But looking elsewhere, Oklahoma might be a fun matchup. The Sugar Bowl has already created tons of tension on both sides with
Sooners coaches delighting in calling out Nick Saban
and the SEC.
Arkansas-Baylor:
Call it a throwback to the old Southwest Conference. Arkansas, which didn't join the SEC until 1992, has played more games against Baylor (69) than any school in its current conference. On top of that, the differences between Bret Bielema's physical style and Art Briles' free-flowing offensive scheme would be a joy to watch.
Auburn-Oregon:
Recent history and playing styles dictates this matchup. Not only do we get a rematch of the 2010 BCS National Championship Game, but it pits offenses that live to go fast. Maybe it could be a two-hand touch game in which whoever reaches 100 points first wins.
LSU-Notre Dame:
We couldn't make a list of nonconference matchups and leave Notre Dame off, could we? Pitting the Golden Domers against an SEC program would be appointment viewing. Make that program LSU and the opposing coach Les Miles, and television networks will scratch each other's eyes out to get the game.
Mississippi State-Texas Tech:
The Bulldogs have shied away from high profile nonconference games in the past, loading up on the likes of Memphis, UAB and South Alabama. Well, it's time to infuse a little spice into the schedule. Kliff Kingsbury is too cool to keep out of the SEC. His Red Raiders would be a good matchup with Mississippi State, which faced Texas Tech seven times from 1953-70.
Missouri-Kansas:
Does this one really need to be explained? The Border War should have never gone away in the first place. Now is the perfect opportunity to save face and bring back a rivalry that goes all the way back to 1891.
Ole Miss-Miami:
We've got to get 'The U' involved. Miami and Ole Miss have already played a few times in their history, with the Rebs holding a 2-1 series lead. But bigger than that, it would get the SEC back into South Florida on a permanent basis because
Miami and Florida don't have the common sense to do that
already.
Tennessee-North Carolina:
Even if most people don't remember it, there's history there. Tennessee and UNC have played 29 times, with the Vols holding a 20-8-1 advantage. Plus, even if your memory is short, you should recall the double overtime
Music City Bowl from 2010
between the schools. If they can re-create that just once, it would make the rivalry worth it.
Texas A&M-Texas:
See Missouri-Kansas. Don't let conference affiliations ruin great rivalries. Texas A&M-Texas should have never been shelved in the first place. And while the
UT administration
might not see a reason to bring it back -- nor
Texas A&M's leadership,
for that matter -- surely both fan bases do.
Vanderbilt-Duke:
Call it a private school showdown. The proximity is reasonable, the fan bases similar, and the rivalry could easily extend to the hard court. Plus, have you seen Derek Mason's nonconference schedule this year? It needs help.
January, 1, 2014
Jan 1
2:00
AM CT
ATLANTA -- They lined up inside the bowels of the Georgia Dome hoping to catch one final glimpse of Johnny Football. One boy wore his No. 2 Texas A&M jersey, shifting nervously from one foot to another as he waited impatiently for his hero's arrival. His father barely noticed, his eyes trained on where the team bus should arrive.
Suddenly a security attendant shouted something inaudible, a pair of doors swung open and a rush of cold air swept inside. The Aggies went by like a blur as they readied for the start of the Chick-fil-A Bowl against Duke on Tuesday night.
"Did you see him?" one Texas A&M fan asked another when all the players had passed.
[+] Enlarge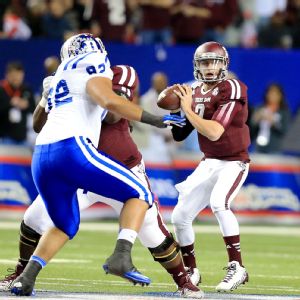 Daniel Shirey/USA TODAY SportsWith all eyes focused on him as usual, Johnny Manziel delivered another virtuoso performance in the Chick-fil-A bowl in possibly his final game at Texas A&M.
"No, did you?" someone responded.
"He must have come in earlier to avoid all this," they decided, shaking their heads in defeat.
Kevin Sumlin was easy to spot. Texas A&M's coach was as dapper as ever in a well-tailored navy blue suit, a baby blue shirt and a pink paisley tie.
Mike Evans
couldn't be missed, either. Texas A&M's unstoppable sophomore receiver stood at an unattainable 6-foot-5, a head taller than most of his teammates.
But
Johnny Manziel
was nowhere to be found. Favorably listed as 6-foot-1, Texas A&M's quarterback instead kept to the middle of the procession, pulled a grey hoodie over his head and turned his face down as he listened to music on a pair of oversized headphones.
It was like he never was there. Some saw him pass by, most didn't. Like a ghost, Manziel reached the locker room without the usual glow of cameras flashing upon his every arrival.
"There he is. You see him?" a Duke fan shouted at his friends in the front row of the Dome a few minutes later, grabbing a buddy by the shoulder as he pointed to Manziel near midfield, now in shorts and a T-shirt as he warmed up, sporting the same headphones he used to block out the world.
If anyone missed Texas A&M's superstar quarterback, all they had to do was look for the hoard of cameras documenting his every move. Hundreds of photographers lined the end zone, snapping shot after shot of what could prove to be Manziel's final game with the Aggies. The NFL could be the next stop for the redshirt sophomore with mind-boggling statistics and breathtaking athleticism. He's done so much in two years at College Station -- some the NCAA would like you to know, some it would like you to forget -- that moving on seems natural.
But if the Chick-fil-A Bowl was indeed Manziel's final hurrah, it felt appropriate.
Two years ago the undersized quarterback won the starting job at Texas A&M to no acclaim. He hit the field to no applause and won fans over with each dazzling play. Not everyone came to his games knowing what he looked like, but everyone left with an impression of Manziel forever burned in their minds. Enough noticed that he won the Heisman Trophy.
Tuesday felt the same way. The nation's focus has been on places like New Orleans, Dallas, Miami and Pasadena, not Atlanta. But Manziel got fans' attention anyways by doing what he's always done -- the impossible. Manziel led a comeback for the ages, bringing the Aggies back from 21 down to beat Duke 52-48.
Manziel accounted for 455 yards and five touchdowns and was named the game's Most Outstanding Player on offense.
"It was an unreal feeling," Manziel said afterwards, not quite dodging questions about the NFL, but somehow avoiding them entirely.
He wanted to talk about the game, and who could blame him? While the Aggies defense was pulverized, failing to make a single stop in the first half, Manziel rallied the troops on the sidelines, grabbing teammates by the collar and even talking up defensive coordinator Mark Snyder -- saying and doing anything he could to end the season a winner.
Offensive tackle
Jake Matthews
had never seen Manziel so riled up.
"It was special to watch, special to be a part of," he said.
Fellow offensive lineman
Cedric Ogbuehi
was just as in awe.
"We forgot how great he is," he said of Manziel. "This game we saw that he is one of the best players in college football history."
After the game, Manziel wasn't the off-the-field diva he's sometimes been portrayed to be. He was reserved, sluggish even. He was getting sick, he said, coughing as he told reporters to keep a safe distance. He didn't know if he had the flu coming on. He slouched and sat on the floor outside the media room, checking his phone as he waited for Duke coach David Cutcliffe to finish up inside.
If he were listening, he would have heard Cutcliffe say how he "spun the ball really well" and just how "special" he was. All that coming from a coach who mentored NFL icon Peyton Manning.
Manziel, for his part, was as understated as ever at the podium, deflecting praise to his offensive linemen and wide receivers. He didn't thump his chest. He didn't bring his trophy into the news conference like his teammate Toney Hurd.
When asked to look back on his career at Texas A&M, he said what he had pretty much all night: that he couldn't believe it.
"It's unreal how things have played out," he said.
He didn't answer any more questions as he walked back to his team's locker room. A reporter asked once again if he'd turn pro, and he didn't answer. He just kept walking, his head down in that familiar zone.
But as he left the locker room, a fan begged him to stop and pose for a picture, and he obliged. He stood still for two shots and smiled before turning down the tunnel and out into the night.
Manziel wasn't a ghost as he left the Georgia Dome early Wednesday morning. He wasn't a blur. He was a legend in full view for the world to see.
After so much talk and so much acclaim the past two years, he left a quiet winner.
January, 1, 2014
Jan 1
12:26
AM CT
If this was
Johnny Manziel
's final college football game, he couldn't have scripted it any better if he tried. Behind the heroics of the former Heisman Trophy winner, Texas A&M overcame a three-touchdown deficit to stun Duke 52-48 and win the Chick-fil-A Bowl.
Here's how it all went down:


It was over when:
The Texas A&M defense had struggled all night, but the Aggies came up with back-to-back stops on Duke's last two drives to storm past the Blue Devils. First, it was
Toney Hurd Jr
. returning an interception 55 yards to give Texas A&M its first lead of the game. Then, with Duke driving, it was linebacker
Nate Askew
who preserved the victory with another interception. All Manziel had to do was take a knee at the end.
Game ball goes to:
Seriously? Was there ever any doubt? Johnny Football might never play another down for Texas A&M, but if so, he ended his career with a bang. The Aggies' quarterback went 30-of-38 for 382 yards and four touchdowns through the air. He also had 73 yards and a touchdown on the ground. The highlight came early in the third quarter when he went all Johnny Manziel on the Blue Devils. He eluded the rush, hurdled a defender and somehow found a wide open
Travis Labhart
for a 19-yard touchdown.
Unsung hero:
Labhart. While Texas A&M star
Mike Evans
was losing his cool early in the game, it was Labhart who stayed calm and quickly became Manziel's go-to wide receiver. The former practice-squad player for the women's basketball team caught not one, not two, but three touchdowns and finished with seven catches for 76 yards. He might not have made the men's basketball team, but the Aggies are glad he went the football route.
Stat of the game:
Despite two late interceptions, Duke quarterback
Anthony Boone
played a tremendous game in his own right, throwing for 427 yards and three touchdowns. But even more impressive was his composure on third down. The junior went 11 of 12 for 144 yards on third-down passing attempts. The lone incompletion came on Duke's final drive, but he turned around and completed a pass to convert on fourth down.
What we learned:
If that was Manziel's last game, he will be missed in college football. Despite his off-field troubles and fiery personality, he was fun to watch. Texas A&M might struggle next year without him, but the Aggies are clearly moving in the right direction under Kevin Sumlin. It doesn't hurt that Sumlin recently signed an extension and looks to be staying for the long haul. As for Duke, it was an incredible season. The Blue Devils won 10 games for the first time in program history, and though they're still looking for their first bowl win since 1960, the future looks bright in Durham.
To watch the trophy presentation of the Chick-fil-A Bowl,
click here.
December, 31, 2013
12/31/13
12:00
PM CT
It's been a wild ride for both Duke and Texas A&M this season.


The Aggies, with their effervescent quarterback
Johnny Manziel
and their high-flying offense, were so often a thrill to watch, full of touchdowns and big plays, but ultimately not enough wins to compete for an SEC title.
Duke, meanwhile, had what could only be called a dream season when compared to the history of the program. David Cutcliffe was named Bobby Dodd Coach of the Year after leading the Blue Devils to their first 10-win season and a spot in the ACC championship game.
How it will end for both teams depends on who shows up ready to play in the Chick-fil-A Bowl at the Georgia Dome in Atlanta (
ESPN, 8 p.m. ET
).
Here's a quick preview of the game:
Who to watch:
Manziel has been careful not to make any official NFL announcement yet, but all indications point to the redshirt sophomore leaving Texas A&M early to enter the draft. And he might not be alone. Receiver
Mike Evans
, another redshirt sophomore, is a prime candidate to bolt for the pros as well. So get your fill of them while you can because they're arguably the best at their positions in the country. Manziel's talents, by now, speak for themselves. But Evans might be the bigger concern for Duke because at 6-foot-5 and 225 pounds, he's downright unstoppable. Just ask two of the best teams in the SEC, Alabama and Auburn, which combined to allow 566 yards and five touchdowns through the air to him this season.
What to watch:
Don't forget to pay attention to those pesky Blue Devils, though, as wide receiver
Jamison Crowder
and linebacker
Kelby Brown
are ones to watch. But Duke, without suspended leading rusher
Jela Duncan
, is in a pickle. Throwing the ball often will be a temptation, but as quarterback
Anthony Boone
said, it's a fool's errand to try to outduel Manziel because "that doesn't win football games." Instead,
Josh Snead
, Duke's backup tailback who ran for 547 yards this season, will be asked to do more. If the Blue Devils stay balanced on offense, they have a shot against what has been a porous Aggies defense. But if Boone, who has thrown 11 interceptions to 10 touchdowns, is asked to do too much, Duke could be in big trouble.
Why to watch:
Soak it all in because these two programs appear to be headed toward a crossroads. Duke has never had success like this before. How will it respond if its dream season ends with two straight losses? Can the entire coaching staff stay together? Is one player suspension a sign of more to come? And more questions can be asked of Texas A&M, which might shun the idea of rebuilding next season, but with the possibility of Manziel and Evans leaving, it's definitely a matter of hitting the "reset" button. Coach Kevin Sumlin is locked up under a new contract, but with so many NFL head coaches being fired this week, do the pros start beckoning him as well? Whatever the case, Texas A&M and Duke fans should savor the final game of their seasons and hope that next season holds just as much success.
Prediction:
Texas A&M wins it running away from Duke, 48-28. Had the Blue Devils showed better against this season's Heisman Trophy winner,
Jameis Winston
, I might have been swayed to pick otherwise. But Florida State gave Texas A&M the blueprint to moving the ball offensively. Manziel will have his way against the Duke secondary and end his career as an Aggie with a flourish, accounting for a handful of touchdowns that should leave us as in awe of his penchant for making something out of nothing.
December, 9, 2013
12/09/13
2:30
PM CT
Dec. 31, 8 p.m. ET, Atlanta (ESPN)
DUKE BLUE DEVILS BREAKDOWN
As expected, Duke was overmatched in the ACC championship game and lost convincingly to Florida State, but the loss didn't define the season, which includes a school-record 10 wins.
[+] Enlarge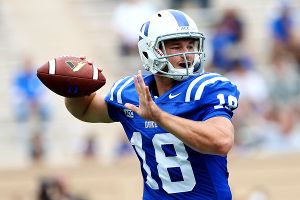 Streeter Lecka/Getty ImagesThe versatile Brandon Connette accounted for 26 total scores for Duke this season.
The Blue Devils still earned the title of Coastal Division champs and now have a chance to end the season on a winning note. Duke had won eight straight games heading into the ACC title game -- the program's longest winning streak since 1941. The program was ranked in the BCS standings for the first time, and it defeated two ranked teams in then-No. 16 Virginia Tech and then-No. 24 Miami.
Although Duke lost to Florida State for the 19th time and remains winless against the Noles, what happened in that game wasn't reminiscent of the "old Duke." Instead, Duke just got a taste of what FSU had been doing to its opponents all season. Duke still has a much-improved defense, which was evident in the first quarter, when it held the Noles scoreless for the first time since they played Florida in 2012. Duke also forced Florida State into three turnovers, including one fumble in the red zone and two interceptions. Duke has now had four takeaways in the red zone this season. Duke's biggest problem was that it couldn't capitalize on Florida State's mistakes or sustain a drive.
That wasn't the case for most of the season, as Duke was able to score more than 20 touchdowns on the ground and in the passing game for the first time in school history. Despite the loss to FSU, it was an unprecedented season for Duke and coach David Cutcliffe, who was named the ACC's Coach of the Year.
-- Heather Dinich

vs.

TEXAS A&M AGGIES BREAKDOWN
This is not quite where Aggies fans thought their team might end up when they were previewing the season.
[+] Enlarge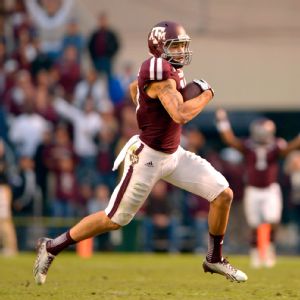 Thomas Campbell/USA TODAY SportsMike Evans and the Aggies hope to finish their season on a high note with a bowl victory.
With 2012 Heisman Trophy winner
Johnny Manziel
, receiver
Mike Evans
and offensive tackle
Jake Matthews
all returning, many in College Station thought the Aggies could achieve a BCS bowl and perhaps even flirt with an SEC title and a BCS title game berth.
But an extremely young defense that was hit hard by graduation (at least in terms of key players) struggled throughout the season, and a beaten-up Manziel lost steam in the final two regular-season games, which led the offense to do the same.
All that being said, 8-4 isn't bad, and the fact that it's a "disappointment" in Aggieland speaks to how much progress the program has made in a short time. This team still has a high-powered offense, ranking sixth in the nation in points per game (43.6) and fourth in yards per game (538.2).
The defense has had its ups and downs but ended the regular season on a solid note on the road against a talented Missouri team, keeping the game within reach for its offense.
And this could be the last hurrah for Manziel, who seems destined to declare for early entry into the 2014 NFL draft. It could also be the final salvo for Evans, a Biletnikoff Award finalist, who is also draft-eligible.
-- Sam Khan Jr.
April, 4, 2013
4/04/13
12:00
PM CT
Last Wednesday's announcements that Connecticut
had agreed to a home-and-home series with Boise State
and that Cincinnati
would be heading to the Big House in 2017
were the latest in a trend that has seen BCS-conference schools boost their nonconference schedule strength.
While the soon-to-be-former Big East is entering its last season as a BCS school, before the four-team college football playoff takes into effect in the 2014-15 season, aggressive scheduling is one way to keep the league on the national radar.
The slates will provide several opportunities for big national upsets in the coming years, so here's a look at some of the notable future opponents for SMU.
SMU
: The Mustangs have quite the in-state home-and-home lineup. They canceled this season's home game with Baylor, and while it is unknown if the 2013 game will be made up or bought-out completely, the schools still have a home-and-home scheduled through 2019. The Battlle for the Iron Skillet with TCU will continue through 2017, with the Horned Frogs playing host this season. SMU will go to Texas A&M this year and host the Aggies in 2014, closing out a four-year home-and-home. They begin this season with a Friday night home contest against Texas Tech.