Dallas Colleges:

Missouri Valley
July, 17, 2013
7/17/13
11:00
AM CT
Editor's note: Over two days, we're releasing the brackets/matchups for 11 of the top early-season events. A thread of previews and info for all 11 tourneys can be found here.
When and where:
Nov. 25-26 at the Sprint Center in Kansas City, Mo.
Semifinal schedule for the CBE Hall of Fame Classic:
Nov. 25: Texas vs. BYU (7:30 p.m., ESPNU); Wichita State vs. DePaul (10, ESPN3)
Nov. 26: Consolation game (7:30 p.m., ESPNU); Championship game (10, ESPN2)
Initial thoughts:
Wichita State couldn't have picked a better year to travel three hours northeast on Interstate 35 for a game in Kansas City. The Shockers, who have a large alumni base in the area, are riding high after last season's Final Four appearance. And no one would be surprised if Gregg Marshall's squad is even better this season. Wichita State returns three starters (
Ron Baker
,
Cleanthony Early
and
Tekele Cotton
) along with its top reserve (point guard
Fred VanVleet
) from its 30-win team. ... DePaul was a massive disappointment in 2012-13, when it won just 11 games. But the Blue Demons could be on the cusp of a breakthrough season thanks to the return of leading scorers
Cleveland Melvin
and
Brandon Young
. ... BYU has reason for optimism as well. Led by
Tyler Haws
, the Cougars return nearly every key piece from the squad that won 24 games and reached last year's NIT semifinals at Madison Square Garden. ... Texas went 16-18 last season and failed to reach the NCAA tournament for the first time in Rick Barnes' tenure. Things could get even worse in 2013-14. The Longhorns lost their top three scorers and signed a lackluster recruiting class compared to past seasons.
[+] Enlarge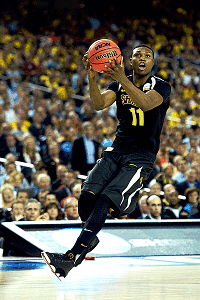 Robert Deutsch-USA TODAY SportsWichita State's Cleanthony Early gained national attention with his performance in the Final Four.
Matchup I can't wait to see:
DePaul is athletic and physical enough to upset Wichita State in the semifinals. Both teams feature veteran players, so chemistry won't be as big of an issue as it will be for other schools this early in the season. I won't be shocked if this is a competitive game, especially compared to the other semifinal.
Potential matchup I'd like to see:
Wichita State vs. BYU. These are clearly the best two teams in the field, so it'd be fitting for them to end up in the title game. The Cougars averaged 76.5 points per game last season, a mark that ranked 18th in the country, but it will be interesting to see how they fare against an aggressive Wichita State squad that is known for its toughness and intensity on defense.
Five players to watch
Cleanthony Early, Wichita State:
The top NBA prospect in this field averaged a team-high 13.9 points per game last season and ranked second on the squad in rebounds (5.4). The 6-foot-8 small forward is an incredibly difficult matchup because he spends most of his time outside the paint. Early scored 24 points against Louisville in the NCAA semifinals and was named to the All-Final Four team.
Tyler Haws, BYU
: The guard averaged 21.7 points a game last season -- dropping 42 on Virginia Tech -- and 28.8 points in the NIT. Haws is a volume shooter who hoisted 15.9 attempts per game in 2012-13. He connected on 48 percent of his attempts, so for the most part he's taking quality shots. He's the type of guy who can beat a team by himself.
Cleveland Melvin, DePaul:
The rising junior has hinted on Twitter that the 2013-14 season could be his last before entering the NBA draft. Melvin has certainly posted some head-turning numbers. He averaged 16.6 points a game as a sophomore last season along with a team-high 6.8 boards. Melvin, who is 6-foot-8, averaged 17.5 points and 7.4 rebounds a game as a freshman in 2011-12.
Ioannis Papapetrou, Texas:
The 6-8 small forward was one of the few bright spots for Texas last season, when he averaged 8.3 points per game, which makes him the Longhorns' leading returning scorer. He also snared 4.4 boards per contest. Along with producing on the court, Texas needs Papapetrou to assume more of a leadership role in 2013-14.
Fred VanVleet, Wichita State:
The sophomore point guard will be under a lot of scrutiny early in the season as he moves into the starting lineup to replace graduated senior
Malcolm Armstead
. VanVleet certainly shouldn't have any jitters. He averaged 16.2 minutes per game last season and logged 23 minutes in Wichita State's NCAA semifinal loss to Louisville. VanVleet's transition into a starting role needs to be seamless if the Shockers hope to avoid taking a step back.
Title game prediction:
Wichita State over BYU
Along with the confidence gained from last season's Final Four appearance, the Shockers will have something else going for them in the CBE Classic: home-court advantage. Wichita State already had a lot of supporters in the Kansas City area before last season. That number probably doubled following its magical postseason run. Still, even though the Shockers return four key players, they'll also be incorporating some new pieces. This is a game BYU can win, especially because of the Cougars' ability to score and the presence of a marquee player such as Haws. This should be a great game between two strong programs led by two of the country's most underrated coaches (Wichita State's Marshall and BYU's Dave Rose). The Shockers are the slight favorite.
Who others are picking:
Eamonn Brennan:
Wichita State over BYU
Jeff Goodman:
Texas over Wichita State
Andy Katz:
Wichita State over Texas
Myron Medcalf:
Wichita State over BYU
Dana O'Neil:
Wichita State over BYU
March, 28, 2013
3/28/13
4:00
PM CT
Before the Sweet 16 gets under way, our experts offer their predictions for all four regions:

EAST REGION (Washington, D.C.)

Eamonn Brennan: Indiana over Marquette
Fran Fraschilla: Indiana over Miami
John Gasaway: Indiana over Miami
Seth Greenberg: Miami over Indiana
Andy Katz: Indiana over Miami
Jason King: Indiana over Miami
Myron Medcalf: Miami over Indiana
Dana O'Neil: Indiana over Miami
Bruce Pearl: Miami over Syracuse
Robbi Pickeral: Miami over Indiana
Dick Vitale: Indiana over Miami

WEST REGION (Los Angeles)

Eamonn Brennan: Ohio State over La Salle
Fran Fraschilla: Ohio State over Wichita State
John Gasaway: Ohio State over Wichita State
Seth Greenberg: Ohio State over Wichita State
Andy Katz: Ohio State over Wichita State
Jason King: Arizona over Wichita State
Myron Medcalf: Ohio State over Wichita State
Dana O'Neil: Ohio State over La Salle
Bruce Pearl: Arizona over Ohio State
Robbi Pickeral: Ohio State over Wichita State
Dick Vitale: Ohio State over Wichita State

SOUTH REGION (North Texas)

Eamonn Brennan: Florida over Michigan
Fran Fraschilla: Florida over Kansas
John Gasaway: Kansas over Florida
Seth Greenberg: Kansas over Florida
Andy Katz: Michigan over Florida
Jason King: Kansas over Florida
Myron Medcalf: Michigan over Florida Gulf Coast
Dana O'Neil: Michigan over Florida Gulf Coast
Bruce Pearl: Kansas over Florida
Robbi Pickeral: Florida over Kansas
Dick Vitale: Michigan over Florida

MIDWEST REGION (Indianapolis)

Eamonn Brennan: Louisville over Michigan State
Fran Fraschilla: Louisville over Michigan State
John Gasaway: Louisville over Duke
Seth Greenberg: Louisville over Michigan State
Andy Katz: Louisville over Michigan State
Jason King: Louisville over Duke
Myron Medcalf: Louisville over Michigan State
Dana O'Neil: Louisville over Michigan State
Bruce Pearl: Louisville over Duke
Robbi Pickeral: Louisville over Duke
Dick Vitale: Louisville over Michigan State
November, 9, 2012
11/09/12
12:00
PM CT
There are
lots of good college basketball games on Friday
, the first official day of the season. You will be able to watch nearly all of them. That is the glorious reality of the year 2012. Sports networks are hungry to broadcast any and all sports, conferences are starting their own networks left and right, we have 1,000 channels on the cable box, and the Internet is ... well, it's the Internet. It's a wondrous time to be alive.
Still, we have not yet reached the basketball fan utopia we all seek. How do I know? Because Creighton-North Texas, one of Friday's sneaky-best season openers, is somehow not being televised.
And I don't mean nationally televised; I mean not televised at all. The
Creighton athletics information packet
, like all such documents, lists television broadcast information; next to "television" the field simply reads "none."
I have to say, this is somewhat surprising, given how good Creighton is going to be, how much forward
Doug McDermott
has burst onto the national scene, and how much the hype for North Texas forward
Tony Mitchell
has grown. Some think Mitchell will be an All-American this season; at the very least, he's a likely first-round NBA draft pick, if not a lottery guy. McDermott is the best scorer in the country, playing for a team that usually sells out its 17,260-seat home arena, that plans on a deep tournament run this March.
There is some good news, however. There is a workaround. Once more, the Internet comes through:
Creighton University Athletics and Jump TV will present a live, pay-per-view video webcast of approximately 12 gamesthis season, including Friday. To sign up for the video webcast, fans can register by going directly to http://www.gocreighton.com. Cost for a monthly pass is $10.95 and a four-month pass is $34.95. Fans can also purchase a 24-hour pass ($4.99) or a 48-hour pass ($5.99) that begins the moment you sign up.
Were I Creighton and/or North Texas, I would probably do everything in my power to make that Internet stream free. If I'm Creighton, I want people to see as many
Grant Gibbs
-to-McDermott entry passes as possible. Sure, maybe you can't do it for the whole season; bandwidth costs for streaming web video are heavyweight and prohibitively expensive, and that $34.95 may not represent all that much profit per subscription. But for this game, I'm taking down the paywall, and getting the word out early: Don't miss the Bluejays.
Oh well. That's probably why I'm not in marketing, I suppose. In any case, who am I kidding? I'm totally paying $5 to watch that game. That's one less latte tomorrow. Totally worth it.