Dallas Colleges:

Sun Belt
November, 9, 2012
11/09/12
12:00
PM CT
There are
lots of good college basketball games on Friday
, the first official day of the season. You will be able to watch nearly all of them. That is the glorious reality of the year 2012. Sports networks are hungry to broadcast any and all sports, conferences are starting their own networks left and right, we have 1,000 channels on the cable box, and the Internet is ... well, it's the Internet. It's a wondrous time to be alive.
Still, we have not yet reached the basketball fan utopia we all seek. How do I know? Because Creighton-North Texas, one of Friday's sneaky-best season openers, is somehow not being televised.
And I don't mean nationally televised; I mean not televised at all. The
Creighton athletics information packet
, like all such documents, lists television broadcast information; next to "television" the field simply reads "none."
I have to say, this is somewhat surprising, given how good Creighton is going to be, how much forward
Doug McDermott
has burst onto the national scene, and how much the hype for North Texas forward
Tony Mitchell
has grown. Some think Mitchell will be an All-American this season; at the very least, he's a likely first-round NBA draft pick, if not a lottery guy. McDermott is the best scorer in the country, playing for a team that usually sells out its 17,260-seat home arena, that plans on a deep tournament run this March.
There is some good news, however. There is a workaround. Once more, the Internet comes through:
Creighton University Athletics and Jump TV will present a live, pay-per-view video webcast of approximately 12 gamesthis season, including Friday. To sign up for the video webcast, fans can register by going directly to http://www.gocreighton.com. Cost for a monthly pass is $10.95 and a four-month pass is $34.95. Fans can also purchase a 24-hour pass ($4.99) or a 48-hour pass ($5.99) that begins the moment you sign up.
Were I Creighton and/or North Texas, I would probably do everything in my power to make that Internet stream free. If I'm Creighton, I want people to see as many
Grant Gibbs
-to-McDermott entry passes as possible. Sure, maybe you can't do it for the whole season; bandwidth costs for streaming web video are heavyweight and prohibitively expensive, and that $34.95 may not represent all that much profit per subscription. But for this game, I'm taking down the paywall, and getting the word out early: Don't miss the Bluejays.
Oh well. That's probably why I'm not in marketing, I suppose. In any case, who am I kidding? I'm totally paying $5 to watch that game. That's one less latte tomorrow. Totally worth it.
October, 29, 2012
10/29/12
1:23
PM CT
Before getting to the Blue Ribbon team-by-team previews for the Sun Belt, read Dana O'Neil's profile of new Florida International coach Richard Pitino, Myron Medcalf's look at North Texas' nonconference schedule and Western Kentucky's place in ESPN.com's 50 in 50 series.
Blue Ribbon's in-depth previews of all 11 Sun Belt teams:

Arkansas-Little Rock

Arkansas State

Florida Atlantic



Florida International

Louisiana-Monroe

Louisiana-Lafayette

Middle Tennessee

North Texas

South Alabama

Troy

Western Kentucky
As for an added bonus, ESPN.com's Eamonn Brennan picked the
top 10 national rebounders
heading into the season, and North Texas' Tony Mitchell made the list. His take:
7. Tony Mitchell, North Texas:
The former Missouri signee is the kind of talent you don't often see in the Sun Belt, and his rebounding numbers back it up. He averaged 10.3 rebounds per game, and notched the fourth-highest defensive rebounding rate in the country (28.8 percent). He wasn't quite as effective on the offensive end -- he barely missed the 10 percent mark in offensive rebound rate, at 9.6 -- but that is also a byproduct of being the primary focus of the Mean Green offense. Mitchell has already proven his bona fides; the next step is a truly dominant season.
October, 17, 2012
10/17/12
12:20
AM CT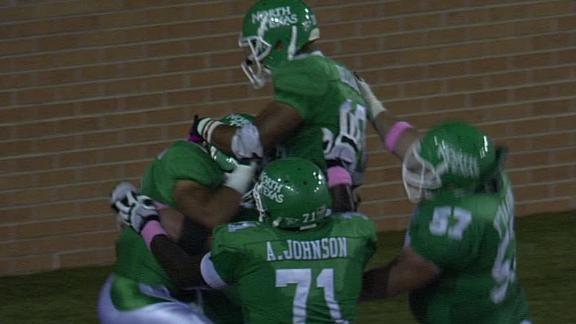 North Texas mounts a comeback -- capped by
Antoinne Jimmerson
's 78-yard back breaker -- and finishes off Louisiana-Lafayette.
September, 8, 2012
9/08/12
11:39
PM CT
North Texas defeated Texas Southern 34-7 with
Brandin Byrd
getting 24 carries for 142 yards and two touchdowns.
Antoinne Jimmerson
gave the Mean Green a dual threat from the backfield, recording 15 carries for 139 yards and one score.
April, 19, 2012
4/19/12
4:37
PM CT
College coaching searches are typically held on some strict deadlines. For example: Last month,
when Illinois sought a replacement for former coach Bruce Weber
, athletic director Mike Thomas openly stated that he wanted to end his search before he left for the Final Four in New Orleans. This kind of arbitrary deadline happens for a couple of reasons, far as I can tell:

1. There is a real chance schools can lose current players and recruits if the situation feels uncertain. And who knows what those players are hearing from opposing coaches gently (or not so gently) nudging them toward a transfer.
2. The perception is such that if you can't find a coach within a few days, well,
clearly
there is something wrong with your program. What's wrong with your program, dude?
Still, the deadlines can be counterproductive, and they were for Illinois. When Shaka Smart turned the job down, Thomas had to scramble to find a second and third and fourth option, and when those possibilities fell through he found himself rushing to sign a deal with Ohio coach John Groce -- a good, well-respected coach, but also one that went 34-30 in the MAC in four seasons -- before the deadline Thomas himself created. It was a bit of a mess for a variety of reasons. The rushing around was one of them.
Which is why it's somewhat interesting to see North Texas athletic director Rick Villareal be so laissez-faire about the idea of hurrying to find a new men's basketball coach. Villareal is charged with finding a replacement for Johnny Jones, who left for the vacant LSU job last week, and while Villareal doesn't want the search to take all summer -- he wants to finish up in the next 10 days --
he told the Denton Record-Chronicle that he isn't hurrying just to hurry
, either:
"I know there is some angst and concern, but what I would tell people is that we hired Johnny Jones," Villarreal said. "We had the foresight and I had the intuition to do that. We hired Karen Aston a year ago, and she did a great job. We hired Dan McCarney, who has increased our program tremendously.We are going to get that kind of person."

"I'm not going to try to do it in two days, because we don't have to," Villarreal said. "We have got some time. I'm going to be diligent and see just who is interested, and at the end of the day make sure that we have the best pool to pull from."
At this point in the calendar, with much of the high-level coaching intrigue finished for now, this seems like the appropriate approach. Jones made the North Texas job a surprisingly desirable one; Villareal will have a solid pool of candidates to work through. If fans are willing to trust the process, why rush it?
March, 6, 2012
3/06/12
8:23
PM CT
By
ESPN.com wire services
HOT SPRINGS, Ark. --
Teeng Akol
scored 23 points and Western Kentucky rallied for a 74-70 win over North Texas on Tuesday night in the championship game of the Sun Belt conference tournament.
The win caps a stunning run for the Hilltoppers (15-18), who earned their first NCAA tournament berth since 2009 by winning four games in as many days. Western Kentucky, which has won six straight overall, opened the season 5-11 -- resulting in the firing of coach Ken McDonald.
George Fant
finished with 17 points to help the Hilltoppers rally from a 13-point deficit in the second half.
Tony Mitchell
scored 18 points to lead the Mean Green (18-14), who were playing in their third straight league championship game.
March, 5, 2012
3/05/12
10:57
PM CT
By
ESPN.com wire services
HOT SPRINGS, Ark. -- Jacob Holman scored 21 points and made five 3-point shots to lead North Texas to a 76-72 over against Arkansas State in a Sun Belt tournament semifinal Monday night.
Alzee Williams
added 12 points,
Brandan Walton
and
Tony Mitchell
11 each and
Roger Franklin
10 for the fifth-seeded Mean Green (18-13), who will play No. 3 seed Denver or No. 7 seed Western Kentucky in the championship game on Tuesday. It is the team's third straight trip to the finals, and the fourth in six years.
Trey Finn
had 21 points and made five 3-pointers for the ninth-seeded Red Wolves (14-20).
Marcus Hooten
had 18 points and
Malcoln Kirkland
14 points and 10 rebounds.
The Mean Green will play Western Kentucky for the conference championship at 6 p.m. on ESPN2.
March, 1, 2012
3/01/12
12:28
PM CT


UNT, which released its 2012 football schedule Thursday, opens the season Sept. 1 at national runner-up LSU. The Mean Green's home opener comes a week later against Texas Southern. Road games against Kansas State and Houston round out the schedule.

Troy's visit Sept. 22 marks the start of UNT's Sun Belt slate. With the addition of South Alabama to the conference schedule, the Mean Green will not play Florida International in 2012.

Five of UNT's 12 opponents played in bowl games last season.

The ESPN date against ULL gives UNT an opportunity to feature Apogee Stadium on a national stage. The facility opened last September, replacing Fouts Field.
North Texas's football team will appear either on ESPN or ESPN2 for a midweek contest against Louisiana-Lafeyette on Oct. 16 at Apogee Stadium.
January, 28, 2012
1/28/12
6:57
PM CT
So much for a slow Saturday. College basketball fans and pundits alike should know better by now, but we always assume the worst on a supposedly "slow" weekend.
Let's change the rules, based on what we've seen today. If you survey the weekend slate and you can't find any meaningful games and potential upsets that you're overly interested in, that means it's time to call Earl and the crew (everybody has a friend named Earl), stock the fridge and get ready for some good basketball. If this was a lukewarm weekend in college basketball, what qualifies as a great one?


Iowa State 72, No. 5 Kansas 64
Many laughed when Fred Hoiberg began his tenure at Iowa State by recruiting from a pool of players known for their checkered pasts.
Royce White
, who left Minnesota two seasons ago after a tumultuous stay, led the bunch. But Hoiberg looks like a genius right now after the Cyclones handed No. 5 KU its first Big 12 loss of the season. The win snapped both the Jayhawks' 13-game winning streak over Iowa State and their 10-game overall winning streak (they hadn't lost since Dec. 19).
The postgame court-storming was well-deserved for the 'Clones and their fans. Hoiberg has as much job security as any coach in the country based on his legendary career in Ames, which allowed him to pursue so many transfers without worry. In other words, he'd get a mulligan if things didn't work out.
Against Kansas, however, Hoiberg proved that he's more than a risk-taking recruiter. He can coach, too. Iowa State, a squad that suffered an 82-73 loss at Kansas on Jan. 14, led by three points at halftime. But that didn't last. The Jayhawks scored 11 unanswered points early in the second half. The crowd's energy dropped after that KU run, but Iowa State kept fighting, something it had failed to do down the stretch in its earlier loss to the Jayhawks.
White led the charge. With his team leading 56-53 and five minutes to play, he scored the Cyclones' next eight points (three straight layups and a pair of free throws). He entered the game as a 51 percent free throw shooter -- ISU was the Big 12's worst free throw shooting team at 61 percent overall -- but he was 6-for-8 from the charity stripe in the second half. He finished with a team-high 18 points, nine rebounds and five assists, making up for his six turnovers. The team was 25-for-34 from the charity stripe.
So yes, the same Iowa State squad that lost at Drake Nov. 15 looks like an NCAA tournament team right now -- no matter what my colleague Doug Gottlieb might tweet. At 5-3, the Cyclones are off to their best Big 12 start in a dozen years and sure seem like they won't be fading away anytime soon.


No. 4 Syracuse 63, West Virginia 61
It just can't happen. Not in late January with the stakes so high. Not when it's so blatant. Officials in this game missed one of the more obvious and critical goaltending calls of the season. In the final seconds, West Virginia's
Truck Bryant
air-balled a 3-pointer that ended up in
Deniz Kilicli's
hands with his team down by a bucket. Kilicli's layup was swatted away in mid-air by Syracuse's
Baye Keita
, but replays showed what looked like a clear goaltending violation by Keita. Officials never blew their whistles.
West Virginia got the ball back and
Kevin Jones
(20 points, eight rebounds) missed a deep 3-pointer to win the game, but the final outcome might have changed had that crew flagged Keita for goaltending. Now granted, WVU had its chances.
Brandon Triche
(18 points) hit a pair of free throws with a minute and a half to play and the Mountaineers missed four consecutive shots. But the no-call clearly impacted the game.
Syracuse struggled in its third consecutive game without
Fab Melo
. The Orange just haven't looked like the same squad without him and his defensive presence. West Virginia secured an astounding plus-21 (41-20) rebounding edge over the Cuse and had nearly as many offensive boards (19) as the Orange had total. How does that happen? It's not like the Mountaineers are the biggest team in the country. They were just tougher than Syracuse most of the afternoon. And had it not been for that missed goaltending call, West Virginia might have avoided its 13th loss to the Cuse in 14 meetings.


No. 7 Baylor 76, Texas 71
With 4:09 to go, Texas'
Myck Kabongo
hit a 3-pointer as
Pierre Jackson
committed a ridiculous foul to put him on the line for a four-point play opportunity. Texas had been down by 12 points early in the second half, but Kabongo's shot cut Baylor's advantage to just one. Cameras panned to Baylor coach Scott Drew on the sidelines. He had the "I can't believe this is happening at home" look on his face.
Perry Jones
(22 points, 14 rebounds) was far more aggressive than he'd been in some of his efforts, but Baylor couldn't keep the pressure on the Longhorns and nearly blew one at home.
J'Covan Brown
scored 32 points (11-for-22), his third consecutive 30-point effort. But he had way more time to create a better shot than the deep 3-ball he took with 14 seconds on the clock. His team was down by three points in the closing seconds, so I understand why he'd take a deep shot, but he didn't have to shoot it when he did. He had more time on the clock.
Here's where you have to have more question marks about Baylor, though. The Bears are at home. Texas shot 36 percent from the field in the first half and was 1-for-12 from beyond the arc before halftime. Seemed like an opportunity for Baylor to flex its muscle. But it turned into another lukewarm finish for the Bears.


No. 13 Florida 69, No. 16 Mississippi State 57
The Bulldogs just couldn't handle Florida's inside-outside attack.
Patric Young
(12 points, six rebounds) was solid for the Gators, especially after halftime.
Bradley Beal
led the Gators' talented backcourt with 19 points. The nation's leaders in 3-point field goals hit 11 of them as they won their fifth straight and 17th in a row at home.
Arnett Moultrie
was 4-for-10 and scored 12 points for a Bulldogs team that committed 14 turnovers. It was MSU's third SEC road loss of the season. At 5-3 in league play, they'd better find a way to compete away from home. They're certainly talented, but the Bulldogs have really struggled on the road. Thought this one would have been a closer game, but give the Gators credit. They can spread teams out with their guard play and minimize their size disadvantages, a tactic they used to perfection against the Bulldogs.


No. 1 Kentucky 74, LSU 50
The Wildcats are in Beast Mode right now. They're just crushing teams. LSU entered this game following a tight road loss at Mississippi State. But the Wildcats are just a different animal.
Terrence Jones
led all scorers with a season-high 27 points and the Wildcats held LSU to a 1-for-9 clip from the 3-point line. Just two Tigers reached double figures.
Although LSU is only 2-5 in the SEC, you have to wonder how dangerous the Wildcats can be in March when a guy like Jones can explode despite some inconsistency this season. He entered the game averaging 11.6 ppg and he only scored five points against Georgia on Tuesday. But this game was further proof that Kentucky is a "pick your poison" kind of opponent. How do you defend a team with that number of studs? The Wildcats have so many weapons.
Syracuse is deep. Ohio State has balance. But no team in America looks as potent as Kentucky right now.
Some more observations from the afternoon games ...