Dallas Colleges:

120209-frogs-moving
February, 9, 2012
2/09/12
3:19
PM CT
As we welcome nearby TCU to the league, the offseason spotlight Thursday shines on the Horned Frogs:
Spotlight:
A rotating group of safeties that need a big offseason.

2011 summary:
Tekerrein Cuba
and
Johnny Fobbs
combined for 135 tackles and were two of the team's top four tacklers. Cuba broke up three passes and forced two fumbles and Fobbs intercepted one pass with six breakups and forced three fumbles. Both are gone and must be replaced.
The skinny:
I'm guessing most of you saw TCU just once last season, and it wasn't a great impression. The first night of the season was an ugly one for TCU full of deep balls and a painful loss, courtesy of future Heisman winner
Robert Griffin III
. Some of those five touchdowns came in single coverage, but the safeties at TCU left a lot to be desired, especially after losing Tejay Johnson after the 2010 season, a Thorpe Award finalist.
This year,
Jonathan Anderson
and
Elisha Olabode
slide into the new safety spots. Offenses like Baylor's are pretty common in the Big 12. Not so much in the Mountain West. That duo has to step into new roles and be effective for the Horned Frogs to succeed in their new league.
Anderson is a promising sophomore who made 17 tackles in a win over BYU at Cowboys Stadium this past season, including 11 solo tackles. Olabode didn't quite have that kind of impact, but both players' development this spring and in fall camp will be enormous.
For so much focus on the offense in this league, you can't forget about the defense, which last year was below what's been expected at TCU.
February, 9, 2012
2/09/12
12:37
PM CT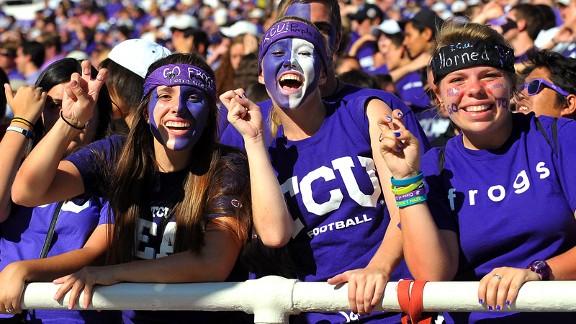 Cal Sport Media/AP ImagesThe Horned Frogs move to the Big 12 next season, an AQ conference with a perfect geographic fit.
We'll cap our moving week by introducing a new team to the big stage: TCU, welcome to the Big 12.
Our former Southwest Conference teams surely remember the Horned Frogs, but it's time to get everyone acquainted. To help me out, we've got College Nation blogger Andrea Adelson.
David Ubben:
Andrea, you've been around this program the last year or so. Most fans won't have to travel far when they make it to the newly renovated Amon G. Carter Stadium, but what can they expect for a game-day experience?
Andrea Adelson:
TCU might not have a stadium as big as Texas or Oklahoma, but fans sure get loud and provide a really good home-field advantage. The Horned Frogs have won 26 of their last 27 home games, and coach Gary Patterson has lost only seven times there in his 11 seasons as head coach. The newly renovated stadium should provide even more of a home-field advantage as the student section has now been reconfigured to run goal line to goal line behind the opponent bench. Students typically get dressed up all in purple and there is one spirit organization known as
the HyperFrogs that leads chants throughout the game
to get everybody fired up. Word is that playing a full slate of Big 12 competition is going to spur even more excitement at games and lead to many more sellouts.
DU:
I'm excited to see it. I've done baseball and basketball at TCU, but I've never been to a football game. I'll have to end that this year. I'm definitely buying the idea that TCU's attendance issues have been accentuated by some less-than-stellar opponents. I'm not impressed by the home record, though.
The Horned Frogs already have their hand signal ready, a signature of Texas teams from that old Southwest Conference, but what's this move, getting reacquainted with some old friends, mean to TCU?
AA:
It means everything, David. TCU was so desperate to get into an automatic qualifying conference, it agreed back in 2010 to join the Big East and then tried to tell everybody that geography did not matter and making the move was the perfect fit. The truth is, TCU always had designs on the Big 12, but the league had no interest in the Horned Frogs. Maybe that is because they were viewed as the pesky little brother that needed to be kept locked in his room. But the shifting sands of realignment made it increasingly obvious that TCU was the no-brainer choice to join the Big 12. It is no wonder TCU jumped ship for a conference closer to home without ever having played a down of football in the Big East. The Horned Frogs have finally achieved the goal set when the Southwest Conference broke up -- and it took only three (and a half) league homes to get there.
DU:
Yeah, people want to knock TCU for conference jumping, but how can you not when the non-AQ leagues are shifting as much as they have in the past couple of decades. There's no doubt about it: TCU is home. I was at the news conference when they announced the move, and I've never seen so many people in suits wearing enormous smiles.
Big 12 fans may know TCU's combo of quarterback
Casey Pachall
and receiver
Josh Boyce
, but who are a few names Big 12 fans should keep an eye out for in 2012?
[+] Enlarge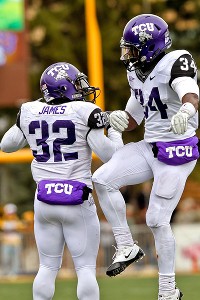 Troy Babbitt/US PresswireEd Wesley and Waymon James are part of TCU's deep running back corps.
AA:
TCU has a three-headed running back trio in
Ed Wesley
, Matthew Tucker and
Waymon James
, and all three return for this season. The three nearly split their carries evenly in 2011 -- each getting over 100 -- and combined for 2,337 yards and 24 touchdown runs. On the defensive side of the ball, watch for DE
Stansly Maponga
, a first-team Mountain West selection who really blossomed in his sophomore season. Maponga had nine sacks, 13.5 tackles for loss and five forced fumbles and will be expected to anchor what should be a solid defensive line. I am also going to be intrigued to see how receiver
Brandon Carter
does in his sophomore season. He did play as a true freshman and had 352 yards and three touchdowns, but bigger things will be expected. He was one of the big gets in the 2011 recruiting class, a four-star prospect out of Euless, Texas.
DU:
OU fans may remember
Brandon Carter
. He was almost a Sooner, but they wanted him to play corner. Safe to say he's feeling good about his decision now.
Time to put you on the spot, AA: Forecast the Horned Frogs' first year in the Big 12. Win total, conference record, bowl game and Big 12 finish.
AA:
Without knowing the actual schedule, as in home games and away games, I am going to say at least eight wins and a finish in the top four. So that would project out to Alamo or Insight, and of course that depends on who else is eligible to be selected.
DU:
Yeah, the Big 12 isn't really making this one easy on us.
I like what TCU's got coming back. This is a team that could run the table outside of the Big 12, but they may hit a few speed bumps in the transition. I'll say TCU wins nine games, finishes fourth in the Big 12 and heads to the Insight Bowl. Not a bad debut for a program that could see its success sky-rocket in years to come.
February, 9, 2012
2/09/12
12:35
PM CT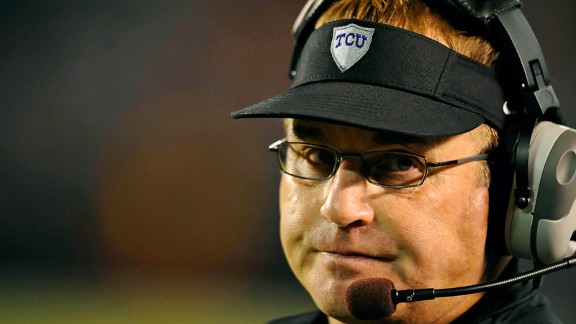 Christopher Hanewinckel/US PresswireCan coach Gary Patterson, who has a 109-30 record at TCU, continue his winning ways in the Big 12?
So we introduced you to TCU on the blog early Thursday, but the pleasantries are out of the way. Let's get serious about this now.
TCU's entering a brand-new world. It won't find any New Mexicos or UNLVs in the Big 12. Even 2-10 Kansas beat the MAC champions this past season.
College Nation blogger Andrea Adelson and Big 12 blogger David Ubben went head to head to offer their thoughts on how the Horned Frogs will handle the transition.
David Ubben:
We're back, and it's time to get our hands dirty. The first question is the biggest: Can the Horned Frogs handle the jump and continue their success? TCU's enjoyed 11-win season after 11-win season in the Mountain West. Gary Patterson is 109-30 as the Horned Frogs' coach. What do they have to do to win like that on the big stage?
Andrea Adelson:
That is the eternal question facing any school outside one of the automatic qualifying conferences -- how do they measure up once they start playing with the big boys? All we can do is guess until the games begin. But from my vantage point, I think TCU is well-positioned to have a run of success in the Big 12 for a variety of reasons. TCU actually plays defense, and plays it well. I know some folks in the Big 12 might not understand what I am talking about, but consider that the Horned Frogs had a string of three consecutive seasons in which they ranked No. 1 in total defense from 2008-10. Patterson is known throughout the country as one of the sharpest defensive minds, and his group's tenacity and aggressiveness have been their hallmarks. TCU is in the perfect place for recruiting, right in the heart of Texas. Patterson already has worked wonders with gems who were deemed "not good enough" for the likes of Texas. Now that he can sell the Big 12, the quality of his classes is sure to go up. And he has an experienced team coming back this season with some serious playmakers on offense, which should allow the Horned Frogs to fit right into the high-powered Big 12.
Casey Pachall
proved last season he has what it takes to lead this group, and receiver
Josh Boyce
is a rising star.
DU:
All good points. I agree with you on both counts. TCU's days of leading the nation in total defense are absolutely over with the kinds of offenses in the Big 12, but they have the program stability to rebound from a below-average season defensively in 2011-12.
[+] Enlarge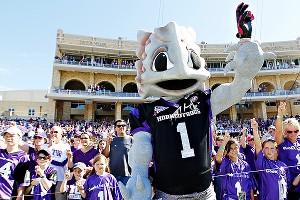 Tom Pennington/Getty ImagesThe Horned Frogs could benefit enormously in recruiting from being the only Big 12 school near Dallas.
As for recruiting, we could be poised for a giant to rise. I really believe that. If TCU starts winning consistently in the Big 12, the draw of being the only team in the Dallas-Fort Worth metroplex could be enormous. The amount of talent in DFW is more than most states. Now, they're almost all within a 30 to 40-minute drive of TCU. Everybody in the Big 12 recruits the area. TCU is now the only team with the ability to offer them a chance to stay really, really close to home. For some, that will be a big draw. I wouldn't be surprised at all if TCU starts stringing together top 10 recruiting classes annually, right on par with Texas and OU.
The team coming back this season wasn't too far off from playing in the national championship game (seriously). Baylor won that dramatic game on the season's opening night, and TCU lost to SMU in overtime later in the year. It's scary to think that you switch a play or two here and a play or two there, an undefeated TCU team plays for the national title.
You hear a lot of talk about TCU's lack of depth. How's that going to affect this team? Is there anything mythical to the idea that the week-to-week grind could be too much of an immediate challenge for the Horned Frogs' current personnel?
AA:
Depth is always the argument that is held against any team outside the non-AQ conferences. I thought Utah joining the Pac-12 would be the perfect test case. To me, the Utes had a successful season, even though they lost more games than they had in the Mountain West. They made it to a bowl game in Year 1 as an AQ school, and they won their bowl game against Georgia Tech to finish 8-5. Consider they also lost starting quarterback
Jordan Wynn
and had to play somebody with limited experience. I think TCU is in even better position than Utah, simply because TCU has a better team returning in 2012. The Big 12 might have a stronger overall conference, but Patterson is no stranger to play in the league, having faced Baylor, Oklahoma, Texas and Texas Tech in recent years. But back to the question on depth -- of the 11 players listed on the two-deep at defensive line at the end of last season, 10 return. The running back rotation goes at least three deep. The receiving group is deep and talented as well. If I did have a concern about depth, it would probably be on the offensive line and in the secondary. But TCU replaced nearly everybody on the line last season and had no problem, and the defensive backs got better as the season went on. Still, as a college coach you want your depth to be in the trenches so that is the one area I am going to be paying most attention to in 2012.
DU:
Yeah, Patterson is no stranger to Big 12 squads. I think OU fans are still a little sore about that upset back in 2005. The Sooners have only lost at Owen Field three times under Bob Stoops, and the Horned Frogs did it to Stoops and Adrian Peterson.
Depth on the line will be big, but unlike the SEC, where you need big defensive tackles, the Big 12 requires you to have speedy, physical pass-rushers. If you can get pressure on the quarterback -- not necessarily sack him, but get in his face and make it difficult for him to get through his progressions -- with just four or five guys, you're going to have huge success in this league. Texas has done it a lot lately, even while they've struggled the past few years. Oklahoma did it a lot this past season with
Frank Alexander
.
We'll find out quick if TCU has the athletes to make something like that happen.
TCU is a little more like Mizzou than Texas A&M in that the program is so established before coming to its new league, versus A&M, which is undergoing lots of change on the field and on the sidelines. How will that affect their entrance?
[+] Enlarge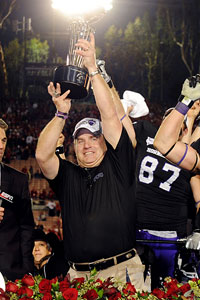 Icon SMIGary Patterson led the Horned Frogs to a Rose Bowl win after the 2010 season.
AA:
I think it is a huge plus for TCU to have stability right now. You could even say TCU is one of the most stable teams in the country. How many other teams can say their head coach has been around for 12 years, been to two BCS games and won one of them -- the "Granddaddy Of Them All"? Patterson has gotten overtures from other programs, but he seems committed to TCU today and into the future. He has rebuilt this program in his image. It has to be a confidence-builder going into the season to know that TCU has beaten teams like Baylor, Texas Tech and Oklahoma in the recent past; that this program is used to winning with discipline and focus. Every year Patterson talks about putting up his pyramid and making sure his players understand they are starting at the bottom and have to work their way to the top -- a conference championship. From there, perhaps a national championship would be in their sights. That obviously gets a ton easier now that they are members of the Big 12. But I don't think Patterson is going to do anything differently, other than maybe coach 'em up a little bit harder.
DU:
Yeah, most people sort of assumed Patterson would leave at some point, but he's really built something special at TCU. Clearly, the move to the Big 12 both validates that and makes it seem likely he won't leave Fort Worth for a long, long time. He's got the Frogs rolling.
Being in the region will help. Like you said, playing and beating those teams adds to the familiarity. West Virginia, on the other hand, is going to be almost a total outsider in that respect. Both WVU and TCU are built to win quickly in this league, but I have to think TCU gains a little edge because of the familiarity factor.
TCU's built to win, but probably not built to win big just yet. You talked about that pyramid. What does TCU have to do to scale it and win its first Big 12 title? Any guesses as to how long it takes?
AA:
I bet TCU wins a Big 12 title in the next five years. I don't see it this year because TCU has to get adjusted to new opponents and playing in an AQ conference. But I really have a hard time doubting Patterson, especially given his ability to recruit. To me, Texas and Oklahoma remain the Goliaths who have to be slayed. Every other team has made nice runs, but nobody has really had the same long-range, sustained success as Texas and Oklahoma. If I am Patterson, my focus is getting into their territory.
DU:
I don't know about five years, but I'll take your bet within the decade. It's tougher to win now without a championship game and divisions. If TCU was in the old Big 12 North, I'd like their chances in a five-year span. But having to outplay Texas, OU and everyone else in the Big 12 over a nine-game conference season is never easy. That's the goal. It'll be fun to see if TCU can reach it.