Dallas Colleges:

2011 Fiesta Bowl
December, 31, 2011
12/31/11
1:54
PM CT
PARADISE VALLEY, Ariz. -- Everything about the first trip to the BCS is new for Oklahoma State.
At least one thing hasn't gone as expected. Back on Dec. 4, when the Cowboys learned their bowl destination, quarterback
Brandon Weeden
smiled and confessed he'd be bringing his golf clubs to Arizona.
A walk-on with Oklahoma State's storied golf team, he didn't need anybody to tell him that the Scottsdale area was a golfing hot spot.
This week, though, he was only able to squeeze in 11 holes, and two were in the dark.
Weeden, receiver
Colton Chelf
, quarterback
Clint Chelf
and receiver
Josh Cooper
made it out to the Phoenician resort in Scottsdale, but only got to play nine holes before the sun set over the Phoenix metroplex.
"I hit it real nice, which is why I wanted to play more," Weeden said with a laugh. "I brought my clubs thinking there'd be a lot more time as far as it goes. It's hard to play 18 holes considering you need a four-hour gap there and two hours won't get it done."
Such is life.
Playing in a BCS bowl is torture. For now, Weeden's focus is back on the real reason for the trip to the Valley of the Sun: Making Oklahoma State's first BCS bowl a successful one, and knocking off No. 4 Stanford.
"I'm probably done," he said, "We're getting pretty close to game time."
December, 30, 2011
12/30/11
8:45
AM CT
The numbers aren't pretty.
Surely, you've heard it by now.
"Oklahoma State: winning in spite of an awful defense since 2010."
If only, right?
Well, not quite. Especially in 2011.
Bill Young and his Oklahoma State defense have waged a year-long battle against perception and raw numbers.
[+] Enlarge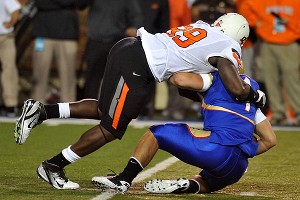 Mark D. Smith/US PresswireThe Oklahoma State defense has played much better this season than its statistics suggest.
"It gives up 445 yards a game?! There are 106 teams in college football who give up fewer! And the pass defense? That's 265 yards per game on its own! That's 102nd!"
Well, yeah. But things are not as bad as they appear.
"We're playing a little bit better defensively than maybe some people realize, but the problem, it's a blessing on one side and problem on the other, is our offense," Young said.
The offense is big on providing wins, but bad for defensive numbers that offer fuel to those questioning the Cowboys' credentials.
"We're a real fast-tempo offense and we score a lot of points and score a lot in a hurry, but what happens is it just multiplies the number of opportunities you have to play on defense," Young said. "We played several ballgames this year where we've played well over 100 snaps, which if you look at Texas and other teams that run the ball a lot, Kansas State? They're playing about 55-60 snaps per game. So you're playing two games, everybody else is playing one game."
That's one reason for the big numbers. Another?
Oklahoma State has faced four of the nation's top six quarterbacks in total passing yards. The result?
It held Arizona's
Nick Foles
to just 14 points in a 23-point win. It jumped out to a 49-3 lead on Heisman winner
Robert Griffin III
and Baylor, eventually winning 59-24.
Texas Tech's
Seth Doege
managed just six points in an embarrassing 66-6 loss to the Cowboys -- in Lubbock.
Oklahoma's
Landry Jones
was missing
Ryan Broyles
, but his team trailed 44-3 until a late touchdown run in the game's final three minutes.
Is that not good enough?
The biggest reason for those defensive performances has been turnovers. The Cowboys have forced 42 this season, six more than any other team in college football. It's scored 181 points off those turnovers, 37 more than any team in college football.
"That's something we put a lot of emphasis on and take a lot of pride in it," said Young, whose defense forced 34 turnovers last season, fifth-most in the FBS. "We have a two-whistle system, where the first whistle is where the offense can stop running, and the second whistle, we'll quit trying to strip it, but up until then, we're doing everything we can to take the ball away."
It has paid off, but the turnovers have helped to produce big leads, which have also impacted the defense. Oklahoma State has been the victim of benching its own starters, too. Football Outsiders calculates
an advanced defensive statistic called Defensive S&P+
, which calculates the defensive success rates of every one of a team's plays, but only when a game is within 24 points in the first quarter, within 21 points in the second quarter, and within 16 points in the second half.
In that comprehensive stat, Oklahoma State ranks 32nd.
It's far from elite, but it's far from an embarrassment, and an improvement on the deceiving total defense statistic. The pace of Oklahoma State's offense handcuffs the defense's ability to put up any reasonable numbers in the stat. The same is true of many defenses across the Big 12.
The simple fact: Big 12 defenses face a whole lot more plays than defenses from other leagues. Why wouldn't they give up more yardage?
Young isn't pretending his defense is on par with the titans that pollsters deemed worthy of meeting again in the national championship. But it's not as bad as the numbers suggest.
"We're blue collar and we just go to work every day and work hard and try to do good things," Young said.
It's done enough this season.
December, 5, 2011
12/05/11
12:40
AM CT
Stanford Cardinal (11-1) vs. Oklahoma State Cowboys (11-1)
Jan. 2, 8:30 p.m. ET (ESPN)

Stanford take by Stanford blogger Kevin Gemmell:
Welcome back to the BCS. The Cardinal return after smoking Virginia Tech in the Orange Bowl last season -- many thinking it was the final game for coach Jim Harbaugh and quarterback
Andrew Luck
.
Harbaugh left, Luck stayed. And he turned in a Heisman-worthy season, throwing 35 touchdowns to nine interceptions, including a perfect 26-0 touchdown-to-interception ratio in the red zone.
With a trio of top-flight tight ends -- headlined by
Coby Fleener
-- Luck has proven why he's considered the No. 1 NFL prospect. But he's not the only top draft pick on the team. Offensive tackle Jonathan Martin is considered one of the two best left tackles in college football and guard David DeCastro is the best interior lineman in the country.
The tight ends -- Fleener,
Zach Ertz
and
Levine Toilolo
-- have accounted for more than half of Luck's 35 passing touchdowns on the season.
But what makes Stanford go is its balance.
Stepfan Taylor
has a second-straight 1,000 yard season, and he's done it platooning with
Tyler Gaffney
,
Jeremy Stewart
and
Anthony Wilkerson
.
Defensively, Chase Thomas leads a front seven that is one of the best in college football. The loss of inside linebacker Shayne Skov in the third game of the season was a blow to the defense, but youngsters Jarek Lancaster and A.J. Tarpley have filled the void nicely -- steadily improving every week.
---

Oklahoma State take from Big 12 blogger David Ubben:
The Cowboys are best known for their offense, and for good reason.
Brandon Weeden
and
Justin Blackmon
are one of the nation's best pass-catch combos, and between Blackmon's physical nature and Weeden's accuracy, they're a nightmare for defenses.
Making matters more difficult is
Joseph Randle
, who has quietly had one of the best seasons of any running back in the Big 12. He's racked up 1,193 rushing yards with 23 (!) rushing touchdowns. Only three players in college football have more. The first-year starter might be the Cowboys' secret weapon.
Defensively, the raw numbers aren't great for the Cowboys, but those rumors you've heard? They're true. The defense is a lot better than most give them credit. The Cowboys are an efficient defense that plays well when it counts, and rank second nationally with a plus-20 turnover margin. Tough to beat that.
Quinn Sharp and Justin Gilbert make things interesting in special teams, too. Sharp leads the nation in touchbacks, is one of the Big 12's best place kickers, and would be one of the nation's best in punting average -- if he had enough attempts. Gilbert is a dangerous return man who already has four touchdown returns in his first two seasons.