Dallas Colleges:

2011 Holiday Bowl
December, 28, 2011
12/28/11
11:28
PM CT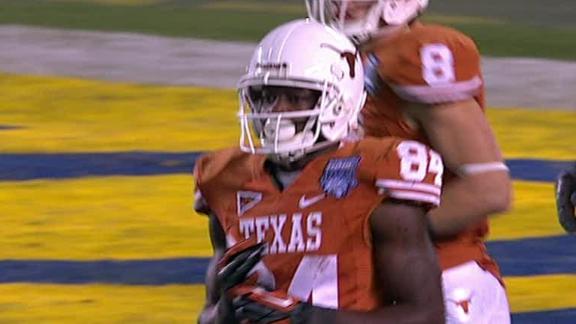 California wanted revenge for 2004 when Texas coach Mack Brown politicked the Longhorns past the Bears and into the Rose Bowl. But all it got was a sloppy performance in a decisive
21-10 loss
in the Holiday Bowl.


How the game was won
: Both defenses mostly dominated, but Cal lost the turnover battle 5-0. It's impossible to win when you are minus-five in turnovers.
Turning point
: Cal took a 10-7 lead on the opening possession of the third quarter, but Texas immediately answered when
David Ash
connected with
Marquise Goodwin
for a 47-yard touchdown pass. On two of its next three possessions, the Bears fumbled on the Longhorns' 44-yard line. The second fumble set up another Texas TD, and the Bears offense isn't the sort that can make a comeback from a 21-10 hole. Not against a very good Texas defense.
Stat of the game
: 109 to 7. That was Texas' advantage in rushing yards.
Player of the game
: The Texas defense. It held Cal to a season-low 195 total yards. The Bears entered the game averaging 419 yards per game.
Unsung hero of the game
: Goodwin caught a 47-yard TD pass to give Texas a 14-10 lead, and his 37-yard run set up the Longhorns' third touchdown.
What Texas learned, what Cal learned
: Texas learned that Ash has potential, and that a young Longhorns team that has a lot coming back in 2012 could see a bounce-back year for the program after consecutive down seasons. Cal, which also has a lot coming back next fall, learned that losing the turnover battle 5-zip is bad, bad, bad.
December, 28, 2011
12/28/11
11:36
AM CT
Texas takes on Cal on Wednesday night in the Holiday Bowl. We previewed the game earlier, now it's time for a look at three keys for Texas to get the win.


1. Work hard in bowl practices.
So yeah, this one's technically already happened, but we won't see the results until tonight. Texas' offense was young and banged up, but had a ton of room for improvement, mostly with the offensive line, receivers and running backs. The Longhorns didn't get to participate in the valuable workouts after last year's 5-7 season, so here's guessing they took those pretty seriously. Young offensive talent like
Jaxon Shipley
,
Mike Davis
,
Malcolm Brown
and
Joe Bergeron
are loaded with potential, and the late-season minicamp can be a showcase for it to shift to production.
2. Shut down Keenan Allen.
Texas is missing safety Christian Scott, but the Longhorns' corners are two of the best in the league. Carrington Byndom and true freshman Quandre Diggs are capable of shutting down Allen and letting the front seven go to work on rushing
Zach Maynard
and stuffing
Isi Sofele
, a 1,200-yard rusher. Texas' defense was the Big 12's best this season, and was by far the league's best at preventing big plays, despite facing high-powered offenses every week. Texas isn't going to let Cal run all over it, and if it quiets Allen, it wins.
3. Win the game by not losing it.
Counterintuitive perhaps, but Texas did exactly this against Texas A&M and needs to do it again. Think Nebraska in 2009, to a lesser degree on both sides of the ball. It doesn't have an offense that can run with a lot of teams such as Cal and others across the Big 12. Texas' worst losses this year came to the Big 12's best offenses: Oklahoma State, Baylor and Oklahoma. Cal's not on that level, but Texas can't make mistakes like it made in those games to help Cal's offense. Texas' offense needs to stay conservative, take what the defense gives it and punt it as many times as necessary. Don't turn the ball over and don't allow big plays. Texas will get blown out if it does that.
December, 28, 2011
12/28/11
9:23
AM CT
The
Big 12's 1-0 in bowl games so far
, and it's time for another 7-5 team to strap pads on and put the league's reputation on the line.


Texas takes on Cal out in San Diego in the Bridgepoint Education Holiday Bowl on ESPN at 8 p.m. ET. Let's take a look at what to expect.
WHO TO WATCH:
Texas LB Emmanuel Acho. The Longhorns' top talents are all on defense and Acho headlines the group. The senior leader closed the season on a tear, notching at least 12 tackles in four consecutive games before the loss to Baylor. Acho is everywhere on the field for the Longhorns, and led the team with 109 stops.
WHAT TO WATCH:
Texas' quarterbacks. You never quite know who's going to be there. The quarterbacks have been shuffled in and out all year.
Case McCoy
and
David Ash
replaced Garrett Gilbert in the second game and neither has grabbed hold of the starting job since. McCoy doesn't quite have the big arm you'd like in a Big 12 quarterback, and Ash has been plagued by poor decision-making. McCoy hadn't thrown an interception all season, but in the finale against Baylor, he threw four. He had three touchdowns, too, but Texas lost convincingly and Baylor's
Robert Griffin III
won the Heisman at the Longhorns' expense. There's no telling who'll be under center for most of the Holiday Bowl. I'll guess Ash for now.
WHY TO WATCH:
We haven't had a chance to see full-strength Texas in a long while.
Jaxon Shipley
is the team's top receiver, but he's been hampered by a knee injury and missed three games in the middle of the season before returning. He's finally back to 100 percent. Running backs
Malcolm Brown
and
Joe Bergeron
have been slowed by injuries, too. They'll be back. Seven wins was about right for this team, but just about everyone will be back next year, and we'll get some idea of how many to expect in 2012 from the offense's performance in the finale.
PREDICTION
:
No. 24 Texas 20, California 17 --
The Longhorns suffocate another offense in this one, quieting
Keenan Allen
and
Zach Maynard
. Texas has seen better offenses and played well. They take care of business out in San Diego to notch a Holiday Bowl win. A healthy backfield of
Malcolm Brown
and
Joe Bergeron
get back down to business and build toward a big sophomore year.
December, 5, 2011
12/05/11
12:40
AM CT
California Golden Bears (7-5) vs. Texas Longhorns (7-5)
Dec. 28, 8 p.m. ET (ESPN)

Cal take from Pac-12 blogger Ted Miller:
California overcame a horrible midseason lull and finished strong, which is why it's heading to the Bridgepoint Education Holiday Bowl to settle on old score.
The Bears will square off with Texas, which some might recall squeezed Cal out of the Rose Bowl in 2004 after coach Mack Brown openly politicked against the Bears.
As for the present state of Cal, it's much different than it was on Oct. 29, when an embarrassing 31-14 loss to UCLA had the Bears reeling, losers of four of five. They certainly didn't look like a bowl team, and quarterback
Zach Maynard
didn't look like a Pac-12 quarterback.
Then Cal, leaning on its running game and stout defense, pounded Washington State and Oregon State, allowing just 13 points in the two wins. That allowed Maynard to get his confidence -- and mechanics -- back into form. Though the Bears lost at rival Stanford, 31-28, it could be said that Maynard was every bit the match -- at least statistically -- of
Andrew Luck
.
Cal concluded its season with a strong 47-38 win at Arizona State, which was particularly satisfying based on how poorly the Bears have played on the road the past few seasons.
A 7-5 finish has taken some of the heat off coach Jeff Tedford. Beating Texas would make the Old Blues extremely happy.
---

Texas take from Big 12 blogger David Ubben:
For the Longhorns, it's good to be back. After winning 10 games for nine consecutive seasons, the Longhorns spent the holidays at home last year after going 5-7, their fate sealed by a home loss to rival Texas A&M. Not this year. Texas' 7-5 season is still not up to Longhorns' standards. Their defense was hampered by an offense that found its rhythm in midseason but then promptly suffered debilitating injuries.
Malcolm Brown
and
Joe Bergeron
were rarely healthy over the season's home stretch, when Texas lost three of its final four games.
Linebackers Emmanuel Acho and Keenan Robinson were the solid anchors of the defense as expected. A solid secondary that refused to give up big plays flanked the pair. It kept opposing offenses from throwing a touchdown pass of longer than 20 yards until
Robert Griffin III
threw two in the season finale. Nobody in college football went longer, and with the caliber of quarterbacks across the Big 12, that's an amazing feat.
Case McCoy
and
David Ash
are still trading places at quarterback consistently, and McCoy threw the first three interceptions of his career against Baylor. Bowl practices before Texas takes the field again could be interesting, and play a big role in the future of the Longhorns.