Dallas Colleges:

2011 NCAA Chicago
March, 19, 2011
3/19/11
12:57
AM CT
CHICAGO -- You can be forgiven if this game wasn't your cup of tea. You can understand why the average fan saw "No. 7 Texas A&M versus No. 10 Florida State" in the Southeast region of their bracket and said, "yeah, no thanks." Anyone who focused their remote control on Arizona's thrilling, last-second win over Memphis Friday afternoon had plenty of reason to do so.
Just don't expect Florida State -- losers of their previous two first-round NCAA tournament games -- to care.
"I mean, I can't express how much excitement I feel because I know we have another game," Florida State forward
Chris Singleton
said. "I mean, I'm trying to -- I'm not trying to stay right here and just have this be my glory point of the year. I'm trying to go past Notre Dame. I'm trying to go all the way as far as we can."
No matter how ugly Florida State's
57-50 win
over Texas A&M may have been, no matter how many viewers sarcastically begged for mercy, no matter how many snarky comments came through the Twitter wire -- and there were plenty -- when ugliness is a winning strategy, you don't let the haters get you down.
[+] Enlarge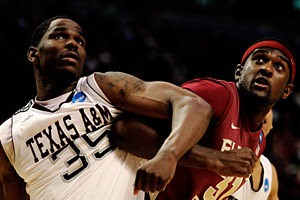 Jamie Squire/Getty ImagesFlorida State's Chris Singleton, right, made his presence felt with five points and two rebounds in his return from injury.
You go ugly early. And yes, this one was
ugly
.
Texas A&M didn't score a point for the first seven and a half minutes of the game. The Aggies finished the first half with just two two-point field goals. Their final shooting tally came out to 16-of-51 on the evening, good for 31.4 percent overall.
Yet, unbelievably, A&M led the game at halftime. The Aggies had chances to win the game down the stretch. Florida State pulled away late, but only in so far as a 10-point difference in this game -- which featured a mere 57 possessions -- was roughly equivalent to 20 points in an a game of even average speed.
This is nothing new for the Seminoles, of course. Leonard Hamilton's team has been among the best defensive units in the nation in the past two seasons, but they rarely pair that defensive prowess with buckets on the other end. This year's group entered the tournament ranked No. 2 in the nation in adjusted defensive efficiency according to Ken Pomeroy; the offense, on the other hand, ranked No. 157. If the Seminoles were even an average ACC team on offense -- they might not have faced the challenge of entering the tournament as a No. 10-seed in Chicago this week.
"It's been like that all year," guard
Derwin Kitchen
said. "Our offense struggled big-time all year long. We basically keep ourselves in the game with our defense."
This game was no different, but it did differ from FSU's recent efforts in one obvious way. Friday marked the return of leading scorer and hyper-athletic defender Singleton from a broken foot that had sidelined him for two months. Hamilton was said he was nervous to play Singleton for fear of jeopardizing his NBA draft chances this summer.
"I realize that he has an opportunity to play at the highest level, and I didn't want to do anything to jeopardize that," Hamilton said. "But he convinced me that he was fine, that he really wanted to play, and he'd worked so hard and been so aggressive with his rehab, doubling up on his rehabs. ...
"He felt comfortable," Hamilton said. "I just was a little anxious, and I guess that's the mother hen in me."
Singleton said he felt in "pretty good" condition, that his only concern was whether his foot would "hold up" in his first game back. It did, and even in limited minutes, Singleton made major contributions, including a huge 3-pointer with 6:49 left in the second half. The 3 gave FSU a 45-40 late lead, and A&M never threatened to overtake the Seminoles again.
Whether Singleton's foot will withstand a second game in three days remains to be seen. What is clear is that FSU's next matchup will put the win-ugly theorem to the test. The Seminoles will face No. 2 seed Notre Dame -- owners of the nation's third-most efficient offense -- in the round of 32 Sunday. Can FSU's defense stand up?
"Florida State can guard guys," Texas A&M coach Mark Turgeon said. "They can flat out guard. And I know Notre Dame can shoot it at all five positions.
"Should be a heck of a game," Turgeon said. "Should be a heck of a game."
A heck of a game? Maybe. Pretty? Definitely not. This year, in this tournament, that's just the way Florida State likes it.
March, 18, 2011
3/18/11
6:20
PM CT
CHICAGO -- College hoops is notoriously hard to predict, but this game wasn't. It was going to be slow. It was going to be physical. It was going to be defensive. It was going to be ugly.
Check, check, check and check.


Florida State entered the Friday afternoon's game with the second-stingiest defense in the country. Texas A&M arrived in Chicago with its slow pace and rebound-reliant attack in tow. Yep: This was always going to be a grinder.
In the end, Florida State's defense was enough. The Seminoles held A&M to 50 points in 57 possessions and advanced to the third round of the NCAA tournament with a
57-50 victory
.
Turning point
: As tempting as it is to call Texas A&M's first basket of the day the turning point -- it came after nearly eight minutes of basketball, after all -- the real game-changer happened with 4:49 remaining in the second half, when FSU guard
Derwin Kitchen
drove to the rim, converted despite a foul, and sank his free throw to give the Seminoles an eight-point lead.
Key stat
: Florida State is almost always going to keep its opponents from scoring in bunches. The question for the Seminoles is always whether or not they can score enough to get the win. FSU wasn't pretty Thursday, but it did shoot the ball well enough as a team (with a 51.2 effective field goal percentage) to score just under a point per possession on the day. That was plenty to outpace A&M, which went 16-of-51 from the field.
Key player
: FSU forward
Chris Singleton
returned from injury for the first time since Feb. 19, but his minutes were limited. Instead, this honor goes to Kitchen, who offered the day's most efficient offensive performance and made the key drive down the stretch to push the Seminoles out in front of A&M for good.
Miscellany
: For the first eight minutes of the game, it looked like the Seminoles and Aggies were determined to top Penn State and Wisconsin for sheer offensive ugliness. This game wasn't
that
bad, but the Aggies did open the first half with almost eight minutes of scoreless basketball. The score at half -- 26-23 A&M -- came thanks to the teams' combined 15-of-49 shooting from the field. In that span, A&M made exactly two 2-point field goals. It wasn't pretty, but that's the way FSU likes it.
What's next
: The Aggies will end their surprising (if eventually disappointing) season at 24-9. The Seminoles will advance to the round of 32, where a matchup with the offensively efficient
Notre Dame Fighting Irish
. "Clash of styles" is the appropriate cliche here.
March, 18, 2011
3/18/11
1:57
PM CT
CHICAGO -- A look at the Texas A&M-Florida State matchup at the United Center:
No. 7 seed Texas A&M (21-10) vs. No. 10 seed Florida State (24-8), 3:10 p.m. (TBS)


How they got here:
Somehow, it seems Mark Turgeon always finds a way. The Texas A&M coach faced a serious challenge in the offseason: Replacing three seniors, including stars Donald Sloan and Bryan Davis, with a group of unproven unknowns. The Aggies didn't miss a beat. Instead, A&M quickly established itself as another smart, solid Turgeon team, one that looked like it might compete for a spot among the Big 12's elite before a late-January hiccup. Meanwhile, despite losing its leading scorer and best defender in forward
Chris Singleton
to a broken hand on Feb. 19, Florida State admirably maintained its spot above the bubble fray.
Players to watch:
Singleton hasn't seen action since his injury, but he practiced Thursday and appears likely to play Friday. Saying this is "huge" for the Seminoles is like saying water is "huge" for human survival. With Singleton on the prowl, an already-stout Florida State defense is one of the toughest, most disruptive units in the country. Texas A&M forward
Khris Middleton
will have to find a way to remain productive despite Singleton's singular defensive prowess, and A&M will need to balance its interior scoring with some timely perimeter shooting from guard
B.J. Holmes
.
What to look for:
A slow, defensive slugfest that will be decided on the offensive boards. FSU's defense is the second-stingiest in the nation; only Texas has allowed opponents fewer points per possession in 2011. That stinginess stems from Florida State's excellent first-shot defense. The Seminoles simply don't allow good looks. That said, Leonard Hamilton's offense-averse team does allow opponents its share of offensive rebounds, and A&M ranks among the top 15 teams in the nation in retrieving their own misses. The Aggies aren't going to get many good looks. But if they can take advantage of the offensive glass and get a few easy putbacks, they'll be at a major advantage against a Florida State team that frequently struggles to score.
Quotable:
"How big of a factor he's going to be will be in direct proportion to how he's going to adjust to not being available for a month, not being in practice, not having any contact, not being in rhythm. [...] He's only been in any type of contact with us now for four or five days. So to be honest with you, I think that's yet to be determined." -- Florida State coach Hamilton on what he expects -- or doesn't expect from Singleton.