Dallas Colleges:

2012 Albuquerque Region
March, 18, 2012
3/18/12
9:28
AM CT
ALBUQUERQUE, N.M. --
Brady Heslip
was stocky, not exactly someone who looked like he was going to be an impact player when he arrived at Boston College in the middle of the season two years ago.
And his impact was minimal, since he had been stashed at New Hampton Prep (N.H.) for the fall semester before he joined the Eagles in December. Then the staff was fired. New Boston College coach Steve Donahue didn't see Heslip's potential, for whatever reason. Heslip said the two met, he wasn't in the plans and so he was out.
Former BC associate head coach Pat Duquette, who now has the same title at Northeastern, said he recruited Heslip out of Burlington, Ontario. Duquette said Heslip was "absolutely fearless, but physically more than you see. He had very long arms, which equaled a high release. And he had unusually big hands for a guard his size.''
Former BC head coach Al Skinner said by phone Saturday night that he liked Heslip's tough-minded approach.
"The thing about him was that he didn't hunt shots; he let the game come to him,'' Skinner said. "He executed well and was patient on the offensive end. He rarely takes a bad shot, and he had tremendous range.''
[+] Enlarge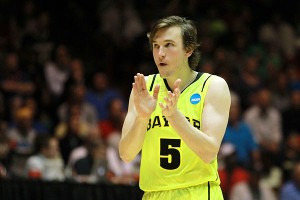 Ronald Martinez/Getty ImagesBrady Heslip hit nine 3-pointers on Saturday to help Baylor earn a school-record 29th win.
There was an AAU connection with his coach to the Baylor staff. He went on a visit to Waco, Texas, and was sold. Baylor coach Scott Drew said Heslip dropped 24 pounds. He was a gym rat. His teammates loved him. But little did they know what they were getting in return.
"I know how hard he's worked,'' Baylor's
Quincy Acy
said. "When he came in, we knew how good a shooter he was. Every time I went to the gym at night, I would see him in there sometimes twice a day. He works for it. I know whenever he gets hot, he can outshoot anybody.''
Heslip's impact Saturday night was epic for a Baylor program that is breaking barriers.
Heslip hit nine 3s for a career-high 27 points in Baylor's
80-63
victory over Colorado at the Pit, to propel the Bears to their second Sweet 16 appearance in three seasons. The two Sweet 16s are the only ones in the school's history. Drew is now 5-2 in the NCAA tournament, and the win Saturday gave the Bears a school-record 29 victories.
Heslip's nine 3s set a single-game NCAA tournament record for the Bears. How much of an impact is Heslip having on a team known for its up-tempo style, tremendous length, and headliners Acy,
Perry Jones III
and
Pierre Jackson
?
"Heslip was the difference,'' Colorado coach Tad Boyle said. "He was unconscious tonight.''
Heslip made six of his 3s in the first half, but the Bears were up only two. His three 3s in the second half helped open up the game. Sure, there were times when Acy and
Quincy Miller
as well as
Anthony Jones
were extremely difficult to stop inside. The 17 offensive rebounds kept possessions alive. The 24 defensive rebounds ended plenty of the Buffs' attempts.
But Heslip busted the game open.
"I'm just feeling great right now, first of all, because we won,'' Heslip said. "I'm just happy for my seniors.
"As for the shooting, Pierre does a great job of finding me when I'm open and finding me in transition. Acy sets great screens, and it was just one of those nights.''
Heslip was getting the ball in motion and was stroking it without any hesitation.
"If I'm in rhythm and feeling good shooting, it just makes it even easier,'' Heslip said.
Baylor was a major disappointment last season, following an Elite Eight appearance and the departure of point guard Tweety Carter with a flameout in the Big 12 tournament. Jones' ineligibility days before the tourney led to the Bears' missing the rest of the postseason.
The arrival of Jackson from junior college and Heslip's eligibility changed the backcourt for the Bears and the potential for this squad.
If you followed Baylor early in the season, you saw wins at BYU and Northwestern and over Mississippi State, Saint Mary's and West Virginia -- the latter three all on neutral courts. The Bears couldn't beat Missouri or Kansas in the regular season but knocked off the Jayhawks in the Big 12 tournament.
Now Baylor is the first Big 12 team in the Sweet 16. And if Purdue were to upset Kansas on Sunday, the Bears could be the only one. Even if the Jayhawks join them, the Bears are peaking at the right time.
And so is Heslip, an option that makes the Bears that much more formidable in a possible showdown with Kentucky in the South Region at Atlanta with a right to go to the Final Four.
"Brady will be the first to tell you that his teammates really got him open and got him the ball,'' Drew said. "That humility is what makes our team successful.''
March, 17, 2012
3/17/12
11:02
PM CT
ALBUQUERQUE, N.M. -- Reaction from Baylor's
80-63 win
over Colorado.
Overview:
Give Colorado plenty of credit, the Buffaloes were scrappy until the final few minutes. But they simply didn't have the overall talent to hang with Baylor, especially against the power game inside or the 3-point shooting from
Brady Heslip
and
Anthony Jones
. The Bears put on quite a display. They have the ability to turn it on as well as any team in the country, outside of Kentucky. If Baylor can play like this it should meet Kentucky in the Elite Eight Sunday in Atlanta.


Turning point:
There were many to choose from but I'm more inclined to go with a
Quincy Acy
spin-move slam that was as impressive as you'll see. That bucket gave the Bears a 61-58 advantage and set the tone for what would soon be a blowout. That bucket was the precursor to the 3s that Heslip started to drain, which opened up the game.
Key player:
Brady Heslip. He made nine 3s, two shy of The Pit record, set by the late Bobby Phills in 1990 when he played for Southern and one shy of a school record. It was also only two shy of the NCAA tournament record set by Loyola Marymount's Jeff Fryer against Michigan in 1990. Heslip missed only three. The Buffs tried to find him but couldn't contest. It was as good a performance as you'll see from beyond the 3-point line.
Key stat:
The 3s were noteworthy, but just as big a deal was the rebounding margin. The Bears dominated the backboard. Their defensive rebounding severely limited the Buffs' ability to get second-shot opportunities.
Miscellaneous:
Baylor went with the yellow highlighter uniforms. The Bears are 3-0 with them. Former Big 12 commissioner Kevin Weiberg flew in to represent the conference that he currently works in, the Pac-12. Odd that he was watching two former conference members tussle at The Pit. Baylor fans were chanting "Big 12 rejects" at Colorado when Baylor was up by 12. Not cool. The proper chant came later when the Bears fans were chanting "Big 12." That was enough.
What's next:
Baylor will play the winner of Lehigh-Xavier on Friday in Atlanta for the right to go to the Elite Eight and possibly take on South top seed Kentucky. The Bears have the makeup to challenge Kentucky better than anyone else in this bracket. The Bears also have a chance to get to the Elite Eight by facing only double-digit seeds if Lehigh were to upset Xavier.
March, 15, 2012
3/15/12
9:52
PM CT
ALBUQUERQUE, N.M. – Quick thoughts on third-seeded Baylor's
68-60 victory
over No. 14 South Dakota State on Thursday:


Overview:
Baylor got off to an eight-point halftime lead but then had to deal with as scrappy a team as you'll see in the NCAA tournament. When the Bears are forcing turnovers and scoring, they are a good watch. The dunks come, and the athleticism was on display. The board work was efficient and the 3s were enough to hold off South Dakota State. But the overall talent on the floor should be a strong indicator that Baylor must advance to call this season a success.
Turning point:
Quincy Miller
had a spin and dunk move with just under nine minutes left that gave the Bears a nine-point lead. The move didn't squash the Jackrabbits, but it did send a strong message that the Bears weren't going to lie down. And, of course, it highlighted the overall athleticism advantage for the Bears.
Key player:
Tough call but I actually may go with
Brady Heslip
here. He made five 3s among his 17 points. He answered the Jackrabbits' 3-pointers to allow the Bears to stretch first-half leads. Heslip is the kind of difference-maker for Baylor who can change the fortune of this team. He also made late free throws. The Bears will only go as far as they make perimeter shots.
Key stat:
The Bears dominated the backboard as they should, outrebounding South Dakota State 35-23. This was the concern of Jackrabbit coach Scott Nagy.
Perry Jones III
wasn't offensive Thursday night, but he could board. He grabbed 11, and that's what he had to do more than anything with the overall production from players such as Quincy Miller, Brady Heslip,
Pierre Jackson
and
Anthony Jones
.
Miscellaneous:
I really wanted to see what would have happened if the Pit lights went out during this game. Would Baylor's uniforms glow in the dark? I'm all for gimmicks, but these highlighters were too much. Did I miss the return of neon and "Miami Vice"? I'm not sure which was worse: the shirts, shorts, socks or shoe laces. ... Baylor is now 2-0 in these jerseys, though. ... South Dakota State will now be the premier team in the Summit League with the departure of Oral Roberts to the Southland Conference next season. ... South Dakota State should be the class of the Summit yet again with the return of
Nate Wolters
. Scott Nagy is less than five years into leading the Jackrabbits into Division I. ... Oh, did I say how much I love the nickname Jackrabbits? I don't know why, but I do. Biggest controversy was that the mascot used to look too much like Bugs Bunny. Now it no longer has a cartoon feel.
What's next:
Baylor gets the winner of UNLV-Colorado. Baylor is a bit wild at times but clearly should be playing in the second weekend. Anything less than a win Saturday would have to be deemed a disappointment. Baylor has too much talent to not make it out of here against either opponent.