Dallas Colleges:

2012 National Signing Day
February, 1, 2012
2/01/12
5:34
PM CT
By
David Stein
| ESPNDallas.com
When TCU recruited Jerry Hughes, he was a 220-pound running back. When the Indianapolis Colts drafted him in the first round of the 2010 NFL draft, Hughes was a 255-pound, two-time All-American defensive end.

TCU head coach Gary Patterson has a knack for putting players in the right spots.

Oklahoma wanted Euless Trinity's Brandon Carter to play cornerback. When Patterson gave him a chance at receiver, Carter decommitted and joined TCU, where he caught 23 passes for 352 yards as a true freshman, including the game-winning touchdown at Boise State.

With TCU's 2012 recruiting class, arguably Patterson's best, it won't be any different.

"When it's all said and done, they want to be in a position where they can play at the highest level," Patterson said. "It's a very small percentage where a kid says 'I just don't want to move,' or 'I just don't want to do that.' "

He said there are five or six players in this class that could play different positions than they did in high school.

"We're still looking for athletes," Patterson said. "Guys who can run and go do things."

Patterson talked specifically about 2012 commit Derrick Kindred. Most of the 5-foot-10 athlete's highlights are from playing running back at San Antonio's Wagner High School. But Patterson said Kindred could end up playing wide receiver, safety or cornerback.
February, 1, 2012
2/01/12
4:54
PM CT
By
Randy Jennings
| ESPNDallas.com
DeSOTO, Texas -- After signing a letter of intent with Texas,
Bryson Echols
said the feeling was one of relief.
[+] Enlarge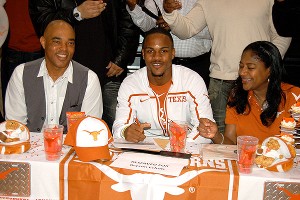 DeSoto High SchoolDeSoto's Bryson Echols committed to Texas in Feb. 2011 and signed with the Longhorns nearly a year later.
"I worked hard since I was a freshman for this day and now I'm glad it is over,'' said the DeSoto cornerback, who is No. 79 in the ESPNU 150.
Echols (5-foot-10, 175 pounds) was a four-year varsity player for the Eagles, competing at one of the most difficult of positions. He made an early oral commitment to Mack Brown and the Longhorns.
Claude Mathis, DeSoto's head coach throughout Echols' career, could not be a part of signing day. Mathis recently accepted a job as an assistant coach at the University of Houston.
"Even though Coach Mathis wasn't here in person, I know his heart was here,'' Echols said.
February, 1, 2012
2/01/12
4:37
PM CT
Keller Central's Zach Sanchez was one of the few athletes not playing quarterback or running back who could take over a game by himself.

Now Sanchez will try to do the same in the Big 12.

The receiver/defensive back signed a national letter of intent to play for Oklahoma on Wednesday, finishing a career that may leave him as the best player in Central's short history.

Sanchez caught 45 balls for 994 yards and 13 touchdowns in addition to his work on the defensive side of the ball, where he was one of the most feared DBs in the area.

The senior's defining performance came against Denton Guyer. He caught two touchdown passes and returned an interception 85 yards for a touchdown in Central's 21-14 win.

That win went a long way toward solidifying Central's first playoff berth in school history. Central beat Coppell in Week 10 in what amounted to a playoff play-in game, and the Chargers put a scare into top-ranked Allen in bi-district before losing 30-17 at Cowboys Stadium.

Sanchez was originally committed to Baylor but switched late in the process.

Central offensive lineman Simon Goines also signed on Wednesday. He joins Jim Mora's first class at UCLA.
February, 1, 2012
2/01/12
2:59
PM CT
By
Randy Jennings
| ESPNDallas.com
DeSOTO, Texas -- DeSoto offensive lineman Curtis Riser put pen to paper on Wednesday and became a Texas Longhorn.

"It was always between Texas and LSU in my mind,'' said the 6-foot-3, 283-pounder who committed to the Horns on Junior Day. "Austin was more of a place I could see myself living.''

At DeSoto's signing ceremony, coaches lauded Riser for playing his senior season six months after his second knee surgery, even though he had a commitment to Texas already in his pocket. Coaches said that showed Riser's dedication to his teammates.

"The knee feels great now,'' Riser said. "I looking forward to getting down to Austin and show people what I've got.''
February, 1, 2012
2/01/12
2:21
PM CT
By
Richard Durrett
| ESPNDallas.com
TCU signed 23 players on Wednesday and, according to the ESPN.com rankings, are sitting at No. 24 in the country.

Two late commitments made helped that ranking as safety Jordan Moore, the No. 15 safety in the ESPN.com rankings, chose TCU over Auburn on Tuesday night. Then early Wednesday morning, Terrell Lathan, a defensive end from Louisiana, chose TCU over Louisiana Tech in a surprise announcement.
TCU had five four-star ESPN signees and defensive end Devonte Fields from Arlington Martin was No. 73 in the ESPNU 150.
Here's the full list of TCU's recruits:
LaDarius Anthony, TB, 6-0, 192 (Kilgore, Texas)
Austin Aune, QB, 6-2, 185 (Argyle, Texas)
Gerren Ballard, TE, 6-6, 250 (Whitewright, Texas)
Josh Carraway, DE, 6-3, 225 (Flower Mound, Texas)
B.J. Catalon, TB, 5-8, 190 (Houston, Texas)
Chad Childs, OT, 6-5, 280 (La Grange, Texas)
Aviante Collins, OT, 6-6, 310 (Houston, Texas)
Devonte Fields, DE, 6-4, 240 (Arlington, Texas)
Keivon Gamble, CB, 5-10, 190 (Dallas, Texas)
Griffin Gilbert, TE, 6-5, 215 (Austin, Texas)
Deante' Gray, WR, 5-10, 180 (Houston, Texas)
A.J. Hilliard, LB, 6-2, 215 (Klein, Texas)
Joey Hunt, DT, 6-3, 285 (El Campo, Texas)
Zach Jackson, S, 6-0, 185 (Snellville, Ga.)
Derrick Kindred, ATH, 5-10, 180 (San Antonio, Texas)
Terrell Lathan, DE, 6-5, 260 (West Monroe, La.)
Kolby Listenbee, ATH, 6-0, 170 (Arlington, Texas)
Tyler Matthews, QB, 6-3, 205 (McPherson, Kansas)
James McFarland, LB, 6-3, 240 (West Monroe, La.)
Jordan Moore, S, 6-3, 210 (Lithonia, Ga.)
Jaden Oberkrom, PK, 6-3, 170 (Arlington, Texas)
Ethan Perry, P, 6-4, 220 (Spring Branch, Texas)
Halapoulivaati Vaitai, OT, 6-6, 265 (Haltom, Texas)
February, 1, 2012
2/01/12
2:04
PM CT
By
Richard Durrett
| ESPNDallas.com

SMU announced the signing of 20 recruits today, including quarterback Neal Burcham, who was a four-star recruit according to the ESPN rankings.
Interestingly, SMU also signed Prescott Line, the brother of SMU's Zach Line. SMU has nine ESPN three-star or higher signees, tied for the most in Conference USA (Marshall).
The list of signees:
Chauncey Briggs, OL, 6-5 330 West Bloomfield, Mich. (West Bloomfield)
Neal Burcham, QB, 6-3 185 Greenbrier, Ark. (Greenbrier)
Christian Chamagua, OL, 6-6 290 Manvel, Texas (Manvel)
Brian Cramer, DL, 6-4 230 Round Rock, Texas (Stony Point)
A.J. Justice, DB, 6-2 185 Houston, Texas (Stratford)
Collin LaGasse, WR/DB, 5-11 190 Austin, Texas (Lake Travis)
Ty Law, DB, 5-10 170 Orlando, Fla. (Lake Highland Prep)
Prescott Line, RB, 6-0 215 Oxford, Mich. (Oxford Area Senior)
Ajee Montes, DB, 5-11 180 La Puente, Calif. (Bishop Amat)
Seaver Myers, OL, 6-6 290 Friendswood, Texas (Friendswood)
Elie Nabushosi, DL, 6-4 240 Frisco, Texas (Heritage)
Damien Neroes, LB, 6-1 215 Garland, Texas (Garland)
Jarvis Pruitt, DL, 6-3 220 Houston, Texas (Stratford)
Shakiel Randolph, DB, 6-5 190 Waco, Texas (Midway)
Nick Reed, DL, 6-1 265 Texarkana, Texas (Pleasant Grove)
Sam Rice, OL, 6-4 270 Coppell, Texas (Coppell)
Lincoln Richard, LB, 6-3 215 Everman, Texas (Everman)
Horace Richardson, DB, 6-0 175 Everman, Texas (Everman)
Daijuan Stewart, WR, 5-10 175 Baldwin, La. (West Saint Mary)
Chase Walling, OL, 6-6 270 Dallas, Texas (Lake Highlands)
February, 1, 2012
2/01/12
1:49
PM CT
By
Randy Jennings
| ESPNDallas.com
DeSOTO, Texas -- The tradition of DeSoto sending a top-flight defensive lineman to Texas A&M continued when Michael Richardson signed a letter of intent Wednesday in a massive ceremony at the school gym.
The Aggies had three former DeSoto players on last year's team, including defensive lineman Tony Jerod-Eddie.
[+] Enlarge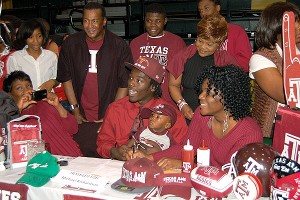 DeSoto High SchoolThere was no shortage of Texas A&M gear when DeSoto's Michael Richardson signed with the Aggies.
"It's like a pipeline and I'm keeping the tradition going,'' said Richardson, an end who is following the same trail that Von Miller blazed with great results five years ago. "Hopefully some other DeSoto guys will follow me next year.''
Richardson was an early Aggie commitment, but A&M's head coaching change caused him concern. That concern ended when he met the new staff and new head coach Kevin Sumlin.
"Coach Sumlin reminded me a lot of my high school coach, Coach [Claude] Mathis,'' said Richardson, one of 22 DeSoto players to sign on Wednesday.
"What really makes me proud is that we had seven defensive linemen last season and six of them signed today,'' Richardson said.
For the occasion, Richardson wore an Aggies hat that featured the University of Texas mascot, Bevo, with sawed horns.
He said he wore the cap to annoy offensive lineman and good buddy Curtis Riser, seated at the table nearest Richardson. Riser signed with the Longhorns.
February, 1, 2012
2/01/12
9:45
AM CT
Local recruits are flocking to Baylor on national signing day.
As of 9:30 Wednesday morning, the Bears had announced the signing of 20 recruits, eight of them from the Dallas-Fort Worth area.
The Bears have received signed letters of intent from two Wylie players, DB
Terrell Burt
and OL
Kyle Fuller
.
Also headed down I-35 to Waco are Denton Ryan DL
Dominique Banks
, Richardson Pearce WR
Corey Coleman
, Hebron WR
Kiante' Griffin
, Euless Trinity LB
Brian Nance
, McKinney Boyd DE
Jamal Palmer
and Garland QB
Seth Russell
.