Dallas Colleges:

2013 postseason position rankings
February, 15, 2013
2/15/13
12:00
PM CT
We'll continue looking at the best at positions across the Big 12 today with the men in the middle of the defense: the linebackers. There's a lot of strength at this position, especially at the top. Let's get to it.
Here's what we've covered so far:
[+] Enlarge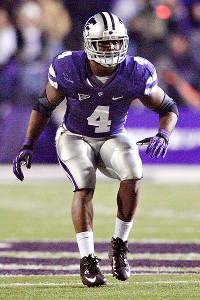 Scott Sewell/US PresswireArthur Brown is ranked the fifth-best outside linebacker prospect in this year's NFL draft by ESPN's Mel Kiper Jr.
1. Arthur Brown, Kansas State:
Brown is probably the most instinctive guy on the list, and can make plays from one side of the field to the other that no other linebacker in the league can. He's a star, and he'll be fun to watch at the next level. He made 100 tackles and seven tackles for loss with a pair of interceptions and a touchdown.
2. A.J. Klein, Iowa State:
Klein didn't repeat as the Big 12's Defensive Player of the Year, but he finished third in the league with 117 tackles. The 248-pounder plays physically and has been one of the Big 12's best linebackers for three seasons. He picked off one pass this season and returned it 87 yards for a touchdown against Texas Tech.
3. Jake Knott, Iowa State:
Knott and Klein have been the Big 12's best linebacker duo in each of the past two seasons, though Knott missed the last five games of the season. He had double-digit stops in each of his last four games and closed with a win over Baylor. He finished with 79 tackles, despite missing the end of the year after undergoing shoulder surgery.
4. Kenny Cain, TCU
: Cain helped TCU put together the Big 12's best defense and made 86 tackles with 5.5 tackles for loss and a pair of picks. TCU's linebacking corps was depleted by off-the-field issues before the season, but Cain was a constant for the Frogs.
5. Bryce Hager, Baylor:
Hager made a big debut with 14 tackles in a blowout win over SMU. He rallied with a strong finish and played his best ball throughout Baylor's four-game winning streak to close the season. He was all over the place and made 10 stops in the upset win over Kansas State. He finished the year with 124 tackles to lead the Big 12.
6. Shaun Lewis, Oklahoma State:
Lewis hasn't quite ascended to stardom like it seemed he would after winning Big 12 Freshman of the Year honors in 2010, but he's been solid for the Cowboys. He made 58 tackles and 7.5 tackles for loss with four pass breakups and a forced fumble.
7. Ben Heeney, Kansas:
Heeney was a bright spot for KU's struggling defense in 2012, making 112 tackles and 12 tackles for loss for the Jayhawks, who had just 50 in all of 2013. He's has a ton of speed and could blossom under Dave Campo's leadership next season.
8. Eddie Lackey, Baylor:
Lackey made waves by winning Big 12 Defensive Player of the Week in the final two weeks of the regular season, thanks to returning a pair of picks for touchdowns. He finished with four on the year, but he was fifth in the league with 104 tackles and made a big impact after transferring from junior college.
9. Jarell Childs, Kansas State:
Childs had to play a bigger role for the Wildcats after
Tre Walker
went down with a knee injury, and he impressed his teammates with the additional responsibility. The Kansas City native and converted running back made 66 tackles and returned a fumble for a touchdown, adding 4.5 tackles for loss.
10. Terence Garvin, West Virginia:
Garvin, who missed the spring with a knee injury, played well for the Big 12's worst defense out in Morgantown. He bounced back and made 83 tackles with 11.5 tackles for loss in his third year as a starter.
February, 12, 2013
2/12/13
8:42
AM CT
We'll continue looking at the Big 12's best at positions across the Big 12 today with the guys who serve as the last line of defense: the safeties. It's a pretty strong position across the Big 12, just like pass-rushers. In this league, it has to be. Let's get to it:
Here's what you've missed so far:
1. Kenny Vaccaro, Texas:
Vaccaro is quick, explosive, versatile and has a great feel for the game. That's a fantastic combination for a safety and he patrols near the line of scrimmage for the Longhorns, but has great cover skills, too. The top three safeties in the league are really tight, but for my money, Vaccaro is the top of the list.
2. Tony Jefferson, Oklahoma:
Jefferson was the biggest piece of Oklahoma's defense this past season, and finished second in the league with 119 tackles. The Sooners' new scheme fed ball carriers his way, but Jefferson was there to make plays all year long. He moved to a more traditional safety spot after spending much of his first two years at nickel back. He's good in coverage, though his straight-line speed isn't eye-popping, and part of that is being a very instinctive player, just like Vaccaro.
3. Ty Zimmerman, Kansas State:
Zimmerman's got a nose for the ball that's as solid as anybody on the list, and had a great year despite missing the last few games of the regular season with a broken bone in his leg. He picked off passes in four consecutive Big 12 games and finished with 50 tackles.
4. Cody Davis, Texas Tech:
Davis has tons of experience and had a great year for a very improved Texas Tech defense. He picked off three passes, broke up seven passes and made 101 tackles as part of a secondary that limited offenses through most of the season.
5. Sam Carter, TCU:
Carter made a splash in his first year in the Big 12 for the league's best defense. He broke up 10 passes, picked off four more and made 63 tackles. He also forced a fumble and had three sacks.
6. Ahmad Dixon, Baylor:
Dixon's got a ton of talent and probably has the most NFL potential of any Baylor defender. He had a solid year, and could put together a big year in 2013. Baylor's defense still struggled for much of the year, but Dixon helped spur a late-season charge alongside linebackers
Bryce Hager
and
Eddie Lackey
. Dixon made 102 tackles, including 5.5 tackles for loss, and intercepted two passes.
7. Javon Harris, Oklahoma:
Harris tied for the Big 12 lead with six interceptions, though half of them came in games against FCS Florida A&M and 1-11 Kansas. He excelled this past season in Mike Stoops' defense, morphing the Sooners' biggest weakness -- defending the long ball -- into one of its strengths for most of the season.
8. Durrell Givens, Iowa State:
There were more talented guys on Iowa State's defense, but there's something to be said for being a turnover machine in a breakout season like the one Givens had in 2012. He produced nine turnovers (three INTs, six fumble recoveries) and forced four more fumbles while making 80 tackles.
9. Bradley McDougald, Kansas:
Kansas' defense was pretty ugly, but McDougald was a bright spot with 93 tackles, three interceptions and four tackles for loss with a pair of forced fumbles.
10. Daytawion Lowe, Oklahoma State:
Oklahoma State's secondary was a bit disappointing, but Lowe had a decent season with 75 tackles, three tackles for loss, a pair of interceptions and a fumble returned for a touchdown.
February, 1, 2013
2/01/13
9:07
AM CT
I'd peg receiver as the Big 12's strongest position in 2012, with lots of elite talent and a whole lot of depth, too. We'll continue our postseason position rankings with the guys who catch it.
Here's what you've missed so far:
1. Terrance Williams, Baylor
: Williams led the nation in receiving yards, with 1,832 yards and 12 touchdowns on 97 catches. He can do whatever you want him to do. He's big enough to box out defenders and be a possession receiver who fights for the ball, but he's speedy enough to stretch the field and break the big play. NFL first-round talent.
[+] Enlarge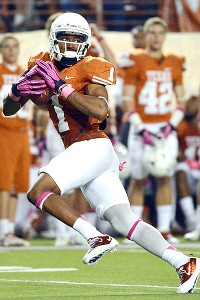 Cal Sport Media via AP ImagesMike Davis is poised for a great senior season after averaging 16.5 yards per catch in 2012.
2. Stedman Bailey, West Virginia
: Bailey was a touchdown machine who racked up 25 scores this season, more than Justin Blackmon or Michael Crabtree did in any of the four Biletnikoff Award-winning seasons between them. He caught a league-high 114 balls for 1,622 yards and played through a painful ankle injury in the middle of the season.
3. Tavon Austin, West Virginia:
Let me be clear about this: I think you could arrange the top three on this list in any order and have a really, really compelling case. Don't let me stop you. I think Austin is a better overall player than anybody on this list, but this is a ranking of guys as receivers. When we're talking pure receiving talent, I've got to go with Austin at No. 3. That's nothing to be ashamed of. The guys ahead of him were Biletnikoff finalists. He also caught 114 passes, for 1,289 yards and 12 scores.
4. Josh Stewart, Oklahoma State:
I've written a lot about Stewart this offseason, but he was probably the most improved and underrated player in the league. OSU needed a No. 1 target, and that was Stewart last season. He finished with 101 catches for 1,210 yards and seven scores.
5. Darrin Moore, Texas Tech:
Moore's probably the most physical guy on this list. The 6-foot-4, 216-pounder hauled in 13 touchdown catches and caught 92 balls for 1,032 yards to become the first Tech receiver to surpass 1,000 yards since Crabtree back in 2008.
6. Eric Ward, Texas Tech
: Granted, Ward did that whole 1,000-yard thing in Lubbock, too. He caught 82 balls for 1,053 yards and 12 touchdowns. He's not quite as physically gifted as Moore, but he's been Tech's most consistent receiver throughout his career there.
7. Kenny Stills, Oklahoma:
Stills was disappointed with his season -- and it was a touch underwhelming -- but he still had a solid showing in a receiving unit that lacked a truly elite target but had a handful of very good receivers for
Landry Jones
. Stills caught 82 balls for 959 yards and 11 scores before electing to leave for the NFL early. He had a good career at OU, but never cracked the 1,000-yard threshold.
8. Chris Harper, Kansas State:
Harper's numbers don't tell you the full story. He's one of the best route-runners in the entire league and might have the best hands, too. K-State's offense limits his targets, but he still caught 58 balls for 857 yards and three touchdowns.
9. Tevin Reese, Baylor:
Reese was the most dangerous deep threat in the league outside of teammate Williams. Austin did his damage after catching the ball, but Reese caught eight passes longer than 40 yards this season. That was third in the league, and he finished with 58 catches for 857 yards and three touchdowns.
10. Mike Davis, Texas:
Davis broke out in his junior season and could be due for a big senior year after catching 57 balls for 939 yards and seven scores. His 16.5 yards per catch were third among receivers with at least 30 catches, and Davis clearly helped (and benefited from)
David Ash
's growth as a passer and confidence to stretch the field.
Honorable mention:
Jalen Saunders
, Oklahoma;
Josh Boyce
, TCU;
Tramaine Thompson
, Kansas State;
Jaxon Shipley
, Texas;
Justin Brown
, Oklahoma;
Tyler Lockett
, Kansas State.
January, 31, 2013
1/31/13
9:06
AM CT
Every year, we rank the top 10 players at positions across the Big 12 before the season and after. We
kicked off our list with the quarterbacks
on Tuesday. Today, we'll try to tackle the running backs.
This list is based only on what players did in the 2012 season, and you had to be a full-time running back to make the list. (That means no
Tavon Austin
, 'Eers. Sorry.)
1. Joseph Randle, Oklahoma State:
Randle carried the torch as the Big 12's biggest standout all season long at running back. He was mostly consistent and led the Big 12 in rushing by more than 300 yards, racking up 1,417 yards and 14 touchdowns on 274 carries. Strong season from an experienced player who's leaving early for the NFL.
[+] Enlarge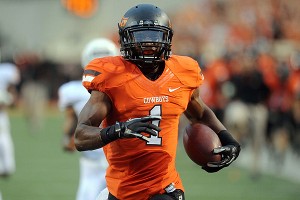 Mark D. Smith/US PresswireOklahoma State's Joseph Randle averaged 5.2 yards per carry this past season.
2. Lache Seastrunk, Baylor:
Seastrunk wouldn't have even made this list heading into November, when he had just 181 rushing yards and was a non-factor in Baylor's offense. Then he sprinted ahead and near the top of this list by averaging more than 138 yards a game over the final six games of 2012. He ended the season as the Big 12's hottest player and helped Baylor finish the year 5-1 with the lone loss coming on the road against co-Big 12 champion Oklahoma. He says he's going to win the Heisman in 2013. We'll see.
3. James Sims, Kansas:
Sims made a case for himself midseason as the Big 12's best back, racking up six consecutive 100-yard games and looking unstoppable, despite KU's passing game providing no balance for opposing defenses to respect. He's a physical runner who ascended near the top of this list despite missing the first three games of the season. He carried 218 times for 1,013 yards and led the Big 12 in rushing yards per game.
4. John Hubert, Kansas State:
Hubert is criminally underrated because his partner in crime in the backfield,
Collin Klein
, attracts so much attention. He's got a low center of gravity at 5-foot-7 and 191 pounds, and is deceptively hard to bring down, despite his small stature. He's had nearly identical seasons the past two years, coming up just short of 1,000 yards in both seasons.
5. Damien Williams, Oklahoma:
Williams broke out in a big way with a 65-yard touchdown run in the opener, and busted a 95-yard run against rival Texas. The juco transfer has a great balance of power and speed and provided a home-run threat that Oklahoma lacked after DeMarco Murray left. He finished with 946 yards and 11 scores on just 176 carries.
6. Tony Pierson, Kansas:
Pierson proved himself early in the year when Sims sat, racking up a pair of 120-yard games. He's perhaps most valuable for KU in the passing game, though. His 760 yards came on just 116 carries, an average of 6.5 yards a touch. Only Seastrunk was higher among running backs with 75 carries. Pierson also caught 21 passes for 291 yards and two touchdowns, which is no small number in KU's offense. KU's leading receiver,
Kale Pick
, had zero touchdown catches and just five more receptions and 99 more yards than Pierson.
7. Glasco Martin, Baylor:
Martin is the thunder to Seastrunk's lightning in the Bears' backfield. He's fantastic at getting tough yards when they're needed and provides a lot of power to Baylor's offense. His 15 touchdowns were tied for third in the Big 12, and he added 889 rushing yards on 179 carries.
8. Johnathan Gray, Texas:
Gray's got as much potential as anyone on this list, and looked good when injuries forced him into full-time duty. The true freshman didn't quite look like a gamebreaker, but there's lots of time left in his career to prove himself. He became the second true freshman to lead Texas in rushing in two seasons, with 701 yards on 149 carries.
9. Kenny Williams, Texas Tech:
Williams emerged as the best back in a crowded Red Raiders backfield. He runs against a lot of soft fronts because of Tech's wide-open offense, but Williams is tough to bring down and rumbled for 824 yards on 143 carries, scoring five times.
10. Andrew Buie, West Virginia:
Buie will be remembered a long time for his legendary 207-yard performance in a win over Texas. He had just one other 100-yard game that season, but there's no denying his overall production. His 850 yards on 181 carries were eighth in the Big 12.
Honorable mention:
Joe Bergeron
, Texas;
Brennan Clay
, Oklahoma
January, 29, 2013
1/29/13
1:00
PM CT
Every year, we rank the top 10 players at positions across the Big 12 before the season and after. We'll kick off our list with the glamour position in the Big 12: Quarterback.
A quick note on the rankings: Only one player per team was allowed. I picked the best QB on the teams that shuffled throughout the season, and didn't include players who left the team or were ineligible to end the season.
1. Collin Klein, Kansas State:
Klein is not your traditional quarterback and not the kind of guy the Big 12 has made its offensive reputation behind. What he is, though? A leader who showcases his toughness and a good enough passer to make K-State one of the nation's most efficient offenses and forces defenses to respect him on deep and intermediate throws. He completed 64 percent of his passes for 2,646 yards and rushed for 925 yards, accounting for 39 touchdowns.
2. Geno Smith, West Virginia
: One would think if you win the Big 12 Preseason Offensive Player of the Year honor, throw 42 touchdowns to just six picks and rack up almost 4,200 yards passing, you'd win it easily in the postseason. Not the case. Smith was fantastic this year and might be the first quarterback taken in the NFL draft. Smith is clearly the Big 12's best "passer," but he's not quite the Big 12's best quarterback.
3. Landry Jones, Oklahoma:
Jones' experience is unmatched in this league, but he never quite got over the top as the Big 12's best quarterback. He was always solid, even if he might be vulnerable to a big mistake. He threw an interception in each of his final seven games at OU, but he also racked up 30 touchdowns and 4,272 yards. He threw for at least 3,000 yards in each of the past four seasons and leaves as the No. 3 all-time passer in FBS history.
4. Nick Florence, Baylor
: Florence led the Big 12 in total offense by almost 40 full yards per game. Not only did he lead the league in passing yards with 4,309, he added almost 600 yards rushing and 10 touchdowns. He filled in admirably for RG III, and it's a shame he had to burn his redshirt in 2011 after Griffin suffered a head injury.
5. Seth Doege, Texas Tech:
Doege was second nationally with 39 touchdown passes and had a solid senior season. There were some rough games, sure, but he was third in the Big 12 with 4,205 yards. The biggest negative for Doege that bumped him down this list? A Big 12-high 16 interceptions.
6. Clint Chelf, Oklahoma State:
Only took one Oklahoma State quarterback for this list, but Chelf was the steadiest this season for the Pokes, and the only one who didn't get hurt. Chelf threw for 15 touchdowns and just six picks and averaged just under 200 passing yards a game. He also ran for 162 yards on just 31 carries.
7. David Ash, Texas:
Ash had a really strong start and looked like one of the Big 12's best quarterbacks early in the season. He flirted with the FBS lead in passer rating before coming to Earth a bit late in the year and getting benched against KU and suffering a rib injury late in the year. He still threw for almost 2,700 yards, 19 touchdowns and eight picks.
8. Trevone Boykin, TCU:
Boykin had to fill in for the Frogs'
Casey Pachall
, but had his biggest successes in two situations: Broken plays that required him to scramble and deep balls. The rest of the offense seemed to struggle at times, but Boykin definitely made it interesting. He completed just 57 percent of his passes and had 10 interceptions to his 15 scores, but he hung in there and helped carry the Frogs to a seven-win season.
9. Sam Richardson, Iowa State:
Richardson emerged from nowhere to win the Cyclones' quarterback job in the final weeks of the season and prompt a transfer from 2011's season hero:
Jared Barnett
. Richardson is a prototypical passer who also has wheels and threw eight touchdowns to just one pick in the Cyclones' final three games.
10. Michael Cummings, Kansas:
Cummings stepped in for a struggling
Dayne Crist
, but didn't offer much after doing so and couldn't get KU over the hump to get a Big 12 win. BYU transfer
Jake Heaps
is likely to slide in front of Cummings on the depth chart next year after Cummings completed just 45 percent of his passes for three touchdowns and four interceptions. He did make some plays with his feet, though it was hard for the yardage to show that was the case because there were so many sacks.