Dallas Colleges:

2013 spring wrap
May, 6, 2013
5/06/13
4:00
PM CT
2012 record:
11-2
2012 conference record:
6-2 (tied for second, West Division)
Returning starters:
Offense: 6; defense: 6; kicker/punter: 1

Top returners
QB
Johnny Manziel
, RB
Ben Malena
, OT
Jake Matthews
, WR
Mike Evans
, DT
Kirby Ennis
, OLB
Steven Jenkins
, CB
Deshazor Everett
, S
Howard Matthews
Key losses
LT
Luke Joeckel
, C
Patrick Lewis
, WR
Ryan Swope
, DE
Damontre Moore
, OLB
Sean Porter
, MLB
Johnathan Stewart
, FS
Steven Terrell
2012 statistical leaders (*returners)
Rushing:
Johnny Manziel* (1,409 yards)
Passing:
Johnny Manziel* (3,706)
Receiving:
Mike Evans* (1,105)
Tackles:
Damontre Moore (85)
Sacks:
Damontre Moore (12.5)
Interceptions:
Deshazor Everett* and Steven Terrell (2)
Spring answers
1. Johnny Football:
The Aggies are in the rare position of returning the previous season's Heisman Trophy winner. Heading into his sophomore season, Texas A&M is hoping that quarterback Johnny Manziel can be even better than he was a season ago. This will be his second year in the offense and for quarterbacks who have played in this system, year two is typically a season in which they progress significantly as passers. That's one of Manziel's primary goals, even though he'll still run when the time calls for it. As long as he's healthy and playing well, things bode well for the Aggies.
2. Experienced secondary:
Last season, the defensive backfield was young and inexperienced. This fall, there are still young players back there, but it is the most experienced unit on the Aggies' defense. Three of the four starters in the secondary from the AT&T Cotton Bowl are back: Deshazor Everett,
De'Vante Harris
and Howard Matthews. Junior
Floyd Raven
has moved from cornerback to free safety and appears to have the skill set (range and tackling prowess) to fit into the position well.
3. Loaded backfield:
The Aggies have four good options in their offensive backfield for Manziel to hand off or throw to. Starting running back Ben Malena returns, as does
Trey Williams
, who returned kicks and received carries as a true freshman. Add to the mix a pair of transfer backs who sat out last season,
Brandon Williams
(Oklahoma) and
Tra Carson
(Oregon) and the Aggies have a quartet that gives them a multitude of options.
Fall questions
PODCAST
Texas A&M coach Kevin Sumlin talks about the improvements being made to Kyle Field, what those improvements will to for the program, the success of last year, Johnny Manziel's offseason and the expectations for the Aggies in 2013.

Listen

1. Front seven:
The Aggies are looking for someone to replace the production that third-round NFL draft pick Damontre Moore brought last season. Moore led the team in tackles, tackles for loss and sacks a year ago. Also, with two senior leaders gone from linebacker (Sean Porter and Jonathan Stewart) Texas A&M not only has to replace the bodies but also the leadership. Because of injuries, the Aggies were thin up front in the spring but when all their key players return in the fall, it will ease at least some of those concerns. Keep an eye on names like defensive end
Julien Obioha
(who started opposite Moore last year), defensive tackle
Alonzo Williams
and linebacker
Donnie Baggs
as players who have a chance to see their contributions increase significantly this year.
2. New receivers:
Only one starting receiver returns from last year's squad: Mike Evans. Four of the top six players in receiving yardage are no longer on the roster, including second-leading receiver Ryan Swope. So who will Johnny Manziel throw to? Keep an eye on guys like
Malcome Kennedy
, who caught a fourth-quarter touchdown against Alabama last season,
Derel Walker
, who had a strong spring game,
Edward Pope
, who was a star on the scout team when he redshirted last year and a host of recruits from the 2013 class like
Ja'Quay Williams
and ESPN 150 duo
Ricky Seals-Jones
and
Sebastian LaRue
. Developing other reliable pass-catching options is critical, so keep an eye on how they use the tight ends with newcomer
Cameron Clear
(6-foot-7, 270 pounds) on campus.
3. Kicking game:
One player who fans kept a close eye on this spring was kicker
Taylor Bertolet
. In his redshirt freshman season, the strong-legged kicker struggled with consistency, hitting just 13-of-22 field goal attempts and missing seven point-after attempts. With a new special-teams coordinator (Jeff Banks) who has college punting and kicking experience around to guide him, the Aggies are looking for an improvement from Bertolet this fall. Also the Aggies are working in a new punter,
Drew Kaser
, who takes the reins after senior
Ryan Epperson
graduated.
May, 2, 2013
5/02/13
9:22
AM CT
SMU Mustangs
2012 record:
7-6
2012 conference record:
5-3, C-USA West
Returning starters:
Offense: 6; defense: 6; kicker/punter: 2
Top returners
QB
Garrett Gilbert
, WR
Der'rikk Thompson
, DB
Kenneth Acker
, LB
Randall Joyner

Key losses
RB
Zach Line
, WR
Darius Johnson
, DE Margus Hunt, LB Ja'Gared Davis
2012 statistical leaders (*returners)
Rushing:
Line (1,278 yards, 13 TDs)
Passing:
Gilbert* (268-of-506 for 2,932 yards, 15 TDs, 15 INTs)
Receiving:
Jeremy Johnson
* (679 yards, 3 TDs)
Tackles:
Taylor Reed
(97)
Sacks:
Hunt (eight)
Interceptions:
Acker*, Joyner* Reed (three each)
Spring answers
1. Garrett Gilbert looks sharp.
Coach June Jones said after spring practice wrapped up that he was pleased with the way Garrett looked and improved in the biggest area of all -- accuracy. Gilbert only completed 53 percent of his passes last year but has a better grasp of the offense now and more chemistry with his receivers. It probably helps that he had Hal Mumme working with him, too.
2. Traylon Shead steps up.
The Mustangs lost their best offensive player in Zach Line, but Shead stole the show this spring as he worked his way up to the first team. Jones called the Texas transfer "the real deal," and is confident the running game will be just fine with Line gone.
3. Linebacker depth.
Reed and Davis are gone, but there is depth at this position and some veterans returning to the starting lineup, too, in Joyner and
Kevin Pope
. Jones said Joyner had a great camp, and so did
Lincoln Richard
.
Rishaad Wimbley
moved over from running back as well.
Fall questions
1. Pass-rush specialist.
Defensive end Margus Hunt proved just how special a talent he is this past weekend, when he was drafted in the second round. So how do the Mustangs go about replacing him and their other starting end, Kevin Grenier? Finding another pass-rush specialist takes on even greater importance now that the team is moving to a new league.
2. Offensive line depth.
The Mustangs have to replace three starters and are going to be much more inexperienced at this position. Though Jones feels confident with his starting five, depth still has to be built in the fall. True freshmen may have to be relied on this season.
3. Receiver rotation.
Jeremy Johnson and Thompson are back, along with
Keenan Holman
but otherwise, there are some young faces that are going to find themselves getting much more playing time. Line was also a big part of the pass game. Can Shead fill that role now?
May, 1, 2013
5/01/13
2:27
PM CT
Time to look at a few of the best things in the Big 12 this spring.
Biggest breakout star: Bryce Petty. The Bears' quarterback is an unknown for now, but he's learned a proven system under great coaches and great quarterbacks. This spring, he never let his competition come close to making it real quarterback battle in Waco. Despite windy conditions, he capped the spring with 181 yards and two touchdowns on 13-of-15 passing. Don't be surprised if he hangs similar stat lines in a first half or two next year.
Biggest flip-flop: Oklahoma State coach Mike Gundy. Midway through the spring, Gundy offered some real clarity on his quarterback situation, which ended with Clint Chelf carrying the Cowboys through bowl practices and a lopsided win in the Heart of Dallas Bowl. "Clint Chelf is our starter, he takes all the reps with the ones right now. The other guys compete out there, but I don't necessarily feel like there's a battle out there to start in the first game," Gundy said. A week later, though, he said the Pokes "haven't necessarily said anything about the [starter for the] first game of the season." He says they won't be offering any updates on the QB situation until after the season opener against Mississippi State and Chelf is off-limits to media, along with his competition, sophomores J.W. Walsh and Wes Lunt.
[+] Enlarge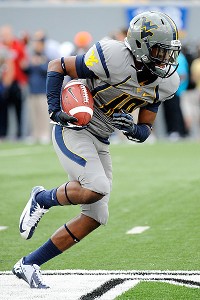 AP Photo/Chris BernacchiWill Jordan Thompson's spring translate into big-time production this fall for WVU?
Best spring-game performance
:
Jordan Thompson
, WR, West Virginia. Dana Holgorsen joked that Thompson is earning a reputation as the greatest spring game player of all time after he recorded six catches for 123 yards and three touchdowns. Just don't spend too much time reading this paragraph. "Until he plays like that in a game, we're going to call it like it is," Holgorsen said. "I haven't seen him play like that in a game yet. Until he does that in a game, we're not going to talk about it."
Biggest surprise: TCU's quarterback indecision. Many assumed that Casey Pachall's return to the Horned Frogs meant Trevone Boykin's days as the starting quarterback were over, or at least on hold for another season. After 15 practices this spring, however, that hasn't been the case just yet. Coach Gary Patterson says Boykin's made big strides since the end of the season and Pachall looked rusty after not working out or throwing while he was in treatment for drug and alcohol addiction. More than a few folks are skeptical of Patterson's insistence that the competition is still open, but we'll know for sure when TCU opens against LSU.
Most to prove: Jake Heaps and Kansas. KU's Big 12 losing streak now stands at 21 games, and Heaps is looking like a much better passer than Dayne Crist was at this time last year. Charlie Weis is also stocking his roster with tons of juco talent, which could mean a quick turnaround. Will it, though? KU needs to get back to respectability and fast, but winning that first Big 12 game won't be easy.

Best new uniforms: Baylor and West Virginia. West Virginia had a ballyhooed debut before its spring game with three sets of white, blue and Old Gold pants, jerseys and helmets, giving WVU 27 possible combinations. The numbers on the jerseys are also inspired by miners' pick axes. Baylor also debuted new jerseys, highlighted by an all gold chrome helmet and most importantly, the elimination of a cartoonish bear claw mark on the pants.
May, 1, 2013
5/01/13
10:45
AM CT

2012 record:
8-5
2012 Big 12 record:
4-5
Returning starters:
Offense: 5; defense: 8; kicker/punter: 2
Top returners:
WR
Eric Ward
, RB
Kenny Williams
, TE
Jace Amaro
, DE
Kerry Hyder
, DE
Branden Jackson
, LB
Will Smith
, CB Tre Porter, DE
Dartwan Bush
Key losses:
QB
Seth Doege
, S
Cody Davis
, S
D.J. Johnson
, WR
Darrin Moore
, OL La'Adrian Waddle, RB Eric Stephens
2012 statistical leaders (*returners)
Passing:
Seth Doege (4,205 yards)
Rushing:
Kenny Williams* (824 yards)
Receiving:
Eric Ward* (1,053 yards)
Tackles:
Cody Davis (101)
Sacks:
Dartwan Bush*,
Kerry Hyder
* (5.5)
Interceptions:
Cody Davis (3)
Spring answers
1. Springing to safety.
Replacing Johnson and Davis at safety was a huge concern since that kind of experience and talent isn't easy to find. But
J.J. Gaines
and Tre Porter, had a strong spring and that position looks to be in good hands. There may be some trouble with inexperience, but defensive coordinator Matt Wallerstedt has to feel pretty good about the group.
2. More depth at quarterback.
I don't buy that there's competition between
Michael Brewer
and Davis Webb. Brewer was consistently praised all spring, and coach Kliff Kingsbury remarked at how quickly he picked up the schemes and how well he kept the up-tempo pace. Webb, a true freshman, adds comfort as a backup, but this is Brewer's job.
3. A spring miracle in Lubbock.
Injuries have just been a constant for the last few years. Every spring and fall, it's been surgery after surgery, injury after injury. Not this year. Apparently the Red Raiders' practice fields are not, in fact, cursed. Getting through the spring without any serious losses is a huge deal considering the school's recent bad luck.
Fall questions
1. Can they weather the storm?
I've written about this in the past, but I'm curious to see how the young coaching staff handles the inevitable crises and issues that will come with a season of college football. Kingsbury's a first-time head coach in a big job and stocked Tech's staff with a ton of Red Raider alums. It's an interesting approach, but adjusting on the go in a season full of learning experiences will be interesting to watch.
2. Is there an identity crisis?
Tech will air it out plenty, but the full identity on both sides of the ball is still forming and Kingsbury is still getting to know his team. The defense will play some three and four-man fronts and has a lot of strength on the defensive line, but both sides of the ball will adjust on the go to what works and what doesn't next season. Both sides could look different in December than it does in August.
3. Where will the running game factor in?
Tech has a ton of strength at running back in Kenny Williams and
SaDale Foster
, along with
DeAndre Washington
and
Quinton White
adding some additional depth. The big question for any post-Mike Leach coach in Lubbock is how much they plan to run the ball. Kingsbury will throw it plenty, but can Tech break its streak of well over a decade without a 1,000-yard rusher? And how much will Brewer be asked/allowed to run? He's no Johnny Football, but he's got wheels and can keep Big 12 defenses on their toes.
May, 1, 2013
5/01/13
9:48
AM CT
OKLAHOMA SOONERS
2012 record:
10-3
2012 conference record:
8-1 (tied for first, Big 12)
Returning starters:
Offense: 7; defense: 4; kicker/punter: 1

Top returners
RB
Damien Williams
, FB
Trey Millard
, WR
Jalen Saunders
, WR
Sterling Shepard
, C
Gabe Ikard
, DE/DT
Chuka Ndulue
, LB
Corey Nelson
, CB
Aaron Colvin
Key losses
QB
Landry Jones
, WR
Justin Brown
, WR
Kenny Stills
, OT
Lane Johnson
, DE
David King
, CB
Demontre Hurst
, FS
Tony Jefferson
, SS
Javon Harris
2012 statistical leaders (*returners)
Rushing: Damien Williams* (946 yards)
Passing: Landry Jones (4,267yards)
Receiving: Kenny Stills (959 yards)
Tackles: Tony Jefferson (119)
Sacks: Chuka Ndulue* (5)
Interceptions: Javon Harris (6)
Spring answers
1. Playmakers abound:
The Sooners might have lost leading receivers Kenny Stills and Justin Brown, but there's plenty of firepower back to support whoever wins the starting quarterback job. Jalen Saunders was actually Oklahoma's most efficient receiver the second half of last season and seems primed to take over as the go-to target. The Sooners also have several talented up-and-coming receivers who had good springs, led by slot extraordinaire Sterling Shepard. The backfield is even deeper, with leading rushers Damien Williams and
Brennan Clay
back, to go along with Trey Millard, one of the top all-around fullbacks in the country.
2. Cortez will flank Colvin:
The secondary was decimated by graduation and Tony Jefferson's early entry into the NFL draft. One of those voids was cornerback, where Demontre Hurst had started the previous years. That void at least, however, appears to have been filled. Arizona transfer
Cortez Johnson
seized the job from the first day of spring drills, and has given the Sooners every indication to believe they'll have a big, physical corner to pair with All-American candidate Aaron Colvin in the fall.
3. The linebackers will play:
In a desperate move to slow down the high-powered passing attacks of the Big 12, defensive coordinator Mike Stoops pulled his linebackers off the field. The plan backfired, as opposing offenses ran at will over the linebacker-less Sooners. This spring, Stoops has renewed his commitment to the linebacker, which, ironically, could be the strength of the defense. Corey Nelson,
Frank Shannon
and
Aaron Franklin
are all athletic and capable of generating negative plays, something Oklahoma's defense sorely lacked last season.
Fall questions
1. Who the QB will be in October:
Bob Stoops said he would wait until the fall before naming a starter, and so far, he's made good on his word. Junior
Blake Bell
took a lead in the competition during the spring, as expected. But sophomore
Kendal Thompson
and redshirt freshman
Trevor Knight
, who both got equal reps as Bell, played well at times, too. It's hard to see Bell not starting the first game. But if he struggles against a tough September schedule, it's not unthinkable one of the younger QBs would be given a shot.
2. How the new offense will fare:
Looking to utilize the skill sets of their mobile quarterbacks, the Sooners will be running a very different offense from the one
Sam Bradford
and Landry Jones both operated. Offensive coordinator Josh Heupel kept most of these new plays - including loads of read option -- in his hip pocket during the spring game. But it will be interesting to see how the Sooners -- and just as important, opposing defenses -- adjust to this new era of offense in Norman.
3. Defensive line play:
The Sooners went into spring ball with just three defensive tackles on the roster, and little experience at defensive end. The unit showed strides during the spring, with Chuka Ndulue making a smooth transition from end to tackle, and tackle
Jordan Phillips
coming up big in the spring game. But that was the spring. The defensive line will have to continue to grow rapidly in the fall for the Sooners to have any hope of improving from last year defensively.
May, 1, 2013
5/01/13
8:38
AM CT
2012 record:
9-4
2012 conference record:
5-4 (third in the Big 12)
Returning starters:
Offense: 10; defense: 9; kicker/punter: 1

Top returners:
QB
David Ash
, RB
Johnathan Gray
, WR
Mike Davis
, WR
Jaxon Shipley
, LT
Donald Hawkins
, RT
Josh Cochran
, G
Mason Walters
, DE
Jackson Jeffcoat
, LB
Jordan Hicks
, CB
Quandre Diggs
, CB
Carrington Byndom
Key losses:
P Alex King, S Kenny Vaccaro, DE Alex Okafor, WR Marquise Goodwin
2012 statistical leaders (*returners)
Rushing:
Johnathan Gray* (701 yards)
Passing:
David Ash* (2,699 yards)
Receiving:
Mike Davis* (939 yards)
Tackles:
Kenny Vaccaro (107)
Sacks:
Alex Okafor (12.5)
Interceptions:
Quandre Diggs* (4)
Spring answers:
1. Under center:
Texas has finally ended all the debate about its quarterback situation and settled on David Ash. While Ash has yet to be stellar in his first two years at Texas, the junior has steadily improved -- he was top 25 in pass efficiency rating in 2012 -- and has won the trust of new quarterbacks coach Major Applewhite. Applewhite believes Ash is the quarterback best suited to run the new up-tempo, spread attack.
2. Loaded at linebacker:
One year after being the worst tackling team in the Big 12, Texas went into the spring looking to shore up its linebacker position. And it had plenty of options. Texas has seven linebackers who have started at least one game. Included in that group is Jordan Hicks, who is back after missing 10 games last year because of a hip injury. Hicks will team with true sophomores,
Dalton Santos
and
Peter Jinkens
for what should be a much faster and aggressive unit in 2013.
3. Along the lines:
While there were a sprinkling of injuries along the offensive line this spring (Josh Cochran and
Trey Hopkins
), Texas appears to have finally solved the depth riddle at that position. Tackle
Kennedy Estelle
was able to get quality snaps and should prove to be a solid backup and
Sedrick Flowers
finally emerged as an option at guard. While Texas returns all five starter from a year ago along the line, the Longhorns know that in the new up-tempo offense it will have to lean heavily on these backups.
Fall questions
1. Speed thrills:
Texas wants to move the ball fast. So fast that the offensive players were even taught how to quickly get the ball back to the official so that they could put it down and Texas could line up and run the next play. But Texas only decided it wanted to play this way in mid-December when there was a change in playcallers from Bryan Harsin to Applewhite. So Texas has only had a handful of practices to get up to speed. With a schedule that has Texas at BYU for the second game of the season there doesn't appear to be much time to get things perfected.
2. Safety dance:
Texas' defense was the worst in school history and that was largely due to the play of the back seven on defense. And now the best player in that back seven, Kenny Vaccaro, is gone. He was a first-round draft pick. That has left Texas wondering who will step up and make some stop at the safety position.
Adrian Phillips
takes over for Vaccaro, but he was inconsistent last season. The coaches blamed a shoulder injury and the fact he missed the spring.
Mykkele Thompson
and
Josh Turner
also missed their share of tackles but both are being called on to be possible starters.
3. Receiving praise:
Texas has not had a 1,000-yard receiver since Jordan Shipley in 2009. Mike Davis had 939 yards last year and appears poised to break the 1,000-yard mark this season. But to do that he will need help. And right now there are some questions as to where that help will come from. Texas wants to go with four wide receivers but two of the four players expected to fill those roles --
Cayleb Jones
and
Kendall Sanders
-- are currently suspended because of legal issues. Both will probably be back. But even then, Texas is very thin at wide receiver and needs some other players to step up to help take the double teams away from Davis.