Dallas Colleges:

Aaron Williams
April, 2, 2012
4/02/12
2:00
PM CT
AUSTIN, Texas -- Texas has a well-earned reputation as the nation's "DBU," a proverbial factory of NFL defensive backs.
Even so, when three NFL-caliber corners leave a team, like they did at Texas before the 2011 season, doubts will surface.
Can you replace Aaron Williams' versatility? What about Curtis Brown's cover skills and Chykie Brown's knack for being in the right place for the big play at the right time?
[+] Enlarge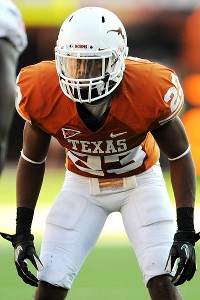 John Albright/Icon SMICarrington Byndom is part of an experienced Texas backfield.
New defensive coordinator Manny Diaz looked down his depth chart and saw a true freshman,
Quandre Diggs
, and a little-used sophomore in
Carrington Byndom
.
By season's end, though, the duo transformed one of the Longhorns' biggest question marks -- and after a 5-7 season in 2010, they had plenty -- into arguably its biggest strength.
"Both of them are both very bright," coach Mack Brown said. "They made an easy transition to the field. Both of them were in very good high school programs."
Diggs showcased his fearlessness early in the spring. He went head-to-head with -- and held his own against -- the team's top and more experienced receivers while he should have been in high school. The contact did not faze the former high school running back.
"Quandre was tough," Brown said. "He got knocked around a lot."
Meanwhile, Brown pointed to Byndom's outstanding athletic ability for his early success. Byndom had the option to play college baseball, but elected to stick to football.
"Carrington has gotten tougher every minute he's been here," Brown said, adding that he was a "very good athlete."
By fall, both were entrenched as starters.
Diggs finished the season with four interceptions, more than all but one freshman in college football (
Bryce Callahan
of Rice). The league's coaches named him the Big 12's top defensive freshman and Diggs was named a freshman All-American. He landed a spot on the All-Big 12 second team, too.
Byndom, a first-year starter, landed a nod as a first-team All-Big 12 talent and a key cog in a defense that topped the conference in total defense for a fifth consecutive season. He picked off two passes and tied Diggs with a team-high 15, earning the team's defensive player of the week honors on four occasions.
Notes KC Joyner of Football Outsiders:
His 6.2 yards per attempt (YPA) allowed total was better than the YPA marks posted by Alabama Crimson Tide cornerback Dre Kirkpatrick (6.6) and LSU Tigers cornerback Morris Claiborne (7.5), two coverage specialists who will likely end up selected in the first round of the 2012 NFL draft.
DBU, indeed.
The Longhorns also were the only team in college football to not allow a touchdown pass for 20 yards or longer before the season finale against Heisman winner
Robert Griffin III
and receiving champ
Kendall Wright
.
"They were very responsible," Brown said. "That was one of our biggest question marks sitting there in the spring and in the fall. And I thought you have to give a lot of credit to Manny and to [defensive backs coach] Duane [Akina] for devising a scheme that took pressure off of them as well.
"We didn't play near as much man and didn't put them in as many one-on-one situations, and then because of their confidence you see the play that Carrington made at A&M probably changed that game."
Byndom swung the momentum for the burnt orange in the final chapter of a heated rivalry with the in-state Aggies before they left for the SEC.
Trailing 16-7 at halftime, Byndom stepped in front of a
Ryan Tannehill
pass early in the third quarter, returning it 58 yards for a touchdown, silencing a rabid Kyle Field crowd and igniting a second-half comeback for the ages.
Brown saw plenty out of both corners in 2011, but they were young and inexperienced. What happens now?
Big 12 receivers, beware.
August, 25, 2011
8/25/11
5:00
PM CT
Texas is easily the wildest card in the Big 12 deck this season, but how do you see the Longhorns faring in 2010?
The defense returns six starters, and is the strength of the team, despite losing Chykie Brown, Curtis Brown and Aaron Williams to the NFL. The team's safeties, Kenny Vaccaro, Christian Scott and Blake Gideon are solid, though Scott will be sidelined the first three games because of a suspension.
The front seven is loaded with potential, and the Longhorns have two of the best linebackers in the league, Keenan Robinson and Emmanuel Acho. Alex Okafor and Jackson Jeffcoat are exciting defensive ends offsetting Kheeston Randall, one of the league's best overall linemen.
Offensively, well, the Longhorns have a lot to prove. They're the only Big 12 team left that doesn't know its starting quarterback for the opening weekend. Eight starters from last year's offense return, but some of the team's biggest hype is coming from players new to campus.
Running back
Malcolm Brown
and receiver
Jaxon Shipley
showed up to campus this summer, but quarterback
David Ash
impressed coaches after enrolling early this spring.
The offensive line will have to be better, especially if any of those three will have success. Shipley should add some solid playmaking ability to a receiving corps depleted with the losses of
Marquise Goodwin
(Olympic track qualifying) and Malcolm Williams (personal issues), who won't be with the team this year.
Mike Davis
will likely be the team's go-to receiver, at least to start the season.
So how do the Longhorns stack up?
May, 5, 2011
5/05/11
9:35
AM CT
I've done it. You've done it.
"Hey, is that guy still around?"
Even with two fewer teams, it's hard to keep track. Our next series, which we did last year, too, takes a look at two key players for every team in the league that are taking their talents elsewhere, returning to campus, or arriving to try and write a legacy of their own.
So really, this series isn't so much for the fans of the teams in the posts, but more for everyone else. It wouldn't be a bad idea to bookmark this series.

Next up: Texas
Going:
Sam Acho, DE
Texas struggled last season, but Acho didn't. The senior lineman was the rock of the defense on and off the field, earning both All-Big 12 first-team honors and the Academic Heisman. He also accompanied his parents on mission trips to Nigeria during the summer and was a semifinalist for the Lombardi Trophy in 2010 and a semifinalist for the Lott Trophy in 2009. He'll be missed by the Longhorns after being drafted in the fourth round by Arizona.
Aaron Williams, CB
Williams crashed Texas' starting lineup for a game as a freshman, but has been a full-time starter for his past two seasons. Williams was one of just three players in the Big 12 to leave school early after last season, forgoing his senior year to have the Buffalo Bills make him the 34th overall selection of last week's draft. Williams played some nickel back, played some cornerback, and he was also the guy who ended Sam Bradford's career with a hit in the first quarter of 2009's Red River Rivalry. Last season, he was an All-Big 12 second-teamer and broke up 13 passes, making 46 tackles and forcing three fumbles.
Staying:
Keenan Robinson and Emmanuel Acho, LBs
This pair are close friends and should be the two vocal leaders of the defense in 2011 under new direction. Will Muschamp is gone, and Manny Diaz has arrived. Last season, Robinson and Acho combined for 187 tackles as the team's top two tackles. Emmanuel is Sam's younger brother, so it's clear he'll have somewhere to go if he has questions about stepping into the role as a team leader. Both have nice combinations of size and speed. Robinson (6-foot-3, 235 pounds) and Acho (6-foot-2, 240 pounds) should be among the Big 12's best at their position next season.
Foswhitt Whittaker and Cody Johnson, RBs
Whittaker and Johnson combined for 943 yards and eight scores last season. They'll have to be better this season for Texas to bounce back from its 5-7 record in 2010. Together, their efforts still would have only ranked 11th in the Big 12 if they were one back. Whittaker, a more balanced back, has dealt with a nagging shoulder injury and Johnson, though solid at the goal line for most of his career, doesn't give the Longhorns a big-play threat at 250 pounds. Both are seniors, but if they're not better next season, both could be out of a job.
D.J. Monroe
is likely to get more touches in space, and the nation's top running back is headed to Austin this fall.
Coming:
Malcolm Brown, RB
Brown is the guy Texas fans have been waiting for. Not since Jamaal Charles has Texas had what could be called a franchise back. Is Brown the guy? There's no way to know for sure until he gets to campus this fall, but the 6-foot, 215-pounder was among the nation's top recruits in the 2011 class and is a power runner with decent speed. The Texas 5A Offensive Player of the Year in 2010, the Cibolo, Texas native rushed for 1,800 yards and 23 scores while leading his team to a state title.
Quandre Diggs, CB
Texas fans have already had a chance to see Diggs, and they had to love it. The 5-foot-10, 190-pounder was the nation's top cornerback in the 2011 class, and after enrolling early, is already challenging for a starting spot in Texas' new defense. He was all over the place in Texas' spring game, and has already made a big impression on his teammates for his efforts. Off the field, he helped hold together Texas' top-flight recruiting class in the midst of upheaval on the coaching staff, too. He was on the phone with his future teammates, telling them to hold tight and let Mack Brown do his job. Diggs could be in store for a special, special career.
Click here for more from The Revolving Door.
May, 2, 2011
5/02/11
9:00
AM CT
The NFL draft has come and gone, and I hope you're all prepared for no more NFL anything for awhile. I know I'm not.
Anyway, here's how the Big 12 shook out over the weekend, with a few thoughts to follow.
First round (8)
Second round (2)
Third round (2)
Fourth round (6)
Fifth round (3)
Sixth round (1)
Seventh round (8)
No. 216: Mikail Baker, CB, Baylor (St. Louis)

No. 227: Scotty McKnight, WR, Colorado (New York Jets)

No. 229: Jonathan Nelson, DB, Oklahoma (St. Louis)

No. 232: Baron Batch, RB, Texas Tech (Pittsburgh)

No. 234: Andrew Gachkar, LB, Missouri (San Diego)

No. 246: Jay Finley, RB, Baylor (Cincinnati)

No. 247: Jeremy Beal, DE, Oklahoma (Denver)

No. 248: Eric Hagg, S, Nebraska (Cleveland)
Here's how the Big 12 teams ranked in terms of total draftees:
1. Nebraska
- 7
2. Baylor
- 4
2. Colorado
- 4
2. Oklahoma
- 4
2. Texas -
4
6. Missouri
- 3
7. Kansas State
-1
7. Oklahoma State
- 1
7. Texas A&M
- 1
7. Texas Tech
- 1
11. Iowa State
- 0
11. Kansas
- 0
And the major conferences (counting where players
actually
played):
SEC
- 38
Pac-12
- 33
Big 12
- 30
Big Ten
- 29
ACC
- 35
Big East
- 22
Texas A&M had just one player drafted, but the Aggies will have plenty next year, including a handful of possible first-rounders. Cyrus Gray, Ryan Tannehill and Jeff Fuller could all go very early in 2012, depending on what happens between now and then.

[+] Enlarge

Matthew Emmons/US PresswireOklahoma defensive end Jeremy Beal was drafted in the seventh round by Denver.

Interesting that Miller went 245 selections before the Big 12's Defensive Player of the Year, according to the media, Jeremy Beal. Also an interesting coincidence? The same team drafted both. I do think Beal will have a productive NFL career, and there's no denying what he did at Oklahoma, but the measurables were never quite there for Beal. What's not measurable? How difficult he is to block. That said, Miller was my vote for the Big 12's Defensive Player of the Year.

Good to see some hard-working, perhaps under-respected guys get drafted. This was an important year for that, considering those left over won't be able to get into NFL minicamps until the lockout ends and won't be able to do anything to further their NFL careers besides work out on their own. I'll have a post later today on some of those snubs. There's no guarantee that late-drafted guys like Baron Batch, Scotty McKnight, Jay Finley or Eric Hagg will catch on in the the pros, but I'd be willing to guarantee they'll do everything in their power to maximize what opportunities they get.

One of the most interesting selections? Mikail Baker. He wasn't invited to the combine, and played just one full season on defense at Baylor after working as a kick returner and a cornerback in 2009 before a season-ending knee injury. You don't see that kind of impressive athleticism at Baylor traditionally.

Let the debate continue: Kendall Hunter vs. DeMarco Murray. Murray getting drafted 40-some spots earlier only intensified that discussion, if you ask me.

Also, what's more impressive from Art Briles? That Baylor had four picks, the most in school history since 1996? Or that despite those four picks, Baylor's returning an even better team than last season, when it ended a 16-year bowl drought?

Colorado's draft, meanwhile? Not exactly a ringing endorsement for Dan Hawkins' coaching job in Boulder.

Alex Henery didn't win the Lou Groza Award, but his fourth-round selection makes him the earliest kicker draft pick since 2006. Will that end the state of Nebraska's blood feud against respectable OSU kicker Dan Bailey, who did win the Lou Groza Award? I doubt it. (Save your emails. For the 100th time, I agree, Nebraska fans. Henery > Bailey.)

A few guys who went way lower than I thought they would. In order of my surprise level: Beal, Gabbert, Amukamara, Hagg, Hunter.

A few guys who went way higher than I thought, in the same order: Aldon Smith, Batch, Gachkar, Baker.
January, 27, 2011
1/27/11
10:09
AM CT
Signing day is exactly a week from Wednesday, and it's time to take a look at who needs what in its 2011 class.
Some schools have addressed these needs with their current class. Some haven't. Others are still trying.
Here's our look at the South, after running down the
Big 12 North
earlier this morning.

BAYLOR
Defensive tackle:
The Bears are loaded on offense and have a ton coming back, but anyone who watched Baylor in 2010 knows the big problems are on defense, starting with the front four. Phil Taylor is headed to the NFL and Nicolas Jean-Baptiste will be a senior next year. Reserve Chris Buford is gone, too. The Bears need to fill out some depth up front to avoid a repeat of their Texas Bowl debacle defending the run against Illinois.
Punter
: Derek Epperson was rock solid as a four-year starter for the Bears, averaging near 44 yards a punt for his past three seasons. He's gone now, and the Bears will need a replacement. The good news is Baylor's offense with
Robert Griffin III
doesn't make the position nearly as important as it used to be.

OKLAHOMA
Receiver:
Ryan Broyles
, a senior, and
Kenny Stills
look ready for big years in 2011, but senior
Cameron Kenney
is gone.
Trey Franks
,
Dejuan Miller
and
Joe Powell
could contribute in 2011, but beyond that, another big-time threat across from Stills would certainly help. One of the Sooners' top 2011 commits, Trey Metoyer, could become that player.
Safety:
Both starters, Quinton Carter and Jonathan Nelson, have graduated, and the Sooners will try to replace them with Sam Proctor, who has started plenty of games, and Javon Harris. The Sooners are pretty well-stocked about everywhere, but more depth in the secondary is always welcome.

OKLAHOMA STATE
Defensive line:
Three of the Cowboys' four starters are gone, and it's always necessary to fill in some depth behind them. Shane Jarka, Chris Donaldson and Ugo Chinasa all had good years in 2010.
Offensive line:
Oklahoma State brings back all five starters for 2011, but four will be seniors. That means replacing them in 2012, which will be a lot easier if those replacements don't end up being true freshmen. Oklahoma State kept offensive line coach Joe Wickline, a candidate for the same job at Texas, and his development of the line last year with four new starters was a big reason for the Cowboys' success. He'll need to do it again in 2012.

TEXAS
Running back:
Fozzy Whittaker
and
Cody Johnson
will both be seniors in 2011, and Tre Newton's career is over because of issues with concussions. Texas would be well-served if its top 2011 commit, Malcolm Brown, can come in and be effective immediately as a true freshman.
Cornerback:
Aaron Williams left early. Curtis and Chykie Brown graduated. Texas needs help at corner and will have big problems in the near future if they don't get it.
Linebacker:
Emmanuel Acho and Keenan Robinson will be seniors in 2011, and Dustin Earnest and Jared Norton already graduated. New talent behind them will help prevent a drop-off in 2012 after Acho and Robinson split.

TEXAS A&M
Kicker:
Randy Bullock will be a senior in 2011, but Texas A&M is already hoping his spot is filled by incoming freshman Taylor Bertolet, the nation's No. 2 kicker who won the Under Armour All-American game with a last-second field goal earlier this month.
Linebacker:
Michael Hodges and Von Miller have graduated, and Garrick Williams will follow them in 2011. The Wrecking Crew was pretty stout for most of 2010, but filling those holes in a four-linebacker front will be key in ensuring things stay that way.

TEXAS TECH
Secondary:
LaRon Moore and Franklin Mitchem are gone, so Texas Tech will be breaking in some new blood in the secondary for new coordinator Chad Glasgow and cornerbacks coach Otis Mounds. Freshmen cornerbacks Jarvis Phillips and Tre Porter made plays in 2010, but they also allowed offenses to make a few of their own. Stopping that will be a big step in Texas Tech getting things rolling under Tommy Tuberville.
Receiver:
Texas Tech already needs to replace
Detron Lewis
and
Lyle Leong
, and
Tramain Swindall
and
Jacoby Franks
will follow suit after 2011.
Alex Torres
was hampered by a back injury all year, but the Red Raiders will need some depth around him at receiver to keep the offense humming.
October, 1, 2010
10/01/10
8:14
AM CT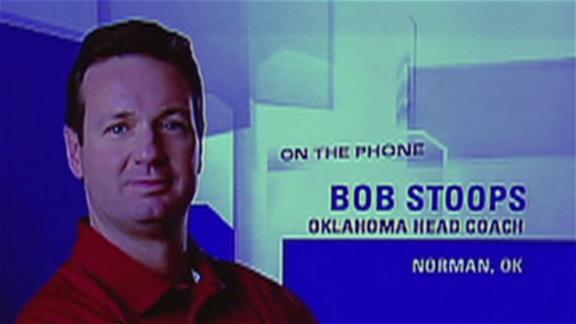 Make DeMarco Murray a factor
: Murray says doesn't remember the details of his spectacular performance in Oklahoma's only win over Texas in the last five years. He insists he's never seen a replay of his hurdling 65-yard touchdown run, the highlight of his 128-yard rushing day as a freshman in 2007. His two trips to the Cotton Bowl since then have certainly been forgettable. Murray has a total of 4 yards on 11 carries in his two losses to UT. The Sooners need him to get rolling again, especially since the team with the most rushing yards has won the Red River Rivalry the last dozen years. Murray rushed for 208 yards on 35 carries in the opener against Utah State, but he has averaged only 3.2 yards per carry in the last three games. "We need to be much more physical," OU offensive coordinator Kevin Wilson said. "Whether it's scheme, personnel or performance, we need to run the ball much better."
Get Ryan Broyles the ball:
Broyles beat the odds just by playing against the Longhorns last season only two weeks after suffering a hairline fracture of his shoulder blade. But the two-catch, 33-yard, one-touchdown performance is subpar by his lofty standards. He's completely healthy now and can claim that he's the nation's most productive receiver, ranking first in receptions (41) and second in yards (482) despite being the focus of every foe's defensive scheme. He's far from intimidated about facing three UT cornerbacks – Aaron Williams,
Curtis Brown
and Chykie Brown – who will be NFL draft picks. "Well, hopefully one day I'll be playing on Sunday, too," he said. "I'm looking forward to the challenge."
Prevent the big plays:
Big plays are the primary reason the Sooners rank a stunning 97th in the nation in total defense, 421.3 yards per game. Cincinnati racked up 461 yards while scaring the Sooners last week – and 269 of those yards came on seven plays. "We're just being too inconsistent," defensive end Jeremy Beal said. "It's just here or there guys messing up. It can be one guy each play. It's fundamental technique. We just need to fix it." UT's has trouble sustaining drives, but the Longhorns are loaded with speedy skill players with the ability to exploit mistakes by the Sooners.
Rattle Garrett Gilbert:
Texas' quarterback was one of the nation's top recruits a couple of years ago, but he's unproven at this level and will be making his Red River Rivalry debut. Gilbert threw four interceptions the last two weeks and has looked hesitant to throw the ball downfield. The Sooners' defense excels at forcing turnovers. They've come up with 12 takeaways this season – six fumble recoveries and six interceptions. They need to add to that total Saturday against a talented quarterback who is early in the learning process. "By the time that he leaves Texas, I think he's going to be really good," safety Jonathan Nelson said. "He has all the tools. Potential is the word that comes to mind. I'm sure he's going to have a great career. Hopefully, he doesn't start it this weekend."
Finish strong:
Oklahoma has been outscored by a 41-10 margin in fourth quarters this season. That's why the Sooners have had to sweat in the final minutes of three games despite leading by at least 15 points every week during their 4-0 start. OU isn't likely to have such a large margin of error in the final 15 minutes against their archrival. "We've got to show that killer instinct," linebacker Travis Lewis said.
September, 29, 2010
9/29/10
9:28
AM CT
By
Jeff Caplan
| ESPNDallas.com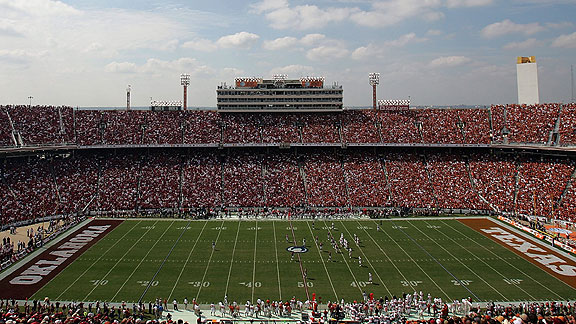 Texas Longhorns
defensive coordinator Will Muschamp hasn't had many bad days since joining Mack Brown's staff. Count last Saturday was one of them. And maybe the worst.
UCLA
ran its zone-read attack all over Muschamp's highly ranked unit and afterward the fiery coach counted up 15 missed tackles. Muschamp said you could have taken the team's first three games and not found that many misses. Inexcusable for a team with such lofty goals as the Longhorns.
No. 21 Texas will face a much more balanced offense Saturday in the Red River Rivalry against the No. 8
Oklahoma Sooners
.
"They have a lot of balance. The two things that jump out at you are the two playmakers. [Tailback]
DeMarco Murray
and [wide receiver]
Ryan Broyles
are outstanding players," Muschamp said. "They do a great job of getting them the ball in space and letting them make plays. They're a balanced offense like they have had in the past. They want to be able to run the ball and also be able to throw it. Play action – get the ball out of the quarterback's hands especially early in the game. They do a nice job with their balance."
Both players have put up dynamite numbers despite the fact that the Sooners have struggled to put away three of their four opponents and are fortunate not to be headed to the Cotton Bowl with an unexpected early loss like their nemesis to the south.
Murray is averaging 109.0 yards a game, having gained 483 yards on 105 carries with seven touchdowns. Broyles' marks might be even more eye-catching: 41 receptions (next-highest on the team is 16) for 482 yards, an average of 120.5 a game, with four touchdowns.
Broyles will be a major challenge for Texas' heralded secondary and particularly cornerbacks Curtis Brown, Chykie Brown and Aaron Williams.
"He's got separation speed. That's the first thing that jumps out at you," Muschamp said of Broyles, a junior the Sooners nabbed from their own backyard in Norman, Okla. "He's very good with the ball in his hands. They do a really nice job of getting the ball in different places, lining him up in different spots. You've always got to have great awareness of where he is."
Texas' hopes of winning the Big 12 South depend on it.