Dallas Colleges:

Adam Shead
December, 16, 2013
12/16/13
10:00
AM CT
Unlike previous campaigns, Oklahoma's offense was not the envy of the rest of the Big 12 this season. The Sooners running game was second to none and provided a foundation that allowed OU to stay in games, control the ball and create opportunities in its passing game. But it's lack of explosiveness through the air, leading to poor offensive balance, made this year's offense one of the worst in Norman, Okla. in recent memory. Yet the Sooners limited turnovers and mental mistakes while running the ball well enough to earn 10 wins, which should quiet critics considering a double-digit win season was unexpected heading into the season.
Quarterback: C+. Where are all the Landry Jones haters now? A quick glance at the Sooners passing stats (186.67 ypg, No. 99 in FBS) makes this grade seem way too high. But a quick glance at the win column makes everything clear. OU never got consistency from the position, as Blake Bell and Trevor Knight each had their moments of success and failure. Bell was the starter in Sooners' losses to Texas and Baylor, and looked uncomfortable in both games, but played a key role in road wins at Notre Dame and Oklahoma State. And Knight showed flashes of big-time upside but also showed the inexperience of a redshirt freshman. Through it all the Sooners found a way to get 10 wins and the quarterbacks played a key role in that success. A significant drop off from Jones yet OU finished the regular season with the exact same record Jones led them to as a senior.
[+] Enlarge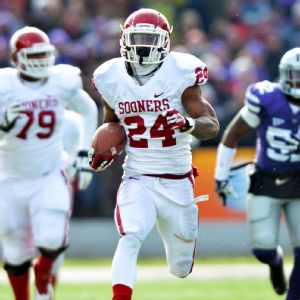 Jackson Laizure/Getty ImagesSenior Brennan Clay led a cadre of Oklahoma running backs which helped the Sooners rush for over 3,000 yards as a team this season.
Running back: A+. Who knows how the Sooners' season would have ended up if it wasn't for a talented and deep group of running backs led by Brennan Clay. The senior led the Sooners with 913 rushing yards, averaging 5.78 yards per carry, but Damien Williams (553 rushing yards) and Roy Finch (347 rushing yards) joined him as quality threats in the backfield. The Sooners running backs brought a physical running style and game-breaking ability which helped offset OU's ugly passing attack.
Receiver: B-. The quarterbacks shouldered a bunch of the blame for OU's passing troubles, but the Sooners receivers deserve their share of the burden. Jalen Saunders performed like an "A" student and Sterling Shepard wasn't far behind. After those two playmakers, the Sooners receivers left plenty to be desired. Lacolton Bester had good moments but wasn't the constant threat that Saunders and Shepard were in 2013 and the overall depth seemed nonexistent as young players such as Durron Neal never emerged as difference makers at the receiver spot.
Offensive line: A-. OU rushed for nearly 3,000 yards yet didn't feature a single 1,000-yard rusher, speaking volumes for the offensive line. The only reason the Sooners' starting front didn't get a A+ was lackluster efforts against Texas and Baylor, helping to contribute to OU's only losses. Center Gabe Ikard was the anchor and star of the offensive front, but tackle Daryl Williams made an overlooked but valuable contribution as the other all-Big 12 level performer on the squad. Tackle Tyrus Thompson, guard Nila Kasitati, guard Bronson Irwin and guard Adam Shead each played well while helping pave the way for OU's running game and limiting opponents to 15 total sacks.
Overall: B-. The lack of balance keeps this grade from being higher but OU averaged more than 31.8 points and 5.84 yards per game, ranking them in the top half of the Big 12. The Sooners running game was superb and overcame the passing game struggles while protecting the football. OU's offense is not an national championship-level offense, but it's not as bad as it appeared at various times either.
October, 17, 2013
10/17/13
10:00
AM CT
NORMAN, Okla. -- Unpleasant would be a great word to describe Oklahoma's ride home after Texas hammered the Sooners 36-20 in the Red River Rivalry in Dallas last Saturday.
"Silence," cornerback
Zack Sanchez
said of the 193-mile trip from the Cotton Bowl to Norman. "Guys were in their own zone, thinking about plays we could have made, should have made."
[+] Enlarge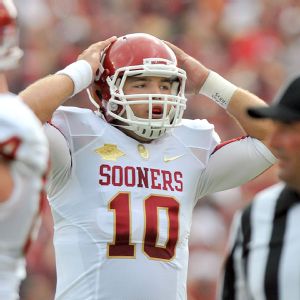 Jackson Laizure/Getty ImagesThe ineffectiveness of the Oklahoma passing game has Blake Bell's status as starting quarterback under scrutiny.
It's not the first time the Sooners have been in this situation. At this time a year ago, the Sooners had already suffered a loss to Kansas State in Big 12 Conference play, yet they took the field in the regular season finale at TCU with the chance to win the conference outright if Kansas State were to lose to Texas. The Wildcats defeated the Longhorns the night after the Sooners' win over TCU, thus OU shared the conference title with KSU.
There's no reason to think the Sooners can't accomplish a similar result in 2013.
"The Big 12 is a great conference and you never know," defensive end
Geneo Grissom
said. "We definitely think we are still in the running."
But Oklahoma has work to do and it'll need help to make its goal of another Big 12 title a reality. Basically, its loss to Texas means its destiny is no longer in their hands.
"It was a reality check for everybody," guard
Adam Shead
said. "The Big 12 is a pretty tough conference this year. You don't have the big offenses anymore, the defenses are stepping up."
All other conference results aside, if they have any hope of winning the Big 12 title, the Sooners' offense must put fear in Big 12 defenses again. The lackluster production of TCU's offense has been a topic of conversation in Big 12 circles but the Sooners are averaging 0.7 more points per game in conference play than TCU (18.7 to 18.0). It's a far cry from last season's squad which led the league with 41.9 points per game in conference play.
Even though OU spent the offseason disappointed with its ability to run the ball in key moments, the Sooners' running game isn't the problem, as OU ranks second in the Big 12 with 216.33 rushing yards per game, averaging 5.07 yards per carry.
Its horrible passing game deserves the majority of the blame. OU has passed for 160 yards or less in conference play just 14 times since 2004 yet hasn't been able to surpass 160 passing yards in any of its Big 12 games this season.
The Sooners' offensive coaches insist they are close to having a breakout game through the air and are hopeful it starts this week against Kansas. Co-offensive coordinator Jay Norvell believes quarterback
Blake Bell
and the receivers just need to find the in-game chemistry that results in big plays instead of narrow misses.
"That kind of chemistry comes from playing in games and making big plays," Norvell said. "When guys make big plays in a game, they gain confidence in each other and that's when it grows. That just doesn't happen overnight, it happens from playing and throwing balls and making big plays on third down and having a guy you can trust. We're building that."
Make no mistake, Bell is under fire as the starting quarterback. Some people think
Trevor Knight
, who was originally named the starter, should get another chance while others think
Kendal Thompson
, the only one of the three quarterbacks who has not taken a snap this season, should get a shot.
The Sooners' quarterback position is in flux, as OU coach Bob Stoops hinted this week that a change could be made if Bell's play doesn't improve -- and the junior knows it.
"All I can do is get in the film room, learn from my mistakes and get better," Bell said.
If he does, OU will have the chance to get back into the Big 12 title race. If he doesn't, the Sooners will have to turn to Knight or Thompson because, no matter what, OU will not compete for a Big 12 title without a improved passing game.
"In this league, you better be able to throw the ball and be balanced," Norvell said. "We've got to do a good job at both [running and passing] to have the success we want to have going down the stretch."
October, 11, 2013
10/11/13
10:00
AM CT
NORMAN, Okla. -- A statement from Oklahoma guard
Adam Shead
explains it all.
"Everybody is on edge."
[+] Enlarge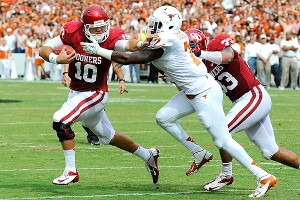 Matthew Emmons/US PresswireOklahoma knows it will face a higher intensity level in the Cotton Bowl Saturday.
Those words came from the mouth of the Sooners' junior when he was asked how things change in the halls of the Switzer Center during OU-Texas week. The Sooners football facility is full of anticipation each October as OU prepares to battle its rival at the Cotton Bowl in Dallas.
"Everyone knows this is a big game, a big week and what this rivalry means to each one of these programs," Shead said. "We all know the meaning of this game to Oklahoma fans, to this university, to recruitment and to Texas fans."
The Sooners insist their focus and intensity is high every week but that's just coaches' speak. OU turns it up for the Longhorns and it has helped the Sooners win three straight Red River Rivalry contests. It's been complete domination as the Sooners' offense is averaging 48.7 points and 496.7 yards per game while holding UT to 19.3 points and 307 yards per game in the last three meetings.
"… You could say we're a little more focused, because we know who it is and we don't want to lose," linebacker
Aaron Franklin
said.
This year's senior class is trying to become the eighth senior class from either school to go 4-0 in the Red River Rivalry since 1970 and the sixth group of Sooners seniors to accomplish that feat. Yet that same group of seniors has suffered home losses to Texas Tech and Kansas State along with a road setback at Baylor, in games the Sooners were expected to win.
But the lead up to those games simply doesn't compare to OU-Texas week. The atmosphere outside the facility among fans and students can't help but seep into the halls of the Switzer Center.
"Five times today I had random people stop me and say things to me," defensive end
Geneo Grissom
said earlier this week. "This game might as well be a bowl game for us. It's one of the biggest games of the year. It's a game where we practice at a different level, and it's always an exciting week."
Said Franklin: "It changes a lot, you see on social media and you feel it in the community. People just want us to beat Texas."
And they have under Bob Stoops, with a 9-5 record against the Longhorns during the veteran head coach's time in Norman. The Sooners insist their preparation remains consistent throughout the year but nothing is like OU-Texas week.
"We go hard every week but Texas-OU we go hard times ten," Grissom said. "It's Texas, our biggest rival, every year we come in and Texas is the underlined team. We want to play our very best against Texas. Texas-OU is a once-in-a-lifetime thing."
March, 25, 2013
3/25/13
11:00
AM CT
Turnover is an annual tradition in college football, but with that, teams' strengths and weaknesses constantly shift, too. Today, we'll continue our look at the biggest strengths and weaknesses for each Big 12 team.
Next up: Oklahoma.

Strongest position: Offensive line.
Don't discount
Landry Jones
' experience and decision-making, but Oklahoma threw the ball 571 times last year -- more than everyone in the Big 12 but Texas Tech -- and gave up just 15 sacks, third-fewest in the Big 12. The Sooners have good depth at running back but not a true gamebreaker, and the offense still averaged 4.85 yards a carry, third-most in the Big 12. Oklahoma dealt with a ton of injuries on the offensive line and at the end of the season, was basically reduced to five guys who could play and depended on true freshman
Ty Darlington
at times, too. The unit loses tackle
Lane Johnson
, but
Gabe Ikard
is the Big 12's best offensive lineman and returns alongside
Adam Shead
,
Bronson Irwin
and
Tyrus Thompson
. This unit perhaps could have been better than it was in 2011, which is part of the reason you saw position coach James Patton shown the door in favor of WVU's Bill Bedenbaugh, but it should be a big strength yet again in 2013. I'd say it's definitely the Sooners' best overall position. The Sooners fought through the loss of center Ben Habern and guard
Tyler Evans
in preseason camp last year, and Evans is out again after injuring his knee this spring. Here's betting Oklahoma fills the void yet again.
Weakest position: Defensive line
If you watched the Cotton Bowl, you know all you need to know about this position for the Sooners. Texas A&M had arguably the nation's best offensive line, but the Sooners D-line looked like a bunch of high schoolers for much of the game, applying zero pressure to
Johnny Manziel
and letting him get loose for a record-breaking game in a blowout loss. The Sooners lose four seniors along the line, leaving behind just
Chuka Ndulue
,
Jordan Phillips
and
Mike Onuoha
as contributors from last year's D-line that helped Oklahoma rank just 108th nationally in tackles for loss and 94th nationally in run defense. Oklahoma needs a big upgrade at this position to return to prominence, and I'm not sure the answer to the Sooners being as good along the front line of the defense is coming anywhere but on the recruiting trail.
More Weak and Strong
.
August, 30, 2012
8/30/12
11:15
AM CT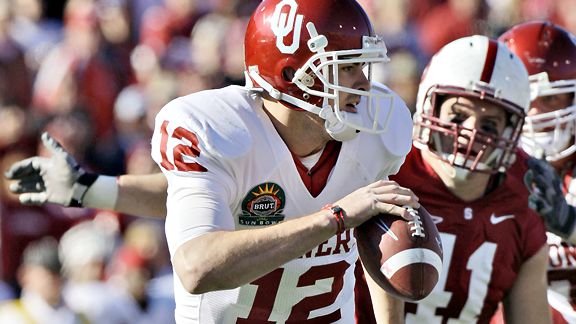 AP Photo/LM OteroLandry Jones enjoyed a breakout game against Stanford in the 2009 Sun Bowl, throwing for 418 yards in the win.
Landry Jones
planned on standing on the sidelines and learning from the best in 2009. He was going to watch how a Heisman winner went about his business.
Less than 30 minutes into Jones' redshirt freshman season, the plan changed.
Sam Bradford's shoulder was planted into the turf and the first chapter of Jones' Oklahoma story was began. It wasn't a happy one, ending what the Sooners hoped was a return to the national title game with a 13-12 loss to BYU in the season opener.
There were other bumps in the road during Jones' first season, like a five-interception outing against Nebraska and an embarrassing blowout loss to Texas Tech in Lubbock.
By the bowl game, though, Jones looked like a different quarterback.
He rolled over Stanford's defense in the Sun Bowl, throwing for a then-career high 418 yards, three scores and completing nearly 60 percent of his passes in the 31-27 win.
"It was a starting point for sure," Jones said. "I grew up a lot in that game."
Almost three years later, he'll begin his final season in the same stadium. This time, Texas-El Paso awaits.
His freshman season ended with a career game. Jones passed up NFL money and a likely first-round selection to come back to Oklahoma for his senior season, which somehow disappointed at least a few Oklahoma fans.
Saturday, Jones will have a chance to remind most everyone of what he can do.
"I believe I'll see more consistency," Oklahoma coach Bob Stoops said. "I believe he's a better player. More mobile, throwing a great ball. I believe the players around him will be more consistent. That position needs support."
Jones watched more film leading up to that Stanford win than he'd ever watched on an opponent before. He saw the results on the field, and his career's never been the same.
Being consistent has always been a struggle for Jones, and part of that has been decision-making and accuracy outside the pocket.
"Moving around in the pocket for sure, that's one area that I wanted to grow in, one area I wanted to get better at," Jones said.
It was an emphasis all offseason for Jones, who also paid a visit to QB guru George Whitfield in California over spring break to work on his mechanics.
"Moving and throwing, that's one thing that was big for me," Jones said, "and sliding around in the pocket and making throws whenever I was sliding."
Jones might need to be on the move a little more this year behind an offensive line struggling with depth. The Sooners lost a pair of three-year starters in Ben Habern (neck, back) and
Tyler Evans
(knee), who were both with Jones for his rocky freshman season.
Jones noted he has a lot of confidence in players like
Adam Shead
and
Bronson Irwin
, big talents sliding up into bigger roles, but Jones' senior debut will be Step 1 in proving he can be at his best for every week in a given season.
"I expect nothing but the best for myself," Jones said. "I expect to play really well and play winning football every game. That's what I expect and that's what I'm shooting for."
August, 2, 2012
8/02/12
3:52
PM CT
As Oklahoma kicks off football practice this week, here are five storylines to watch this preseason:
1.
How does Whaley look in pads?
The injury to Ryan Broyles overshadowed the impact of the loss of
Dominique Whaley
, who suffered a season-ending ankle injury midway through the 2012 season. Whaley has been cleared to practice, but even Bob Stoops admitted the Sooners won't know how Whaley will handle cutting and contact until the team practices in pads. The Sooners have other options at running back, but Whaley is the most proven of any of them.
2.
How will the offensive adjust to life without Habern?
[+] Enlarge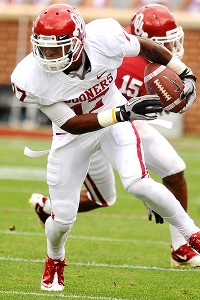 Mark D. Smith/US PresswireFreshman receiver Trey Metoyer is already penciled in as an opening-day starter for the Sooners.
Stoops said this week that the offensive line will be ready to deal with the loss of center
Ben Habern
, who has
given up football
because of issues with his neck and back. The Sooners made a seamless transition for six games without Habern last season, sliding
Gabe Ikard
to center, and inserting
Adam Shead
in at guard. The Sooners shouldn't miss much of a beat without Habern, but the line is a lot thinner than it was a week ago. Others like guard
Bronson Irwin
must step up.
3.
Does
Trey Metoyer
build off his spring?
Other than
Landry Jones
, Metoyer was OU's best offensive playmaker of the spring. Can the freshman phenom keep it going? By all accounts, Metoyer has busted it over the summer. So there's little reason to doubt he won't lock down a starting job before September.
4.
Which other newcomer receivers will emerge?
With
Jaz Reynolds
and
Trey Franks
expected to serve long suspensions, and Kameel Jackson still working on academics, OU will need wideouts other than Metoyer to emerge.
Durron Neal
has been slowed by a knee injury this summer,
LaColtan Bester
just got to campus and
Courtney Gardner
was unable to qualify. That leaves freshman slot receiver
Sterling Shepard
as the most likely to step into a prominent role. Shepard has wowed his teammates with his work ethic this summer.
5.
Will the secondary regain some of its swagger?
The confidence of the defensive backfield was shaken the second half of the season following porous performances against Texas Tech and Baylor. The group even dropped its "Sharks" nickname. But the return of Mike Stoops has the secondary primed for a bounce-back season. A change of scenery could do wonders for
Javon Harris
and
Gabe Lynn
, who both figure to open the season in the starting lineup. If they hold up, the secondary could be awesome, with stars
Tony Jefferson
,
Aaron Colvin
and
Demontre Hurst
manning the rest of the unit.
August, 2, 2012
8/02/12
10:00
AM CT
Really sad, surprising news out of Oklahoma today.
Here's our news story
:
Oklahoma senior Ben Habern's career is over.

The Sooner center won't return to the team after offseason neck surgery that fused together two vertebrae, despite expectations that he would return at full strength this fall.

...

"Our coaching staff knows this was a difficult decision for Ben," [coach Bob] Stoops said in a statement. "Ben has been a consummate leader for our team, both on and off the field. We appreciate the toughness that Ben has displayed, and we wish him the very best as he completes his education at OU."
First things first: Absolutely hate to see this for Habern. I covered the Sooners for The Oklahoman during Habern's freshman year, and he's consistently been a great guy to cover from that point through just last week, when he was chosen as a representative for Oklahoma at Big 12 Media Days.
Here's
the video he took time to shoot for us
. (Stick around until the end).
It's truly shocking news. Habern must have been thinking about quitting, but didn't know until just recently. If Oklahoma knew Habern's status was in doubt, it's highly unlikely he would have represented the Sooners at media days.
Habern's dealt with neck and back issues throughout his career, which also featured a broken ankle in 2009 and a broken right arm last season that forced him out of five games.
His experience and leadership simply can't be replaced this season. Oklahoma's fantastic offensive line takes a huge hit with his loss.
As for his spot on the depth chart? Look for guard Gabe Ikard (one of the league's best overall linemen) to slide over to play center, and junior Adam Shead to move up and replace Ikard at guard. The Sooners can handle that. Don't be surprised if freshman Ty Darlington gets some time at center, too.
Still, Habern has been around for everything coming into this year, and been a stalwart at center for the past three seasons. He saw the 2009 collapse up close. He was integral in the rebound for a Big 12 title in 2010. He learned from the pressure of 2011.
He talked about his neck surgery at Big 12 media days last week, but gave zero indication he was even thinking about quitting.
Now, he has.
It's a sad story, no doubt, but Oklahoma has no choice but to move on.
As Habern moves on, here's hoping for the best for him. I'm confident he'll excel in his future endeavors.
Suspended players reinstated
In Wednesday's statement, Stoops also said that receiver Trey Franks, defensive back Quentin Hayes and receiver Jaz Reynolds were each reinstated from offseason suspensions, but only for preseason practice. Their availability for Oklahoma's season opener at UTEP on Sept. 1 was still undecided. Receiver Kameel Jackson was not reinstated, and his suspension will be re-evaluated "at the conclusion the current academic session."
Stoops also confirmed previous reports that wide receiver
Courtney Gardner
and offensive lineman
Will Latu
would not be available this season.
May, 10, 2012
5/10/12
10:30
AM CT
2011 overall record
: 10-3
2011 conference record
: 6-3 (T-3rd)
Returning starters
: Offense: 8; defense: 7; kicker/punter: 2
Top returners

QB
Landry Jones
, RB
Dominique Whaley
, FB
Trey Millard
, WR
Kenny Stills
, OG
Gabe Ikard
, LB
Tom Wort
, CB
Demontre Hurst
, CB/S
Aaron Colvin
, FS
Tony Jefferson
Key losses
WR
Ryan Broyles
, LT
Donald Stephenson
, TE
James Hanna
, DE
Ronnell Lewis
, DE
Frank Alexander
, LB
Travis Lewis
, CB
Jamell Fleming
2011 statistical leaders
(*returners)
Rushing
: Dominique Whaley* (627 yards)
Passing
: Landry Jones* (4,463 yards)
Receiving
: Ryan Broyles (1,157 yards)
Tackles
: Travis Lewis and Aaron Colvin* (84)
Sacks
: Frank Alexander (8.5)
Interceptions
: Tony Jefferson* (4)
Spring answers
1. Trey Metoyer is the real deal:
The true freshman had the best spring of any wide receiver on the OU roster, then capped it by leading the Sooners in receiving in the spring game. Metoyer has all but solidified a starting spot at wide receiver, and should help fill the massive production gap left by the graduation of Ryan Broyles.
2. Secondary on right path:
Defensive coordinator Mike Stoops wasted no time revamping the secondary, sliding Tony Jefferson to free safety while inserting
Javon Harris
back into the starting lineup at strong safety. Stoops liked what he saw there in the spring, and if Harris can continue to bounce back from a shaky 2011 season, Stoops will have the flexibility of bumping Aaron Colvin to cornerback opposite three-year starter Demontre Hurst, solidifying the Sooners there, too.
3. O-line could be OU's best in years:
Not since 2008 have the Sooners been this deep and talented on the offensive line. Even with center
Ben Habern
rehabbing from offseason neck surgery, the line didn't miss a beat grinding out OU's defensive front most of the spring. Gabe Ikard has proved he can excel at either guard or center, guard
Tyler Evans
is entering his fourth year as a starter, and
Adam Shead
could be OU's top interior run-blocker since All-America Duke Robinson. The tackles remain a little bit of a question mark. But
Daryl Williams
all but locked down the starting job on the right side with a great spring. On the left side,
Tyrus Thompson
is pushing to beat out 2011 starting right tackle
Lane Johnson
.
Fall questions
1. The No. 2 QB battle:
Head coach Bob Stoops is no hurry to name a backup quarterback, a competition that figures to extend through August.
Blake Bell
, who shined running the ball out of the Belldozer formation last season, outplayed
Drew Allen
in the spring game, but Allen had his moments, too, and has another year of experience in the offense. Whoever wins the No. 2 job could have a leg up on the 2013 derby to replace Landry Jones.
2. The defensive line:
Bob Stoops has had a first-team all-Big 12 defensive lineman every year since 1999. That streak, however, could be in jeopardy. Gone are sack machines Frank Alexander and Ronnell Lewis, leaving the Sooners without a proven difference-maker up front. The top five players in the rotation across the front will all be seniors, making it the most experienced in the conference. But for the Sooners to win the Big 12 and contend for a national title, someone must emerge as that difference-maker.
3. The backfield rotation:
The Sooners have options in the backfield, but it's unclear how running backs coach Cale Gundy will use them. It's also unclear how effective 2011 leading rusher Dominique Whaley will be after missing half of last season with a fractured ankle.
Roy Finch
can be electric with the ball, but has not earned the trust of the coaching staff in his pass protection.
Brennan Clay
, banged up the past two seasons, finally looks healthy and had a solid spring. Then there's touted junior-college transfer
Damien Williams
, who was also recruited by USC, and fullback Trey Millard, who warrants at least a handful of carries a game. Will someone emerge as the feature back? Or will Gundy go with a backfield by committee?