Dallas Colleges:

Aldon Smith
March, 11, 2013
3/11/13
4:00
PM CT
ESPN draft expert Mel Kiper has two Big 12 players -- Oklahoma's
Lane Johnson
and Texas'
Kenny Vaccaro
-- potentially going in the first round of this year's NFL draft.
Fellow expert Todd McShay has the same two as Kiper and also is optimistic about the chances of West Virginia's
Geno Smith
and
Tavon Austin
.
So let's split the difference and label the potential Big 12 first-round picks as an optimistic three, with Johnson being the only absolute first-round lock.
Those three would represent the fewest Big 12 players taken in the first round of the NFL draft since 2008. Even if four went, the Big 12 still would have the fewest since 2008.
That year, only Kansas -- yep, the Jayhawks -- managed a first-rounder,
Aqib Talib
to Tampa Bay with the 20th pick. In the four drafts that followed, the Big 12 has always put at least five players into the first round, including the first four overall picks in 2010.
How well this year's group of first-round picks will fare might not be known for years. What is known, though, is how well Big 12 players have done when they are selected in the first round. With that in mind, here is a ranking -- from worst to best -- of the Big 12's best first-round draft classes over the past 10 years.
2008
: It's all about quantity, and a little bit of quality. In 2008, the Big 12 only produced one first-round pick, Talib. He has not produced dramatic returns in the NFL. In the past two years, he has only started nine games. He was somewhat productive for Tampa Bay in the previous three seasons, starting 41 games and playing in 53. But, again, he was the only Big 12 player taken in the first round in 2008.
2006:
Vince Young
is working out at Texas' pro day at the end of March. Enough said.
Davin Joseph
and
Michael Huff
have been solid producers. But when the No. 3 overall pick is out of the league and having to work out at his alma mater's pro day, it means it was a bad year for the Big 12 in the first round of the NFL draft.
2004:
Tommie Harris
and Marcus Tubbs, the two defensive tackles taken in the first round, were productive for a few years, with Harris selected to Pro Bowls in 2005, '06 and '07 before he was beset by injuries. Tubbs lasted four seasons in the NFL. Roy Williams had 5,715 receiving yards but never lived up to the hype he generated coming out of Texas. Rashaun Woods played only two years and had seven career catches.
2005:
The lack of numbers might be what hurts this group the most.
Cedric Benson
,
Jammal Brown
,
Derrick Johnson
,
Mark Clayton
and
Fabian Washington
all proved they could play at the NFL level. Benson has had three 1,000-yard-plus seasons. Johnson is one of the top linebackers in the game. Brown remains a solid option on the offensive line. Clayton played seven NFL seasons; Washington played six. But there were only five guys selected and that isn't enough to push 2005 to the top of the list.
[+] Enlarge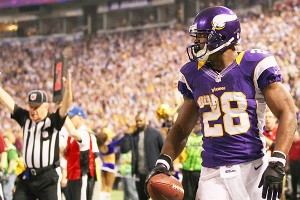 Andy Clayton King/Getty ImagesThe Big 12's 2007 draft class wasn't huge, but did feature 2012 NFL MVP Adrian Peterson.
2009:
Every Big 12 player selected in the first round in 2009 has produced and appears to be poised to continue to do so. Only
Jason Smith
didn't have a start last year. But the offensive lineman still played in all 16 games for the
New York Jets
.
Michael Crabtree
,
Brian Orakpo
,
Josh Freeman
,
Jeremy Maclin
,
Brandon Pettigrew
and
Ziggy Hood
are all starters for their respective teams.
2007:
It wasn't the biggest group, but it did include
Adrian Peterson
, so there could be some quibbling that maybe 2007 should be higher in the rankings. Throw in
Aaron Ross
and
Michael Griffin
and the debate could get even more heated.
Adam Carriker
was also taken this year. He started his career strong but suffered an injury and only played in two games last season.
2003
:
Kevin Williams
has been the standout of this group. The defensive tackle has started every game but four in his 10-year career.
Terence Newman
has been effective as a defensive back, first in Dallas and last season in Cincinnati. Tyler Brayton played at least 15 games on the defensive line in a nine-year career.
Ty Warren
played eight solid seasons for New England but tailed off last season with Denver. Andre Woolfolk lasted four seasons, mostly as a reserve.
2011:
Von Miller
, who was the highest pick among Big 12 players this year, has proved to be the top player so far.
Aldon Smith
is not far behind. Add in
Prince Amukamara
,
Phillip Taylor
, who when healthy is a starter at defensive tackle, a somewhat productive
Blaine Gabbert
and
Nate Solder
as well as reliable backups
Danny Watkins
and
Jimmy Smith
and this proved to be a successful year for Big 12 first-round selections.
2012:
Three quarterbacks, and all were not only starters as rookies but also made huge differences for their respective squads. Clearly,
Robert Griffin III
made the most dramatic impact, but
Ryan Tannehill
, with the Dolphins, and
Brandon Weeden
, with Cleveland, were both solid.
Kendall Wright
and
Justin Blackmon
each had 64 catches, for Tennessee and Jacksonville, respectively. Blackmon was targeted more (133 to 104) and had 200 more receiving yards.
2010:
This list maybe doesn't have the star power and is not littered with offensive playmakers, but six of the nine players picked were selected for the 2013 NFL Pro Bowl:
Gerald McCoy
,
Trent Williams
,
Ndamukong Suh
,
Earl Thomas
,
Russell Okung
and
Jermaine Gresham
. And the other three players --
Dez Bryant
,
Sam Bradford
and
Sean Weatherspoon
-- were vital pieces for their respective teams.
May, 31, 2012
5/31/12
10:50
AM CT
Yesterday, we tackled the Big 12's best offensive players in the NFL, but today, it's time for the other side of the ball.
The rules:
Players must be active
Players are judged by their current skills
The 2012 draft class is not eligible
Only players from the 2011 configuration of the Big 12 (No Nebraska, Colorado. Mizzou, Texas A&M are included.) are eligible
Let's get to it.
DE: Justin Smith, San Francisco 49ers (Missouri)
Smith has made Pro Bowls in each of the past three seasons and emerged as one of the NFL's premier pass rushers, nearly winning Defensive Player of the Year in 2011. He's forced 14 career fumbles and had 72.5 career sacks.
DT: Phil Taylor, Cleveland Browns (Baylor)
Taylor snuck into the first round of the 2011 draft and started every game for the Browns in 2011, making 59 tackles and four sacks, as well as forcing a fumble.
DT: Casey Hampton, Pittsburgh Steelers (Texas)
Hampton's career has peaked, but the 2001 first-rounder is still effective. He's won two Super Bowls and made five Pro Bowls, the last coming in 2009. He has 350 career tackles with nine sacks and four forced fumbles.
DE: Antonio Smith, Houston Texans (Oklahoma State)
Smith earned his first trip to the Pro Bowl last season, even though it was as an alternate. He has 29.5 career sacks and seven forced fumbles.
LB: Aldon Smith, San Francisco 49ers (Missouri)
Smith was one of the NFL's best pass rushers as a rookie in 2011. He didn't start a single game, yet came within a half sack of
Jevon Kearse
's rookie record for sacks, with 14 sacks. That broke the team record, and the Pro Football Writers of America named him the Defensive Rookie of the Year.
LB: Brian Orakpo, Washington Redskins (Texas)
Orakpo edges out
Derrick Johnson
for this spot, though Johnson was better in 2011. Orakpo was an alternate on this year's Pro Bowl team, but made the squad as a rookie in 2009 and in 2010.
LB: Von Miller, Denver Broncos (Texas A&M)
Miller earned NFL Defensive Rookie of the Year honors and a trip to the Pro Bowl after notching 11.5 sacks and making 64 tackles. He forced a fumble on the first snap of his career, too.
CB: Terence Newman, Cincinnati Bengals (Kansas State)
Newman's taken his fair share of knocks as a Cowboy before being released, but he made the Pro Bowl in 2007 and 2009 and has 32 career interceptions. The Wildcats' former Thorpe Award winner is moving on to the next phase in his career after an up and down career in Dallas.
CB: Aaron Ross, Jacksonville Jaguars (Texas)
Ross won two Super Bowls as a New York Giant, but he's moving on to warmer climates this offseason. He's made 200 career tackles and intercepted 10 passes in five seasons as a Giant before the former Thorpe Award winner signed a new deal with the Jags.
S: Michael Griffin, Tennessee Titans (Texas)
Griffin was a first-round pick in 2007 and made Pro Bowls in 2008 and 2010. He earned an All-Pro selection in 2010 and has 17 career interceptions and seven forced fumbles with his 389 tackles.
S: Earl Thomas, Seattle Seahawks (Texas)
Thomas gives the Longhorns a third member of the All-Big 12 NFL secondary after a Pro Bowl season in his second year, 2011. Thomas was arguably the Seahawks' top defender and has seven career interceptions.
May, 12, 2011
5/12/11
10:34
AM CT
College football is all about promotion and development. Players undergo enormous growth in their time on campus, but every year, there's a handful of guys who make the jump from good to great. Who will make the biggest jump in the Big 12?
Brad Madison led Missouri in sacks last season, but did it as a backup. Fellow defensive end Aldon Smith is gone now, though, and Madison slides into a starting role. What's he have in store for 2011?
Like Madison, Damontre Moore filled in for an injured future top 10 pick early in the season, and excelled. Moore, though, did it as a true freshman. Once Von Miller got to full strength from his ankle injury, Moore was relegated back to the bench. Will he become a household name as a sophomore?
Baylor's
Josh Gordon
showed some flash as a sophomore in 2010, but has the size and speed to become one of college football's top receivers. Will that potential turn to production?
Joseph Randle
caught more passes last year than every running back but DeMarco Murray. This year, though, he'll be counted on in a bigger role in the running game. What will be bring as a sophomore?
Corey Nelson made huge waves this spring, further intensified when Oklahoma coach Bob Stoops called him the best player on the defense. There's no room for him, it would seem, in the starting lineup for the Sooners, but he'll be on the field somehow. Can he crash the party?
May, 2, 2011
5/02/11
9:00
AM CT
The NFL draft has come and gone, and I hope you're all prepared for no more NFL anything for awhile. I know I'm not.
Anyway, here's how the Big 12 shook out over the weekend, with a few thoughts to follow.
First round (8)
Second round (2)
Third round (2)
Fourth round (6)
Fifth round (3)
Sixth round (1)
Seventh round (8)
No. 216: Mikail Baker, CB, Baylor (St. Louis)

No. 227: Scotty McKnight, WR, Colorado (New York Jets)

No. 229: Jonathan Nelson, DB, Oklahoma (St. Louis)

No. 232: Baron Batch, RB, Texas Tech (Pittsburgh)

No. 234: Andrew Gachkar, LB, Missouri (San Diego)

No. 246: Jay Finley, RB, Baylor (Cincinnati)

No. 247: Jeremy Beal, DE, Oklahoma (Denver)

No. 248: Eric Hagg, S, Nebraska (Cleveland)
Here's how the Big 12 teams ranked in terms of total draftees:
1. Nebraska
- 7
2. Baylor
- 4
2. Colorado
- 4
2. Oklahoma
- 4
2. Texas -
4
6. Missouri
- 3
7. Kansas State
-1
7. Oklahoma State
- 1
7. Texas A&M
- 1
7. Texas Tech
- 1
11. Iowa State
- 0
11. Kansas
- 0
And the major conferences (counting where players
actually
played):
SEC
- 38
Pac-12
- 33
Big 12
- 30
Big Ten
- 29
ACC
- 35
Big East
- 22
Texas A&M had just one player drafted, but the Aggies will have plenty next year, including a handful of possible first-rounders. Cyrus Gray, Ryan Tannehill and Jeff Fuller could all go very early in 2012, depending on what happens between now and then.

[+] Enlarge

Matthew Emmons/US PresswireOklahoma defensive end Jeremy Beal was drafted in the seventh round by Denver.

Interesting that Miller went 245 selections before the Big 12's Defensive Player of the Year, according to the media, Jeremy Beal. Also an interesting coincidence? The same team drafted both. I do think Beal will have a productive NFL career, and there's no denying what he did at Oklahoma, but the measurables were never quite there for Beal. What's not measurable? How difficult he is to block. That said, Miller was my vote for the Big 12's Defensive Player of the Year.

Good to see some hard-working, perhaps under-respected guys get drafted. This was an important year for that, considering those left over won't be able to get into NFL minicamps until the lockout ends and won't be able to do anything to further their NFL careers besides work out on their own. I'll have a post later today on some of those snubs. There's no guarantee that late-drafted guys like Baron Batch, Scotty McKnight, Jay Finley or Eric Hagg will catch on in the the pros, but I'd be willing to guarantee they'll do everything in their power to maximize what opportunities they get.

One of the most interesting selections? Mikail Baker. He wasn't invited to the combine, and played just one full season on defense at Baylor after working as a kick returner and a cornerback in 2009 before a season-ending knee injury. You don't see that kind of impressive athleticism at Baylor traditionally.

Let the debate continue: Kendall Hunter vs. DeMarco Murray. Murray getting drafted 40-some spots earlier only intensified that discussion, if you ask me.

Also, what's more impressive from Art Briles? That Baylor had four picks, the most in school history since 1996? Or that despite those four picks, Baylor's returning an even better team than last season, when it ended a 16-year bowl drought?

Colorado's draft, meanwhile? Not exactly a ringing endorsement for Dan Hawkins' coaching job in Boulder.

Alex Henery didn't win the Lou Groza Award, but his fourth-round selection makes him the earliest kicker draft pick since 2006. Will that end the state of Nebraska's blood feud against respectable OSU kicker Dan Bailey, who did win the Lou Groza Award? I doubt it. (Save your emails. For the 100th time, I agree, Nebraska fans. Henery > Bailey.)

A few guys who went way lower than I thought they would. In order of my surprise level: Beal, Gabbert, Amukamara, Hagg, Hunter.

A few guys who went way higher than I thought, in the same order: Aldon Smith, Batch, Gachkar, Baker.
April, 29, 2011
4/29/11
1:01
PM CT
The last time Texas and Oklahoma didn't have a first-round pick?
That was 1998.
The following year, Kansas State and Texas A&M battled for the Big 12 title, with the Aggies earning a berth in the Sugar Bowl.
Every year since, the Sooners or Longhorns have played for a Big 12 title -- winning nine of 12 championships -- and at least one program had a first-rounder the following April.
[+] Enlarge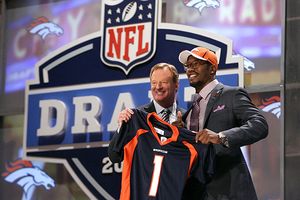 Jerry Lai/US PresswireVon Miller, the No. 2 overall pick, was the first Aggie taken in the first round since 2003.
That streak ended on Thursday night. In a new 10-team Big 12, could we see a new champion come fall? Texas or Oklahoma have won every Big 12 title since 2004.
Oklahoma will be a tough out next year, likely to open the season atop the polls. Next year, they're sure to have at least one first-round pick, and perhaps more. Texas struggled to a 5-7 season in 2010 and will start anew with a handful of fresh faces on the coaching staff in 2011.
But Oklahoma and Texas aside, it's impossible to ignore the rise that other programs in the Big 12 have experienced, culminating in a historic night for three programs.
Excusing Texas' last season, this year's first round is more about Big 12 programs building something big than Oklahoma or Texas eroding.
Want to give your program added credibility? Draft picks are second only to wins in doing so. Nights like these schools had will pay off on the recruiting trail in the future.
Baylor topped the list, adding its second and third first-round picks in Big 12 history. Before Jason Smith in 2009, the Bears hadn't had one. The last time two players from the program were picked in the first round in the same year? 1957.
Phil Taylor
and
Danny Watkins
both were drafted earlier than projected, with Taylor headed to the
Cleveland Browns
and Watkins the
Philadelphia Eagles
. Along the way, Watkins
provided one of the night's signature moments
when his five Canadian firefighter buddies cheered him on from the stands with Watkins pointing in their direction from the stage.
Missouri is further along in its own rise, adding a pair of top 10 picks after having none since Justin Smith went fourth overall in 2001.
Aldon Smith
pulled a surprise, going seventh overall to the
San Francisco 49ers
, significantly earlier than most mock drafts had placed him, and shockingly, ahead of his quarterback.
Blaine Gabbert
followed three picks later, when the
Jacksonville Jaguars
selected him at No. 10.
That gave the Tigers five first-round picks in three years after Smith had previously been the lone first-rounder for Mizzou since the Big 12 began in 1996.
Von Miller
went No. 2 to the
Denver Broncos
, the Aggies first first-round pick since 2003.
Missouri's come the closest of any team in that group to a Big 12 title, reaching the Big 12 title game in 2007 and 2008, where it lost to Oklahoma.
Will either of the three teams eventually reach a Big 12 title? Who knows. But it's clear that all three programs have coaches that are getting them closer and closer.
All three teams are deeper than ever, well-equipped to weather this talent drain. Texas A&M should start the season in the top 15 and looks like a title contender. Despite losing Gabbert, Missouri is better than ever nearly everywhere else. Baylor is building on its first bowl appearance since 1994 and has a great chance to exceed its seven wins from 2010.
Texas and Oklahoma have run the Big 12 on the field for a long time. There are no guarantees in this game, but last night's draft is more evidence that their monopoly could be in jeopardy.
February, 16, 2011
2/16/11
1:57
PM CT
Springtime is almost here. And here's a look at what to expect across the Big 12 when it gets into full swing here in the next couple weeks.
BAYLOR BEARS

Spring practice starts:
February 28
Spring game:
April 2
What to watch:
Big changes on defense. Baylor brought in Phil Bennett as its new defensive coordinator, and he says his scheme will be multiple, built to fit the Bears' personnel. Considering the Bears' recent recruiting successes in the secondary, look for a 4-2-5 type of look.
Recruiting stars: time to shine. Both safeties, Tim Atchison and Byron Landor, are gone. Baylor, though, has two former ESPNU 150 recruits at safety who would be well served to start filling their potential. Prince Kent was a reserve last season and at one time, the nation's No. 51 overall recruit who originally signed with Miami. Ahmad Dixon, meanwhile, was the No. 15 overall prospect in the 2010 class. The opportunity is there. Baylor needs big talent at the position. Briles has recruited it. Can they develop into players who make Baylor a contender?
Running back competition. Jay Finley topped 1,200 yards in 2010, but he's gone. Who steps into his void? Terrance Ganaway is a bowling ball at 5-foot-11, 235 pounds, but the shifty Jarred Salubi could get a good amount of carries, too. They could begin to share carries this spring.
IOWA STATE CYCLONES

Spring practice starts:
March 22
Spring game:
April 16
What to watch:
Quarterback competition. It should be a good one in Ames this spring. Jerome Tiller is the name most recognize after getting lots of meaningful time and starts because of injuries to Austen Arnaud over the past two seasons. But juco transfer Steele Jantz sounds confident he can win the job. Rising sophomore James Capello and redshirt freshman Jared Barnett will compete, too.
Paging Cyclone receivers. Iowa State had one of the most underwhelming receiving corps in the league during the past season, and three of its top five pass-catchers won't return in 2011. Of those three, however, one is a tight end (Collin Franklin) and another is a running back (Alexander Robinson). The new quarterback will need some help, and Darius Darks and Darius Reynolds will need to provide it as seniors.
Shontrelle's time or not? Freshman Shontrelle Johnson looked like the running back with the most pop behind Robinson for most of 2010, but two other freshmen running backs jockeyed for carries, too. Paul Rhoads is hardly handing the job over to Johnson, but spring could be the time when he really separates himself from the pack.
KANSAS JAYHAWKS

Spring practice starts:
April 1
Spring game:
April 30
What to watch:
What are they doing behind center? Kansas never got much consistent play out of the quarterback position last year, but freshman Brock Berglund is one of the 2011 class' top recruits, and enrolled early to compete in the spring with Jordan Webb and Quinn Mecham. With a building program like Kansas, there's perhaps some value in handing the program to a younger player like Webb or Berglund, but they'll have to earn it. Doing so will start in the spring, but don't expect the Jayhawks to have a set-in-stone starter by spring's end.
Top linebacker back on the field. Huldon Tharp missed all of 2010 with a foot injury, but he says he's 100 percent and ready to get back on the field. As a freshman in 2009, he was fifth on the team in tackles, with 59, and looked like one of the league's possible budding stars. Now, he'll get his chance to join fellow linebacker Steven Johnson as one of the team's top tacklers, and he'll do it as a sophomore after redshirting in 2010.
Toben rising? Turner Gill raised plenty of eyebrows when he moved his team's leading rusher in 2009, Toben Opurum, to linebacker in fall camp, and eventually slid him up to defensive end. But toward the end of 2010, Opurum started showing some major signs of growth at the position. We'll get a better idea this spring if he's one of the league's most unlikely new stars at defensive end.
KANSAS STATE WILDCATS

Spring practice starts:
April 6
Spring game:
April 30
What to watch:
Prodigal Kansan sons come home. There's no doubt that the Wichita native Brown brothers are the main attraction at Kansas State this spring, a season after transferring back home. Bryce Brown, the running back, was the nation's No. 8 prospect in the 2009 class. Arthur Brown, the linebacker, was the nation's No. 6 prospect in the 2008 class. Bryce transferred from Tennessee and Arthur from Miami. The Wildcats are pinning much of their hopes on the duo, and we'll get a good sense of what they can provide soon.
Quarterback competition. Carson Coffman is gone, and two new faces will challenge for the job: juco transfer Justin Tuggle and Daniel Sams. Sammuel Lamur is also up for the gig. Collin Klein may or may not be; Bill Snyder hasn't explicitly confirmed a past comment from Sams saying Klein had moved to receiver. Don't expect a starter to be named by spring's end, but a general order could start to form.
Can the defense show improvement? Kansas State had the Big 12's worst overall defense last year, and the worst rushing defense in college football, giving up 3,008 yards on the ground. Coordinator Chris Cosh looks like he'll still be around in 2011, and defensive backs David Garrett and Tysyn Hartman are solid pieces to try and build around. But this young maturing defense must get better to make a bowl game again with so many questions on offense. That starts in the spring.
MISSOURI TIGERS

Spring practice starts:
March 8
Spring game:
April 16
What to watch:
Franklin comes alive! Blaine Gabbert bolted to the NFL early, and Missouri has a gaping hole a quarterback. The position, however, is surrounded by a lot of quality talent that likely makes the Tigers a Top 25 team. There's no understating the importance of the position for the Tigers, and that will begin to be decided in the spring. James Franklin, a rising sophomore, saw spot duty in 2010 as more of a runner, and may have the inside track on the job, but Tyler Gabbert, Blaine's younger brother, and Ashton Glaser should make it an interesting competition in the spring. If neither of them impress early, don't count out incoming freshman Corbin Berkstresser.
Here is the new secondary. Same as the old secondary? After years of pass defense being one of the Tigers' biggest weaknesses, it became a strength in 2010 behind the leadership of senior corners Kevin Rutland and Carl Gettis. But the Tigers lose them and safety Jarrell Harrison. Rutland emerged as one of the team's most impressive players last spring, but was Missouri's success in the secondary a one-time thing or the beginning of a welcome trend?
Time to dominate the trenches? Missouri played without likely first-round pick Aldon Smith for much of the previous season, but the defensive and offensive lines for the Tigers were as good as ever in 2010. How will they look in 2011? Impact juco transfer Sheldon Richardson won't be enrolled by the spring, but the four returning starters on the offensive line should get some solid work against Brad Madison, Jacquies Smith and Terrell Resonno.
OKLAHOMA SOONERS

Spring practice starts:
March 21
Spring game:
April 16
What to watch:
Freshmen on display. Coach Bob Stoops hasn't been shy about saying his 2010 recruiting class was his best ever, but it could look even better after this spring. Two of his best emerging recruits, Justin McCay and Geneo Grissom, didn't even play in 2010, and could start to make an impact. The same goes for Corey Nelson, who will try to earn some more time somewhere backing up star Travis Lewis.
Is there a golden boot in Norman? Jimmy Stevens was much more accurate in 2010, finishing 19-for-23, but his attempts outside 45 yards were sparse. The good news is he missed none of his 53 extra points. Field goals have been a bit of an adventure for the past couple years, but continuing in the spring what he started last year would be a good sign for Oklahoma. The Sooners are strong everywhere and need good special teams play to reach their lofty title goals.
Are the Sooners' backs back? Roy Finch missed the Fiesta Bowl with a stress fracture, and his durability is certainly questionable entering 2011. When he's healthy, he looks like the next star in the Sooners' backfield, but they'll need some depth behind the 5-foot-8, 173-pounder. Jermie Calhoun, Jonathan Miller and Brennan Clay have all looked good at times, but there should be some good competition from newcomers Brandon Wegher, an Iowa transfer who'll be in camp this spring and eligible next season, and blue-chip recruit Brandon Williams, who enrolled early.
OKLAHOMA STATE COWBOYS

Spring practice starts
: March 7
Spring game
: April 16
What to watch
:
Every piece of the offense. The spring in Stillwater is all about keeping or improving upon the status quo. Had it kept Dana Holgorsen, there'd be little doubt that would happen, but Oklahoma State must make the most of its five returning offensive linemen, quarterback Brandon Weeden and receiver Justin Blackmon. The opportunity for a historic season is there, but they'll have to pick up the nuances of the new offense quickly in the spring like they did last year.
What about the kicker? Dan Bailey won the Lou Groza Award as the nation's top kicker in 2010, but he's gone. Oklahoma State needs to fill that role quickly, and we'll likely know who will get the nod after the spring.
Who steps up on the defensive line? The Cowboys lose three starters up front on defense, including All-Big 12 performer Ugo Chinasa and tackles Chris Donaldson and Shane Jarka. Can senior Richetti Jones become a star in the Big 12? We'll have a good idea if he, or any of the Cowboys' other defensive linemen, can by the end of April.
TEXAS LONGHORNS

Spring practice starts
: February 24
Spring game
: April 3
What to watch
:
New coaches and their students/players. Texas has five new coaches. Although it's hard to get a good read early on, how they relate with the players on the field, in the film room and around the facilities will have a big impact on how the 2011 season plays out in Austin. The young-blooded coordinators could serve themselves well by relating to players and the players will need to spend plenty of extra time learning new schemes and plays.
Quarterback competition ... or not? Mack Brown says the gig is open and it is, for now. Garrett Gilbert can close it with a strong spring. If Garrett struggles on the field or has difficulty grasping the new system, the door will be wide open for Connor Wood or Case McCoy to step in and close it. Gilbert didn't get much help, but he did very little in 2010 to inspire a lot of breathing room with McCoy and Wood clamoring for playing time.
And you've got to defend the pass, too. Texas loses its top three cornerbacks to the NFL, and only Carrington Byndom and A.J. White got much meaningful playing time last season. Younger players can earn some rare early playing time with a strong spring. Will anyone step up?
TEXAS A&M AGGIES

Spring practice starts
: March 22
Spring game
: April 16
What to watch
:
New linebackers in the running. Spring isn't so scary when you bring back nine defensive starters, but the two Texas A&M lost were the heart of its defense. Linebackers Michael Hodges and Von Miller are gone. Kyle Mangan didn't look fantastic when forced into action during the Cotton Bowl, but the time is now for Damontre Moore and Dominique Patterson, a pair of sophomores, to make their impact.
Tannehill's tuning things up. Quarterback Ryan Tannehill played about as well as anyone could have hoped late last season, but he'll need it to continue his performance with a solid spring nailing down the timing with his receivers, who all return. He's already got a leg up on last year's quarterback, Jerrod Johnson, who was held out of team drills last spring after shoulder surgery that eventually derailed his senior season.
Christine's back. Christine Michael missed the second half of the season with a broken leg, giving way to Cyrus Gray's rise among Big 12 backs. It should make Texas A&M's depth at the position even more impressive, but we'll see how Michael looks coming back from the injury.
TEXAS TECH RED RAIDERS

Spring practice starts
: February 19
Spring game
: March 26
What to watch
:
Past defending that pass defense. Texas Tech had the Big 12's worst pass defense last season, but has a pair of big potential players at cornerback in rising sophomores Tre Porter and Jarvis Phillips. Starters LaRon Moore and Franklin Mitchem are gone, but if returning starters Cody Davis and Will Ford can continue to mature, the defense should improve in the area most important for success in the Big 12.
And they're off! There's a four-man quarterback derby set in Lubbock this spring between Seth Doege, Jacob Karam, Michael Brewer and Scotty Young. I don't expect it to be settled until midway through fall camp, similar to last season, but there should be a solid front-runner and more clarity after spring. Coach Tommy Tuberville was extremely impressed with Doege and Karam last spring after Taylor Potts and Steven Sheffield went down with injuries.
Time to find new stars. Most of the big names on Texas Tech's defense are gone. Colby Whitlock, Bront Bird, Brian Duncan will all continue their careers elsewhere. The leaders on the defense will have to begin to emerge in the spring. Is it Scott Smith? Cody Davis? A younger, unexpected player? We'll find out. Sometimes these types of situations aren't as easy to predict as they might seem, like Missouri's strength in 2010 emerging in the secondary.