Dallas Colleges:

Alex Sezer
September, 26, 2013
9/26/13
1:00
PM CT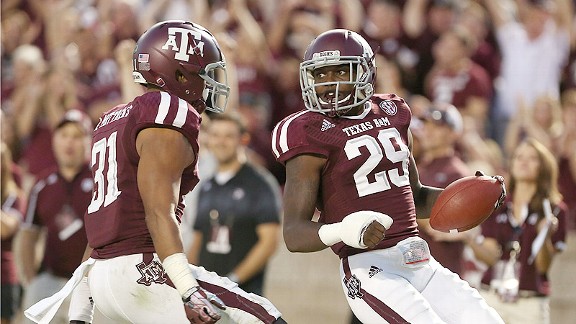 Thomas B. Shea/Getty ImagesTexas A&M's willingness to use starters such as safety Deshazor Everett (right) on special teams has allowed the Aggies to have one of the best units in the SEC.
COLLEGE STATION, Texas — When Alabama receiver and return specialist
Christion Jones
carried the ball out of the end zone on the Crimson Tide's first kickoff return against Texas A&M on Sept. 14, he was quickly faced with a host of defenders.
The first Aggie to make contact was cornerback
Tramain Jacobs
. Defensive back
Toney Hurd Jr
. followed him by wrapping up Jones for a tackle. If Hurd would have been unable to wrap him up, cornerback
Deshazor Everett
was nearby, and so was linebacker
Steven Jenkins
.
The common thread among the above names? They're all either regular starters or players who have started before for the Aggies.
Special teams -- kickoff and punt coverage units in particular -- are a place where many non-starters find their homes, and Texas A&M is no different. But the Aggies' coaching staff is also liberal about using its best players when the need arises.
The Alabama game was a prime example. With the threat of a return man such as Jones, who returned a punt and a kickoff for a touchdown in the Crimson Tide's season-opening win against Virginia Tech, Texas A&M special teams coordinator Jeff Banks wanted to ensure he had the best players available to prevent Jones from making a game-breaking play. The Aggies got the desired result, as Jones finished with 83 yards on four kickoff returns and just 5 yards on his one punt return.
"We're
always
going to use the best players," Banks said. "Coach Sumlin's an advocate of 'Jeff, you just tell me who you need and who you want and that's how we're going to do things.'"
Banks said offensive coordinator Clarence McKinney, defensive coordinator Mark Snyder or any of the other A&M assistants also have no qualms about the policy. Since he has been at Texas A&M, Banks said not one coach has said a word about who he can use or not use on special teams, whether it's in the return game or punt or kick coverage.
That luxury is something Banks, who is in his first year in Aggieland, hasn't always had in his career as a special teams coach.
"Usually you get a deal where it's 'Hey, take that guy off of there,' or 'Hey, don't use that guy,'" Banks said. "And here's my deal with that: That's fine. Because I try to be as flexible as I can because we're dealing with 60-80 people and players that have to go in and out, seniors, veterans, juniors, sophomores, freshmen, true freshmen, you've got to coach what you can get and get the best on the field.
"But you also have to be careful because if you practice them in training camp for 30 days and then you get them in the first week and someone says 'Oh no, he can't play on that many special teams,' now you're playing a guy with no experience.'"
So the planning has to begin in August when preseason training camp starts. Banks tries to get a feel for which newcomers have the size, speed or physicality to contribute, and the first week of camp is largely spent trying out numerous players in different roles to get a feel for who he can rely on. The rest of training camp is about getting those that are going to make his two-deep on special teams as many repetitions as possible so that he's comfortable with who is out there come the start of the season.
Playing offensive and defensive starters is nothing new for a Sumlin-coached team. It was something done regularly at Houston when he was there. One of the Cougars' special teams aces in their 12-1 season in 2011 was running back Michael Hayes, who played a major role in the Cougars' backfield, but could regularly be seen making tackles in punt coverage.
That attitude has carried over to Texas A&M. McKinney, who also coaches running backs, made it clear to his position group in the spring of 2012 that they would be expected to contribute on special teams. Players accepted the challenge, and
Ben Malena
and
Trey Williams
became key players on special teams.
Malena eventually emerged as the starting running back for the Aggies last season and remains that this season but can be seen on the kickoff return team making blocks and last season spent time covering kicks and punts at times, too.
"You have to realize that special teams wins and loses games," Malena said. "You need the best players out there, whether you're a starter or just a special teams guy. If you're the best player at that position, we need you on the field to help us win. I just took that to heart and will do anything for my team to win."
The example set by players with that attitude has an effect on the younger players, many of whom have a role on special teams. Many true freshmen such as
Darian Claiborne
-- who started at linebacker last week -- linebacker
Shaan Washington
, safety
Jonathan Wiggins
and cornerbacks Alex Sezer and
Tavares Garner
are already playing key roles on coverage units, and the example set by their elders is important.
"It's huge," Banks said. "They see Ben in practice, they see Jenkins in practice, they see those guys doing special teams drills at a high level.
Howard Matthews
,
De'Vante Harris
, Floyd Raven when he was healthy. That's huge. That's bigger than anything I can say. When they go out there and they give us great effort as a staff, that sells it and now you get the buy-in of the younger guys."
Banks said it helps increase the desire for the younger players to contribute, particularly in high-profile games.
"You see the Alabama game and go 'Man, I want to be out there,'" Banks said. "Tavares Garner's a prime example. He gets substituted in for Deshazor Everett and he's like 'Man, I know Deshazor's a veteran guy and he's going to make the play, but I want to be in there.' Then he gets in there and makes a tackle."
There's a balance to be struck, however. Playing starters constantly on coverage teams can fatigue them, especially if they're playing a large amount of snaps on offense or defense. So Banks is conscious to employ the personnel wisely.
"You can't wear a guy out because a Deshazor Everett or a Toney Hurd is so good at everything, you can't overuse them and start them on four special teams and expect them to play 60-80 snaps on defense," Banks said. "There's kind of a responsibility on my end, because I've gotten the leeway from the head football coach and the coordinators to use whoever we want. I think it's really important that you don't take advantage of that deal either."
Complementing players such as
Sam Moeller
, who has been the Aggies' special teams player of the week twice already this season and doesn't have a major role on defense, with some of these starters are what help the Aggies find a mix that Banks and Sumlin hope lead to one them having one of the best special teams units in the SEC.
"With Coach Sumlin being as awesome as he is about letting us use whoever we need to in order to be the No. 1 team, special teams-wise, in the conference, I think we've got a good mix of him and I of making sure we have the right guys on there, but also give an opportunity to guys who maybe aren't starting on offense or defense," Banks said.
September, 6, 2013
9/06/13
10:42
AM CT
COLLEGE STATION, Texas -- The statistics weren't pretty.
Rice compiled 509 offensive yards, 306 of which were chewed up on the ground, against Texas A&M in its season opener. The most important stat -- the score, 52-31 in favor of the Aggies -- was what mattered in the end but with a defense that was gutted by suspensions and filled with newcomers playing for the first time, it provided for some early growing pains for Texas A&M defensive coordinator Mark Snyder.
Of the 16 true freshmen that saw the field in the Aggies' opener, 11 were defensive players. That doesn't include yet another newcomer, junior college transfer linebacker
Tommy Sanders
, meaning a dozen defensive players who appeared on Saturday were newcomers.
[+] Enlarge
Thomas Campbell/USA TODAY SportsTexas A&M freshman corner Alex Sezer got some much-needed game experience against Rice.
"They all had goods and bads, all the guys that played," Snyder said. "You could tell, pregame, over at the hotel there was a little bit of nervousness. You can imagine being 18 and being in front of all those people."
The Aggies have FCS opponent Sam Houston State this week, but they still won't have their full arsenal of defensive players. Cornerback
De'Vante Harris
, linebacker
Steven Jenkins
and defensive end
Gavin Stansbury
-- all three of whom are starters -- will miss the game while serving the second of a two-game suspension for violating athletic department rules. Cornerback
Deshazor Everett
will miss the first half because he was ejected for targeting in the second half of the Rice win and, by rule, must sit out the first half of this game as a result. Freshman defensive end
Daeshon Hall
will also miss the first half after being ejected in the second half for throwing a punch at Rice player.
While the Aggies are heavily favored and the losses are unlikely to keep Texas A&M from winning this week, it does pose an interesting dilemma for Snyder and his staff moving forward. The first time the full complement of defensive players will be available for the Aggies will be Sept. 14, for the showdown against Alabama.
"The good thing is we're going to be fresh, that's for sure," Snyder joked. "We're going to be injury-free and we're going to be fresh."
Snyder noted that the advantage for Alabama in that regard might not be as significant since the Crimson Tide have an open date this weekend, so they'll only have one more game under their belts than the Aggies' suspended players do come next weekend. Those players are still practicing -- with the second-team -- and getting repetitions in the meantime.
There were some short-term struggles with so many new bodies on the field, even in play-calling. Snyder said he couldn't "get in a rhythm," calling plays because of how many new pieces and moving parts there were.
"[Rice] came out and showed us some things that we had not seen and not having a veteran group, I can't call timeout and run out on the field and say 'Hey, they're getting in diamond formation and running three levels, or they're getting three out into the flat weak,'" Snyder said. "Those are things that we had to get adjusted."
Snyder was encouraged by how much better the defense performed in the second half, making adjustments and responding to the coaching given at halftime. The unit came up with two turnovers and didn't allow the Owls to score in the first three series of the third quarter. Snyder looks as the growing pains and the game experience that freshmen like linebacker
Darian Claiborne
, cornerback Alex Sezer and a host of others received as an advantage down the road.
"We're building depth right now for our future, for the rest of this season," Snyder said. "So what might be hurting us right now, in the future is going to help us. We've got to live with that and we've got to deal with that."
September, 4, 2013
9/04/13
10:00
AM CT
COLLEGE STATION, Texas -- Silence isn't a word typically synonymous with a stadium hosting more than 86,000 rabid fans, particularly at Kyle Field, where Texas A&M is known to hold a tremendous home-field advantage.
But silence is a key word in describing some of the growing pains the Aggies had to go through in their season-opening win against Rice on Saturday, as they played 16 true freshmen, 11 of which were defensive players.
A&M coach Kevin Sumlin illustrated that point thusly:
"We had a couple situations where a couple guys actually froze up out there and wouldn't even open their mouths and couldn't get lined up," Sumlin said after Saturday's 52-31 victory. "The D-line said they couldn't hear and then one of them admitted to me "Coach, I just didn't say anything. I was just standing there.'"
Not exactly what a coach is looking to hear from defensive players, particularly when facing a no-huddle offense. Communication, especially in those situations, is key for a defense.
[+] Enlarge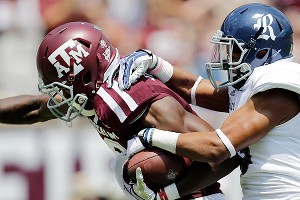 AP Photo/Eric GayFreshman wide receiver Ricky Seals-Jones made an impact in his college debut, hauling in a 71-yard touchdown pass.
But that was the position the Aggies were put in, missing eight players to start the game, six on defense -- including five defensive players who were listed as starters on the week's depth chart -- because of suspensions. There were true freshmen playing in every defensive position group, plus some at receiver. That doesn't include a handful of redshirt freshmen and junior college players who were making their debuts as well.
The Aggies coaches did what they could to prepare their newcomers, but some lessons are only learned the hard way.
"It's like anything else," Sumlin said. "As a coach, you try to prepare guys for all situations, but until the live bullets are flying, you don't know. It'll get better as it goes on, but I think the experience that we gained from today will help us down the road, a bunch. Particularly [in the front seven] because that's where most of the guys are gone."
The struggles were clear. As the defense tried to find its footing, Rice showed the ability to move the ball with ease. The Owls finished the game with 509 total offensive yards, including 306 rushing. The last time they gave up that many offensive yards was in their marathon battle against Louisiana Tech last October (615) and they haven't allowed that many rushing yards since a 66-28 drubbing at the hands of Oklahoma on Nov. 8, 2008.
True freshman played on the defensive line (
Jay Arnold
,
Isaiah Golden
,
Daeshon Hall
and
Hardreck Walker
), at linebacker (
Darian Claiborne
,
Jordan Mastrogiovanni
,
Shaan Washington
) and defensive back (
Noel Ellis
,
Tavares Garner
,
Alex Sezer Jr
. and
Jonathan Wiggins
).
"There's no way to duplicate the tempo and the emotion [of a game]," Sumlin said on Tuesday. "You know what you're doing, but the pressure to perform in that environment can be very, very difficult on a young guy, and that's what experience is all about."
Offensively, the Aggies were much better off. Even though
Matt Joeckel
made his first career start at quarterback, he's a junior who has spent more than a year practicing in the offense and he had at least seen some game time. Center
Mike Matthews
, who received high praise from Sumlin on Tuesday, also played in games and traveled with the team last season.
The true freshmen who saw the field for the first time on offense were all receivers:
Ricky Seals-Jones
,
Jeremy Tabuyo
,
LaQuvionte Gonzalez
and
Ja'Quay Williams
. But because there were more experienced players surrounding them on Saturday, not to mention Heisman Trophy winner
Johnny Manziel
entered the game in the third quarter, the transition was smoother for the Aggies' offense.
In total, 21 newcomers saw the field for Texas A&M on Saturday, many in significant roles. Plenty will log significant time this Saturday against Sam Houston State, as four players received two-game suspensions and won't be back until Sept. 14 against Alabama. With a signing class of 31 players in February, there was no question the Aggies were going to need some of the newcomers to contribute. By being forced to play so many in the first game, Sumlin feels like it could be a positive later in the season.
"[It's] a real, real learning experience," Sumlin said. "I think for those guys, that's going to pay dividends for us down the road."
August, 28, 2013
8/28/13
11:30
AM CT
COLLEGE STATION, Texas -- Texas A&M held its regularly scheduled weekly news conference on Tuesday in advance of its season opener against Rice on Saturday. While many wonder about the status of quarterback Johnny Manziel, there are other things to keep an eye on. Here are five storylines facing the Aggies as they await the Owls at Kyle Field:
1. Will Manziel play?
That's what Texas A&M fans and much of the college football wants to know: will Heisman Trophy winner Johnny Manziel start on Saturday for Texas A&M? The question remains unanswered officially. Athletic director Eric Hyman released a statement on Monday evening indicated that he instructed the coaching staff and players to not comment on Manziel's status. When Kevin Sumlin was asked about it on Tuesday he said "We're not discussing that....I can't talk about how that decision is going to be made and what goes into that decision. I said from day one, the first day [of training camp], that there will be a lot of people involved in that decision. So what goes into how that decision's made, obviously I can't discuss." So for now, the wait continues.
[+] Enlarge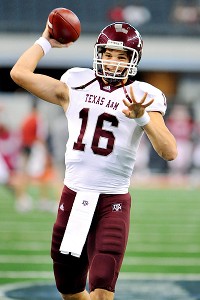 Icon SMIIf defending Heisman Trophy winner Johnny Manziel is held out Saturday against Rice, it could be up to junior Matt Joeckel to lead the Aggies.
2. What if Manziel doesn't play?
At this point, the Aggies turn to either junior Matt Joeckel or true freshman Kenny Hill. Both received praise from coaches and teammates alike on Tuesday. Senior running back Ben Malena said he believes the team will be comfortable with whoever is taking snaps on Saturday. Offensive coordinator Clarence McKinney said offensively, the Aggies would still remain the same. Joeckel brings the presence of a pocket passer who has already spent a year learning the offense while Hill is a dual threat who can run and throw and has had to learn the offense quickly. But on Tuesday, the Aggies appeared confident in both of them should either be pressed into duty.
3. New faces
Sumlin advised fans attending Saturday's game to "buy a program or bring a flip card," because of how many newcomers will see time on the field. Of the 31 players who signed with the Aggies in February, Sumlin said he expects at least 10 to play a role this season, and perhaps as many as 15. Some of the notable newcomers to look for on Saturday include freshmen receivers Ricky Seals-Jones and LaQuvionte Gonzalez, tight end Cameron Clear, who was a juco transfer, linebacker Tommy Sanders -- also a juco transfer -- and true freshman linebacker Shaan Washington. Look for even more newcomers to get looks on special teams, including some of the aforementioned names.
4. Missing personnel
There are suspensions facing three defensive players: senior defensive tackle Kirby Ennis, junior cornerback Deshazor Everett and junior safety Floyd Raven, all three of whom had off-the-field legal trouble this offseason. Ennis and Raven will miss the entire game; Everett will miss a half. Ennis is a starter, so that means you could see a true freshman -- either Isaiah Golden or Hardreck Walker -- in his place when the Aggies go to four defensive linemen. In place of Everett, also a starter, defensive coordinator Mark Snyder said that the Aggies will rotate cornerbacks. Expect to see a heavy dose of Tramain Jacobs but possibly some freshmen such as Alex Sezer, Victor Davis or Tavares Garner as possibilities.Raven isn't listed as the starter at free safety like he was coming out of spring football. Instead, it's junior Clay Honeycutt, who Snyder was complimentary of on Tuesday. Honeycutt, a former high school quarterback at Dickinson (Texas) High, has come a long way according to Snyder and has earned himself the start against Rice.
Also of note, running back Brandon Williams [foot surgery] might be limited. Offensive coordinator Clarence McKinney said "I wouldn't expect to see a lot from Brandon on Saturday."
5. Familiar foes
The Aggies and Owls haven't met on the field since the Southwest Conference folded in 1995, as both teams were part of the now-defunct league, but the coaching staffs do have recent history. David Bailiff is in his seventh season at Rice, a rival of Houston, where Sumlin was the head coach for four seasons (2008-2011). Snyder also stood on a sideline opposite Bailiff when Snyder was the head coach at Marshall from 2005-09. Sumlin's staff also recruited Rice starting quarterback Taylor McHargue when Sumlin was with the Cougars. So there is plenty of familiarity, at least in terms of coaching staffs, between the two squads.