Dallas Colleges:

Anthony Jones
March, 23, 2012
3/23/12
11:03
PM CT
ATLANTA -- Baylor had every right to be concerned this past offseason.
The Bears went from the Elite Eight to no postseason at all. After losing
Perry Jones III
for the Big 12 tournament, when he was deemed ineligible for extra benefits, Baylor didn't receive an NIT bid. Didn't even receive a CBI bid.
The Bears were shut out after an Elite Eight appearance. And it hurt.
"We were upset by the fact that we weren't even invited to the NIT,'' said Baylor senior forward
Anthony Jones
. "We didn't want our season to end the way it did last year.''
But if Baylor wanted to be taken seriously, the Bears had to follow through with a rebound season in 2011-12 or else there would be serious questions about if this program was a one-hit wonder.
"That was the beginning of this season,'' said Baylor coach Scott Drew of the postseason shutout. "We were devastated and disappointed. At the same time, that motivated us to all come back and finish what we knew we were capable of.''
Well, a year later, the Bears are back in the Elite Eight after a
75-70 victory over Xavier
, placing them in rare company of programs that will play in a regional final in two of the past three years. BU joins North Carolina, and perhaps Kentucky and Kansas later tonight.
And, for the second time in three seasons, there's a good chance the Bears could face the potential champion to get to the Final Four.
Two years ago, the Bears lost to eventual champion Duke in the Elite Eight in Houston. This season they'll likely have to get past Kentucky to get to New Orleans.
[+] Enlarge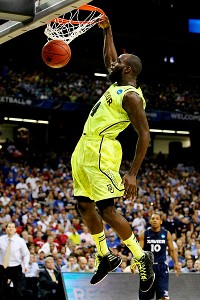 Kevin C. Cox/Getty ImagesQuincy Acy scored 20 points, grabbed 15 rebounds and had several impressive dunks against Xavier.
"Losing to Duke, and how close we were to winning a championship showed the team that we could compete for a national title,'' Drew said. "The reality was that we weren't that far from it.''
This group is a much more experienced team than even the Elite Eight team in 2010, and certainly more so than last season.
The Bears didn't have a point guard with as much playmaking and sturdiness as
Pierre Jackson
. They didn't have a sharp shooter like
Brady Heslip
.
And they didn't have a force like
Quincy Acy
. He was there, but he wasn't even close to the player he is now.
Acy was a dominant presence in spurts against Xavier on Friday. The Bears raced out to a 14-2 start and whenever the Bears wanted to re-assert themselves, Acy was there with a ferocious flush.
"Last year was our motivation,'' said Acy. "We worked harder than ever before in the preseason. We had high motivation. None of us wanted to go out like that. Perry didn't have a postseason.''
Jones III made the decision to come back despite having to sit the first five games of this season. Jones III has had his enigmatic moments, but he also has proven to be a tough matchup. A few lobs in the second half were difference-makers for the Bears.
"We started to get stops and threw a different defense at them,'' Acy said. "We still need to do a better job of holding leads. We still need to work on that.''
The Bears have the length and athleticism to beat Indiana and certainly to match up with Kentucky.
"This is crazy, to go from sophomore year to the Elite Eight, to junior year no postseason and then back to the Elite Eight with a chance to go to the Final Four, it's indescribable,''
Anthony Jones
said. "Senior leadership is the difference. Talent-wise, we're a much better team.
"A lot of people in the country want to see this matchup,'' Jones said of playing Kentucky. "We can take it up another level.''
Drew has often been criticized for his coaching, and some rival coaches love to make it seem like he pulled off a get-rich scheme to put Baylor on the map so soon after the scandal that rocked the university.
After another Elite Eight in such a brief period, Drew is starting to quiet all the dissenters.
Few coaches reach one Elite Eight. Now Drew has been to two.
"We've been blessed,'' Drew said. "I'll tell you how much after Sunday.''
March, 23, 2012
3/23/12
9:21
PM CT
ATLANTA -- A quick look at Baylor's
75-70 win over Xavier
in a Sweet 16 matchup at the Georgia Dome.
Overview:
If you had turned off the television or left the Georgia Dome five minutes into the game, you would have thought Baylor should just cut down the nets in New Orleans. The Bears had one of the more impressive starts in the NCAA tournament, getting off to a 14-2 lead to begin the game.


Baylor can look incredibly impressive when it's out in the open floor.
Quincy Acy
is a force when he can get to the basket, especially on a dunk.
Pierre Jackson
runs a fluid game, and
Brady Heslip
is one of the better complementary role players with his shooting in the field.
But the Bears don't put teams away. Xavier fought back by going inside to
Kenny Frease
and was within two scores a number of times in the second half. The Musketeers couldn't make enough 3s, and that ultimately might have been their undoing.
Baylor survived and advanced to the Elite Eight. Just think about that. Baylor is in its second Elite Eight in three seasons. Baylor. That should speak volumes about how far this program has come under Scott Drew.
Key player:
Quincy Acy. The Bears desperately need a physical force. They have tremendous length, but they don't always use that size and strength to their advantage. Acy was a man among boys at times Friday. His ferocious dunks should be made into freeze-frame posters to hand out at the Georgia Dome. Acy allowed the Bears to settle down when they got a little too wild, and finished with 15 rebounds and 20 points. If Acy continues to play this way, the Bears have a legitimate shot to hang with Kentucky and, perhaps, pull off an upset.
Key stat:
The Musketeers' 3-point shooting was a woeful 3-for-15.
Justin Martin
made two 3s in the game. If the Musketeers were going to come all the way back from a 14-2 deficit, they were going to need to make 3s. Xavier did a fine job of getting the ball inside to Frease during a 13-0 run late in the first half. But the scoring droughts from
Tu Holloway
in the second half didn't help. The Musketeers did get the lead down to six with a little more than a minute left -- on that second 3-pointer by Martin. Holloway hit his first 3-pointer of the game with just less than 20 seconds left to cut Baylor's lead to 71-68. Heslip then converted four free throws to help the Bears to a 75-70 final.
Turning point:
Perry Jones III
has been rather quiet throughout the NCAA tournament. But Jackson made sure he was assertive and helped snuff out a mini Xavier run that seemed to be turning momentum. Following an
Anthony Jones
3-pointer, Jones III received two lobs -- the first from Jackson -- and hit a face-up jumper, pushing the Bears to a nine-point lead. The Musketeers didn't go away quietly and had it down to five points. But Jones' assertiveness definitely helped shift momentum back to the Bears at a critical time.
What's next:
No. 3-seeded Baylor will take on No. 1-seeded Kentucky on Sunday at the Georgia Dome. This will be Baylor's second Elite Eight in three seasons. The Bears have Final Four potential. The problem is that they're in Kentucky's bracket. Put Baylor in the West bracket, and it's not close which team would be the favorite.
March, 22, 2012
3/22/12
11:03
PM CT
ATLANTA --
Perry Jones III
doesn't have to be dominant for Baylor to advance to the Elite Eight.
All he has to do is stay on the floor.
The 6-foot-11 Jones has been much-maligned this season. There are times when he looks like a top-10 NBA draft pick. There are other times when he's just another lanky, athletic big from Baylor.
But his presence is enough to warrant plenty of attention -- and that can end up meaning buckets inside for
Quincy Acy
or
Anthony Jones
, and certainly open 3s for
Brady Heslip
.
If Jones were playing hockey, he'd get plenty of assists from his passes that lead to the pass for the score.
Jones hasn't had a breakthrough scoring game since his 31 against Kansas State in the Big 12 tournament. The sophomore's numbers have dipped recently, and he has a combined nine points in the first two NCAA tournament games. But he did have 11 boards in a win over South Dakota State and four in the win over Colorado.
[+] Enlarge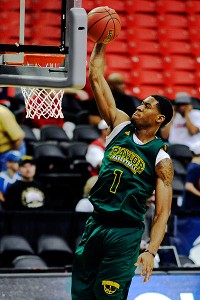 Richard Mackson/US PresswirePerry Jones III is showing that he doesn't have to score in bunches to be a factor for Baylor.
His offense wasn't needed in either game. But he did make the opposing teams pay attention.
"Sometimes my shot is not falling,'' Jones said Thursday in advance of Friday night's game against Xavier in the Sweet 16 at the Georgia Dome. "I shy away from keeping shooting the ball. Sometimes it's not my night. I mean, it doesn't bother me at all if we're winning the game. I feel like I help my team in other ways.''
Xavier will need to find Jones throughout the game Friday night.
"The best thing I can do is try to get the ball to whoever's hot in the game,'' Jones said. "If my shot's not falling, I'd rather go 1-for-7 than 1-for-20-something and then we lose. I just try to do something, just try to rebound, maybe get offensive rebounds, do whatever I can to help my team.''
Jones may have hurt his NBA draft stock a bit. But not much. You can't take away his length and athleticism. He still oozes potential. The goal in Atlanta is to ensure he's on the scouting report for the Musketeers.
And he will be.
"The best thing I can do is move forward and help our team break through for the next couple of games,'' Jones said.
If Baylor gets a chance to face Kentucky, Jones will need to be a factor against
Anthony Davis
and friends.
"You've got to have balance and that's the strength of our team,'' Baylor coach Scott Drew said. "We have unselfish players. Perry Jones wasn't making some shots the last two games that he normally does, but to his credit, a lot of times because of the help-side defense, he was making the hockey assist out, which led to baskets.
"Statistically, it doesn't show up, but at the end of the day, wins and losses are the most important thing. Without the front-line play, we definitely don't get two wins.''
Who to watch
Tu Holloway and Mark Lyons, Xavier:
The Xavier guards were the reason that some of us, notably me, picked the Musketeers to get to the Final Four in November.
The season has been a bit erratic, to say the least. But if this team advances, Holloway and Lyons will still be the reason. Holloway scored 21 points and made four 3s in the win over Lehigh in the third round. Lyons wasn't as productive, but he still made his presence felt.
Holloway was even more dominant in the win over Notre Dame. He scored 25 points and made an efficient 10 of 15 shots.
Brady Heslip, Baylor
: Heslip made nine 3s in the win over Colorado on Saturday. But the Musketeers are certainly going to defend him a bit tighter than the Buffs. Heslip still can deliver a dagger if he's open. The key will be to not play off him at any point.
"Any guy that can score 27 points in the NCAA tournament without dribbling, he's a really good player,'' Holloway said. "He's a great player. We have a lot of respect for not only him, but the Baylor team.''
"We have to make him take tough shots, because if he gets open, it's more than likely going to go down,'' Lyons said. "You've got to be ready to chase him.''
What to watch
Kenny Frease vs. the Baylor bigs:
Frease will have his hands full Friday night. The Xavier center has to stay out of foul trouble. He'll get some help from forward
Andre Walker
, but Frease must keep Perry Jones III, Quincy Acy and Anthony Jones off the offensive backboard.
If the Musketeers are going to have a chance to win, they must get second shots, too.
"We know the guards are going to be able to help us from the top, but we've got to take that responsibility on ourselves to try to contain [Jones] as much as possible,'' Frease said. "He'll pose a lot of problems for us, but it will depend on how we handle them.''
March, 18, 2012
3/18/12
9:28
AM CT
ALBUQUERQUE, N.M. --
Brady Heslip
was stocky, not exactly someone who looked like he was going to be an impact player when he arrived at Boston College in the middle of the season two years ago.
And his impact was minimal, since he had been stashed at New Hampton Prep (N.H.) for the fall semester before he joined the Eagles in December. Then the staff was fired. New Boston College coach Steve Donahue didn't see Heslip's potential, for whatever reason. Heslip said the two met, he wasn't in the plans and so he was out.
Former BC associate head coach Pat Duquette, who now has the same title at Northeastern, said he recruited Heslip out of Burlington, Ontario. Duquette said Heslip was "absolutely fearless, but physically more than you see. He had very long arms, which equaled a high release. And he had unusually big hands for a guard his size.''
Former BC head coach Al Skinner said by phone Saturday night that he liked Heslip's tough-minded approach.
"The thing about him was that he didn't hunt shots; he let the game come to him,'' Skinner said. "He executed well and was patient on the offensive end. He rarely takes a bad shot, and he had tremendous range.''
[+] Enlarge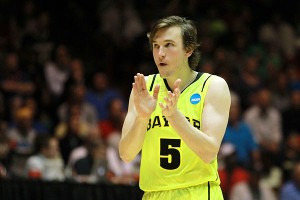 Ronald Martinez/Getty ImagesBrady Heslip hit nine 3-pointers on Saturday to help Baylor earn a school-record 29th win.
There was an AAU connection with his coach to the Baylor staff. He went on a visit to Waco, Texas, and was sold. Baylor coach Scott Drew said Heslip dropped 24 pounds. He was a gym rat. His teammates loved him. But little did they know what they were getting in return.
"I know how hard he's worked,'' Baylor's
Quincy Acy
said. "When he came in, we knew how good a shooter he was. Every time I went to the gym at night, I would see him in there sometimes twice a day. He works for it. I know whenever he gets hot, he can outshoot anybody.''
Heslip's impact Saturday night was epic for a Baylor program that is breaking barriers.
Heslip hit nine 3s for a career-high 27 points in Baylor's
80-63
victory over Colorado at the Pit, to propel the Bears to their second Sweet 16 appearance in three seasons. The two Sweet 16s are the only ones in the school's history. Drew is now 5-2 in the NCAA tournament, and the win Saturday gave the Bears a school-record 29 victories.
Heslip's nine 3s set a single-game NCAA tournament record for the Bears. How much of an impact is Heslip having on a team known for its up-tempo style, tremendous length, and headliners Acy,
Perry Jones III
and
Pierre Jackson
?
"Heslip was the difference,'' Colorado coach Tad Boyle said. "He was unconscious tonight.''
Heslip made six of his 3s in the first half, but the Bears were up only two. His three 3s in the second half helped open up the game. Sure, there were times when Acy and
Quincy Miller
as well as
Anthony Jones
were extremely difficult to stop inside. The 17 offensive rebounds kept possessions alive. The 24 defensive rebounds ended plenty of the Buffs' attempts.
But Heslip busted the game open.
"I'm just feeling great right now, first of all, because we won,'' Heslip said. "I'm just happy for my seniors.
"As for the shooting, Pierre does a great job of finding me when I'm open and finding me in transition. Acy sets great screens, and it was just one of those nights.''
Heslip was getting the ball in motion and was stroking it without any hesitation.
"If I'm in rhythm and feeling good shooting, it just makes it even easier,'' Heslip said.
Baylor was a major disappointment last season, following an Elite Eight appearance and the departure of point guard Tweety Carter with a flameout in the Big 12 tournament. Jones' ineligibility days before the tourney led to the Bears' missing the rest of the postseason.
The arrival of Jackson from junior college and Heslip's eligibility changed the backcourt for the Bears and the potential for this squad.
If you followed Baylor early in the season, you saw wins at BYU and Northwestern and over Mississippi State, Saint Mary's and West Virginia -- the latter three all on neutral courts. The Bears couldn't beat Missouri or Kansas in the regular season but knocked off the Jayhawks in the Big 12 tournament.
Now Baylor is the first Big 12 team in the Sweet 16. And if Purdue were to upset Kansas on Sunday, the Bears could be the only one. Even if the Jayhawks join them, the Bears are peaking at the right time.
And so is Heslip, an option that makes the Bears that much more formidable in a possible showdown with Kentucky in the South Region at Atlanta with a right to go to the Final Four.
"Brady will be the first to tell you that his teammates really got him open and got him the ball,'' Drew said. "That humility is what makes our team successful.''
March, 17, 2012
3/17/12
11:02
PM CT
ALBUQUERQUE, N.M. -- Reaction from Baylor's
80-63 win
over Colorado.
Overview:
Give Colorado plenty of credit, the Buffaloes were scrappy until the final few minutes. But they simply didn't have the overall talent to hang with Baylor, especially against the power game inside or the 3-point shooting from
Brady Heslip
and
Anthony Jones
. The Bears put on quite a display. They have the ability to turn it on as well as any team in the country, outside of Kentucky. If Baylor can play like this it should meet Kentucky in the Elite Eight Sunday in Atlanta.


Turning point:
There were many to choose from but I'm more inclined to go with a
Quincy Acy
spin-move slam that was as impressive as you'll see. That bucket gave the Bears a 61-58 advantage and set the tone for what would soon be a blowout. That bucket was the precursor to the 3s that Heslip started to drain, which opened up the game.
Key player:
Brady Heslip. He made nine 3s, two shy of The Pit record, set by the late Bobby Phills in 1990 when he played for Southern and one shy of a school record. It was also only two shy of the NCAA tournament record set by Loyola Marymount's Jeff Fryer against Michigan in 1990. Heslip missed only three. The Buffs tried to find him but couldn't contest. It was as good a performance as you'll see from beyond the 3-point line.
Key stat:
The 3s were noteworthy, but just as big a deal was the rebounding margin. The Bears dominated the backboard. Their defensive rebounding severely limited the Buffs' ability to get second-shot opportunities.
Miscellaneous:
Baylor went with the yellow highlighter uniforms. The Bears are 3-0 with them. Former Big 12 commissioner Kevin Weiberg flew in to represent the conference that he currently works in, the Pac-12. Odd that he was watching two former conference members tussle at The Pit. Baylor fans were chanting "Big 12 rejects" at Colorado when Baylor was up by 12. Not cool. The proper chant came later when the Bears fans were chanting "Big 12." That was enough.
What's next:
Baylor will play the winner of Lehigh-Xavier on Friday in Atlanta for the right to go to the Elite Eight and possibly take on South top seed Kentucky. The Bears have the makeup to challenge Kentucky better than anyone else in this bracket. The Bears also have a chance to get to the Elite Eight by facing only double-digit seeds if Lehigh were to upset Xavier.
January, 20, 2012
1/20/12
2:43
PM CT
For full coverage of all the top matchups,
check out Weekend Watch
.


Saturday's game
No. 5 Missouri at No. 3 Baylor (1 p.m. CT, ESPN):
Missouri
: The Tigers might have the quickest lineup in college basketball. Frank Haith's guards have been very efficient, and have made much better decisions on offense and defense this season. Missouri can still fall into some "chuck and duck" habits, which worked well under Mike Anderson but does not fit with the style favored by Haith.
[+] Enlarge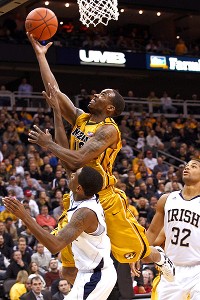 Jeff Moffett/Icon SMIMarcus Denmon is averaging 17.8 points and 5.5 rebounds per game for Missouri.
The Tigers run a set-play, quick-hitting offense that features four guards around undersized big man
Ricardo Ratliffe
. Point guard
Phil Pressey
is almost impossible to stay in front of, and he is an elite passer who willingly gives up the ball. Pressey has a near 3-to-1 assist-to-turnover ratio and leads the team in steals with 37. The wings are among the best in the nation, with All-America candidate
Marcus Denmon
and the ridiculously efficient
Kim English
. English's transformation has been remarkable. Last season, his confidence was waning. This season, he seemingly cannot miss. His decisions have improved, and he is hitting more than 50 percent of his 3-point shots. Ratliffe is benefiting from single coverage in the post and the drop-offs from his teammates to shoot better than 77 percent from the field. The single-season record is 74 percent by Oregon State's Steve Johnson back when Ralph Miller was the Beavers' coach.
Baylor
: The Bears are big, long, athletic and deep along the front line, and have one of the most talented frontcourts in the country.
Perry Jones III
,
Quincy Acy
,
Quincy Miller
,
Anthony Jones
and
Cory Jefferson
provide the bodies and length to overwhelm a smaller team on the glass and the defensive end.
Before the season, I was one who questioned the Baylor guards and whether the Bears would be able to improve ball security. Last season, Baylor turned the ball over at a very high rate. Turnovers are still an issue, but this team is much better with the ball. Guards
Brady Heslip
,
A.J. Walton
and
Pierre Jackson
are far better than I anticipated, and Jackson is a game-changing talent. He has the ability to guard the ball, see the floor with terrific vision and play with a fearlessness that allows his teammates to do their jobs without worrying about his.
Key players
: Denmon and Jackson. Denmon scratches in just about every category for the Tigers and is an attack guard. Denmon excels in transition, and Baylor can afford to put Walton, Jackson or a defender with more size on him. Denmon is a very good defender but might have some issues matching up with bigger Baylor players. Jackson is incredibly strong and athletic, and has the ability to guard Pressey and Denmon. If he can stay out of foul difficulty, Jackson has the ability to change the game with his pressure and steals. On the offensive end, Jackson is a potent scorer, but he is also a fabulous passer. He will get a lob dunk from deep for a teammate; you can bank on it. However, he also has 64 turnovers to go with his 98 assists.
Key shooters
: Heslip and English. Heslip transferred from Boston College and has a really quick release. He has hit 51 3s, by far the most on the Baylor roster, and is shooting 47 percent from 3. English is shooting better than 50 percent from deep, and his stroke is pure. He has hit 45 3s in only 88 attempts.
Key bigs
: Ratliffe and Perry Jones III. Ratliffe plays off his guards very well but must avoid fouls to be able to stay in the game. Without Ratliffe, Missouri can get overwhelmed on the glass. Jones is a special talent. He needs to be assertive and dominate his matchup. No player on the Missouri roster can guard him.
Key stat
: Turnovers and rebounding. Baylor should own the backboards but also has to get to long rebounds, which will be an issue in this game. Baylor turned the ball over against the pressure of Kansas and needs to take care of the ball against the pressure brought by Missouri. Pressey's initial ball pressure will be key.
Who wins
: Baylor is coming off a loss and playing at home. How the Bears guard the 3-point line will go a long way in determining this one. Expect Baylor to play some man-to-man in addition to some zone. If the Bears take good shots and limit Missouri in transition, I like the Bears to win. Baylor 74-70.


No. 7 Kansas at Texas (3 p.m. Saturday):
Kansas is playing at such a high level that the Jayhawks would have to come down a few notches if they're going to lose at erratic Texas. The Longhorns don't have the strength to deal with
Thomas Robinson
. I'd be surprised if Kansas loses this game.