Dallas Colleges:

Ashton Dorsey
February, 3, 2014
Feb 3
4:30
PM CT
As we close in on national signing day, it's an appropriate time to look back at how the top Big 12 recruits from four years ago performed.
2010 was a banner year for the Big 12 in recruiting, as the league
collectively landed 23 from the ESPN 150
.
A few, such as
Jackson Jeffcoat
,
Ahmad Dixon
and
Shaun Lewis
, became stars. Others washed out before their careers ever got off the ground.
[+] Enlarge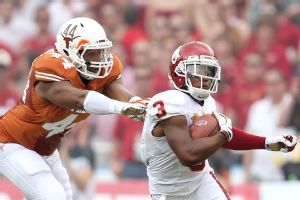 Matthew Emmons/USA TODAY SportsFormer five-star prospect Jackson Jeffcoat finished his career as the best defensive end in the Big 12.
Below is a closer look at what happened to
ESPN 150
players who signed with Big 12 schools:
No. 2: Jackson Jeffcoat, DE, Texas –
Though he never reached a high level of team success, Jeffcoat had a great individual end to his career, earning Big 12 co-Defensive Player of the Year honors and leading the league with 13 sacks.
No. 4: Jordan Hicks, LB, Texas –
Hicks has been good when he has played. Because of multiple injuries, that hasn't been often. Hicks missed most of last season with a torn Achilles, just a year after also being knocked out with a hip flexor injury. After getting a medical redshirt from his 2012 season, Hicks has one more year of eligibility remaining.
No. 13: Mike Davis, WR, Texas –
Davis finished in the Big 12's top 10 in receiving the last two seasons, compiling 200 career catches and 18 touchdown receptions.
No. 14: Taylor Bible, DT, Texas
– Bible never played a down at Texas, leaving after his redshirt freshman season because of issues with grades. Bible ended up at Carson-Newman.
No. 15: Ahmad Dixon, S, Baylor –
Dixon had a tremendous tenure with his hometown school, earning All-Big 12 and All-American honors as a senior as Baylor captured its first Big 12 title in 2013.
No. 18: Demarco Cobbs, ATH, Texas
– The Tulsa, Okla., native has appeared in 29 games on special teams and as a defensive reserve. He missed all of the 2013 season with a knee injury.
No. 20: Darius White, WR, Texas
– After making just six catches his first two seasons, White transferred to Missouri. He caught just seven passes this season for the Tigers, but has another year of eligibility left.
No. 21: Tony Jefferson, S, Oklahoma
– In his first season, Jefferson was the Big 12 co-Defensive Freshman of the year, and he was a three-year starter before leaving early to go pro.
No. 46: Ashton Dorsey, DT, Texas –
After serving as a reserve throughout his career, Dorsey was projected to start this season, but he transferred out days before Texas' season opener.
No. 48: Austin Haywood, TE, Oklahoma –
After getting playing time as a third tight end early in his career, Haywood unexpectedly quit in the middle of the season, tried to earn his way back on the team, failed and ended up transferring to Central Arkansas. After getting suspended there, Haywood gave up football.
No. 62: Corey Nelson, LB, Oklahoma –
Nelson shined early this season after finally getting a chance to be a full-time starter. That, however, was short-lived, as Nelson tore his pectoral muscle in an early October win over TCU and sat out the rest of his final season.
No. 65: Blake Bell, QB, Oklahoma –
The "Belldozer" starred his first two seasons as a situational, short-yardage QB. But in the preseason, Bell was beaten out by
Trevor Knight
for the starting job. Bell, however, still had his moments this season because of injuries to Knight. He led OU to a win at Notre Dame, then quarterbacked OU's game-winning touchdown drive at Oklahoma State.
No. 72: Reggie Wilson, DE, Texas –
He appeared in 51 games as a defensive reserve. Wilson had 19 tackles and a sack as a senior.
No. 73: Chris Jones, WR, Texas
– Jones transferred out after one year, and never played.
No. 75: Shaun Lewis, LB, Oklahoma State –
Lewis made an immediate impact, earning Big 12 co-Defensive Freshman of the Year honors along with Tony Jefferson. Lewis was a four-year starter and a big piece in Oklahoma State's defensive turnaround this season.
[+] Enlarge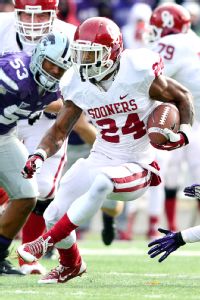 Jasen Vinlove/USA TODAY SportsFormer ESPN 150 recruit Brennan Clay was a solid, not spectacular, tailback for the Sooners.
No. 77: Quentin Hayes, S, Oklahoma –
After serving a year-long suspension, Hayes returned to win a starting job this past season. He has another year left.
No. 86: Tevin Jackson, LB, Texas
– Jackson has been a backup linebacker for the Longhorns and will be part of the team's great depth there in 2014.
No. 103: Adrian White, CB, Texas
– Played in 17 games, then joined the mass transfer exodus from this Texas class.
No. 109: Ivan McCartney, WR, West Virginia
– McCartney never became a No. 1 receiver, though he did contribute on West Virginia's explosive offenses in 2011-12. He only had 12 catches this past season as a senior, however.
No. 114: Aaron Benson, LB, Texas
– The cousin of former Texas running back great Cedric Benson has only been a contributor on special teams.
No. 122: Carrington Byndom, S, Texas
– One of the few players from this Texas class to pan out. Byndom made 39 career starts and was a second-team All-Big 12 selection this past season.
No. 129: Brennan Clay, RB, Oklahoma –
Clay proved to be a reliable and steady force in the OU backfield. He finished his career with 1,913 rushing yards, including 957 in 2013.
No. 134: Adrian Philips, ATH, Texas –
Phillips
settled in the Texas secondary, collecting 28 career starts there. He was second on the team this past season with 82 tackles.
No. 141: Trey Hopkins, OG, Texas –
Hopkins became a stalwart up front, making 42 career starts along the offensive line. He was a two-time, second-team All-Big 12 selection.
No. 142: Justin McCay, ATH, Oklahoma
– McCay transferred to Kansas after two years in Norman. He had nine receptions and a touchdown, which also was the first scoring catch by a Kansas wide receiver in almost two full seasons.
January, 25, 2013
1/25/13
11:46
AM CT
Every year, there's lots of turnover and change for every college program. What do the Big 12 teams need to do before next fall? Let's continue our look with the Longhorns down in Austin.

1. Figure out the offensive identity.
Bryan Harsin is gone, and he's probably taking most of his pre-snap shifts with him. Will Major Applewhite still look to run a power offense? Texas has recruited and developed its offensive line really well lately, but
David Ash
has matured, and even with a wealth of backs in
Malcolm Brown
,
Johnathan Gray
,
Joe Bergeron
and
Daje Johnson
, Texas hasn't been able to keep them healthy or get consistent production out of one for an entire season. Will Applewhite put more responsibility in Ash's hands? He was good at times last season, but the rising junior was inconsistent. His ceiling is probably a legitimate Heisman campaign. His floor is probably getting benched in favor
Connor Brewer
or
Jalen Overstreet
-- or maybe even incoming freshman
Tyrone Swoopes
. Where will he fall on the spectrum? Will Texas continue to try to pound the trenches?
2. Plug up the middle of the defense.
Texas' defense made no sense last season. The personnel is absolutely there to be great up front. The defensive tackles are deep and talented, led by guys like
Malcom Brown
,
Ashton Dorsey
,
Desmond Jackson
and
Chris Whaley
. The linebackers were solid, even without
Jordan Hicks
, who should be back next season.
Peter Jinkens
is a rising star and a few others have potential. Coordinator Manny Diaz didn't take another job, electing to stay in Austin and attempt fix the most underwhelming unit in the Big 12. It all starts with the ability to stop the run, something Texas never did consistently last season. Fix that, and the rest of this defense comes around, I say.
3. Discover and develop leadership
. Texas was still a pretty young team last season after rebooting on both sides of the ball after the 2010 season. The freshmen and sophomores who contributed in 2011 are juniors and seniors now, but the team is losing guys like
Alex Okafor
and
Kenny Vaccaro
, players who had been around awhile and served as role models for younger guys. Look for
Jackson Jeffcoat
and David to fill the role this year, but other players, like Malcolm Brown or
Jaxon Shipley
, might emerge, too. We'll see who steps up in the spring.
More offseason to-do lists:
August, 21, 2012
8/21/12
10:15
AM CT
Big 12 defensive linemen, we need to have a talk. This isn't getting it done. This position may be the weakest of any in the league. The top five is solid, though there's a little bit of a dropoff after the top three. Beyond the top five, though? A whole lot of question marks, and not a lot of truly impressive talents.
I had some trouble even finding 10 guys who deserved spots on this list. This could be a banner year for quarterbacks. The only thing shallower than the defensive ends in the league this year is the defensive tackles. Sheesh. Unless we see some stars emerge from nowhere this year, this position's going to look a little raw all season long.
More position rankings:
Anyway, here goes.
One final note: No freshmen or newcomers allowed. Sorry,
Brandon Moore
.
[+] Enlarge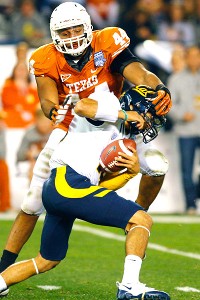 Jody Gomez/US PresswireJackson Jeffcoat is not only the top defensive end in the conference, but is one of the best in the nation.
1. Jackson Jeffcoat, DE, Texas:
Jeffcoat is a freak and leads this list as the most talented linemen in the league. He's not as experienced as his teammate who also made this list, but the 6-foot-5, 245-pounder could play his way into the top 10 of next year's NFL Draft.
2. Alex Okafor, DE, Texas:
Okafor may be a first-rounder, too. He's moved around along the line during his career, but he's found a home at end. He won the league's preseason Defensive Player of the Year honors after making six sacks and 12.5 tackles for loss last season.
3. Stansly Maponga, DE, TCU:
Maponga was extremely productive last season, and we'll see how he does against bigger and better offensive lines in the Big 12. He had nine sacks and 13.5 tackles for loss, and forced five fumbles. He's the most talented player on TCU's defense.
4. Meshak Williams, DE, Kansas State:
I'm a bigger proponent of Williams than most, but he's yet another fantastic juco find from Bill Snyder. Last year, he made 10 tackles for loss and seven sacks to tie for sixth in the Big 12 and earn second-team All-Big 12 honors.
5. Toben Opurum, DE/LB, Kansas:
Opurum's unbelievable story is about to start its final chapter in 2012. He's played under three different coaches and transitioned from KU's leading rusher in 2009 to one of the league's best along the defensive line in 2012. Nobody else on this list has done anything like that, and he'll be a captain in Year 1 under Charlie Weis.
6. Nigel Nicholas, DT/DE, Oklahoma State:
Nicholas sounds like he's moving to defensive end this season, but he's played both throughout his career. The 6-foot-3, 269-pounder is needed at end for the Cowboys, and made 10 tackles for loss last season and two sacks.
7. R.J. Washington, DE, Oklahoma:
Washington's got the pedigree and the physical skills, but it's time to see the production after a disappointing 2011 season. He broke up five passes and had five sacks last season, but made just 16 tackles as a member of the DE rotation behind stars Ronnell Lewis and Frank Alexander.
8. Ashton Dorsey, DT, Texas:
Dorsey has plenty of experience and is pushing 300 pounds in the middle of Texas' line. Jeffcoat and Okafor will attract plenty of double teams, but Dorsey's got the talent to be a wrecking ball in the middle. He had seven tackles for loss and a sack last year.
9. Jamarkus McFarland, DT, Oklahoma:
McFarland's been a part-time starter the past two seasons, and could finally break through with a big year as a senior. The 6-foot-3, 288-pounder made 3.5 tackles for loss and had 20 tackles last season.
10. Jake McDonough, DT, Iowa State:
McDonough holds down the nose tackle spot for Iowa State, and made 34 tackles with 4.5 tackles for loss last season. The 280-pounder needs a big year to help out his talented set of linebackers.
August, 2, 2012
8/02/12
10:38
PM CT
Colleague Travis Haney
continued our series at ESPN.com on college football's best position units

by ranking the nation's top 10 defensive lines.

Only one Big 12 team made his list, and it's the
Texas Longhorns
.
No question here. Texas is in a league of its own in the Big 12 when it comes to the defensive line. Ends
Jackson Jeffcoat
and
Alex Okafor
are the league's two best, and Okafor was named Big 12 Preseason Defensive Player of the Year by the media.
The Longhorns checked in at No. 3 on Haney's list, behind only Florida State and LSU.
The kicker for Texas? Jeffcoat and Okafor get plenty of attention, but the depth at defensive tackle might take this line to the next level.
Ashton Dorsey
returns along with sophomore
Desmond Jackson
, but juco transfer
Brandon Moore
and incoming freshman
Malcom Brown
could have a big impact. If that rotation starts collapsing pockets up front, flushing quarterbacks into the flats, Jeffcoat and Okafor are going to be racking up big, big numbers this year. Look out for former running back
Chris Whaley
on the line, too.
Texas is going to have a fearsome front four all season, regardless of who's on the field, well-deserving of a spot in the national top three.
TCU and Oklahoma may have the next-best defensive lines in the league, but nobody's got one like Texas does this year. We'll see how much damage the Longhorns do.
July, 21, 2011
7/21/11
11:43
AM CT
We've tackled every other spot, and now we'll wrap up out Big 12 position rankings with the defensive lines across the Big 12.
Here are the rest of the position rankings.
Now that we've finished ranking the complete units, we'll start ranking the top 10 at each position very soon leading into the 2011 season.
This is a decent position for the Big 12 this season, and the top half of the league should feel pretty good about their group. There aren't many studs in this group, but there are a whole lot of solid players.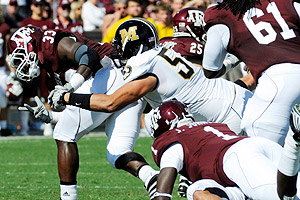 AP Photo/Pat SullivanMissouri has one of the Big 12's best pass rushers in Brad Madison.
1. Missouri --
Missouri has the Big 12's best returning pass rusher and a Defensive Player of the Year contender in Brad Madison, but its depth is what lands it on top of the list. Jacquies Smith is solid at the opposite defensive end spot, and Michael Sam and Kony Ealy provide great depth at DE. Dominique Hamilton's absence last season hurt after breaking his ankle against Oklahoma, but he's back, alongside Terrell Resonno. Sheldon Richardson, who may be transferring from junior college, is a wildcard that could be anywhere between a complete game changer, irrelevant or absent.
2. Oklahoma --
Oklahoma's defensive tackles are somewhat suspect, but the defensive end combo of Ronnell Lewis (provided he is eligible come fall camp) and Frank Alexander is on par with the best in the Big 12. Both were preseason All-Big 12 selections, but Jamarkus McFarland needs to make good on his potential. Stacy McGee and Casey Walker should both get time at the other tackle spot.
3. Texas --
Defensive end Jackson Jeffcoat is loaded with potential as the nation's former No. 1 recruit. He had a big impact early last season before being slowed by an ankle injury. Alex Okafor moved outside from defensive tackle just before spring and had five sacks in the spring game. Inside, Kheeston Randall is an All-Big 12 favorite, but Ashton Dorsey had a strong spring and could help out with Reggie Wilson opposite Randall.
4. Texas A&M --
The Aggies have one of the best linemen in the league in Tony Jerod-Eddie, but Jonathan Mathis, Eddie Brown Jr. and Ben Bass have a lot to prove around him after the loss of Lucas Patterson, who was outstanding in 2010.
5. Texas Tech --
Sam Fehoko has moved to defensive end from middle linebacker, and should provide some good speed to the front line. Scott Smith looked on his way to an All-Big 12 campaign last season, but was suspended for the remainder of the season by coach Tommy Tuberville and has yet to be officially reinstated. For now, Dartwan Bush and Aundrey Barr will help out at defensive end, outside of Donald Langley, Kerry Hyder and Pearlie Graves. The Red Raiders did snatch a big pickup from departed UNC signee Delvon Simmons, a defensive tackle that could have an impact immediately.
6. Oklahoma State --
Defensive line is the biggest weak spot for the Cowboys, who have a decent set of ends in Jamie Blatnick and former heralded recruit Richetti Jones, but an even bigger question mark at defensive tackle where Christian Littlehead and Nigel Nicholas enter fall camp as starters.
7. Kansas --
Top rusher turned defensive end Toben Opurum came on strong late last season and should be one of the most exciting Jayhawks to watch in 2011, but the rest of the line leaves a bit to be desired. Keba Agostino has the other starting spot at defensive end ahead of Pat Lewandowski, who had a great spring. Patrick Dorsey and John Williams enter fall camp as starters at defensive tackles.
8. Kansas State --
K-State recruited this position hard in its 2011 class. For now, defensive end Brandon Harold will try to bounce back from a disappointing 2010 after a promising 2009. Lance Dunbar and Taylor Martinez think this group is ranked too high, but Meshak Williams could start opposite Harold, while Ray Kibble and Raphael Guidry should be the tackles inside.
9. Baylor --
Tevin Elliott was limited this spring because of offseason shoulder surgery, and Terrance Lloyd exited spring practice as the starter, but I'd expect Elliott to regain the spot by the time the season arrives. Phil Taylor, a first-round pick, is a big loss, but Gary Mason Jr. will try to fill his spot next to Nicolas Jean-Baptiste.
10. Iowa State --
Having a pair of linebackers combine for 241 tackles is a good and bad thing. They've got outstanding linebackers, but the defensive line was the Big 12's worst last season for a unit that ranked 10th in rush defense and had just 11 sacks. That was the fewest sacks in the Big 12 and more than just three teams in all of college football. The good news is all four starters return, but for now, this is where the Cyclones start. Stephen Ruempolhamer has some promise, but Cleyon Laing, Jake McDonough and ends Patrick Neal and Roosevelt Maggitt have a lot to prove. Jacob Lattimer ran into offseason trouble, but re-appeared atop the depth chart released by the Cyclones on Wednesday.