Dallas Colleges:

Ashton Lampkin
June, 25, 2014
Jun 25
1:30
PM CT
There can be various signs of success in the Big 12.
Last week we took a look at potential
stats from various offensive players
in the conference that could be a sign of success for their respective teams. This week, we look at a stat from one defensive player per school that could be a sign of success this fall.
Here's a look at one stat from a defensive player on each Big 12 team that could be a sign of success for their teams.

Baylor defensive end Shawn Oakman's total sacks:
The Penn State transfer has freakish ability. At 6-foot-9, 275 pounds, Oakman moves like someone half his size and was ultra-productive as a sophomore, compiling 12.5 tackles for loss in 13 games. But he only managed two sacks as a sophomore, although he was deployed in a backup role for most of the season. If Oakman can approach double-digit sacks with increased playing time as a junior, he could help Baylor's young secondary overcome the mistakes they are certain to make as they gain experience.

Tackles recorded by Iowa State defensive tackle Brandon Jensen:
The Cyclones have a potential hole in the middle of their defense with attrition since the end of the season destroying ISU's depth. Jensen, who quit football after the 2013 season, returned to the team shortly after spring football. His return was much needed and if he's able to match his production while starting all 12 games a year ago, it will give Paul Rhoads a foundation for his defense that he didn't have during spring football. If he can raise his tackle total from 18 in 2013 to around 30 in 2014, it could be a sign he's become a disruptive force in the middle of ISU's defense.

Kansas linebacker/defensive end Ben Goodman's tackles for loss:
The junior is a versatile talent who has moved closer to the line of scrimmage to make more of an impact with his ability to be disruptive and get into the backfield. He finished with 7.5 tackles for loss and three sacks in 2013. If he can at least double those numbers, his disruptive nature could combine with a talented secondary to make the Jayhawks defense better than expected this fall.

Kansas State linebacker Mike Moore's total tackles:
The junior looks like he could be poised for a breakthrough season with the Wildcats. He's an active and energetic linebacker who could pair with
Jonathan Truman
to give KSU one of the conference's most productive linebacking duos. Moore only had seven tackles in 2013 but finished strong with two tackles, a sack and a forced fumble against Michigan in the Buffalo Wild Wings Bowl. If he can match or exceed
Blake Slaughter
's 110 tackles in 2013 it will be a good sign that the Wildcats' defense won't have a major drop off in 2014.

Oklahoma defensive tackle Jordan Phillips total tackles:
If the junior exceeds his tackle total from 2013, that's a great sign for OU's defense. Phillips played in just four games as a sophomore, recording seven tackles before a back injury forced him to miss the rest of the season. Anything higher than seven tackles likely means Phillips has returned to the lineup and is healthy and productive. If he does return, he has the potential to take OU's defense to another level.

Oklahoma State cornerback Ashton Lampkin's pass breakups:
The likely replacement for
Justin Gilbert
will be tested early and often in 2014. If Lampkin responds to the challenge and ends up with double-digit pass breakups, it means he has made a seamless move into the starting lineup. That would be terrific news for the Cowboys because if he can join
Kevin Peterson
to help lock down the perimeter, OSU won't have to count on its young and inexperienced safeties to make as many plays in the passing game.

Sack total from TCU defensive end Devonte Fields:
If Fields returns to his 2012 form, he's a game-changing talent. He managed three tackles, including two tackles for loss, before a foot injury ended his 2013 season. In 2012, Fields had 10 sacks and 18.5 tackles for loss. If he's healthy and focused, Fields has the ability to put up career-high numbers in sacks and tackles for loss in 2014. If he does, he can transform TCU's defense and take the unit to another level.

Texas linebacker Jordan Hicks' total tackles:
The senior had 40 tackles in four games last season, so the Longhorns would love to see a full, healthy season from Hicks. If he surpasses 40 tackles in 2014, it's a great sign for Charlie Strong's defense. The 2011 season was the last time Hicks played in double-digit games, but he's in impact player when healthy. But he's spent as much time on the sidelines as he has making plays during the past two seasons.

Texas Tech defensive end Branden Jackson's sack total:
The Red Raiders will really need to lean on Jackson, who finished the 2013 season with 44 tackles, including nine tackles for loss, and four sacks. He's a proven commodity along Tech's defensive front so it will be critical for him to, at the very least, match those numbers this fall. If he struggles to be productive, the Red Raiders defensive line could be the weak link of the defense and hamper the team as a whole.

Tackles for loss by West Virginia defensive end Shaquille Riddick:
The Gardner-Webb transfer has the talent to make a major impact. While it would be great for the Mountaineers if Riddick can register between 5-10 sacks, he could be a difference maker if he can record 15-20 tackles for loss. If he is consistently disruptive and getting into opponents' backfields, the Mountaineers' talented secondary could take advantage of any mistakes by the quarterback with key turnovers. If Riddick is a matchup nightmare, he will change the future of WVU's defense.
May, 28, 2014
May 28
8:00
AM CT
Van Malone's description of spring football at Oklahoma State is a clear representation of the obstacles facing the Cowboys' program in 2014.
"We went out in the spring, we had some crayons and we did the best we could," OSU's cornerbacks coach said.
Malone and the rest of the Cowboys' defensive coaching staff spent the spring trying to prepare an inexperienced group of talented youngsters to replace a senior-laden defense that was one of the Big 12's best in 2013. The task is particularly difficult for Malone, who is replacing top-10 NFL draft pick
Justin Gilbert
.
Junior
Kevin Peterson
returns after starting opposite Gilbert and provides an experienced and talented anchor at the position. Fellow junior
Ashton Lampkin
looks ready to slide right into the starting lineup in Gilbert's place after two seasons as a special teams ace. And the rest of the roster has several talented albeit inexperienced cornerbacks who could provide quality depth, including redshirt freshman
Darius Curry
, whom Malone singled out for his strong spring.
"He has a Justin Gilbert-type body for the position, really strong upper body and is doing a good job picking up the schemes," Malone said of Curry. "We look forward to him being able to step in [and contribute]."
Replacing Gilbert won't be easy, but the cornerbacks in his meeting room are talented enough for Malone's excitement to override his concerns.
"I'm excited about the group," he said. "Because Justin Gilbert was not just a first-round talent, he was one of these guys [on the current roster], a guy with incredible talent who just hadn't realized it yet on the college level."
It's the theme on OSU's entire defense. They're young and inexperienced, but the talent level has changed.
"In the secondary and the defense as a whole, from an experience level, we have some guys who haven't seen as much as Daytawion Lowe, who started 30 games," Malone said. "They don't have the experience level but from an overall level of talent and athletic ability, we feel like we've raised the bar."
The Cowboys might have raised the bar but the only certainty about the Pokes' defense is the ups and downs and uneven play that will become commonplace this fall. The only way for these young guys to get experience is to throw them into the fire.
"That can be scary but that kind of makes it fun when you don't quite know where they may line up. They may create a new defense," Malone joked. "That happened a few times this spring where we created a new coverage."
But the Cowboys are hoping their plan during their recruitment of the young players currently on the roster will pay off.
"One thing when we recruited these guys, we researched and they love football," Malone said. "So if they love football they're going to be in here watching film and preparing themselves."
Malone won't rule out the possibility of playing his true freshmen with
Chris Hardeman
,
Juwan Offray
and
Ramon Richards
joining the battle for playing time at cornerback this summer, especially if they display the traits Hardeman has shown before even arriving on campus.
"Chris Hardeman is text messaging every coach," Malone said. "Those kind of kids are the ones you can put out there, even as freshmen, because you know they are spending the time it takes to be prepared to go out and play. You put a lot on their plate and playing, for a freshman, is a lot on their plate. But these kids will be able to accept the challenge because that's who they are."
Replacing Gilbert is a tall task, one that probably won't be accomplished this fall. But the long-term dividends could be well worth the roller coaster ride the Cowboys' secondary could experience in 2014.
"Eventually those freshmen will be sophomores," Malone said. "If you can just make it to them being sophomores then you have a really talented guy with experience."
May, 20, 2014
May 20
10:30
AM CT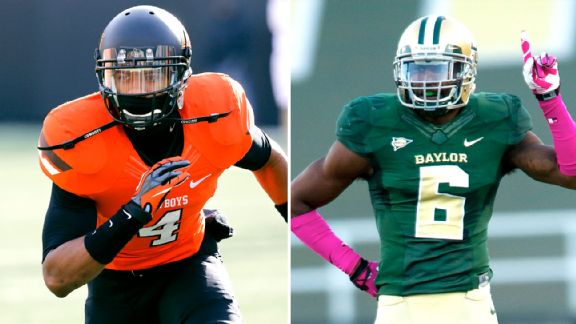 AP Photo, Getty ImagesAthletic defensive backs are hard to come by and Justin Gilbert (left) and Ahmad Dixon were two of the Big 12's best.
It's
Take Two Tuesday
, when we give takes on a burning topic related to the Big 12.
Today's topic: There were 17 Big 12 players taken in the NFL draft -- who left the biggest shoes to fill?
Take 1: Brandon Chatmon -- Oklahoma State cornerback Justin Gilbert

Ashton Lampkin
has gigantic shoes to fill.
The Oklahoma State junior is in line to replace Gilbert, a top-10 NFL draft pick. Gilbert was a special playmaker for the Cowboys and he changed several games during his four seasons in Stillwater, Okla.
Lampkin won't be able to replace the complete package Gilbert brought to the table as a cover man and returner, but he has the pedigree and ability to slide right into the starting lineup without becoming the weak link in the secondary.
The Arlington, Texas, native has played in every game since becoming a Cowboy and was named OSU's Special Teams Most Valuable Player in 2013. Lampkin has looked like a player who could handle an increased role for the past two seasons and should finally get his opportunity to shine at cornerback this fall. At 5-foot-11, 180 pounds, Lampkin brings decent size to the position and has the athletic ability to be a quality Big 12 cornerback.
Yet, Lampkin still has the biggest shoes to fill in the entire conference. Gilbert was a unique athlete who often made big plays when the Cowboys needed them, so Lampkin could have a superb first season as a starter and still leave people reminiscing about the eye-popping plays that Gilbert made look easy, particularly as a senior.
Thus, Lampkin could be, for all intents and purposes, in a no-win situation.
Take 2: Jake Trotter -- Baylor free safety Ahmad Dixon

Brandon went with a first-rounder in Gilbert. I'll go the other direction, and pick a seventh-rounder.
Sure, Dixon was the last Big 12 player selected in the draft, coming off the board 240 picks after Gilbert. But like Gilbert, Dixon was the tone-setter in the Baylor secondary, and one of the major reasons why the Bears fielded their best defensive unit in years. The Waco, Texas, native was also a 38-game starter, and Baylor's first All-American safety since Thomas Everett in 1986.
The Bears also fielded the second-best pass defense in the league last year, after fielding the worst the previous two seasons. And no player had a bigger hand in that staggering improvement than Dixon, who was the unequivocal leader and heavy hitter of the Baylor defense. Sure, the Bears featured the nation's top-scoring offense in 2013, but Baylor doesn't capture its first Big 12 title without a drastically improved defense.
Next season, however, Dixon will be gone. And in his place, the Bears will be leaning on another Waco native that graduated from the same Midway High School as Dixon.
Backing up Dixon,
Orion Stewart
was a key reserve for the Bears last year as a freshman, and garnered key time in significant moments. In the same game Dixon was ejected for targeting last year, Stewart picked off a pass and dashed 82 yards for a touchdown, which helped lift Baylor to a 41-38 win over TCU. Stewart also started the following game against Texas while Dixon served a first half suspension.
In both games, Stewart performed admirably. But he'll have to fill Dixon's shoes for an entire season in 2014. And those shoes are as big as any in the Big 12.
May, 7, 2014
May 7
3:00
PM CT
With spring ball done, we've been
re-examining and re-ranking the positional situations of every Big 12 team
. Wednesday, we finish up with defensive backs. Once again, these outlooks could look different in August. But this is how we see them post-spring:

1. TCU (pre-spring ranking: 1):
Juco safety
Kenny Iloka
was one of the storylines of the spring in Fort Worth, augmenting an already loaded secondary. In TCU's spring game, Iloka scored a touchdown off a fumble return and picked off a pass, underscoring pretty much how he performed all spring. Iloka could probably start for the majority of teams in the Big 12. At TCU, he's a backup. Coach Gary Patterson seemingly praised
Ranthony Texada
more than anyone else on his roster this spring, and the redshirt freshman cornerback looks poised to step into the starting role vacated by All-American
Jason Verrett
. At 5-foot-9, Texada isn't big. Then again, neither was Verrett. Safeties
Sam Carter
and
Chris Hackett
and cornerback
Kevin White
could play for anyone in the conference. In other words, this TCU secondary is stacked.

2. Texas (2):
Texas is one of the few teams in the Big 12 without really any position battle in its secondary coming out of the spring. Senior safeties
Mykkele Thompson
and
Josh Turner
have been up and down throughout their careers, but they really buttoned up their play in the spring. Thompson delivered a pick-six in the Orange-White game. Turner had the hit of the day and intercepted a pass. At cornerback,
Quandre Diggs
isn't an All-American, but he's developed into a solid veteran leader.
Duke Thomas
can really run at the other cornerback spot. This is a sound group.

3. Oklahoma (3):
The Sooners return two proven players in cornerback
Zack Sanchez
and nickel back
Julian Wilson
. Sanchez was erratic at times last season, but he displayed mental toughness and usually came back with big plays of his own after getting burned. Wilson will be a three-year starter. Safety
Quentin Hayes
had a decent junior season, too. After that, things get murky, and that's not necessarily a negative.
Dakota Austin
, who was an unheralded two-star signee last year, is probably the favorite coming out of the spring to start at cornerback opposite Sanchez and over more heralded classmate
Stanvon Taylor
. Sophomores
Ahmad Thomas
and
Hatari Byrd
are both talented young safeties, but they have yet to prove they're every-down players.
Steven Parker II
will be the player to watch here. Insiders in Norman believe the incoming true freshman has the talent and the temperament to win a starting job by the opener the way
Tony Jefferson
did in 2010. If he does, that will allow coordinator Mike Stoops to utilize Byrd and Thomas in certain sub-packages where the scheme will be more simplified.

4. Kansas State (4):
K-State already boasts one of the best nickel backs in the league in
Randall Evans
and an up-and-coming safety in
Dante Barnett
.
The Wildcats had a productive spring elsewhere in their secondary, as
Morgan Burns
stepped up to essentially nail down a starting job at corner. Coveted juco transfer
Danzel McDaniel
progressed after arriving on campus and exited spring ball on the cusp of earning the other starting cornerback gig.
Dylan Schellenberg
, who started the two games
Ty Zimmerman
missed last season, will go into the fall as the favorite to start at safety alongside Barnett.

5. West Virginia (5):
The Mountaineers might have the best underclassman cornerback in the league in sophomore
Daryl Worley
, who locked up
Mario Alford
in West Virginia's spring game. Worley was fabulous all spring, and he brings a maturity and attitude that defies his age. Like Worley,
Karl Joseph
started as a true freshman, and he could be on the verge of turning into one of the best safeties in the Big 12 as a junior. It will be interesting to see if incoming blue-chip freshman
Dravon Henry
can break into the rotation at cornerback, which would only make this secondary better.

6. Kansas (6):
Senior cornerback
Dexter McDonald
put in the work during the offseason, and it showed in Kansas' spring game. He's become a technically-sound player. Fellow cornerback
Kevin Short
, a juco transfer forced by the NCAA to sit out last season, can fly. Safety
Isaiah Johnson
, who became the Big 12 Defensive Newcomer of the Year after picking off five passes last season, had another pick in the spring game. With four starters back from last fall, plus the addition of Short, Kansas' secondary will be the team's strength next season.

7. Oklahoma State (7):
The emergence of
Ashton Lampkin
was a positive development for the Cowboys. Lampkin had a pick-six in the "Orange Blitz" scrimmage, and after two seasons as a key backup, looks ready to take over as a starting cornerback opposite All-Big 12 hopeful
Kevin Peterson
. The Cowboys are completely inexperienced at safety, with second-year players
Jordan Sterns
,
Deric Robertson
,
Jerel Morrow
and
Tre Flowers
basically comprising the position. Only time will determine how effective the Cowboys can be at the back end.

8. Texas Tech (8):
The Red Raiders have to feel good about their safeties coming out of the spring.
Keenon Ward
was the defensive MVP and brought the hammer all spring.
J.J. Gaines
will soon be completely back from a season-ending shoulder injury. He played extremely well through five games last season.
Justis Nelson
is oozing confidence after earning a starting job as a true freshman last fall. The biggest question is at the other cornerback spot. Sophomore
La'Darius Newbold
is currently the starter, but speedy true freshman
Nigel Bethel II
could make noise once he arrives this summer.

9. Baylor (9):
The rebuild of a secondary that graduated four starters remains a work in progress. Sophomore
Orion Stewart
had the best spring of the young players and looks primed to take over the deep safety role held by All-American
Ahmad Dixon
. Sophomore cornerbacks
Terrence Singleton
and
Xavien Howard
also won starting jobs, but they'll have to fend off juco transfer
Chris Sanders
in the preseason. Walk-on senior
Collin Brence
was the surprise of the spring and is listed as the starter at nickelback. This a group, though, that still has more questions to answer.

10: Iowa State (10):
Nigel Tribune
, who was the only true freshman to play at Iowa State in the past two seasons, is one of the best young cornerbacks in the league and a cornerstone defender for the Cyclones. The rest of the secondary is a big fat unknown. Juco transfer
Devron Moore
, whom Iowa State beat TCU, Texas Tech and West Virginia for, left school in the middle of spring ball with homesickness. He is dubious to return. That leaves juco transfer
Qujuan Floyd
, redshirt freshman
Kamari Cotton-Moya
and
T.J. Mutcherson
, who suffered an MCL injury in the spring game (he should be back in June), as Iowa State's only remaining options at safety.
April, 30, 2014
Apr 30
8:00
AM CT
Over the next two weeks, we'll be
analyzing the depth charts of every Big 12 team
coming out of the spring, continuing Wednesday with Oklahoma State. The Cowboys have yet to release an official depth chart, so this is only a projection:
OFFENSE (projected starters in bold)
QB:
J.W. Walsh (Jr.)
,
Daxx Garman
(Jr.) OR
Mason Rudolph
(Fr.)
Walsh lost the job to
Clint Chelf
last season, but he all but reclaimed it with a steady spring. Coach Mike Gundy said the competition would continue into the fall, but barring injury, it's only a matter of time before Walsh is named the starter for the opener against Florida State.
[+] Enlarge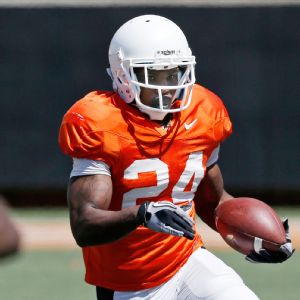 AP Photo/Sue OgrockiExpectations are high for newcomer Tyreek Hill.
RB:
Desmond Roland (Sr.) OR Tyreek Hill (Jr.)
,
Rennie Childs
(So.)
FB: Jeremy Seaton (Jr.)
,
Teddy Johnson
(Sr.)
The Cowboys added what figures to be the favorite to be named preseason Big 12 Offensive Newcomer of the Year in Hill, who was dynamic in the spring despite splitting duties with the track team. With Roland back to grind out yards between the tackles and Hill a threat to go the distance whenever he touches the ball, the Cowboys have the opportunity to create problems for opposing defenses when they play on the field at the same time, which should happen a lot next year. Childs, who rushed for 189 yards as a freshman, adds depth to the position, while Seaton is a solid lead-blocking fullback who can also catch passes out of the backfield.
WR: Jhajuan Seales (So.)
,
C.J. Curry
(So.)
WR: Marcell Ateman (So.)
,
Brandon Sheperd
(Jr.)
IR: Austin Hays (So.)
,
Ra'Shaad Samples
(RFr.)
IR: Blake Webb (So.)
,
David Glidden
(Jr.)
TE/FB: Blake Jarwin (So.),
Jordan Frazier
(Fr.)
From Rashaun Woods to Justin Blackmon, the Cowboys have often had the luxury of a superstar wideout to throw the ball up to. The strength of his group, however, will be in its number. Seales, who had 39 catches as a freshman last season, headlines this unit, but Ateman, Hays, Webb, Glidden and Sheperd have all played in big games before. Hill will also boost this group whenever he moves from running back to the slot. Samples was banged up most of the spring, but he'll also eventually bring speed to the rotation.
LT: Devin Davis (So.)
,
Brandon Garrett
(Sr.),
Michael Wilson
(So.)
LG: Chris Grisbhy (Sr.)
,
Zachary Hargrove
(Jr.)
C: Paul Lewis (So.)
, Jaxson Salinas (RFr.)
RG: Zac Veatch (So.)
,
Colby Hegwood
(Jr.)
RT: Daniel Koenig (Sr.)
,
Zachary Crabtree
(RFr.)
The Cowboys have some major questions up front that won't be answered until the fall. Davis missed all of last year after tearing his ACL in the preseason, and still wasn't cleared in the spring. Garrett's leg was broken in the AT&T Cotton Bowl, and he too is still working his way back. On top of that, longtime position coach Joe Wickline is now at Texas. If Davis and Garrett return to 100 percent, Lewis is able to successfully man his new position at center and new offensive line coach Bob Connelly builds on Wickline's success, the Cowboys could field yet another banner offensive line. Of course, that is a lot of "ifs."
DEFENSE
DE: Jimmy Bean (Jr.)
,
Trace Clark
(Jr.)
DT: James Castleman (Sr.)
,
Vincent Taylor
(RFr.) OR
Vili Leveni
(RFr.)
DT: Ofa Hautau (Sr.)
,
Ben Hughes
(RFr.) OR
Eric Davis
(So.)
DE: Sam Wren (Sr.)
,
Emmanuel Ogbah
(So.)
Even though the Cowboys graduated all-conference tackle
Calvin Barnett
, this should be the strength of the defense. Castleman is capable of performing at an All-Big 12 level, and Wren, Bean and Ogbah can get to the quarterback. Oklahoma State will be even stronger along the defensive line if former four-star signees Hughes and Taylor emerge in their second years on campus.
MLB: Ryan Simmons (Jr.)
,
Dominic Ramacher
(So.) OR
Demarcus Sherod
(So.)
WLB: Devante Averette (Jr.) OR Kris Catlin (Jr.) OR Seth Jacobs (So.)

Simmons moved inside this spring after flanking All-Big 12 veterans
Caleb Lavey
and
Shaun Lewis
last season. Simmons will be the new leader of this unit. The Cowboys also seemed pleased with the development of Averette and Catlin during the spring. Oklahoma State signed a very highly touted linebacking class in February, but chances are, those freshmen won't be ready to contribute until at least 2015.
NB: D'Nerius Antoine (Jr.) OR Josh Furman (Sr.)
CB: Kevin Peterson (Jr.)
,
Darius Curry
(RFr.) OR
Taylor Lewis
(RFr.)
CB: Ashton Lampkin (Jr.)
,
Miketavius Jones
(Jr.)
FS: Jordan Sterns (So.),
Larry Stephens
(Sr.) OR
Jerel Morrow
(RFr.)
SS: Deric Robertson (So.)
,
Tre Flowers
(RFr.)
Like with so many other teams in the Big 12, Oklahoma State's secondary is an uncertainty. Peterson, who is one of the top budding cover men in the league, will anchor the group as its lone returning starter. The Cowboys should be in good hands at the other corner with Lampkin, who has appeared in every game his first two years and had a pick-six in Oklahoma State's "Orange Blitz" scrimmage. Safety is a complete unknown as Robertson and Sterns have little experience. The Cowboys could get some much-needed help from Furman, who transferred in from Michigan during the offseason and will be eligible immediately.
April, 29, 2014
Apr 29
11:00
AM CT
April, 7, 2014
Apr 7
9:00
AM CT
STILLWATER, Okla. --
Oklahoma State
didn't have a traditional spring game but held an "Orange Blitz" open practice Saturday in its place, which culminated with a lengthy scrimmage at the end. Here's a recap of what happened:
[+] Enlarge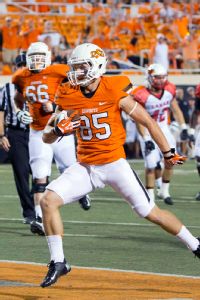 Richard Rowe/USA TODAY SportsWR Blake Webb missed almost all of 2013 with a foot injury, but is ready to make an impact in 2014.
Best offensive performance:
Despite losing three of its top four pass-catchers from last season'steam, Oklahoma State could be as deep as it has ever been at wide receiver. And
Blake Webb
, who had a big performance Saturday, could be a big reason why. On the opening series of the scrimmage, Webb hauled in a long pass over a defender down the middle of the field from
J.W. Walsh
. On the ensuing series, he beat the secondary deep again and reeled in a 55-yard touchdown catch from freshman quarterback
Mason Rudolph
. Webb was a big part of the receiving rotation two years ago as a freshman, but missed virtually the entire 2013 season with a foot injury. He came back to impress this spring, and he seems poised to give the Cowboys a reliable weapon out of the slot.
Best defensive performance:
The Cowboys need a replacement for All-Big 12 cornerback
Justin Gilbert
, who will likely be a first-round pick in the upcoming NFL draft.
Ashton Lampkin
looks primed to step into the starting lineup for Gilbert opposite two-year starter
Kevin Peterson
. Lampkin, who has been a key reserve the last few seasons, intercepted Walsh during the scrimmage for a pick-six by wrestling away the ball from receiver
C.J. Curry
, then racing down the sidelines for a touchdown. Lampkin was named Oklahoma State's special teams MVP last season. He should have a much bigger role on the defense in 2014.
Best debut:
Behind closed practices, running back/receiver
Tyreek Hill
had been generating plenty of buzz with his breakaway speed. Hill didn't break away any big runs in the Orange Blitz, but he still showcased his track speed by getting to the edge of the line of scrimmage on a couple of his runs. Hill only touched the ball five times Saturday, but there's no doubt he's going to be a big part of the Oklahoma State attack in the fall. The Cowboys have plans to utilize the blazing-fast Hill the way West Virginia did
Tavon Austin
two seasons ago -- both as a running back and as a slot receiver -- to keep opposing defenses off-balance.
Notable play:
Rudolph struggled a bit, often making ill-advised throws into coverage. But he also showed off his big arm with the touchdown pass over the top to Webb. Rudolph put the ball on the money, and offered a glimpse of the throws he can make to stretch a defense.
Developing storyline:
Walk-on quarterback
Daxx Garman
had been one of the breakout performers for the Cowboys this spring, shining during a scrimmage earlier in the week. Garman, however, did not participate Saturday after injuring his knee in practice the day before. Coach Mike Gundy said the extent of the injury wasn't certain, but that he thought Garman would "be fine." Garman is scheduled to be evaluated again sometime today.
Biggest question answered:
This is the third year in a row the Cowboys have gone through spring with a quarterback competition. That competition, however, could be coming to a close. Walsh took all the snaps with the first team Saturday, and while Gundy stopped short of naming Walsh the starter afterward, all signs point to that happening soon. "I think so," Gundy said, when asked if Walsh had the clear edge. "We'll finish up next week and then make a decision on exactly what we want to do. But I would have to agree."
Quotable:
"[Walsh] has become more of a leader. He's staying in the pocket more, which is good. Maybe a year or two years ago, he'd get nervous back there and start scrambling. But now he's sitting in there and throwing. And that's great. … he's going to be our guy. He has to be." – veteran offensive tackle
Daniel Koenig
February, 26, 2014
Feb 26
3:00
PM CT
As we await the start of spring ball, we're examining and ranking the
positional situations of every team in the Big 12
, continuing Wednesday with defensive backs. Some of these outlooks will look different after the spring. But here's how we see the defensive back groups going into the spring:

1. TCU:
TCU has been tenacious defending the pass since joining the league, and even without potential first-round pick
Jason Verrett
, that shouldn't change in 2014.
Sam Carter
was the only non-senior to earn first-team or second-team All-Big 12 honors in the secondary last season, and
Chris Hackett
was one of the best underclassman defensive backs in the league last year.
Derrick Kindred
is primed to step into TCU's third safety spot after playing a key role in the rotation. The Horned Frogs also add the nation's No. 3 juco safety in
Kenny Iloka
. Throw in senior
Geoff Hooker
, and the Horned Frogs have an impressive five-man rotation at safety. At corner,
Kevin White
was honorable mention All-Big 12 last year, and will take over for Verrett as the primary corner. The Horned Frogs have several options at the other corner, including incoming three-star recruit
Nick Foster
.

2. Texas:
After playing the nickel role last year,
Quandre Diggs
will settle back at cornerback in place of
Carrington Byndom
. Opposite Diggs will be the ultra-athletic
Duke Thomas
, who was so good in spring ball last year, he forced the coaches to move Diggs to nickelback. Together, Diggs and Thomas could give the Longhorns the best cornerback tandem in the league.
Antwuan Davis
, who redshirted in his first year, was an ESPN 300 signee and figures to play a big role somewhere in the secondary.
Josh Turner
(37 appearances) and
Mykkele Thompson
(12 starts in 2013) each bring a lot of experience at safety.

3. Oklahoma:
Oklahoma graduates the heart and soul of the secondary in cornerback
Aaron Colvin
, who gutted his way through an array of injuries last year. But if the Sooners can find an adequate replacement for him, the Big 12's best pass defense statistically in 2013 should be stout again.
Julian Wilson
(nickelback),
Zack Sanchez
(cornerback) and
Quentin Hayes
(strong safety) all return as starters, though Hayes could be pushed by
Ahmad Thomas
and incoming freshman
Steven Parker
for time.
Hatari Byrd
, an ESPN 300 signee last year, should step into the vacant spot at free safety.
Cortez Johnson
will try to fend off
Stanvon Taylor
, who played as a true freshman, for Colvin's spot in the only real uncertain area of this secondary.

4. Kansas State:
The Wildcats will miss All-Big 12 performer
Ty Zimmerman
, but his cohort,
Dante Barnett
, was one of the best young safeties in the league last year. Barnett was third on the team with 75 tackles and first with four interceptions.
Randall Evans
also returns after leading the team in pass breakups and gives the Wildcats a versatile defensive back. As usual, Bill Snyder will also be looking for some juco impact. He should get it in
Danzel McDaniel
, who was the No. 4 juco CB recruit in the country. Cornerback
Jesse Mack
also could prove to be a key juco signee. If both players pan out, this could become one of the better defensive backfields in the league.

5. West Virginia:
The bad news is the Mountaineers had the Big 12's worst pass defense last year. The good news is they bring back three starters.
Karl Joseph
has started the last two seasons at free safety, though he could slide to the strong side with
Darwin Cook
gone. Joseph has All-Big 12 potential, and he needs to elevate his game for the West Virginia defense to take another step forward. Veteran
K.J. Dillon
could be the front-runner for the job alongside Joseph, though
Jeremy Tyler
and
Jarrod Harper
will also be in the mix. West Virginia also brings back both starting cornerbacks in senior
Ishmael Banks
and
Daryl Worley
, who started as a freshman. The Mountaineers also signed
Keishawn Richardson
, the No. 8 juco CB, and
Jaylon Myers
, the No. 9 juco safety, for depth. Cornerback
Dravon Henry
, an ESPN 300 signee who had offers from Alabama, Florida State and Ohio State, could play immediately if one of West Virginia's veterans struggle.

6. Kansas:
The Jayhawks return all five starters from their secondary, including last year's Big 12 Defensive Newcomer of the Year, strong safety
Isaiah Johnson
. Returning cornerbacks
Dexter McDonald
and
JaCorey Shepherd
, a converted wide receiver, were both honorable mention All-Big 12 selections and give the Jayhawks one of the better corner duos in the league. Free safety
Cassius Sendish
started every game and had 12 tackles in Kansas' only Big 12 victory in 2013, over West Virginia. Nickelback
Courtney Arnick
started in six games as a redshirt freshman. If this group collectively improves, Kansas could field a solid defense in 2014.

7. Oklahoma State:
The Cowboys lose All-Big 12 cornerback
Justin Gilbert
, who might be selected high in the first round of the NFL draft after a stellar combine performance. The Cowboys welcome back one of the best young corners in the league in
Kevin Peterson
, who was terrific as a sophomore in coverage opposite Gilbert.
Ashton Lampkin
has experience, and he will likely fill the other corner spot unless someone else emerges.
Lyndell Johnson
, who made a transition from linebacker to safety last season, will take over full time at strong safety. The Cowboys will need someone else to emerge at the other safety in place of departed veteran starter
Daytawion Lowe
.
Deric Robertson
,
Tre Flowers
,
Jordan Sterns
,
Taylor Lewis
and
Darius Curry
, all from the 2013 recruiting class, are possibilities.

8. Texas Tech:
How the Red Raiders retool here will be on one of the bigger spring storylines in Lubbock.
Keenon Ward
and
Justis Nelson
were thrown in the fire as freshmen last year, and they will be counted on to fill bigger roles. The gem of the incoming recruiting class, four-star cornerback
Nigel Bethel II
, could be asked – and has the capability – to play right away. The Red Raiders have to replace both starting safeties, including freshman
Tanner Jacobson
, who is going on a Mormon mission. To compensate, Tech signed six safeties, including
Josh Keys
, the No. 5 juco safety in the country, who had offers from Auburn, Georgia and Oklahoma State. Getting strong safety
J.J. Gaines
back from a season-ending injury will be a boost, too.

9. Baylor:
The Bears are one of several teams in the league that were decimated in the secondary by graduation. Baylor loses four of its five starters, including All-American safety
Ahmad Dixon
. Safety
Terrell Burt
is the only returning starter, leaving the other four spots up for grabs. The Bears signed juco corners
Tion Wright
and
Chris Sanders
to help fill the void. Both are already on campus and will be battling
Xavien Howard
,
Ryan Reid
and
Tyler Stephenson
for a starting job.
Orion Stewart
, who backed up Dixon as a redshirt freshman, will likely step in his role, and fellow sophomore
Kiante' Griffin
will be the favorite to take over at the nickel.

10. Iowa State:
Cornerback
Nigel Tribune
was the only true freshman to play for the Cyclones last year, and he received votes as Big 12 Defensive Freshman of the Year. Tribune, however, is the only returning starter. Veteran safety mainstays
Jacques Washington
and
Deon Broomfield
are gone. In response, the Cyclones will look for
Devron Moore
and
Qujuan Floyd
, the Nos. 6 and 7 juco safety recruits, respectively, to step in immediately.
August, 2, 2013
8/02/13
10:30
AM CT
This is going to be a fascinating season in Stillwater, and the work (at least as a team, with coaches watching) begins today.
Let's have a closer look:

Schedule
: Oklahoma State opens fall camp today after players reported on Thursday. They'll be working toward an afternoon opener on Aug. 31 in Houston at Reliant Stadium against Mississippi State.
Setting the scene:
OSU won the Big 12 title back in 2011 and had a top-10 team preparing for a big-time opener back in 2009, but the hype around the Cowboys will be a lot different during this camp. They were an afterthought behind OU and Texas entering 2009 and were picked third in the league behind OU and Texas A&M in 2011. With a solid opponent waiting at the end of camp, the focus and urgency is always there during camp.
All eyes on:
The coordinators. Mike Gundy brought in Mike Yurcich from the Division II ranks to run what's essentailly Dana Holgorsen's system. Linebackers coach Glenn Spencer was promoted to defensive coordinator after Gundy let Bill Young go at the end of a disappointing 2012 season defensively. Yurcich says he wants to go even faster than Holgorsen and 2012 coordinator Todd Monken, now the head coach at Southern Miss. Spencer balks at the suggestion that his defense will simply be more aggressive, but it'll be interesting to see what OSU preps in the next month ahead of that game against Mississippi State.
Key battle:
Whatever you do, do not underestimate the impact of the guys whose feet touch the ball just a few times a game. Look no further than the 2011 upset loss to Iowa State for evidence of that. Quinn Sharp is gone, and now OSU is left to find a new punter, place kicker and kickoff specialist. Making matters tougher is Sharp was the best in the Big 12 at all three.
Kip Smith
is trying to win the punting and kicking jobs, but
Michael Reichenstein
(punter) and
Bobby Stonebraker
(kicker) will be competing as well. They've been Sharp's backups, and newcomer
Ben Grogan
joins the team for fall camp, too.
On the mend:
Justin Gilbert
's psyche. The cornerback looked like a rising star in his first year as a starter in 2011, but took big steps backward last season and got called out for his play by his head coach. He's as physically gifted as any corner in the league, even though his cover skills still leave a bit to be desired. The race for the Big 12's top cornerback by season's end will be interesting, but Gundy has expressed encouragement lately for Gilbert's progress since last year's rough go-around. He's got some good corners around him.
Kevin Peterson
is likely to win the starting job for the No. 2 corner, but
Ashton Lampkin
and Kansas transfer
Tyler Patmon
should provide some quality depth there.
Outlook:
Oklahoma State brings back 14 starters from last season and for the first time in school history, has been picked to win the Big 12. "It's a tribute to a lot of players that have come before these guys that have worked hard," Gundy said. Expect OSU to be somewhere around No. 15 in the AP poll to start the season, but beginning the year with a target on their back is a brand new feeling for the Pokes.
Quotable:
Gundy, on his approach of meddling "very little" in his coordinators' business. "I have a lot of confidence in the coaches on our staff and the decisions they make, and at the end of the day, they're the ones that have to instill it in the players in meetings and get it across to them on the practice field. They have to get them to perform on Saturday."
April, 22, 2013
4/22/13
10:30
AM CT
Miss Oklahoma State's spring game? It was probably the Big 12's most interesting thus far (postgame, anyway). We've got you've covered. Let's have a look.
What happened:
Clint Chelf worked with the Orange team and completed 17-of-34 passes for 204 yards and a touchdown with no picks, leading them to a 17-7 win.
J.W. Walsh and Wes Lunt split reps with the White team. Walsh finished with 123 yards, a touchdown and an interception on 13-of-23 passing. Lunt finished with 122 yards and an interception on 15-of-27 passing.
Linebacker Caleb Lavey returned an interception 52 yards for a touchdown with just over a minute left to lock in the win.
Cornerback Justin Gilbert swiped two interceptions and defensive lineman Jimmy Bean made two sacks and scooped up a fumble.
What we learned: