Dallas Colleges:

Barry Switzer
August, 30, 2014
8/30/14
10:55
PM CT
NORMAN, Okla. -- It wasn't immediately clear why. But at the end of the third quarter of Saturday's game against Louisiana Tech, former Oklahoma coach Barry Switzer emerged from the northwest corner tunnel through a cloud of smoke to the cheers of a boisterous -- and somewhat surprised -- Owen Field crowd.
Here was some of the immediate reaction:
Now that's how you make an entrance @Barry_Switzer #BoomerSooner @OU_Football pic.twitter.com/BLO23lgLGY

— Coaches Cabana (@CoachesCabana) August 31, 2014
"@Jake_Trotter: Barry Switzer just took the field from the tunnel through smoke. Why? I have no idea." Because Barry Switzer that's why.

— Josh Walker (@OneBlessedFella) August 31, 2014
Because it was awesome, Jake! "@Jake_Trotter: Barry Switzer just took the field from the tunnel through smoke. Why? I have no idea."

— Justin Logan (@THEJustinLogan) August 31, 2014
Barry Switzer just introduced himself on the jumbotron then ran out of a smoke filled tunnel #GOAT

— Grayson Niemeyer (@Geedermeyer) August 31, 2014
Barry Switzer enters field to smoke, salutes crowd. AC/DC music blaring. Fireworks go off. A new 4th-quarter tradition? #Sooners

— Eric Bailey (@EricBaileyTW) August 31, 2014
When Barry Switzer comes out of a tunnel full of fog you stand up, clap, & scream. There are no other options. #OnlyOne

— Katy King (@katykinng) August 31, 2014
After I tweeted out my confusion, OU sports information director Pete Moris clarified the reason:
We'll have a LEGEND join us entering 4th qtr all year MT @Jake_Trotter: Switzer just took field from the tunnel through smoke. Why?

— Pete Moris (@PeteMoris) August 31, 2014
February, 25, 2014
2/25/14
4:00
PM CT
Barry Switzer is at it again.
The former Oklahoma coach sat down with Grantland to share some recruiting stories and express his opinion on several subjects, including Michael Sam, Johnny Manziel and Pete Carroll. Take the time to read the full interview, which you can
find here
. You won't regret it.
Here's a small sample of the interview:
On Marcus Dupree:
"When I saw him in high school, he was better than anyone I'd ever seen, and I've seen 'em all. I'd seen the Bo Jacksons, the Herschel Walkers, the Eric Dickersons, Earl Campbells. I recruited them all. I saw 'em play live, I've seen the tape on 'em out of high school."
On Billy Sims:
"I told Billy to hide out for two days. I wanted to sign Kenny King. ... But I can't be everywhere, and Kenny wanted me to sign him at 8 a.m. Once I told Billy to hide out, he went to Houston with his dad for two days."
On Michael Sam:
"I'd rather have a gay guy that's got game than a straight guy that ain't got game. It all comes down to the ability to play the game."
On Johnny Football:
"Johnny Manziel is the first football player I've ever seen that can control the game like those guys [Michael Jordan and Oscar Robertson] did basketball."
January, 2, 2014
1/02/14
10:00
AM CT
NEW ORLEANS -- "The King" tweeted it best.
"What's great about playing Bama," legendary former Oklahoma coach Barry Switzer wrote on Twitter this week, "is they are the team to find how good you are or how far you have to go."
[+] Enlarge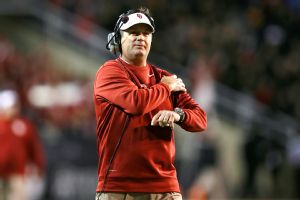 AP Photo/Tony GutierrezHow good are Bob Stoops' Sooners? We'll find out in the Sugar Bowl against Alabama.
Thursday night in the Allstate Sugar Bowl (
ESPN, 8:30 ET
), the Sooners will play in the ultimate barometer game against third-ranked Alabama.
It's a game that will reveal where the Sooners are, relative to the Crimson Tide. And just how far they have to go.
"How could it not be that?" Oklahoma coach Bob Stoops asked. "They're as good a football team as we've played in 15 years.
"So it's definitely that."
Under coach Nick Saban, the Crimson Tide have become the standard-bearers in college football. Since 2009, Alabama has won three national championships, and only the wildest ending in college football history prevented the Tide from playing for another.
"They're obviously the program the last five years that has set the bar in college football," Sooners co-offensive coordinator Jay Norvell said. "Is it any more of a benchmark than any other game? Probably so."
Under Stoops, Oklahoma once set the bar in college football. At the turn of the millennium, the Sooners played for three national titles in five years, and captured the championship in Y2K with a defensive flattening of Florida State in the Orange Bowl.
Like the Tide of now, the Sooners of then rolled in top-five recruiting classes every February. And every April, Oklahoma produced a lion's share of first-round draft picks.
But that was then.
And in the present, the Sooners have fallen on hard times -- at least according to the towering expectations that apply to the likes of an Alabama or an Oklahoma.
"We win 10 games every year," said center
Gabe Ikard
, "and people feel that we've fallen off."
True, the Sooners haven't fallen off into a canyon like their Red River brethren (even though Texas did dismantle Oklahoma this year in Dallas). But in Norman, 10-win seasons minus the championships ring hollow.
It has been six seasons since the Sooners seriously contended for a national title past October. And after seizing six Big 12 championships over a span of nine seasons, Oklahoma has only one outright conference title since 2008.
This November, once they fell 41-12 to Baylor -- yes, the same Baylor that Central Florida roasted Wednesday night in the Tostitos Fiesta Bowl -- the Sooners weren't even a factor in the Big 12 race, much less the national one.
At the moment, Alabama owns RecruitingNation's No. 1 class, while Oklahoma's just barely cracks the top 25. Last year alone, the Crimson Tide furnished the NFL with three first-round draft picks. The Sooners, meanwhile, have had just one first-rounder (OT Lane Johnson) since 2010.
But just because the results have tapered off in Norman doesn't mean the expectations have.
And against Alabama, the Sooners will find out where they stand.
"This is definitely going to show what kind of team we have right now," said Oklahoma receiver
Jalen Saunders
. "What type of players we have at OU. Where we stand nationally."
Lately, the Sooners haven't stood quite as tall.
As a testament to Stoops' unrivaled, long-term consistency, Oklahoma still managed to grind out 10 victories in 2012 despite having no running game and a shaky defense. But whenever the Sooners faced a quality opponent last season, they were vanquished. Kansas State out-executed them in the Big 12 opener, Notre Dame smashed them in the fourth quarter, and Texas A&M quarterback
Johnny Manziel
, well, he just made them look ridiculous in an AT&T Cotton Bowl rout.
As a result, Oklahoma opened 2013 outside the top 10 in the preseason polls for the first time since Stoops' second year.
Even though the Sooners stunned Oklahoma State in the 2013 Big 12 regular-season finale to sneak their way into the BCS, Las Vegas oddsmakers have pegged them as 16½-point underdogs against the mighty Tide. That, by the way, is the third-largest point spread in BCS history, behind only this year's Baylor-UCF Fiesta Bowl and the 17-point line Oklahoma was handed over Connecticut in the 2010 Fiesta Bowl.
In other words -- at least according to Vegas -- the gap between Alabama and Oklahoma right now is roughly equal to the gap between Oklahoma and Connecticut then.
"They're a great, great team," Stoops said of the Tide. "Great talent across the board."
When facing great talent, however, comes great opportunity. To ascend back atop college football's summit, the Sooners have to start somewhere. They'll find no more opportune setting than the Sugar.
"They've been so dominant," said Oklahoma running back
Brennan Clay
, "that if we come out with a victory, it would definitely say we're a national championship-contending-type team."
The Sooners can't secure a national championship overnight. And they certainly can't on Thursday night. But they can send a message. And in doing so, also can launch their climb back to the top.
"Winning this game would be big," Ikard said. "Big for recruiting, big for the program, big for the fan base.
"It would show that we're still one of the premier, top-five programs in the country."
The Sooners haven't been a top-five program lately. But in New Orleans they get to find out how good they really are.
And just how far they have to go.
August, 16, 2013
8/16/13
12:00
PM CT
In the eyes of some critics, Mack Brown is sitting on a seat far warmer than he realizes.
ESPN Insider's Phil Steele says Brown is the No. 1 coach on the hot seat entering 2013, and there is a faction of the Texas fan base that agrees and believes Brown's best days are behind him. But if history tells us anything about canning coaches, the grass isn't always greener.
Brown's contract runs through 2020, and he isn't looking to retire any time soon. He's 27 victories away from becoming the winningest coach in school history. Will he reach that milestone?
A look at the recent history of successful Big 12 coaches being shown the door reminds us that a new hire brings no guarantees of success. And there might not be a better example of that than the man considered the league's best coach today.
[+] Enlarge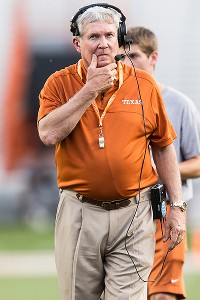 Cal Sport Media/AP ImagesWill Mack Brown get a chance to become the all-time winningest coach at Texas?
Coach on the bubble:
Mack Brown, Texas
Big 12 precedents:
Bill Snyder, Kansas State; Dan McCarney, Iowa State; Chuck Reedy, Baylor
Bill Snyder, 170-85-1 at Kansas State
Prior to his arrival:
The list of coaches who came before Snyder is a long one, but the last to win more games than he lost at Kansas State left in 1934 after one season. Snyder's predecessor, Stan Parrish, coached the Wildcats for 33 games and won two. The team was mockingly called "Futility U" before Snyder's debut, and had lost more games than any program in college football history.
Why he resigned:
The white-haired wizard was everything to Kansas State and achieved the most improbable rebuilding job college football has ever seen. But there reached a point in time, even after four Big 12 North titles, where KSU was ready to move on, in 2005. Leadership thought that after consecutive losing seasons, Snyder's heart just wasn't in it to go another season, even if he was hesitant to surrender the throne.
The aftermath:
In came Ron Prince, the 36-year-old Virginia offensive coordinator who had no ties to the KSU program. His best season was his first, and after consecutive 5-7 seasons, he was fired in November 2008 -- after agreeing four months earlier to a contract extension through 2012. Snyder heroically returned, and you know the rest.
Some believe Brown, 61, is getting old. Snyder was 66 when he was ousted. He was named 2012 Big 12 Coach of the Year at age 73 and got a new five-year deal this past offseason.
Dan McCarney, 56-85 at Iowa State
Prior to his arrival:
No, the track record of McCarney at Iowa State is not even close to what Brown has achieved at Texas. But no coach won more games at ISU than McCarney, who enjoyed five winning seasons in six years (2000-2005) and nearly won the Big 12 North outright twice. His predecessor, Jim Walden, retired after going 0-10-1 in 1994 and finished his ISU tenure with a record of 28-57-3. No Cyclones coach had won a conference title since 1912.
Why he resigned:
McCarney led the Cyclones to five bowl games, but the 2006 season went downhill and he stepped down. At the time he announced his decision, ISU was 0-6 in Big 12 play.
The aftermath:
Iowa State got as sexy a hire as it could have hoped in Texas defensive coordinator Gene Chizik. Then, after going 5-19 in two seasons, he bailed on the Cyclones for the Auburn job. Paul Rhoads has done a respectable job in Ames, with three bowl games in four seasons. McCarney is entering his third year as head coach at North Texas. His record there isn't great (9-15), but the Mean Green at least appreciate that they've got a good coach.
Chuck Reedy, 23-22 at Baylor
Prior to his arrival:
Yes, this is a bit of an obscure choice. Baylor had a solid, competitive program during the 21-year tenure of the great Grant Teaff and enjoyed winning records in eight seasons of his final decade in charge. When he retired, BU offensive coordinator Reedy was promoted to the head gig.
Why he was fired:
Replacing Teaff wasn't easy. The Baylor administration wasn't happy with some aspects of Reedy's coaching style, including recruiting high-risk players who were unlikely to qualify. But what sealed his fate was going 1-7 in conference play in the Big 12's inaugural year and losing four straight to end the 1996 season with a 4-7 record.
The aftermath:
Baylor didn't know it was signing up for a decade of futility when it canned Reedy. His replacement, Dave Roberts, went 4-18. The three coaches that came after Reedy went a combined 30-94 and finished last in the Big 12 South eight straight years. Art Briles has led an impressive rebuild, but he inherited enough of a mess that it took five years to get his career mark at Baylor above .500 (32-30).
I know what you're thinking. We've left out three coaching departures that are considered some of the biggest in recent Big 12 history: Barry Switzer, Mark Mangino and Mike Leach.
Considering Switzer resigned amid a flurry of scandal and NCAA probation, and Mangino and Leach departed after allegations of player abuse, they're not all that applicable to Brown or any current Big 12 coaches. But in the cases of Kansas and Texas Tech, who enjoyed unparalleled rises under Mangino and Leach, respectively, and haven't been the same since, it's another reminder that you never know what you'll get when you let a successful coach go.
March, 28, 2013
3/28/13
11:27
AM CT
Roughly 90 percent of college football programs would be thrilled to win 10 games in a season. Oklahoma is not one of those programs.
Sharing a Big 12 title? That trophy is a whole lot less satisfying when there are seven others waiting in the trophy case since 2000 that weren't shared with anybody.
"Our expectations are different than everybody else. Everybody's not Oklahoma," defensive coordinator Mike Stoops said. "When you have Oklahoma across your chest, you expect to win championships, and that's never going to change here."
He knows firsthand. Stoops helped his brother, coach Bob Stoops, win Oklahoma's seventh national title back in 2000, and the Sooners came up short two more times, once losing in the title game with Mike Stoops in 2003 and again a year later with Stoops coaching at Arizona. Without him coordinating the defense, the Sooners gave up 55 points to USC, more points than any team has ever scored in the BCS National Championship Game.
Arizona fired Mike Stoops six games into the 2011 season, and the Sooners' struggling defense needed an offseason jolt, despite winning 10 games that same season. Mike Stoops returned and brought assistant Tim Kish with him to coach linebackers and help coordinate the defense.
"Sometimes change is good, new ideas are good always, and change is good sometimes," Mike Stoops said. "That happens for whatever reason, and whether it's complacency or just being stagnant, those things occur. Just trying to reinvent ourselves is something we need to do."
In 2012, there were more late-season defensive struggles after a strong start, but yet again, a 10-win season and a shared Big 12 title weren't enough. Losing three games isn't good enough, and nobody wants to hear that all three losses came to teams that spent time in the top five last season. The Sooners want to get back to competing for national titles, and Bob Stoops went the route of coaching changes to help get Oklahoma back there.
Assistant coaches Jackie Shipp and Bruce Kittle were shown the door, along with offensive line coach James Patton. The Sooners scooped up Bill Bedenbaugh from West Virginia to replace Patton and brought in Jerry Montgomery from Michigan to coach the defensive line. Jay Boulware filled Kittle's spot on the staff after coaching tight ends at Auburn. The Sooners' reboot was complete, and they're working toward results in the spring.
"[They bring] a new perspective in some areas, new ideas. They're not drastic changes," Mike Stoops said. "Obviously, the coaches we had in here were involved and knew our systems well, but there's always little changes in technique and little things schematically that can help you, so we're always looking for fresh ideas."
Ten wins tastes bitter when you're used to winning 11 or 12, which can be the difference between proving yourself as a very good team and a great team. Oklahoma won at least 12 games six times since 2000 and 11 games on three more occasions. Ten wins isn't good enough, and a few former players and one famed coach were more than willing to speak up about it, echoing fan concerns.
Barry Switzer started it in September when he told one local paper that the Sooners "just don't have the talent."
"We're not as good as we have been," Switzer said. "We don't have the Tommie Harrises or Gerald McCoys squatting down there in the middle [of the defensive line]."
Offensive lineman Jammal Brown, an All-American who played in Norman from 2000 to '04, said he was "mad as hell" about the Sooners' 28-point Cotton Bowl loss to Texas A&M to cap the 10-win season, calling the Sooners "soft." CBS analyst Spencer Tillman, a Sooners running back in the '80s, said Oklahoma lost concentration on what made the program great in the first place.
Considering the Sooners let Shipp go at the end of the season, it's hard to believe Bob Stoops didn't agree in part with what Switzer had to say. As for the rest of it?
"We may not be as skilled at some of the positions as we want to be, but our toughness and pride is what made Oklahoma what it is, whether it was Bud Wilkinson or Barry Switzer or Bob Stoops, I think that's the common thread that goes to being a great team," Mike Stoops said.
"Some of those, from the outside, may have felt like we didn't have that common thread between us. I never felt that; I always thought our teams played hard and together. They're certainly entitled to their opinions, you know. We've got to look at ourselves, and if it's true, we need to change it. The things we needed to change, we're working on changing, and nobody knows our program like we do.
"There's areas we certainly need to get better at, and we're aware of those. Some of those take time. Some of those take adjustments each day to get better."
The Sooners lose a four-year starter at quarterback in
Landry Jones
from last year's team, along with seven starters from Mike Stoops' defense. The task of winning more than 10 games seems difficult in a Big 12 that's deeper than it has ever been.
"We just need to get better, again, individually and schematically and play better across the board and come up with better ideas and a better scheme. We're not far off when you look at the big picture," Mike Stoops said. "We had a chance to win 12 games, we lost them all late in the game and down the stretch and didn't make the plays we needed to, but again, we're not that far off."
January, 2, 2013
1/02/13
11:00
AM CT
Time for another round of fun facts and tidbits about the AT&T Cotton Bowl.
As always, these come courtesy of our crack team at ESPN Stats & Information and sports information departments across the Big 12. Let's get started:
Did you know ...
Texas A&M QB Johnny Manziel has 784 of his 1,181 rushing yards on scrambles, averaging 9.7 yards a carry on those plays.
Manziel has been forced out of the pocket on 27.6 percent of drop backs this season.
Over the last three games, Oklahoma quarterback Landry Jones is completing 77.7 percent of his passes for four touchdowns and no interceptions when he's blitzed.
On the season, he has eight touchdowns and one pick when blitzed.
Jones has thrown just 12.2 percent of his career passes from outside the pocket, but thrown 25.5 percent of his career interceptions from outside the pocket.
In Oklahoma's first 10 games, Jones attempted 41 passes from outside the pocket. In the last two games, he's attempted just three such passes.
Texas A&M is 4-8 in its 12 Cotton Bowl appearances.
Oklahoma is 1-0 in its only appearance in the bowl, back in 2002.
If Oklahoma wins, it will have its first four-game bowl winning streak since 1978-81.
West Virginia's Pat White is the only player to ever go 4-0 in bowl games. Landry Jones could join him with a win.
A&M hasn't won consecutive bowl games since 1985.
A win would give Stoops 150 wins at Oklahoma, seven short of Barry Switzer's school record.
A win would give Texas A&M its first 11-win season since 1998.
November, 9, 2012
11/09/12
10:28
AM CT
Time for another round of fun facts and tidbits about this weekend's games. As always, these come courtesy of our fantastic Stats & Information crew at ESPN, as well as various sports information departments across the Big 12.
We love you. You make your readers the smartest folks at their tailgates. Let's get to the facts!
Did you know...
Kansas State now officially ranks first or tied for first in FBS in penalties per game, turnover margin, points off turnovers and average starting field position.
The Wildcats have scored 111 points off turnovers and surrendered zero.
TCU ranks second nationally in average starting position. Its drives start at an average of its own 38-yard line.
Kansas State ranks in the top three in FBS in both kick-return average (30.0 yards per return) and punt-return average (24.9).
TCU quarterback Trevone Boykin is 11-of-33 on throws longer than 20 yards since becoming the team's starter.
Boykin hasn't completed more than 50 percent of those throws in any game this season.
Kansas State quarterback Collin Klein has completed more than 50 percent of his throws longer than 20 yards in four consecutive games this season, and six overall.
Before leaving the team, TCU quarterback Casey Pachall was 9-of-14 on throws longer than 20 yards.
Klein averaged 24.4 carries a game last year. This year, he's down to 15.4 carries a game.
Klein is averaging more than a full yard more per carry than he did last year. He's averaging 5.0 yards a carry this year, vs. 3.6 in 2011.
Klein has accounted for 65.1 percent of Kansas State's offense this season.
Klein has run the ball 66 times the past season and a half in goal-to-go situations. He's scored touchdowns on 33 of those carries, the best mark in the FBS.
Baylor receiver Terrance Williams leads the nation with 24 catches longer than 20 yards this season, and 10 catches longer than 40 yards.
Baylor WR Tevin Reese is fourth nationally with seven catches of at least 40 yards.
Against Iowa State, Oklahoma quarterback Landry Jones completed six passes longer than 20 yards, and four for touchdowns. Both of those were career highs.
Before that game, Jones had just 10 such completions for two touchdowns all season.
In the past two seasons, Jones has ranked in the FBS top five in completions longer than 30 yards.
This season, Jones has 12 completions longer than 30 yards -- 49th in the FBS.
Texas has scored 46 touchdowns on offense in nine games this year. It scored 40 in 2011.
Texas' 91 missed tackles are now 18 more than any other Big 12 team.
Kansas has 13 drives this season with at least 10 plays that did not result in points. No other FBS team has more.
Texas Tech has 1,537 yards after catch, third most among AQ schools.
Seth Doege has 21 touchdowns inside the red zone, the most in FBS.
Oklahoma State has a touchdown drive of 2 minutes or less in 35 consecutive games.
The Big 12's cumulative averages for punt returns (12.95) and kick returns (22.94) lead the nation.
35.8 percent of the Big 12's touchdown drives this season have taken five plays or fewer and covered at least 50 yards.
Iowa State has only lost three games under Paul Rhoads when it wins the turnover battle. Oklahoma has two of those wins.
Chris Canty against Akron in 1995 was the last K-State cornerback with three interceptions in a single game until Allen Chapman duplicated the feat against Oklahoma State last week.
Bob Stoops can pass Bud Wilkinson on the all-time wins list this week. He's 12 wins short of tying Barry Switzer for the school record.
Since 2004, Oklahoma is 20-0 following a loss.
Oklahoma State receiver Charlie Moore has caught a touchdown in four consecutive games.
TCU cornerback Jason Verrett already has five interceptions this season. No TCU player has done that since 2005.
Texas Tech has played five consecutive ranked opponents. This week, it gets Kansas.
West Virginia's last overtime game before last week came against Connecticut on Oct. 29, 2010. It lost, 16-13.
October, 20, 2012
10/20/12
9:31
PM CT
Norman, Okla., will get all kinds of zing in its zang zang next week. "College GameDay" is coming to the Sooners' city.


Oklahoma will host Notre Dame for a top-10 showdown, and the ESPN pregame show will be in town for the first time since before the Sooners' 65-21 victory over Texas Tech in 2008.
It's also the first time a Big 12 team has hosted "GameDay" this season.
Any ideas for a guest picker? Here's my vote for former Sooners coaching legend Barry Switzer. He's one of the most entertaining personalities in Sooners lore and still one of the game's most recognizable faces.
October, 12, 2012
10/12/12
2:53
PM CT
Texas coach Mack Brown has seen up close what the Red River Rivalry can do to players, especially if it's their first experience in the Big 12's marquee rivalry game.
Back in 1999, he looked at freshman Bo Scaife, a future NFL draft pick at tight end, who told Brown he was hyperventilating and had never been that excited in his life.
"And I thought, 'I'm not sure that's good,'" Brown told reporters this week.


It's par for the course for players, experienced or not. The atmosphere -- half burnt orange, half crimson, divided at the 50-yard line -- is much like a bowl game.
"I think that's something you have to address early in the week and just lay out the environment. Here's two teams, two very good football teams in a rivalry game with fans and emotion that goes into it," offensive coordinator Bryan Harsin told reporters this week. "Don't hide the fact of what it is; everybody understands that. Now you get that whole side, now it comes down to playing ball."
It's not about suppressing those emotions. It's about controlling them and finding a way to have them help you, not hurt you.
"You want to go in with emotion but you don't want to be geeked out to where you just can't perform," Harsin said. "You've peaked too soon before the game and all that. We don't want that."
The whole day and lead-in to the game are full of opportunities to build emotions, beginning with the famed bus ride in. Even Mack Brown's eyes were opened on his first Red River all the way back in 1984, when he was Oklahoma's offensive coordinator.
"Fans were shaking the bus. I mean, it was scary," Brown said. "Coach [Barry] Switzer kind of looked at me and said, 'Now you see. You get it now.' You understand that."
Oklahoma's a more experienced team, but Brown's focus is on making sure his young squad understands what's at stake while not letting their emotions lead to mistakes.
"This game is so emotional. And both teams will play like it is the most important game of the year, whether it is or not in anybody's minds because of the buildup and the history of this game, and the two schools, and the way the fans feel about this, and the nature of the State Fair," Brown said. "They came to the schools, and one of the reasons they came is for this game. The hype in this game, you have to handle."
September, 26, 2012
9/26/12
6:44
PM CT


College Football Live's Chris Cotter is joined by College Football analyst Trevor Matich to discuss comments made by former Oklahoma coach Barry Switzer about this year's team.
July, 9, 2012
7/09/12
10:30
AM CT
We're looking at coaches this week on ESPN.com. It's a big subject, sure. In our blog network, we'll be breaking it down each day to smaller topics.
Today, a simple question: What would a program look like without the winningest coach in program history? Which coaches had the biggest impact?
Here's how it breaks down for each program in the Big 12 (all-time record in parentheses):
[+] Enlarge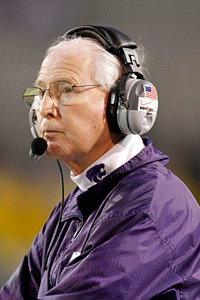 Brett Davis/US PresswireKansas State's winning percentage plummets without Bill Snyder.
BAYLOR: 524-530-44 (.497)
Winningest coach: Grant Teaff: 128-105-6

Wins without winningest coach: 396
IOWA STATE: 500-594-24 (.458)
Winningest coach: Dan McCarney: 56-85

Wins without winningest coach: 444
KANSAS: 572-560-58 (.505)
Winningest coach: A.R. Kennedy: 52-9-4

Wins without winningest coach: 520
KANSAS STATE: 475-612-41 (.439)
Winningest coach: Bill Snyder: 159-83-1

Wins without winningest coach: 316
OKLAHOMA: 821-307-44 (.718)
Winningest coach: Barry Switzer: 157-29-4

Wins without winningest coach: 664
OKLAHOMA STATE: 530-523-47 (.503)
Winningest coach: Pat Jones: 62-60-3 (Mike Gundy needs three wins to tie Jones)

Wins without winningest coach: 468
TEXAS: 858-330-33 (.716)
Winningest coach: Darrell Royal: 167-47-5

Wins without winningest coach: 691
TCU: 593-514-57 (.534)
Winningest coach: Dutch Meyer: 109-79-13 (Gary Patterson is tied at 109-30.)

Wins without winningest coach: 484
TEXAS TECH: 524-405-32 (.562)
Winningest coach: Mike Leach: 84-43

Wins without winningest coach: 440
WEST VIRGINIA: 701-457-45 (.601)
Winningest coach: Don Nehlen: 149-93-4

Wins without winningest coach: 552
That's a wide variance of wins. It's clear that no man means more to his school than Bill Snyder does to Kansas State. The program has a rather depressing .358 winning percentage if you remove Snyder's win from the equation. He took two seasons to get Kansas State from a perennial doormat to a team above .500. Snyder then went on a historic run that included a Big 12 title in 2003 and two BCS bowl bids.
Don't ever doubt why some consider what Snyder has done in Manhattan as the single greatest coaching job in the history of the game. Snyder's career win percentage at Kansas State is .656, almost double what the program's overall win percentage is. No other coach comes close to those numbers. There's a reason why many of the nation's coaches are often in awe of Snyder and why he is so respected.
The biggest surprise for me was the relative dominance of West Virginia compared to the rest of the Big 12. That .601 win percentage is behind only Texas and Oklahoma over the course of the program's history. And you wonder why folks are so excited about their entrance into the league?
Looking elsewhere, Texas Tech's decision to fire Mike Leach looks worse and worse while the Mike Gundy hire at Oklahoma State looks better and better. Gundy is three wins from passing Pat Jones as the school's biggest all-time winner. He did so in just 89 games while Jones needed 125 matches to reach 62 victories.
Conversely, how about the job Gary Patterson has done at TCU? Sure, the schedule is different, but he's suffered the same amount of losses as Gundy with 50 more wins. He's also reached 109 wins in 62 fewer games than Dutch Meyer.
We're living in the age of some great, great coaches in this league. History shows us that.
April, 9, 2012
4/09/12
7:23
PM CT
NORMAN, Okla. -- Even with its best player on the sidelines in tears, Oklahoma didn't know how bad it could get in the season's final month.
No player in the history of FBS caught more passes than
Ryan Broyles
. When the Sooners' receivers lost their leader and most productive member, one-loss Oklahoma went from Big 12 title contender gunning for an NCAA-most ninth BCS bowl appearance to Insight Bowl participant.
"I just felt like we didn't know what to do once Ryan went down, to tell you the truth," receiver
Kenny Stills
said. "We never really saw that coming, and it hit us really hard."
[+] Enlarge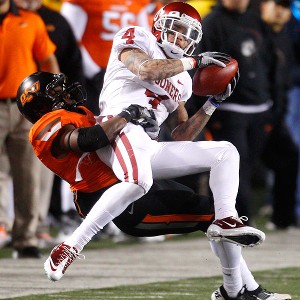 AP Photo/Sue OgrockiKenny Stills and the Sooners receivers will try to replace Ryan Broyles' production this fall.
After the loss, quarterback
Landry Jones
was shut out of the end zone for the season's final three games along with five interceptions. Oklahoma's sure-handed unit suddenly turned shaky, dropping passes more frequently than it had all season.
The Sooners started slow in a win over Iowa State, but were embarrassed in the regular season finale at Oklahoma State with the conference title hanging in the balance.
"We're disappointed at the way we finished last season, I don't think there's any question," said co-offensive coordinator and receivers coach Jay Norvell, "and I think that's motivated our guys to come out and really prove themselves and to step their game up."
That's been the task for Oklahoma's receivers this spring. After Broyles' injury, Stills moved to an unfamiliar slot position, and his discomfort showed. Despite Broyles' presence, Stills managed to top 100 yards receiving three times in his first six appearances of the season.
When the Sooners' needed him to replace Broyles' production, he didn't top 75 yards receiving.
"We were figuring out what to do with different people in different positions and now I feel like the spring's helped us figure out what we want to do," Stills said.
He's playing some inside and some outside during the spring, but his preference is simple.
"Wherever the ball's coming, I want to go," Stills said.
He'll get this offseason to learn how to live life without Broyles, whether it's leading off the field or producing on it. He'll also have plenty of reinforcements. Freshman
Trey Metoyer
has turned heads in the spring and coach Bob Stoops said he could "absolutely" start.
Come fall, freshmen Durron Neal, Sterling Shepard (two of the nation's top 10 receivers in the 2012 class) and Derrick Woods will join the team, along with highly touted juco transfer Courtney Gardner.
"Competition is the best motivator that you have. That's Oklahoma," Norvell said. "You hear stories about back in the day when all the running backs were here and coach [Barry] Switzer was here, and there'd be another guy come in, and the way guys looked at each other.
"Good players, they have a lot of pride. And I just think we've tried to create that environment. We have a lot of guys that can make plays and that also push each other. I think guys get excited when they see somebody come in that has ability like that and it can help the team."
Norvell's message to his receivers this spring was accountability. Replacing Broyles is up to more than just Stills.
"We've talked a lot about (accountability), and I think we have to do a better job of that as a unit and as a team, playing hard for each other, and I don't think we always did that, especially at the end of last year," Norvell said. "That's what being a part of a team is, it's the most special thing you can ever be a part of, especially because you know somebody has your back, and that's exactly where we started this spring."
January, 4, 2010
1/04/10
6:34
PM CT
By
Richard Durrett
| ESPNDallas.com
GLENDALE, Ariz. -- The grass field looks like it's certainly in good shape here at University of Phoenix Stadium. And both TCU and Boise State, warming up with less than an hour left until kickoff, look focused and excited.

Among those pacing the sidelines: Former Oklahoma and Dallas Cowboys coach Barry Switzer and PGA Tour golfer J.J. Henry (a TCU grad). Henry said he couldn't wait for the game to start and was planning on hanging around the sidelines to watch it.

Fans continue to come into the stadium as both teams completed stretching and are now running through some of their offensive and defensive sets as part of the warmups.